TOP 10 Best Hair Shampoo For Men – Healthy Life In 2021
As a guy, you always want to look perfect in your appearance. That is why it will not be so awkward to hear guys ask – which is the best shampoo for men?
Your oily, dry, curly or long hair needs some tending and finding the best shampoo is a plus for your look.
If you have had this nagging question for this long, finally you have a perfect answer in these top 10 shampoos.
Pura D'or
It is true that there are not many trusted anti-hair loss products in the market. It is no wonder that men have been skeptical about the so-called products and they better go bald.
It is never late to get something that will work for you. Pura D'or is second to none when it comes to prevention of hair loss among men. It is clinically safe and tested so you should drop any skepticism from previous bad experiences.
Pura D'or is currently the best anti-hair loss shampoo that promises to give you effective results within a short time. Apparently, it is the only shampoo with natural preservatives obtained from plant extracts. It is further combined with premium ingredients that rule out the addition of sulfates and parabens.
It is totally a secure product that has found favor among many guys and they would happily recommend the same for you. It has been made in a new formula and the failures of past products do not have any chance of repetition on you.
Benefits:
Consumers who have had bad experiences with products will always be skeptical in the future. Pura D'or has been made to shun any skepticism on anti-hair loss products. There is every reason that if you try it, you will never regret that decision. But why is it such a potent product:
It is for all hair types and will not fade your hair color
It is the only anti-hair shampoo in the market that is free from chemicals. It is formulated to use 100% natural preservatives.
Over 90% of its ingredients are certified by USDA hence safe to use
Reduces the rate of hair shedding and at the same time helps regenerate hair growth
How it works
DHT is the hormone associated with acute hair loss among men. If left unchecked, this hormone can lead to baldness in young men. What a bad way to lose your youthful looks!
You do not have to worry anymore, Pura D'or has DHT blocker within its formulation that not only prevents hair loss but also makes it healthy. It works down the follicles giving them nourishment.
This begins hair regeneration and in a short while you will have full thick head once more. Other additions to the formula include niacin which increases blood circulation around the hair and biotin which strengths each of the strands.
How to use it
It is applied on the hair when it is wet and worked up to into feather. You should leave it for 2 minutes to allow deeper penetration into the hair roots and follicles.
After the 2 minute duration, rinse it thoroughly. If for any reasons you get irritations, discontinue its use and seek a dermatologists counsel. So far, there has not been any complaints of irritations and other side effects.
This is a further confirmation of the safety and efficiency of Pura D'or. For best results, use it daily for up to 3 months and the results will attest to its greatness.
back to menu ↑
Sage Shampoo
It is never such a good sight when you have to scrub your head and see dandruff falling down. Guys, this is something you have tried to fight but it seems like there is no end. Well, there is good news for you in sage shampoo.
Acclaimed to be the world's number one dandruff solution, Sage shampoo is mercurial in every way and you should not hesitate to use it. If you have a serious problem for your dandruff you can never get a more serious product than sage.
Designed into a synergic formulation, this shampoo solves all the hair root problems that lead to dandruff. It is purely made from organic ingredients that are mild and can never cause any harm to a single hair strand.
It not only deals with dermatitis problems but also goes further to shield hair loss. That is why most dermatologists have recommended using it. The potent ingredients are spikenard that relentlessly works to retain hair pigmentation and fight against dermatitis;
Rosemary is credited with cell renewal and the repair of follicles, increase circulation and stimulate hair regeneration; tea tree oil works to eliminate dead cells; botanical keratin ensures that the hair returns to its natural health; Argan and Jojoba oils both of which make the hair shine and keep the scalp smooth.
Benefits:
There is no better formula to deal with dermatitis than what is offered in Maple Holistics Sage shampoo. It delivers what it promises, a quality that is not common in many hair products.
A double-effective product. You will not only fight dermatitis but also reduce hair shed. You will kill 2 birds with one stone and who would not want such a versatile product?
Free of harmful chemicals such as sulfates and parabens that would cause harm to your scalp and hair
Non-fragrance. Men are not fond of strong fragrance and here is a product that lives up to this promise.
Made of natural ingredients. Organic products are mild and blend well with your body and that is why sage's formulation emphasized on using them. Your hair and scalp are safe from any physical harm and that is something you will not find in many products in the market.
Direction of use
The hair should be rinsed first. You follow this up by applying a quarter amount of the shampoo throughout the scalp. Leave it for about 3 minutes to allow maximum absorption.
You then rinse it thoroughly. If need be, you can repeat the entire process. Your shower time will be turned into a therapeutic and remedial experience.
back to menu ↑
Art Naturals Organic Daily Argan Oil Shampoo
Well-moisturized hair is one of the best ways to prevent damage and loss. That said, it is not that simple to get hair products that will do this with a 100% guarantee of success.
But now you may, at last, have a reason to smile since Argan oil is one of the best shampoos for men that does not only keep your hair moist but also prevents any further hair loss.
But wait, what is this product or it is just another fuzz to make money from unsuspecting customers? Far from it, this is the most effective moisturizer that has impressed many guys and it will be your best choice you have made in a while.
It is all-natural and artistically formulated to bring the best out of your hair. Every strand is left completely moisturized and the game does not stop there. It repairs all the damage done by your dry hair.
It is like having a brand new hair that will be sleek and you can style it as you desire. The oil is sourced from Morocco for its fame to reduce flaking, hair dryness and intensive healing on damaged hair.
It has been praised for its deep-reaching effects and if you have had a rough past with chemicals, sun and dryness, this is the perfect answer that will bring back the proud bloom on your head.
Benefits:
It is unfortunate that you had to encounter fake hair moisturizers that have broken your trust for hair products. Argan Oil is the number one conditioner that will win back your trust by giving your hair a new lease of life. Here are the benefits of this wonderful product;
It is a silver bullet. On top of moisturizing your hair, it returns your hair's growth vigor leaving it healthy and thick. It prevents hair loss and it is a double agent that has been missing in your hair products chest.
Guaranteed success. It is no longer about guessing whether it will work or fail. The oil is proven in its ability to heal and restore damaged hair.
No side effects. Those who have used the products have praised its lack of side effects. The natural oil can easily blend with your body and the results are excellent.
How it works the magic
The oil releases its natural flavor into every hair strand. As the moisture spreads, it revives the scalp vitality and cleaning out the clogging of dead cells.
The hair follicles are deeply reached and they regain their old self. The damaged hair receives healing and the conditions favor new hair growth. Its continued use will return the scalp, hair vibrancy and you will soon have healthy hair that is easy to comb and style.
How to use it for effective results
Rinse your hair and use a considerable amount of Argan oil to massage the hair. Do it thoroughly to ensure that the scalp is evenly covered.
Leave it in the leather for 2-3 minutes to allow maximum penetration. Rinse the hair and if it was extremely dry you can as well repeat the process. Your hair will be left shiny and moist as the onset of healthy hair beckons onto you.
back to menu ↑
Ultrax Labs Hair Surge Shampoo
Many guys would love to have long hair. Unfortunately, this is not a wish that is in within their control especially if they have to deal with stunted hair growth. From past harsh experience with chemicals and adverse heat, your hair may no longer possess the vigor to grow.
If you want that back then the Ultrax Hair Surge shampoo is the best bet you can have. Tested and proven by its performance by many consumers, it can work for you and hand you back the key to thick and healthy hair.
The shampoo contains caffeine compounds which are strengthened with natural oils. Its power to increase hair growth has its roots in ketoconazole, an ingredient that boosts hair vitality unleashing growth vigor even for those who are struggling with acute hair loss.
A lot of research has gone into its formulation and finally, men have a product that will undoubtedly hand them their wish to keep long healthy hair.
Benefits:
From the mouths of end-users, this product is the most effective hair growth stimulating product in the market today. It has been lauded to overtake all the other anti-hair loss products and this is can be attested by its surging popularity among men.
Armed to deliver the best results, here are the benefits that come your way every other time you use surge shampoo:
Widely tested, this product is the safest and most effective in the global market. There has been no single complain for side effects.
Powerful hair recovery formula. Losing hair is painful and it is even more painful if the products you use seem to worsen the condition. Such is the contrast in surge shampoo. It is formulated to give fast and effective results.
The presence of caffeine compounds lengthen the life of hair and encourages fast growth of healthy hair
How it works
Many hair growth boosting shampoos are loosely mixed into random formulas and they end up failing. The Ultrax Hair Surge shampoo has been formulated to a perfect mix of ingredients.
Once applied on your mane, it releases nutrients on your hair which soothes the scalp, repair damaged hair and establish optimum conditions for new hair growth.
It clears out the scalp of any dead cells and keratin. There is a better blood circulation around the follicles and this is the foremost catalyst for rapid hair growth.
Directions for use
Massage a fair amount of the shampoo into your hair. Work it out until it leathers and leave it for at least 2 minutes. You can let it last for as long as 5 minutes to get deeper and extensive penetration.
Rinse it thoroughly until the hair is left clean and shining. It is advisable that you use it 5 times a week for the best results.
back to menu ↑
Maple Degrease Shampoo
Itchy and greasy hair is such daydreams that men wish they had a perfect way to do away with. As always, there are so many products out there that promise to get rid of these problems only to make them worse.
Are you still looking for the best shampoo for men that will heal your hair, take away the itching and grease? You are in such a luck today, Maple Degrease shampoo is the perfect choice that has just been introduced in the market.
The shampoo is superbly formulated with an anti-microbial and anti-inflammation combination that is present in every drop you use on your hair. Those with itching and grease hair will not have to overdo their shampooing to keep it moisturized.
It is reinforced to get rid of harmful pathogens and other microorganisms that harm the head scalp. The natural Rosemary ingredient is responsible for such effective results.
The major extracts are from French Cypress which works so hard to keep the hair free from perspiration and the result is an optimal scalp that gives rise to healthy hair.
Benefits:
As opposed to many other anti-itching hair products, this shampoo provides a solution to the problem instead of covering it up. With a few days of use, it clears away bacteria leaving the scalp clean and free from harmful pathogens.
Made from natural ingredients. It is formulated to cause no harm to any single hair strand. It is just like a natural part of your hair and you will never complain of any side effects.
A versatile product. On top of completely dealing with itching, it creates room for new hair growth and at the end you will have a thick mop on your head that will be the envy of your friends.
Keeps your hair moisturized thus you do not have the need for any other conditioners. It is the silver bullet that you have been missing for your hair care.
How it works
Itching and grease in hair is caused by excessive perspiration of the sebaceous gland. To end this, Maple Degrease shampoo has been designed to do away with this perspiration.
The French Cypress extracts are responsible for this and they are effective since a few days of use will eradicate the itching and gradually take on the grease. The addition of lemon as an ingredient, which is historically known for its cleansing attributes, rids the hair of any bacteria.
It also provides a cooling effect as well as the soothing aroma that is present in this shampoo. Rosemary stimulates new hair growth and heals the follicles. All these activities lead to increased oil production on the scalp and circulation is also enhanced.
Directions for use
The hair has to be rinsed first before adding a generous amount of shampoo. Leather it to the thickness you desire and leave it for approximately 3 minutes. The best time to do this at night and stay indoors to have the best results.
back to menu ↑
K+S Shampoo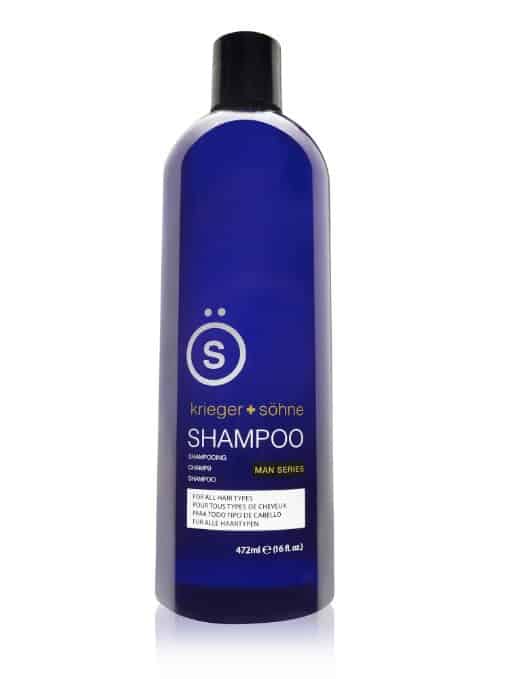 This is a three-in-one solution shampoo that will rid your hair away from dryness, dandruff and hair loss. There is no other product with its abilities in the market and this why users and dermatologists give it a 5 star rating.
This is a new formula that lives to its promise and you can rest assured that your hair problems will no longer be a bother anymore.
This shampoo is formulated to take on the challenge of each other day. Whether it is summer, winter or autumn, you have a friend by your side who will keep your hair healthy and thick to your desire.
It is a warrior in every way that will invigorate your mind with soothing and relaxing effect leaving your hair in perfect shape and condition. It contains tea tree oil and thus brings all the natural benefits of this powerful extract to your hair.
Benefits:
Made from the warrior plant, that has been known for its healing benefits, this shampoo delivers desirable results. It gives your hair the much-needed moisture which deals with dryness.
The scalp is left oiled and smooth both of which are the prerequisites for hair growth. A clean scalp does not harbor dead cells and you can say goodbye to irritating dandruff that has made you loathe your mature hair.
It returns your hair beauty. It is never an impressive thing to see once healthy mane begin to shed, accumulate dandruff and be desert dry. If you had a promise to get it back in one piece, you would give all that you have for it. Fortunately, S&K shampoo will not ask so much from you to get your healthy hair back. It restores every strand into natural texture giving it moisture to the roots.
Free from harmful chemicals such as parabens. There is no chance of harm that will come to your hair. The shampoo is keenly tested to ascertain its safety and that is what you get in every drop you use.
How it works
In its natural form, tea tree oil is a strong moisturizer. It goes down to every hair follicle releasing moisture and offering a healing process. Your hair is regenerated right from the roots giving rise to a refreshed mop.
The absence of chemical such as parabens limit the chances of any side effects so rest assured your hair is in safe hands. The tea tree oil has moisturizing and healing benefits that have been used by man to heal different conditions.
This time it is packaged into a powerful formula that soothes, heals and rekindles your natural hair into a beautiful bloom.
Directions for use
You only need a little amount of shampoo on your hair and leave it to do its thing. Thoroughly massage a generous amount of shampoo into your wet hair and see the best product reclaim your decent looks.
If your hair was heavily infested with dandruff, you can repeat the procedure. It leaves you with a nice aroma and smoothness that was your youthful look before your hair took a beating from chemical, sun and stress.
back to menu ↑
3-Pak Vitamins Shampoo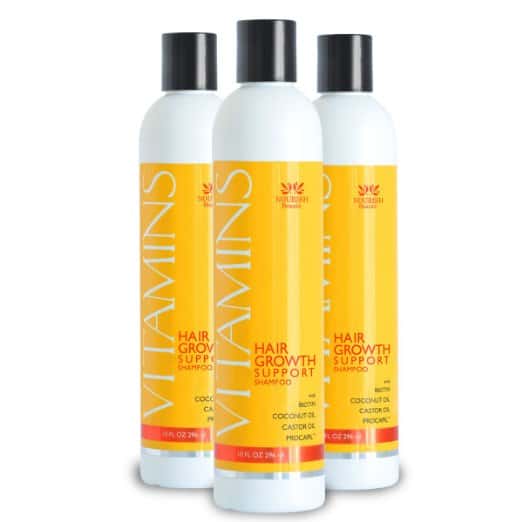 Loosing hair is a nightmare that some men have to put up with especially when they do not know how best to counteract it.
You will remain to envy your friend's thick hair when yours is thinning every day. But it does not have to look such a hopeless battle for you, one of the best shampoo for men can help you with this. 3-Pak vitamins shampoo is tailored to start your hair regrowth and heal the damaged parts.
Specifically designed to give a new lease of life to your hair, this Pak of ingredients has been tested and proven to be effective. It has been such a big boost to those who have been fighting hair loss for years to no avail.
It has DHT blocker which stands in the way to perspiration which is the catalyst to acute hair loss. It has earned a remarkable place in the market in Europe and it is now finding way into the global market.
It is built with natural ingredients to keep it safe for you and your hair. There are no known side effects so it is such a ride-in-the-park for you.
Benefits:
There is so much fuzz from those who want to sell hair products for the sake of making money. But the 3-Pak vitamins shampoo is never one of those. It makes and keeps its promise. Here are the benefits that come with its use:
It has the potential to grow your hair by 121%. No wonder it is so popular with many men who want to bring back their lost hair within a short time
Within a few days of use, it reduces hair loss by approximately 46%
It gives your hair a shiny lustre, more volume and makes it easy to maintain
Of all the shampoos for men, this is the number one product that will give it unrivalled healthy appeal.
How it works
This is a 3-in-1 product that has an overall impact of giving your hair a new healthy look. It induces moisture, cleanses the scalp and makes each strand solid strong.
The organic extracts are compatible with your skin and hair chemical composition. It is a perfect match of ingredients that will not only deliver the best results but also keep your hair intact for many years.
Procapil is a natural composition of coconut oil, castor oil, and biotin all of which support rapid hair growth and leave it thick with a shiny luster.
User directions
Start by wetting your hair and then apply a liberal amount of 3-Pak shampoo. Massage it to rich leather and leave it in that state for 5 minutes.
You will be able to notice a change within a few days or weeks. Do not be disappointed if you may have to wait for a month to see a considerable change. The actualization of results may vary from one individual to another but the guarantee is that you will end up with positive results.
back to menu ↑
Argan Oil Shampoo
Won't you need a shampoo that will serve all your hair needs? Yes, that is what every guy would want instead of juggling one shampoo after the other. Argan oil shampoo is the dalliance that you have never seen in a single hair product.
It keeps your hair health and you will never witness a loss of a single strand. This is what you have missed for all this time and it is time to make the prime decision, won't you?
This is not just an ordinary shampoo. Its formula has been compounded to bring together all the benefits of natural oils to your hair under one product.
The ingredients are diligently blended to maximize their effectiveness and you would not ask for better merchandise than what you are looking at now.
Its carotene, vitamins and essential fatty acids keep the hair nourished and looking healthy. It gives it a natural lustre and you would not fight the urge to show off your hair everywhere you go.
Benefits:
It is for nothing that Argan oil shampoo continues to receive positive customer reviews. Here are the benefits they must be realising and you should join the healthy hair bandwagon;
Natural oils benefits. The masterly combination of the natural oil has so many benefits to your hair. They heal, moisturise, increase circulation and cleanse the scalp.
It is an all-inclusive product. If you have a problem of dry hair, hair loss, and dandruff, you will not need to buy a variety of products for each problem. This is a synergized formulation that will solve all the 3 issues. Besides, it will also bolster your hair health, restore its natural glitter.
It offers therapeutic advantages and they come your way in a natural way. It is designed with your safety given the first priority and that is why there is a genuine intention to have most of its ingredients drawn from the organic pool.
Its working formulation
The collections of natural oils work together to sooth the scalp and increase circulation around the follicles. Peach kernel oil increases hair moisture and it has an intense regeneration value.
Almond oil sinks into the scalp and revitalizes it to form a rich foundation for new hair. Jojoba oil is historically known for its natural therapeutic properties will work out the hair to a fine thick mop that will be able to withstand hair loss and other adverse conditions that affect your mane's quality.
Botanical keratin will give your hair its natural tenacity to withstand any adverse elements such as chemical and heat. Finally, natural honey and vanilla give it a sweet aroma and a soft tone that will make it easy to style.
User directions
Just like all other shampoos, your hair should be wet before you apply a considerable amount of Argan oil shampoo. Work it up to rich leather and leave in that state for 3 minutes.
For better results, it is recommended you use regularly and your wish for a thick hair will be realized soon than you had envisioned. Enjoy your way back to the class of excellent hair guys.
back to menu ↑
Scalp 18 Coal and Tar Shampoo
If you have been through the experience of dandruff then you can attest to their discomfort. They make you itchy and you really wish there is something you could do to stop them instantly.
It appears your wish is not in vain since scalp 18 coal and tar shampoo does just that. It is a true performer and you can once and for all get rid of cheeky dandruff that has a tendency of showing when you want to look your finest.
Made natural from ingredients, this shampoo is a guaranteed formulation to clear out dandruff leaving your scalp sparkling and healthy top support hair growth. The manufacturer, Artnaturals has a line of the best shampoos in the market and for this one they did an extra work to have it deliver its potency in an unrivaled way.
It is a powerful conditioner that will not only deal with dandruff and itching, it goes further to heal dermatitis and other adverse scalp conditions that spoil your hair quality.
Benefits:
Why it is the best anti-dandruff shampoo in the market:
A pure natural product that is safe and effective. It has been tested for any side effects and its wide use has proved its efficiency and effectiveness.
Versatile product. Scalp 18 will not only deal with dandruff, it further goes to heal your scalp, boost hair growth and keep it healthy. You do not have the need for other hair products as long as you have it.
Free from chemical. Most shampoos in the market today use harmful chemicals such as sulfates sand parabens. Scalp 18 does not have a single element of chemical that may make it unsafe.
The secret behind its potency
You are bound to be left asking how this shampoo is able to completely deal with your dermatitis and other scalp conditions when you have tried dozens of other products in the past.
Scalp 18 coal and tar shampoo has been designed to a credible formulation that the market has never seen before. The secret is in the ingredients blended to give you the best product that does not cover up your problem but rather provides a solution.
Lemon, Rosemary, Jojoba, basil oils and lemon are the constituents that make up this product and they give your hair a natural balance.
As you may already know, all these are natural products known for their moisturizing, healing and cleansing attributes.
They rid of your hair and scalp of any microorganisms and dirt leaving it shiny and with a rich luster. There are no chances for side effects and you have your way to clean and thick hair in an instance.
How to use it
Rinse your hair first before applying a generous portion of the shampoo. Massage it to leather and ensure that it reaches the scalp. Allow it to be absorbed for 4 or 5 minutes.
Thoroughly rinse the hair. You are left with a clean and healthy scalp that is not only free from dandruff but is healthy to support hair growth.
back to menu ↑
Batiste Dry Shampoo
It is never said in bold terms that your hair needs cleaning from time to time. You do not need to have a condition like dandruff or hair loss to clean your hair on regular basis. Well, it may be because you have never found a credible hair cleanser that you leave your hair in its natural form.
Batiste Dry shampoo finally answers the question for a general hair cleanser. It comes with a freshness that you only imagined of but this time it is real and you can have it now.
This is a spray-like product that will not only clean your hair but will also heal damaged strands and regenerate new growth.
Batiste is a refreshing product that is made to reignite original lustre to your hair. It is made with modernity to suit a unisex clientele thus making it the best for the entire family use.
It has been designed with the most powerful cleansers and healers hence its unmatched success in bringing back lost hair thickness and beauty that men always wish to have forever.
Benefits:
Why it is worth your try:
It is used for all hair types
It is made from natural cleansers and healers therefore safe for your use
The easiest to use and you can do all the cleaning by yourself
It has received fair rating from dermatologists and men who have used it
Guaranteed success to keep your hair healthy and thick to your desires
How it works
Build to get rid of any pathogens and dirt from your hair, once the shampoo is sprayed each drop lands on hair and immediately start a cleansing process. It is fast to react and finds way to the depth of your hair.
Its natural cleansing effects are from the best oils and refreshers. It leaves your hair strong and every strand can withstand pressure from chemical and heat.
Directions of use
Shake Batiste vigorously before use. With the bottle held 10-12 inches (30 cm) away from the hair, the shampoo is sprayed lightly. Spray a generous amount before massaging it into the hair with your fingers. Leave it for at least a minute for the cleansing and healing effects to go deeper into every strand and down to the follicles.

Comb it to your style or leave it in its natural form for a thick volume. You now have a clean and healthy hair that you can show off to your friends. It may be a new beginning to get the attention of those girls who have evaded your attention in the past.

What a better way to know that your hair loss, dandruff and dry hair is not a permanent situation. The top 10 list of best shampoo for men is the goldmine that should re-establish your great hair. These products have been tested and proven to deliver excellent results and you are just a step away from stopping your thinning hair.

It has never been easier than to have the best hair products delivered to your doorstep. Make the gentleman decision today and say goodbye to unhealthy hair.

[easy-social-share]