50 Dashing Nazi Haircuts – Smart Military Inspired Looks For Guys
Although the name of this style may be a little controversial. This look is also sometimes referred to as the "slicked back undercut" which was heavily favored by soldiers and officers in Nazi Germany during the war.
There are many variations of this look, but most of them include hairstyles where the sides and back were buzzed short and longer hair was left in the upper section.
This hair was sometimes parted, with a middle or side parting) or just brushed back and held in place with the product. Here are 50 smart hairstyles to give you insight into this fashion trend:
# 1 Cantered Undercut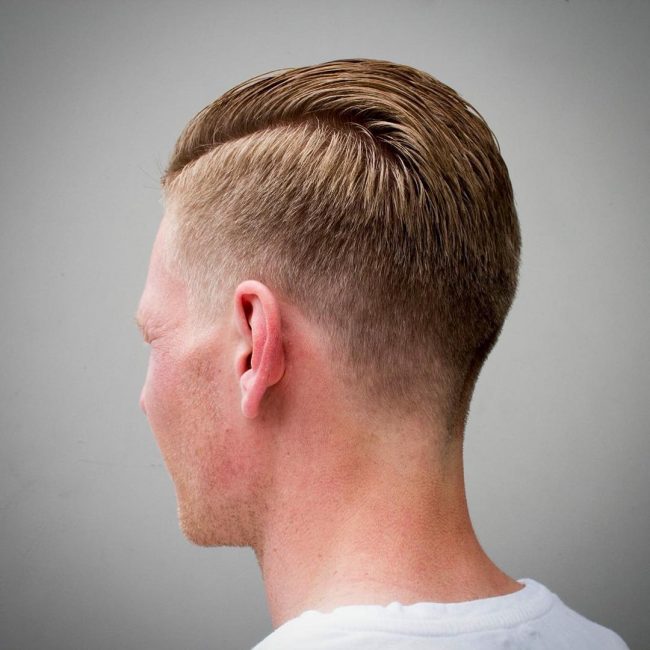 In this style, the hair has been shaved into a rounded undercut along the back and sides while the upper locks have been slicked to the right-hand side, alongside a high parting.
# 2 Back To Vintage
In this picture, the high undercut on either side is covered by the long hair on top, which has been brushed and slicked straight back past the crown. The sides have been trimmed with clippers and are at a stubble length.
# 3 Regulation Crew Cut
Hipsters are reviving all military style haircuts including vintage ones like this. To get this look ask your barber to shave your sides bare and brush cut your top locks. Style it spiky with a little product to finish.
# 4 Officer Style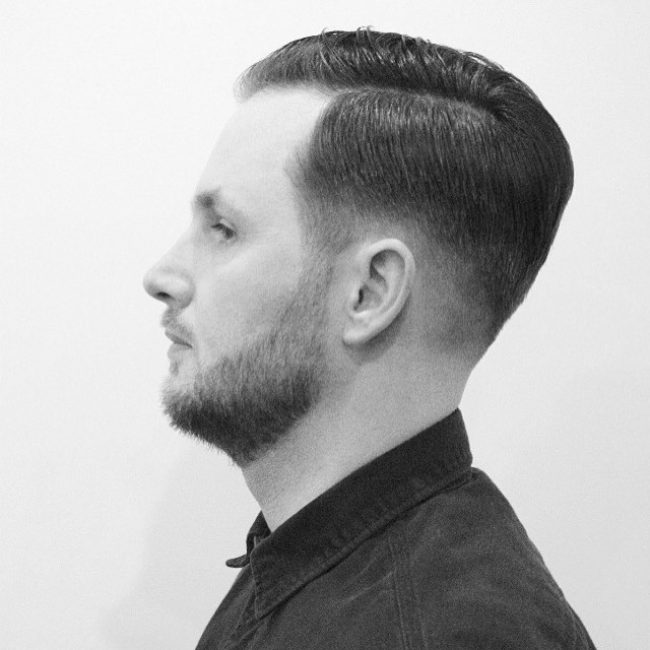 In this look, the sides have been given a razor fade, with the shortest layer behind the ears. There is a long straight parting to give the look balance and the hair on either side has been combed over.
# 5 Clean And Contoured
Nazi-inspired haircuts are all about those clean, sharp lines. In this look, the graded undercut has been topped with platinum white color on top to emphasize the neat cut on the upper locks.
# 6 Hipster Revival
Here the model is wearing a vintage type hairstyle with a pompadour-inspired lift over the forehead and a tapered undercut on the side. He's teamed this with vintage frames and a mustache for a hipster feel.
# 7 Short Comb Over
Here the model has a high parting with brushed over locks on one side and a single length razor cut on the other. Although the hair is slicked over there is a slight curl in front which adds to the vintage feel of the style.
# 8 Liking It Long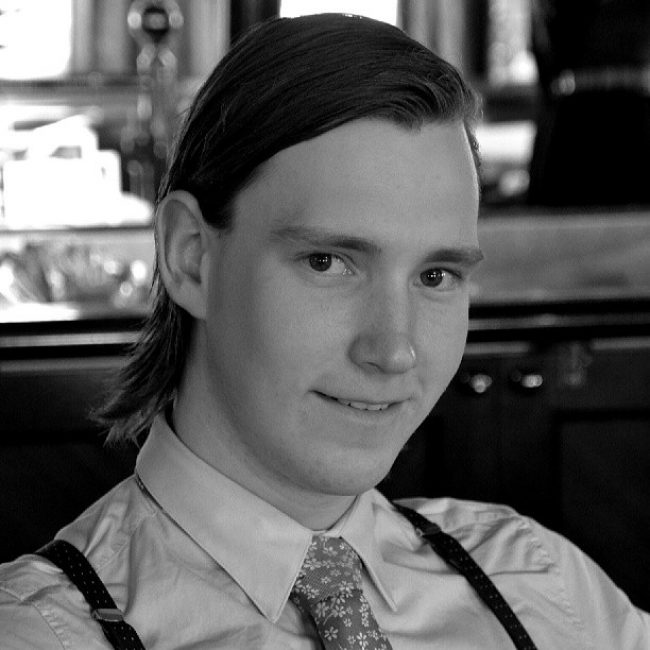 Don't want to lose your long locks? Don't worry – here is a Nazi-inspired haircut for you!
The hair has been allowed to grow past the neck and while you can't see it there is probably an undercut to ensure it's manageable enough to sleek the locks back.
# 9 Taper Time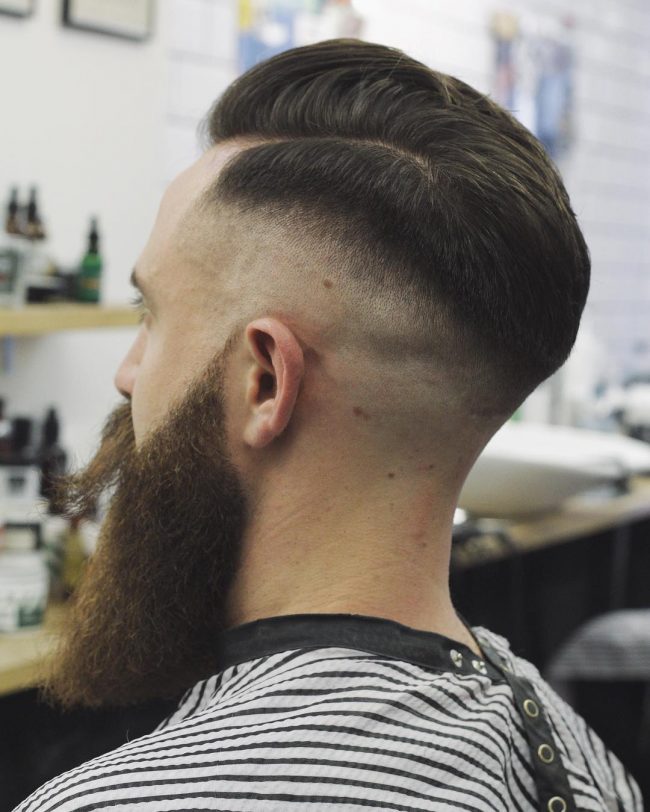 In this look, a tapered undercut dips into a V-shape at the back, which helps provide contrast to the thicker hair on top. These upper locks have a slight pompadour style and are balanced by a high parting.
# 10 Smart Guy
Instead of shaved locks alongside the parting, this look allows for more length; making it easy to slick the hair down for a neat gentleman style. This look is simple but effective and ties in well with his facial hair.
# 11 Fast Fade
If you want a solid look with no severe lines then you should try this fade style. The longest locks on top, which have been brushed back, help to blend the fade out along the sides.
# 12 Classy Brush Back
If you have a slight wave in your hair as this model does you may need to use a stronger holding product to keep your hairstyle slick. He's wearing longer upper locks and a tapered undercut.
# 13 Forward March
This Nazi-inspired haircut allows the hair to be slicked forward instead of back (take a look how it has been cut around the crown).
Alongside these longer locks the hair has been shaved very short, allowing for contrast.
# 14 Dashing Look
In this picture, the model is wearing a vintage comb over style with a slightly disconnected parting. The hair has been smoothed down on the sides and there is a slight rise in front.
# 15 Pairing Styles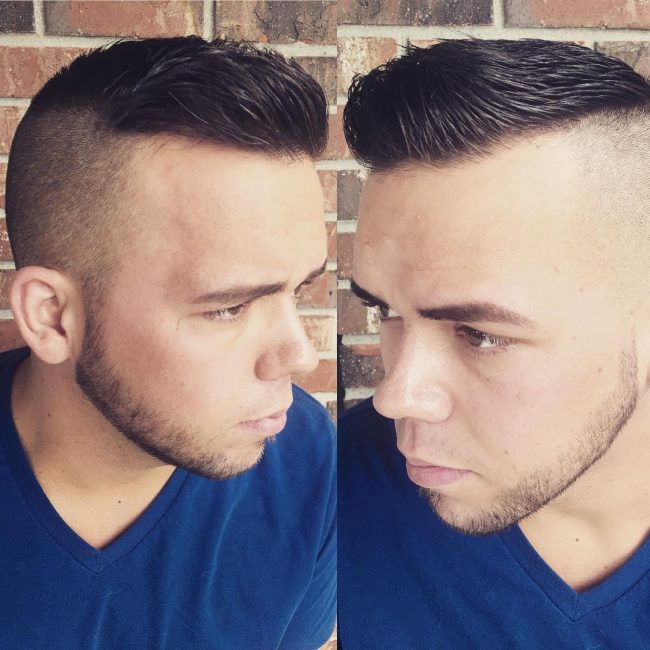 Here we see another cut that will allow the hair to be brushed neatly forward. The sides are razor short and the stubble length allows his hairstyle to compliment his facial hair.
# 16 Serious Business
To create this look the stylist has trimmed the sides quite short and high and used a scissor cutting technique on the upper locks to provide texture. The hair has been combed to the side and secured in place with the product.
# 17 Bald Fade
Are you tired of razor cut sides? Why not just shave them completely like this model did?
This places much more emphasis on the top locks which have been brushed up and then back in this picture.
# 18 Hard Partings
Hard partings (created using a razor) are popular with all types of military inspired haircuts including the Nazi-inspired ones we are looking at today.
In this example, this defined parting is helping balance the volume of his wavy hair.
# 19 Add Texture
In this picture, we can see how scissor cutting some of the locks in front helps gives this style an edgy feel. To the side of these longer locks, you can see an expert skin fade.
# 20 Texturised Top Locks
This look would not have been suitable for the officers of the time, but it is a modern take on a vintage style. The top locks are chunky and texturized with plenty of volume while the sides gently fade out.
# 21 High And Tight
This model has quite an angular face and his hairstyle helps provide some balance. The sides have been trimmed short with the clippers and are separated from the longer hair in the middle by a centered parting.
The slight lift in the section of long hair sits slightly to the side.
# 22 Attention!
In this look, we can see a skin fade around the edges with the greatest volume of hair on top. These locks have been cut to fall forward and to the sides.
# 23 A Cut Above The Rest
In this picture, the hair has been styled to have a skin fade which radiates outwards from the crown while the upper locks, alongside the high side parting, have been slicked over.
# 24 Part It Your Way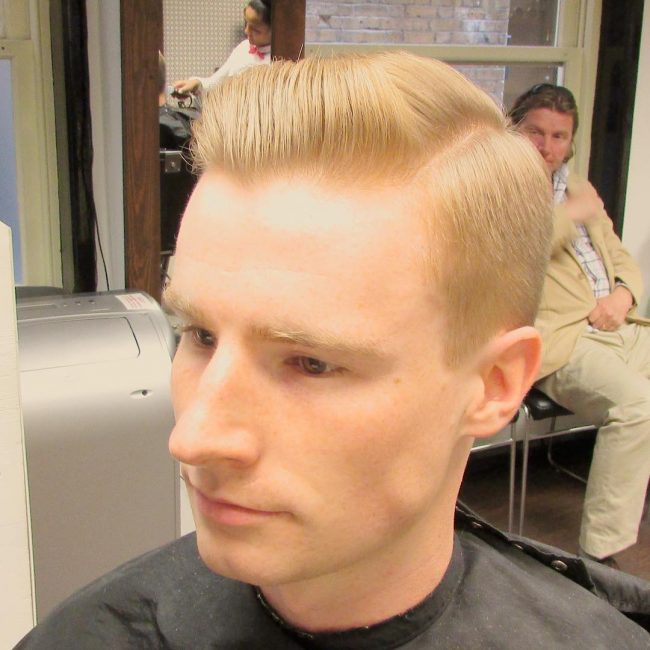 For this style, the undercut is very subtle and there are no harsh razor fade lines visible. The upper locks have been combed forward into a neat quiff while the hair behind this was combed to the side.
# 25 Clever Fade
In this look the upper locks are quite short, allowing the hair to have a sleek look without using the product. The stylist has given him a finely graded undercut along the sides to finish off this professional look.
Idea # 26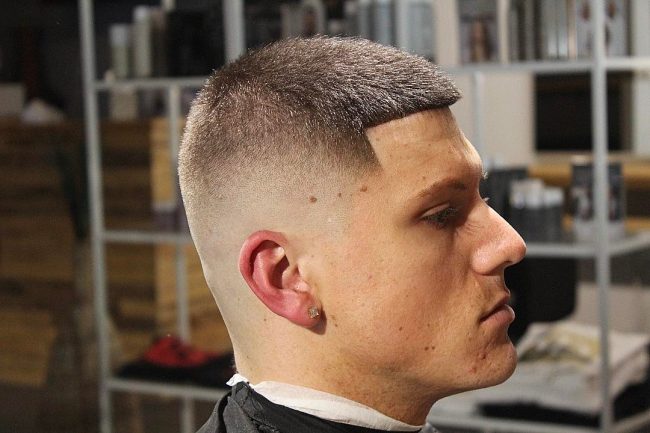 Idea # 27
Idea # 28
Idea # 29
Idea # 30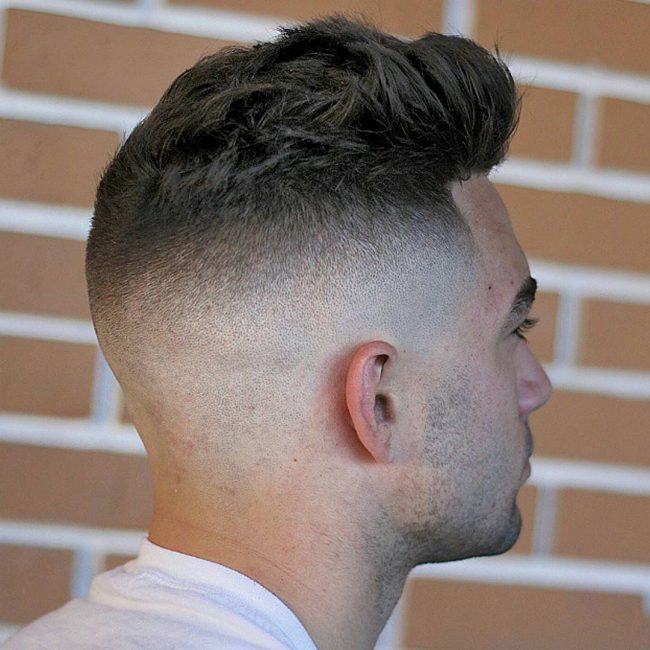 Idea # 31
Idea # 32
Idea # 33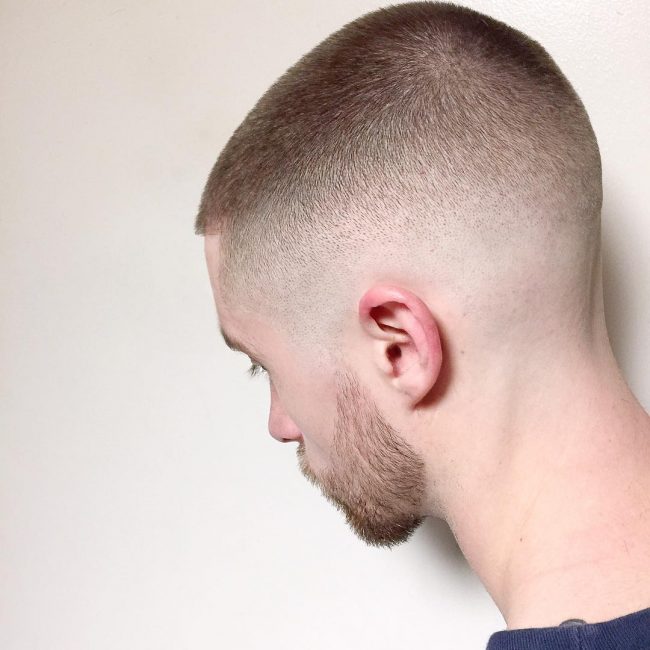 Idea # 34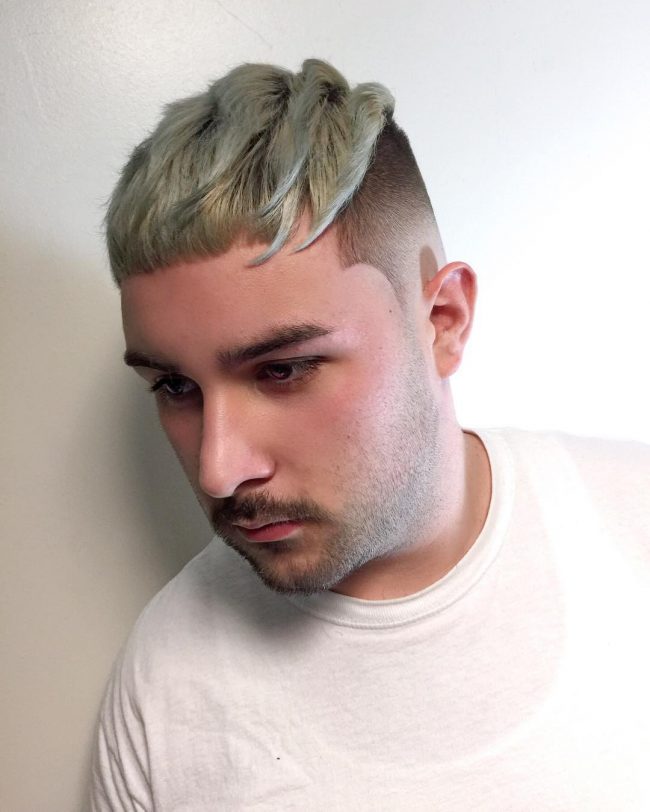 Idea # 35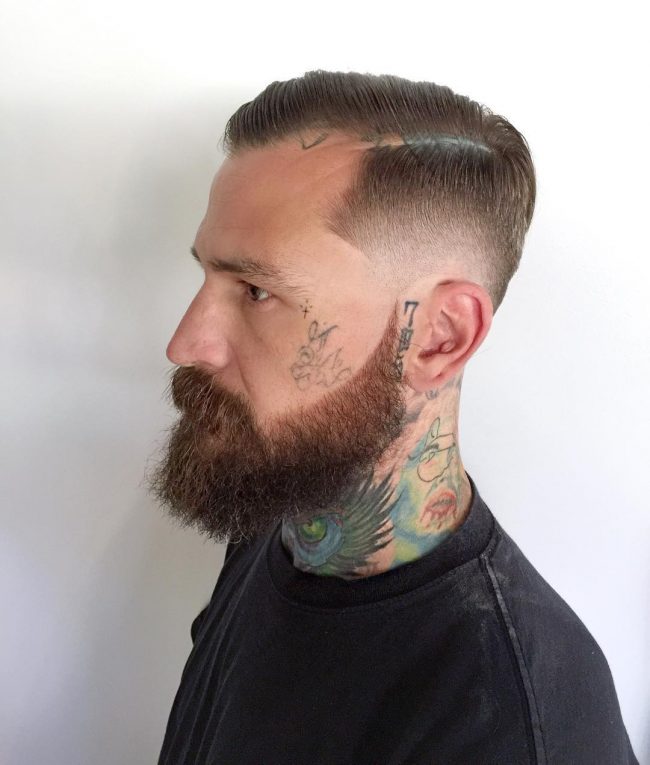 Idea # 36
Idea # 37
Idea # 38
Idea # 39
Idea # 40
Idea # 41
Idea # 42
Idea # 43
Idea # 44
Idea # 45
Idea # 46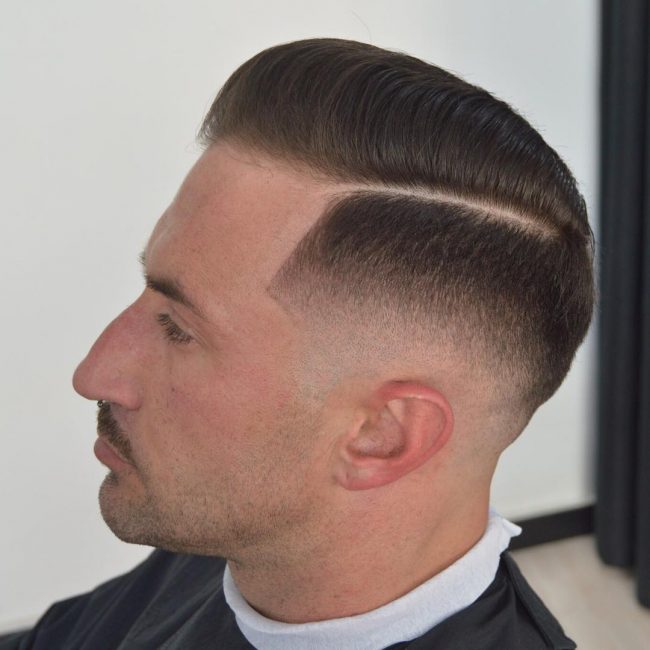 Idea # 47
Idea # 48
Idea # 49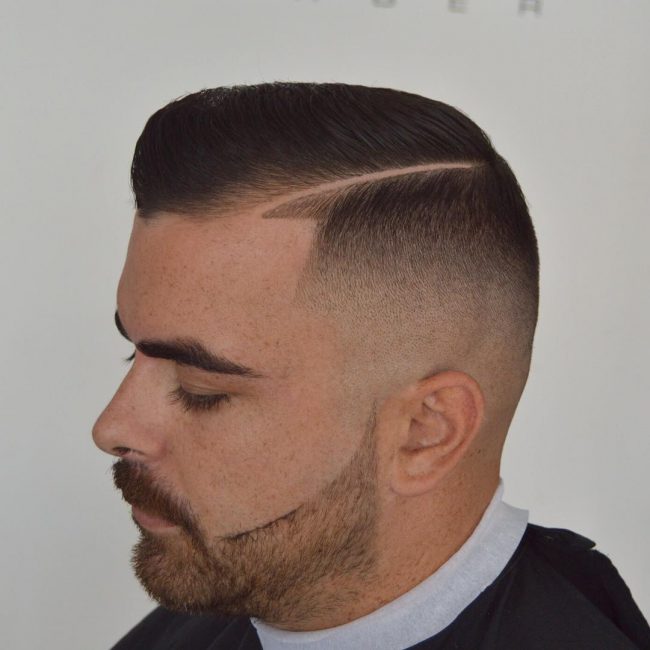 Idea # 50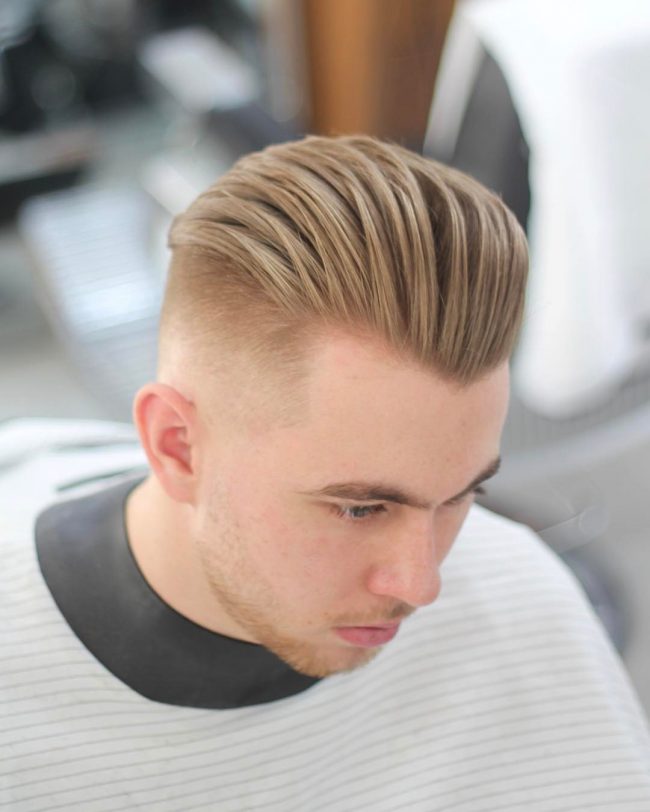 When we need new hairstyles we often look to the past to find looks that we can reinvent. Although the name of this style is Nazi haircuts these styles were favored by many men during that era and the short back and sides look has remained popular with gentleman ever since. This is a versatile look and definitely, one worth trying.