Guys agree on a great haircut when they see it. Short on sides long on top is a more agreeable hairstyle among men due to its class. It would be the easiest task to get one that will go all the way and make you perfect for your routines.
Simplicity and flexibility are things that you would want in your new hairstyle and that is a promise you can get if you choose one or two of the 85 hairstyles elaborated here.
# 1 Forward Brushed Gentle Waves
This is an easy style that's simple to maintain and low-effort. The long hair starts at the crown and is brushed gently over the forehead in natural waves.
# 2 Brushed Back Red Locks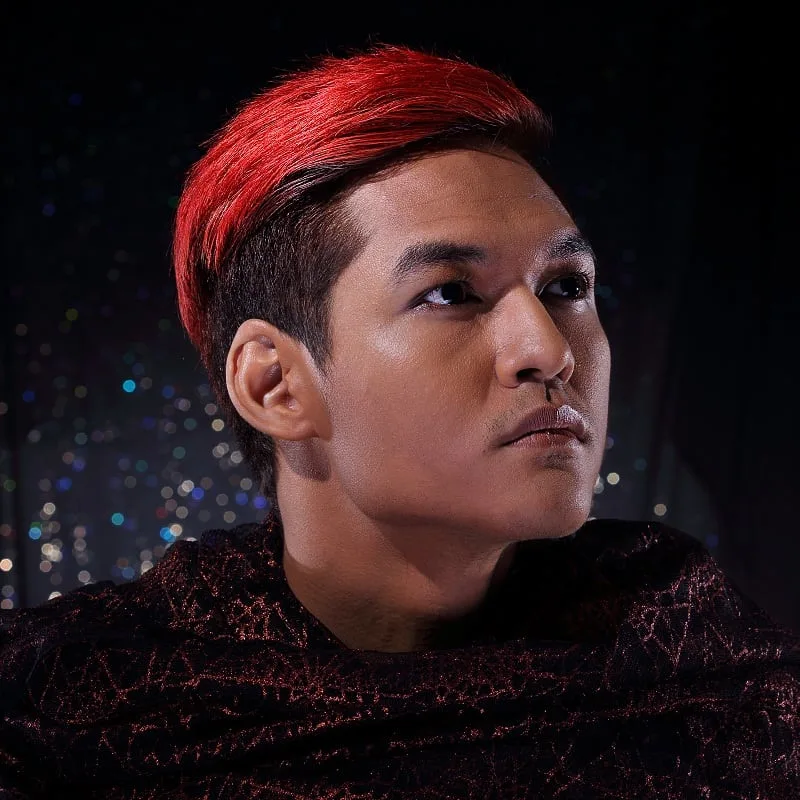 Here's a somewhat edgy but still simple style. The top is dyed a blood red while the undercut sides stay dark. Brushed back from the forehead, it's an effortless everyday look.
# 3 Gentle Quiff-Style Waves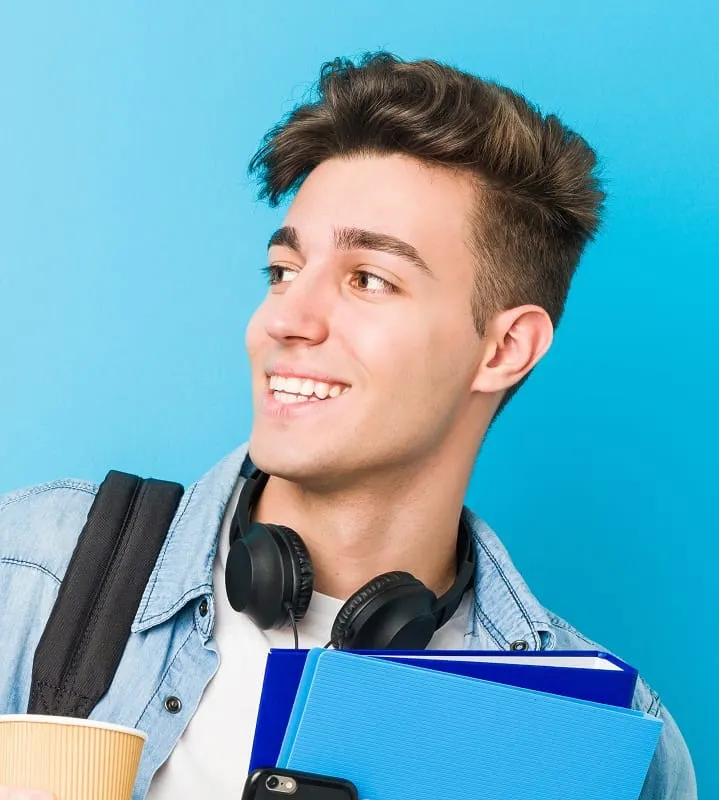 Now we enter a territory that takes a little more effort. Style your natural waves upwards into a quiff, but let it fall to the side for a softer, messy-casual appearance. A lock falling across the forehead adds an air of approachability.
# 4 Spiked Afro Tendrils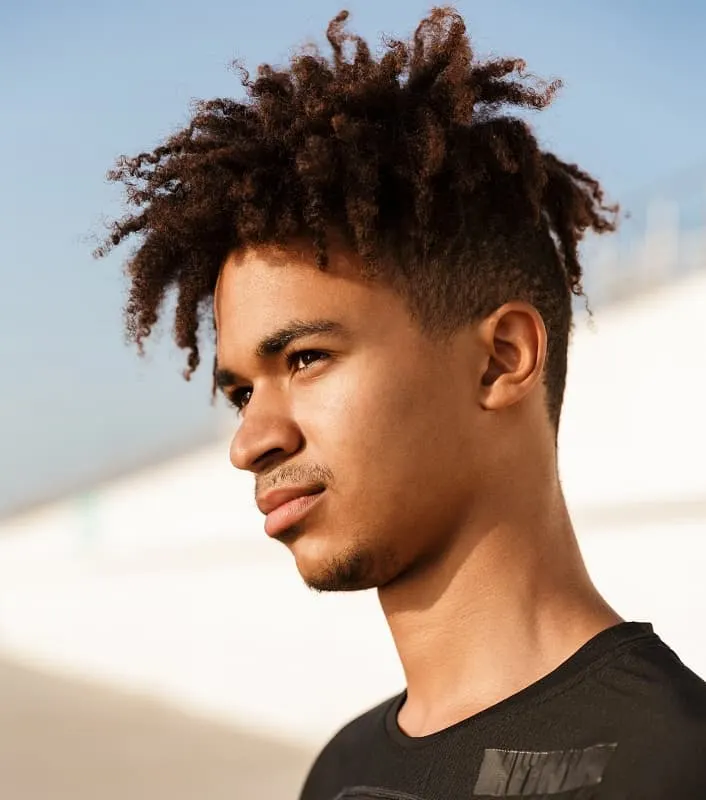 Afro-textured hair is wonderfully styleable, as we can see by the loosely grouped tendrils. The hair is full of volume, standing a little falling over the short sizes which boast a gentle fade.
# 5 Topside Braids
This low-maintenance hairstyle will cost a lot of time to create upfront, but from there it's effortless. Piles of thin braids punctuate the soft shaved sides, falling gently over the face and back of the head.
# 6 Side Swept Softness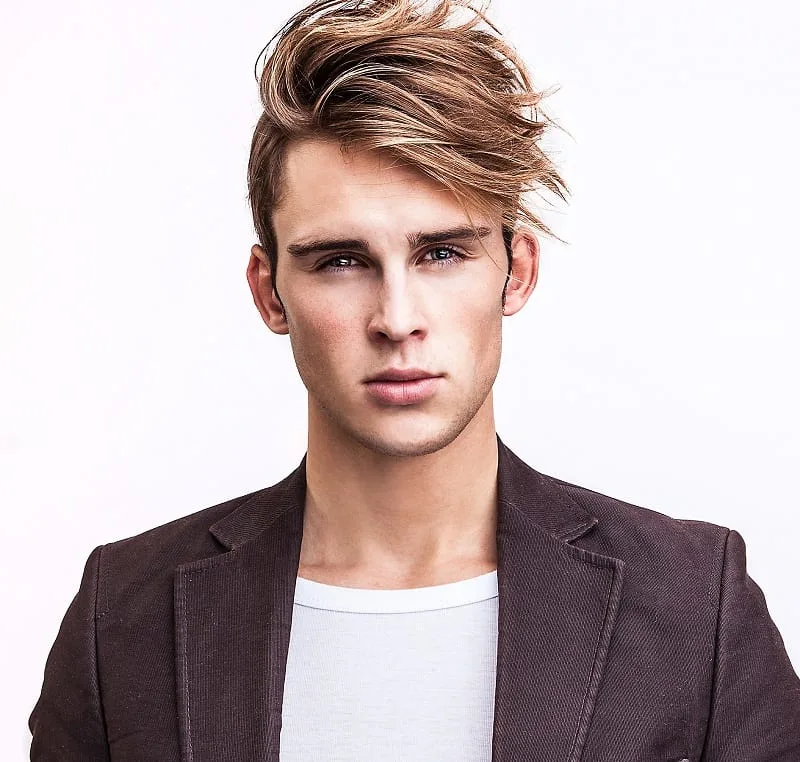 For guys with very long hair on top, sweep it off to the side for a wind-touched look. Some hair falls across the forehead where it stands higher towards the back. A little hairspray goes a long way with this do.
# 7 Gelled Messy Spikes
Here's a look for the everyday man, sporty and formal in one. A little gel sends these roughly finger-styled spikes standing high, with a gentle arch to the side adding motion.
# 8 Swept Back with Volume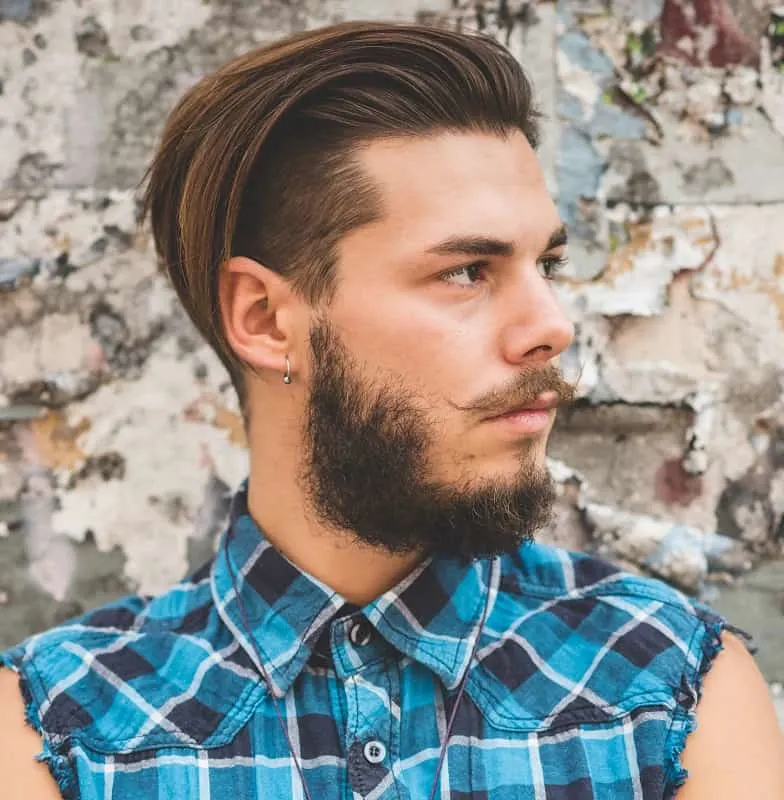 Another style for long-haired guys, the long hair is swept back, falling down the back of the head for a sleek, effortless everyday look. You could easily manipulate this style to work for any occasion.
# 9 Slicked Back Silver
This blond hair is so light it appears silver and is pushed back neatly, revealing closely shaved sides. Its neat appearance works wonderfully with the scruffier facial fuzz.
# 10 Natural Curls
Curly hair can be a nightmare to style, but it works here. A little gel to keep them in place, and the curls gently meeting the forehead look naturally messy, but well-placed.
# 11 Rock Look & Bangs
You can definitely attest to the fact that any cut with bangs does not disappoint. The top is left long and part of it given a back drag.
But the catchy effect is with the bangs that are drawn to one side and they fall to as low as your mustache. For guys with thick beards, this is the rocking style you would want.
# 12 Long Wild Curls
Are you noticing the details in every strand you are seeing in this style? The side curvy lines are extremely touching but wait until you get to the long top.
The stands are curly and they make an impression that you normally see with celebrities. It is time you go wild and bring life to your style with the long curls.
# 13 Compact & Locks
Cute guys want to bring all the nice looks for the ladies to see. Compact and locks is smoothened at the sides of the long hair but left with shorts locks at the tips.
It is a daring style but it gives prominence to your nice looks. This is a look you will not have to think twice to tell your barber to do it. It is the easiest decision you will have to make for a haircut.
# 14 Mini Pony Tail
You are not wrong to think that you can have a ponytail for your short on sides design. Mini ponytail is an answer that comes to you easily.
The tail is not that long but it is just enough for the good looks you end up getting. Not much that you have to do to have it, just giving the details to your barber.
# 15 Brown Crown
Guys with brown hair have a variety of choices to make when it comes to your haircut. The brown crown is fetched from the top perk judging it by the stunning looks it gives you.
It is tallest at the front hairline and it recedes in size towards the back. The head side bundles of hair are drawn towards the center to make a stout look.
# 16 Classical Tips
If you are looking for a cut to go with your thick chin beard, classic top is more than your fair bargain. It is drawn backwards and it leaves the perfect face and thick beard to be admired.
You can never be worried about your looks if you have such a design. It is for all occasions so you do not have to change it every now and then.
# 17 Smooth Fall Back
As said earlier, simplicity is a thing you would want for your haircut now that you are bored with the style you have had for years.
The smooth top is combed backwards resulting in a sleek patch that will be an eye-turner and black hair would be the best color but you have the liberty to choose your preference.
It is not such a difficult style to pull and once you have it you can never have any regrets from your choice.
# 18 Crazy Curls
Hold on, guys. Do you say that the crazier it gets the better for you?
Here is a style that is trendy for whatever event you have lined up. The high tips are in two layers; a smooth one and the curly one that is what rocks in this design.
It is refined too with a slight touch on the tips to give it a wild stand out. It is a belief among many guys that if you are in your fine element then that is your character and you should live it to the fullest.
# 19 Flocky Tips
It is what you would call a simple guy haircut but that may not suffice for a style that big names would want to have.
The head patch is combed towards the back head drop and then given a slight tilt to one side and that is where the 'flocky' effect comes from. For your casual or formal routines, you have your looks taken care of.
What more would you want than the looks and admiration for the gals? It is time to get a fair share of ladies' glances and here is your chance on a silver platter.
# 20 Textured & Faded Blend
Any style with a tangible texture would be great for the bold guy and you are just that man. Among the short and long sides, you would say that this is a top catch for the latest trends that many guys would like to have.
It has attracted the attention of celebrities and you would be in a recognizable company with such a do. All these promises for great appearance all come to you in a simple way and you do not have to break a sweat to have it.
# 21 Smart Guy Quiff
Quiffs came not so long time ago but they have taken men's fashion consciousness to a new level.
It supports the theme for short sides and you are looking to a master class appearance that will leave your face bold with its natural beauty and that is an attribute men would 'kill' for.
# 22 Daring Top Patch
What the name says is exactly what you will get to the letter. Hair on the head is long but tamed to a flatty appearance and you are excellently looking in this style.
It is never in vain to have such a great appearance and you know you have the looks of a star.
# 23 Wilderness Thorny
Just like the thorns of the wilderness, this cut is as rough and crazy to the full scale of the words.
The top is left long and it makes artwork with its locks and they are left to curl in different directions just like it would be in wild thorny tree. A few bangs fall to the forehead but they do not go farther than the eyebrows.
# 24 Racing Long Side Sweep
Short on sides long on top do not lack in charm and you will be amazed by what is all offered for you in here. A sweep begins at the top and goes as far as the ear level.
The hair is not left straight as it makes curls which add to the flavor of such a great cut. It is such a great impression you will make for the party or performance that you are attending next.
# 25 Dominant Top
Yes, if a dominating top is your thing, here is your desire easy and effortless. Tips are not touched as the sides are shaved short. But they are not left to keep a vertical growth. They are styled to make a resting position.
At the front some bundles of strands are dropped to the front as bangs. What a nice look for your streak of performances.
# 26 Thick & Black
You never want to leave anything to chance and that is why you will need a top-notch cut that will make a strong statement. Thick and black is your chance for that.
Combed to the back and ends some inches before the nape line. With a thick under chin beard you will be a stunning presence and your wish for the classy girls is at you beck.
# 27 Perky Top With Bangs
You would understand why every other guy would want a style with bangs. They give your cut a sophistication that cannot be easily copied.
The perky top is loosely drawn towards the front and makes a fall to the entire forehead. It is scenic both from the back and the front and you would be in your true element with such a look.
# 28 Bi-Parted
Take a look at what cuts were making the rounds in the 90s. The bi-parted top was such a favorite among guys back then.
The good news is that it has never lost its pomp and you can bring it back of course with shreds of modernity. To make an excellent finish you would go for a weirdo mustache that is if you have one but it is not a prerequisite.
# 29 Alternate Sweeps
You must be ready to go headfirst to have such a super cut on the first sight. The top begins slightly below the back head drop and moves towards the front.
The first sweep, a bigger one, goes to one side and makes a groovy form at its end. A second sweep that is small is made almost at the front head line and goes to the opposite side to the first. It makes a rounded end and what a creative design it is!
# 30 Wedge-Like Mohawk
You can see the precision of the cut at the edges of the Mohawk. The wedge begins with a low side at the back drop of the head and makes a steady ascend towards the front.
The tips are blunted with considerable trim. This is a definition of a guy who knows how to have the best looks.
# 31 Serious Guy Cut
The first thing you would notice in this cut is the prominence it has given to the cheek bones and cute face. They are left to exude confidence and only get 'nicely murky' at the beard.
Both high tips and sides are combed backwards to varying fineness and length. You would notice the intention of the barber to make it a serious look.
# 32 Flat Crop
For the guy who likes to get flowery with tattoos, you would need a cut that would make them outstanding.
Sides are closely shaved while the long top is cropped to form a thick flat top. Simple to maintain and flexible is a major reason why most men will not blink to make this one as their pick.
# 33 Weird Top
It gets crazy here with the top left to do turns and curves that leave it with the impression of an aardvark antelope horns. It would not pass anyone without noticing it and you have to be bold to have the weirdness come out as intended.
Some of the bundles point to the top, others back and front in such a way that you can never establish any intended pattern.
# 34 Sharp & Flaky Spikes
There is a great statement that you would make with flaked tips if you are the fun-loving type. The top is running the show here with sharp spikes that would from afar look flaky.
It is not a so-common-style and your uniqueness will be something envied by your friends and others in your social circle.
# 35 Brown Chops
Natural hair can be such a beauty to behold if you give it the leeway to be in its purest form. Brown chops are left to form waves and spikes at the top.
Succeeded by fine side layers, it is a cut that would be the talk in town and make others want to have their try at it.
No intensive combing or brushing because the top is left in its natural state thus your only concern will be the short sides. Your style is defined here and you do not have to struggle to show it with any other additions.
Idea # 36
Idea # 37
Idea # 38
Idea # 39
Idea # 40
Idea # 41
Idea # 42
Idea # 43
Idea # 44
Idea # 45
Idea # 46
Idea # 47
Idea # 48
Idea # 49
Idea # 50
Idea # 51
Idea # 52
Idea # 53
Idea # 54
Idea # 55
Idea # 56
Idea # 57
Idea # 58
Idea # 59
Idea # 60
Idea # 61
Idea # 62
Idea # 63
Idea # 64
Idea # 65
Idea # 66
Idea # 67
Idea # 68
Idea # 69
Idea # 70
Idea # 71
Idea # 72
Idea # 73
Idea # 74
Idea # 75
Idea # 76
Idea # 77
Idea # 78
Idea # 79
Idea # 80
Idea # 81
Idea # 82
Idea # 83
Idea # 84
Idea # 85
Believing that you have already made your favorite pick or a number of them, congrats on your new look.
Keep watch on what we have in store for you and you will always be the trendy guy who knows how to show up for every event.
It helps to have someone covering your back when it comes to making plausible choices for short on sides long on top haircuts.