Of course no one would resist an easy way to look handsome and in this case the faux hawk fade hairstyle is such an addition.
It has been around since the punk rock movement but its popularity has never died down due to the constant updates. It is edgy, cocky and if you thought it cannot be taken seriously then you are terribly wrong.
Here is a rich list of 75 cuts that will reinvent your style to a brand new trademark.
# 1 Sleek Hawk
If you want a faux hawk but you're a classier guy, here's a sleek, side-swept faux with a hard parting. The fade is a stark change from neat, short hair to baldness. It really brings out the edge of the scraggly beard.
# 2 Windy Undercut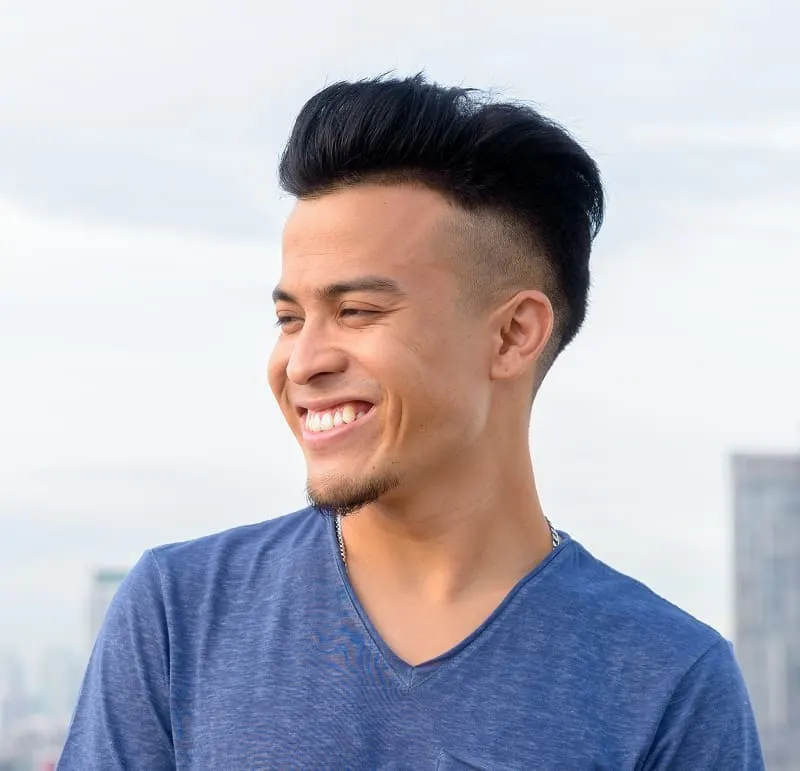 This faux hawk is for guys with thick, luscious hair. The fade is so subtle it looks more like a basic undercut, while the top hair is styled neatly back over a shorter style on the crown.
# 3 Spiked Roll with Edgy Side
This style molds edgy and classy. The faux hawk curves over to one side, leaving a thick bank of hair cut short on the other. This cuts off, revealing a number 0 side shave with edgy patterns buzzed in to stand out. This is for guys who want a cool look and don't mind a little maintenance!
# 4 Bleached Messy Hawk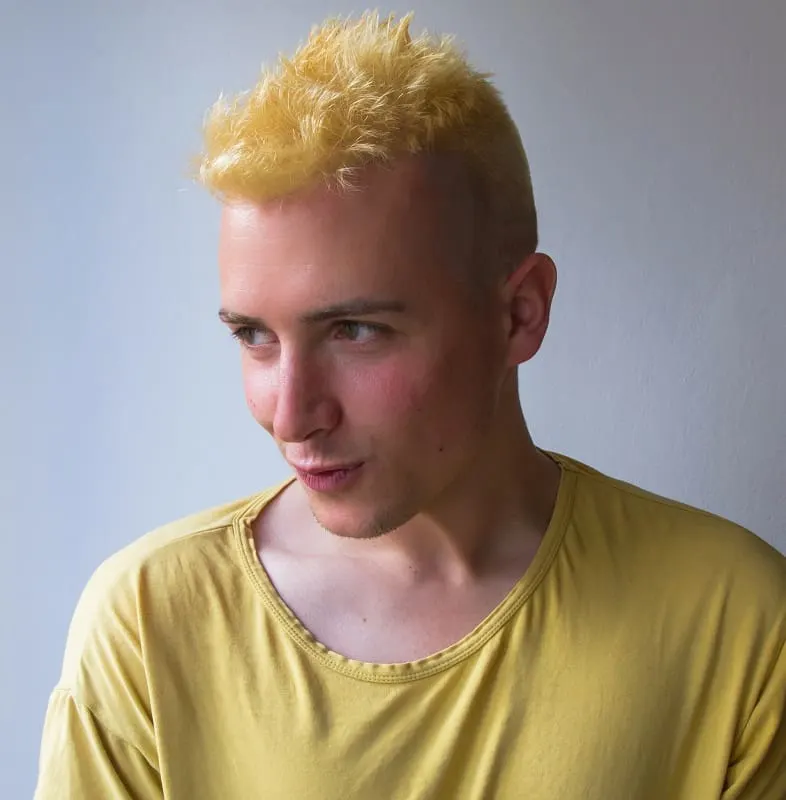 For guys who want to stand out differently, bleach your hair and style the hawk into messy spikes. Your hair is so light you barely notice the side fade.
# 5 Short & Ruffled
This is a wider faux hawk, short and ruffled. It stands out thanks to the bald sides, created with thick-to-skin fade.
# 6 Medium Faux
It does not mean that this is the length you can only have for your hawk faux, you can make it short or longer. It is a flexible style that will be molded to suit your preferences.
The sides are skinned while the nape is tapered to create a curvy edge. The middle and top patch are left long to create a Mohawk impression.
# 7 Swirling Effect
Not many people would notice that this is another cut from the hawk family. The short and flat landing top may deceive you but not after this.
The sides are shaved to the skin as the longer top is styled into intricate backward swirls. This gives it an attractive appeal that you would feel superior in.
# 8 Long Dropping Sides
If you are the kind of a guy that wishes to preserve the side mane untouched, here is your pick. With the top in medium size, it is given a spiky end at the front hairline.
The sides are left long and coiffured in a bundle that fall over the neck region. It is a professional looking design and you can knock doors on all occasions knowing that you are 'cool'.
# 9 Baked Crown
The lower sides up to the ears are shaved bare to act as the origin of the top crown. From the front, the hair is given a slight trim all the way down to the neckline.
A brown-baked layer is added at the top and runs the same way to the neck. It is a cute guy look that will have heads turning everywhere you go.
# 10 High & Smooth
Close skinned sides that are demarcated by a straight line where they end, are the humble foundation of the high top. The patch on the head crown is touched just a little and then finely combed towards the front.
It is given a groovy turn at the forehead to form a 'cavy' impression. Both the front and back will leave you in awe and you cannot resist the temptation for one like this.
# 11 Shy Mohawk
The name is coined from the fact that it is not a full Mohawk cut since the spike middle top only goes as far as the drop of the back head and ends in a tapered impression.
The sides are cleanly shaven to leave not-so-wide patch that gives rise to the 'hawky' crown.
# 12 Finger-Comb Long
Of all the styles you see here, this is one of the few that you will use your fingers to style it. The top is left edgy and runs low into the neck.
The sides are treated to a combination of styles as upper area is tapered while the lower is cleaned to show the skin.
# 13 Fohawk Sweep
You must be amazed with the creativity of this cut because you never believed you could have a side sweep for the bubble family haircuts.
Yes, it is there with the front top and the nape separated to make a distinction of 2 sweeps. It is wild, popular and you can have that look anytime you feel like it.
# 14 Short & Spiky
No show of skin at the sides but they are flattened to create the typical look for a hawk top.
The top is left to medium length and then done to form front running spikes. Simplicity is here and you can go to your serious events without any jitters.
# 15 Cute Black
It brings out the handsomeness in your face by drawing away any hair strand to the forehead.
The sides are finely combed backwards to form a lesser layer than the top. With only reserved combing, the top is tilted to the back but left vertical and with a spiky finish.
# 16 Furrowed Hawk
For those with sparse hair and want it in soft tone, you are at your best with this choice. The sides are designed to look like racing furrows and they move upwards.
They give way to the craziness at the top which is long, racy and pointing to different directions. You are at your finest rocking look if this is what you choose for the forthcoming performance.
# 17 Precise & Bridged
Every strand on the top mop is in its place. The sides are brushed into a smooth texture to create a stark contrast with what is coming on the top.
The bridged scenario is at the drop of the back head where the nape region and the head top patches are separated. It is an easy going cut that will not require much attention to remain intact.
# 18 Full Sides
As opposed to many cuts from the faded hawk, this one goes against the grain to leave the sides covered. They are only touched to look like they are shorter so as to keep the attention on the top.
The top patch is shaped as curls at the tips and make backwards groove. You can go for your professional engagements with such an appearance and be noted for your trendiness.
# 19 Crocodile Spine
The entire hair is relaxed and oiled into a glossy appearance. The sides are cleared to leave the top as the dominating section.
The middle bundles of the top are shaped into what appears as the scales of the spine of a crocodile. Girls will not miss to notice this and you will be their favorite.
# 20 Girth Look
Another type that spares the sides but this time they are combed towards the front to form a thick mop around the head.
The top is lifted slightly to form an imitation of a Mohawk. You cannot deny that it is one of the best looks to redefine your sense of fashion.
# 21 Tidy Top
The top section is formed from the ends of the sides and drawn to form a convergence at the middle of the head.
The converged top ends in tips that form a tidy straight line of strands. It is simple and a definite catch for a young look.
# 22 Young Boys Style
You would be tempted to think that faux hawk fade cuts are meant for the big boys only. Definitely that is not true because even the small boys can have their own pick.
The sides are drawn into a downward fall and where they begin marks the start of the top patch. It is combed upwards and brought together to form a thin confluence.
# 23 Buzzing Back
The sides and back are cleared to the skin. The top is left with what looks like a military influenced patch but this one has more additions.
Groups of strands from the opposite corners of the top are dragged towards the center but they do not make any contact. They leave a thin line in between.
# 24 Messy Top with Bangs
Just like their nature, bangs find their way into the faked Mohawk and the final results are impressive. The top is wide but left in a scattered formation. It looks rough but that is the intention.
At the foreline, some short strands are dropped to point to the forehead but they only make a brief contact. You can tell its greatness if you are keen enough to see how each section complements each other.
# 25 Extreme Thick
There is a convention that the top of a hawk crown style is thin but the rules are redefined in the extreme thick haircut.
With the sides trimmed to a shorter length, the top is left in a thickset. It is allowed to make natural waves which only add to the thickness that is a clear intention that the barber wanted to achieve.
# 26 Rat Tail
This style drew so much fuzz in the 80s and it has remained strong for all these years but not without some upgrades. The sides are shaved while the back is designed to what looks like a rat tail.
It is a beauty to behold since the edges are so concise and superbly done. The top grows wider and strands from the opposites sides come together to form a flat crisscross.
# 27 Block Look
Cleared sides give way to a top that is shaped into a rectangle but with a higher front. The rise begins at the back neckline and grows gradually towards the frontline.
At the forehead, it is grooved in an upward twist but makes an abrupt inward turn. For the guy who loves class, here is the promise to have it all.
# 28 Cardinal Cap
Looking it from the front, you would notice a shape that looks like the popular cap worn by many ancient clerics.
The top hair is grouped to have a pointed tip and wider base. The cap-like appearance is spoiled by the back that though shorter than the top makes a wide drop to the backline.
# 29 Buzzing Short
You can see the top patch buzzing in dominance. This effect has been created by what seems like rough tooth combs that did not finely style the hair. A clear cut line makes an outstanding separation with the sides.
Around the top is a shaved mass that leaves the eye to focus on the short top-head buzz. If you do not have much time in your hands to keep retouching your hair every morning then here is how to have your way.
# 30 Professional Guy
There is a fashion code at you work place and you may seem rude to break it with your improper hairstyle.
You do not have to mess with where your bread comes from when the professional guy hairstyle can serve to your formal look.
With sides shaved and brushed to a smooth drop, the top is left in medium size and formed into a lofty look. It is a design for those who do not want a dull taste just because you have to impress your boss.
# 31 Natural & Curly
Would it not be the most beautiful choice to leave your hair with its natural toughness and coils? You thought right.
Here the sides are trimmed to get rid of any curls. The top is what is left with its curls and spikes and the results are just amazing.
# 32 Slight Flip
He is looking refreshed and handsome simply because this is a top-end style that you should not doubt.
Downward drawn sides and an upward top blotch create a contrast that will keep eyes admiring your looks. The top is combed straight up but given a mild flip that you may not notice if you are not keen.
# 33 Subtle Kind
No one would miss to notice how this guy is gorgeous and all that has been exposed by the eye-catching hairstyle.
Left to do its natural thing, the top head hair is driven towards the front but not all of it makes the smooth bow. Some strands defy the bow and remain spiked and you cannot deny the creativity in what finally sits on your head.
# 34 Military Imitation
Great haircuts used to be in the preserve of the boys in uniform. However, this is not the case anymore since you can have the style you want right now.
This cut borrows a lot from the military look since the sides are pressed to a smooth bundle while the top is slanted to a hilly appearance.
The only thing that deviates from the archetypal martial cut is that the middle tip is exaggerated to rise high and pointed.
# 35 Wavy Quiff with Bangs
The better aspect of this cut is the fact that you do not have to tend to it to look perfect. It is already in a great shape and even at a random photo shoot you would not look any less impressive.
The sides are groomed into a thick layer and combed finely. The top is left with its waves and then drawn towards the front. At the forefront, a bundle of strands fall over as bangs.
# 36 Lovely Spikes
If you know spikes to be used only during war, now you should know them for love.
Here you can see how lovely a guy you would be by tending your sides' hair to form a flatbed while leaving the top patch longer and spiked. It is given a forward flip and all you can see is love in a simple haircut.
# 37 Round-Faced Hawk
As you already know, there is a style for every kind of face. The round-faced guys would want something specific to complement their appearance and here is the perfect answer for their needs.
Sides drawn to a downward fall and the top adapted to short Mohawk is what you get for your minimal efforts to appear trendy.
# 38 Layered Top
Forming definite layers with your hair is a promise to look great. The layered top has the sides combed downwards leaving a uniform and smooth field.
The top is portioned into two: the flat outer layer and the spiny middle top. It would be an ideal look for great performers and you are not missing a thing in your decent appeal.
# 39 Medium Shaggy
You do not have to get a fine tooth comb to give your bubbles that refined touch. You can have the top part shaggy and achieve the demeanour of a star.
With dropping sides, the top is left to dominate you appearance. It is left rough and you will not believe the softness of the hair once you touch it. You cannot complain of taking much time to tend to your hair since you are ready-to-go straight from bed.
# 40 Rocker Style
There are people who cannot picture their head without the rock style on it. You know they are not wrong since this is a top-end cut that many guys would not think twice to have.
The front is given perfect spikes while the sides and back are smoothly faded. It is designed to give you a modern 'coolness' thus an easier decision to make.
# 41 Long & Banged
Boldness is something that men want to show in everything they do. You would too want to express your courage with long hawk with bangs. Superbly faded sides usher in the top-front racing patch.
At the front, it is extended beyond the forehead to show a supremacy that is not common in many cuts. You will be the talk of town and influence many others to have the same.
# 42 The Celeb
You have seen many music and movie actors in such a hairstyle. It is not only them who can have it; you too can and send girls into a wilderness of admiration.
The sides are cropped to effectively form a fading effect and you cannot tell that it is faked. The middle and back top strands face backwards while the front section is left curly and wild.
# 43 Short & Refined
Looking gorgeous is not such a high toll when you can achieve it in a simple hairdo. The back and sides are trimmed to a smooth fade that does not expose the skin.
The top is raised but given quite a trim to achieve a blunt appearance. It is only the small patch near the front hairline which is left with some tips which are also refined and smooth.
# 44 Acute Kite
Isn't it a daring move to have such a hawk-look on your head? It is and you are the catch especially if you are a music performer.
Sides, back and the drop of the back head are groomed to a downfall that is smooth and tempting onlookers to touch it.
The top front is left with straight long strands which are slightly tilted to face backwards. It is astounding to finally bring out your never seen seriousness.
# 45 Wavy & Wild
Saying yes to your hair's natural texture is sometimes a disgusting thing to many guys. Probably you have never found a style that would make your natural hair excellent in every strand.
For this style, you need tapered sides and leave your top patch to do its natural waving and rolling. You will get that daring picture that you have always wanted on your hair.
# 46 Deep Parted
It is in the manner which your haircut is parted that may make it a hit or a flop. But do not worry of the flopping since here is the game for all those who want deep parting in their hairstyle.
The partitions are on the sides forming two layers that are then faded to varying degrees. The top is understated and given a back combing.
# 47 Extreme & Long
Going full-scale with your hawk and fade is a show of boldness and appreciation for what you believe to be your style.
Sides shaved to the skin create a contrast with the long top which can go as long as you want. It remains vertical and only bends at the tips to form a thick canopy.
# 48 Flat Wavy
The flat-top does not always have to be thick and compacted like the 90s. It can have waves and curls and still achieve its original greatness.
Faded and decorated sides are the first impressions you will see on this splendid cut. The top patch rises a few inches from the skin and then flattened with its strands left in waves.
# 49 Short & Buzzed
Fade the sides to clearness and run the top patch from the neck to the front hairline. Here is the look you get.
The top mop that races the entire length of the head is left with each strand on its own. That is the buzz and it glitters when you see it from far.
# 50 Rough & Scattered
If you like the rough creation on your top head, you would be happy to have what you see here.
Faded sides and parted with wavy double lines are the first welcome. The top is trimmed short and then scattered to a rough design.
Idea # 51
Idea # 52
Idea # 53
Idea # 54
Idea # 55
Idea # 56
Idea # 57
Idea # 58
Idea # 59
Idea # 60
Idea # 61
Idea # 62
Idea # 63
Idea # 64
Idea # 65
Idea # 66
Idea # 67
Idea # 68
Idea # 69
Idea # 70
Idea # 71
Idea # 72
Idea # 73
Idea # 74
Idea # 75
There is so much to choose from the faux hawk fade and each of the styles is a top look. There is all you can wish to have on your head. Simple, flexibility and trendy will come your way.
Make the decision today and refresh your haircut. Keep watching this space as more of your favorite cuts will be flowing.