50 Upscale Mullet Haircut Styles – Express Yourself
The mullet haircut has been described as many things, and it is one of the hairdos that have attracted a lot of debate over the years.
Whereas some people find it a low-class cut most men love it and also look fantastic in this classic hairstyle. Regardless of whether you like the mullet or not it is still quite popular with some men and this has led to the emergence of the several types of the cut.
The coming of new variations that are based on other more stylish and trendier haircuts is helping to get rid of the notion that thus is a low-class cut.
More men have also realized that it can be a very upscale design if cut and styled well. Although there are many other types of the modern mullet, the following 50 are the most famous ones.
# 1 Hipster Mullet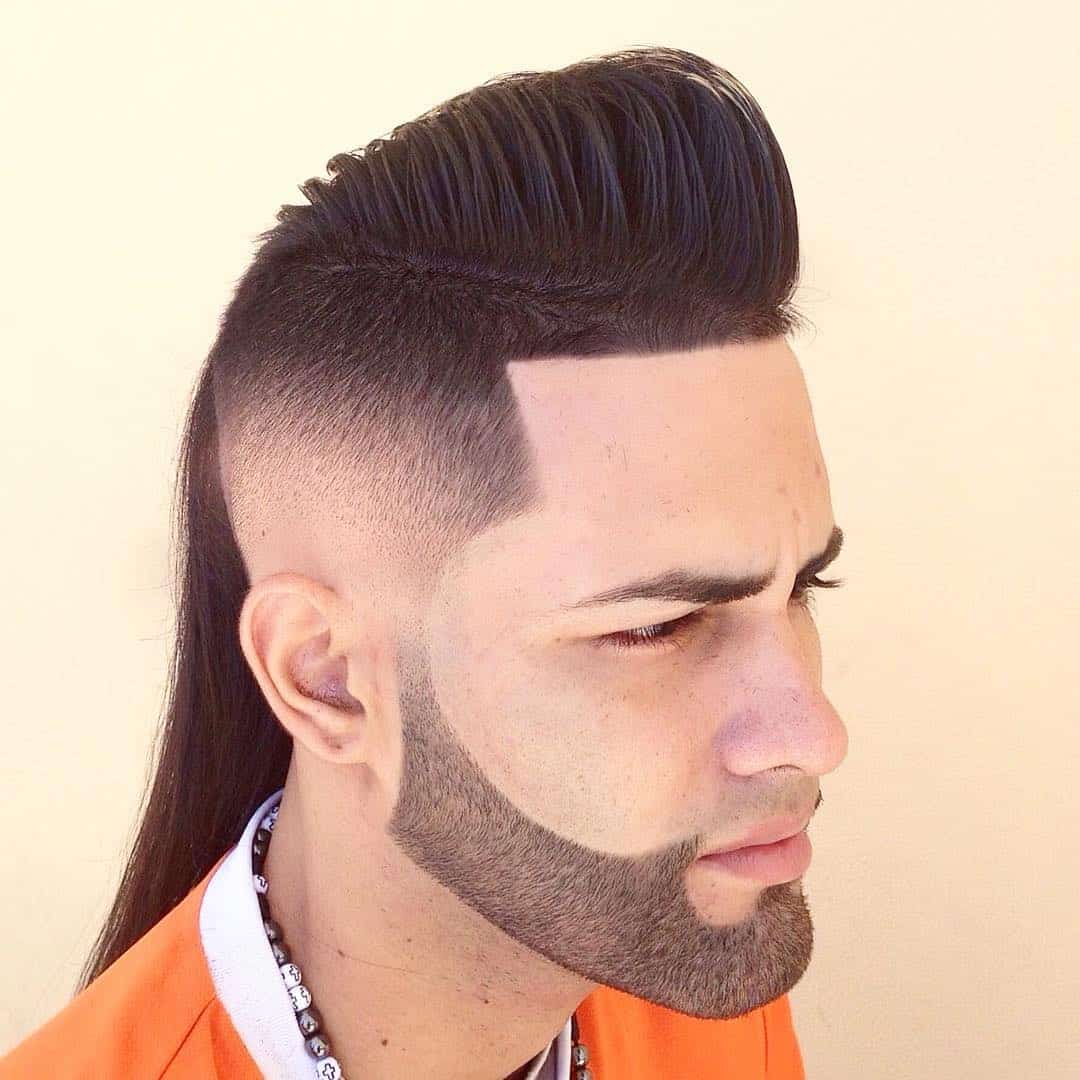 This is one of the best-looking hairdos that you will ever come across, and it proves beyond any doubt that the hipster look can be achieved with almost any haircut.
The style is created with very long strands that are faded on the sides and trimmed to a couple of inches at the top. The long locks left at the back are used to create the long mullet.
# 2 Vintage Natural
The best thing with these hairdos is that you can create them with your natural hair just by trimming creatively with scissors, and you will not have to do too much cutting.
Here the shears are used to cut the top neatly so that it can be shorter than the back and then the strands after the crown are pushed back to form the mullet.
# 3 Classic & Long
If you keep long locks, then this is one of the best hairdos that you can wear as you will not have to cut too much of your hair. All that is needed is to trim them at the back for some uniformity then cut the top ones shorter and style them forward to cover an inch of your forehead.
# 4 Modern Look
What makes modern styles better and more attractive than classic ones is that they are not overdone or exaggerated. This modern look cut just does enough to create a mullet look, but it does not go beyond that with excessive cuts or styling.
# 5 Pat Sharp's Mullet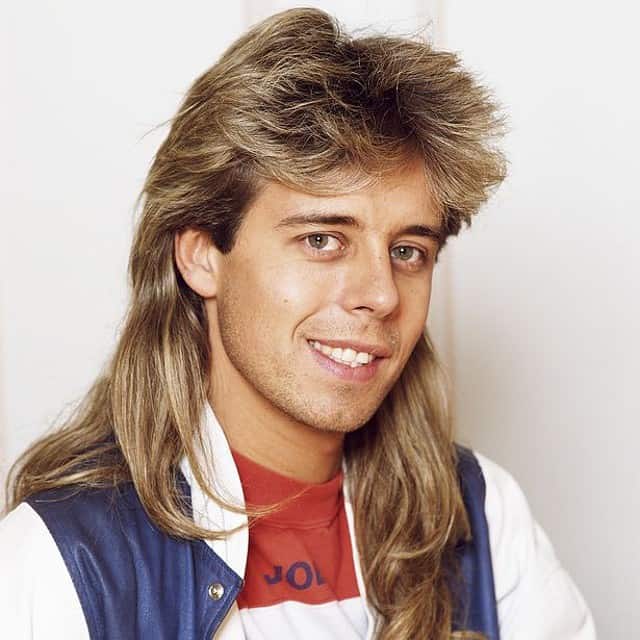 Pat Sharp has worn a mullet for most of his life, and it is one of the things that he is known for apart from his acts on radio and television. His style is simple with trimming done at the top while the back is left to grow long and bulky to create a unique hairstyle.
# 6 Short & Cool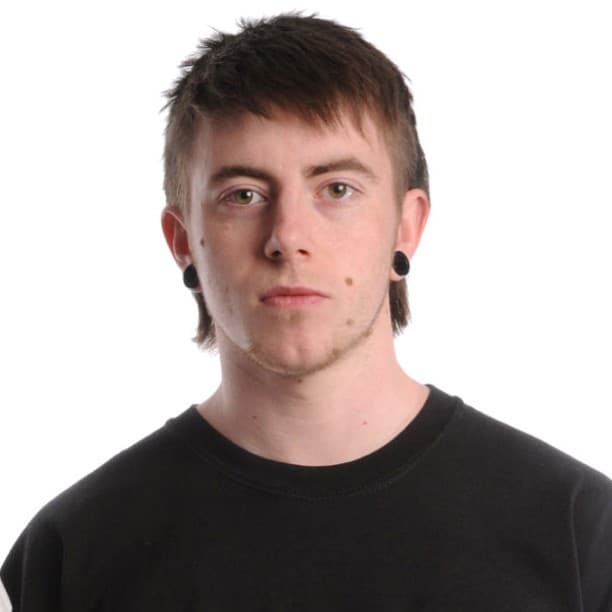 You do not have to keep a long thick hair to wear this style because you can also achieve it with a short nicely shaved hair.
Here the strands are cut to a couple of inches long throughout the head, and they are uniform in length at the top and back. The back hairs should then be pushed back, and those on the crown to the front to cover the forehead.
# 7 Wavy Push Back
Wavy locks are amazing, and you can create any style with them without even having to trim them especially if you have a medium length like in this cut.
Here the wavy strands are used to create an exquisite mullet by pushing them back with a comb or with your hands for a more natural finish.
# 8 Sleek & Gelled
Some gel will always make your style more attractive if you know how to apply it, and if you use a quality type that will not leave your hair greasy. In this cut, the sleek medium length strands are generously gelled then pushed back to finish the fantastic hairdo.
# 9 Mullet Hawk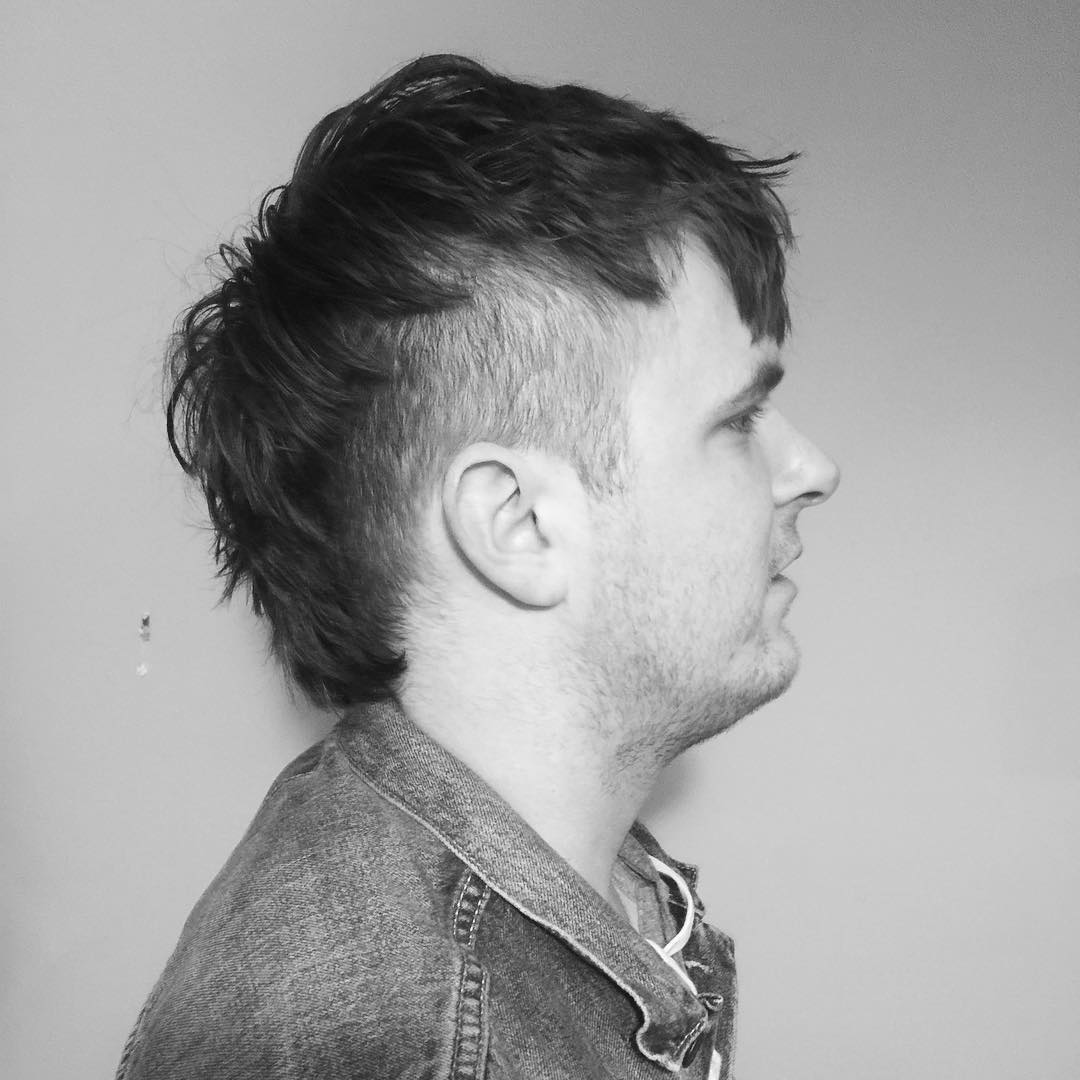 This haircut demonstrates just how well the classic mullet can blend in with modern hairstyles like the Mohawk or faux hawk.
The hair in this style looks just like most others with short sides and a longer middle but what makes it distinct is the design of the strands in the middle. Rather than being pushed back or to the front they are pushed sideways and some to the back.
# 10 The Fancy Hawk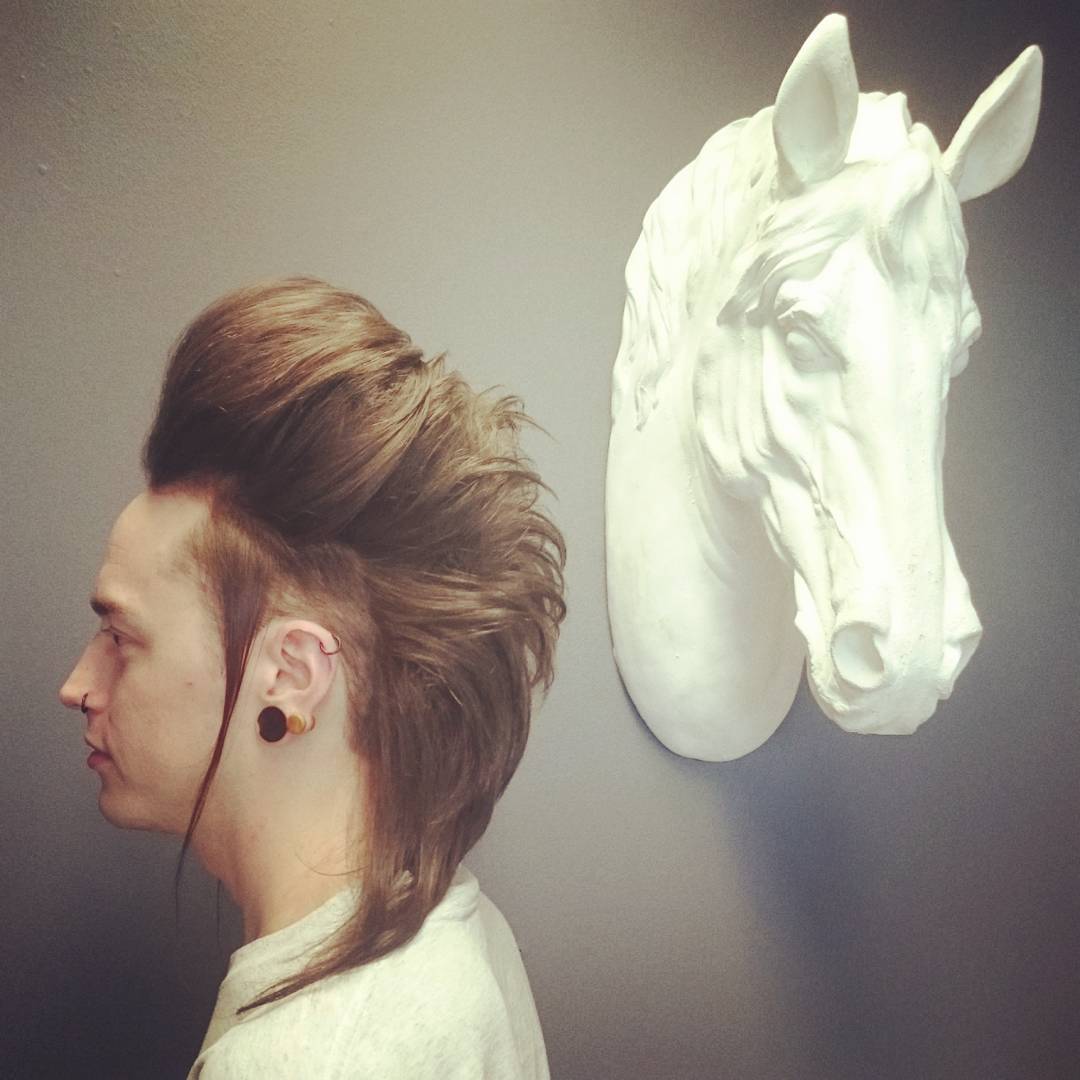 The Fancy Hawk is another example of a faux hawk inspired hairdo but unlike the latter the cut and styling is done very creatively. An extensive section that is also well-textured is maintained in the middle and then rolled up.
The sides are trimmed moderately while a few strands are pulled together to form one lock that flows through the sideburns line to create a unique hairstyle.
# 11 Hybrid Mullet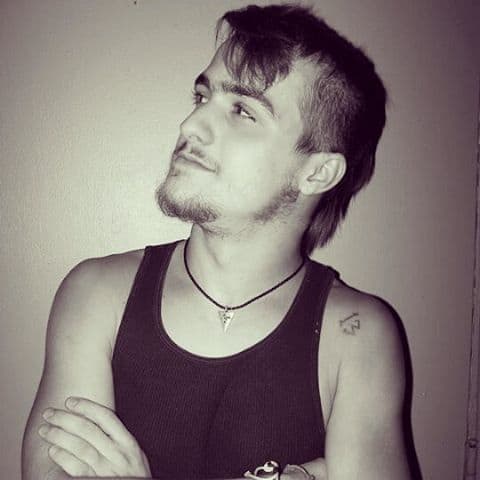 What makes this haircut a hybrid is that it does not only take inspiration from the Mohawk but instead combines two distinct hairdos. Depending on how you look at this cut you can rightfully call it a short Mohawk or a classic mullet as it has all the characteristics of both styles.
# 12 Side Part Mullet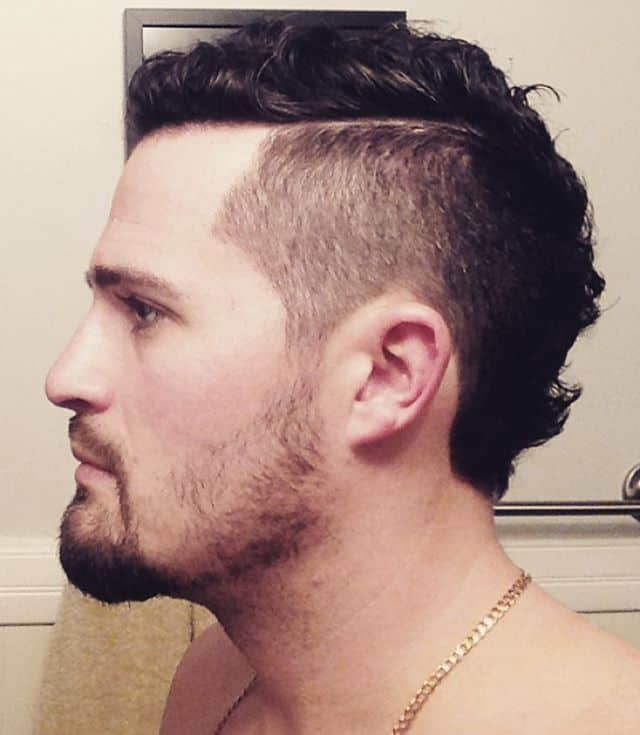 Simple side parts make this hairstyle trendier and modern, but the cuts also add to the beauty as they are also nicely done.
The curly hair is trimmed and left long in the middle while the sides are a high fade design. A side-part line is then introduced to separate the two levels of hair so as to finish the look.
# 13 The Man Pony
Growing out your hair takes a lot of effort, but if you are patient enough to get the long locks, then you will be able to wear many hairdos like the man pony mullet.
Here the locks are long enough that they can he pulled into a ponytail but instead of this, they are skin shaved on the sides while the long strands are in the middle. Skin shaving the sides creates an amazing disconnection for men who keep full and long facial hairs.
# 14 Blonde Mullet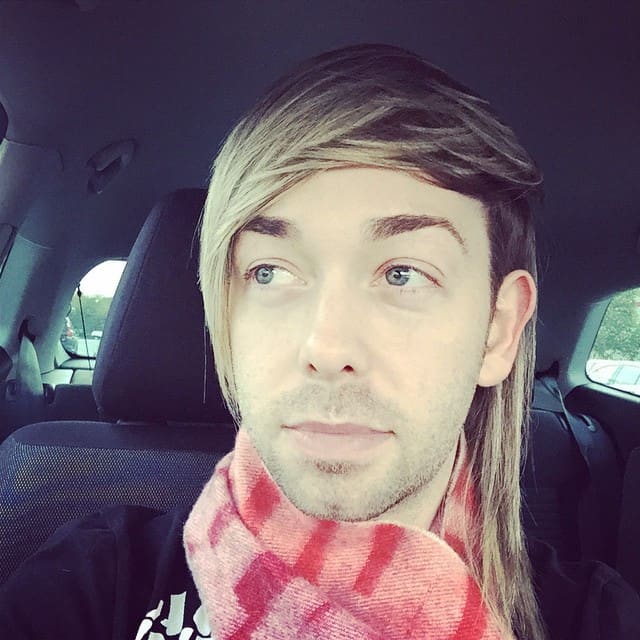 If you have a naturally blonde hair, or you do not mind coloring your hair, then you can wear this design effortlessly.
This hairdo only involves letting you strands grow as long as possible especially at the back and then styling them. The ones at the back should be left to flow while you can have the top as an Emo style or any other front push design that you like.
# 15 Side Swept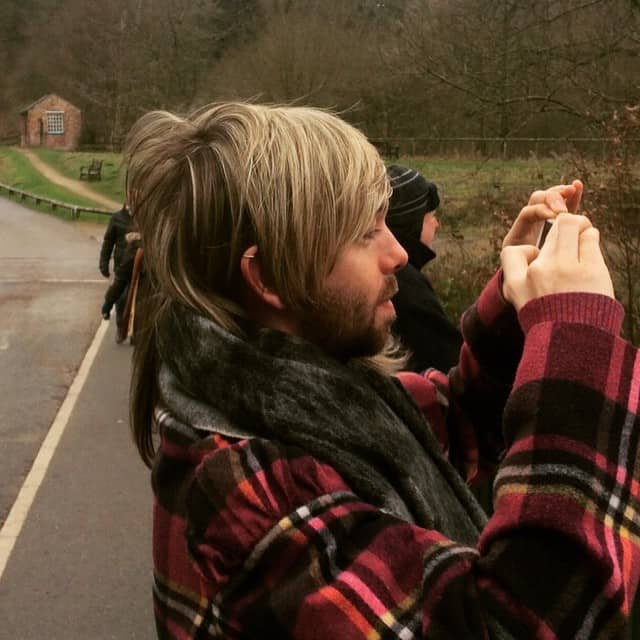 To wear this haircut, you almost do not have to do any cuts on your locks. If you keep long strands, you should trim them at the top while leaving the back longer. The trimmed top that should be a couple of inches long should then be side parted, and side swept.
# 16 Long Curls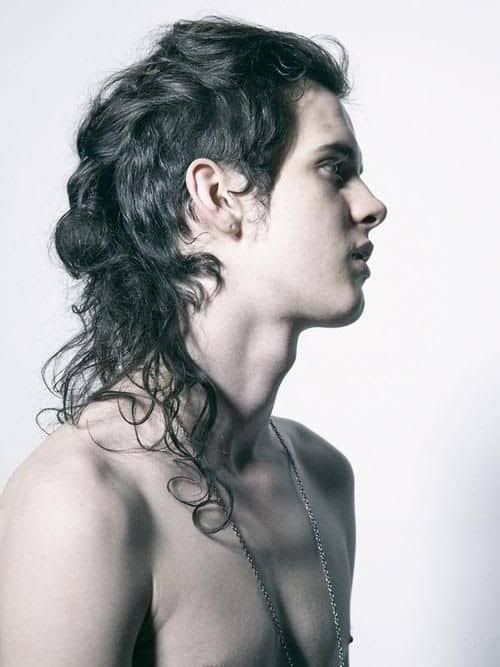 Men with curly hair are very lucky as they look charming even without doing any fancy haircuts or styling. In this haircut, all that is needed is to let the curls grow as long as possible.
After applying the curly hair product of your choice, you should then push your locks back to finish the look. The longer your curly locks are, the more attractive the style will look.
# 17 The Rat Tail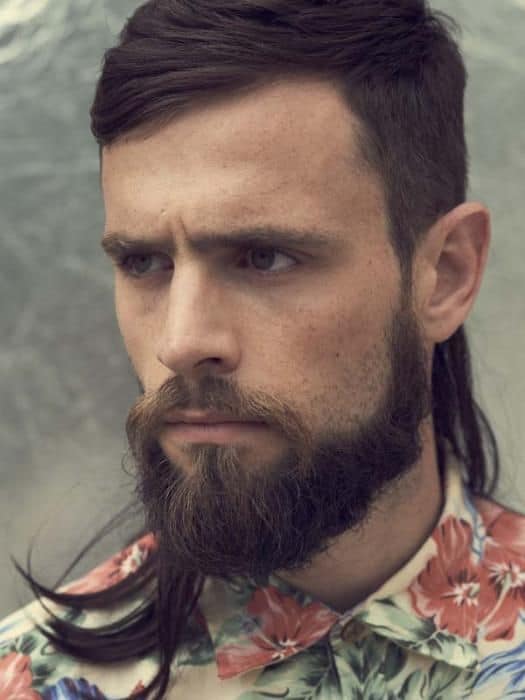 This hairstyle is characterized by the thin rat tail like lock hanging down from the back of your head. It is an excellent mullet if you get it right and is also pretty simple to wear.
This style involves shaving the top shorter while leaving the back long but not uniform. Some of the locks at the back should be left longer than the others to create the rat tail.
# 18 Business Mullet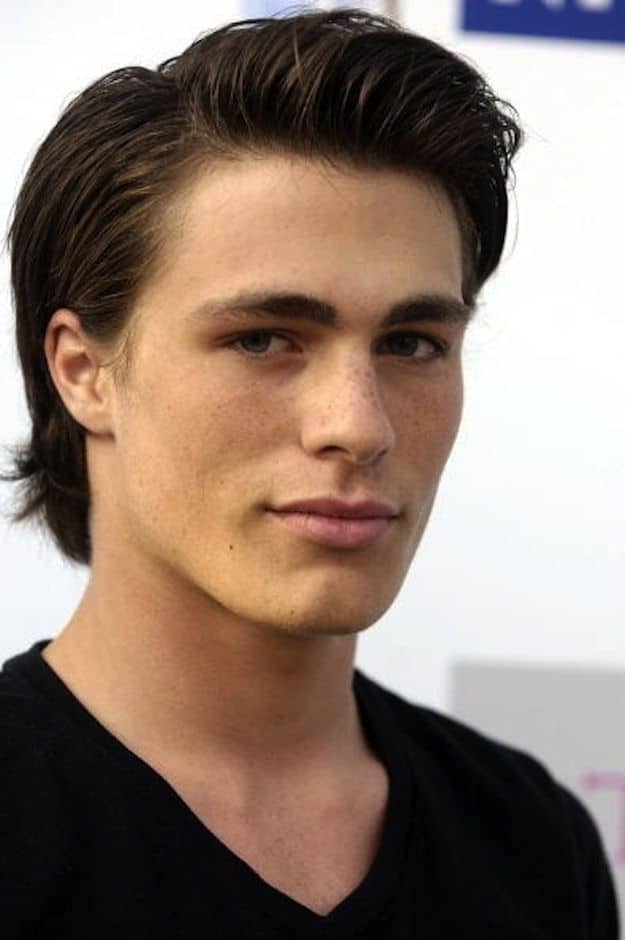 Some men prefer to wear formal looks, and so they are limited to a few decent haircuts. But with the mullet haircut, there is always something for everyone.
The business variation is a cut for the conservative men or for those who like to keep things formal. It involves a medium length that has a simple part to divide it into two sections with one being a slick back and the other side swept.
# 19 Loki Inspired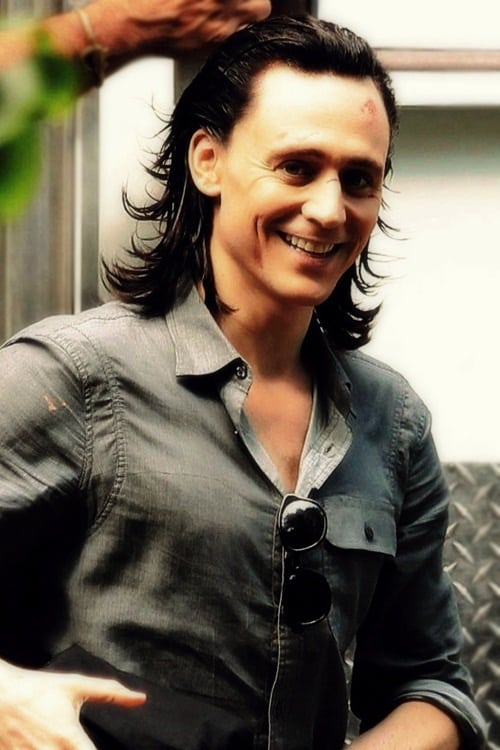 Most men haircuts and hairstyles draw inspiration from movies stars and other TV personalities, and this is an example of such a style.
The hairdo involves long bangs that are combed to the back to create the mullet, and it draws inspiration from Loki Thor's half-brother in "The Avengers" and "Thor".
# 20 Redneck Mullet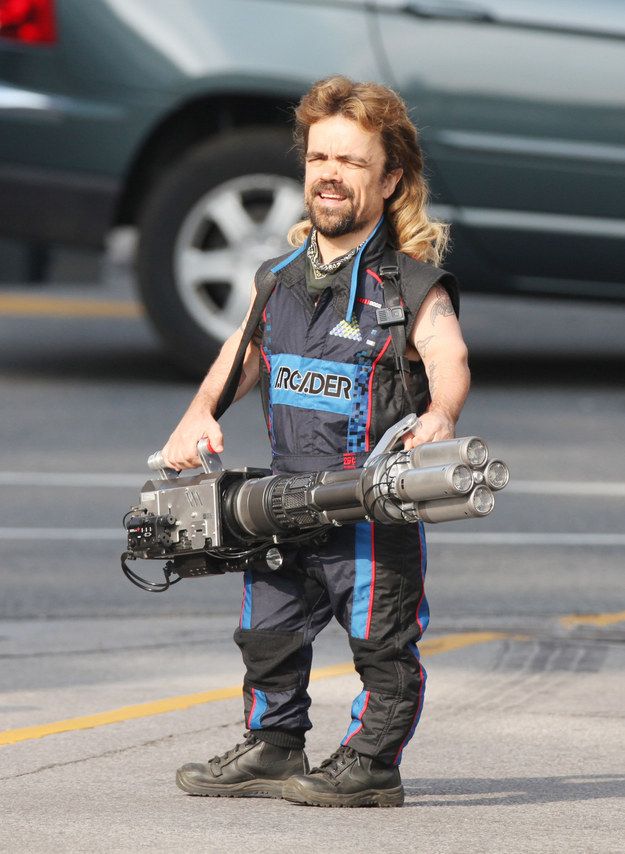 This style is the creation of an all natural hair without any cuts or styling, and so it will only work for men with a thick and long redneck hair.
Here all that you need is to push back the long locks, but you can enhance the appearance of the design by center parting the hairs at the front.
# 21 The Bogan Style
Bogan mullets are some of the most recognizable because they have some unique features. This design involves creative trimming of very long strands, and it was a very popular hairstyle in the 1980's.
To wear this look you have to keep your locks as long as possible and trim them moderately at the top. The longer back should be styled forward over your shoulders.
# 22 The Classic Cut
This is the cut that you would see men spotting when the mullet was in trend in the 70's and 80's and most of the modern variations take inspiration from it. It is probably the simplest mullet as it only involves cutting the front short and leaving a longer back.
# 23 Curly Gentleman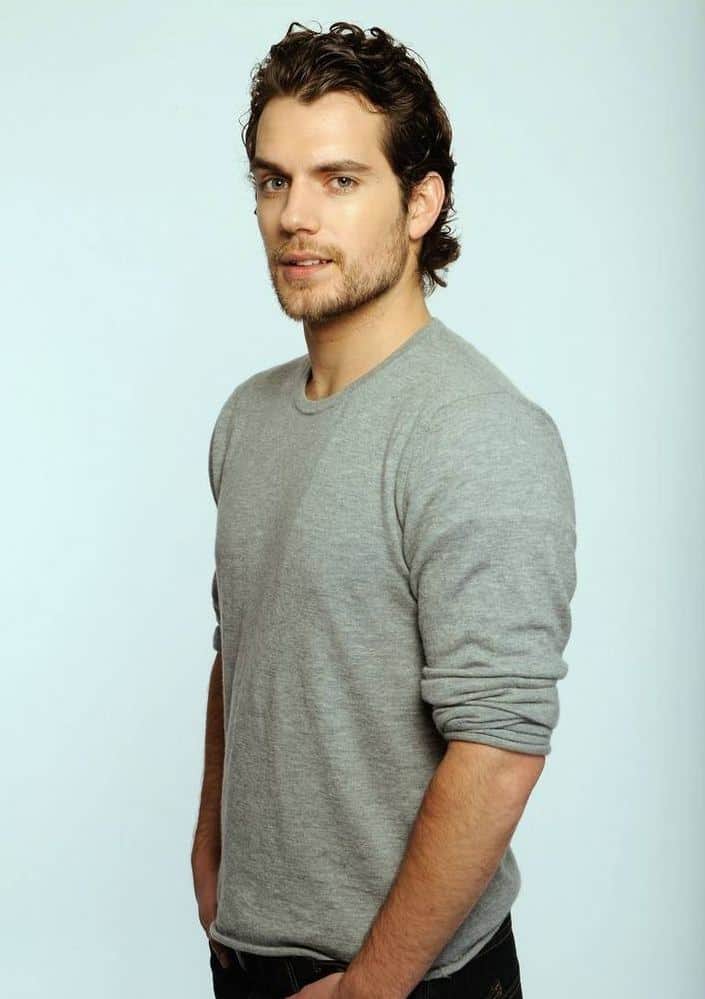 Knowing how to work with your curls is the best way to get an incredible look for men who have this type of hair.
In this particular hairdo, the curls are gelled and pushed back with the hands so that they can maintain their curly appearance. Their medium size and neat appearance create a look that every gentleman would want to try.
# 24 Mullet Wig
If you are not sure how you would look in this style, or you do not have the right strands to wear it, then it is not such a bad idea to buy a wig. You can choose either a long or short natural looking wig depending on your preferences.
A wig will also save you a lot of time as there is no styling involved. These hairs are made with a great material, and very few people would know that it is not your natural hair.
# 25 Ultra Modern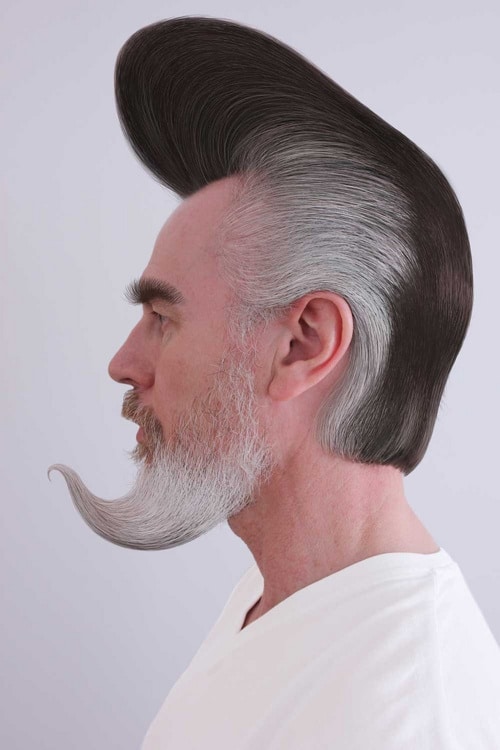 This hairdo will probably take you a lot of time to wear and some proper tools and products, but it is worth all the effort. It creates a high pompadour front while the classic mudflap mullet is maintained at the back. The white beard is also given a fantastic style to finish the look.
# 26 The Red Mullet
Red hairs are pretty by all definitions, and they are not only the preserve for ladies alone. In this cut the red color makes all the difference and is what makes this a fantastic hairdo because the cut is just a medium length push back.
Idea # 27
Idea # 28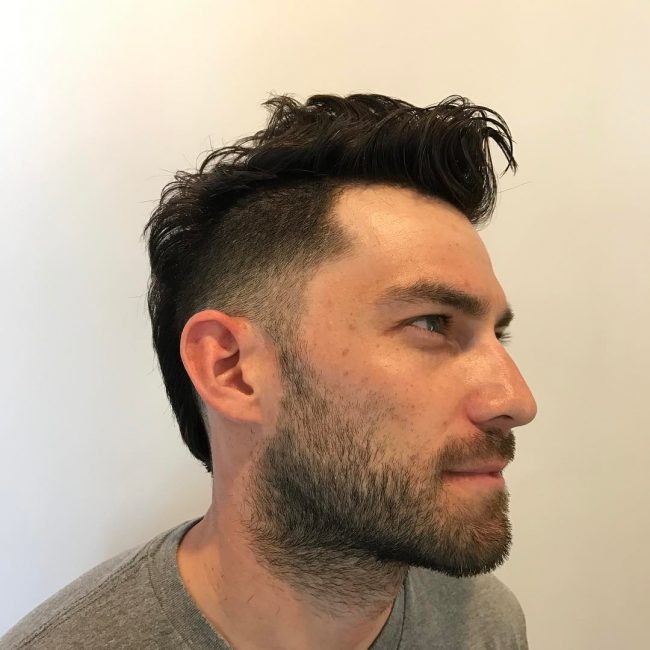 Idea # 29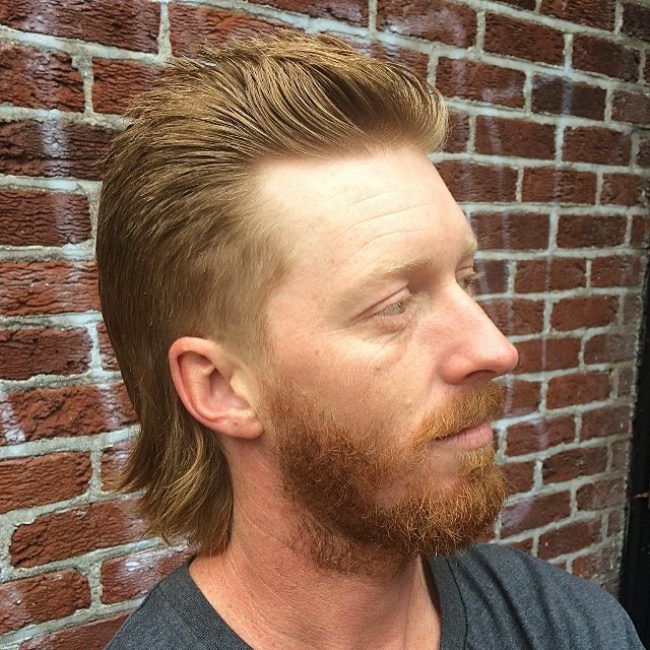 Idea # 30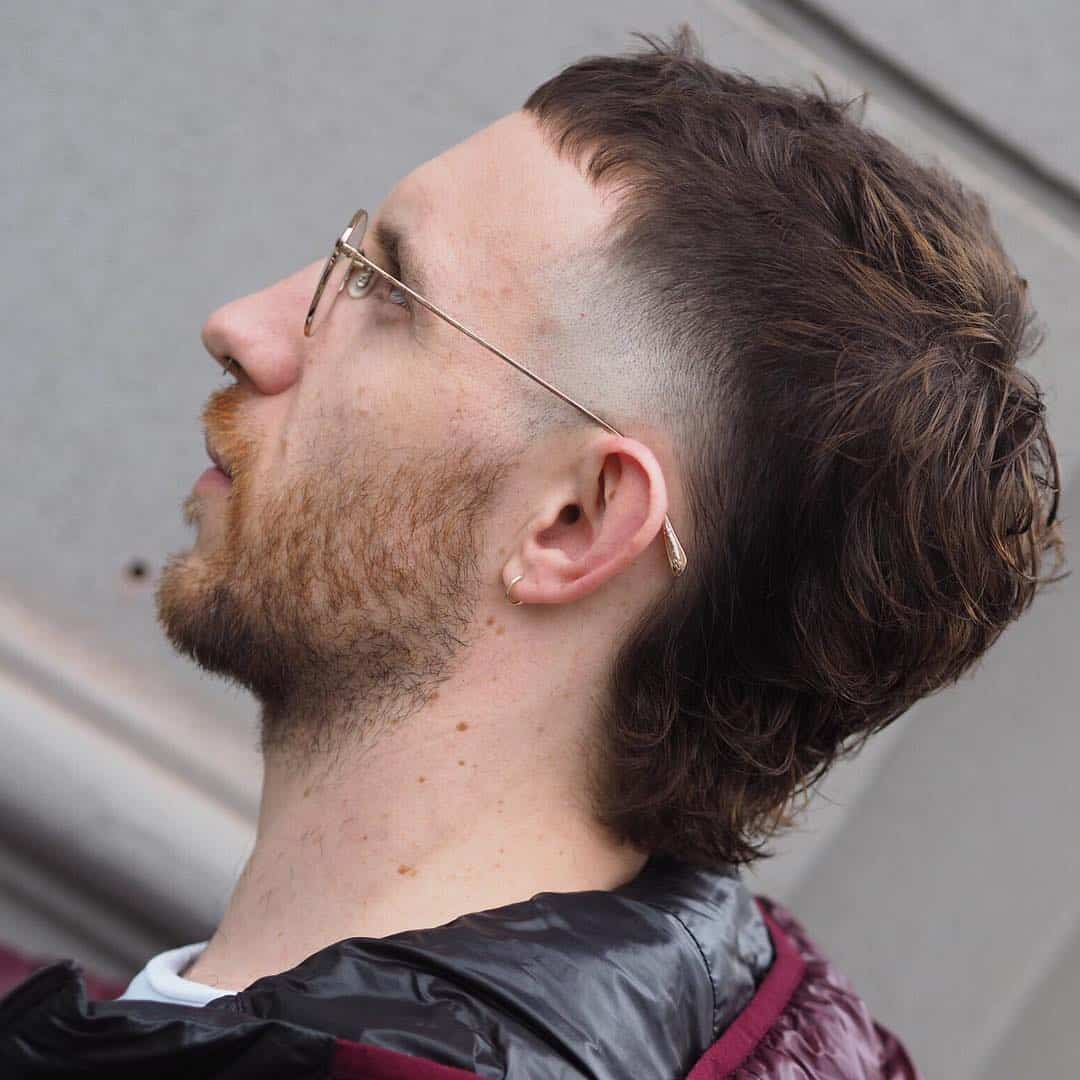 Idea # 31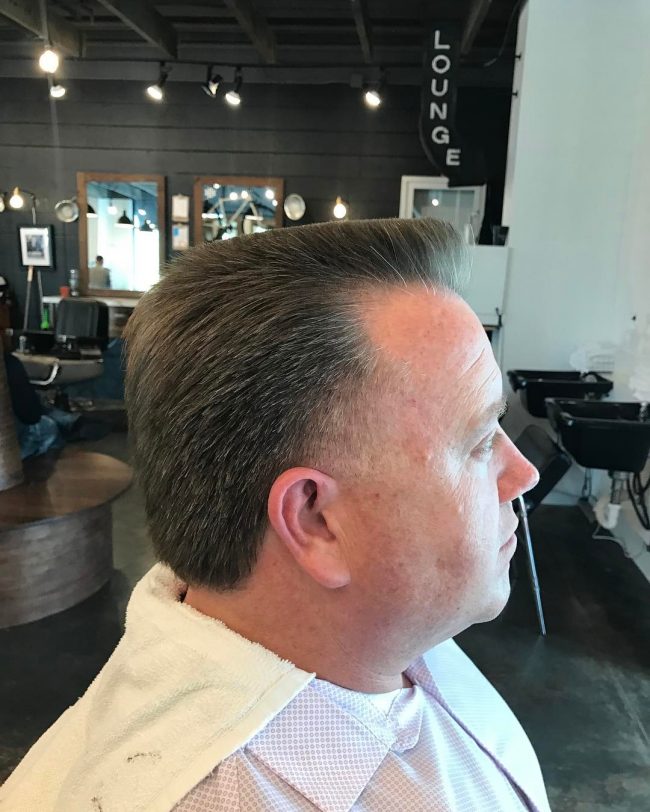 Idea # 32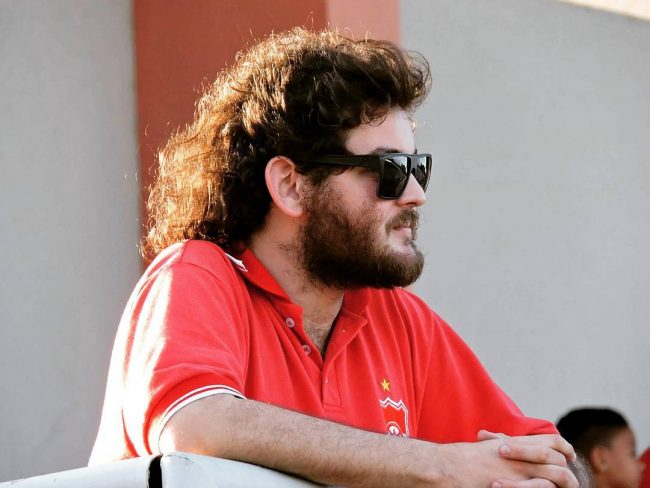 Idea # 33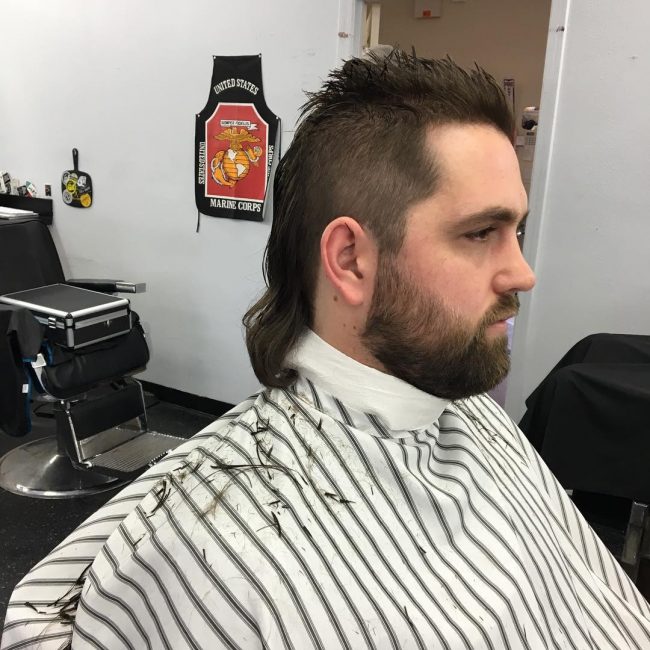 Idea # 34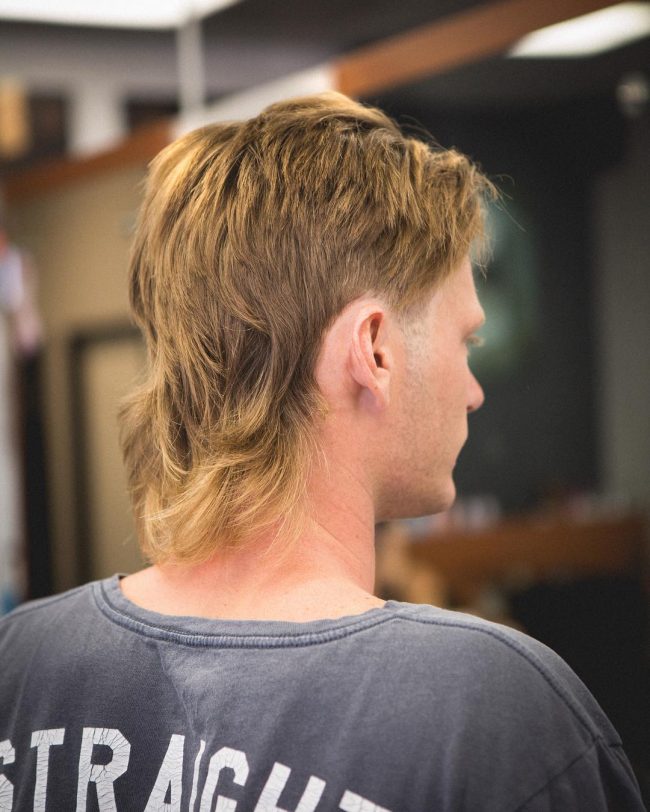 Idea # 35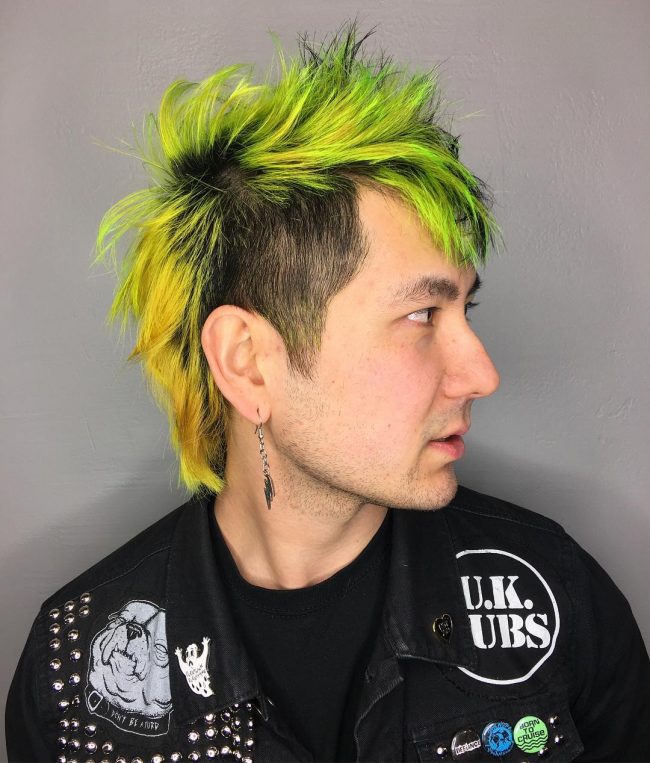 Idea # 36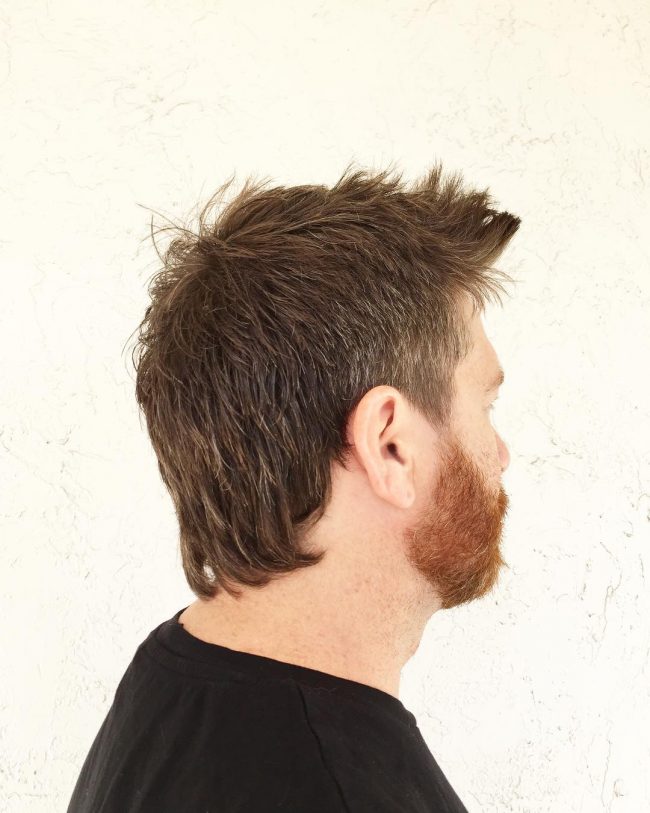 Idea # 37
Idea # 38
Idea # 39
Idea # 40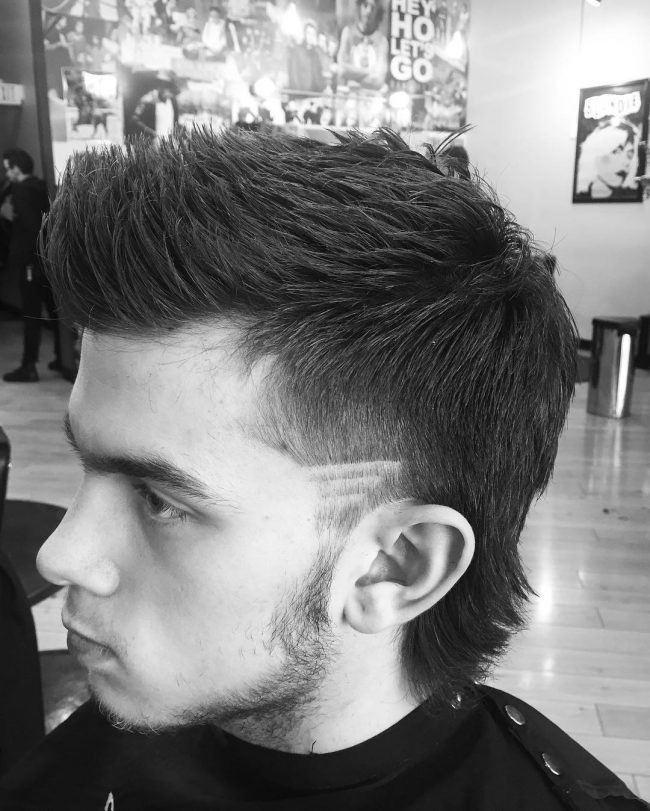 Idea # 41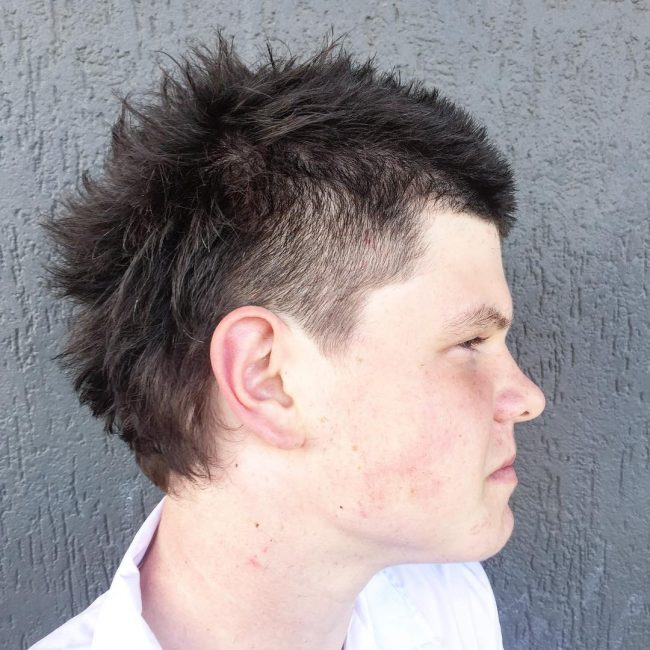 Idea # 42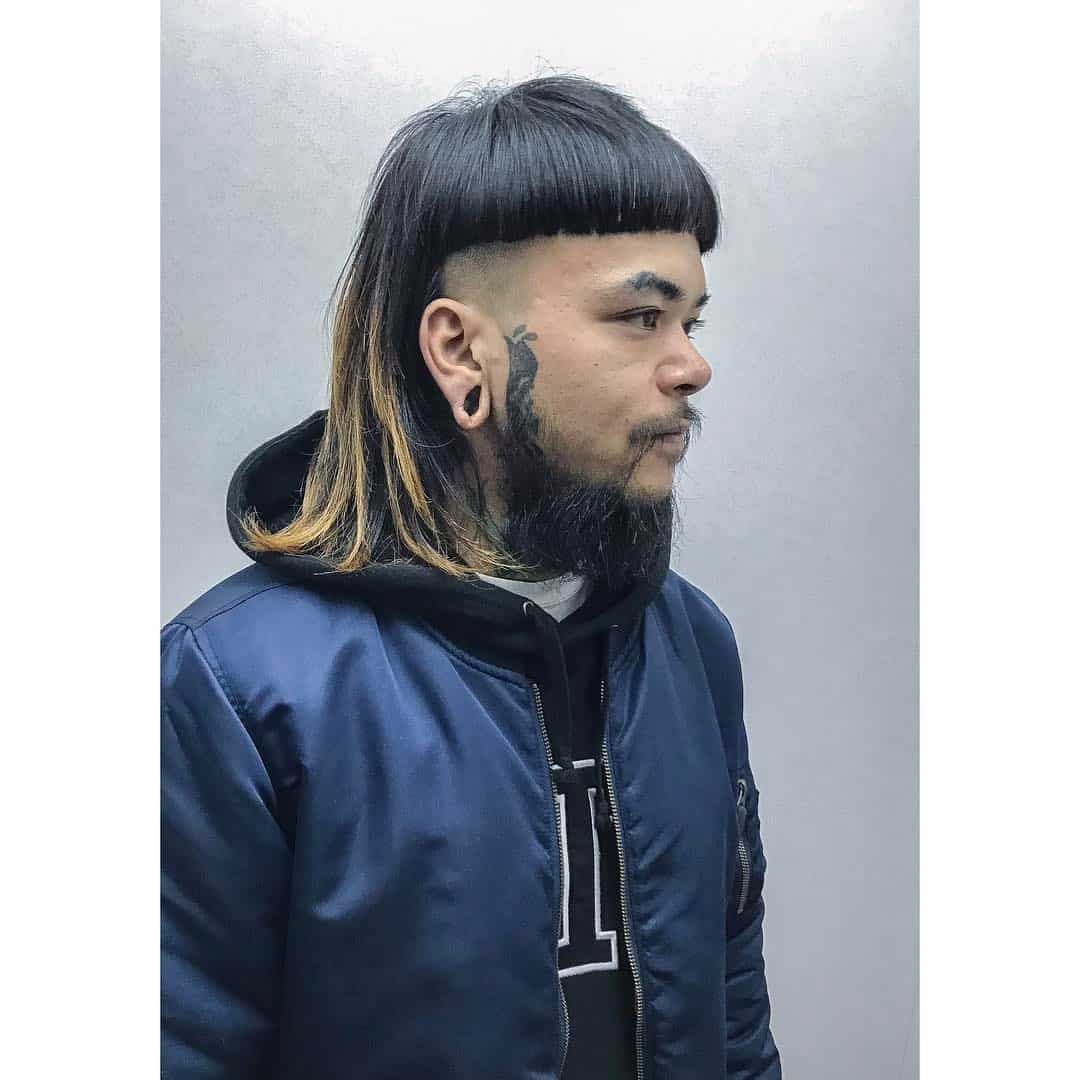 Idea # 43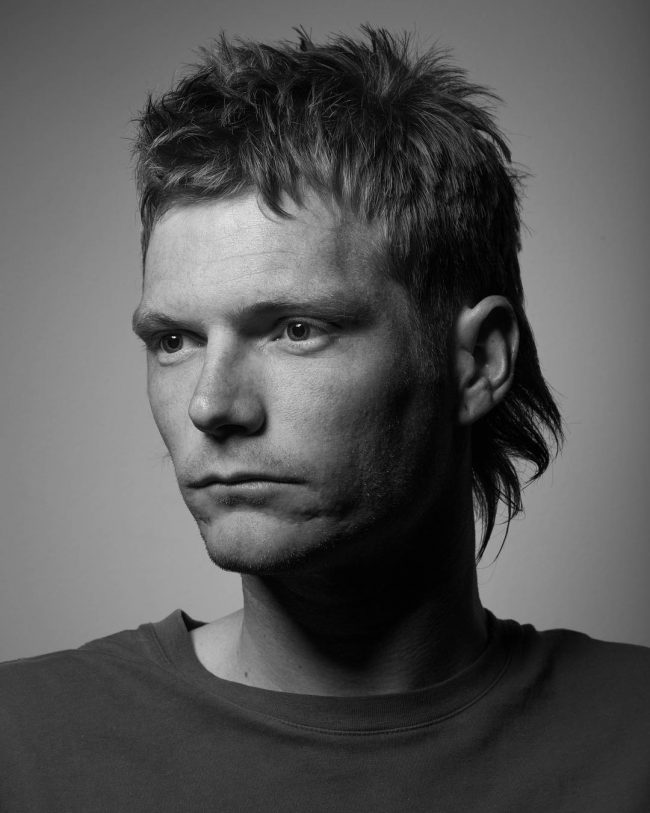 Idea # 44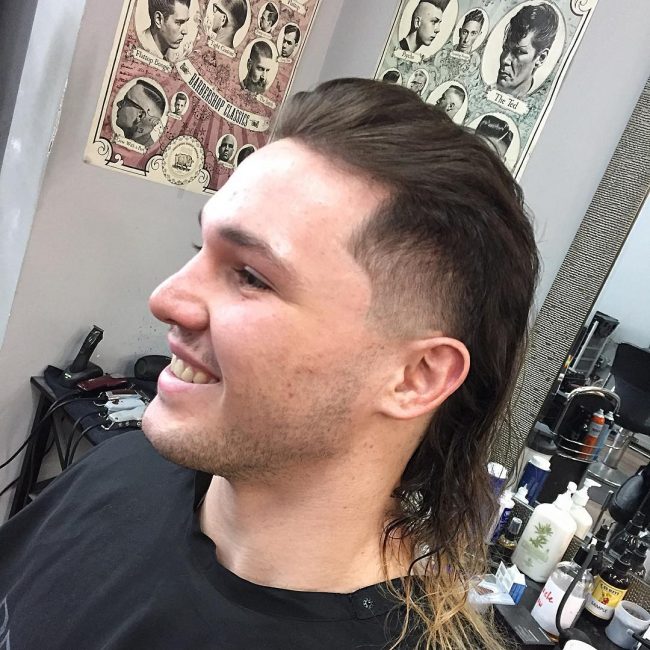 Idea # 45
Idea # 46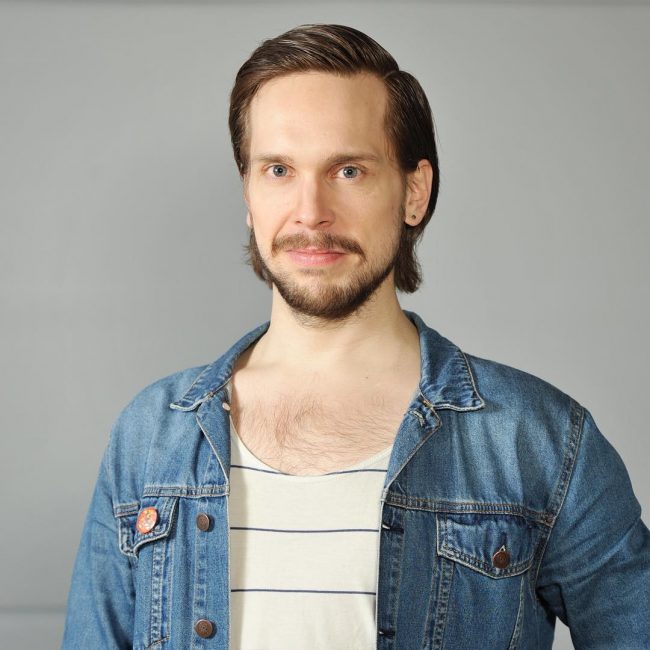 Idea # 47
Idea # 48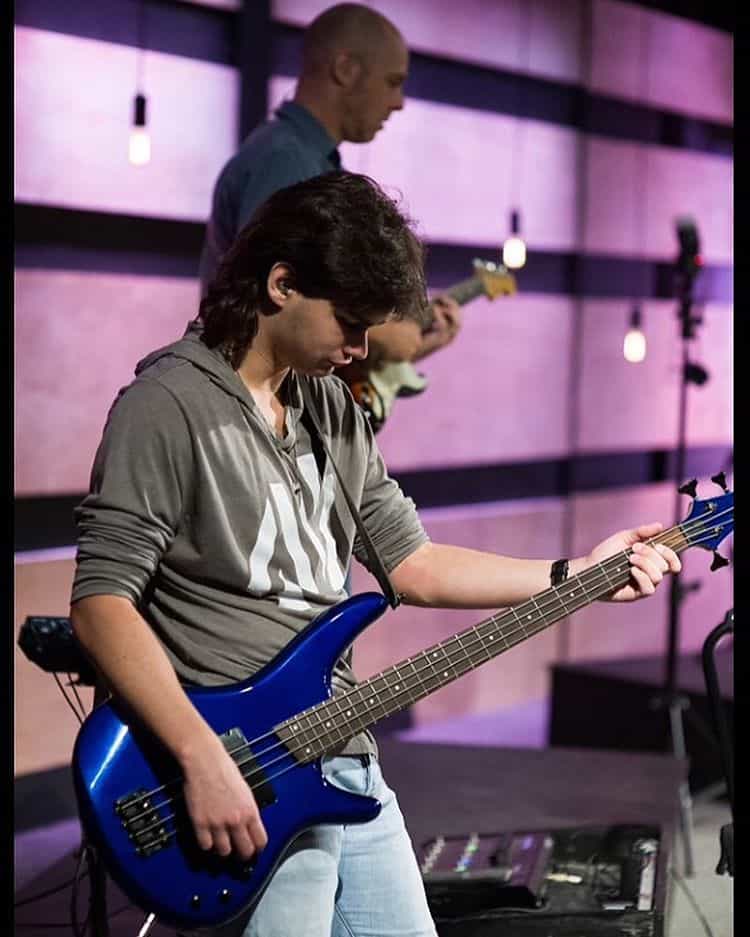 Idea # 49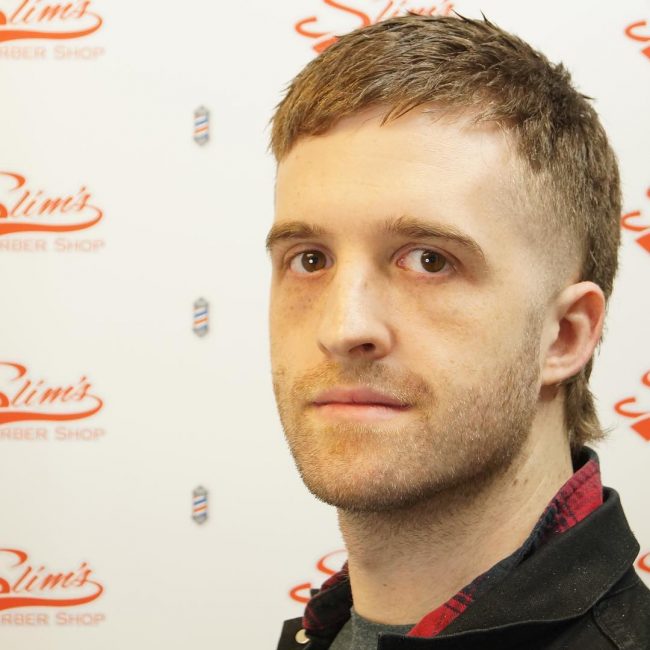 Idea # 50
The mullet haircut is a classic style that has always attracted varied opinions from men, but it still makes an incredible option for your hair.

Whether you like to keep long locks or shorter ones, there is something that you can try from the 50 hairdos above. And the good thing is that you can always try a few of them to find the one that works best for you.

[easy-social-share]