Looking for great ideas on the best straight hair for men? Well, search no more because we have already prepared everything for you.
We have lots of ideas in mind but decided to narrow down to the best ones that will help you achieve the looks of your dreams. Read on below and discover which style might be the perfect match for you.
Which Haircuts are Ideal for Men With Straight Hair?
1. Simple Long and Straight Style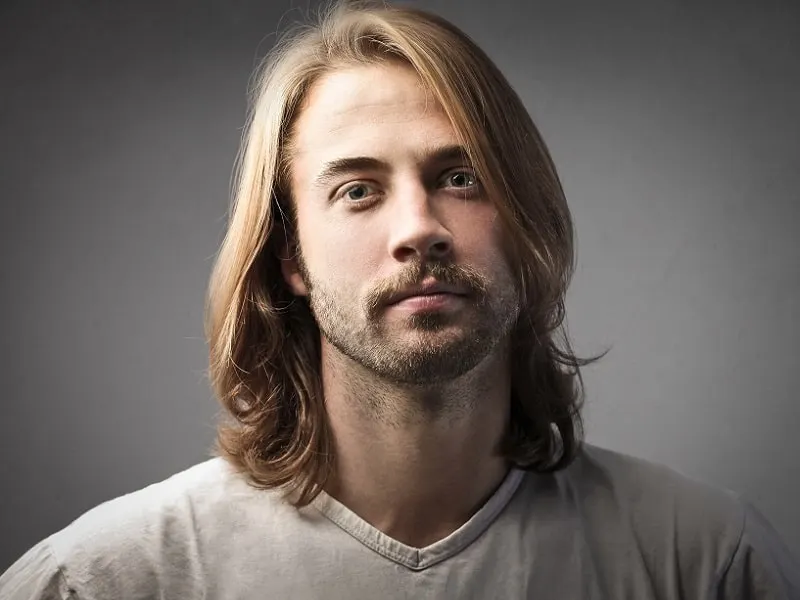 If your hair doesn't have a lot of volumes, then a simple long, straight style is ideal for straight-haired men. It doesn't take a long, morning grooming session to get it to look right, and the shampoo products you need are also easy to find.
All you need is a shampoo and a conditioner to keep the hair straight and manageable as it grows.
Maintenance Tips
This style is one of the most effortless haircuts for men with straight hair. Just be sure to see a barber every month or so to trim off dead ends to keep your hair from looking dry or damaged. This is a great style for men who take care of their hair but don't want the maintenance of more complicated styles.
2. Quiff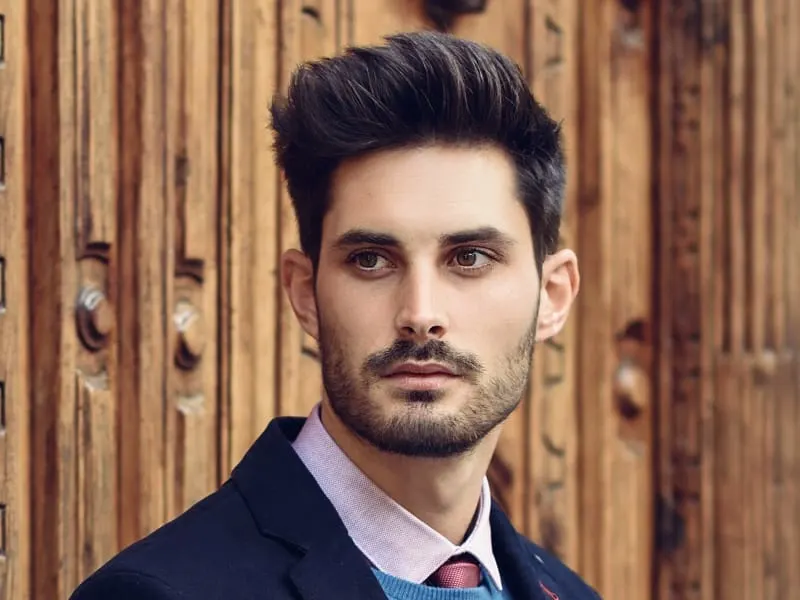 The quiff is one of the straight hairstyles men come back to again and again. It's a short cut with a gentle part, with the short part combing down on one side and a voluminous, backward comb for the larger part.
It's simple, easy to maintain, and looks professional, making it one of the best hairstyles for straight hair men look for when wanting a sleek, professional look.
Maintenance Tips
You'll need to get regular trimmings at the barber since shaggy back-ends will make this style look unkempt quickly.
If you have slightly coarse hair, consider using a basic styling gel or paste to help maintain the backcomb throughout the day. Once you get the proper shape, the quiff does a good job holding form throughout the day.
3. Side-Part
The side-part is one of the oldest, longest-lasting haircuts for men with straight hair. The short, kempt look eliminates any extra volume that may be harder to maintain, and the hard off-center part makes it easy to style every morning.
Straight hair comes over nicely, making the side-part an excellent choice for professional and casual settings.
Maintenance Tips
Much like the quiff, you'll need to make sure you get your hair trimmed regularly. Shaggy hair, especially along the neckline and the ears, will quickly make the side-part look like an unkempt, shaggy mess. A simple paste or gel is also great for styling, though you may need a bit more than you do with the quiff.
4. Ivy League
The ivy league is a hybrid style between a quiff, pompadour, and side-part. Straight-haired men look great in this style because you get the clean-cut sides of a pompadour and quiff, but you don't have the voluminous look found in the quiff pompadour. However, you get slightly more volume and overall length than you do from the side-part alone.
Maintenance Tips
The ivy league has several variations within its own label, but you can identify it by a slight forward wave surrounded by pressed hair.
You'll need a strong paste or gel to keep this style throughout the day, as the wave will need help holding its shape and the rest of your hair needs to be matted down close to the skull.
Best Straight Hairstyles for Men
# 1 Fade Cut for Flat Top
This flat top haircut is a good way of adding some edge to your style. The creative flat top combines with a fade cut to give you that cool gentleman look. The hair connects well to the beards to add some flatter.
# 2 Slicked Back with Long Side Quiff
This is a chance to add some swag to your haircut. The side quiff is given a lift at the roots and connects with a slicked back top to give this style a more dramatic look. A tapered cut works well in controlling the shape of this style.
# 3 Hipster with Bangs
Here, you get to add some more shade to your style and keep safe from the summer heat.
This thin hair is given some texture and provides the cool look of front bangs. It features an undercut that creates the illusion of disconnected haircut.
# 4 Long Sleek Hair with Quiff Pomp
This haircut adds tonnes of volume to your mane. It is textured to provide that sleek look without sacrificing density.
The ends of these dark brown locks are brought to life with some highlights of blonde. A thick well-shaped beard comes in handy to provide a manly look.
# 5 Side Braid with Top Bun
If you desire to go a little bit feminine then here's a perfect match for you. The top of this blonde hair is pulled back into a bun with one side styled into a fishtail braid. The side and back are brushed and given a little texture to create that fresh look.
# 6 Bald Fade Cropped Hair
Those looking for a simple solution for coarse and rusty blonde hair will definitely appreciate this. The top is cropped while the sides are given a bald fade to disconnect it from the thinned beard.
# 7 Perfect Quiff Pomp for Gentlemen
This style appears to be quite sophisticated and suits those who desire something unique and trendy.
The cool pomp and the tapered sides create the unimaginable in this medium hair. The texturing adds some excellent thickness to it.
# 8 Pomp Mohawk
Here is a great option for those looking for a disconnected haircut. The voluptuous pomp is styled into a mohawk to provide a clashing look. The sides are given a fade cut to make the style cooler.
# 9 Skin Fade with Cropped Fringe
This haircut has lots of edge to it. It is textured and cropped just above the forehead to create a stylish fringe that keeps the length on top. The sides feature a skin fade with a surgical line that provides a more classy appeal.
# 10 Perfect Cut with Face Framing Bang
This hair is given a magical transformation that adds more elegance to the dark shade. The sides are cut to the line with the ears. A side bang is added to provide a perfect frame for the face and add to your sexy look.
# 11 Slicked Back with Double Tap
Here is a great idea on how to eliminate that monotonous look in your slicked back haircut. The sides incorporate a double tap with two surgical lines that create a statement. The nape of the neck is given a neat undercut.
# 12 Textured Half-Pomp with Undercut Sides
This style adds visual volume and texture. The pomp flips to one side and blends well with the undercut sides to provide a neat fresh finish.
# 13 Double Tap for Spiky Pomp
A pomp doesn't always have to be sleek. You can give it a messy look by texturing and styling it to create the illusion of a spiky top. The undercut sides are given a double tap with a surgical line to match.
# 14 Perfect Preppy Hair
Leonardo DiCaprio shows you how to texture and thin your hair for that neat look. The hair is pulled back to make the face much fuller and bring out the hot looks of this celebrity.
# 15 Long Layered Top with Undercut Sides
Brad Pitt gives you a chance to see why he is regarded as one of the hottest people alive. The actor keeps his top locks long and pulled to the back. There is a drastic change in length from the long top locks to the undercut sides.
# 16 Flirty with Side Fringe
Brad Pitt displays how it's done for those that desire an elegant touch on a flirty haircut. He textures his hair and gives it a small tap on the ears. A side swept fringe comes in handy to add flatter to his looks.
# 17 Messy Pomp
"Messy but perfect" is the best description for this style. The hair is given tons of texture and styled into a messy yet sleek pomp that graces the undercut sides.
# 18 Skin Fade for Spiky Top
Here's a chance to play with texture. The plenty of length on top makes it easier to texture and give it that spiky look. The sides are given a clean cut by incorporating a skin fade that connects well to the beard line.
# 19 Half-Slicked Back with Undercut Sides
Here is an excellent way of going grey in style. The blonde locks are pulled back at the top and given an undercut on the sides.
The back is given a high fade. The blonde tone is enlivened with grey highlights that add some class to this style.
# 20 Textured and Cropped
This is an ideal haircut for boys. It is a style that lets you shed off some years while giving you a bold look. The hair is given lots of texture and volume. It is cropped to perfectly line with the eyebrows for a hotter look.
# 21 Cool Cut for Blonde
Bored with your blonde locks? Well, you can add some few touches to create a magical transformation. Here, it is textured, side part and pulled to the back to create a gentleman look in you.
# 22 Flat Slopped Top
This flat top style is made unique by letting it slope backwards. The sides are textured and brushed to provide a neat look. They connect perfectly to the rusty blonde beards.
# 23 Longer but Masculine
Long locks usually have a tendency of adding a feminine appeal to your looks. But as a man you shouldn't allow it to weigh you down.
You can cut the top layers short and leave the base layers longer. A side part and a little tap just above the beard line help you regain your manly look.
# 24 Weighty Tapey
This is an absolute cool style that features lots of texture. The hair is pulled back and styled to provide a spiky look.
A small taper at the sides and the back gives you a cutting edge haircut that you will definitely be proud of.
# 25 Channeled and Cropped
Do you have crazy thick hair and want to thin it? Well, don't since it will make it loose shape and structure. You can give it a lite point cutting to create shallow channels.
A blunt yet bold fringe adorns the front to add more drama. The sides are given a skin fade that disconnects them from the top.
# 26 High Top + Taper Fade
Precisely, taper fades are what you need to highlight that healthy, thick top hair. Style and comb it backward and wear the tips on one side.
A beard that is shorter on sides and longer at the chin will beautifully accompany the hairstyle.
# 27 Long Straight Layered Hair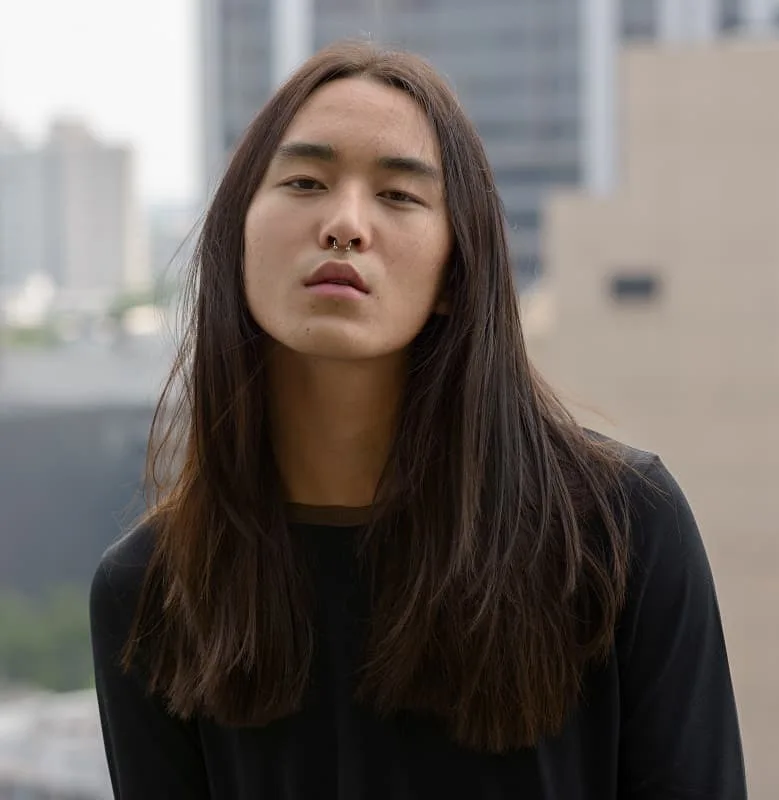 Asian guys are well known for their straight, shiny, thick hair, and sporting a long layered hairstyle makes them truly irresistible.
Those layers will fabulously fall one over each other on the shoulders, and your look will be remarkable, suiting any outfit.
# 28 Messy Hairstyle + Sombre
Messy straight hairstyles make boys look gorgeous, and once you apply a mild blonde sombre, things will definitely get spiced up!
If you want to win a heart, you need a layered hairstyle, bangs swooped on one side, and a deep look into your girl's eyes.
# 29 Long Faux Mohawk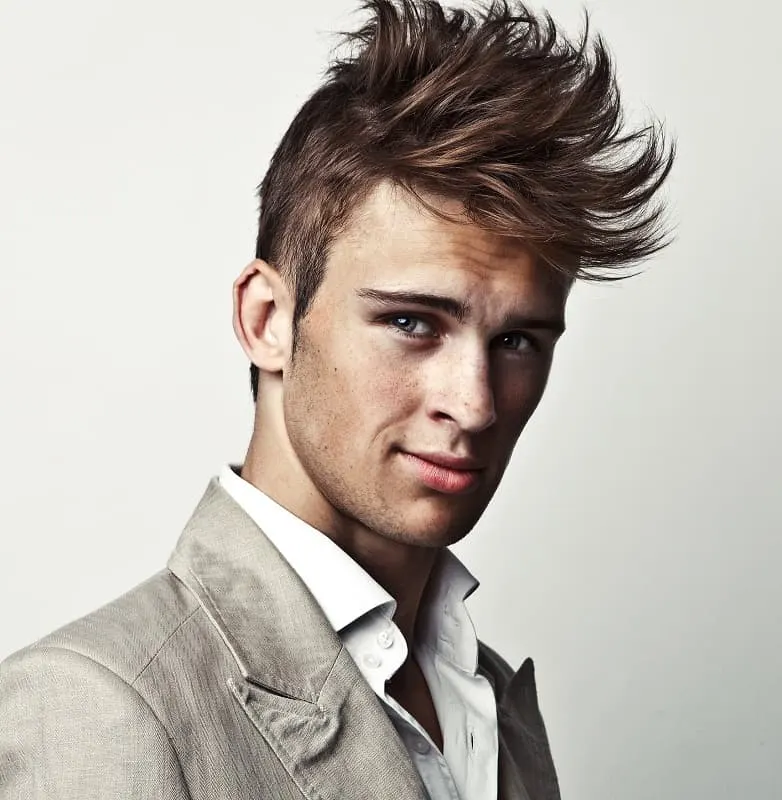 Long faux mohawks are fashionable and versatile and look so damn good when styled upwards.
Slightly orient the fringe on one side to capture that messy appearance.
# 30 Side Swooped Top
This side swooped long top highlights your jawline and makes you look masculine and sexy.
Keep a clean face and a short undercut on the sides while you get an ombre for the longer strands.
# 31 Man Bun
Man buns are effortless, can be created in just a few minutes, and are a great option when it comes to pinning down long straight hair.
They are also pretty popular so don't think twice before you sport one.
# 32 Undercut + Beard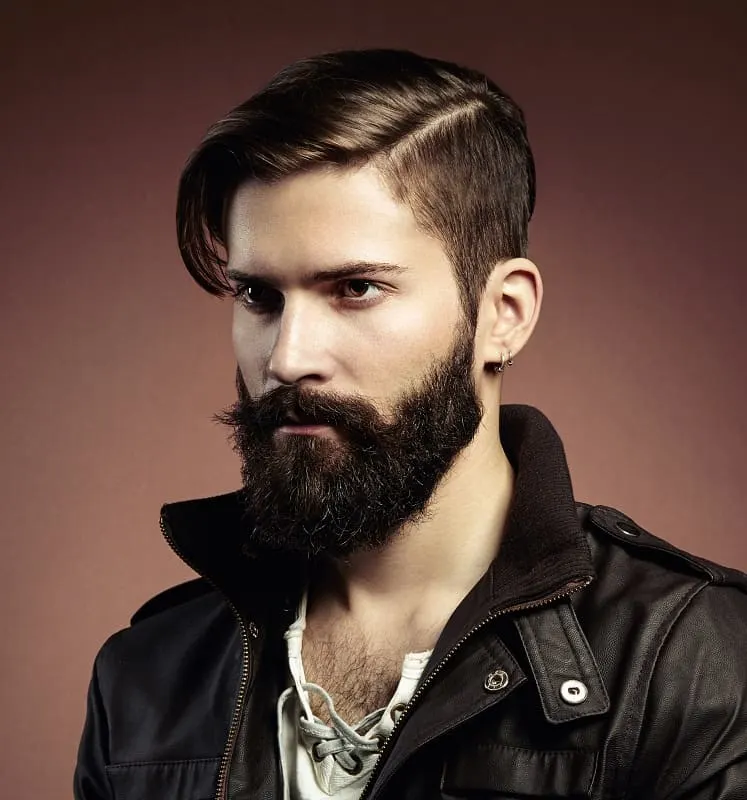 For the sides and back, you can sport a low maintenance undercut while you keep the long top tossed on one side.
Pair the hairstyle with a medium ducktail beard, and your bad boy look will get all the attention it deserves.
# 33 Blonde Comb Over
Clean faces are trending in 2023, and if you want a hairstyle that also gets a lot of attention, this is your occasion to opt for an undercut with a blonde combed-over hair.
# 34 Undercut for Straight Hair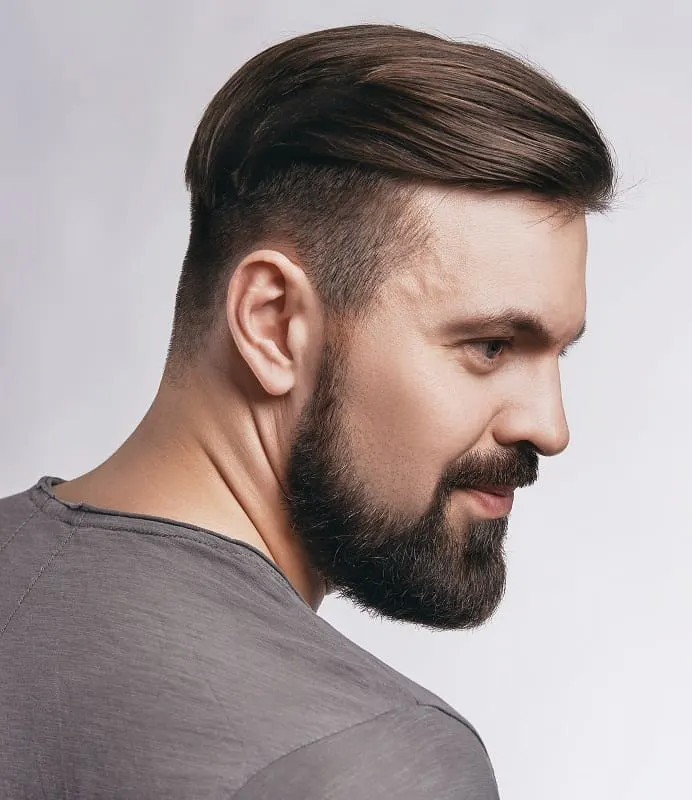 Disconnected undercuts do such a great job in creating contrasts, so if you have straight healthy hair, this is the perfect way to show off your rich top.
Comb it over and opt for a perfectly groomed beard.
# 35 Pompadour Undercut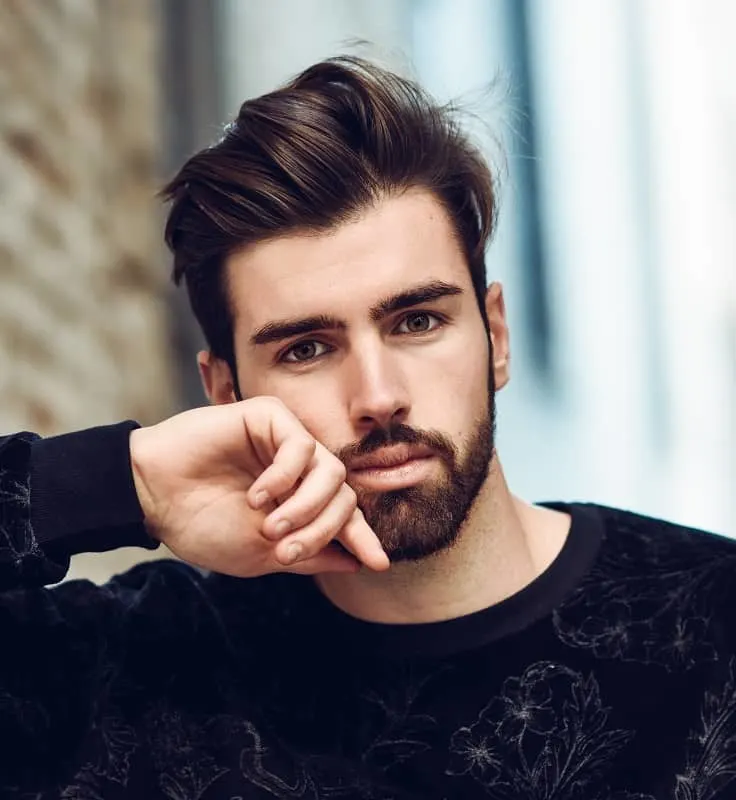 Pompadour hair is not going to fade any time sooner and is still quite popular, so if you have a long top, this is the best way to style straight hair.
Give it height and sport a short beard to complete the look.
Idea # 36
Idea # 37
Idea # 38
Idea # 39
Idea # 40
Idea # 41
Idea # 42
Idea # 43
Idea # 44
Idea # 45
Idea # 46
Idea # 47
Idea # 48
Idea # 49
Idea # 50
Idea # 51
Idea # 52
Idea # 53
Idea # 54
Idea # 55
Idea # 56
Idea # 57
Idea # 58
Idea # 59
Idea # 60
Idea # 61
Idea # 62
Idea # 63
Idea # 64
Idea # 65
Idea # 66
Idea # 67
Idea # 68
Idea # 69
Idea # 70
Idea # 71
Idea # 72
Idea # 73
Idea # 74
Idea # 75
Idea # 76
Idea # 77
Idea # 78
Idea # 79
Idea # 80
These are the top straight hair ideas for men who treasure their looks and want to take it a notch higher. It's time to make a choice and contact your stylist to help you achieve the hairstyle you so much desire.