In the 1950's no style could be considered rockabilly without the pompadour haircut. Although evidence of the existence of this style points to it being worn in the 1700's it is in the 50's that it spread to all parts of the world.
The pompadour is back in style, but it has been given some modern variations to make sure that it can keep up with the changing times.
Nowadays there are more variations of this traditional style that there has ever been. And as more and more people continue to experiment with the pompadour it is soon going to be one of the most popular if not the most popular haircut style.
If you are thinking of trying out this eye-catching haircut below are 80 variations of this cut that you can try out.
# 1 Thick Hair Pompadour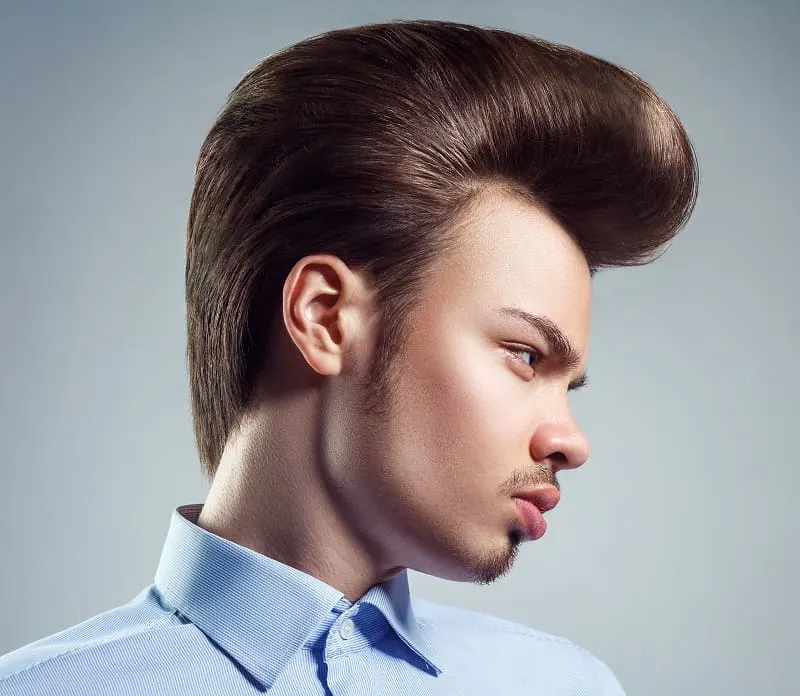 Elvis Presley himself never sported a pompadour this voluminous. For men with thick hair, it will be super easy to create this look and the ladies will fall all over you.
# 2 Undercut Fade Pompadour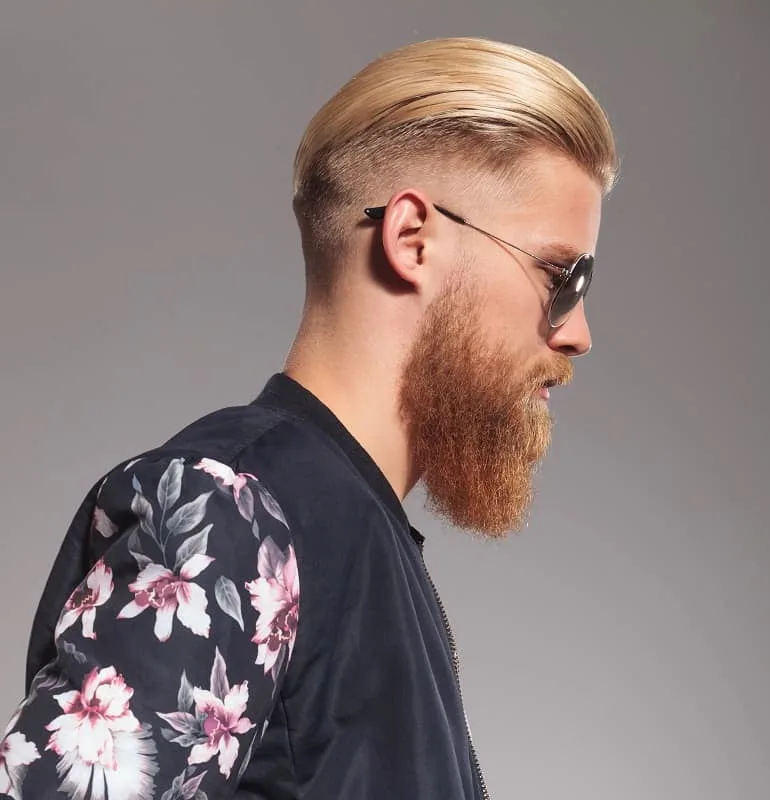 An edgy twist on the classic pompadour, this look added an undercut fade. Slick back the long top for cool contrast to a bushy beard.
# 3 Pompadour with Hard Part
Hard parts aren't just for short hairstyles. Add one to a pompadour to mix up the style. One short side and one long side combed into a pompadour and paired with a gradual fade is classy and handsome.
# 4 Piecey Pompadour
While the pompadour is typically super smooth with no lumps or bumps, this updated pompadour features a piecey texture. It's great for men with thick hair who want to show off their lengthy locks.
# 5 Rugged Pompadour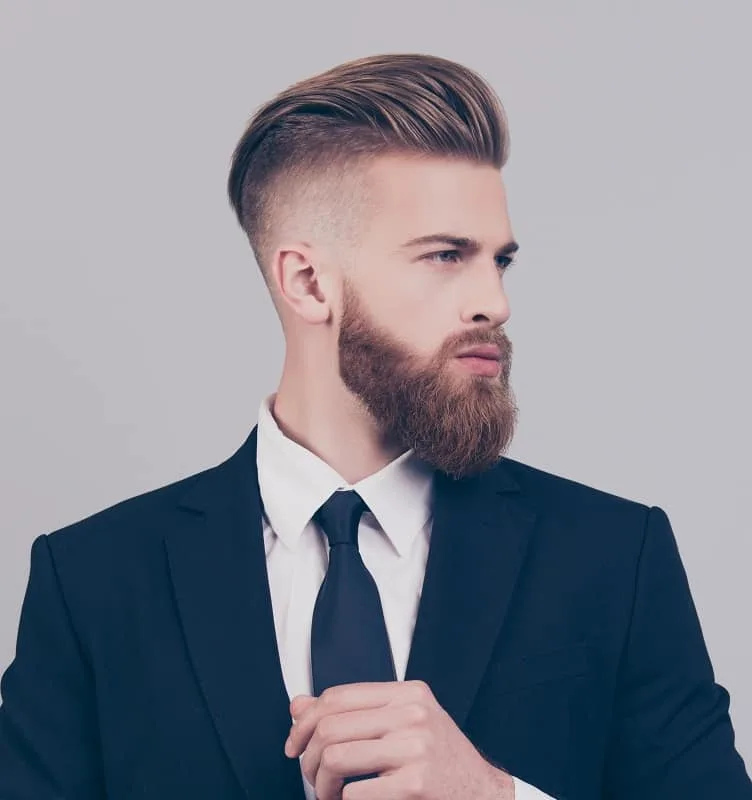 Who says a pompadour has to be paired with a smooth shaved beard? This rugged pompadour mixes smooth slicked back hair on an undercut fade with a scruffy beard.
# 6 Razor Faded Pompadour
Although this is a very common pompadour style, it takes a skilled barber and a lot of patience to cut it correctly.
Razor faded pompadour is created by first wetting the hair and creating a horizontal side part from tempo to the crown.
The side hairs are then faded in three layers with the lower layer being shaved very closely with the Clippers at grade zero to expose the scalp. The other layers are then blended in with the scalp exposed layer to finish the razor faded pompadour.
# 7 Tall Pompadour and Blended Sides
Height is the main idea behind this cut, and so you have to give the top hairs a good length to wear this cut.
Besides from this you have to shave the sides and back in such a way that they will blend in with the top by gradually reducing in size from the top as you move towards the back of the head and the ears. In other words, this cut should have a graduated top.
# 8 Angular/Modern
The angular pomp brings this traditional haircut into the twenty-first century with the short and back sides shaved very short (Clippers on grade one).
If you are feeling brave or experimental, you should ask the barber to shave far up your crown for a more interesting look. The top hairs are then styled in an angular manner to complete the look.
# 9 Rockabilly Style Pompadour
If you have some skills in wearing pompadours, then you can get this style without visiting a barber as all you will need is a comb and some good styling product.
However, for a permanent and well-defined rockabilly pompadour the barber has to cut the back hair in layers and bangs. It is a simple style to cut, and so most barbers can cut it correctly.
# 10 Pompadour and Undercuts
Undercuts can make even the dullest of haircuts look outstanding and so if you combine it with an incredible style like this then you will look splendid.
In this cut, the traditional or classic pompadour cut is made on the top hairs while the sides and back are closely shaved almost exposing the scalp.
This cut is suitable for men with round faces as it can draw attention from the face width by adding some height to the face.
# 11 Side Part Pompadour
The side part pompadour does not look as rockabilly as the regular pompadour, and this is what people that wear it love most about it.
It also doesn't seem too conservative, and so it is suitable for a person who wants something in between the two extremes.
The side part combines the good aspects of the two styles to give you a different cut that you will want to wear regularly.
# 12 Classic Pompadour
This is the original or the old pompadour and all the modern variations of this cut are based on this style. The sides and back of the head in this cut are clipped but not too short because the scalp should not be exposed.
The edges should be tapered tight, but you should make sure that some length is maintained throughout the head.
Since more length is kept on the sides, this cut will suit most faces but is best for people with long faces as it maintains a balance between the top and sides.
# 13 Extreme Pompadour
Extreme pompadour is a modern look that men with round or oval face should wear. In this cut, the sides are clipped on grade one.
To make the cut even more extreme, you can also consider a skin fade where the haircut starts with no grade on the Clippers.
The hair at the top should be clipped as high as possible to ensure that you keep more length in this section. Lastly, you can wear this cut connected into the crown or disconnect it so that the hair can hang below the crown.
# 14 Skin Faded and Disconnected Pomp
Skin fading entails very short hair at the back and sides, and it can be used to enhance or bring uniformity to any cut.
In this cut, skin fade is used to highlight or make the pompadour more visible and a side part is used to create the disconnection between the pomp and the rest of the hairs.
The disconnected pompadour is a good cut for people with oval and triangular face shape and just like most other pomp cuts it can work with most hair types.
# 15 High Fade Pompadour
Some barbering prowess will be needed to get this cut right. Unlike the simple razor faded pomp this one does not expose the scalp on the sides, but it goes very close almost exposing it.
The length of the side hairs is what makes it different from the low fade pompadour, and so the barber has to know the exact height to leave on the sides to get this cut right.
# 16 The Shiny Pompadour
This cut is a variation of the classic pompadour. The main difference between the two cuts is that the hair in this cut is shinier.
The cut is made similar to the classic pompadour, but the top hairs are slightly longer to make the shine more visible.
After the cut, you should use a generous amount of good quality pomade or gel to hold the hair in place and to make it shiny. You can also use any other product that can make your hair shine especially at the top section.
# 17 Slicked Back Pompadour
The top hairs in the slicked back pompadour are left with an extra height to make it possible for the wearer to sweep them back with a comb.
In this cut, the sides and back can be shaved close or faded but the top hair is left longer than a classic pompadour. You can then apply some smoothening hair product then slick back the hair with a comb.
# 18 Quiff Pompadour
It's amazing just how you can play around with the pompadour to get an impressive look. The quiff is perhaps one of the best variations of this style as it combines the traditional pompadour with a flat top.
In this cut, the front is brushed forward but what makes it unique is how the side and back hairs are cut.
# 19 Tall/Long Hair Pomp
Men with long hair can find it hard to lose some of it so as to get a pompadour haircut, but this cut should console them as it is way much longer and taller than most other cuts.
The trick is to try and make the top hairs as long as possible and use wax, pomade or a quality gel to style the pompadour in a way that will make it as tall as possible. This style is very easy to wear if you leave the top hairs long enough.
# 20 Natural Loose Hair Pompadour
Men with naturally loose hair can also get a pompadour and look good in it provided they get one that goes well with their type of hair.
Loose hair can be troublesome to work with but if you keep things simple like in this pompadour, then you will have no trouble at all. All you need to do in this cut is to leave the top hairs in a medium length that can be slicked back.
You should then do a skin fade on the sides and back of the head. A side part is optional, but it is a good idea to have it as it can enhance your look.
# 21 Medium Length Pompadour
This pompadour cut is better suited for men who prefer simple or less detailed cuts.
The hairs at the top do not go very high above the head as the pompadour is made medium in height and the sides are skin faded to complete a simple look. This cut can be worn as a formal or casual look since it's simple but still stylish.
# 22 Pompadour with Sideburns
Sideburns are an added advantage to any haircut, but it is important to trim and shape them to blend in with the particular haircut you want to wear.
Since the pompadour is big and wider, it will require that you combine it with wider and thicker sideburns.
If your sideburns are not thick enough then you would look better in a pompadour by shaving them completely.
# 23 The Classic Elvis Style Pomp
Elvis Presley is one of the people that popularized this haircut a few decades ago, and so it is only fair to have a cut or style named after him.
The classic Elvis look is quite common, and it involves pretty longer top hair and tapered sides, but you can also have it with short clipped back and sides. Pomade is the best hair product that you should use to style this pompadour.
# 24 Bald Fade Disconnected Pomp
The bald fade disconnected pomp is a popular style with men who have long or medium length and would like to show it off as much as they would like to get a pompadour.
In this cut, the top hair is left long then disconnected from the base hair with a side parting. A bald fade is then used to disconnect the lower section of the head from the face so as to draw attention to the beard on the face. The beard should be well kept to go with the nicely done pomp.
# 25 Massive Pompadour With High Fade
If you have thick or voluminous hair, then this is the right pompadour for you. The top hair is long and voluminous, and so when it is styled into a pompadour, it creates a massive but stylish appearance.
The style is finished with a neat high fade. High fading the sides and back is important as it helps draw attention to the massive pompadour on top.
# 26 Old School Pomp Cut
The old-school pomp will take you back a few decades ago when men used to spend a lot of money and time on their hair. In this pompadour haircut, everything looks exaggerate at least by today's standards.
The pompadour is big in width and height, and it looks like a foreign object on top of the head, but it still makes a good haircut especially for people with bigger foreheads as it draws attention away from it.
# 27 Part Bald Fade With Beard
If you are not the type that mind going all bald on the sides and the back of the head, then you can try this pomp style.
Start with a side part then sweep the longer front hairs to one side. Next you should create a baseline with the hair on the crown of the head then slightly fade an inch or so of the hair after the baseline.
After the fade, you can create a small bald part that joins your face. Also, you should reduce the size of your beard to a neat size that will blend in well with your pomp.
# 28 Jellyroll Style Pompadour
Jellyroll is a popular style for British men, and when combined with a pompadour in the top section of the head it looks even more appealing.
In this cut, the back is reduced to a size smaller than the top section and then parted into two sections vertically. Each side is then swept in the opposite direction from the other to create the jellyroll.
# 29 Short Pomp With High Fade
A pompadour does not always have to be high and tall for it to look good and so people that prefer shorter hair can get the short pomp and look great in it.
Since the pomp is short, it will be more highlighted if you pair it with a high fade. The hair on the sides should disappear two inches from the top hairs to draw more attention to your pompadour.
# 30 Graduated and Texturized Pompadour Cut
This pompadour style combines different layers of hair and a texturized hair to give the wearer an exquisite look.
What makes this cut special is the fact that it is very versatile and depending on your personal preferences you can have different lengths for the side and back layers.
However, you have to make the hairs blend in or appear uniform by gradually increasing in size as they go towards the top section of the head.
If you do not have a well-textured hair, you can use hair products, especially on the top hairs to add some texture.
Idea # 31
Idea # 32
Idea # 33
Idea # 34
Idea # 35
Idea # 36
Idea # 37
Idea # 38
Idea # 39
Idea # 40
Idea # 41
Idea # 42
Idea # 43
Idea # 44
Idea # 45
Idea # 46
Idea # 47
Idea # 48
Idea # 49
Idea # 50
Idea # 51
Idea # 52
Idea # 53
Idea # 54
Idea # 55
Idea # 56
Idea # 57
Idea # 58
Idea # 59
Idea # 60
Idea # 61
Idea # 62
Idea # 63
Idea # 64
Idea # 65
Idea # 66
Idea # 67
Idea # 68
Idea # 69
Idea # 70
Idea # 71
Idea # 72
Idea # 73
Idea # 74
Idea # 75
Idea # 76
Idea # 77
Idea # 78
Idea # 79
Idea # 80
All the pompadour haircuts mentioned above will look great if done proffessionaly. To make sure that you get a perfect look make sure that you find a good barber.
Spend time looking for a good barber for this haircut as this is the first and also the most important step in getting the pompadour.
Also, you should not be afraid to experiment with different styles as this is the only way to get a cut that you will be proud of every time you look in the mirror.