The early years of a child are very special, and so parents will always try to capture every moment of it. However, to get the perfect photo your little boy has to look fantastic with a cool haircut as it will be very embarrassing for them to look back and see funny pictures of their childhood.
There are many things that you can do to make your little boy look good, but nothing will work without a good haircut.
Different little boy haircuts are available for you to choose from and depending on your tastes (your little boy will probably not have a say in this) and preferences you can get one that will make your little one look exquisite.
How to Pick the Right Hairstyle for Your Little Boy
Determine His Face Shape
The most important thing to consider when choosing little boy haircuts is your son's face shape. Each hairstyle goes well with certain face shapes, so determine this information before stepping foot in the barbershop. Here's how to accurately measure the shape of your son's face:
Measure the width of their jaw using a tape measure
Measure the length between one cheekbone to another
Measure the length of their face starting at the top of the hairline down to the chin
If the width and length have the same average, then your son has a round face. If the length measurements are roughly 1.5 times more than the width, they have an oval face. If the length is anything greater than 1.5 times the width, then your son has an oblong face.
Choosing the Right Little Boy Hairstyles
Now that you know their face shape, it's time to speak with your barber about the best hairstyle to match. Since there are countless options to choose from, it can be overwhelming. Below are a few little boy hairstyles based on face shape to give you some inspiration.
Crew Cut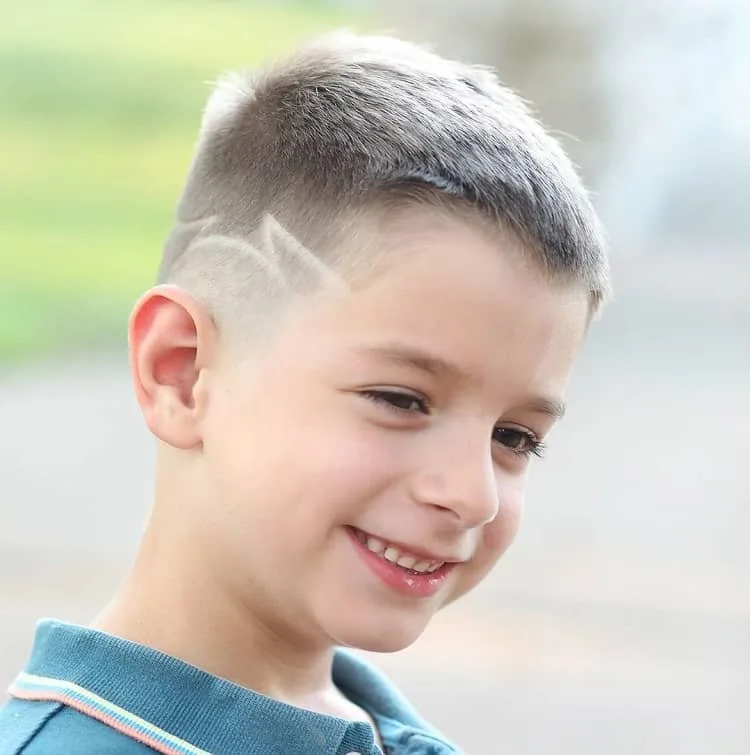 The crew cut is one of the most popular short little boy haircuts because it's simple yet stylish. For a crew cut, the barber cuts the hair on the top of the head quite short, giving your son appear neat and well-groomed. The hair on the sides is usually cut extremely short, but you can choose the length based on personal preference.
One fantastic thing about the crew cut is that it looks amazing for all face shapes. If your sun has thinner hair, the crew cut will make his head appear fuller with more volume. Since the crew cut is a trendy hairstyle, most barbers know exactly what to do when you ask for it.
High and Tight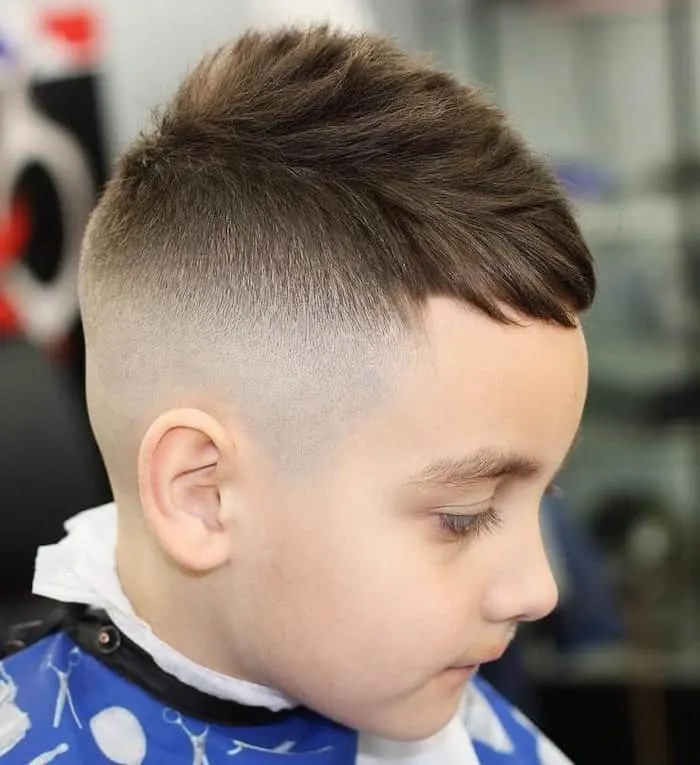 Like the crew cut, the high and tight hairstyle is neat and suitable for all hair and face shapes. The key difference between the two is this style; the back and sides are usually shaved completely. Your son also has the freedom to grow the hair on top as long as they want without compromising the style.
The high and tight is low maintenance and is perfect in the summer or hot weather. If you're looking for a more modern hairstyle for your little boy, this is one of the best options.
Short and Curly
For kids with naturally curly hair, finding the right hairstyle can be challenging. With that in mind, once you find a style that suits them best, their hair will look absolutely amazing.
The short and curly is a popular choice because it's somewhat minimalistic and helps compliment their appearance.
The sides and back are generally quite short. However, you can leave a large patch of curly hair on the top that's almost irresistible to touch. Since curls are high-maintenance, it's best to leave them on the top of the head rather than the sides.
Cutest Haircuts for Little boys
Whether you are looking for a style to wear on his first day of school or one for the yearbook photo, you will get a few from the 80 coolest little boy hairstyles below.
# 1 Side-Swept Haircut
This is a simple style that most parents prefer to have it on their little ones as it makes things easier for them.
To achieve this style all you need to do is follow the natural hair division and then brush it sideways. Sometimes it can be combined with an undercut, but it works just fine on its own.
And it is most suitable for boys with oval, triangular and also round faces.
# 2 The Faux Hawk
This tapered haircut is very common, and it is quite similar to the Mohawk with the only noticeable difference being the absence of the closely shaved sides.
It is more dignified and cleaner, and so it is a good option for conservative parents or those that do not like too much detail on their kid's hair. It is suited for all types of face shape except oval.
# 3 Messy Bangs
Messy bangs are commonly referred to as "the mop" because of their look. In this style, some tapering is done around the ears and neck going upwards.
However, the long bangs and the texture are what make this hairstyle interesting to try out.
# 4 The Mohawk
Even if you do not have the slightest idea of how to choose a haircut for your little boy you can never go wrong with a Mohawk.
A Mohawk can look outdated or even a cliché to older men but somehow this style always looks great on little boys, and they can wear it time and time again without looking out of style.
However, try to be a little creative with your boy's Mohawk by giving it some color or shaping it is a slightly different way from the traditional one.
# 5 The Little Johnny Bravo
If your little boy has an oval or round shape and medium or thick hair, then this style is perfect for him.
You can give him this style by applying a generous amount of wax, gel or texturizing lotion on their hair and then brush it with your hands or using a vent brush.
After doing this, you should work yourself up and try to make it stick up high as much as possible. You can then use hairspray to give it a nice finish.
# 6 Short Pompadour
The Short Pompadour is a tapered little boy haircut that is brushed backward to achieve what can be described as an Elvis look. Boys of all ages can wear this style, but it looks way much better on toddlers due to their babyish look.
It is worn by applying a generous amount of texturizing lotion and brushing the hair backward. You should finish by brushing the sides to smoothen everything.
# 7 Beachy Long Hairs
Most parents prefer keeping their little boy's hair as short as possible as it is easy to maintain.
However, long hairs in boys are slowly making a comeback as more and more parents realize that their kids can look gorgeous with long hair.
The Beachy long haircut incorporates lots of texture, long bangs and a razor touch around the neck and ears. What makes this haircut special is that it does not make you look like you have just come from the salon.
# 8 Punk Rock Tot
If your little boy is already a rebel or, at least, he thinks he is one, then this style can be perfect for him as it will give him the rebel look that he desires.
In this style, a long side bang is paired with closely shaved sides to give your boy an edgy touch. You can also try different things with this style as the possibilities are endless provided you have a skilled and creative barber.
# 9 Classic Curly
Kids with a naturally curly hair have many advantages as their hair is easier to style and there are also many haircut styles that go well with curly hair.
It is best to cut their hair close to the roots so that their amazing locks can be expressed. This haircut works well with any hair type between medium and thick volume and is suitable for all face types.
To get an even better look, you can enhance the natural curls using a good quality hold gel.
# 10 Edged Out
Short haircuts can look great on little boys when done correctly, and the Edged Out style proves this beyond any doubt.
The beauty of this style is in the fact that it is buzzed in, and so there will be no need for any styling. To make it more interesting, a few detailed lines are added on the side.
# 11 Textured Haircut
This short boy haircut will be more appreciated by busy moms as they will not have to spend a lot of time each day trying to make their little boy look sharp.
It is a no-fuss style that involves keeping the hair at the sides and back short and the top hair slightly longer. The most vital thing you need to do in this style is to make sure that your son gets the right cut.
The barber should use №4 clipper on the back and sides and either 6 or 7 on the top. After the cut use some pomade or wax to style the hair.
# 12 Business Class Little Boy Haircut
This style is suitable for little boys with an oval, triangular or square face and it will make your boy look well-groomed. It also looks good on any hair type regardless of how thick or thin it may be.
You can easily give your boy this style without necessarily visiting the barber shop, but it is important to have the hairs trimmed to a uniform size before giving your boy this style.
All you need to do is apply smoothing lotion on the hair till it dampens and then use a brush to sweep it from the sides towards the back. You can also finish the style with some nice hairspray.
# 13 The Dashing Medium Length Cut
This style is super cute especially when worn by boys who have medium length hair. It starts with tapering around the neck and ears and then the hair length is blended in with the top being left with longer hair.
A comb should then be used to get a nice part when the hair is still wet and then finished with a hold product such as wax or gel.
# 14 Choppy Kiddie Haircut
You can get the Choppy Kiddie Haircut by applying texturizing lotion generously on the hair then brushing the hairs on the crown forward then sweep them to the sides.
The Choppy cut is best suited for kids with square or oval face shapes and a fine or medium hair.
# 15 Shaggy Style
Shaggy hairstyles look great even when worn by adults, but this particular style is more juvenile with some nice bangs.
To get this style right you should keep things whimsical by leaving long layers and naturally shaggy locks around the ear.
Textured bangs should fall just above your boy's eye to make sure that you can still see his lovely eyes. This being a medium to thick hairstyle it is better suited for boys with round faces and fine hair texture with no wave or curl.
# 16 Elevated Top
An excellent hair height will always make your little one look outstanding especially if you get a little creative with the top hair.
This style has a lot of texture and a charming effect that will make your boy more adorable. To wear this style you should sweep the top hair forward and the side hair towards the back of the head.
Next you should rub strong pomade on your hand and use it to rough up the hair to give it texture and some definition.
# 17 The Piecey Look
Piecey is a fun razored haircut that keeps the interior hair layers short for some texture. It has a lightweight feel as it leaves the perimeter and bangs longer for a cool piecey look.
The layers are crucial as they help to keep this cut light but make sure that you do not cut the length around the face too short. This style is excellent for boys with a larger forehead and fine hair.
# 18 Smooth Hipster Haircut
Boys with medium hair type and oval face shape will look fantastic with the smooth hipster haircut.
This haircut is usually achieved by shaving or fading the side hairs and then leaving a significant amount of hair on the crown.
You can then make it look smooth and clean by applying hair crème and then brushing the hair to the sides. Finish it off with a good hairspray.
# 19 Clean Sleek Cut
For this style, you should apply some argan oil to well-trimmed hair strands and let the hair flow freely to the sides and front.
Getting the right cut is important because this style may be tricky to wear for boys with closely trimmed hair.
The hair (especially the front locks) should be more than three inches so that it can flow well. The Clean Sleek cut works best for boys with thick hair.
# 20 The Slick
The slick is a good style for little boys who want a longer but still manageable length. In this cut, the front strands are left long such that they graze the eyes while the back is neatly tapered.
After towel drying the hair, you should use your fingers to comb the hair forward then push the bangs slightly on one side. Remember that you should push your hair in the direction you want it to dry.
# 21 Classic Wispy Cut
Any cut that has the word classic will always draw the attention of any parent, and this is rightfully so because most of these styles look outstanding.
In this particular style, the hair is kept short around the ears gradually increasing its size as you go upwards to the longer textured top hair.
It is a clean and simple haircut that your son can wear for many years as they grow as it works well for all ages.
# 22 Simple Bangs Cut
This style requires that you keep the front hair bangs just long enough to cover your forehead when swept frontwards.
It is a haircut style for boys with thick or medium hair and round face shape. To wear this style you should comb the bangs to the sides or forward.
# 23 The Spiky Haircut
The Spiky Haircut is a great style for kids that have thick and straight hair. It helps your child embrace their natural hair by keeping the sides and top shorter.
The secret to getting this style right is making sure that the hair is blended fully from the sides of the head to the top. You should then apply some thickening crème on the hair and use a vent brush to spike up your son's hair.
# 24 The Surfer
This is a short haircut that keeps the hair at the top longer. It is a very good cut as it allows you to have some fun with the hair and also gives you versatility.
In this style, the hair is full on the sides to give it what is referred to as the California vibe. What makes it special is the fact that it is not too clean and neither is it crazy long and hence creating a unique balance in style.
To wear this style you should have your barber keep the ear and nape area short and clean but the sides should be left around an inch long while the top hair should be anything between 2 and 3 inches. You can finish the look by styling it with your hold product of choice.
# 25 Cropped Haircut
If your little angel has a triangular, oval or square shape, then you should try this style on them. Thick or medium hair is also more preferred, but you can wear it with any hair type.
To wear this style, the hair should be cut to 2 or three inches, and uniform size throughout then apply some crème or gel to the hair.
Use your fingers to brush the hair up and create a part on the side and finish with a good hairspray.
# 26 Twisted Long Afro
You can never go wrong with the Afro as it will look good on all types of faces and different hair thicknesses. Add a neat undercut on the sides and use the afro to conceal the cut beneath.
Wearing this style is easy, and it will require less maintenance. For a cleaner look, you should have a hairstylist twist your boy's afro hair into a couple of locks.
# 27 Undercut With Blinders
Undercuts are not a preserve of adults because even little boys can rock this favorite cut. The first step in this style is to get a simple but well-done undercut.
After this, you should apply some gel on the hair then brush the top hairs upwards. The bangs should then be brushed downwards to create the short blinders.
This style is perfect for boys with oval shaped faces and any hair type except gaunt hair.
# 28 The High Volume Cut
The high volume cut will accentuate the face nicely, and so it is more suitable for little boys with round faces. It is a cut for boys that prefer longer hair because it is usually medium length in height at the top.
This style also combines well with other cuts such as undercuts on the sides of the head. The versatility of this cut is what makes it worth trying out for your little boy.
# 29 Modern Mullet
Every family has a wild child, and so you should give yours a style that goes well with their character. One such style is the Modern Mullet cut. In this style, the front hair is given a side part then swept to one side.
The shorter back and sides are characterized by a touch of undercuts to complete what most stylists will describe as perfection in a little boy look.
# 30 The Butch Cut
The butch cut is also called the burr and is very popular with little boys of different ages.
Butch is a very short buzz cut. It looks like a military cut and it involves shaving the hair on the sides, back and top very close to the scalp and parents love it because it requires no maintenance at all.
Another advantage with this cut is that sweat will not make it look bad due to its short length, and so it is good especially if your boy plays the sport or is very active.
This cut is well known and to so to get it for your boy simply ask your barber for a butch cut.
# 31 Short Afro
A short afro is a simple haircut that can make a little boy stand out from the rest. However, this style is mostly suitable for African American hair due to its thickness and texture.
To wear this style all that is needed is some tapering and some soft curly hair. Boys with round or oval faces and short forehead will look best with the short Afro.
# 32 Short With Shaved Waves
If you like some creativity in your little boy's hair, then this is an interesting style that you should try on him.
There are two essential elements in this style. These elements are the disconnected under-shave and a shaved wave pattern on the sides. This cut will look well on all hair types and face shapes.
# 33 The Long Buzz cut
With the busy life schedules, most parents do not always get time to style their kids hair and so it is important to look for an elegant style that is easy to maintain such as the long buzz cut.
With this style, short hair is left all round the head and is an excellent option especially if your little boy is involved in sports.
This style is often kept natural, but you can use small amounts of mousse or gel on it. It is suitable for boys with short foreheads, strong jawlines, and an oval face.
# 34 Short Little Boy Dreads
This is another haircut appropriate for the natural texture of the African American hair. In this cut, the short dreads are left on the top section of the head with the sides and back being shaved closely.
The cut requires medium to long hair, and you should have a professional work on your boy's hair to give them perfect short dreads. If your little one is already growing dreads all you need to do is to keep them short.
# 35 Combed Back Haircut
This is a casual cut that works well in different situations, and so you should not be afraid to try it on your little boy.
It is best for little boys with straight, shiny and thick hair. The idea of this style is to make your boy look natural and unstyled, and so you should use medium hold products and matte on his hair.
# 36 Textured Curly Undercut
Few little boy haircuts work well with curly hair, and so parents have a hard time choosing a cut for their boy, but the textured curly can help solve this problem.
The style uses an undercut to bring some detail to the top section but allows the hair to maintain its natural curls.
The curls are then cut to blend in with the shape of your face and to give your boy a cleaner look because the idea is to avoid messy curls.
# 37 Straight Shag
Straight Shag has grown into a trendy haircut for boys as it is very easy to wear and is a low maintenance cut. If you have good hair type all that you will need is a comb and maybe mousse to maintain your hair.
However, if your hair is not naturally straight, you may need to use a flat iron to give it a straight look. Straight Shag is ideal for boys with round cheeks, high foreheads, and long faces.
# 38 Vertical Haircuts
Vertical Haircuts are perfect for summer and other holiday seasons as they have a way of blending in with the season, and they also make your boy look classy.
The vertical cut works with both short and long hair. It gives some nice height to the hair, and it is perfect for square and round faces as it adds some dimension to the face.
However, the hair will need some pomade or wax to hold it in place and to keep it straight (vertical).
# 39 The Modern Little Boy Cowlick
If your little boy has a coarse hair, then you know just how tough it can be to work with, but his style will give you a way to tame the coarse hair and give your boy a stellar look.
The cut is short on the sides and longer at the top. It features defined ends and a small hint of an undercut. This cut makes short hair look wet and elegant.
# 40 Straight Fringe
The little boy's straight fringe is a slight modification of the men version of this cut, and it aims at bringing balance between a formal look for school days and a casual weekend look.
It is ideal for boys with long faces because the fringe is allowed to cover the face up to the eyebrow level.
In this style, the straight fringe accentuates the undercut while the natural texture of the hair is used to give it some volume. It might sound a little bit complicated, but an experienced stylist should be able to pull it with ease.
# 41 Braids for Little Boy
If you have a little black gentleman, he will totally love these amazing braids. He will feel confident and you will have a struggle less during mornings.
These short box braids are easy to do at home, so you don't have to take him to a salon, just convince him to stand still while you braid his Afro American hair.
# 42 Short Curly Hairstyle with Wispy Fringe
Kids have soft hair when they are little, so if he has wavy locks, you have to find an easy way to style his curls.
You can opt for a short haircut that maintains the bounce and a fringe that you can spread on the forehead.
# 43 Buzz Cut for Little Boys
Little boys search for role models within their family members and love to look stylish and brag about their new hairstyles at school.
If you get him a buzz cut with a side part and a fade, he will feel like a young teen and he will adore the razored line placed on the side.
# 44 Mohawk for Little Boys
If you have a little boy that is already rebellious, a mohawk will suit him like a glove. Build it for the top, and keep his bangs spread on the forehead.
For the sides, go for a low fade, and he will win everyone's heart at the kindergarten or when you both go to playing grounds.
# 45 Short Haircut For Litte Boys
If your little loves cool looks, get him some bangs that he can wear on the forehead and give him a pair of sunglasses. He will totally love his new hairdo and will look so cool.
# 46 Afro Hairstyle for Black Little Boys
Afro hair is quite hard to manage even as an adult, but if you style a medium rounded haircut for his ringlets, you'll get a hairdo that doesn't need too much styling in the morning.
# 47 Short Haircut for Little Guts
One of the most popular hairstyles for little boys is a short haircut with bangs that you can lift or place on the forehead. As a mom, you want a hairdo that is easy to arrange and doesn't get in your kid's way while playing.
# 48Textured Coils For Little Boys
When your little boy has thick, dense Afro American hair, you need to highlight it. Use some jam to hydrate his scalp and to make his coils more bouncy and well defined.
# 49Bue and Red Hairstyle for Little Boys
Little boys adore being in the center of attention and you can give him that spotlight look by choosing some hair sprays or hair dyes that don't damage his hair.
Make thick highlights with blue and red colors and he will love his brand new look.
# 50 Short Haircut for Little Boys
Your little man can look so stylish with a short haircut with bangs that you can swoop on one side. Use just a tiny drop of hair gel to make those bangs stay on one side.
Idea # 51
Idea # 52
Idea # 53
Idea # 54
Idea # 55
Idea # 56
Idea # 57
Idea # 58
Idea # 59
Idea # 60
Idea # 61
Idea # 62
Idea # 63
Idea # 64
Idea # 65
Idea # 66
Idea # 67
Idea # 68
Idea # 69
Idea # 70
Idea # 71
Idea # 72
Idea # 73
Idea # 74
Idea # 75
Idea # 76
Idea # 77
Idea # 78
Idea # 79
Idea # 80
If your kid looks good and stylish, you will also feel good and proud as a parent. The easiest way to make your baby look outstanding is through their haircut, and so you should choose one carefully.
And you can always experiment with a few from the 80 mentioned above as your boy grows till you get the perfect look for them.