Looking for a haircut that provides the convenience of easy maintenance? Well, the answer is simple and straightforward – a buzz cut.
This is a haircut that gives you that military look without necessarily being a member of the force. The good thing with buzz haircuts is that they are quick, convenient and downright affordable. It is a haircut that suits all, even the bald.
In this article, we're going to provide you with 80 inspirational ideas for buzz cuts. Moreover, we'll provide short descriptions and images to enable you decide the haircut that will make you the envy of your neighborhood.
Well, take your time and let us walk you through the options we have in store.
# 1 Basic Bristle Buzz
Let's start off with something simple, a basic uniform buzz cut at a number 3. You don't need to style or brush it, it's a simple and sporty look.
# 2 Bleach Blond Buzz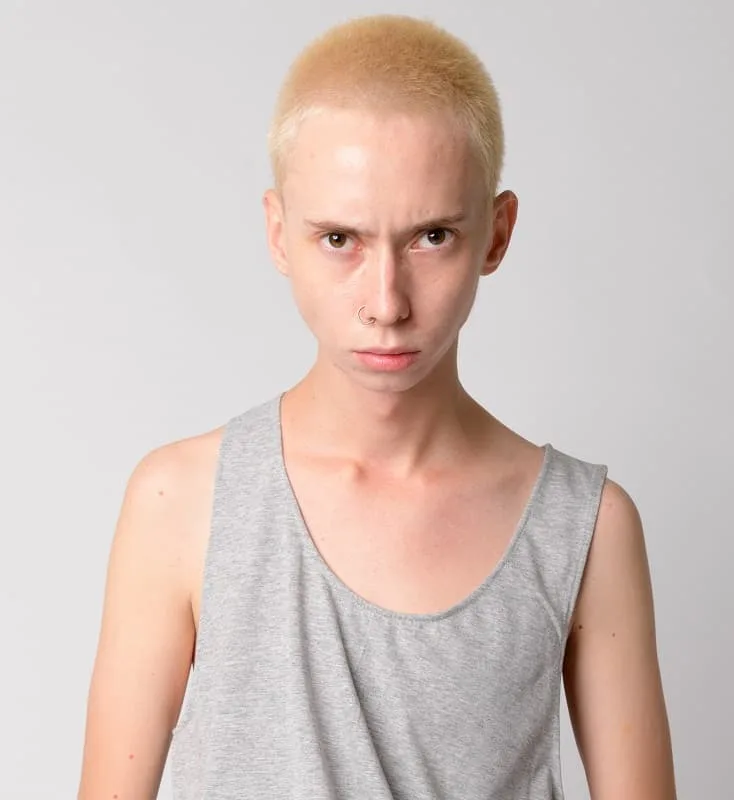 Another bristly look at a number 4, but with the hair gently spiked. However, the dye job gives you an interesting and edgy look that makes you stand out.
# 3 Straight Cut Short Buzz
Not everyone has a perfectly straight hairline. In this buzz cut, the hair is a perfect slash across the forehead with the entire head cut to a number 1. This style works well on afro-textured hair, as the texture adds volume despite the short style.
# 4 Longer Scruffy Buzz Cut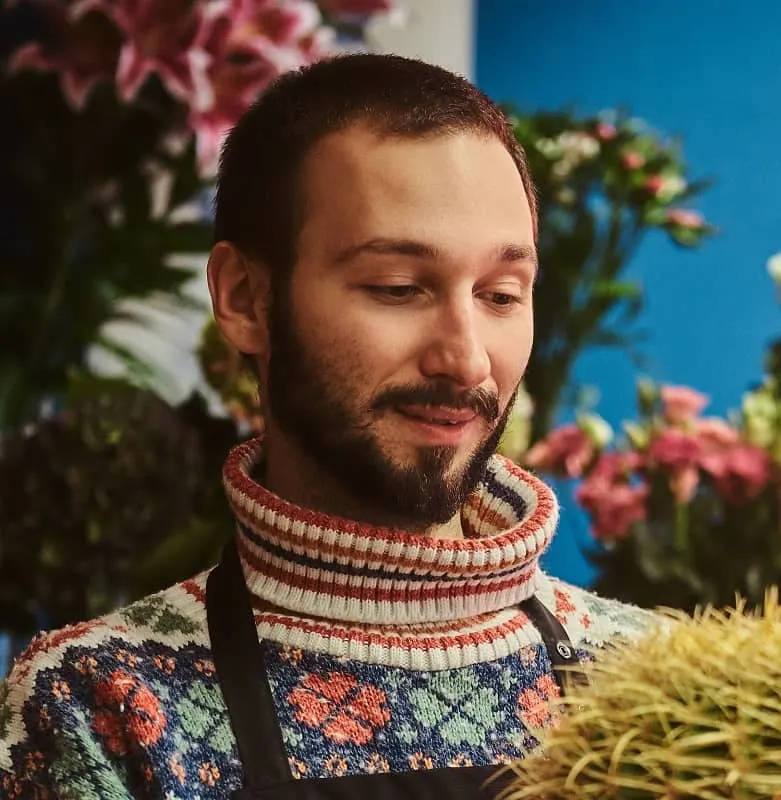 This one's for guys who like a scruffy, sexy look. It's a basic hairstyle, cut down to a number 4 with enough to brush onto the forehead. It's lightly mused and pairs well with a thick beard.
# 5 Solid Mohawk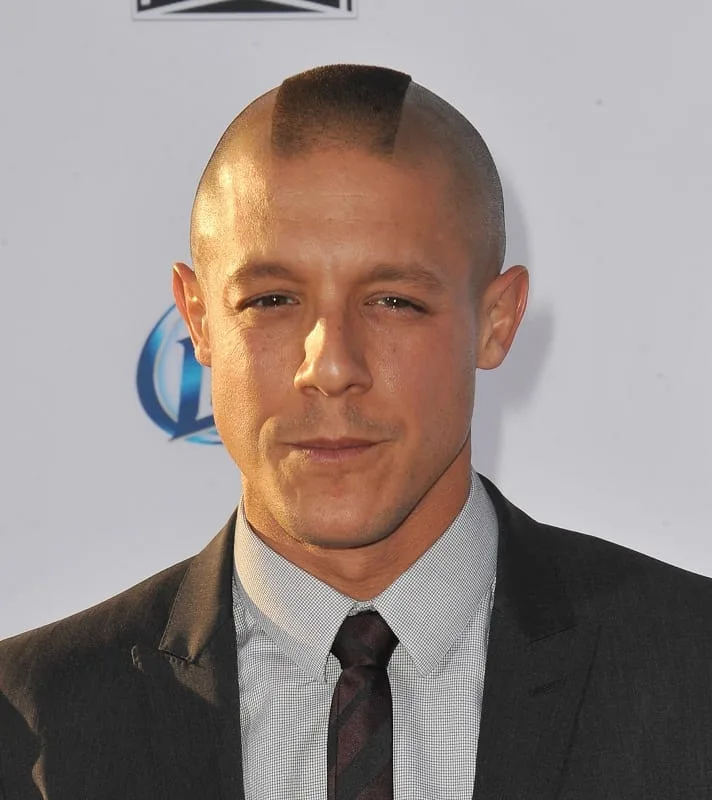 A unique take on the buzz cut, the sides are bald leaving a strip of hair at a number 2 in a mini mohawk style. It's an edgy look, but the hawk is short enough to work for formal looks.
# 6 Easy Grey Buzz
For older guys who don't want to spend time on their hair, buzz your hair to about a 3, but leave a little length at the front to brush over the forehead. It's easy to maintain, and the hair is long enough to show you're not going bald or receding.
# 7 Barley There Soft Spikes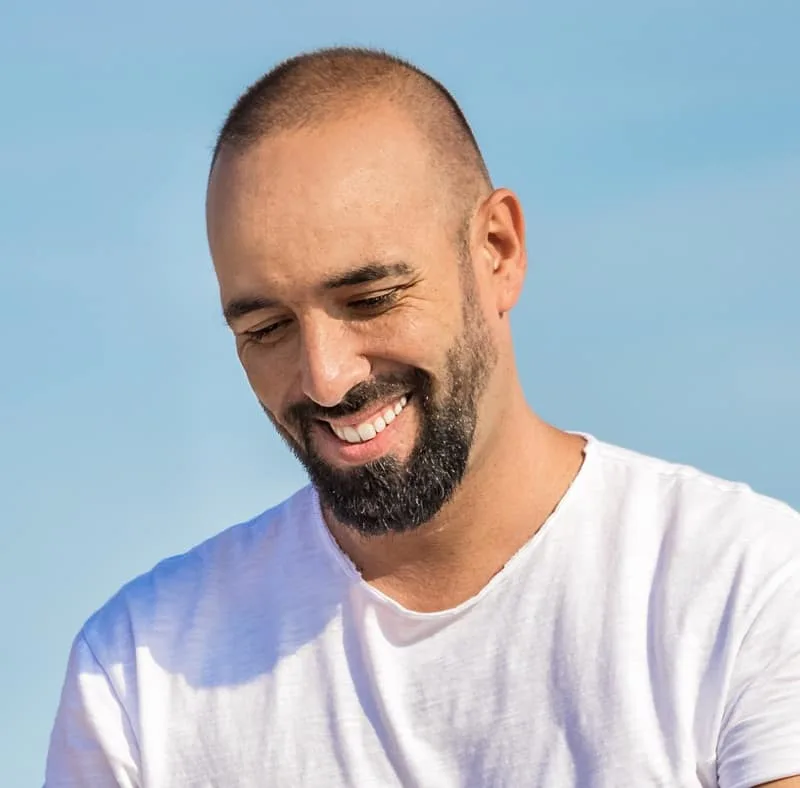 If you have thinning hair, buzz it to a 1 and run your hand through it. It'll make the hair stand on end, making you look like you have more than you do. A thick beard balances out the look.
# 8 Bristles to Beard
Another style for thinning hair, cut it down to a bristly but even 3, including where it's thinning. The balanced style draws attention from the blading spot, and a beard helps keep attention away from your insecurities.
# 9 Short & Sexy
Working well on guys with a tapered hairline, this uniform number 3 haircut is great for thicker hair. The thickness makes the hair look longer than it is in this easy, clean-cut and low-maintenance style.
# 10 Salt & Pepper Bristles
A look for older guys, this buzz cut shows off your salt and pepper variant cut to a simple and scruffy number 3. Pair it with a scruffy beard to complete the easy, older-but-still-sexy look.
# 11 Slicked Back
This buzz cut works well for men with the receding hairline. The hair is trimmed to medium height and razor shaved at the edges of the forehead to bring out that military look in you.
A pair of glasses and a leather jacket will make a great impact.
# 12 Razor Parted
Achieve a uniform buzz cut that extends to the beards. The cut has a tapered neck line and a razor part on the side to bring out that sexy look in you. It looks great on that stout, heavily built man.
# 13 Clean Cut
Any Tom Hardy fan won't miss to identify this iconic buzz cut that has contributed much to the success of his acting career.
It is a clean buzz cut that blends well with a beard that is medium cut on the sides and left bushy on the chin.
# 14 Faded Buzz Cut
This is a hairstyle that brings out the best in Tom Hardy especially with a pair of black sunglasses to match. It provides the elegance of a faded touch with a stylish razor part line that runs halfway the top.
# 15 The Two Extremes
Tom Hardy decided to revolutionize the buzz cut style with something totally new and quite appealing.
This buzz cut provides an element of two extremes. It makes it look like the head is divided in half with one side cut short and the other cut to medium length.
# 16 Clean Cut with Thick Mustache
This style helps you achieve that clean buzz cut with no tapering on the forehead. A thick mustache comes in handy to give you that bold look.
# 17 Long Buzz Cut with no Beards
The mention of a buzz cut often brings to mind the picture of someone with short, well-trimmed hair. However, movie star Paul Walker changes all that by adding some height to it.
# 18 Long Buzz Cut with Beards
Jake Gyllenhaal adds a touch to the long buzz cut. He accompanies it with trimmed beards to bring out that mature look.
# 19 Faded with Stylish Line
This style features a razor cut L-shaped part line that provides a more dramatic appeal. The hair is razor shaved just above the ear line extending to the back in a way that completely separates the beards from the hair.
# 20 Clean Shaved Sides and Back
This is a haircut for that humble guy. The top is trimmed short while the sides are razor shaved to separate it form the beards. A thin beard line that has some thickness at the chin goes well with this buzz cut.
# 21 Thinning Hair with Undercut Sides
Colton Haynes adds some shine to the buzz haircut. The top is cut to medium length to complement with the under cut sides. This haircut looks great with no beards to bring out that youthful look.
# 22 Jamaican/Street Style
Any African American will look great in this buzz cut. The hair is trimmed to medium length and contrasts well with a thick, bushy mustache and beard.
# 23 Simple buzz cut
This haircut is devoid of any additional touches or style. It is a cut that brings out simplicity in a haircut. This haircut blends well with a beard that is trimmed short to provide that teenage look.
# 24 Taipei Style
Embraced by millions of Asians, this buzz cut is a perfect match for thinning hair. Known as crew cut, it features undercut sides with some height left at the top and back.
# 25 Sharp Fade
This haircut takes the fade style a step further. The top is trimmed short while the sides are trimmed down to that bald look. There is a tapper line on the forehead to give it more style.
# 26 Blondie Buzz Cut
Justin Bieber brings out the most looks in a blonde hair with this unique, boyish haircut. The hair is cut to medium height with a V-shaped nape line to match.
# 27 Medium to Short
This haircut displays a nice transition from medium to short hair. The part just above the ear line is cut short. The top and back are trimmed to medium height. A thin beard line complements well with this haircut.
# 28 Faded Crew Cut
If you have more receded hair, then this haircut might just be the best you could ever get. It features the famous faded style that match with a beard and mustache trimmed to medium height.
# 29 Faded with Hair Art
This faded clipper haircut gives your hair that artistic appeal. Razor cut lines are carved on the top part to form two back-to-back crescent shaped pattern.
# 30 Short Hair with Razor Line
Drake adds some style to a short buzzed hair. A razor cut line runs from the forehead to the middle top. A mustache and a beard provide some few added touches to the haircut.
# 31 Low-High Fade Buzz Cut
The top part is styled the African American way and cut to medium height. There is a wonderful transition from low to high fade. A curved beard line that has some length on the chin brings out the best in this haircut.
# 32 Medium Hair with Razor Cut Edges
Anyone with lots of beard might want to try out this stylish haircut. The haircut features top medium cut hair with undercut sides. The edges of the forehead are razor cut to create a distinction.
# 33 Crew Cut with Low Fade
This is a youthful haircut that brings out that young, sexy look in you. A thick razor cut line is made on the left side. This haircut is actually a more discrete version of the clipper cut.
# 34 Medium Shaved
In this buzz haircut, Nick Jonas has hair uniformly clipped to medium height. The hairline is left to take its natural outline. A short trimmed beard comes in handy to upgrade your looks.
# 35 Slicked Back Pompadour with Undercut Sides
This is a multi-style haircut that displays a progressive transition from one style to the next. It features a pompadour with slicked back hair. The sides are cut to a shorter length.
# 36 Textured Low Fade
Benefit from silky smooth top hair with a faded haircut to match. The hairline is tapered at the edges of the forehead while the front is left to take its natural outline. The beard and mustache are also given that silky smooth look.
# 37 Silky Smooth with Shaved Design
This haircut provides a combination of different styles. A section of the side is closely clipped while the remaining section is left thick. The clipped side is completed with shaven lines to provide a more creative style.
# 38 Short Top with Longer Sides
We are used to having the reverse – longer top and shorter sides. However, this buzz cut brings out a whole new look.
The top hair is cut to a shorter length with the sides left longer to create a channel-like shape at the middle.
# 39 Slicked Back Crew Cut with Beards
The hair is cut to medium height and slicked back to make a statement. A medium-trimmed beard that is left thick and bushy at the chin completes the whole look.
# 40 Coarse Medium Top with undercut sides
This haircut maintains that coarse hair on top and combines it with undercut sides that are clipped at the same level way down to the beards. The hairline is left to take on its natural outline.
Idea # 41
Idea # 42
Idea # 43
Idea # 44
Idea # 45
Idea # 46
Idea # 47
Idea # 48
Idea # 49
Idea # 50
Idea # 51
Idea # 52
Idea # 53
Idea # 54
Idea # 55
Idea # 56
Idea # 57
Idea # 58
Idea # 59
Idea # 60
Idea # 61
Idea # 62
Idea # 63
Idea # 64
Idea # 65
Idea # 66
Idea # 67
Idea # 68
Idea # 69
Idea # 70
Idea # 71
Idea # 72
Idea # 73
Idea # 74
Idea # 75
Idea # 76
Idea # 77
Idea # 78
Idea # 79
Idea # 80
Made up your mind yet? If yes, then it would be high time that you go and get a trim that is perfected to the buzz haircut of your choice. It is an ideal way to lessening the demands of your hair and lifestyle.