Boys long hairstyles have been a thing which girls like though this is not the intention for the boys, they just want to look handsome, and the small and big boys would like to have this leverage.
After all, long mane gives a sense of style and freedom to attend any event without having to worry about your looks.
Quick Tips for Growing Long Hair for Boys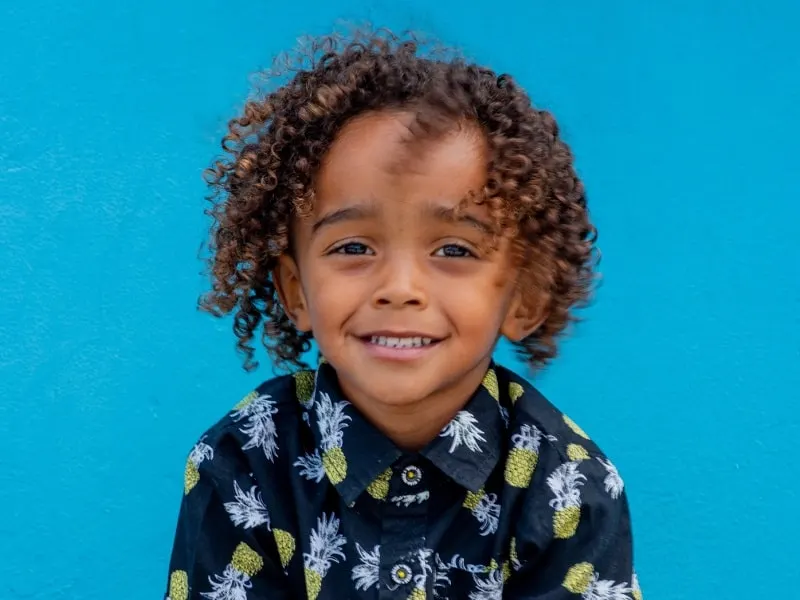 There are tons of boys with long hair who make the style look amazing and cool. If you are motivated to grow out your hair successfully, consider these quick tips:
Avoid brushing your hair when it is wet
Do not heat or blow-dry the hair
Do not color your hair
Do not bleach the hair
Avoid tighter ponytails or hats
Use standard shampoo or conditioner 2-3 times per week
Do not roughly brush your hair or for too long
How to Successfully Grow and Style Long Hair
Before we discuss long hair styles for boys, you must understand the process of how to grow out long hair. Below are some of the simple and effective ways to grow out long hair.
Follow a Healthy Diet
Your hair shafts grow from the follicle when your body creates new cells. A balanced diet will help your hair grow longer and faster.
Foods high in Vitamins A, B, C, and E will help facilitate healthy growth. Focus on vegetables like carrots, tomatoes, and green peppers. Fruits like strawberries, apricots, peaches, pineapples, and cantaloupe will also enrich your body with vitamins. Proteins, such as fish, eggs, chicken, and nuts, will also enable faster hair growth.
Exercise Regularly
Cells require oxygen to reproduce and remain healthy. Regular aerobic exercise will facilitate blood circulation, which delivers oxygen to all parts of the body, including your scalp and hair follicles. When your hair follicles receive the necessary oxygen, it encourages new cell growth.
Get Ample Sleep
Another crucial component to fast hair growth is sleep. Toward the earlier section of the sleep cycle, your body ramps up its growth hormone secretion, which raises cell production.
Your body also boosts circulation to the skin, especially hair follicles while you sleep. You should aim for at least 7-8 hours of sleep per night.
Brush and Comb Your Hair Properly
To effectively style your hair, you must learn to comb and brush it consistently. The top hair brushes consist of boar bristles because they do not stretch or tear your hair strands.
If you already have long hair, you should begin brushing near the tips while holding the remaining hair in your opposite hand. This strategy will avoid pulling at the hair roots or scalp.
Shampoo and Condition Your Hair Effectively
You should avoid washing your hair daily because it steals the natural oils from your hair, making it brittle and dry. Wash every other day if possible and condition often. A quality conditioner will help replenish natural oils and prevent tangles.
It's best to stay away from conditioners with waxes, which can weigh down your hair. After you complete your shampoo and conditioning regimen, try to utilize a leave-in conditioner at least once per week. This step allows you to grow your hair fuller and thicker.
So, what are the best long hairstyles for boys? Try out one of these fashionable choices:
Chin length cut with longer bangs
Afro
Bob with bangs (AKA a "shag" cut)
Medium length layered cut
An undercut or fade underneath
Love your long hair but want to get it out of your face? Try one of these ideas.
A long braid
A topknot, AKA a "Sumo" knot or man bun
Parted ponytail
Best Long Hairstyles for Boys
If you have been looking for a long haircut that will suit you, here are the best of them and you will find one or two that will work the magic on you.
# 1 Brown & Wild
This is one of the easiest styles to put up haircuts for not so short locks. You just have to let it grow with all its curls and waves.
The only place you have to tame it is on the front to keep a clear eye view. This is a free feeling look, and you will be able to fit in so many events you may be planning to attend. It is easy to keep and maintain.
# 2 Shoulder Long Straights
For those who do not have natural curls, you should not have any difficult keeping lengthy hair.
You can let the straight strands fall free up to the shoulder and let it form curled tips at the ends. It is a great look to pull for any fun event.
# 3 Wildly Running Sides
There is nothing more fulfilling in a hairstyle than feeling free with every strand. Wild long sides give you such flexibility, and you can do any activity without the interference of your hair.
The sides are left to fall as low as the shoulders. No strand of hair comes to the face. What a free feeling with a great hairstyle.
# 4 Long Side Sweep
The side sweep comes in many styles, and one that would appeal to you is the lengthy one. The side where the sweep begins is trimmed to an inch from the scalp and combed downwards.
The sweep is then taken across to end near the ear level. It is a ready-to-fun style that will be a good catch for cute looks.
# 5 Bushy Top
Letting your boy's hair follow its natural instinct will give you a fair appearance. You only let the hair grow from the top with all the waves and curls.
Do not touch the wild ends but let them fall to as far as they can go. For a party, you will be an attention grabber.
# 6 Side Curls & Bangs
With the hair growing from the top downwards, the side curls look like scenic horns guarding around the head.
Short bangs are pulled on the forehead but do stop abruptly before the eye brows. This is a look which can go for both casual and formal occasions.
# 7 A Fountain
This is one of the styles that seem to shed some years, and you'll look younger. Straight strands drop from the top to fall slightly below the ear level.
On the front, a bundle of locks from the part line is grown towards one eye but makes a smooth curve not to block the view.
Both eyes are on the clear, and this is a break for a matrix of falls which surround the entire head from the sides and the back.
# 8 Wavy Perk
This waving style is top one even among celebs. The sides are shaved clear, and the top left untouched and grew upwards.
It is stiffened and left with the natural or induced curls. It gives you confidence, and you look like you are ready for any challenge is thrown your way.
# 9 Downward Racings
The top is partly divided with a short line, and each side is allowed to fall in what seems like a race among strands.
Covering the ears and the entire back neck, this gives that sex head crowded look. 3 or 4 sparse locks are allowed to fall to the forehead, but they are not of any significant size to block eye view.
# 10 Side Whirls
The top is parted asymmetrically, and each part falls downwards and allowed to curve inwards at the neck region. It looks like a mane around the neck.
It brings out masculinity in a super way that every boy would wish for. The face is left in the clear exposing perfect cheek bones and glowing eyes.
This is a collection of whirls that will leave you looking fabulous and free to get your hands dirt without the fear of hair falling to your front.
# 11 Straight Hoodie with Bangs
The hoodie appearance is one of the classic ways to have your wish for long hair. The straight strands originate from the back fall of a head and form a 'hoodie' appearance.
At the front, a few bangs are let to grow and go as far as the eyelashes. The hoodie appearance is a common style for those who want to tame their rather lengthy and bushy hair.
# 12 White Falls
The top portion of the hair is in white and ends with graying tips at the shoulders. The hair is combed straight and only allowed to curve inwards on one side and outwards on the other.
It is a fascinating look for the boys and a popular one too. It keeps your hair looking long, and part of the front fall covers one of the eyes.
# 13 Rambo Style
Sometimes your lengthy hair may not take the down fall naturally even after combing it. But you do not have to worry about this since the legendary Rambo style has a solution for you.
Let your strands grow and then draw them downwards. Bind them with a woolen elastic band around the head and they will remain as you wanted them to be.
The greater neck mane goes to the back neck leaving the forehead open to the cool wind. For a playful boy, this is the look to rock and have the fun you want.
# 14 Top-Down Mane
The bunch of top hair begins at the tip of the head and falls to the neck region forming a mane-like appearance.
The thicker chunk goes to the back of the neck while a few bangs are swept across the forehead and dropped to cover one corner of the eye. It is a great look for a boy who wants to grow with masculine confidence.
# 15 Bold Look
Just like its name, this is a bold hairstyle for the boys. The thick top hair is dropped to the sides to fall on the shoulders.
On one side, the tips are trimmed while the other is left with the curled ends. It is such a stunning look that is an eye turner even for a young kid.
# 16 Confident Boy
Confidence has so many ways to come. For the young, the confident boy style is a good way to bring that out.
Random groups of strands are grown from the top and the sides with falls all around the head. A heavier collection of the strands goes to the back neck but some sparse locks crown the front face.
# 17 Long Black Curls
You thought that black curls will never make it this far? You were wrong because boys would do all they can to get the curls around their heads.
Lengthy hair is allowed to fall to the side, and then curls are developed to halfway each of the bounded strands.
The sides take the lion share of the curls with the forehead taking less than five that fall to the eye level. This style is super looking for many occasions.
# 18 Plummet Downs
This is a two-sided style with one longer than the other. The longer fall is slightly slanted and ends before it touches the shoulders. The shorter one is sparse and goes slightly below the ear.
There is a considerable obstruction to one eye view that makes it even a stunning style for a boy who wants to look ready to go for any event.
# 19 Thick Long Side Sweep
There is one promise that comes with every side sweep. The thick long side sweep comes with a promise of sophistication, especially on the longer sweep side.
It leaves your head looking fresh and easy to maintain. It is a top style that even a young boy would be able to feel its looks accomplishment.
# 20 Stun Sides
The sides are stunning with their straight strands that fall downwards to the shoulder level. It looks like the hair on the sides is supposed to shield the face, and that is what is befitting with this trend.
It is popular among boys with brown hair, but it is can be easy to go on any hair color.
# 21 Triple Part
Hair seems like it is divided into three sections: two sides and the back. At the forehead, a thick sweep is made covering one of the eye brows.
The sides and back are not left straight to the end, but they have slight curls that give the style a rough edge finish.
# 22 Radiant Brown Falls
The falls begin at one corner of the back head fall and go down in straight races. Even the front is not spared from the falls, but it has fewer strands than the sides to keep a clear eye view.
For the playful boy, this is a stunner that will complement his nature.
# 23 Dual Side Mop
For the round-faced boys, this is the best choice. It complements the face by diminishing the roundness and giving it a long drop.
The sides are dropped to a shoulder level and allowed to make outwards and inward curls.
The forehead is left untouched by a single bundle of hair strands, and this is an excellent way to show off perfect cheeks and eyes.
# 24 Rockstar Drops
A rockstar look is what any boy would want. These rocking drops fall by the sides leaving the forehead clear. One fall is longer than the other and rests on the shoulder giving it a defined finish.
A shorter side briefly touches the shoulder, and one of a bundle of strands is brought in front of the left temple.
# 25 Free Entangles
Whenever a long hair is swept by the wind backward, it makes a look behold. For a young boy, the lengthy falling entangles give him a star look.
The falls are all thrown behind the shoulder, and the face does not have to put up with constant bother with locks blocking the front view.
# 26 Wave Wanderings
Lengthy waves will never disappoint in their look especially for a young boy who wants to look like a star.
The falls go to the front, sides and the back, but it makes sure that the front is not blocking the eye view. The tips are left wild with their curls and waves which are undoubtedly a great look around the shoulders.
# 27 Afro Side Twists
Long hair does not have to be straight to look great. You have it twisted to look like an Afro but this time, the twists make it even more appealing than the conventional Afro style.
The sides and the back are fully covered by mane-looking bundles while the front is left clear. It is simple yet promises to give the best look that a boy would gladly have for the party and fun.
# 28 Long Ginger Ringlets
When your little man has these amazing riglets, you both probably already get stopped on the street to admire and compliment him. It's not only the curls that look stunning but also that fantastic color, so if your small gentleman looks like this, make sure you give the curls movement and some layers.
# 29 Long Blonde Hair with Bangs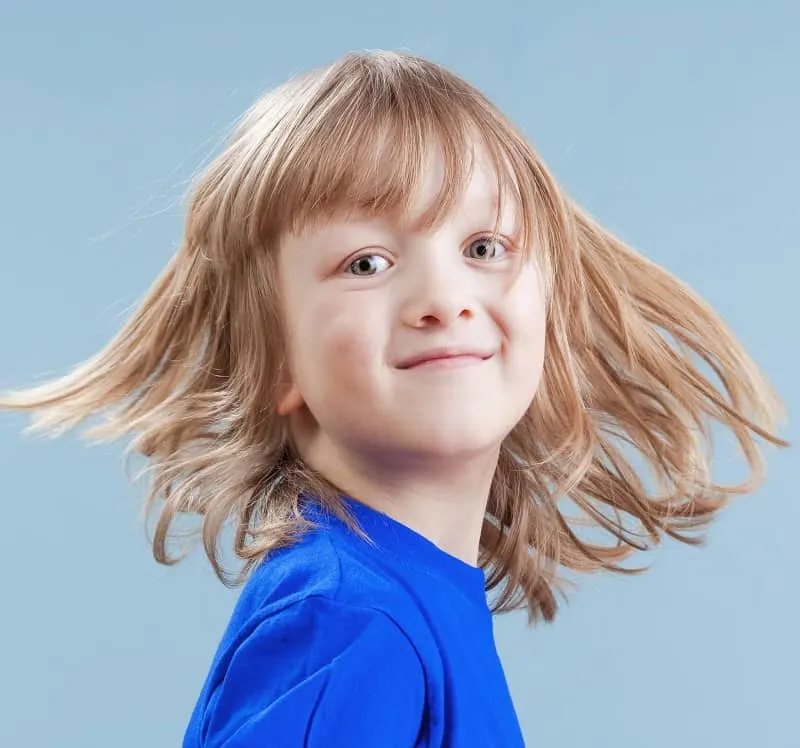 A long haircut is exactly what your little man needs if he already loves looking like a rockstar. The hairdo has length and keeps the fringe short, spread on the forehead.
# 30 Braids for Black Hair
Curly Afro hair is hard to manage and if you have a busy week, braid your son's hair and save some time during mornings. Also, your little man will love this hairstyle with knits and feel cool about his new look.
# 31 Messy Long Hair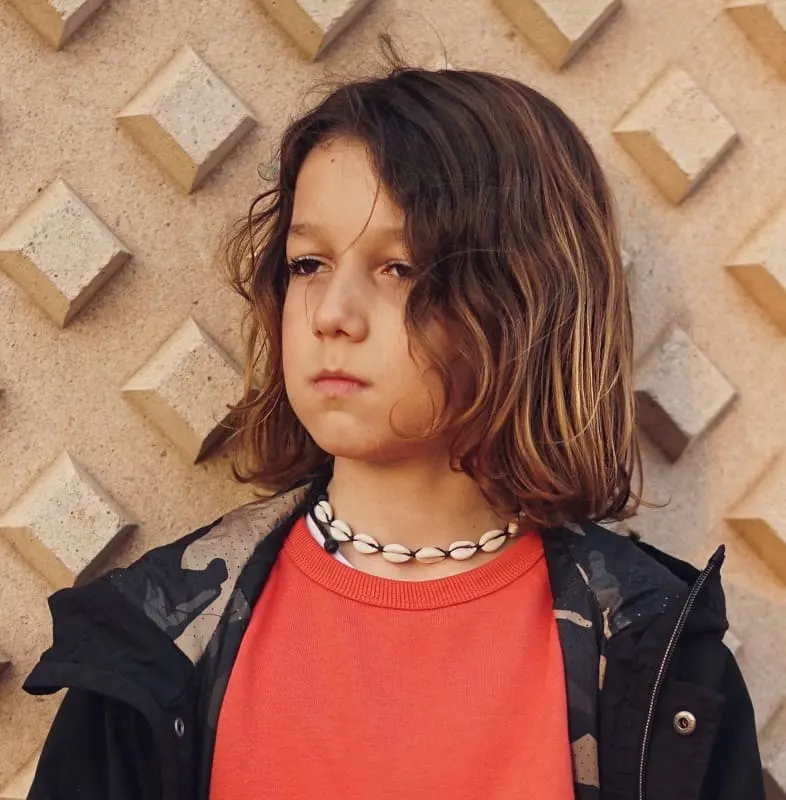 A long shag with layers and bangs swooped on one side will certainly make your kid feel cool. He'll love his skater haircut and you can even create a few highlights with a hair spray that doesn't damage the locks.
# 32 Curly Hairstyle for Little Boys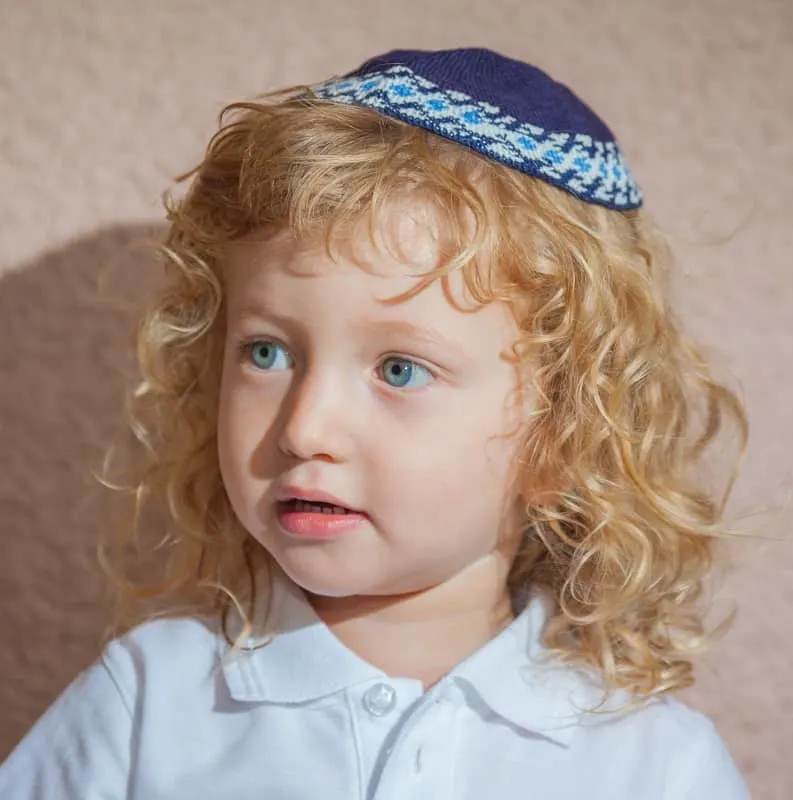 If your little man has blonde hair, blue eyes and fair skin, he probably looks like an angel. Keep his bangs short, on the forehead and layer his curls. They will amazingly fall one over each other and you will allow the soft curl to form.
# 33 Hairstyle for Long Wavy Hair
If your little gent has wavy hair, a messy medium long hairstyle will make him look dazzling. Layer his strands and swoop those long bangs on one side.
# 34 Long Hair with a Bun
Baby black boys look fabulous with long hair. If your son has curly hair, use a deep conditioner and your favorite jam to give his coils more texture. Gather all the hair in a top bun and he will look adorable.
# 35 Long Hairstyle with Middle Part
When you have a toddler, his hair is so smooth and fluffy, so you don't have to worry too much about styling it. Create a middle part, and he'll get curtain bangs that will make him the cutest boy EVER!
# 36 Long Curly Hair with Side Part
Long hair for men is still very trendy in 2023, but so are long hairstyles for little boys. As young kids, they find role models in their dads so get ready to hear your son say "I want long hair just like daddy."
# 37 Bun Hairstyle for Toddlers
If your toddler has gorgeous ginger hair, you can easily tie it in a bun on top of the head. At this young age, he has such smooth hair and you will not even need a comb to pull that off.
Idea # 38
Idea # 39
Idea # 40
Idea # 41
Idea # 42
Idea # 43
Idea # 44
Idea # 45
Idea # 46
Idea # 47
Idea # 48
Idea # 49
Idea # 50
Idea # 51
Idea # 52
Idea # 53
Idea # 54
Idea # 55
Idea # 56
Idea # 57
Idea # 58
Idea # 59
Idea # 60
You now have a solution for your boy's long hairstyles. Pick one of these looks and show off how marvelous you look in the curly or straight lengthy hair.
Keep your mane the natural way by letting it grow to its maximum size. You do not have to go to a barber now and then.
Once you get a few styles that work for you, you can always have a refreshed look every other time you want it, and it is all effortless.