Long hair on men is gaining more and more popularity as guys from all walks of life and different professions grow out their locks.
If the hair is well looked after, this style can suit almost any man and be attractive. But longer locks can get in the way and that is why ponytail hairstyles for men are such a great choice.
The hair can still be shown off but is kept off the face and out of the eyes.
Who Should Try a Manly Ponytail?
The man ponytail is a versatile hairstyle that fits all types of hair textures and colors. Boys with long hairstyles should try out one of these top options.
Laid Back Ponytail (For Men with Medium Length Hair)
This style is for people with medium length hair, where the darker hair is gathered and styled into a higher ponytail. For guys who want to go casual and leave some loose strands behind the ears, this is the perfect hairstyle.
Man Ponytail with a Side Part (For Men With a Good Beard)
The man ponytail with a side part is a hairstyle for someone with a solid beard line. You style the hair into a ponytail on your top back side, leaving a clear part on the side, which allows the sideburns to align with the beard line.
Island Style Ponytail (For the Beach Goer)
Men with beach blonde or chestnut brown hair should try out the island-style man ponytail. It is suitable for men with thinner hair who like to play around with different hair colors. For this style, the hair is loosely bunched to create a ponytail.
Low Man Ponytail (For Casual Men and All Hair Styles)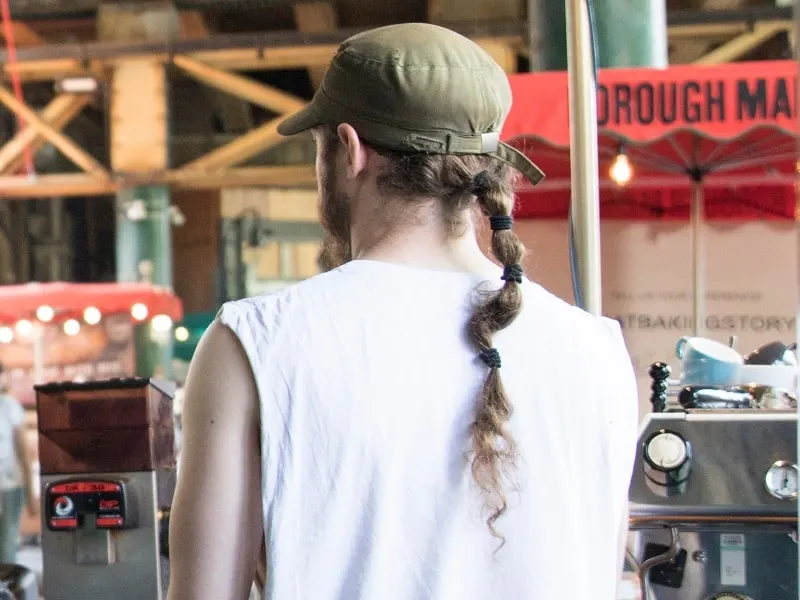 Men with locs, curly hair, or stick strands should try out the low man ponytail. It is an excellent hairstyle to rock if your hair is slightly longer and you wish to sport a chill appearance for the day.
Long Hair Ponytail (For Men With Longer Hair)
This style, which is popular among martial arts athletes, is when you tightly secure a short ponytail with strands hanging loose on each side of the ears. Men with long hair who wish to style hair around the ears should try this ponytail look.
How to Grow and Tie a Manly Ponytail
Growing a ponytail might be the toughest part of creating a manly look. There's sometimes an awkward growing-out phase. But treating your hair well with a good shampoo, conditioner, and the right brush for your hair type (only brush when dry!) can help keep your locks healthy while they grow.
Then, when your hair is finally long enough, it's time to put your styling skills to work.
Guys with ponytails have to make an effort to look stylish. You might need to apply the product to your hair to smooth it over, create texture, or tame flyaways. You'll also require a hair tie (or probably a handful). Silicon hairbands are popular for guys, but you can also find scrunchies that are manly, too.
To put your hair up in a pony, brush it smooth, gather the hair in one hand, and use the hair tie to wrap around it with the other.
Best Ponytail Styles for Men
Let's have a look at a few hot man pony styles:
# 1 Medium Length Hair in Laid Back Ponytail
Here we see long sandy blonde and dark brown hair that has been gathered up and secured in a high man pony. Some strands have been left loose and tucked behind the ears.
# 2 Bright and Tight Curls
Curly hair like this can sometimes be unruly but here it is kept out of the face by brushing it into a bunch of copper blonde ringlets on top of the head.
This also helps showcase the brighter color against the deep chocolate brown underneath.
# 3 Island Style
This hairstyle is neat but relaxed and the color is perfect for the beach. Dark ash blonde highlights have been applied over a chestnut brown base.
The hair has been loosely collected and tied at the back. A large number of speeds allow users to mix
# 4 Soft Mocha Ponytail with Light Blonde Tips
His silky mocha colored hair has been combed tightly back and hangs in a ponytail down his shoulders. The base hue ties in well with his beard while the tips are a light flaxen blonde.
# 5 Matt White Ponytail
Perfectly white and straight mid-length hair is gathered in a pony with an impressive volume on top. The lower half of the hair is cut in a straight line.
# 6 Biscuit Colored Man Do with Attitude
This guy has brushed back only the top part of his dark blonde hair, exposing a high undercut. The hair has been pulled into a high spiky ponytail – a perfect do for a relaxed afternoon.
# 7 Messy Do with Folded Top Knot
In this picture, we see lovely straight, shiny locks of light blonde hair that have been pulled back loosely and folded into a messy top knot.
He has an undercut as well that is hidden by the strands of hair left loose and tucked behind his ears.
# 8 Beach Braids
In this style, the sides have been clipped super close and the hair on top has been divided into two lengthwise sections. These two parts have each been French braided, meeting in a loose man bun at the back.
# 9 Eye-catching Amber Detail
This man's hair has a sable color base tone and is tightly curled in natural-looking ringlets.
Over the top portion of hair, there are amber highlights which have been collected and secured with an elastic, creating a neat ponytail.
# 10 Masses of Walnut Colored Curls
In this picture, the hair has been pulled back and covered with a bandana to keep loose hairs out of the way. The thick mane of hair has been tied into a curly pony.
# 11 Half Ponytail
Style a medium-short haircut and pick a sandy gold blonde hair color. You'll get a surfer look with a half ponytail that pins up only the top hair.
# 12 Half Ponytail for Long Hair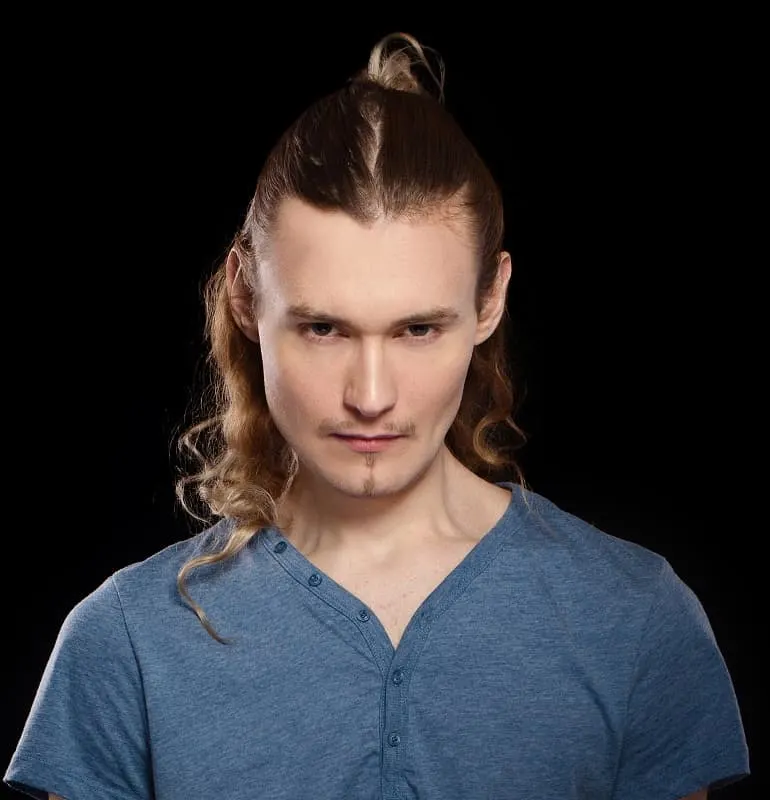 Ponytails are easy, relaxed hairstyles that are ideal for men with long hair. Create a middle part and opt for a sandy brown blonde ombre.
Gather the temple and top hair and tie it in the back in a half pony.
# 13 Ponytail for Older Men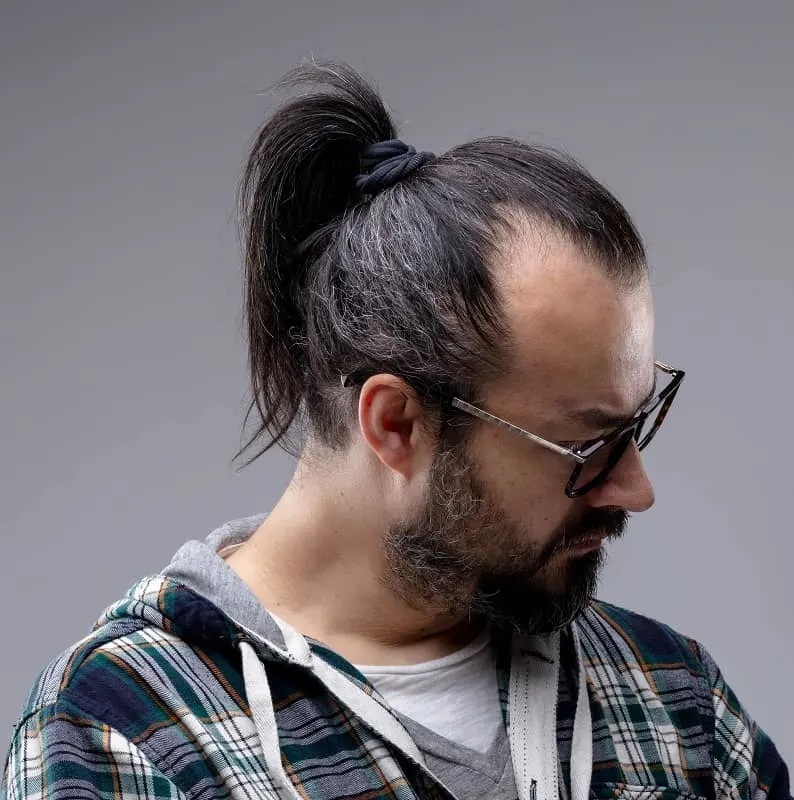 Ponytails are also suitable for older men and they can look quite modern if you style an undercut in the nape area.
Keep your head down and using your fingers, comb your hair, and try to gather all the strands in a top pony.
# 14 Ponytail for Men with Short Hair
Get a versatile short hair cut that allows you also to style a pony. A short cut for the sides will work so well with the long top.
Straighten those longer strands and pin them in a ponytail and orient the dense tips upwards.
# 15 Three Ponytails for Kids Party
If you are a dad who's not afraid to act goofy all the time, this is the perfect hairstyle for any kid's party.
Tell your little one that you have something special for him or her and surprise everybody with three ponytails on top of the head. Don't forget to tie the mustache using colored hair elastics.
# 16 Long Top Ponytail
If you're tired of your long hair, but you're not ready to totally give it up, you might have a mindblowing choice.
Go for a short cut on sides, a long beard and use the top hair to build a pony. Use a few hair elastics to tie it until you run out of hair.
# 17 Ponytail with Side Undercut
Hipster looks are highly trendy and a mild sombre will help you get that modern appearance.
Use a smooth honey-brown for the tips and get an undercut for the temples. Pin your hair in a pony, revealing that short cut.
# 18 Messy Pony
Messy ponytails make any man look irresistible. It is a hairstyle that can be pulled off in just a few minutes and can both suit a casual outfit and even an elegant formal look.
# 19 Wet Ponytail
If you love that old-school Antonio Banderas look, recreating his wet lookalike ponytail is quite easy.
Make sure you use quality jams and hair foam or waxes if you want your strands to look gorgeous.
# 20 Half Ponytail with Thick Sideburns
Half ponytails that use only the top hair will help you get a young vibe. They are ideal for sport and casual looks and perfectly match aviator glasses.
# 21 Bad Boy Chic
What works great in this look is the no-nonsense man pony that lifts the hair away from the face emphasizing the beard.
# 22 Razor Sides and Slicked Back Pony
The hair has been allowed to grow out on top and at the back, with a razor cut along the sides. His base color is an ash blonde while the slick pony matches the beard in a sorrel brown.
# 23 Dark Cinnamon Hair in High Pony Tail
In this smart look, the hair has been brushed back and collected into a straight ponytail that sits high on the back of the head. A few strands have been left loose along the sides and at the back.
# 24 Curly Hair Pulled Back with Beach Blonde Tips
This ultra-curly hair has all been scraped back and tied into a man pony. The color palette catches the eyes – starting with burnt sienna roots and blending into golden browns and beach blondes.
# 25 Long Honey Colored Pony
In this picture the long hair, in different shades of soft blonde, has been straightened and combed back into a sleek ponytail. The look starts with a light sandy brown base while the edges are honey and ash blonde.
# 26 Braided Man Pony
Here the hair has been divided into small square sections and then neatly braided. While some of the braids have been left loose the rest have been collected and tied into a pony.
# 27 Attention Grabbing Texture
The natural texture of this hair adds loads of volume to his look. The tight wavy hair has been gathered at the back of the head into a thick attention grabbing up do.
# 28 Interesting French Braid Detail
This look begins with the front hair combed back with some lift over the forehead. The hair is tied in a ponytail and has been covered with a strand of hair at the base.
The hair on the sides, which is also long, has been sectioned and French braided. This adds lots of interest to the style.
# 29 Touchable Ginger Pony
In this picture, the long ginger brown hair has been secured at the base of the neck into a wavy ponytail. Again a section of hair has been wrapped around the elastic band, giving this style a polished feel.
# 30 Dark Roots with Baby Blonde Pony Tail
This hair, that has sandy brown roots blended into baby blonde ends, has been pulled into a loose ponytail with the flyaway strands brushed back neatly.
# 31 Waist Length Smoky Black Hair
Here the sides have been razor cut very short and the top and back hair has been grown out. This hair descends down, almost reaching the waist, in a shiny black river.
# 32 Stylish Male Up–Do
The different hues of browns seen in this hair are smooth and well blended together. The hair here has been brushed up and curled over into a stylish man bun/ ponytail.
# 33 Deep Brown Hair in Low Pony
The sleek hair up to the pony is a sable hue while the hair that is tied together is a slightly lighter chestnut brown. This man pony is wavy, shiny and touchable.
# 34 Springy Top Bun
This thick and bouncy man pony sits on top of the head and compliments his thick eyebrows and structured beard perfectly.
# 35 Sun Kissed Locks
This long and beautiful colored dark to light hair has been gathered at the nape of the neck and tied with an elastic into a loose pony, that allows the golden blonde tinted hair to fall gently down his back.
Idea # 36
Idea # 37
Idea # 38
Idea # 39
Idea # 40
Idea # 41
Idea # 42
Idea # 43
Idea # 44
Idea # 45
Idea # 46
Idea # 47
Idea # 48
Idea # 49
Idea # 50
Idea # 51
Idea # 52
Idea # 53
Idea # 54
Idea # 55
Idea # 56
Idea # 57
Idea # 58
Idea # 59
Idea # 60
So if you hear is in good condition think of growing it longer. There is a huge mass of ponytail hairstyles out there. And you will hardly stay unnoticeable.