50 Eye-catching Men's Ponytail Hairstyles – Be Different
Long hair on men is gaining more and more popularity as guys from all walks of life and different professions grow out their locks. If the hair is well looked after, this style can suit almost any man and be attractive. But longer locks can get in the way and that is why ponytail hairstyles for men are such a great choice. The hair can still be shown off, but is kept off the face and out of the eyes. Let's have a look at a few hot man pony styles:
# 1 Medium Length Hair in Laid Back Ponytail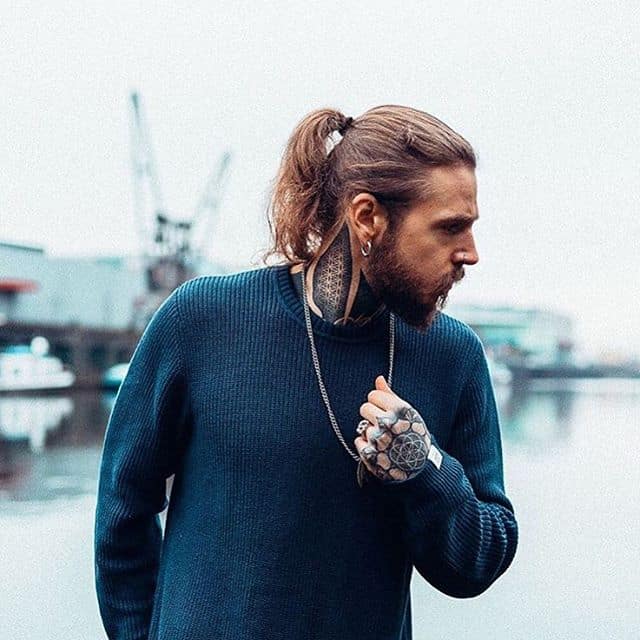 Here we see long sandy blonde and dark brown hair that has been gathered up and secured in a high man pony. Some strands have been left loose and tucked behind the ears.
# 2 Bright and Tight Curls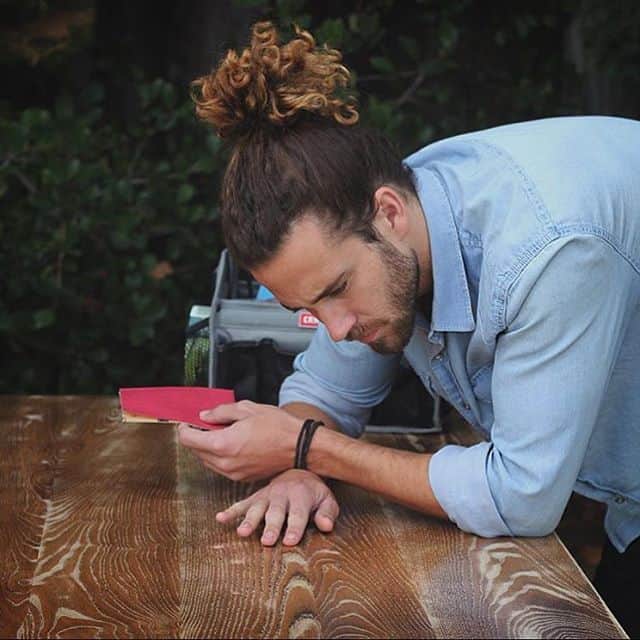 Curly hair like this can sometimes be unruly but here it is kept out of the face by brushing it into a bunch of copper blonde ringlets on top of the head. This also helps showcase the brighter color against the deep chocolate brown underneath.
# 3 Island Style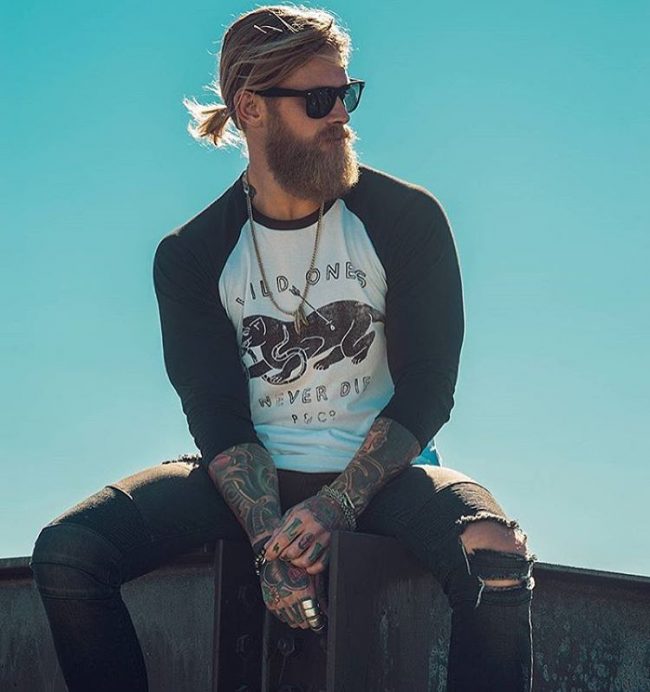 This hairstyle is neat but relaxed and the color is perfect for the beach. Dark ash blonde highlights have been applied over a chestnut brown base. The hair has been loosely collected and tied at the back. A large number of speeds allow users to mix
# 4 Soft Mocha Ponytail with Light Blonde Tips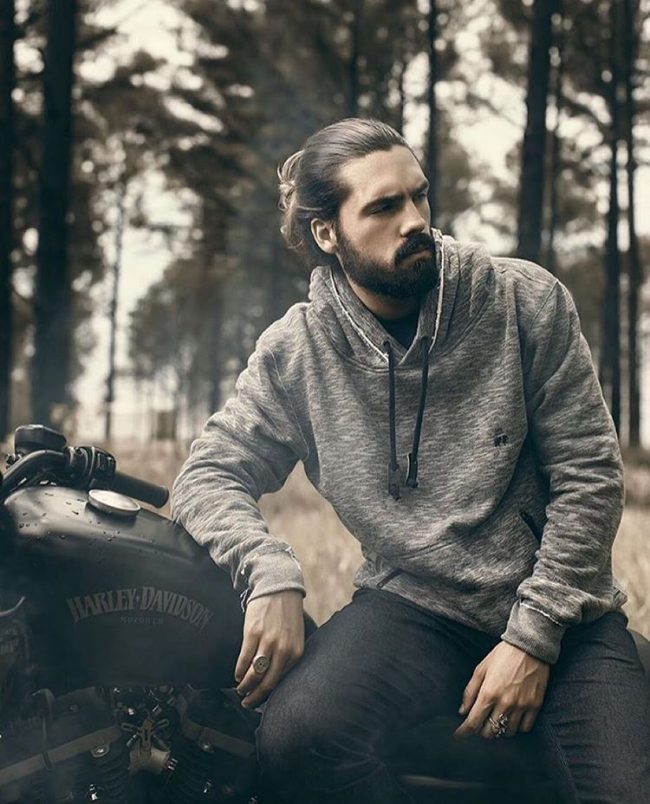 His silky mocha colored hair has been combed tightly back and hangs in a ponytail down his shoulders. The base hue ties in well with his beard while the tips are a light flaxen blonde.
# 5 Matt White Ponytail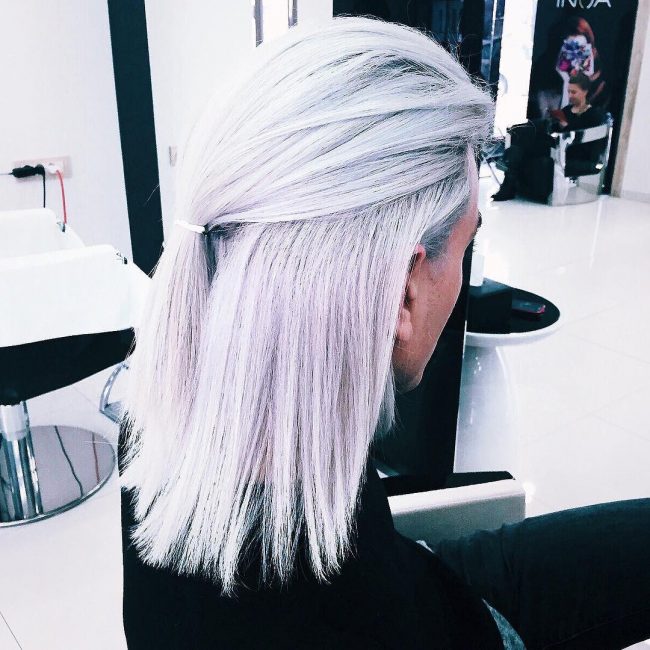 Perfectly white and straight mid-length hair is gathered in a pony with an impressive volume on top. The lower half of the hair is cut in a straight line.
# 6 Biscuit Colored Man Do with Attitude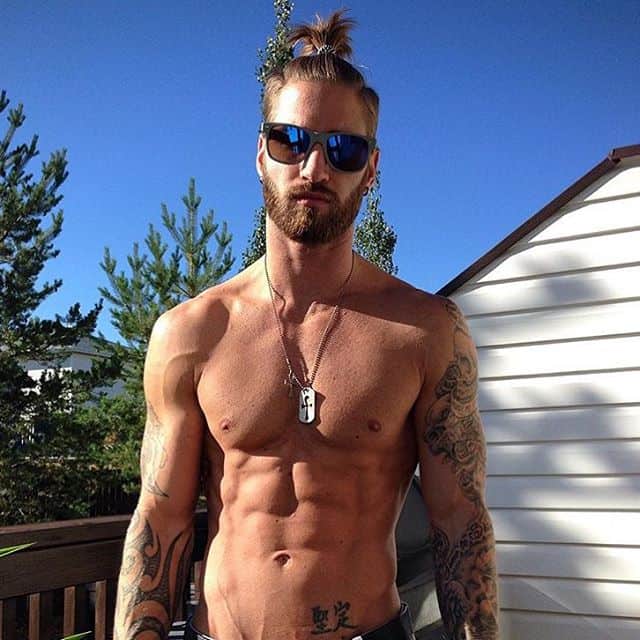 This guy has brushed back only the top part of his dark blonde hair, exposing a high undercut. The hair has been pulled into a high spiky ponytail – a perfect do for a relaxed afternoon.
# 7 Messy Do with Folded Top Knot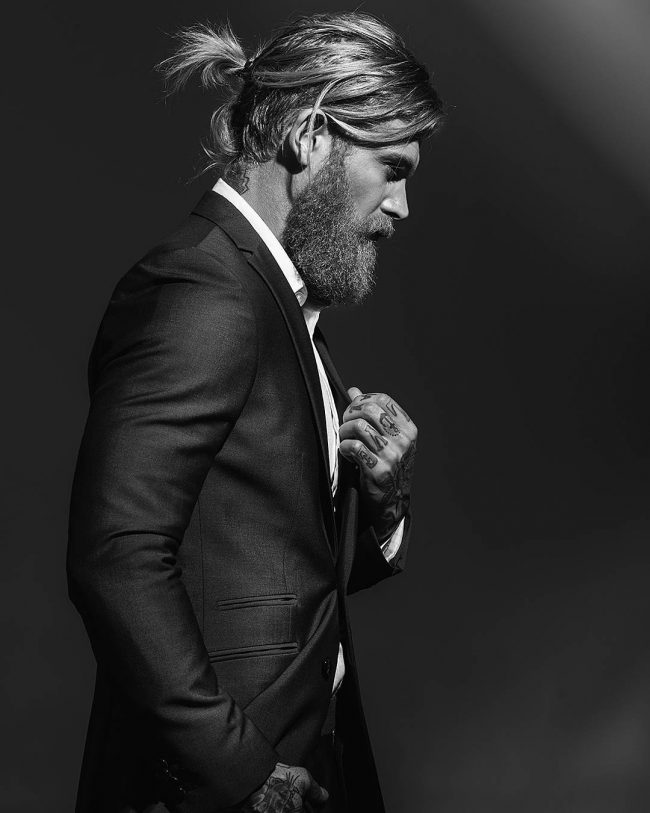 In this picture, we see lovely straight, shiny locks of light blonde hair that have been pulled back loosely and folded into a messy top knot. He has an undercut as well that is hidden by the strands of hair left loose and tucked behind his ears.
# 8 Beach Braids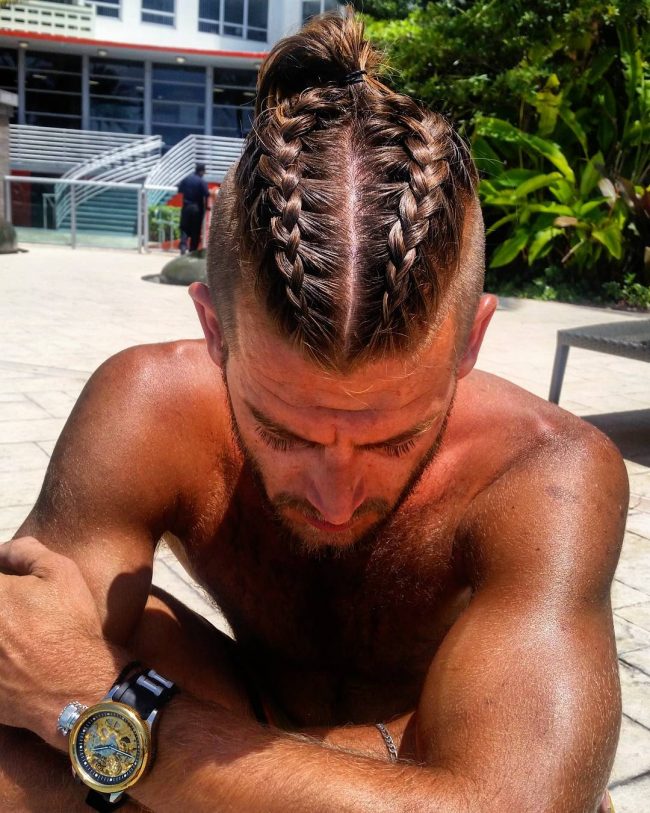 In this style, the sides have been clipped super close and the hair on top has been divided into two lengthwise sections. These two parts have each been French braided, meeting in a loose man bun at the back.
# 9 Eye-catching Amber Detail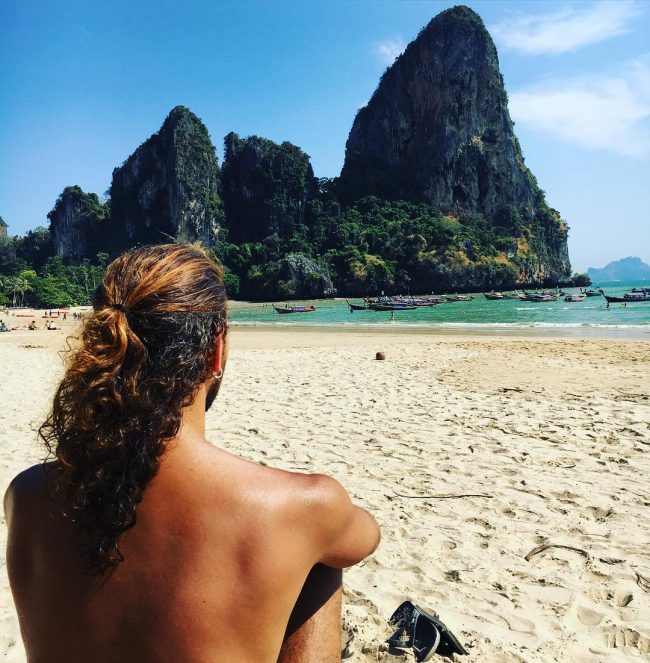 This man's hair has a sable color base tone and is tightly curled in natural-looking ringlets. Over the top portion of hair, there are amber highlights which have been collected and secured with an elastic, creating a neat ponytail.
# 10 Masses of Walnut Colored Curls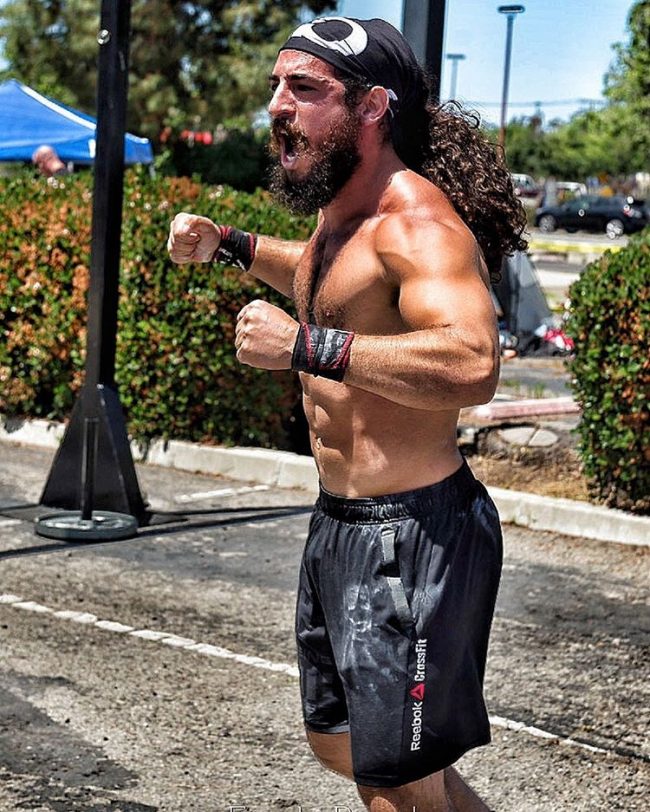 In this picture, the hair has been pulled back and covered with a bandana to keep loose hairs out of the way. The thick mane of hair has been tied into a curly pony. 
# 11 Bad Boy Chic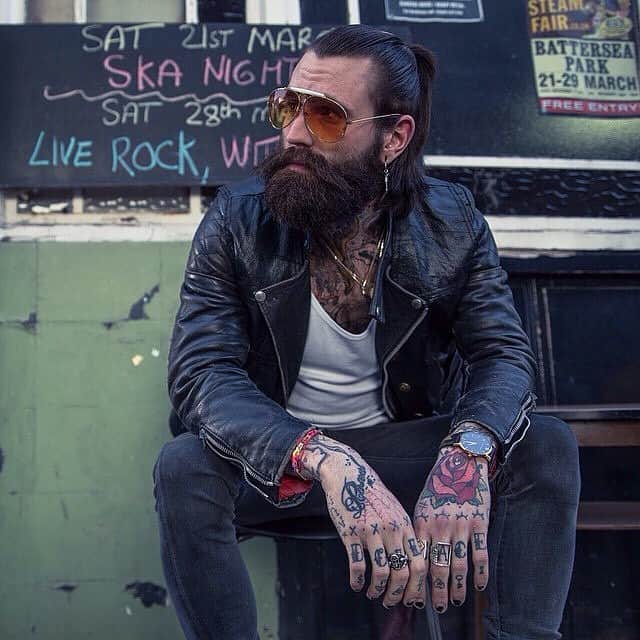 What works great in this look is the no-nonsense man pony that lifts the hair away from the face emphasizing the beard.
# 12 Razor Sides and Slicked Back Pony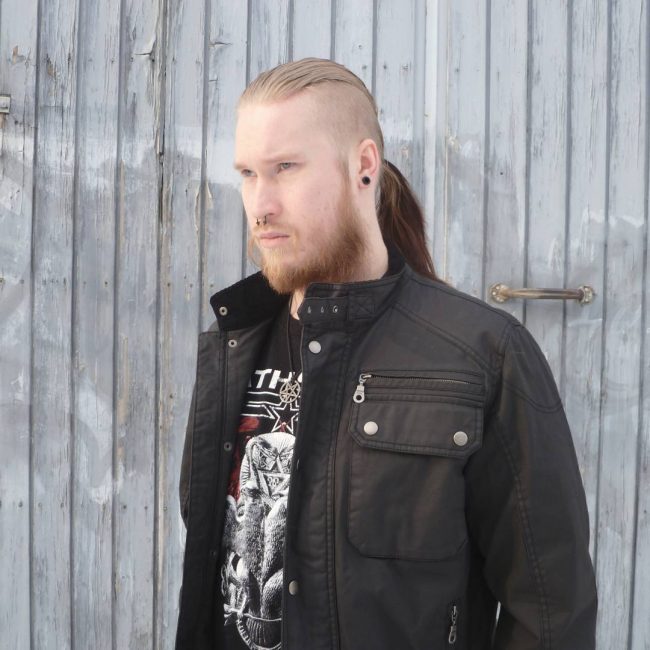 The hair has been allowed to grow out on top and at the back, with a razor cut along the sides. His base color is an ash blonde while the slick pony matches the beard in a sorrel brown.
# 13 Dark Cinnamon Hair in High Pony Tail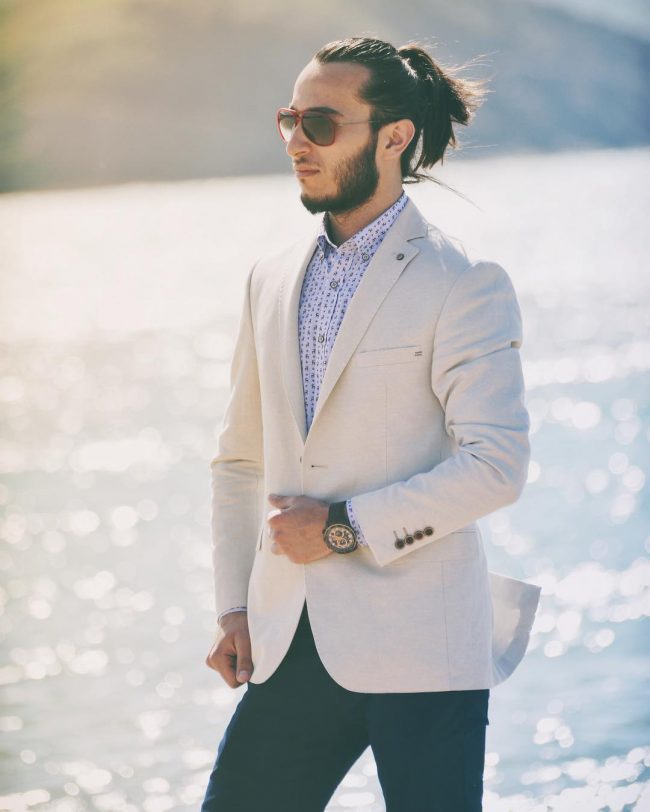 In this smart look, the hair has been brushed back and collected into a straight ponytail that sits high on the back of the head. A few strands have been left loose along the sides and at the back.
# 14 Curly Hair Pulled Back with Beach Blonde Tips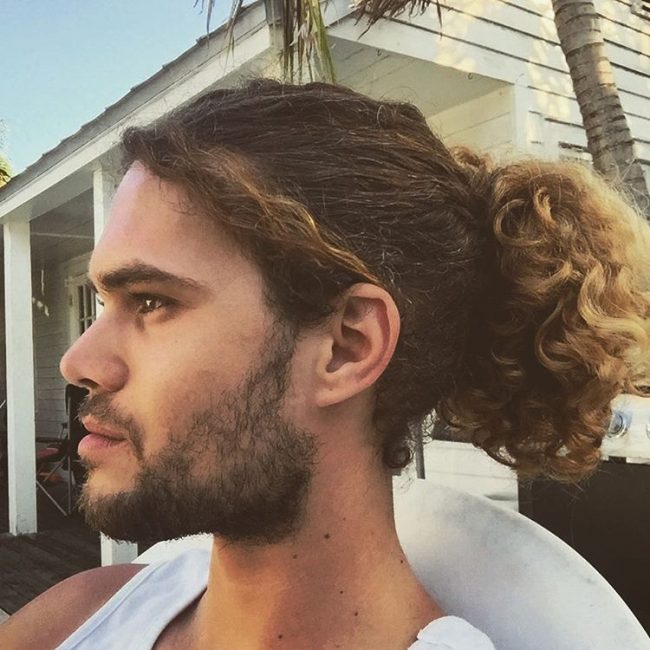 This ultra-curly hair has all been scraped back and tied into a man pony. The color palette catches the eyes – starting with burnt sienna roots and blending into golden browns and beach blondes.
# 15 Long Honey Colored Pony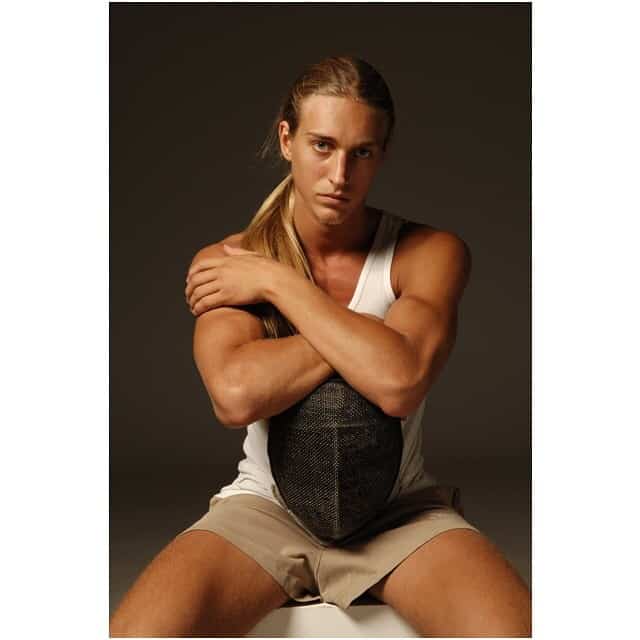 In this picture the long hair, in different shades of soft blonde, has been straightened and combed back into a sleek ponytail. The look starts with a light sandy brown base while the edges are honey and ash blonde. 
# 16 Braided Man Pony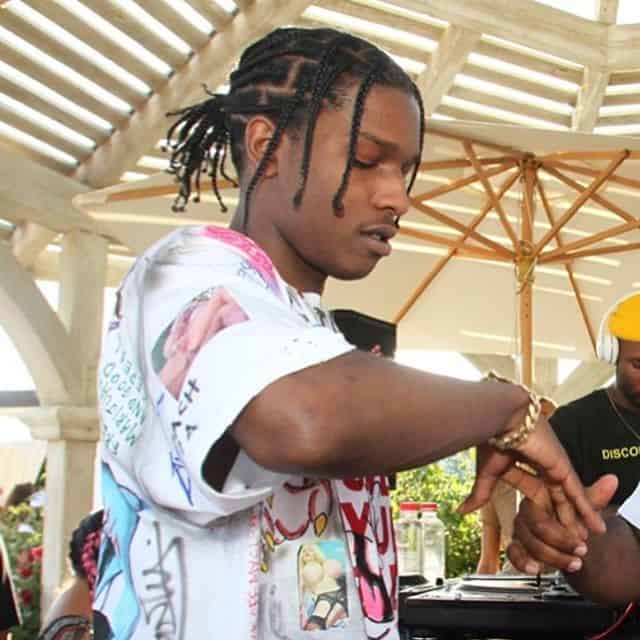 Here the hair has been divided into small square sections and then neatly braided. While some of the braids have been left loose the rest have been collected and tied into a pony.
# 17 Attention Grabbing Texture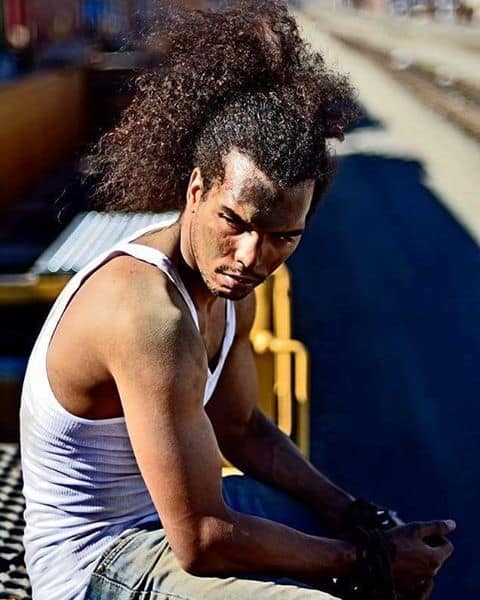 The natural texture of this hair adds loads of volume to his look. The tight wavy hair has been gathered at the back of the head into a thick attention grabbing up do.
# 18 Interesting French Braid Detail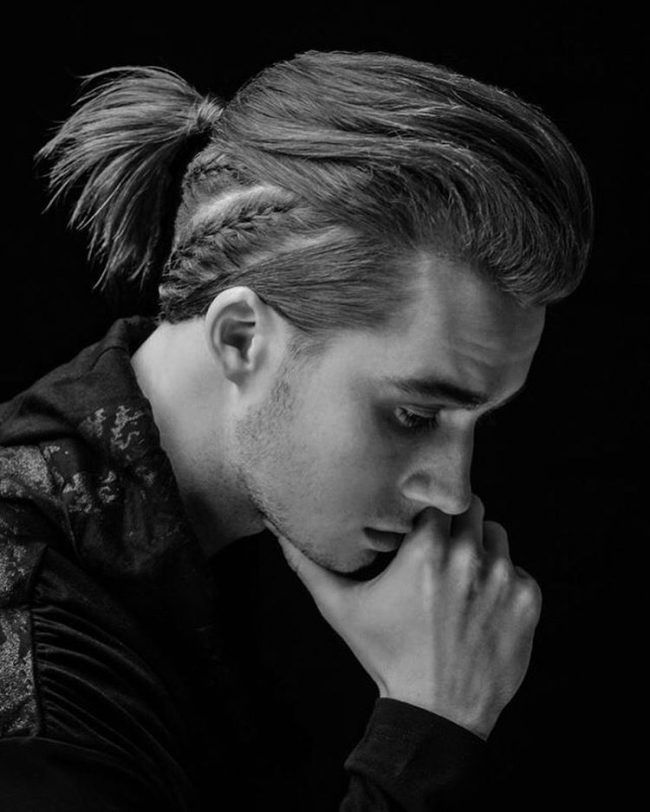 This look begins with the front hair combed back with some lift over the forehead. The hair is tied in a ponytail and has been covered with a strand of hair at the base. The hair on the sides, which is also long, has been sectioned and French braided. This adds lots of interest to the style.
# 19 Touchable Ginger Pony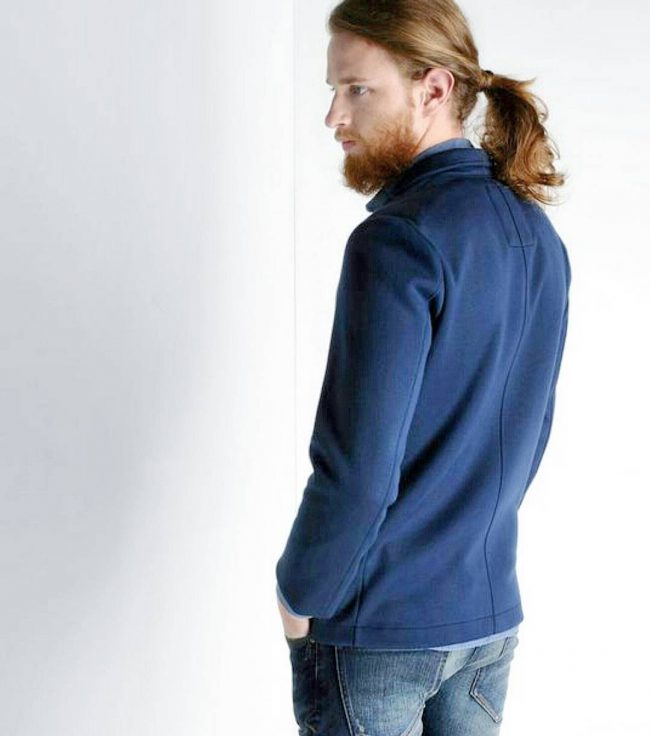 In this picture, the long ginger brown hair has been secured at the base of the neck into a wavy ponytail. Again a section of hair has been wrapped around the elastic band, giving this style a polished feel.
# 20 Dark Roots with Baby Blonde Pony Tail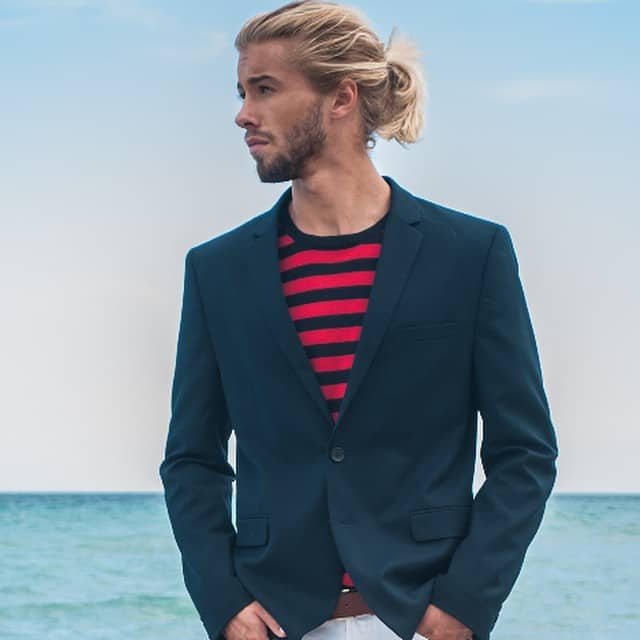 This hair, that has sandy brown roots blended into baby blonde ends, has been pulled into a loose ponytail with the flyaway strands brushed back neatly. 
# 21 Waist Length Smoky Black Hair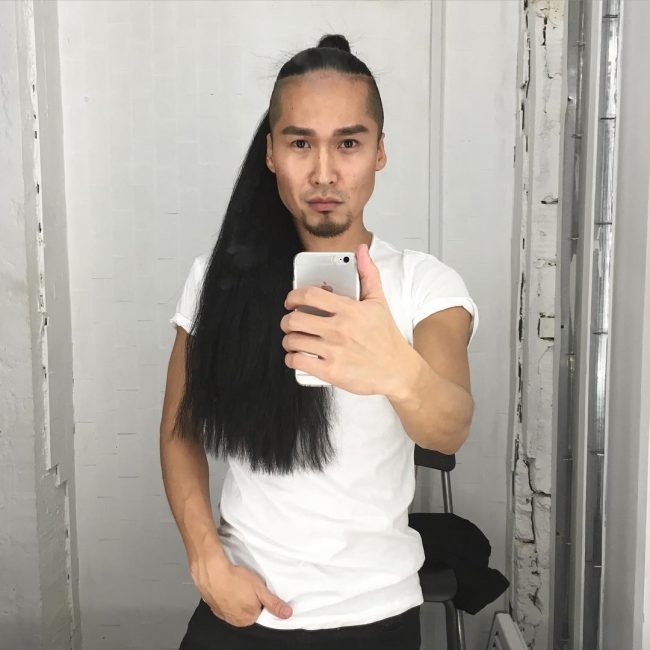 Here the sides have been razor cut very short and the top and back hair has been grown out. This hair descends down, almost reaching the waist, in a shiny black river.
# 22 Stylish Male Up–Do
The different hues of browns seen in this hair are smooth and well blended together. The hair here has been brushed up and curled over into a stylish man bun/ ponytail.
# 23 Deep Brown Hair in Low Pony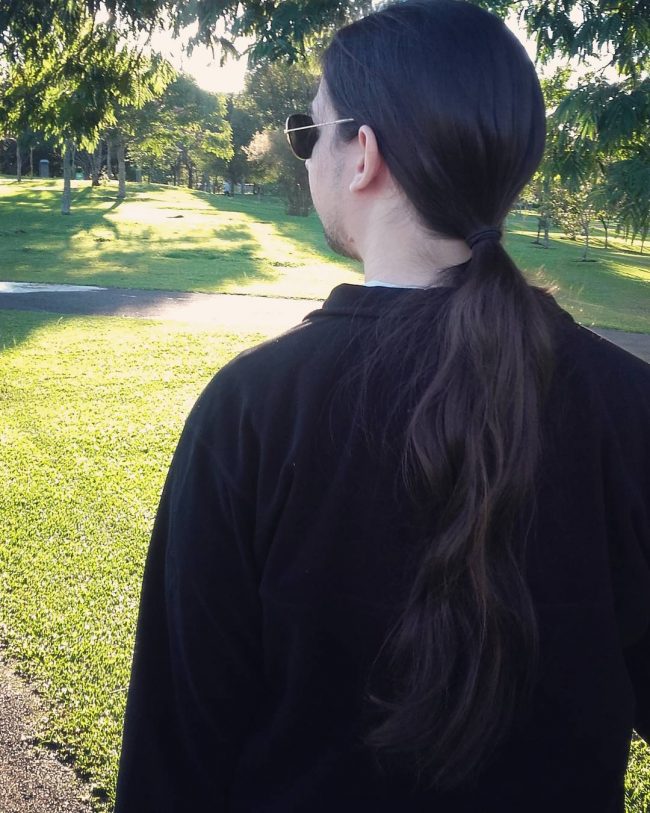 The sleek hair up to the pony is a sable hue while the hair that is tied together is a slightly lighter chestnut brown. This man pony is wavy, shiny and touchable.
# 24 Springy Top Bun
This thick and bouncy man pony sits on top of the head and compliments his thick eyebrows and structured beard perfectly.
# 25 Sun Kissed Locks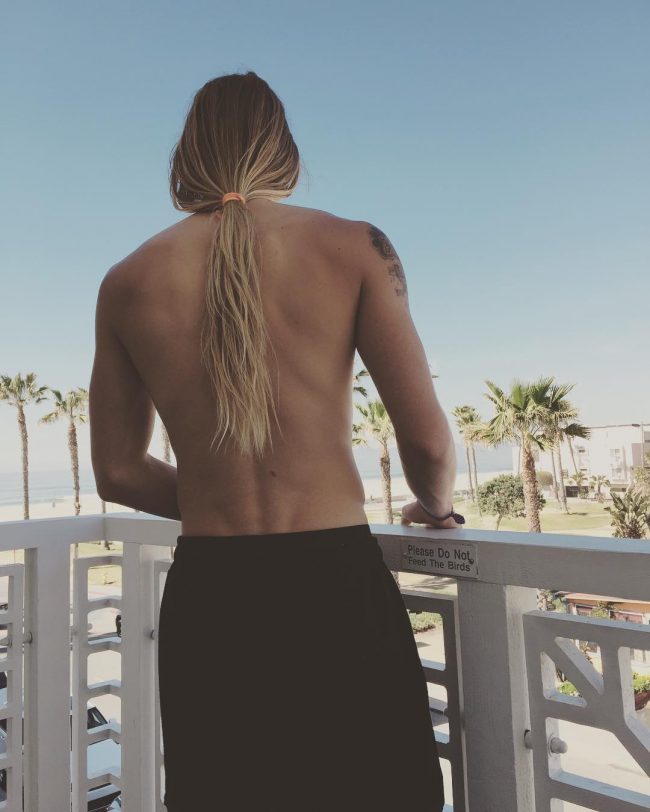 This long and beautiful colored dark to light hair has been gathered at the nape of the neck and tied with an elastic into a loose pony, that allows the golden blonde tinted hair to fall gently down his back.
Idea # 26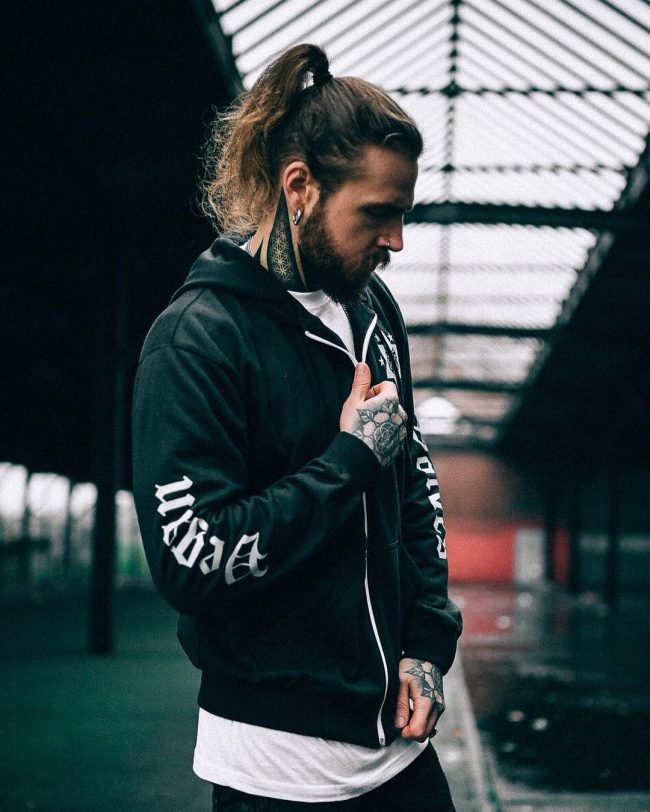 Idea # 27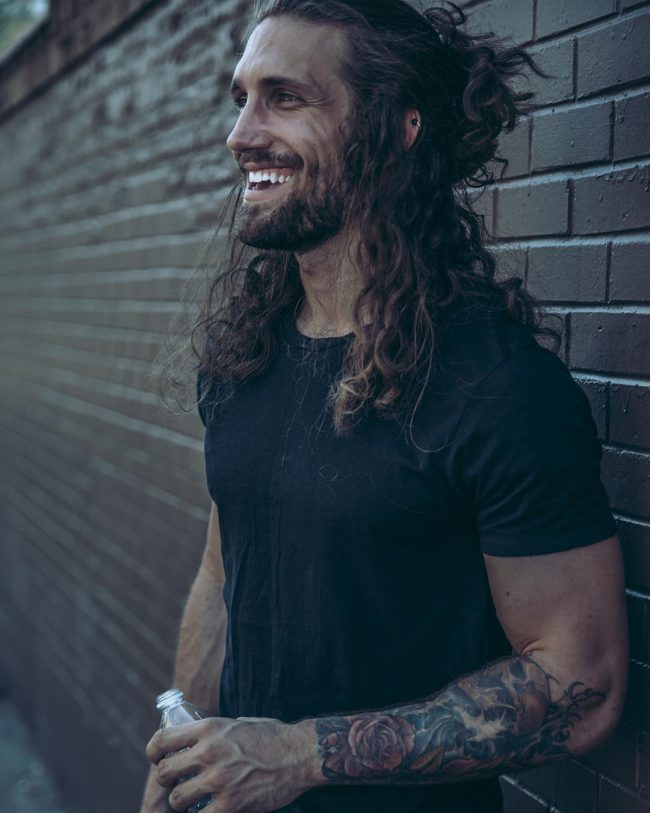 Idea # 28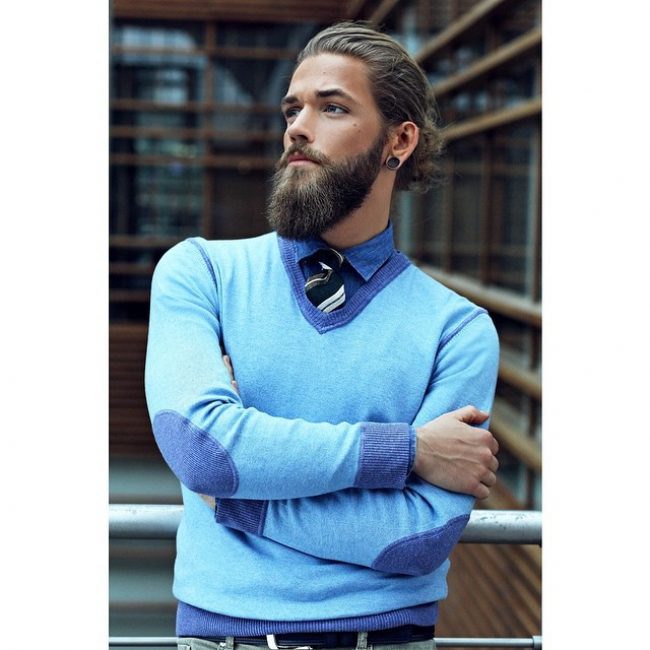 Idea # 29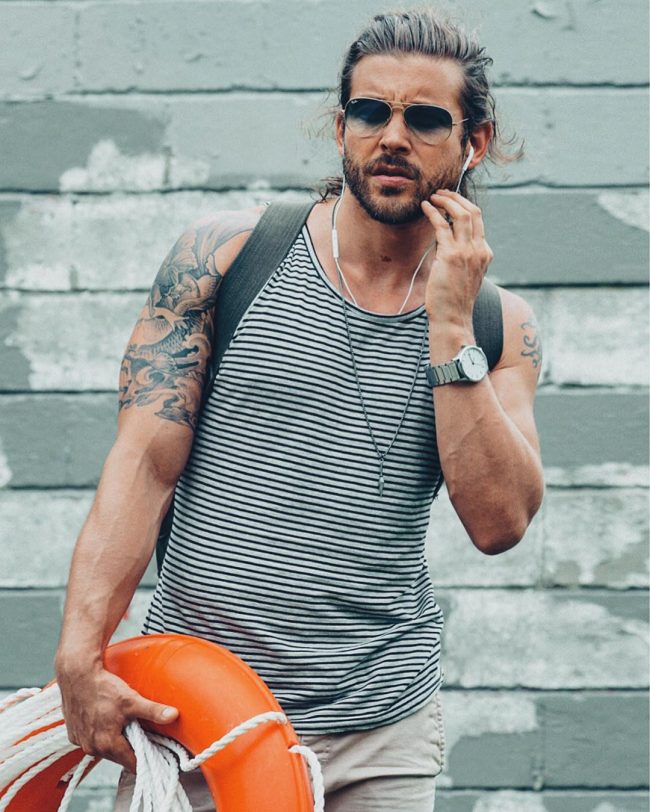 Idea # 30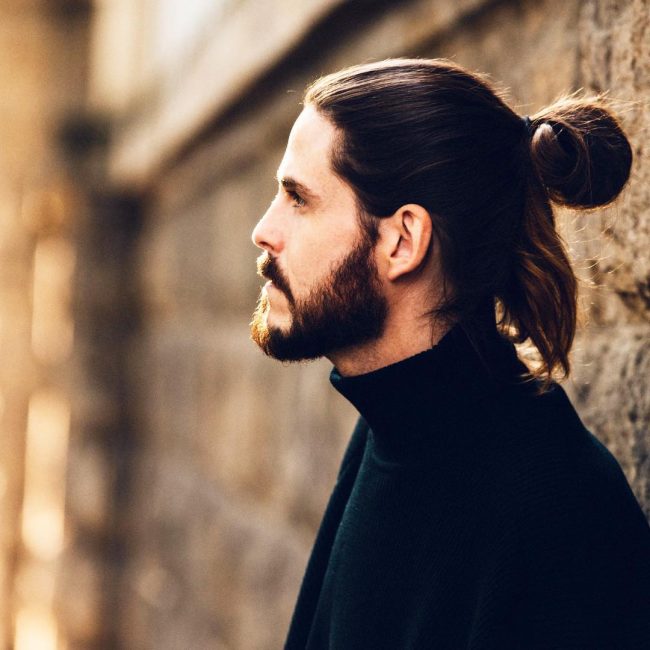 Idea # 31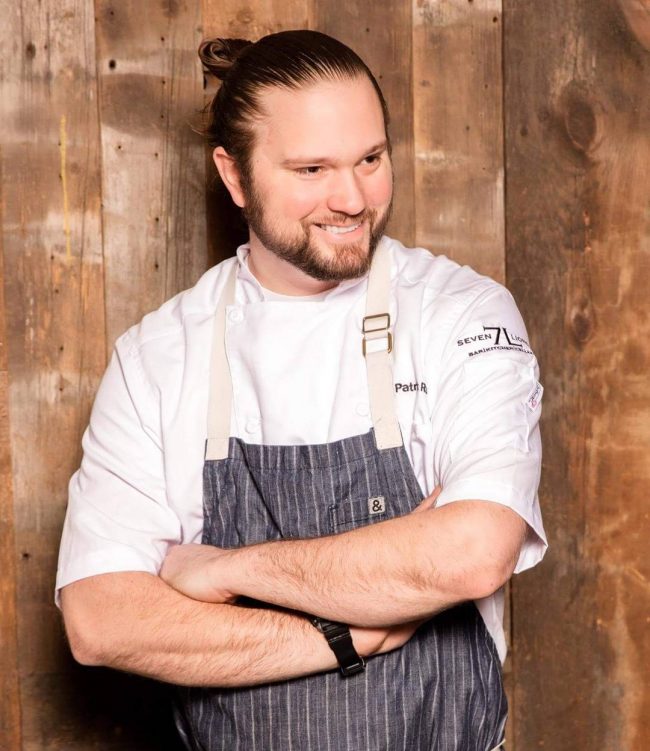 Idea # 32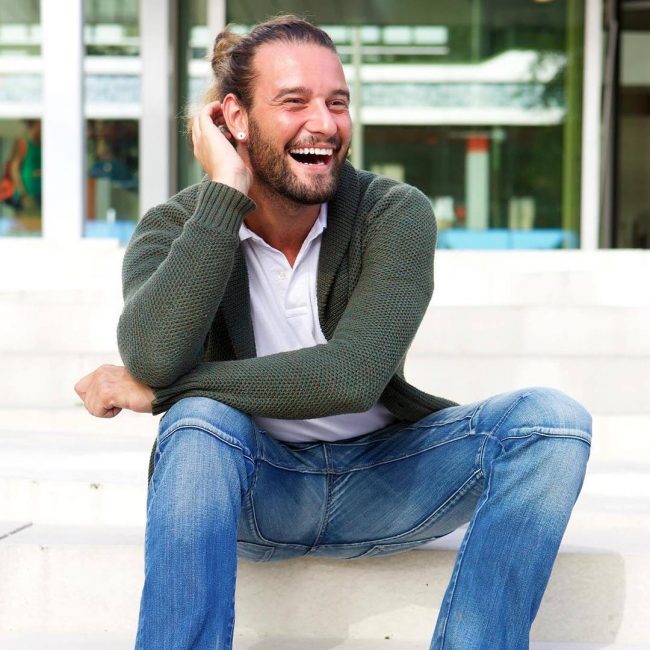 Idea # 33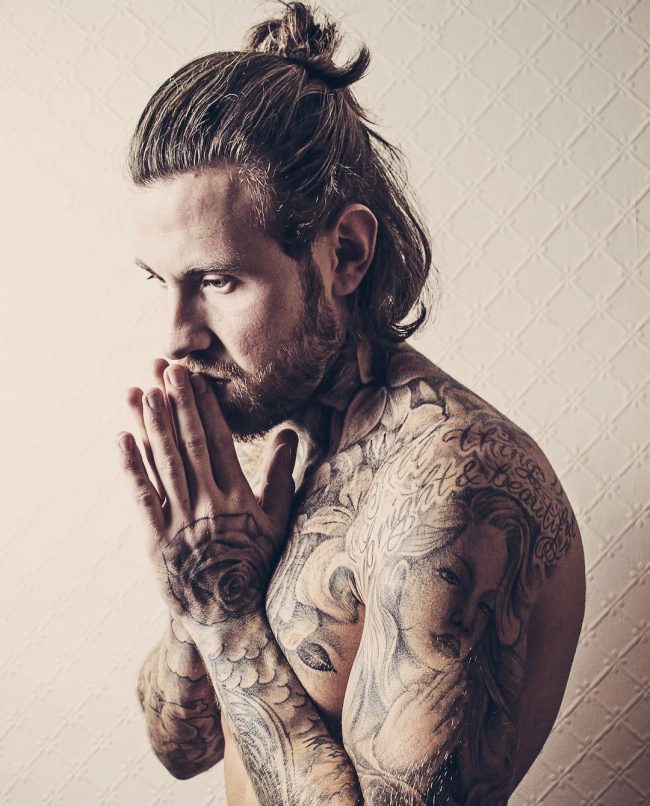 Idea # 34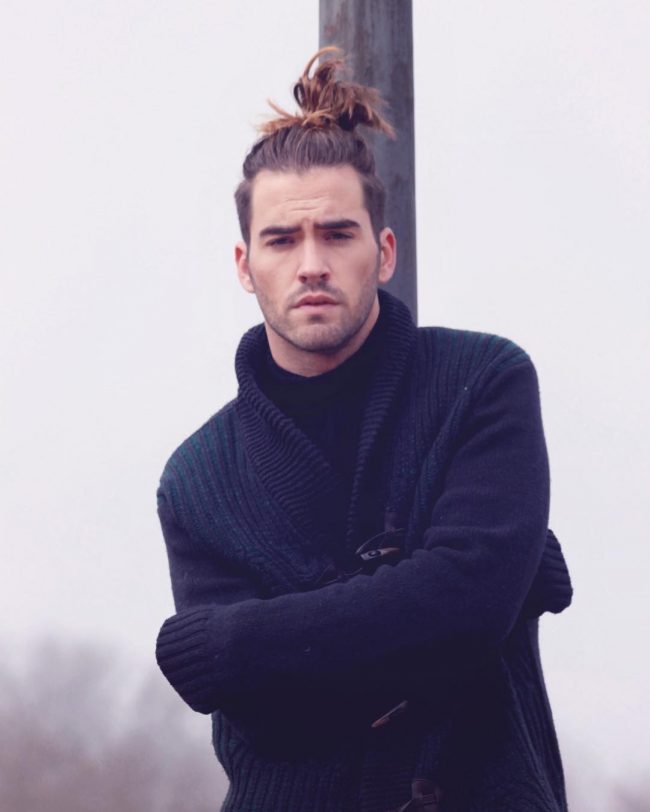 Idea # 35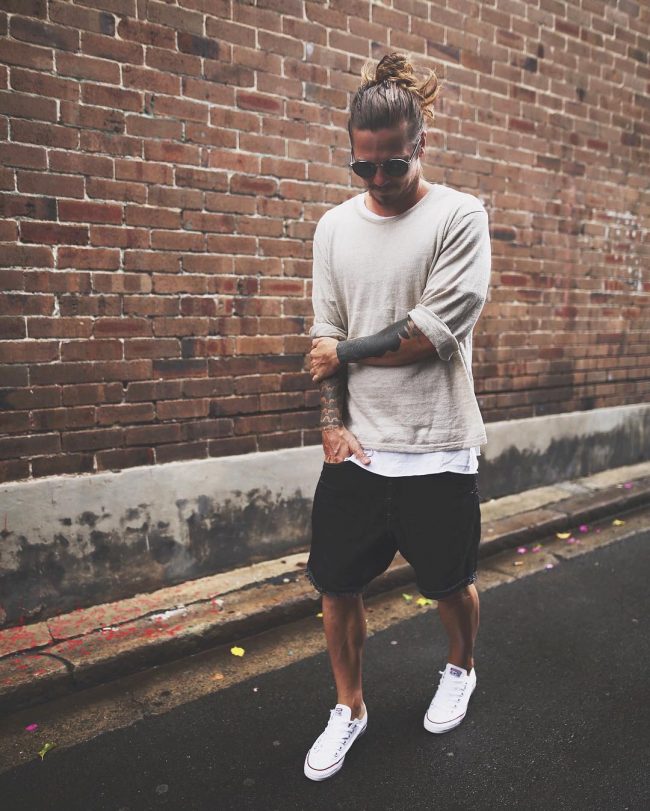 Idea # 36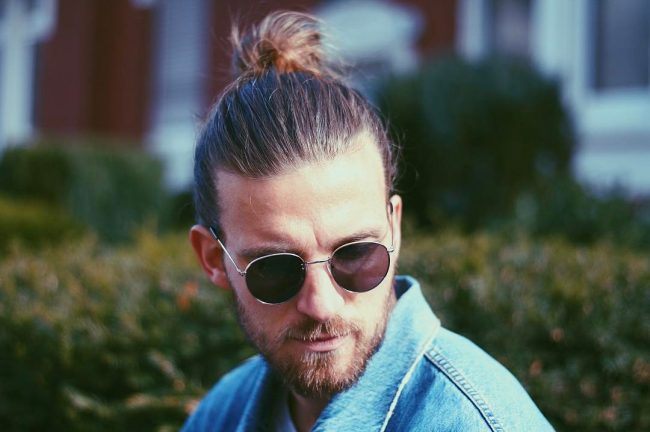 Idea # 37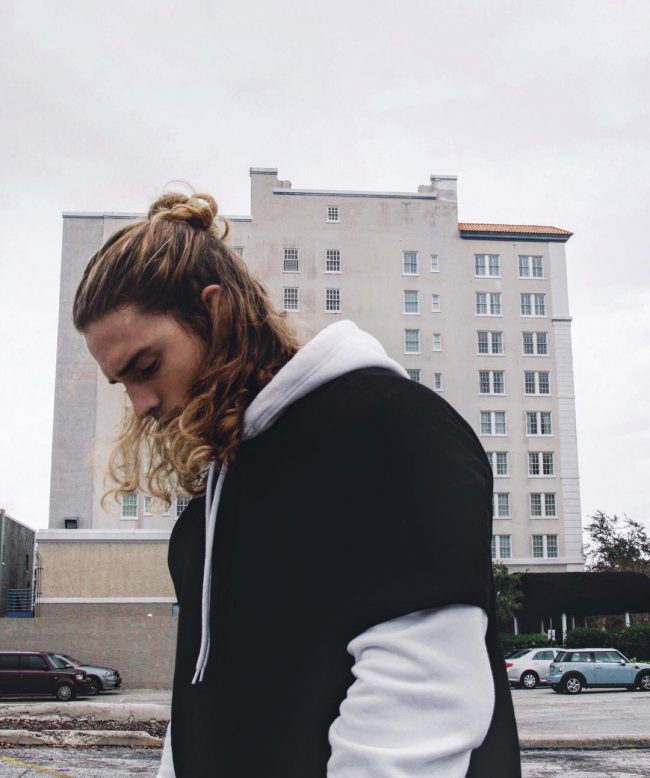 Idea # 38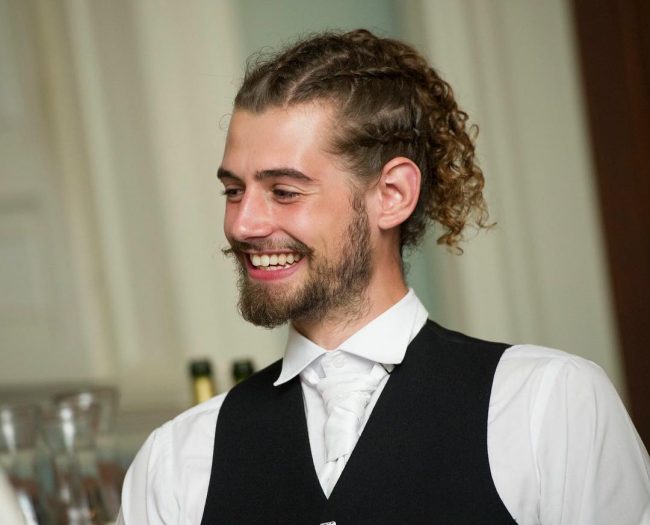 Idea # 39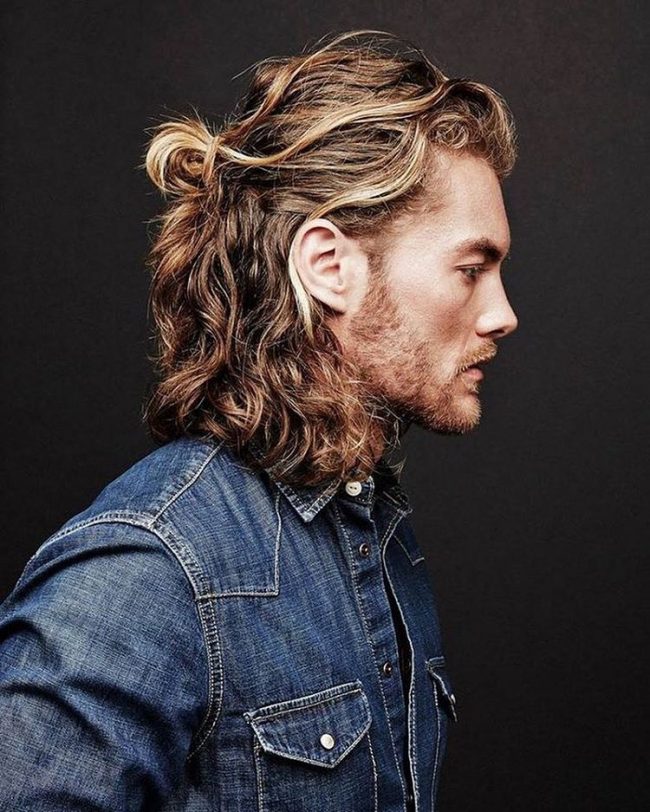 Idea # 40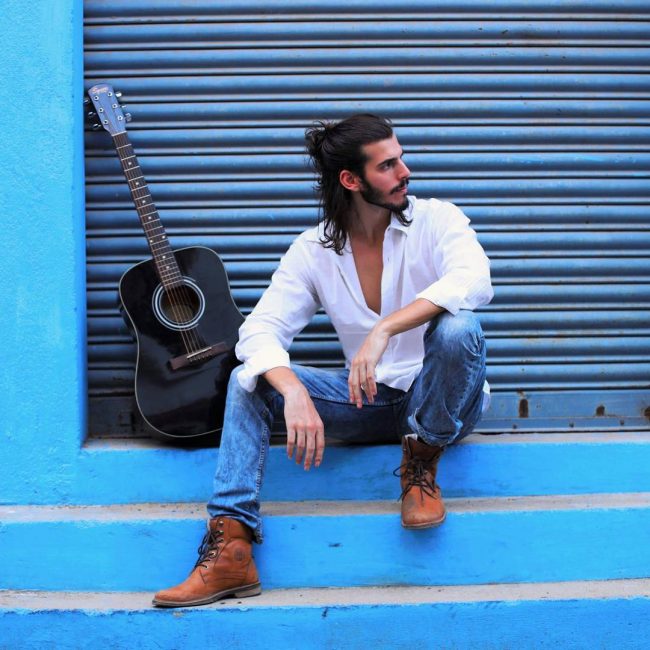 Idea # 41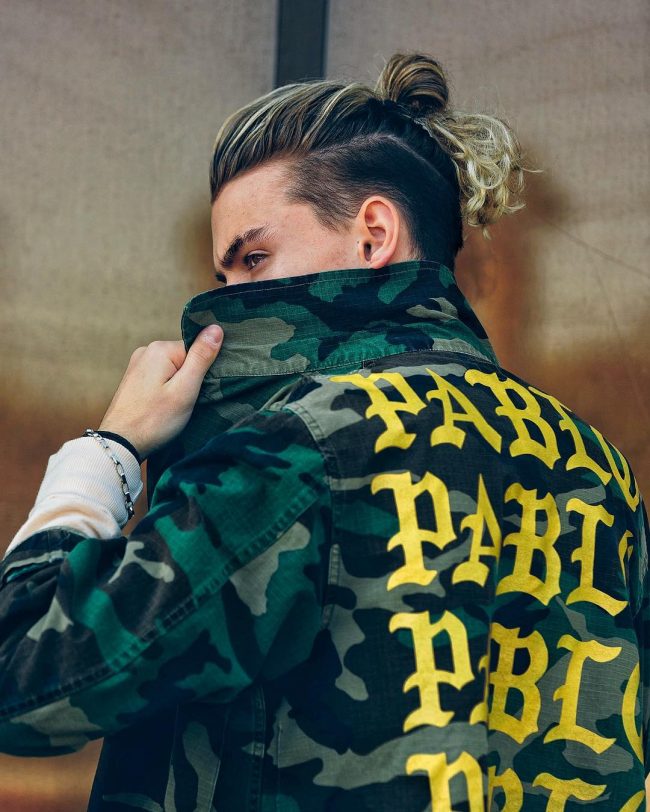 Idea # 42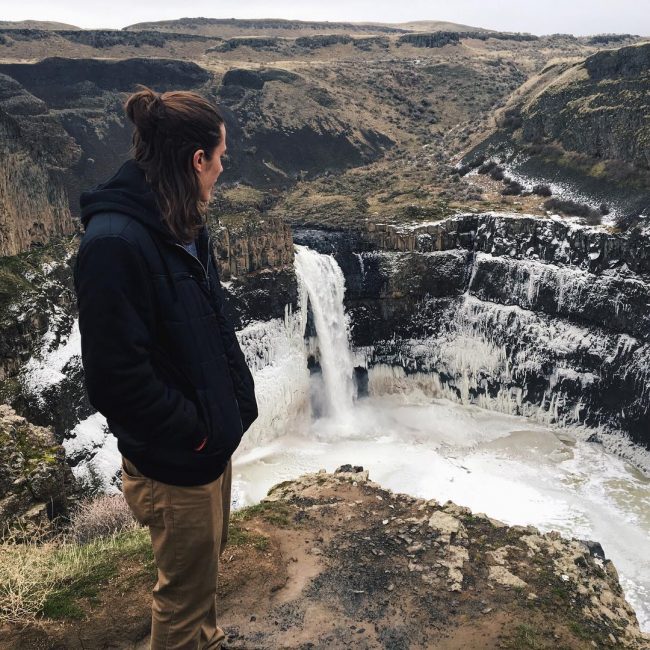 Idea # 43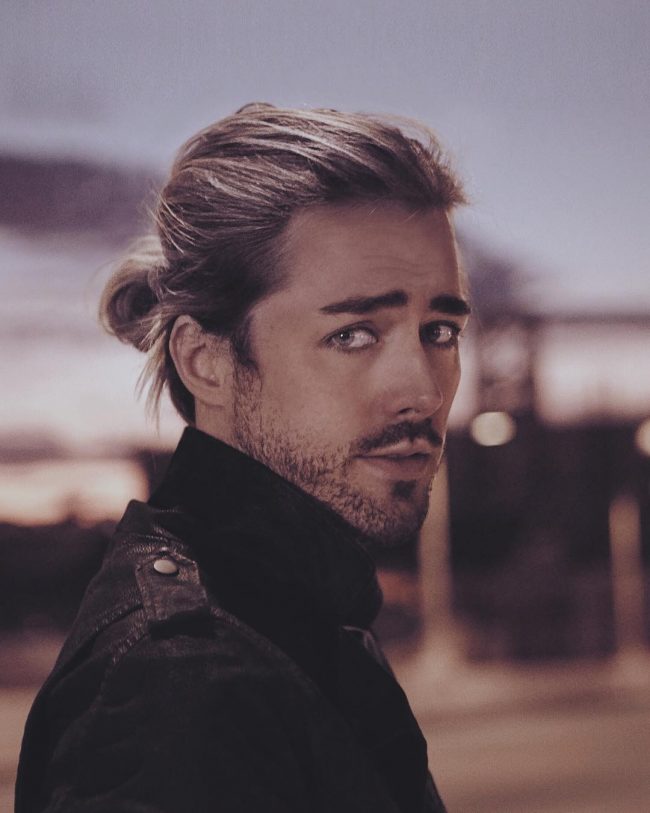 Idea # 44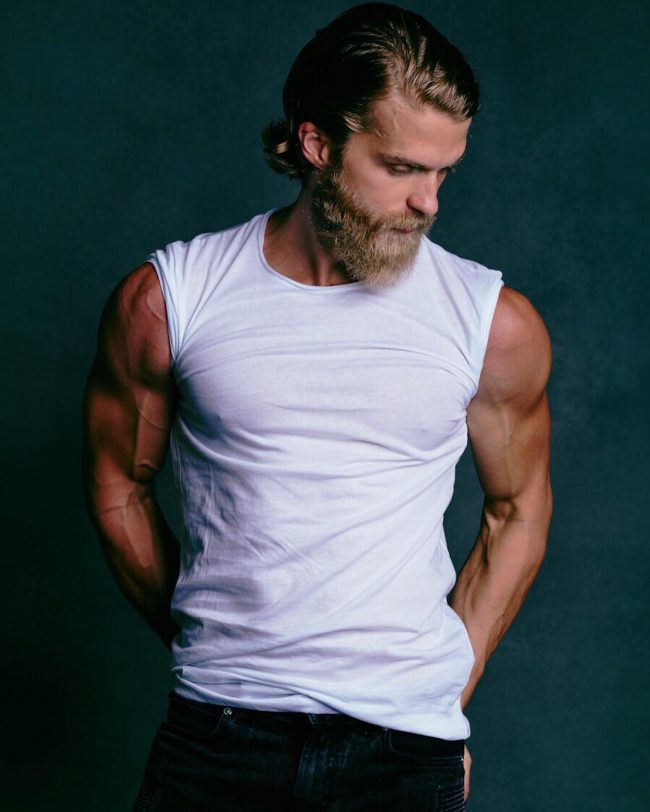 Idea # 45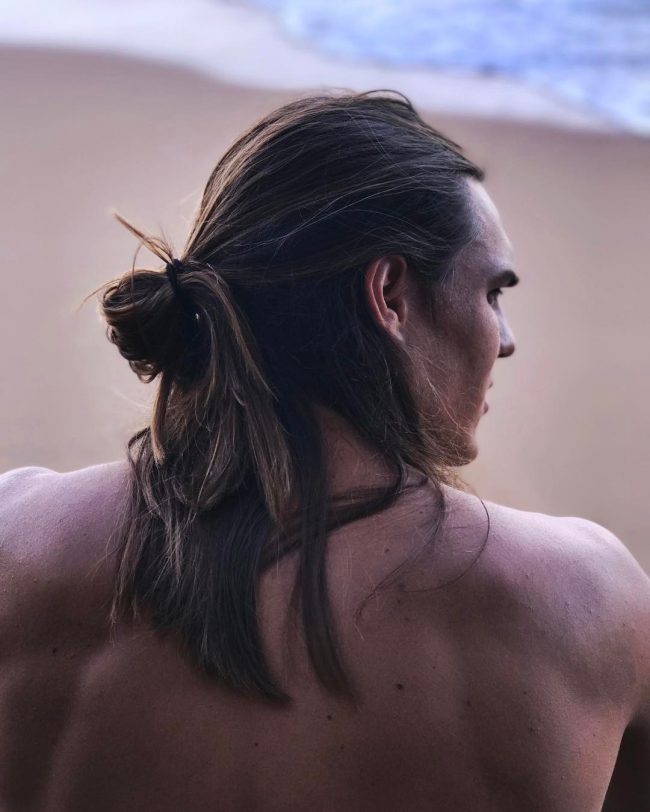 Idea # 46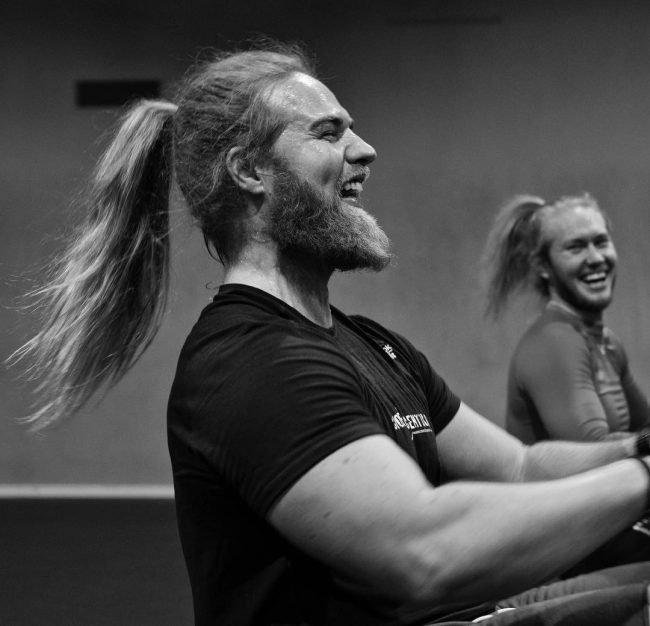 Idea # 47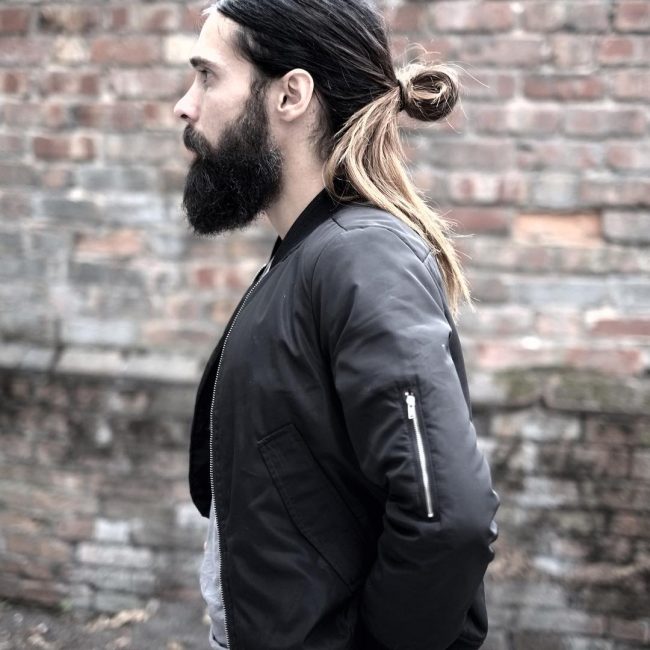 Idea # 48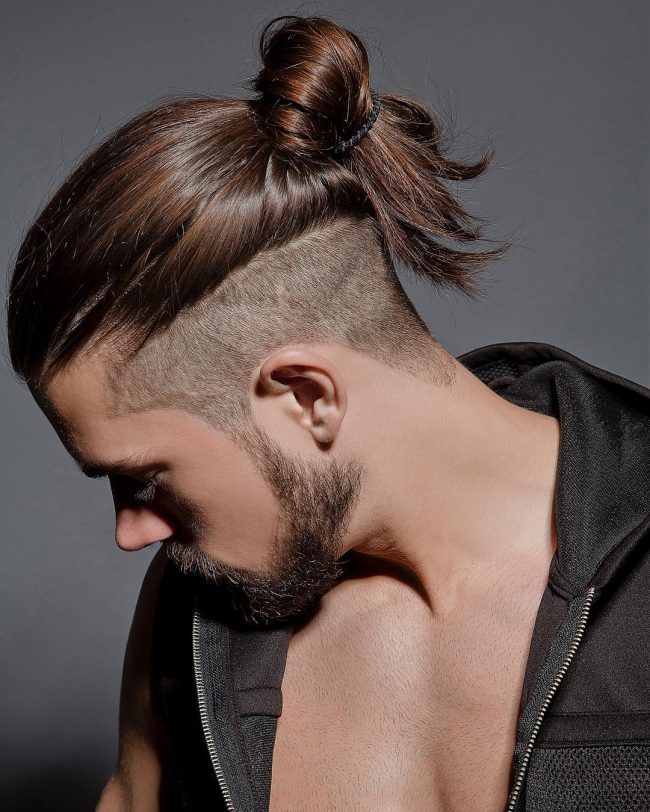 Idea # 49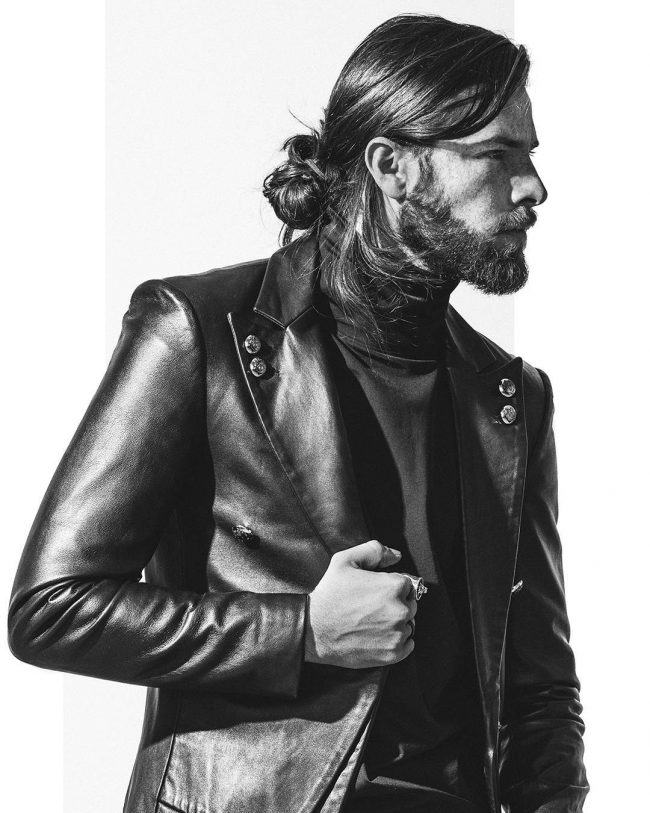 Idea # 50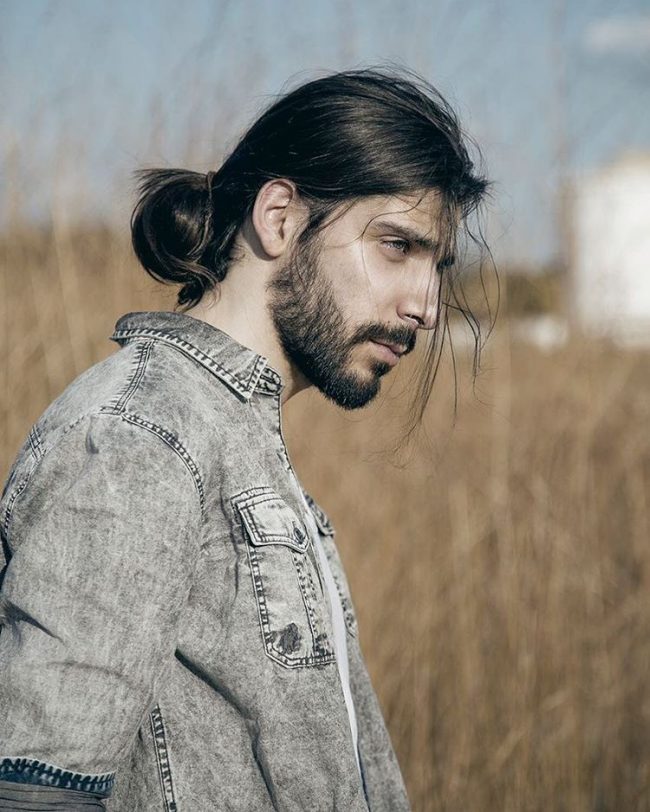 So if you hear is in good condition think of growing it longer. There is a huge mass of ponytail hairstyles out there. And you will hardly stay unnoticeable.