50 Exquisite Ways To Wear Caesar Haircut – In 2020
Have you ever heard of Caesar haircut? Julio Caesar was a Roman emperor more than 2000 years, but his reputation still lives on. Besides from having a calendar month and many other important things named after him many still envy his leadership and it has also been a popular subject of study for many centuries. However, Caesar was also very fashion conscious, especially with his hairstyle. He used to keep an equal length hair throughout the head that was then styled forward. It was more popular in the 1990's but is slowly making a comeback, and as it is getting back in trend, many variations have come up. There are now many Caesar haircut variations that you can choose from and provided you keep the right length and do the correct styling you have the freedom to experiment with different styles.
# 1 Wavy Bangs & Razor Fade Sides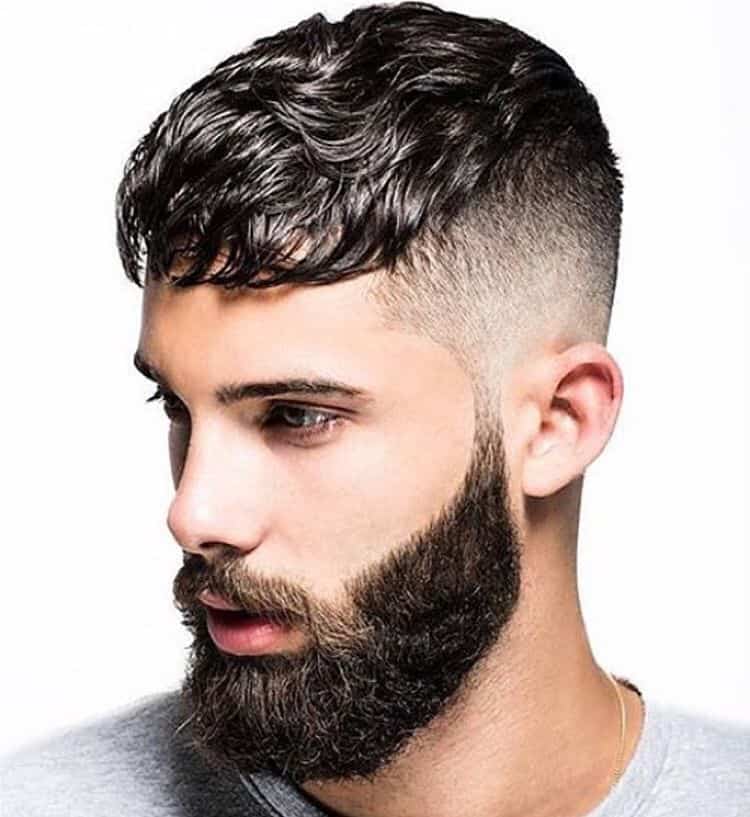 This style is a modern variation of the emperor's hairdo, and it is a good example of how an ancient look has undergone a tremendous transformation over the years. A long top is maintained while the sides and back are razor faded. The long wavy top bangs are then styled forward to give the characteristic Caesar look. Although the haircut looks good like this, it will look even better when paired with a long beard.
# 2 Short Caesar Cut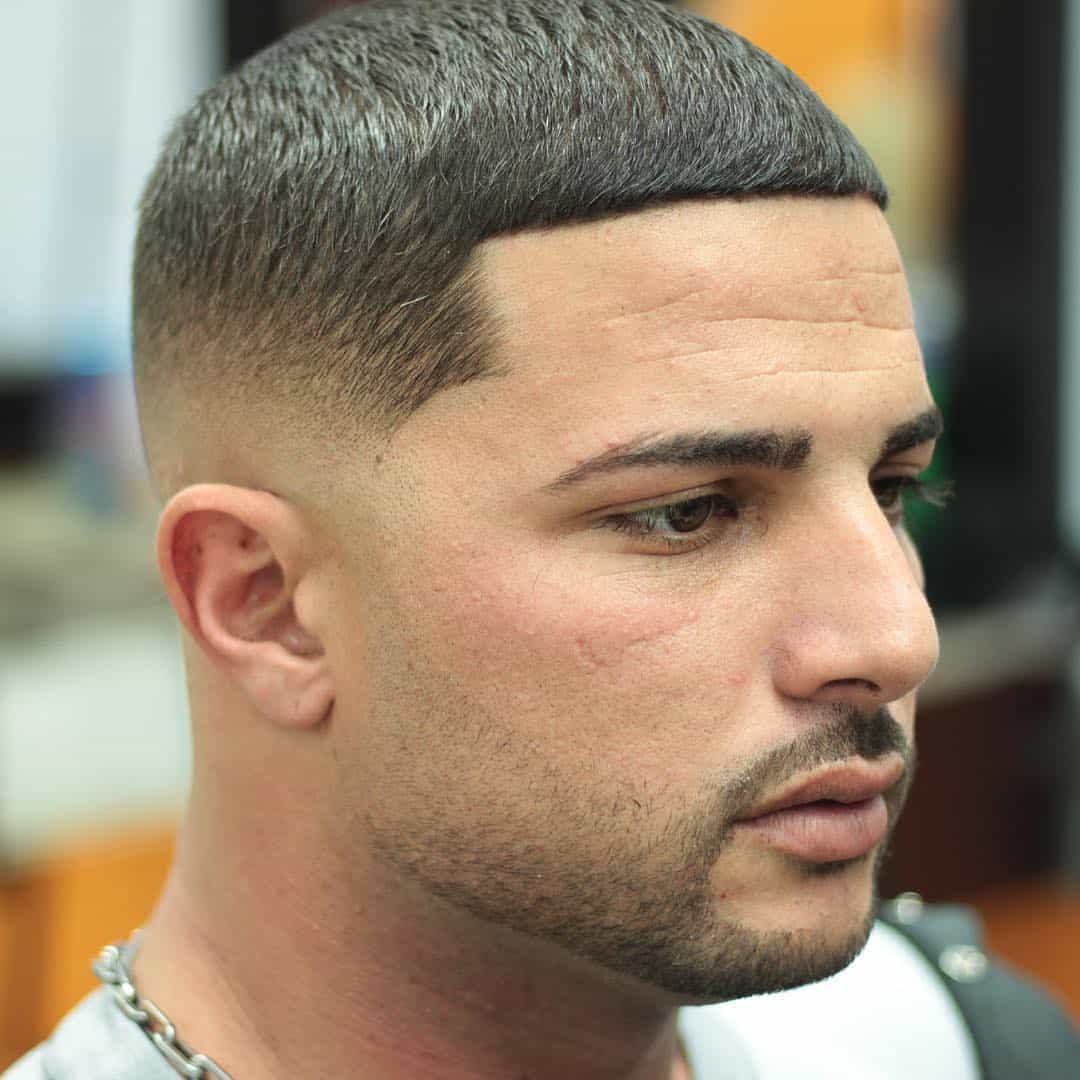 The traditional emperor's cut involves hair that is anywhere between one and three inches long, but the modern cuts are not bound by this rule. In this particular do, the top hairs that are styled forwards to give the Caesar appearance are less than an inch long, and the sides and back are closely shaved using a clipper. Since hair is very short, one should not maintain any facial hairs so as to ensure that all the attention remains on the current hairstyle.
# 3 Classic Fringe with Fade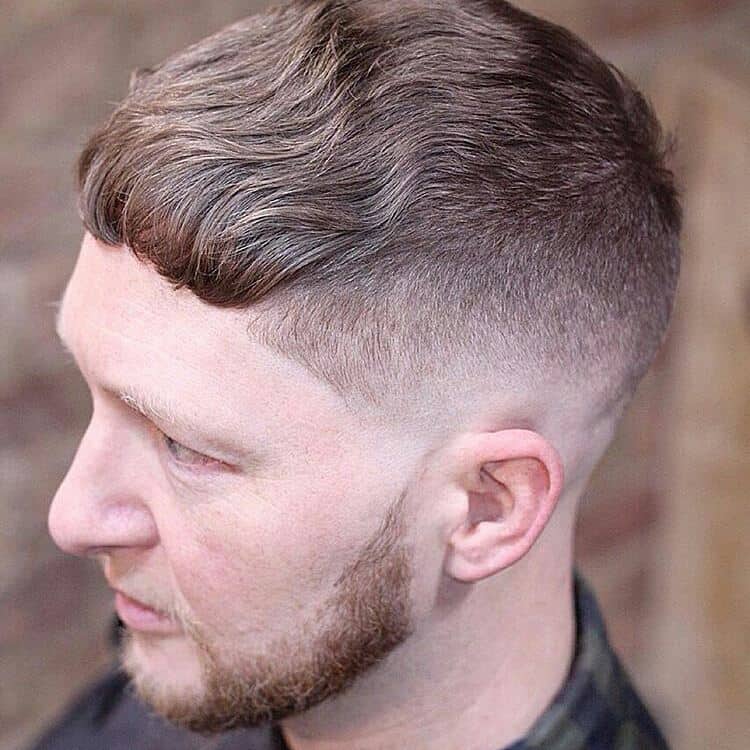 A top section fringe can still form an amazing Caesar cut when styled correctly. Although they are simple and natural in this hairdo, the way they are styled forward towards the forehead is what makes them an emperor's hairstyle. The nicely done fringes are then combined with a high fade on the sides.
# 4 Angular Short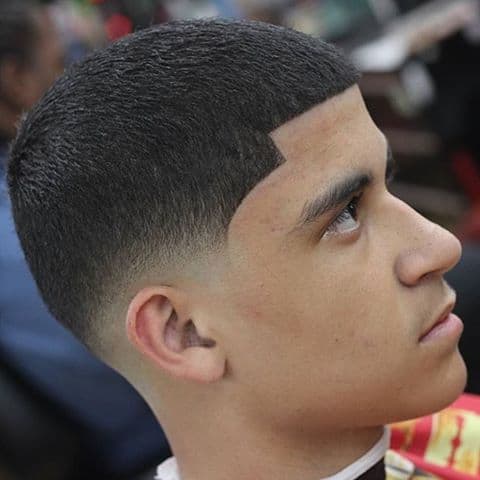 Angular cuts may be tricky to shave because only skilled barbers can be able to get the angles right. However, if the angles are done accurately and neatly, they can enhance any haircut and make it look outstanding. In this style a short hair is maintained at the top then it is combed forward into a Caesar style with the sides and back closely shaved. To finish the look sharp right angles and curved lines are shaved on the hairline.
# 5 Medium Length Bangs with Undercuts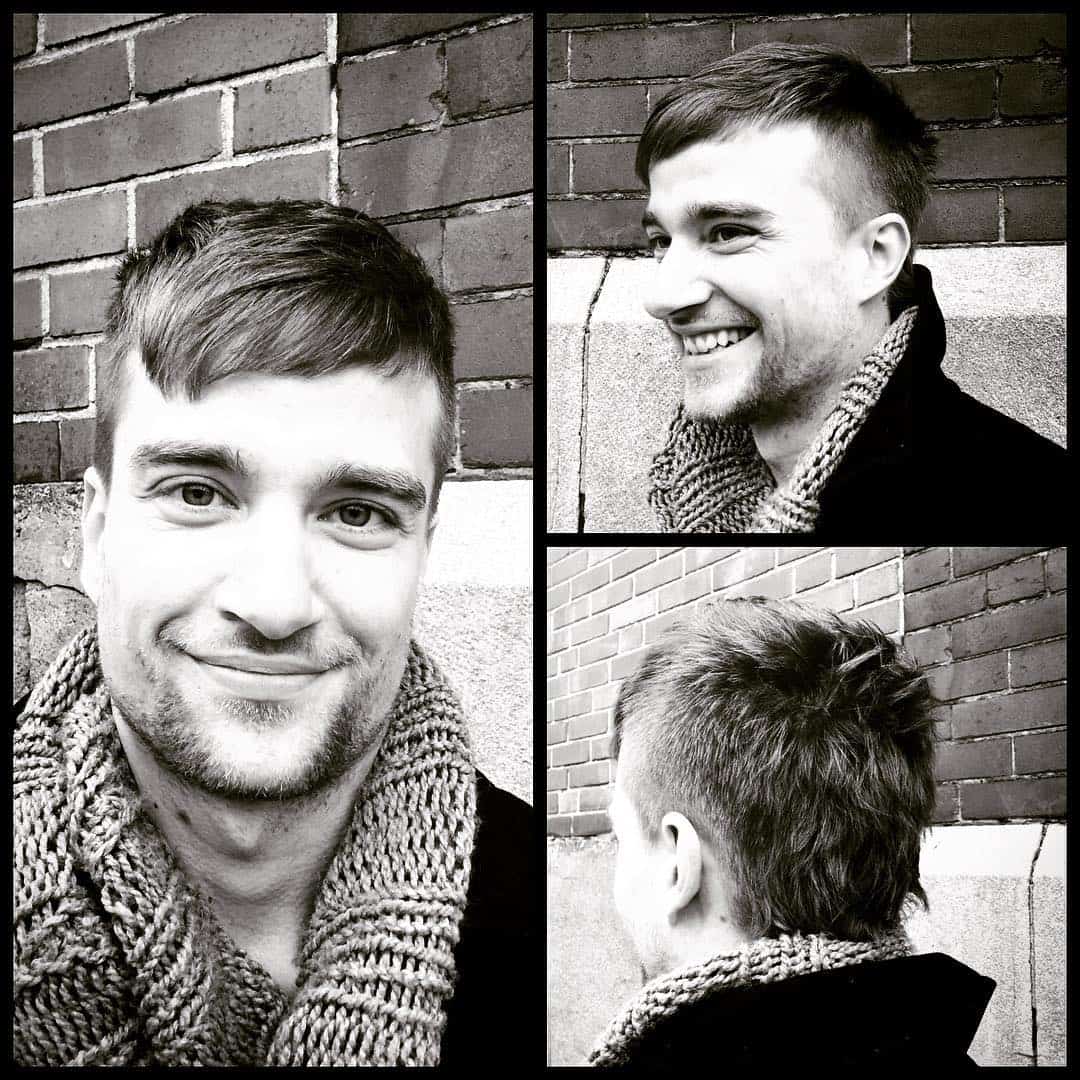 Very little is done on this mane to give it the emperor's look like most of it is natural hair. Apart from maintaining long bangs, hair is given some undercuts and then styled forward to cover about an inch of a forehead. Note that only the hairs up to the crown are pushed forward while the rest of the hair is styled to the back.
# 6 Spiky Bangs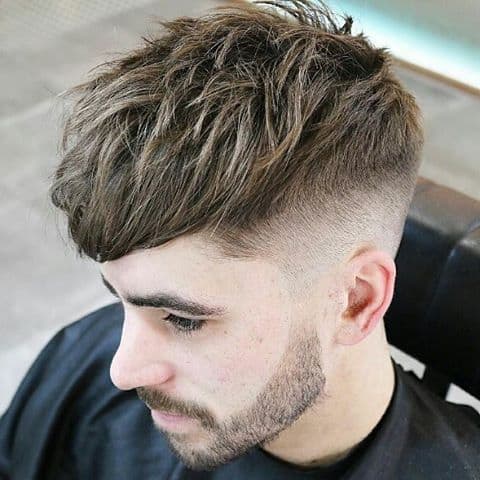 You can create a Caesar hairdo with almost any hair type provided you are creative. In this style, the look is created with long spiky bangs that are maintained on the top section. Sides and back are then closely shaved. This style is best suited for men who like to keep long, voluminous hair.
# 7 Medium Length Fringe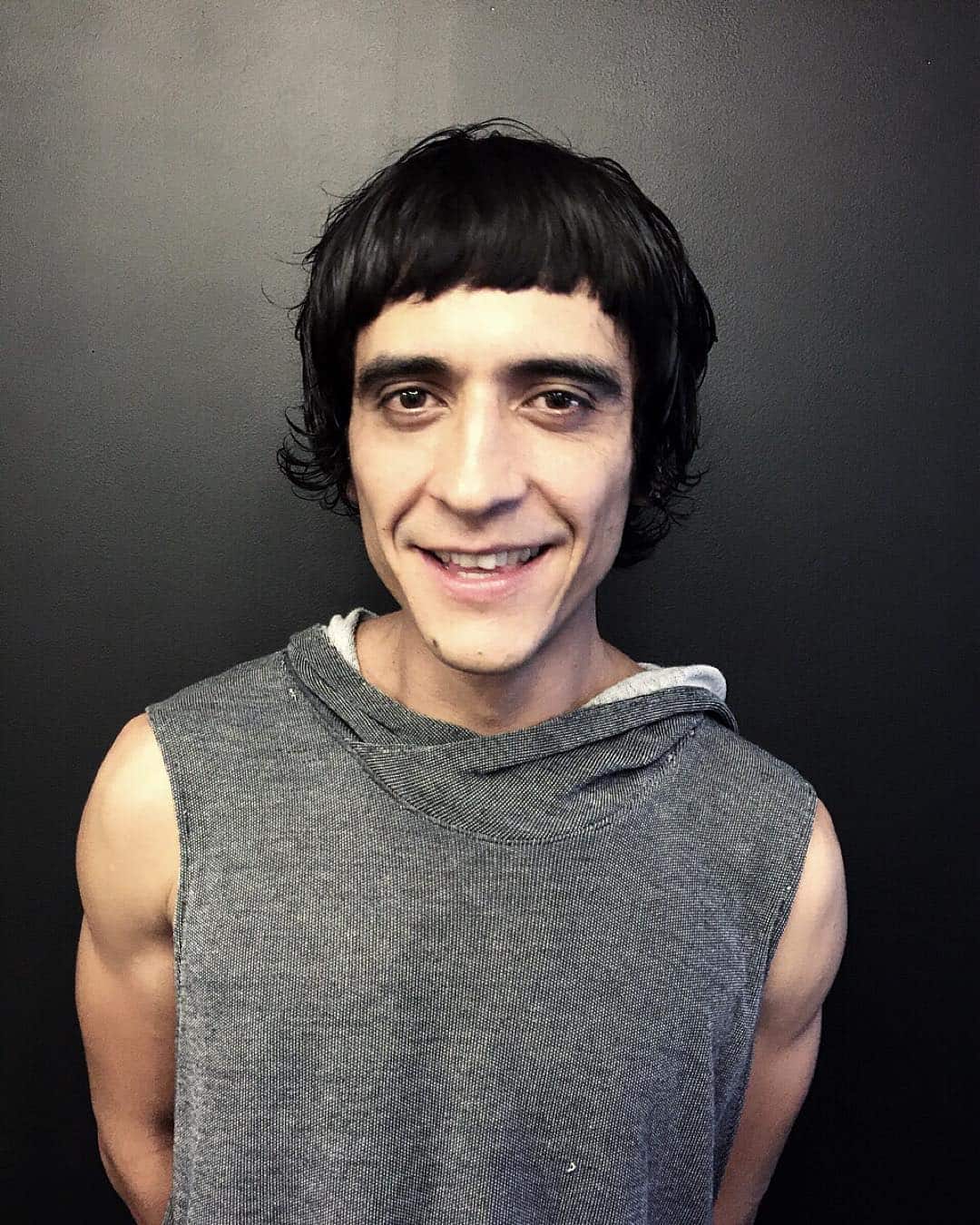 This is another example of a famous style done on natural mane with almost no cut at all. The long fringes make it easier to wear this look, and it is almost effortless. And with right hair size you can even style hair with your hands. However, it is necessary to scissor trim hair to get the right length, and this design will only be possible on thick, voluminous hair.
# 8 Short & Simple Slick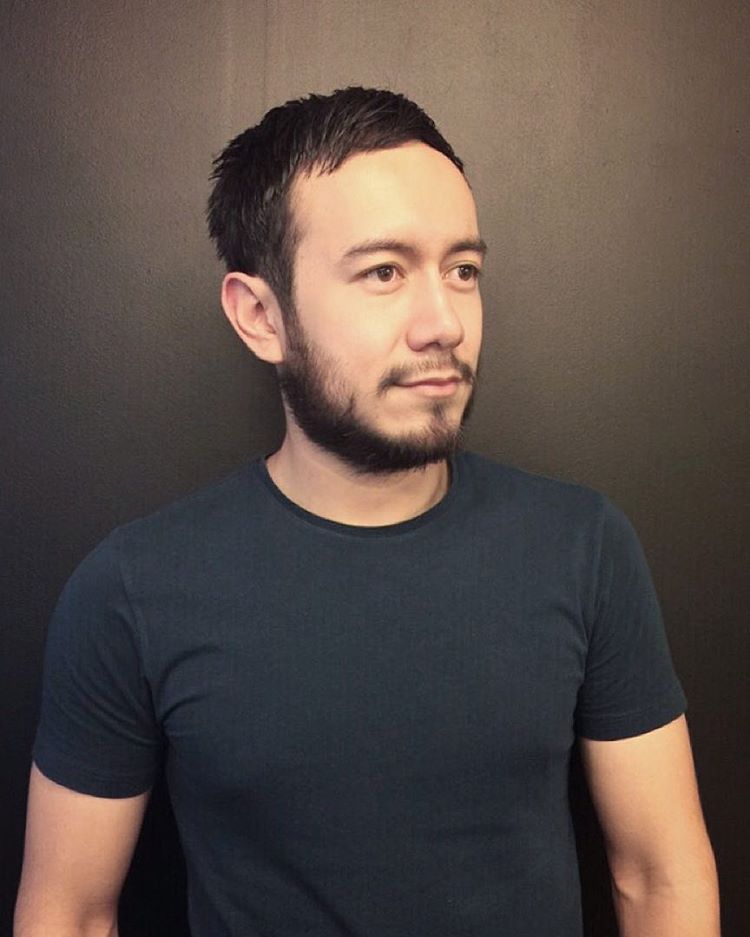 The hair in this style is maintained at the same length with the facial hairs, and this is one of the things that make it amazing. Although locks are not as short as the facial hairs, they are trimmed to a length that will leave them on the same level as the facial hairs when brought forward. It is a pretty simple design to wear and it best suited for men who like to maintain uniform hair length.
# 9 Imperial Crown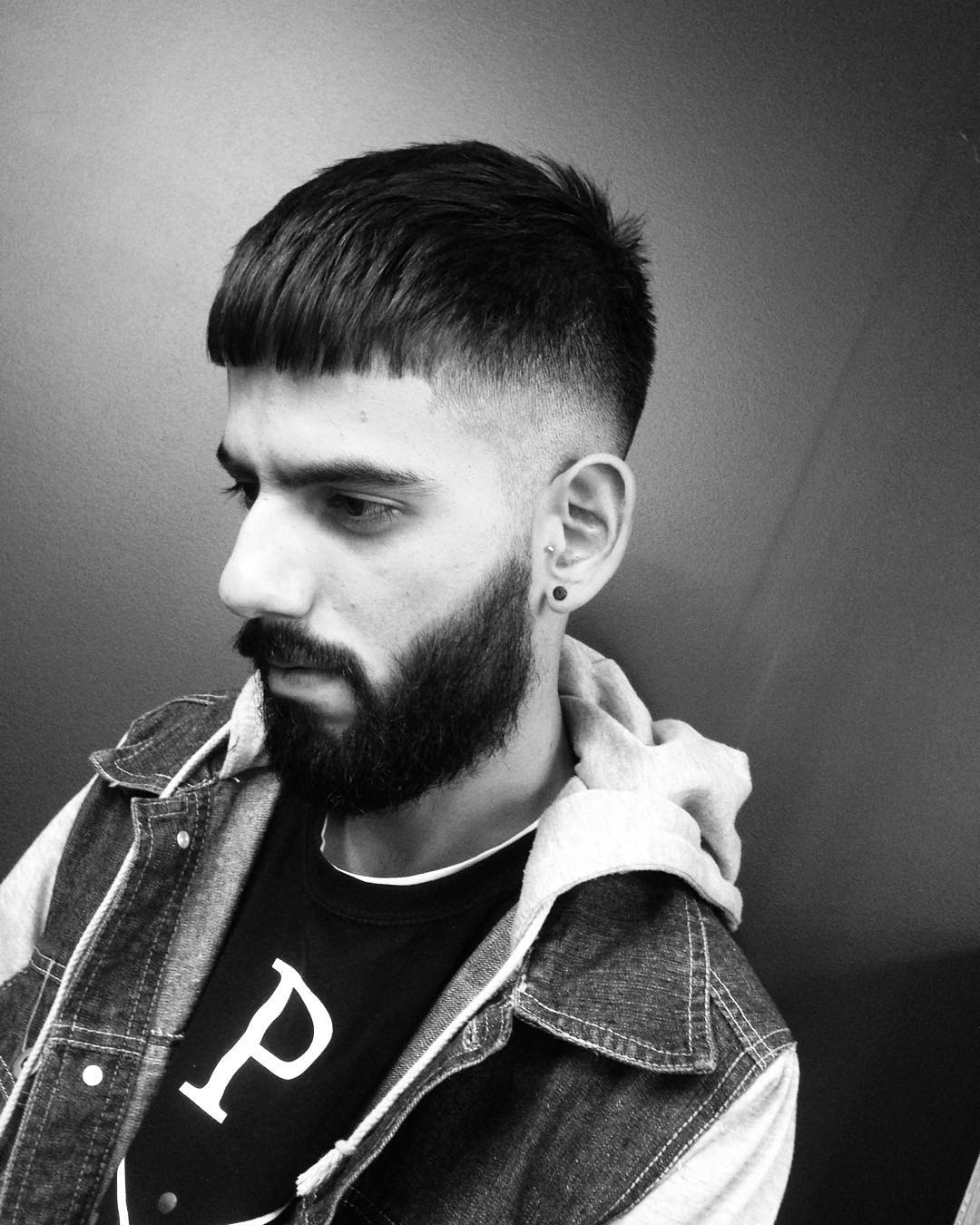 People are always trying to come up with something different to do on their hairs. This style is an example of a well throughout haircut as it maintains very long crown hairs while the rest of the head is faded. The styling of the top hairs is what makes it interesting since it covers a larger portion of the forehead compared to other cuts.
# 10 Curly Caesar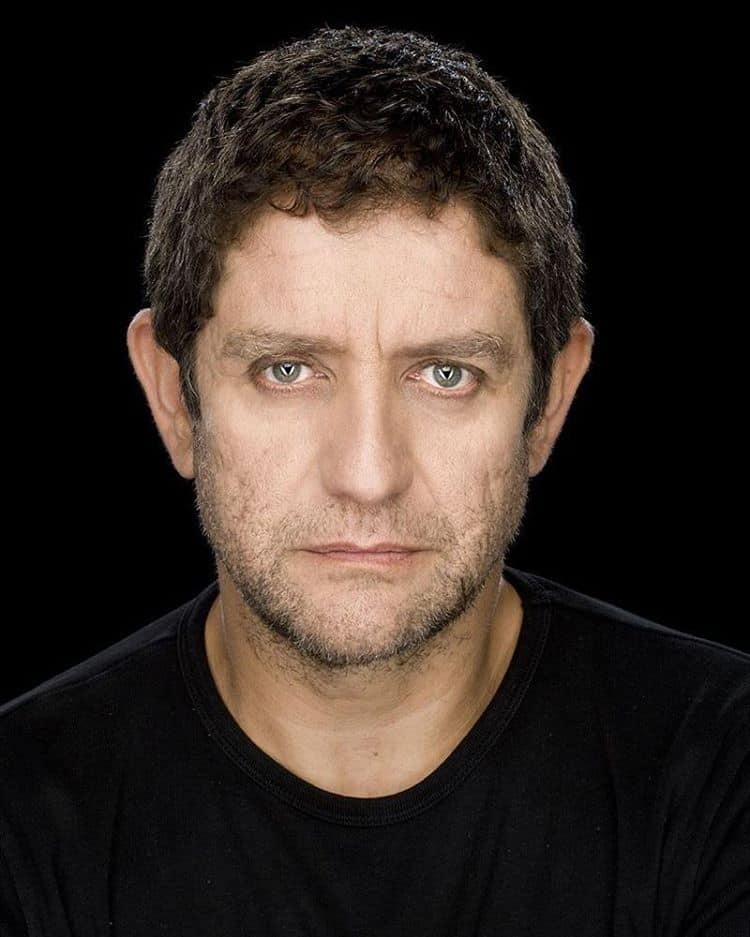 Curly hair can also form a famous hairdo provided you know how to cut it and style it. For this look all you need to do is to maintain an equal length throughout that should be between two to three inches or longer if you wish to have more hair. After that, you should apply some hair product to curls and then style the hairs at the top forward and the rest to the back.
# 11 Scissor Cut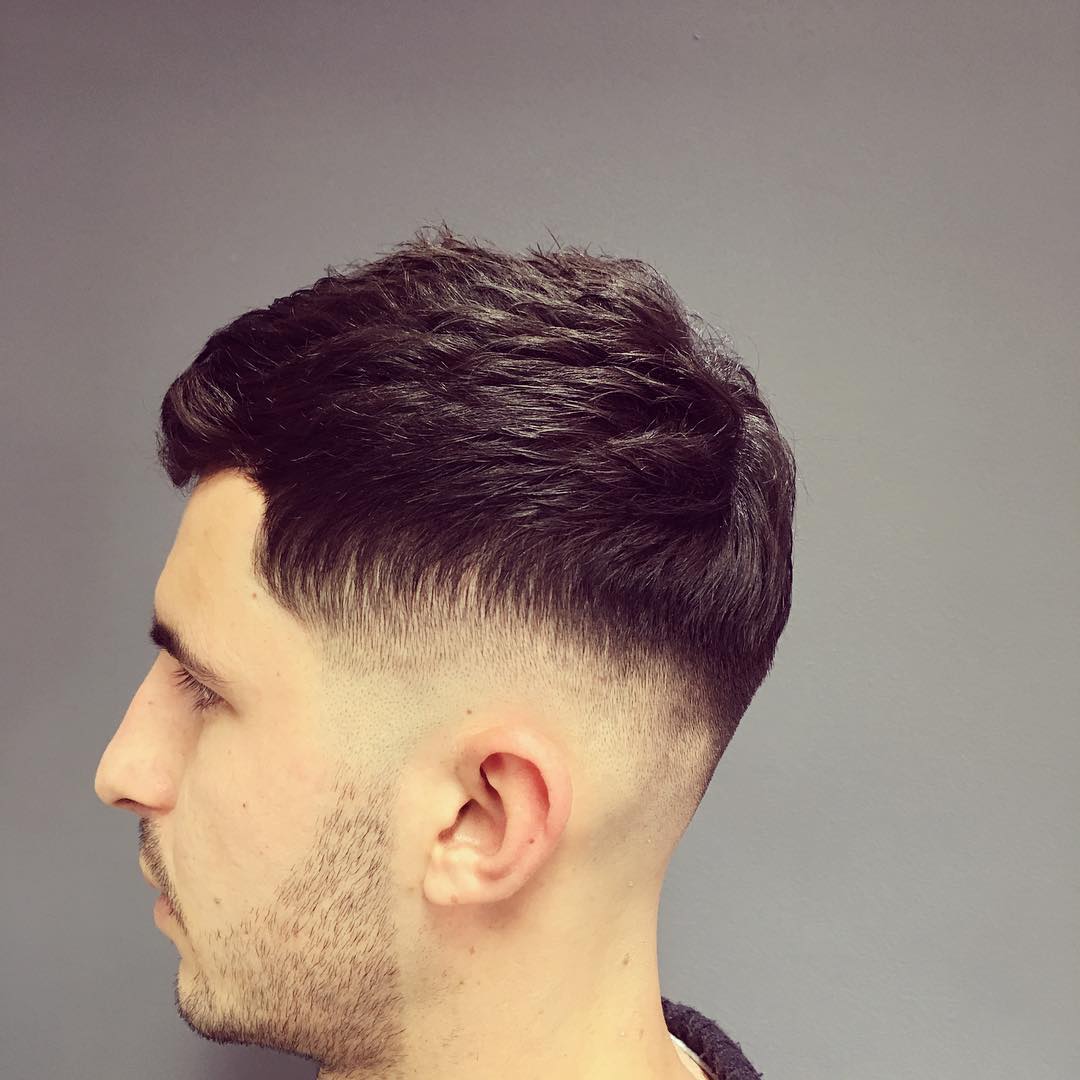 The invention of the scissors is probably the best thing to have ever happened to haircuts because in the hands of a skilled barber they can work magic on the strands. Besides from the razor shaved sides, everything else in this do is done with scissors. The longer top is neatly trimmed then the bangs styled forwards to finish the look.
# 12 Unconventional Look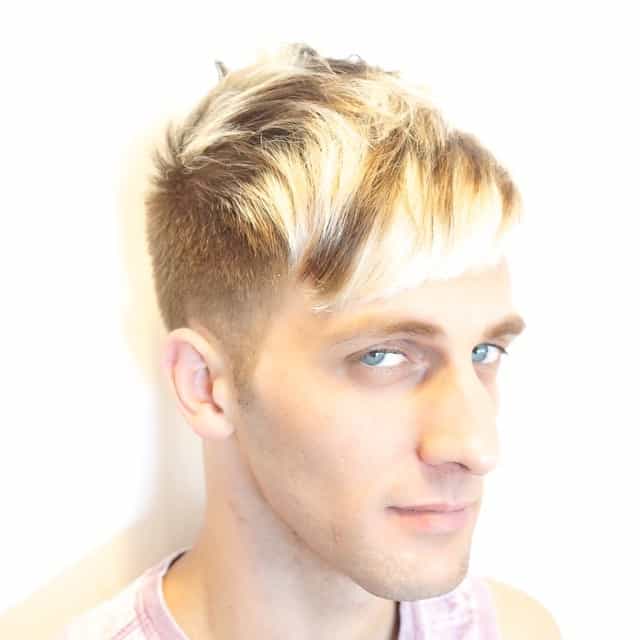 Apart from the fact that this style maintains a longer hair than most other this kind of cuts, the other thing that makes it unconventional is the introduction of some color. The traditional or conventional hairstyle is typically a simple one color, but hair in this cut has some highlights.
# 13 Skin Taper Blow-Out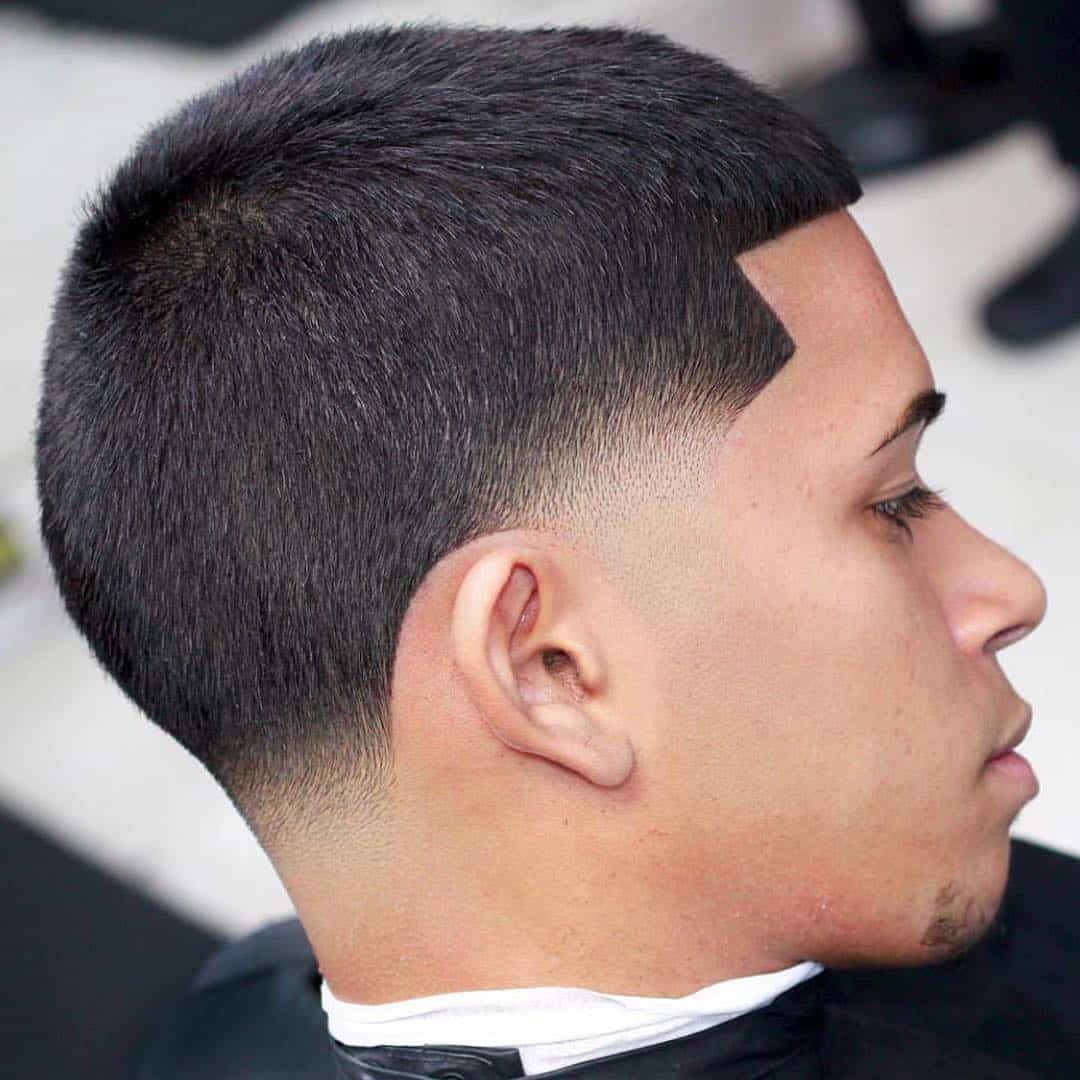 Provided you can get this style right it is one of the best emperor's haircuts that you can ever get. This is especially so for men with an oval or round face. However, it requires a lot of skills to achieve a perfectly tapered look, and it is also important to ensure that you get the right length.
# 14 Edgy Perfection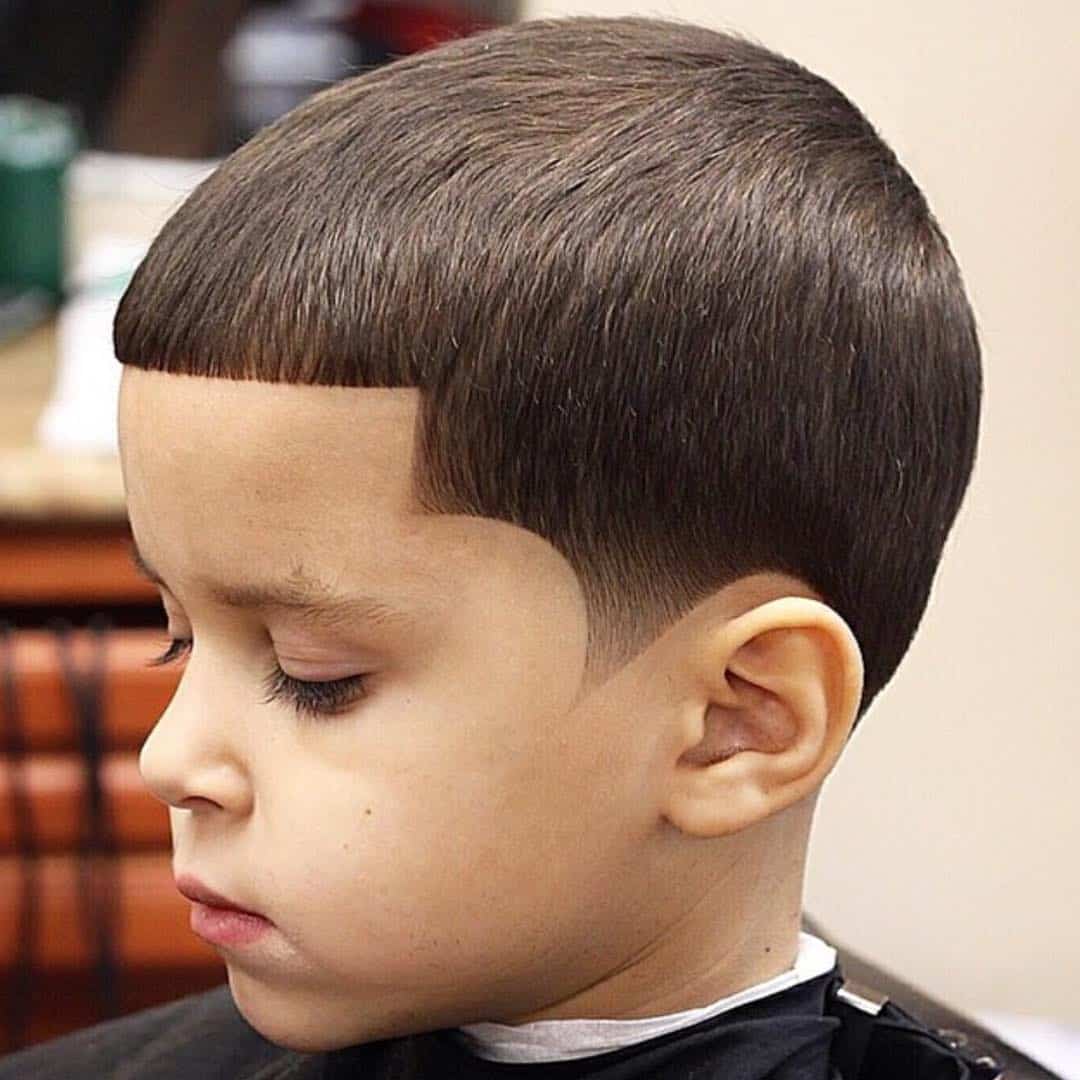 This is probably one of the best looks ever and few other cuts if at all any can look better than this. Everything in this haircut is splendid starting from the volume of the locks, its texture, and perfect length. Attention to detail is crucial in getting a style right, and so the perfect edges are a good indication of this. The edges and angles, especially on the forehead, are perfect, and you need not be told that they were done by a very experienced barber.
# 15 Mid Fade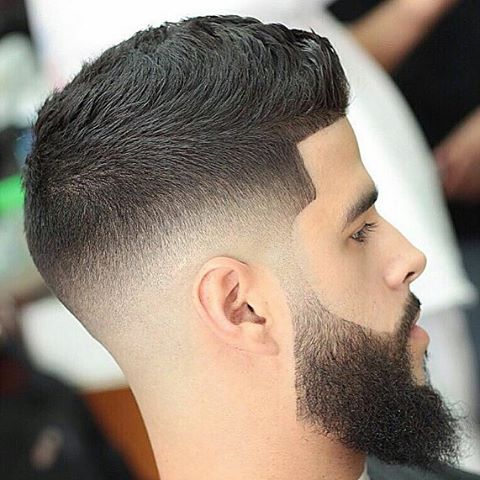 There are many ways that you can fade your hair, and so if you know the look that you want to achieve this style can be perfect for you. The mid fade is probably what will steal the show since it blends in very well with the facial hair. And although the top locks do not look like an obvious Roman's style they can still be categorized as such since they are designed forward.
# 16 Short Natural Curls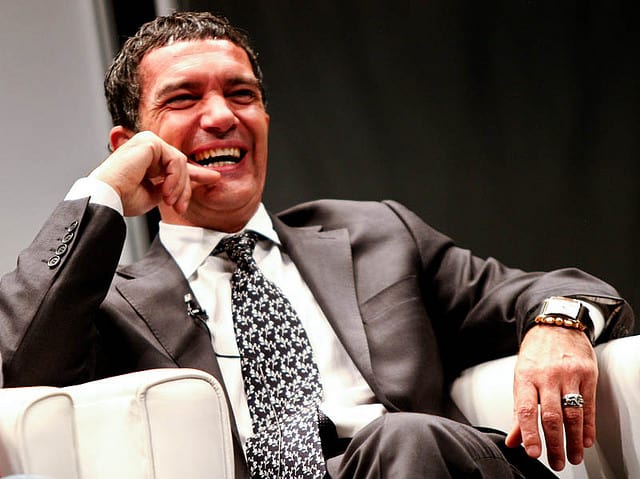 Men with naturally curly locks have the easiest time wearing these styles because all they need is a simple shave or trim and some quality curly product. This is especially so if they want to wear the traditional emperor's look that maintains an equal length throughout. By trimming the curls to about an inch or two inches, you will have achieved this style without having to do much. A clean shaved face will also go well with it as it will make you look neater.
# 17 Gray Hair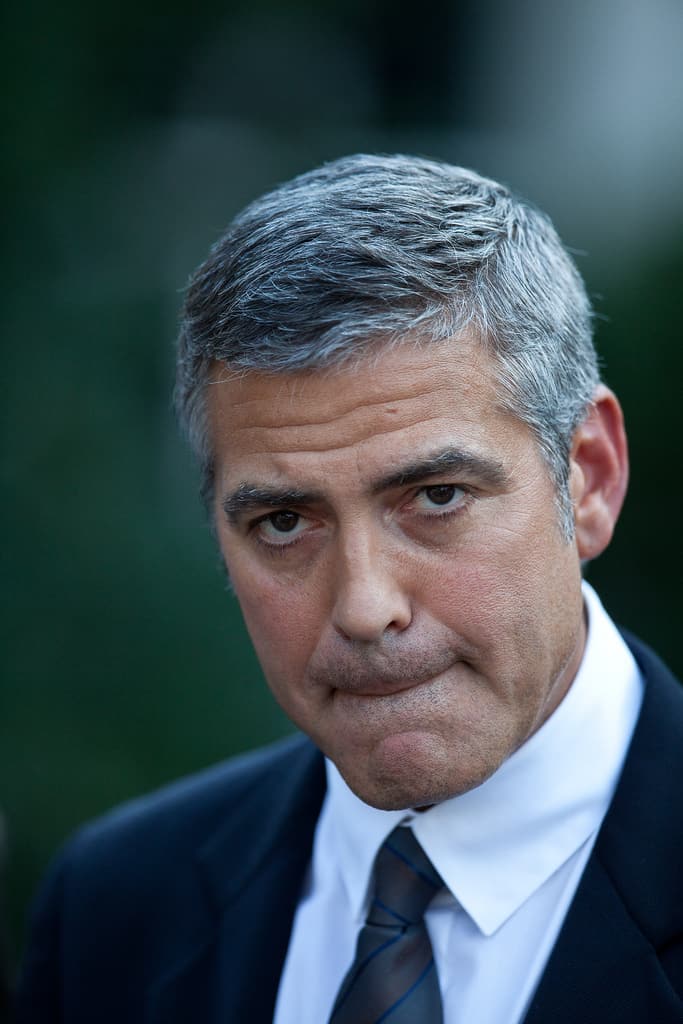 Back in the days, men would go to great extents to try and cover the gray hairs that come with aging, but nowadays most have discovered that they can make an exquisite hairstyle. This particular cut is very simple and besides from the two shallow parts on both sides, there is pretty much nothing fancy about it. However, what makes it stand out is the appeal created by the gray hairs.
# 18 Short & Textured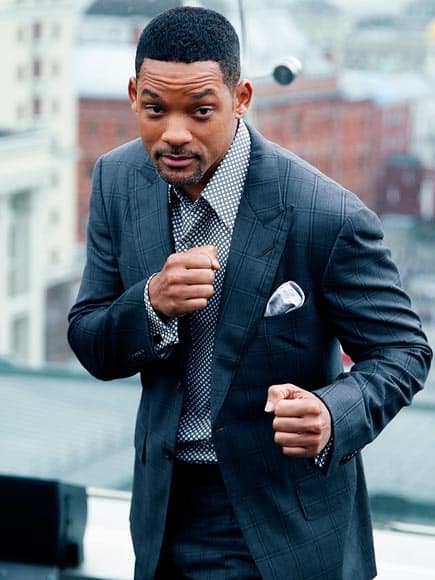 This style will work particularly well for African Americans due to a natural texture and volume of their hair. In fact, all they need to do is to cut their locks short to less than an inch at the top section and slightly shorter on the back and the sides. Those that have sideburns or facial hairs will look much better in this design by shaving the sides and back to the same level with the facial hairs. Although this is a conventional short haircut for men, it has all the characteristics required to be classified as a Caesar cut.
# 19 Gelled Up & Bearded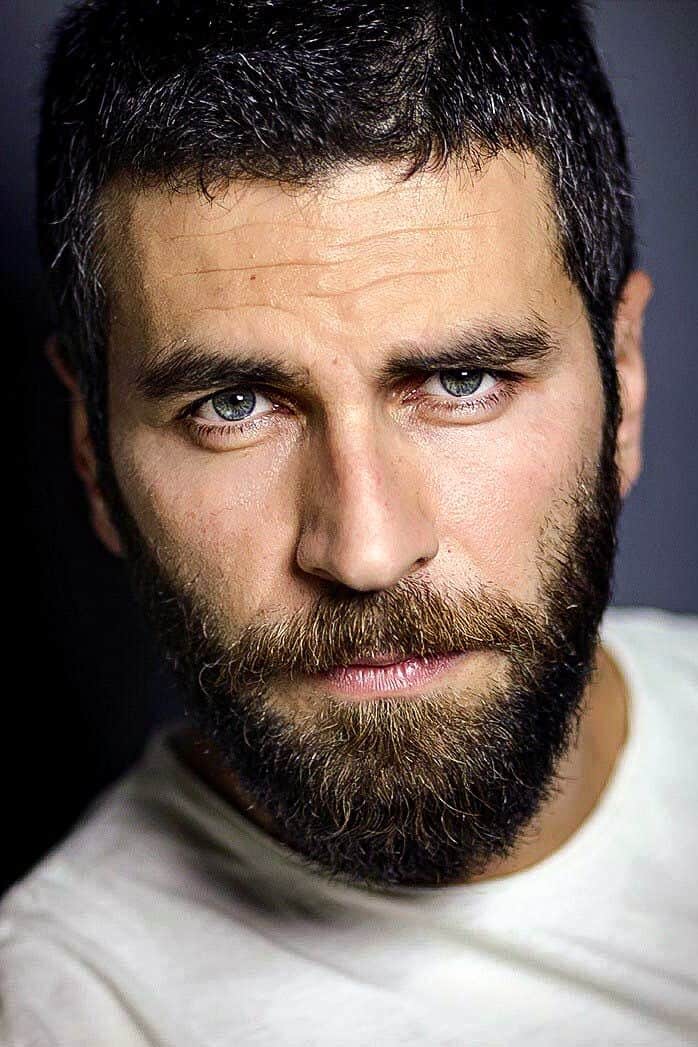 The generous amount of hair product used is what makes this style look fabulous, but apart from this, hair length also plays an important role. Beards always complement the hairstyle, and so this cut makes use of a well-kept beard to finish the look. What is amazing about this cut is that a beard and hair not only have the same length but also the same texture and hence creating uniformity.
# 20 Classic Natural Look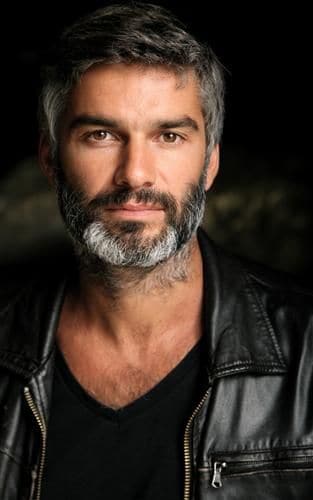 Sometimes all you need to wear this particular do is a quality product and a comb. Besides, from scissor trimming used to make hair in this style uniform, there is no evidence of any other cut and the design still looks outstanding. Hair is also left in its natural state, and there is no attempt to alter the color or try and hide the white hairs that are as a result of aging. To complete it all, you need to do is to create a slight side part and then comb the top hairs forward.
# 21 Messy Elegant Top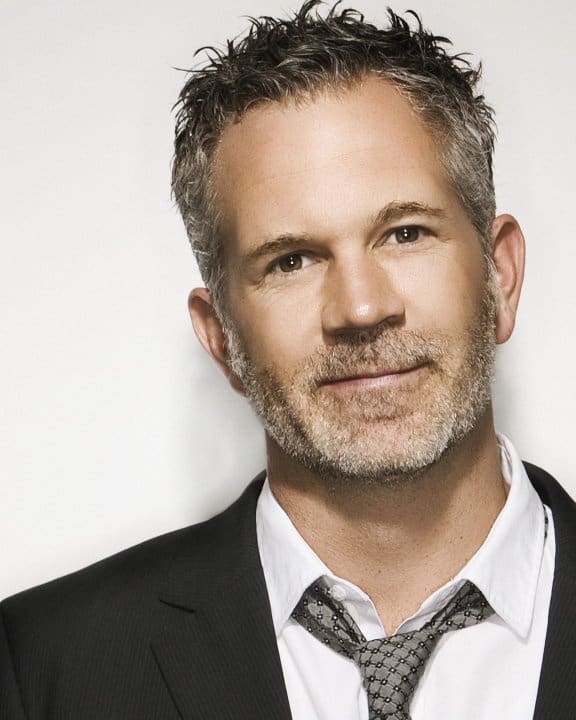 The messy hairstyle is one of the few designs that you can never go wrong with no matter how you do it or what your hair type is. In this look, a short messy top is maintained while the rest of the head is trimmed shorter than the top. Besides from making it messy, all that will be needed to finish the look is to use a quality hold product on the top section.
# 22 Modern Caesar with a Side Part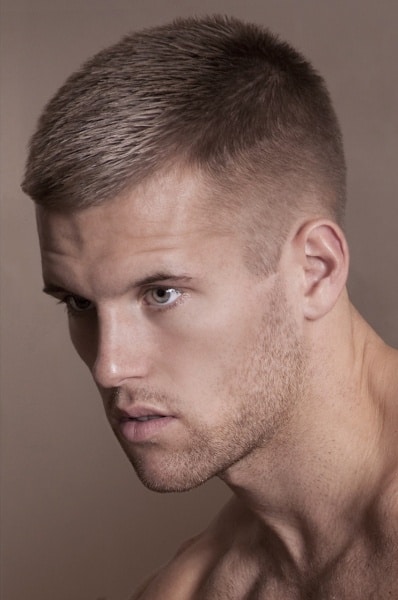 This is one of the most popular haircuts, and it is the typical style that most men try at some point in time. Although it looks like the traditional do in so many ways, a side part, and extra length are two things that make it distinct. The side part should not be deep but should instead be a shallow parting created with the comb. When styling this type of cut you should make sure that all top hairs flow towards a forehead as this is the only way to get the style right.
# 23 Professional Man Look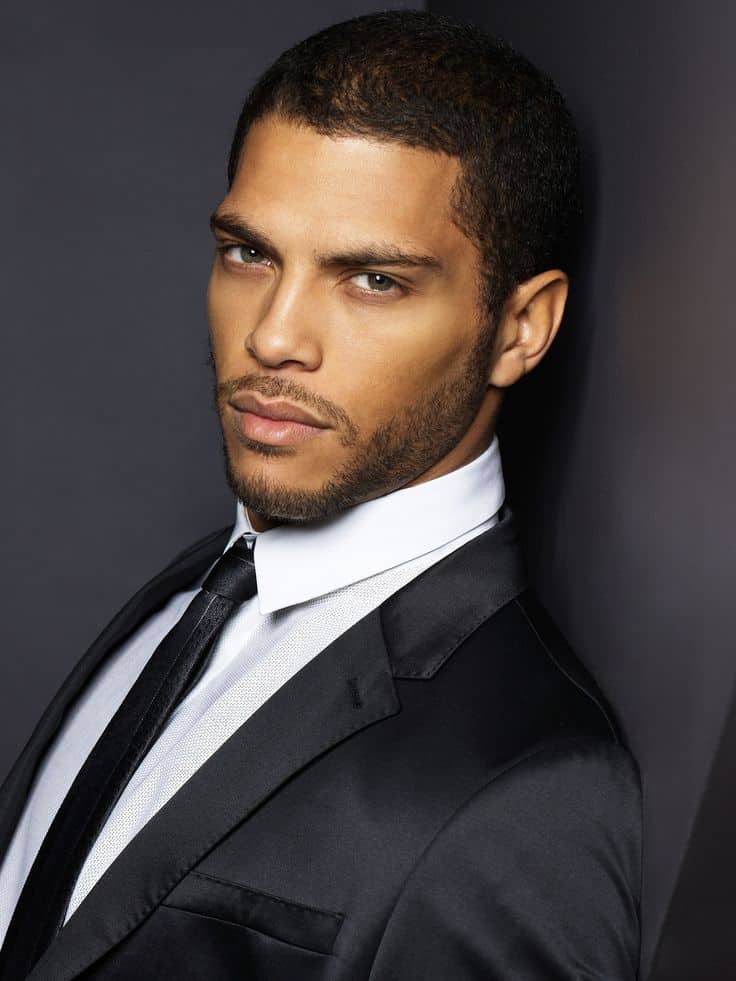 Formal and professional looks require a short and neat haircut that is easy to wear, style and maintain for an everyday look. Professional men or those that like to wear formal looks can go for this style as it meets all this. This style is straightforward and simple as it involves shaving the hairs to a uniform length with the Clippers at level two. The facial hairs can be kept at the same level or shaved cleanly.
# 24 High and Neat Top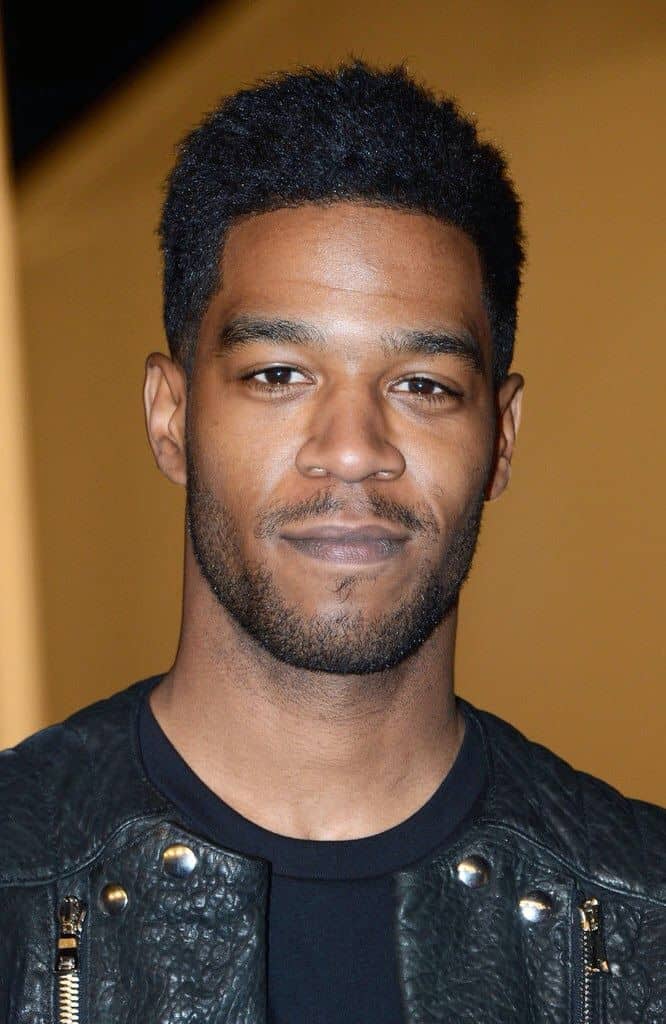 Unlike most other famous Caesar cuts this style does not push the top hairs forward but they are instead styled into a high top. However, the high top is very neat and makes a decent cut that can even be worn for formal occasions. Combining this neat high top with closely trimmed facial hairs makes the style look more exquisite.
# 25 Textured Locks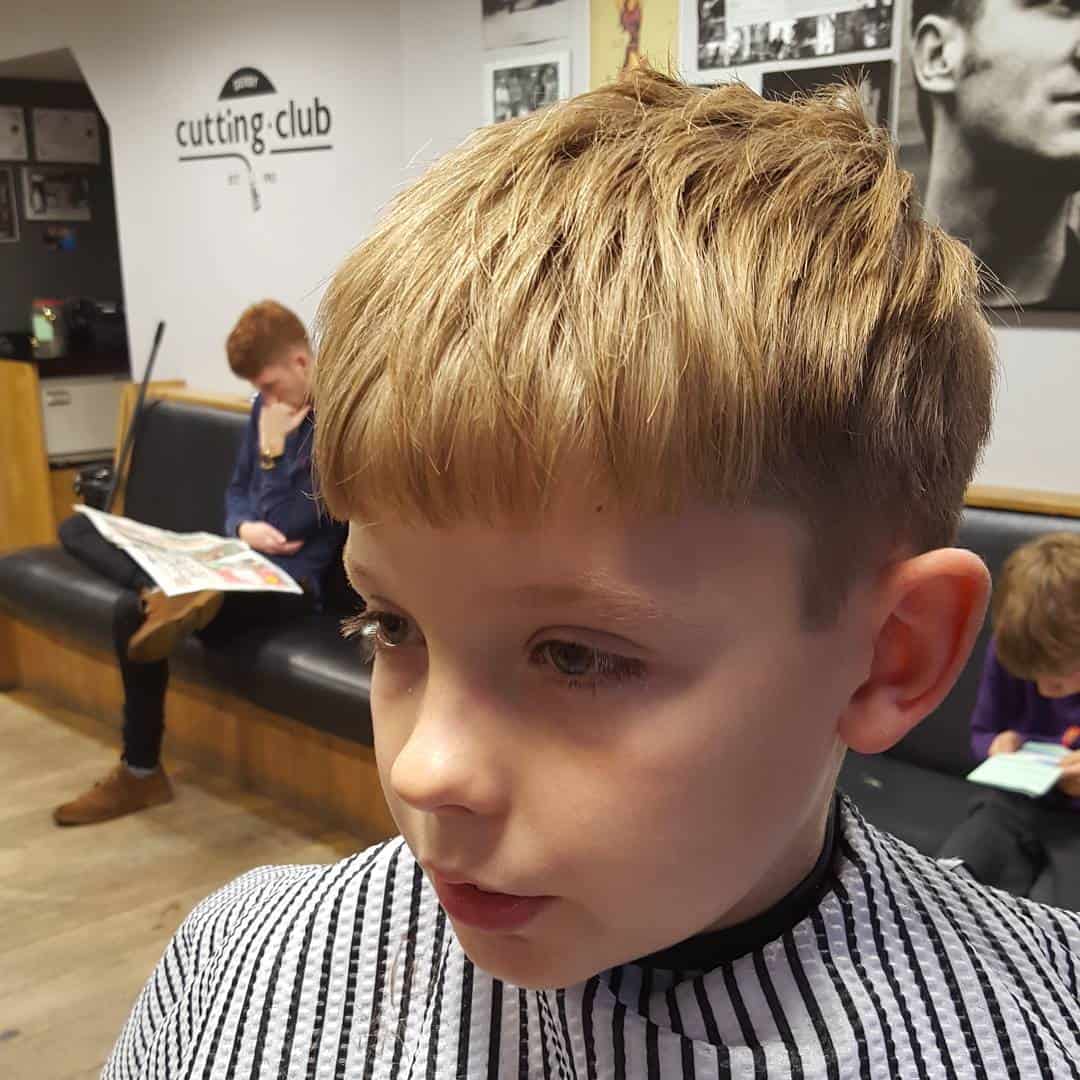 The textured locks create some amazing bangs that are then styled forward to cover a forehead and hence creating an incredible style that will look gorgeous especially on kids. To finish a look, the back and sides are shaved with the Clippers on number 2.
Idea # 26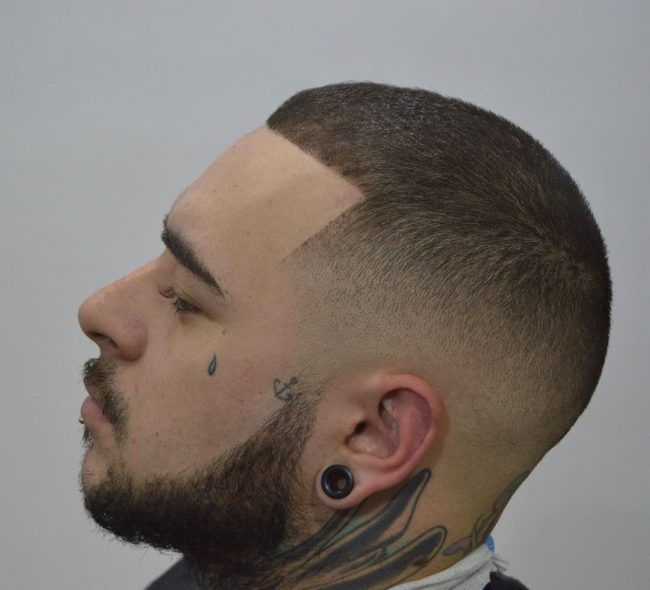 Idea # 27
Idea # 28
Idea # 29
Idea # 30
Idea # 31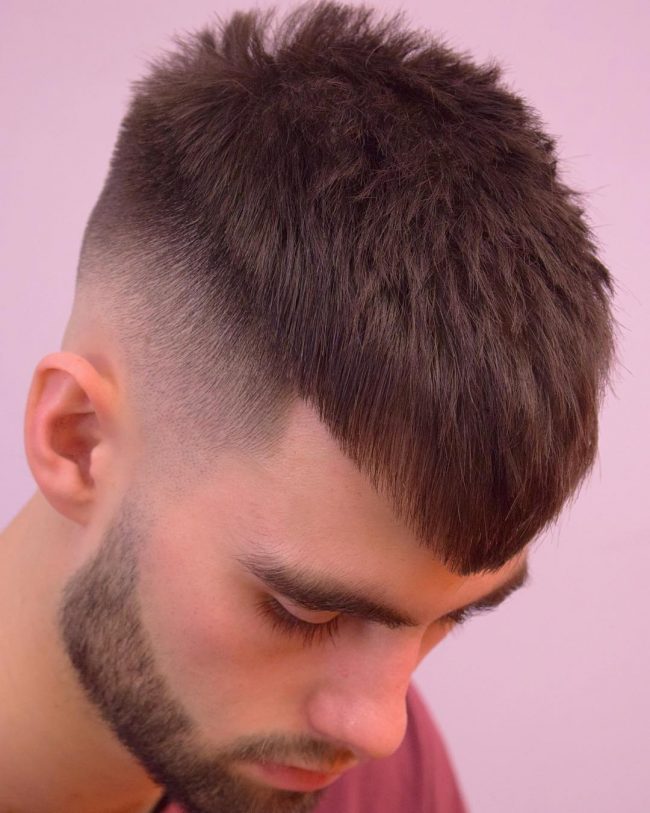 Idea # 32
Idea # 33
Idea # 34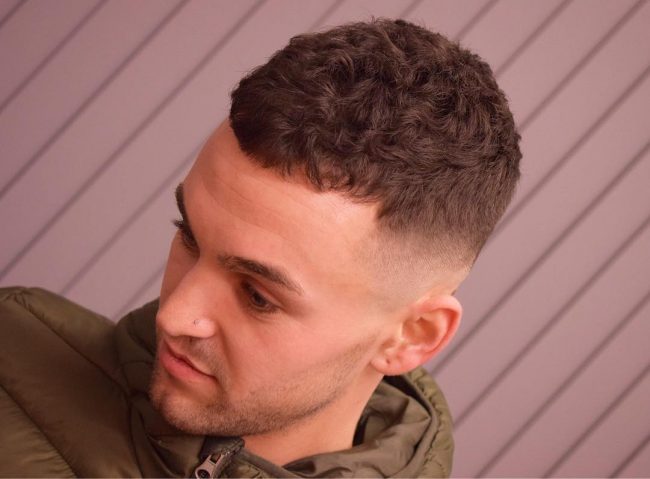 Idea # 35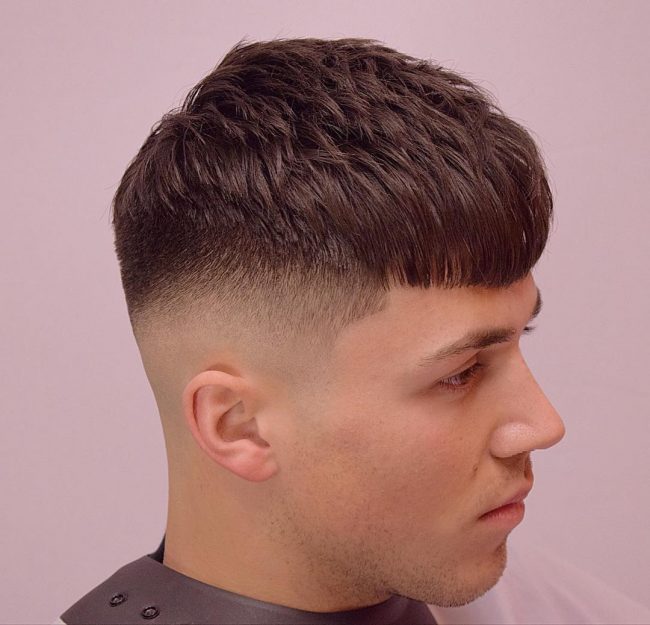 Idea # 36
Idea # 37
Idea # 38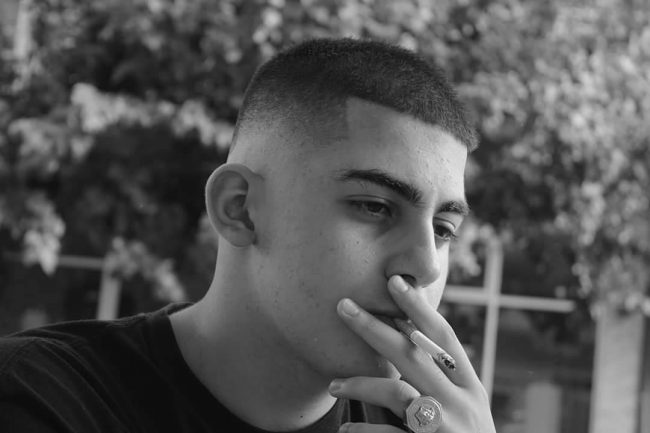 Idea # 39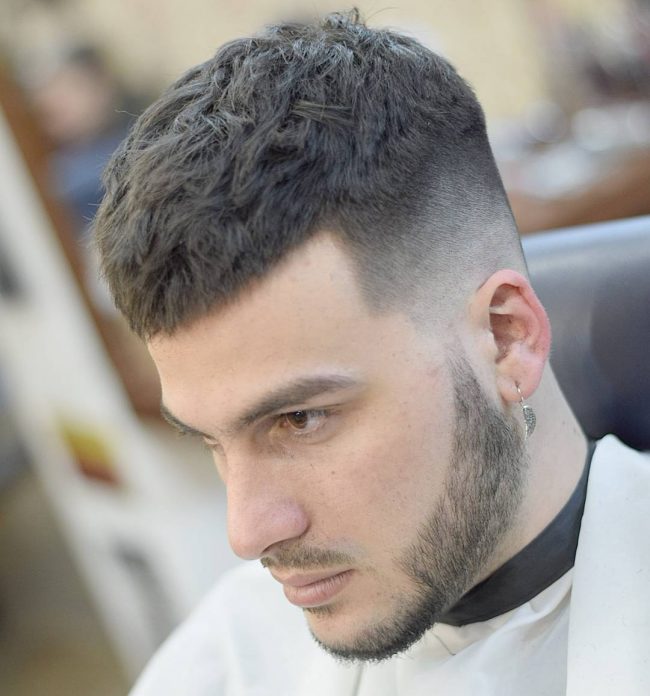 Idea # 40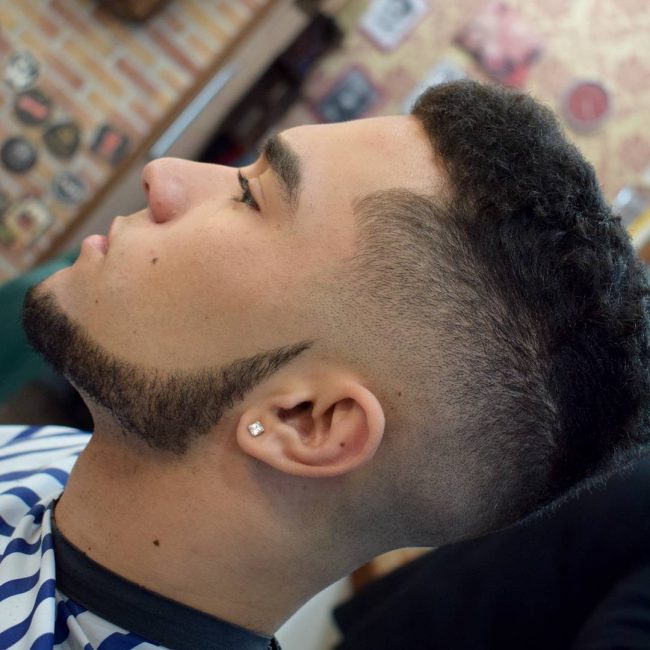 Idea # 41
Idea # 42
Idea # 43
Idea # 44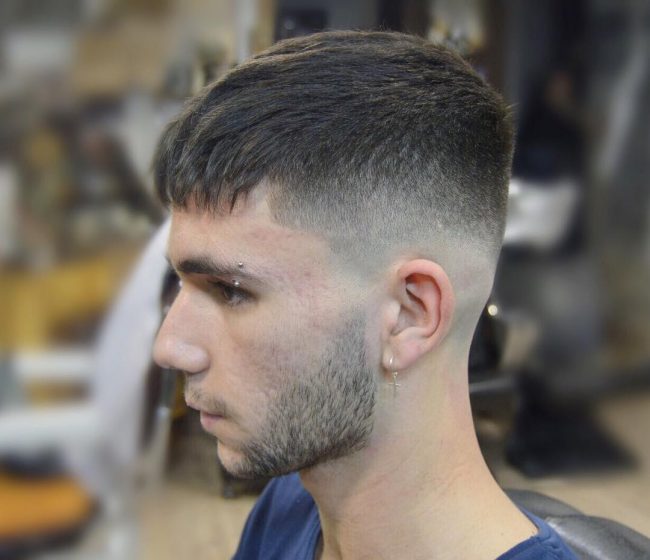 Idea # 45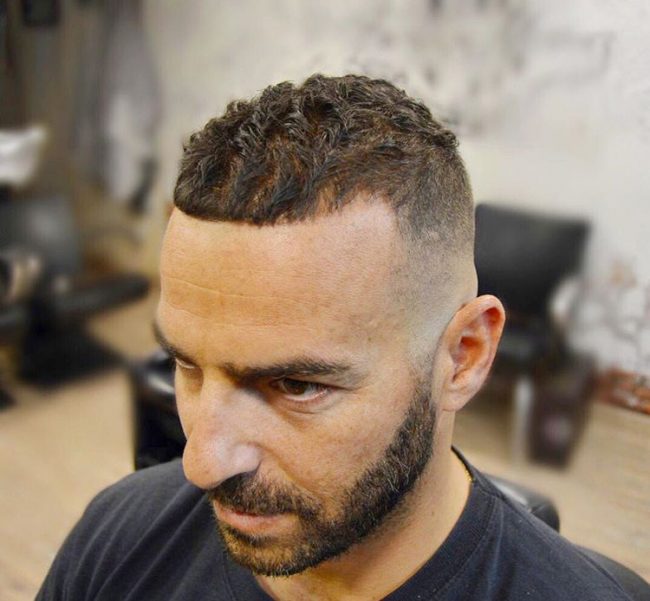 Idea # 46
Idea # 47
Idea # 48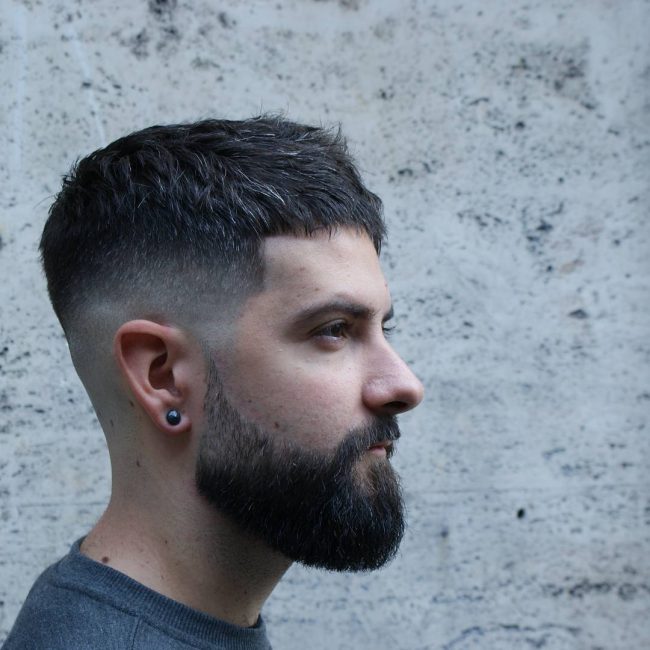 Idea # 49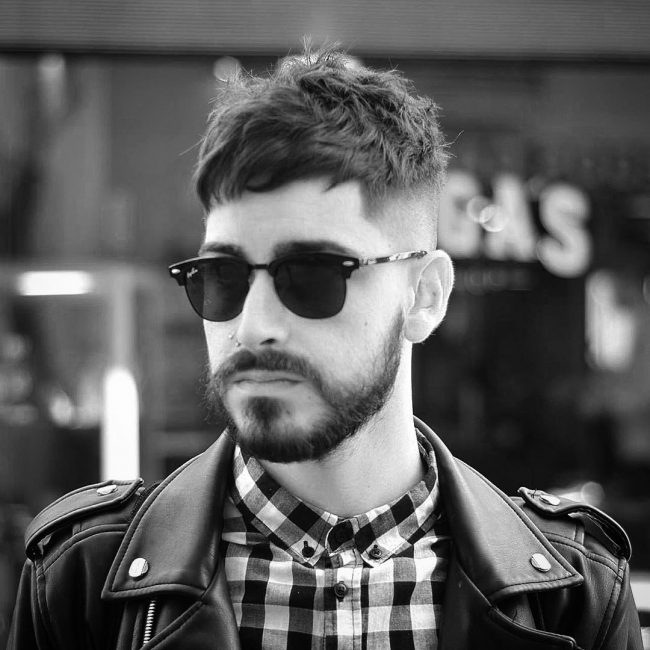 Idea # 50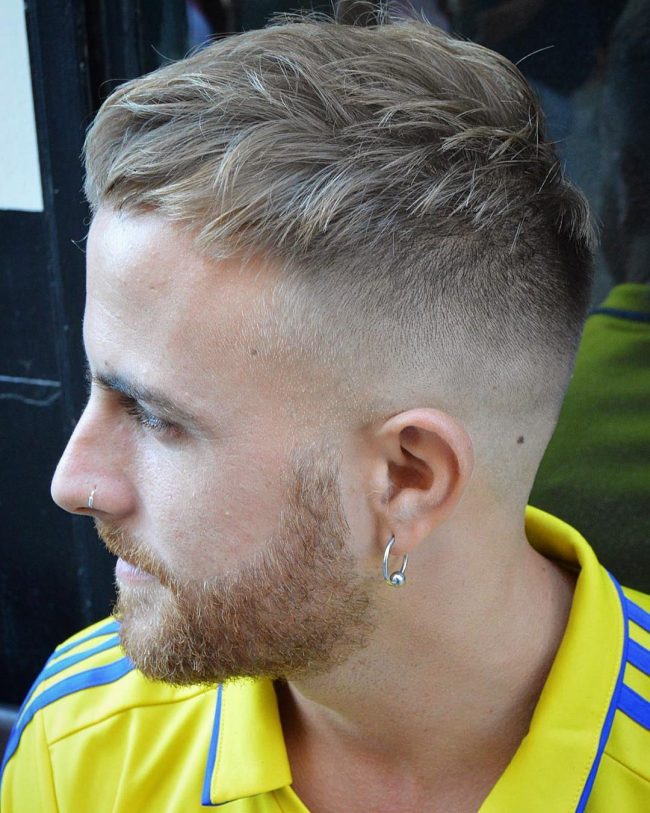 There are many Roman cuts that you can try, and most of them are variations of other conventional hairstyles. And so it is very easy to convert your favorite cut into a Caesar haircut. However, from the above 50 hairstyles, there are probably a couple or more that will look fantastic on you and so the best thing you can do is try them out.