Shaved side hairstyles are very popular with men as they make them look trendy, presentable, cool and stylish. They are also very easy to achieve because you only need to shave clean, taper or fade the sides.
However, the style on your crown also determines how adorable you will look in this modern design. And if you are thinking of trying it out the haircuts below will give you some ideas on how you will look.
# 1 Slicked Back Long Locks
For guys wanting to pair shaved sides with length, keep the very top of your hair long enough to slick back. A little gel to hold it in place, and you have an easy daily look.
# 2 Spiked Dreads
It takes a while to achieve air clumped together into dreadlock-style strands, but once you've got it, shave everything underneath and pile the dreads high. This is far from an everyday look, but the wild style goes down well at parties and festivals.
# 3 Wavy Mohawk Style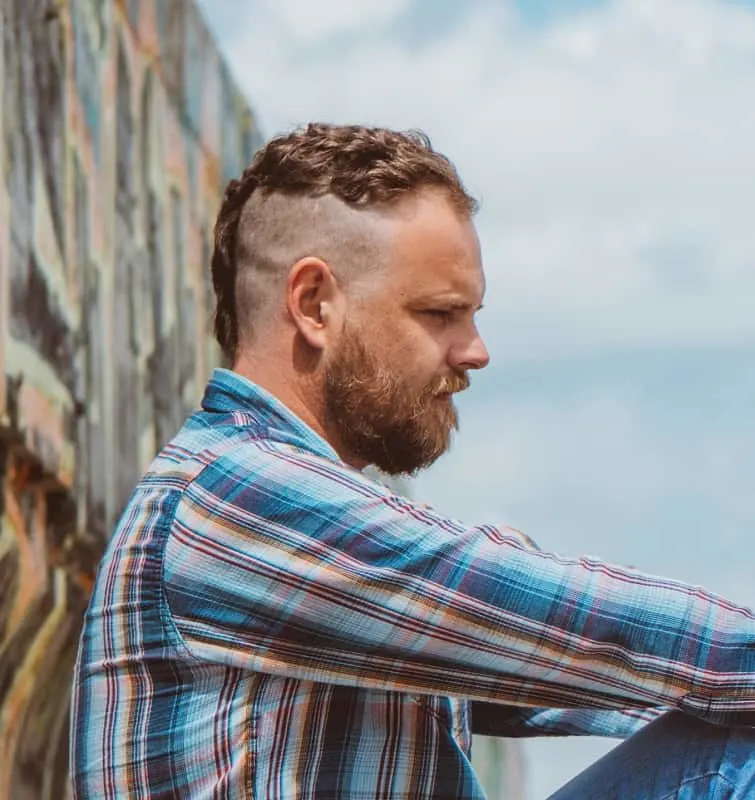 For guys with natural waves, shave everything but the top. You get a mohawk style but far softer and more casual. Push it back a little to style it and you're ready for the day.
# 4 Total Mohawk
For edgier guys, just go for a full hawk. Spike that hair high and thick, for a rocker look that nobody can miss.
# 5 Long & Tidy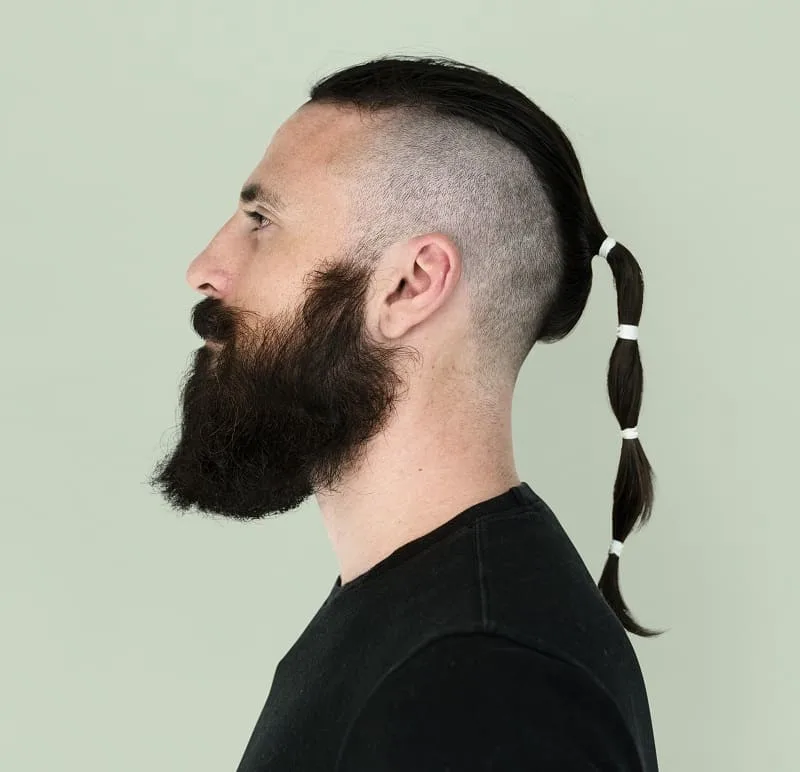 Is your hair even longer than the first model's? No worries. You can still push the hair back, but tie it in a mid-height ponytail to secure it. Add bands along the cascading hair to give you a more unique style. We feel the thick beard sets off the look.
# 6 Side Part and Skin Fade
This hairdo shows that you should not just make the sides short, but you should instead give them a fashionable style like a side part and a smooth skin fade.
And if you pair this with some upswept textured bangs you will look incredible.
# 7 Intricate Razor Patterns
The fancy razor patterns on the sides make this haircut look very classy, and it is hard to believe that it is a traditional Caesar cut.
# 8 Vintage Double Lines
Some short upswept bangs on the crown are lovely, but you can still enhance its appearance with two double lines on the side and a classic high fade design.
# 9 Clean and Neat
Shaved side hairstyles do not have to complicate because if you keep things simple and neat like in this style, you will still look outstanding.
However, you should also have a fancy design on the crown as this also enhances the overall appearance.
# 10 Thick Wave and Blurry Fade
The thick waves on the top in this hairdo are amazing, and they help to make the face appear longer than it is. This style also has an amazing blurry fade that spices up the look and gives it some class.
# 11 Front Swept Blonde Bangs
Front swept bangs are fabulous but the ones on this design look very distinct, and this is not only because of their lovely blonde shade but also due to the perfectly tapered sides.
# 12 Elegant Steps and Curls
Curly locks create a fantastic look, but you can still take their appearance a notch higher like in this style. And to do this, you should create some elaborate steps on the side and give one of them a dazzling light blue shade.
# 13 Slick and Smooth Quiff
A short and smooth patch of hair on the crown can make you look stunning if you know how to style it. A good idea is brushing the strands to one side after giving them some gel and also keeping the sides short and faded.
# 14 Fresh Slick-Back
This style is easier to create than it looks and it involves creating a high tapering on the sides and leaving a few inches of hair in the middle. You should then finish the look with a slick back of the longer strands.
# 15 Classy Man Braid
You can do several things with the longer strands in the middle of your head, but few will look better than this. And it involves braiding them into a simple man braid that you should finish by tying into a ponytail.
# 16 Comb Flat Top
Rather than just go with a traditional flat top and an undercut you can spice up the style by combing it to the back smoothly to create a stylish hairdo.
# 17 Man Bun with Hard Part
What you do with the long strands on your crown determines how charming you look. This style pulls them to the center of the head and ties the strands into a man bun before finishing with a hard part on the side.
# 18 Chunky Brush-Back and Side Part
The locks on the crown of this headdress are longer than what one would expect in shaved side hairstyles. However, the brush back styling over the undercut and the side-part line make it look very refined.
# 19 Upswept Textured Bangs
The volume of the strands on this haircut is amazing, but they also have a lovely style that involves up sweeping the bangs and making them slightly messy and finishing with a tapered fade on the sides.
# 20 Wavy Bangs and Zero Fade
Zero fades are fantastic because you get to have hair in most parts of the head. This fade complements the thick wavy bangs on the crown of this hairdo to make it look splendid.
# 21 Curly and Front Swept
If you have curly locks, you can create this upscale hairdo by shaving the sides. You should then push the curls to the front and finish by making them slightly messy.
# 22 Fancy Rows and a Knot
This style consists of three neat braids that end in a knot at the center of the head. The headdress also has an amazing fade and some elegant razor lines that make it look very exquisite.
# 23 Short and Neat Quiff
The sides of this haircut have a nice fade that exposes the lovely head tattoo. Apart from this the style also has a short and neat quiff at the top that is also very smooth.
# 24 High and Flat Top
Only a skilled and experienced barber can be able to create this high and flat top because it requires a high degree of precision.
This design also has some geometric shapes around the facial hairs and some fading that will also need some skills to achieve.
# 25 Curly Mohawk with Intricate Patterns
Although this style may look complicated due to the intricate razor patterns, it is very easy to replicate it if you have thick curly locks. All that you need to do is to leave the thick hair in the middle and then create the fancy patterns.
# 26 Side Swept Classic Bangs
To create this hairdo, you need to start by tapering the strands on the side and leave a couple of inches of hair at the top. And to finish the look you only need to sweep the long locks to the side.
# 27 Back Swept Waves and Fade
This haircut is very original, and it entails leaving some medium length wavy strands on the crown and then creating a hard line and a fade on the sides.
# 28 Tapered Faux Hawk
A little inventiveness is all that you need to create a fashionable style like this one. It is also very easy as you only need to leave some short spiky strands in the middle and taper the sides.
# 29 Brushed Back Taper Cut
The strands on the crown in this hairstyle look and feel very light, and they make styling easy because you only need to brush them back. However, this style would not be complete without doing a moderate tapering.
# 30 Trendy Bangs and an Undercut
Men haircuts do not require any complicated cut or styling to look elegant. A design like this one only requires some moderate trims to give the bangs on the top some texture.
You should also create an undercut and style the bangs inventively to create a trendy look.
# 31 The Disconnecting Fade
Fading is also a practical design because it creates a disconnection between the short layered bangs on the crown in this haircut and the massive beard to ensure that both draw attention.
# 32 Clean Upswept Mohawk
A gentleman look like this one will make you stand out everywhere you go. It is clean and neat, and it has an amazing fade on the side that enhances the appearance of the upswept strands at the top.
# 33 Sleek Tapering and Side Sweep
Some men do not like cutting a large chunk of their hair, but this should not be an issue because a style like this one will work for them. The strands are a couple of inches long with a simple tapering, a part line, and side sweep.
# 34 Messy Man Bun
This haircut is another example of a fashionable style that you can create without chopping a huge chunk of your hair.
It entails pulling the long strands into a loose and messy man bun and shaving a few inches in the sides to create a lovely fade.
# 35 Free Flowing Locks with Subtle Undercut
You do not have to do much to create a perfect shaved side design if you have long wavy locks like these. All you need is a subtle undercut on the sides and two simple razor lines.
# 36 High and Layered Bangs
Layered bangs are very fashionable, and you can make yours look distinct by having them only on the crown and fading the sides. You should also create a soft part line to separate the two levels of hair.
# 37 Blowback with Neatly Shaved Sides
You will need to use a blow dry to get this perfect blowback, and it also helps if you have voluminous hair. It is also vital to have some neat, and smooth sides as this will enhance your appearance.
# 38 Redhead Combover
It is very hard if not impossible to find any flaws in this redhead. Apart from the lovely colour it also has a fantastic comb-over on the crown and a classic fade with geometric shapes to line up the facial hairs.
# 39 Cropped and Textured
This design is also flawless, but its beauty comes from the smooth fade that perfectly blends into a textured crop cut. And you finish it by sweeping the short bangs frontwards in subtle layers.
# 40 Sleek Combover Undercut
Even if you do not like short haircuts, this fantastic hairdo will still impress you. The style consists of some smooth strand on the top and an undercut. You should style by combing them over the undercut to create a refined appearance.
Idea # 41
Idea # 42
Idea # 43
Idea # 44
Idea # 45
Idea # 46
Idea # 47
Idea # 48
Idea # 49
Idea # 50
Idea # 51
Idea # 52
Idea # 53
Idea # 54
Idea # 55
Idea # 56
Idea # 57
Idea # 58
Idea # 59
Idea # 60
Idea # 61
Idea # 62
Idea # 63
Idea # 64
Idea # 65
Idea # 66
Idea # 67
Idea # 68
Idea # 69
Idea # 70
Idea # 71
Idea # 72
Idea # 73
Idea # 74
Idea # 75
Idea # 76
Idea # 77
Idea # 78
Idea # 79
Idea # 80
Shaved side hairstyles are trendy, and almost every man wants to try them at some point. Whether you prefer formal or casual looks, they will still work for you, and so you only need to choose one of the 80 above or use it for some inspiration to create your unique look.