Does it ever cross your thoughts which Adam Levine haircut would best suit you? Love or hate him, he is a star whose influence on fashion has been phenomenal.
About him, you would not miss noticing his trendy hairstyles that thrill fans whenever he is performing. If it does, here are top of his 60 hairstyles that you may adapt and who knows what fame may come your way.
# 1 Undercut with Stylish Centre
Here's a minimal style where Adam wears an undercut with a small section of hair on top. He slicks it back for a trendy look.
# 2 Ruffled Fohawk
In this look, Adam wears a slightly ruffled fohawk style. It's typical, short on the sides and longer on top with a spiked, messy look. This would suit guys who want to look like they put in minimal effort, but still look hot.
# 3 Slicker Fohawk with Undercut
Here we have a unique take on an undercut, where the cut begins mid-way down the sides of the head. There's a sharp contrast as it transitions into a longer, slick fohawk style, for a cool but clean appearance.
# 4 Long Messy Spiked 'Do
For guys who want to keep their hair longer, this Adam Levine haircut is perfect. The hair is long, but longest on top and swept up into a casual spiked look. It's almost a wind-swept style that appears natural, great for thick hair.
# 5 Shaved Sides with Quiff
Another long-on-top 'do, Adam wears the sides shaved short, letting the neat quiff draw all the attention. The buzzed but stubbly sides blend seamlessly into his scruffy facial hair.
# 6 Clean Cut Sides with Top Swept Up
Here Adam cuts a clean but casual look, with short sides turning into a longer style on top. The top and front of the hair slants upwards, for a precisely styled spiked look. This would suit guys who want to look like they put effort into their appearance.
#7 Beard and Buzz cut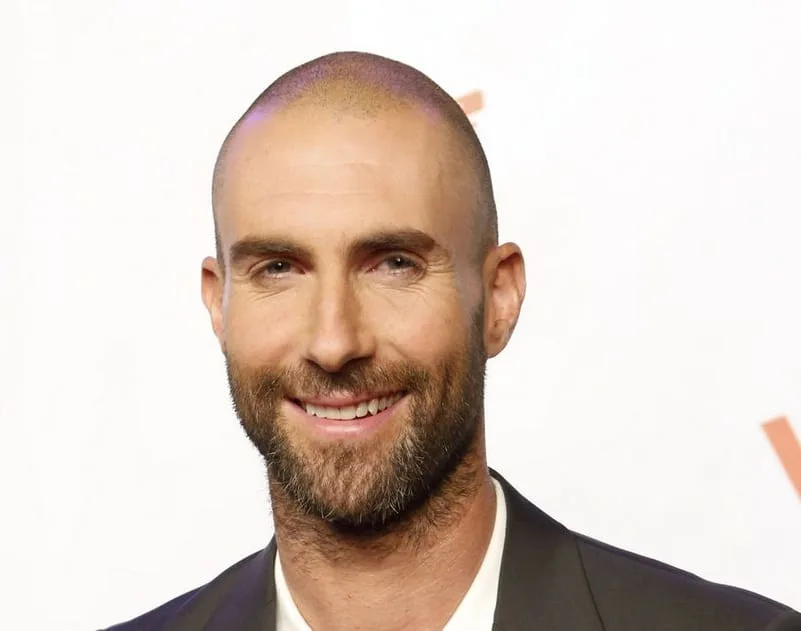 Adam is one of those guys that can pull off a buzz cut. Shave your head and grow a scruffy beard to keep all attention on your facial features.
# 8 Edgy Fohawk
Yet another Adam Levine fohawk cut, this time it's spiked on top for an edgy and controlled look. Rather than fading on the sides, it's a drastic change from short-cropped to stubble for a unique appearance.
# 9 Short Shaved Spikes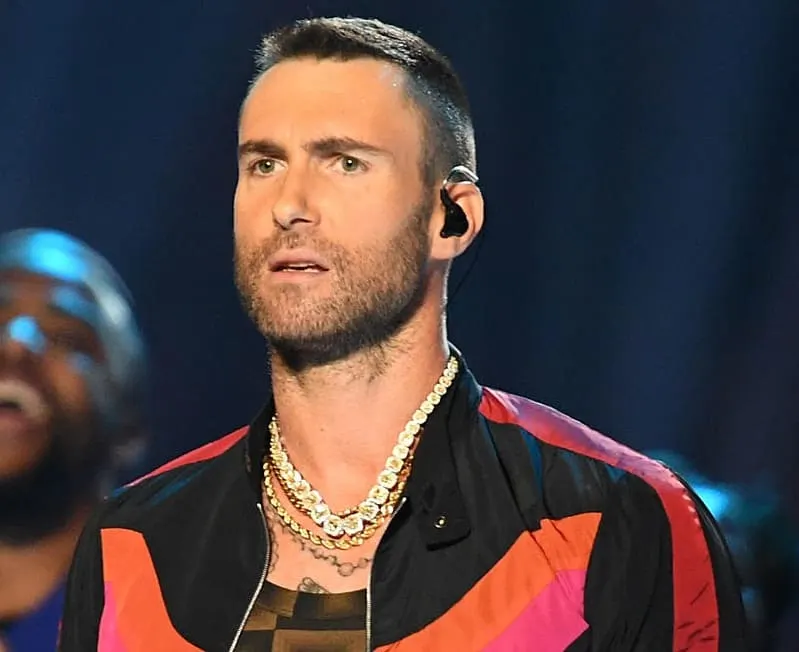 Here Adam wears his hair mostly uniform, with the tiniest difference in length on top. It's enough to ruffle into a spiked look, but not one you'd need a product to style. Perfect for a low-maintenance hairstyle.
# 10 Mini Mohawk
After all those fohawks, here's a real mohawk at last. It's short and subtle, long enough to be soft but with no length to grab. We think the thick beard tops off the look wonderfully.
# 11 Short & Official
Whenever he is in his official looks, Levine wants everything to complement it. In this particular time, he is attending an interview and you can see that his hair does not fail him.
It is a short trim where the sides are brushed to a downward trail with the longer top styled to a glossy mop. It is perfect and, of course, one of the most iconic cuts that he pulls from time to time.
# 12 High Pomp
Probably out on a casual stroll with a friend, Levine does not let his style guard down. His hair is designed into a high-top flip with dropping sides that are combed into sleek fineness.
Every detail is put with an intention to bring out his gorgeous cheekbones and face. You cannot stop admiring such an appearance or go ahead and have one for yourself.
# 13 Neat Spikes
The red carpets are a norm that he has to live with. To look impressive as always, here the star chose to go with the spiked top and you would not have advised him otherwise if you were his stylist.
The sides are fading in size with a downward comb while the top is left with sharp tips slightly pointing towards the back.
Spiky all the top is such a greatness that brings out his lovely looks and the girls go berserk when he climbs to the stage.
# 14 Shaggy
Getting ready for a performance in a cold weather is not easy for any artist. Levine understands this better and that is why the shaggy appearance shows up as one of his trademark haircuts.
He fades the sides by combing them backwards to a smooth bed. The top crown is left racing and shaggy with a trivial flip towards the back. Even though he is known for his soft looking cuts, the shagginess does not dull his handsomeness.
# 15 Long Waves
You can see that in this performance, his hair does a great impression on the fans.
Of course his lively stunts on stage entertain but you can't help but notice how his long waves are perfectly suited for the concert.The top is left wild, long and wavy to an admiration noticeable from all angles.
# 16 Side Swept Business Like
Performing is a business to artists and that is why your every look should be complementing what you are doing.
Levine has his long top patch swept to the sides and it can be simply styled with your fingers. Typically, his sides are drawn downwards and what an awning appearance when you look at him on the stage.
# 17 Broad and Flat
Just getting ready to perform, his hairstyle speaks volumes about him. The lower sides are shaved to the skin. The top is left broad as it starts from the falls of the sides and it ascends with an increased length.
It makes a flattened bed with a rising bundle at the front. At the forehead, there is an intention of short bangs which emanate from the corners of the portion.
# 18 Faux Hawk
The Mohawk imitation has never been shy from making an impression even among the most decorated celebs.
Levine is renowned for making the medium hawk style his trademark and he created a buzz with it that many men have imitated the same.
The sides are combed downwards to excellent smoothness. The top begins at the top fall of the sides and it is brought together to form a lofty appearance.
# 19 Undercuts
You can bet right that there is no other celeb who has a better taste for the undercuts than what you have seen from Levine.
Here the sides are demarcated into 2 layers with varying length. The breathtaking effect is on top where there is an overlap of the curly and wavy layer. It is such a great appeal and will be perceptible to the fans he is just about to entertain.
# 20 Military Style
The boys in blue have an influence on artists and Levine has made a good use of this. In this performance, you can see that his excellent cheekbones and face are exposed for all to see.
The sides and back are faded to the skin while the top is trimmed to a short side and then pressed to form a flat landing.
# 21 Quiff Style
On his casual outings, here he looks to the best of his element. It is generally a long style with the sides parted to fall towards the ears. The top is designed towards the front where it makes a rising quiff.
This is the genius creativity that is packaged in this simple cut. Succeeded by his trimmed sideburns, it is such an endearing appearance that you can also borrow for your hairstyle rebranding.
# 22 Sexy Short
Levine is not obsessed with long hairstyles and that is why you will mostly see him in short or medium cuts. In this one, he decides to sing his heart out while in this sexy short look.
The faded sides are not shaved to the skin but they are left with some fine layer. The top is left thick and combed to the forward. It complements his wild beard which is always trimmed to less than an inch from the skin.
# 23 Long Top Short Sides
Even when going out for a motorbike ride, you would not find Levine hairstyle wanting. He has the sides cleared and brushed to a smooth bed that is overshadowed by what is coming at the top.
The top is left long and makes backwards waves which end up before reaching the drop of the head.
# 24 Smart Look
Levine is a handsome guy but here he is a notch higher thanks to this smart look. The sides are typically combed into a smooth fall. They are in sync with the sideburns which fade as they go down towards the chin.
The smartness is at the top where it is cropped into a thick bundle but with a few spikes. It is one of the few looks that you will notice that Levine has a stunning hairdo.
# 25 Buzz Cut
It is close to a bald but it does not go as close to the skin. The sides are cleared to bareness but at the top, some short hair stubs are left.
It is a 'cool' cut that brings out the beauty that he hides with his conventional medium hair. It tells you that Levine is an adventurer in his fashions and he will never look out of place with whatever he chooses.
# 26 Blond Singer
You may not have imagined seeing him in a blond bloom but now you can see it clearly that Levine is the king of haircut juggling.
On a weekend that he is decided to relax, he has his blond mane brushed downwards on the sides. The long top is flipped at the tips to what seems like a shadow on the other side. Nevertheless, he is as cute as he always is.
# 27 Perfect Fade
Fading style has been popular since the 80s and that buzz is never going to die down any time soon. Not with the stars in the calibre of Adam performing in them. The sides are faded to the skin but the fade decreases as you go up.
The transition to the thick top is flawless. You can see the waves made by his natural hair that he likes to flaunt. It is a perfect match for his stature.
# 28 Slicked Back
Coming home to be greeted by his little puppy you would expect him to have a rough hair look. But no, he is in the slick back that is a perfect design to go to with his bearded face.
All the hair is combed backwards to a severe smoothness and there are efforts of a part that seem to get lost in the thick mop. For his fondness for suits and classic wear, here is a cut that bolsters it.
# 29 Messy Locks
When he wants to get messy, he simply has to do it with his hair. The top is not touched but rather left to make absurd locks. They are not tended and they point in all directions.
The result is a roughness that you would have never envisioned on a guy you did not know to be sloppy with his looks. But once in a while, he lets his head rough but the sides are always smooth.
# 30 Spiky Crown
You can see what looks like a king's spiky crown on his top head and you would appreciate having such a design.
The top is not long to make the spike stand vertically. The sides are directly an inverse since they are scoured into a soft mat in a downward run. It is simple and flexible, an attribute that is in his all top haircuts.
# 31 Blow Dried
Does he blow dry his hair? You would ask so once you see this style. The truth is that his hair is not dyed but it has been formed to such a look. The overall impression is of thickness that is such a masterpiece you would want on your head.
The sharp edges at the forehead leave his jaws and cheek bones exposed and admiration is only what would come from his fans. It would not be a bad idea to crave to have the exact appearance.
# 32 Peaked Fringe & Fade
He is on the stage and the lights have made his fresh cut look glamorous on the top. Sides are not shaved to the skin but they leave a smooth mat that is brushed towards the back. The top fringe is also combed backwards.
It ends just before it makes the drop towards the nape. There is the demeanor of a rock-star that all the girls would want to have in their man.
# 33 Short Mullet
You are likely to see the best of him when he performs. The answer is simple: he never wants to disappoint with his looks since the music is always a hit.
The hair is trimmed in short strands and then styled to appear like a squat mullet. The front makes an effort to go beyond the hairline but only to be abruptly ended in blunt tips.
# 34 Perfect Hot
There is never a debate whether he is hot or not. The question is how hot he can get when he wants to. With the perfect hot hairstyle, he appears to be from another planet of handsome people.
The sides are parted from the top by clear straight lines but they get bleak towards the back. The top is in vertical waves which are only curled at the tips.
# 35 Long Wild Hawk
It is not in his norm to go for long haircuts but when he does you can see it is perfect. He does not ditch his faded sides but he goes wild with the top making it long and wavy.
The center of focus is how the top makes racing vertical waves to all directions but they are all in a synchronized pattern.
# 36 The Casual Look
In his casual weekend, he can let the hair unkempt and leave it curly. He even does not flatten his sides and leaves them to rhyme with the rough top.
But as much as it is a carefree type of a cut, it ends up great and you would borrow a thing from it.
Idea # 37
Idea # 38
Idea # 39
Idea # 40
Idea # 41
Idea # 42
Idea # 43
Idea # 44
Idea # 45
Idea # 46
Idea # 47
Idea # 48
Idea # 49
Idea # 50
Idea # 51
Idea # 52
Idea # 53
Idea # 54
Idea # 55
Idea # 56
Idea # 57
Idea # 58
Idea # 59
Idea # 60
There is no doubt that Levine is an icon of hairstyles. You have been a solid fan of Adam Levine haircut and asking how you would have one on you.
Now you have 60 of his best pieces to choose from. You do not have to be a celeb to look like one so go ahead and make a pick today.