In the business world, it is important to have a neat professional hairstyle. You want to look trustworthy and palatable to all tastes.
The way you cut and style your hair is crucial to making good first impressions and messy hair is just not acceptable. But workplace-ready hair need not be boring – take a look at some of these corporate styles.
#1 Sleek Haircut with Undercut
You can't go wrong with this hairstyle if you work in an office where you need to sport professional looks. To adapt it to your tastes and cravings, trim the sides as much as you like. Also, make sure the hairdo suits the office rules.
#2 Slicked Back Hairstyle for Office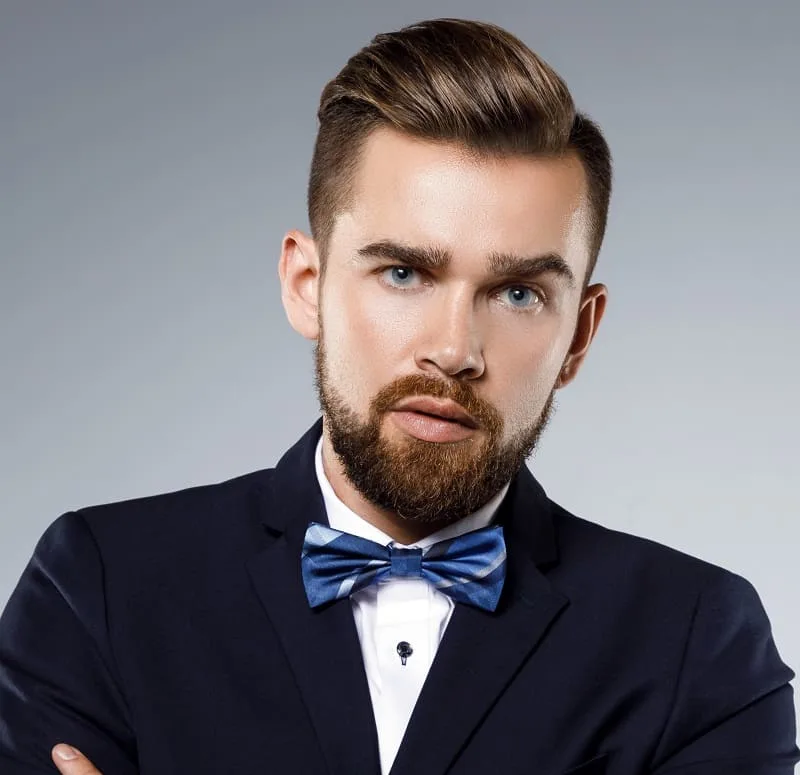 Whether you have to look presentable at the office or you need to attend an event where you must pull off a sharp, neat appearance, this slicked-back hairdo with short sides is the perfect idea for you.
#3 Slicked Back Hairstyle with a Taper
Get a low taper fade for the sides and back and using the top hair, create a sleek bump. It will make you look professional, the hair will be polished, and you will perfectly balance simplicity and elegance.
#4 Low Bun for Men
White collars are not often allowed to keep long hair, but if you have a more relaxed job, create an undercut in the back and get a low bun. You will express your personality by looking groomed and sleek.
#5 Afro Hair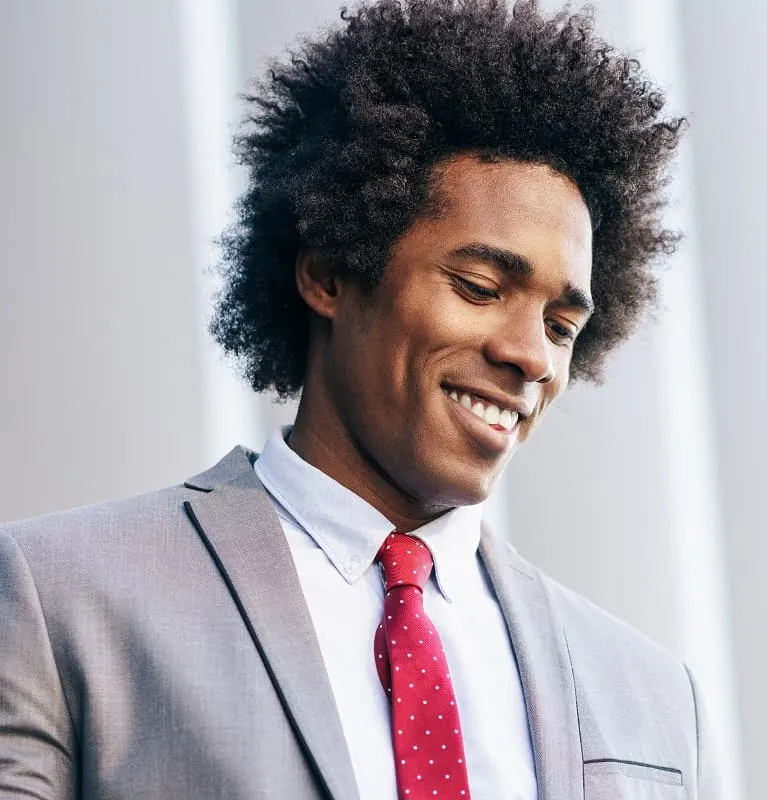 An Afro hair can look professional as long as you continuously define those coils. Use a sponge, apply jam directly on your ringlets or the sponge and rub it on that dense hair to form the loops.
# 6 Professional Hairstyle for V Hairline
V hairlines are very common and there are several hairstyles that can make you look mindblowing. Keep the top hair longer and comb it slightly on your back or opt for a messy look by giving it a tousle.
# 7 Ivy League Hairstyle
Ivy League hairstyles are incredibly cool and they can also make any man look like a true professional. The hairstyle has short sides and a longer top that can be arranged on either side.
# 8 Pompadour Hairstyle
Quiffs and Pompadours are stylish, classy, and elegant and are incredibly suitable hairstyles for professional environments. Go for a long mid taper fade on sides and comb over the long top.
# 9 Wavy Hairstyle
The side part is one of the most common choices when men need to look professional. If your hair is wavy, keep it in medium length and swoop the bangs on one part. Complete the look with a short beard.
# 10 Undercut with Swept Top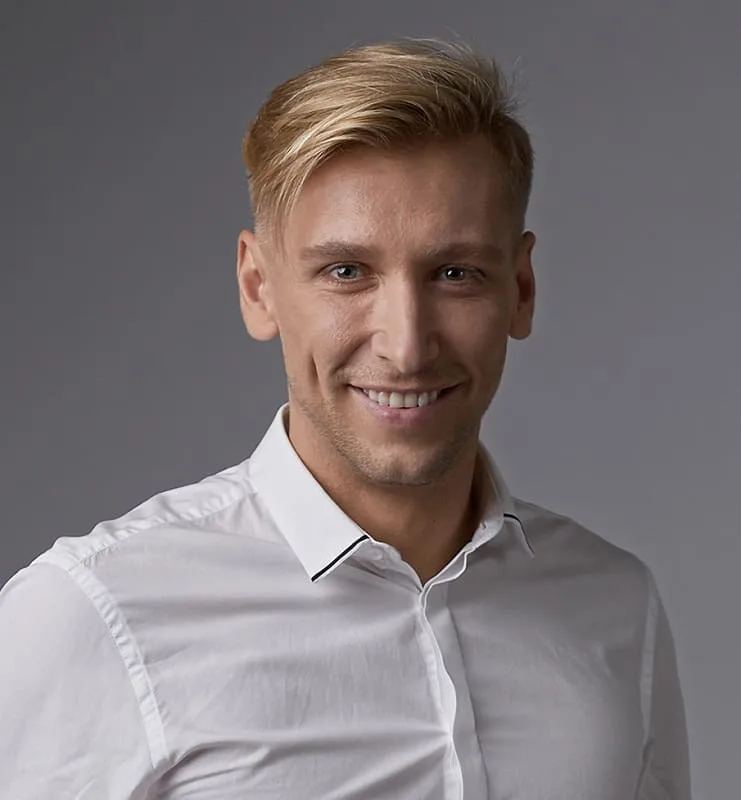 If you want to look impeccable, go for an undercut with a long top. The key to recreating this remarkable hairdo is in the quality of the hair products. They can offer that perfect finish that makes you look sexy and sharp.
# 11 Sleek Shadow Colored Hairdo
Professional doesn't need to mean flat – here we see neatly brushed sable locks, with a side parting, that have been blow dried to have created lift over the forehead.
# 12 Man Bun is Ready for Business
This guy has long hair, which can sometimes be difficult to style for the workplace.
However by sweeping the hair away from his face, combing it back and securing it in a loose man bun he has managed to look smart and ready for business!
# 13 High Projections
Here the shiny biscuit brown hair has been blow dried and then lifted straight up from the face using the product. The result is a bold style, perfect for downtime or work.
# 14 Golden Brown with Neat Clipped Side
In this picture, we see short razor trimmed sides with longer hair on top. This shiny hair has been combed back with a slight lift to fall naturally.
# 15 Sleek Copper Colored Look
The color of this hair is eye-catching but it is balanced well by the "no nonsense" styling. Here the sides are just slightly shorter than the top hair, which has been sleeked back.
# 16 Angular Attention Grabbing Style
What works here is the way that the beard and hair both have been styled with straight lines meaning they complement each other perfectly.
While the dark brown hair has been left longer on top there is a high undercut along the side. The look is completed with an interesting off-center parting.
# 17 Smart Hair in Midnight Black
His short hair has been given a precise side parting while the rest has been smoothed back neatly. This is the perfect look for a man working in a corporate company.
# 18 Short and Tousled Hairstyle
This style is laid back while still being presentable enough for work. The sides are short with longer hair on top and the finely ironed hair between the two that adds texture.
# 19 Ultra Slick with Precise Parting
This undercut has been graded up to a super straight side parting while the hair on the other side is neatly combed straight.
# 20 Salt and Pepper
Here the salt and pepper hair has been given a fresh look by blow drying into tousled waves and adding lift on the fringe. A perfect look for the older business man.
# 21 Rich Walnut Color with Waves
Thick dark waves help add height to this flattering style. There is also a small unstructured side parting, with a raised and rounded fringe.
# 22 Short and Spiky is on Point
This short style is professional while still being easy to maintain. The sandy brown hair with small silver strands has been clipped short with a razor undercut and a neat parting.
# 23 Ashy Platinum over Deep Caramel Base
Here the sides have been razor cut to the same length as the facial hair which creates a polished look. The top hair is long and worn slicked back so that it catches the light.
# 24 Loose Sable Curls
Shoulder length hair on men is usually frowned upon in the corporate world, but here Orlando Bloom pulls off a long style that is mature and trendy.
The secret is keeping the hair off the face while the curls are neatly brushed out at the back.
# 25 Chairman of the Board
Christian Bale looks the part in this understated business cut. The hair looks soft and natural, with some teased sections to give the style lift.
# 26 Smoothed Back Tuxedo Ready Hair
Tom Hardy combed back style is low maintenance and great for evening engagements. The deep russet colored hair has been swept back and lies flat against the scalp.
# 27 Structured Look with Nutmeg Waves
Eddie Redmayne may look relaxed but his structured style is full of elegance. The hair is slightly shorter along the sides and the top hair has been blown out with a wavy texture to add volume.
If you look closely you can also see golden beige micro highlights catching the light.
# 28 Banker Chic
The brown-black hair has been razor cut very short on the sides, but instead of a parting the hair has been gently graded into the longer hair on top.
# 29 Brown Palette with Lifted Fringe
In this picture, we see clipped sides that have been combed down neatly while the top hair is voluminous with a tight upturned fringe.
# 30 Bronze Highlights Over Textured Hair
Sun-kissed golden highlights have been used to add shine to this neatly coifed style, with waves to add interest.
# 31 Flattering 50's Style
The gently gelled back look of yesteryear is back with a slight variation. Instead of all the hair slicked back, the sides are trimmed a little shorter. This is a professional look that will suit most men.
# 32 Tamed Glossy Curls
The trick to a professional look is to start with well colored and conditioned hair like this. The long locks have been blow dried into a neat style that looks relaxed but still smart.
# 33 Super Short Dark Ashy Hair
A mushroom cut can lack the gravitas needed for the boardroom but by gently grading the short sides into the top hair a work ready style has been achieved.
# 34 Classic Boardroom Crew Cut
This updated crew cut sees the hair divided into distinct sections before being combed back. A little bit of lift has been created over the fringe to stop the hair from looking flat.
# 35 Graded Color with Bold Wave Detail
The shorter dark hair along the sides has been blended gradually into the light blonde top hair. A high structured wave over the forehead adds sophistication to this professional hairstyle.
Idea # 36
Idea # 37
Idea # 38
Idea # 39
Idea # 40
Idea # 41
Idea # 42
Idea # 43
Idea # 44
Idea # 45
Idea # 46
Idea # 47
Idea # 48
Idea # 49
Idea # 50
Idea # 51
Idea # 52
Idea # 53
Idea # 54
Idea # 55
Idea # 56
Idea # 57
Idea # 58
Idea # 59
Idea # 60
Idea # 61
Idea # 62
Idea # 63
Idea # 64
Idea # 65
Idea # 66
Idea # 67
Idea # 68
Idea # 69
Idea # 70
Idea # 71
Idea # 72
Idea # 73
Idea # 74
Idea # 75
Idea # 76
Idea # 77
Idea # 78
Idea # 79
Idea # 80
In the professional world, you need to look the part and a polished hairstyle goes a long way in achieving this.
Likewise, if you are looking to gain clients or get a promotion you need a look that matches your skills and showcases your ambition. So take inspiration from these styles to create your own smart and professional look!