During a visit to your barber, giving a detailed description of the hairstyle you require is important. With the many hairstyles trending today, choosing one that fits to one's hair type and head shape is paramount.
Comb over haircuts provides perfect choices that are fit for different hair types and options for varying occasions. Common comb over looks feature faded sides where the style can be short, curled, wild or straight.
A parting line is also incorporated alongside hair treatment and styling options to give the desired and projected results. Here is a list of 110 leading styles that you can choose.
# 1 Classic Comb Over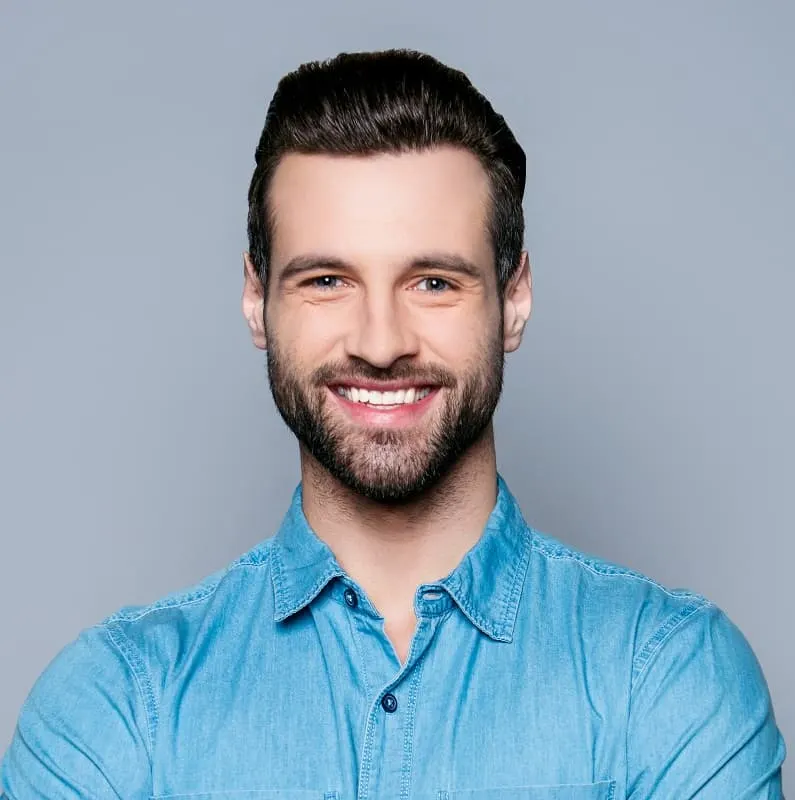 For a charming haircut that also adds to your confidence and style, opt for this haircut. It incorporates neatly trimmed hair on the sides and then longer hair in the middle. The longer hair are then pushed backwards to add volume and a comb over look.
# 2 Go Blonde
If you have got long and thick hair, then this haircut is for you. The side hair are trimmed neatly to include a temple fade. The longer hair in the middle are combed over and pushed backwards to complete the look.
# 3 Hipster Vibe
This is an ideal haircut for anyone who wants to look charming. The side hair are given a taper fade to taper the hair down the sides and back while keeping the hair long on top. The longer hair are slicked backwards for volume and style.
# 4 Wavy Comb Over
In case you have got wavy hair then you should definitely opt for this haircut. The hair on the sides are tapered down while the hair in the middle are kept long. The long hair are pushed backwards while the waves make them look super cool.
# 5 Textured Top
In order to give your hair more volume, go for this haircut. It gives the longer hair on top added volume when they are slicked backwards. The side hair are given a taper fade to add to your look.
# 6 Disconnected Comb Over
For an absolutely stunning look, you should go for this haircut. It features trimmed hair on the sides to give you an undercut. The longer hair on top are pushed to the sides to amp up your look.
# 7 Brushed Back
This haircut works well for dark and long hair. The hair on the sides are trimmed nicely to give you a taper fade. The top hair are slicked back for more style.
# 8 Messy Strands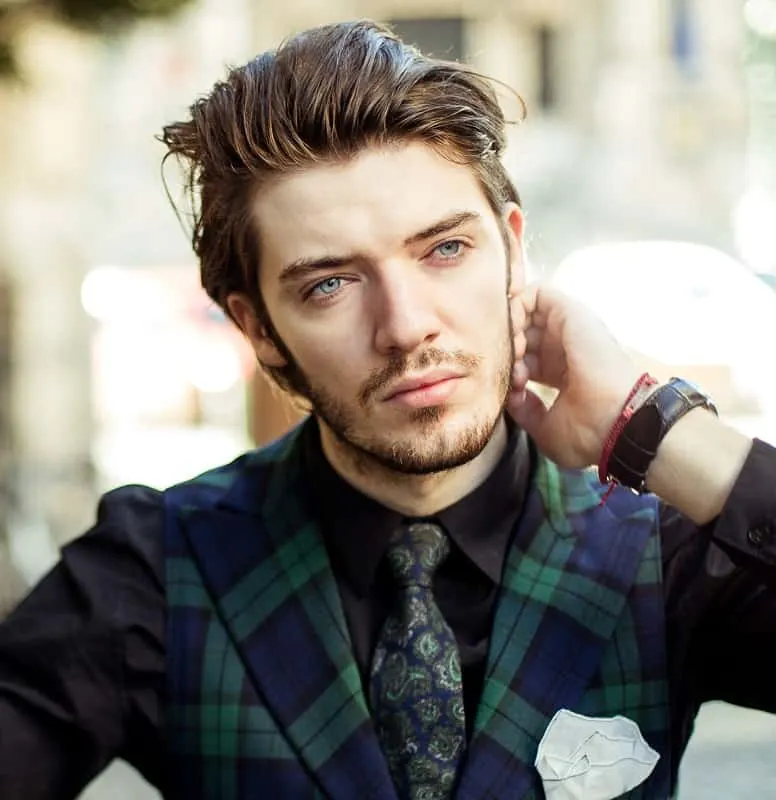 Managing long hair has never been easier with this haircut. It not only gives you a messy look but also makes you look marvelous. The hair on the sides are pushed backwards while the hair on the top are combed over for added style.
# 9 Side Slicked Comb Over
If you want a neat look then going for this haircut is a great option. It gives you a high fade by neatly trimming your side hair. The top hair are slicked to the side and combed over to add volume.
# 10 Thick Bush and Beard
In case you have got voluminous hair then this haircut is ideal for you. It features neatly trimmed hair on the sides with longer, top hair comb over for additional style.
# 11 Sexy Side Part with A Sculpt
An ideal style for almost any face type, Sexy side part with a sculpt style features a sculpted front hence naming of the style. Fading may be applied to the sides and the back where a clear cut marks the edge of the hair.
Applicable to all face types it is more appropriate for those with long faces where the option not to wear a long style is used.
# 12 Spiky Sides
For those willing to give a cool and confident appearance, this is an ideal style. Featured in the style are shaved sides with the top hair combed towards one edge forming a spike.
Wearing the cut not only gives a stylish impression but as well gives a sexy appearance making it a choice for women and men who wish to look classy.
# 13 High-Low Style
Having thick hair in certain instances provide with styling challenges. The high-low look features a crispy top and trimmed sides.
A clear-cut line between the top hair and the sides add glamour to the cut alongside well-trimmed facial hair.
In certain instances, the sides may be trimmed in a faded design as it drips towards the edges where a clear-cut line is applied.
# 14 Parting the Brown-Side
With a sailors' appearance being the result of this look, it features a long top hair combed over one side.
A parting cut is applied on one side between the top hair and the side of the head. Enhancing this haircut with long beard gives a sexy appearance that appeals more to women.
# 15 Long Waves
This is a unique haircut that is fit to wear to all occasions. Long wave's style features long top hair combed over towards the back with an emphasis on the weaves.
The sides and the back are shaved in a fading design that hides the hairline at the edges of the hairy area.
# 16 Sexy Wavy
Irrespective of individual's hair texture, it is easy to spot any type of comb over haircuts trending in modern times. Sexy wavy is among the trending styles that feature long top hair treated to a wavy style.
The sides and the back required to be short in order to give the style a neat outlook. Trimming other facial hair to a short outline or desired design gives the option to customize the style making it unique.
# 17 Spiky Shine
A cool style for college and high school lads, the spiky shine features what maybe referred to as a traditional undercut.
The top hair is left long and combed over towards the face. This is then continued in a fading design towards the side and the back leaving the edges of the hairline invisible.
# 18 Parted Sides with a Fade
For one's who would like to spot the look of a superstar – this is the ideal choice.
Featuring medium sized top hair and short shaved sides and back hair the haircut also incorporates a clear-cut line between the top and side hairs. This clear-cut line defines the contrast between the two sections hence the name.
# 19 Model and Calm Style
A bright and revealing appearance may be the terms used to describe this style. With tall top mane and fading sides, the top hair is combed towards the back with a inclination to one side of the face.
The styles offer an opportunity for one to be noticed through revealing and making the face to be clear and visible.
# 20 Classic Vision Style
There are old habits that die hard. Such is what this look depicts – a tradition that has continued to trend for decades among men of all ages.
The style features a polished side part fade, the part is created on the opposite of the direction to which the top hair is combed creating a clear line between the two sections and giving it a classic outlook.
# 21 Brownish Awesomeness
Every men wants to be special and to attract women's attention, coloring strands and combing them backwards can help to achieve that unique appearance.
Brown looks stylish, because it has natural hue. All you need to do is dye the strands and comb them backwards.
# 22 Tapered Men's Comb Over Style
Featuring long layers of tapered hair, the haircut is an ideal option to give bad boy's look as desired by majority of high school and college lads.
Top hair is let in loose strands that make it possible to rune the fingers through without affecting its appearance much.
A well-trimmed beard acts as a great enhancement to the style giving it a more wild and composed look.
# 23 Side Parts Fading To the Beard
This is a great look for photo enthusiasts. Featuring long top hair and, combed towards the back, fading sides are also featured by the haircut where the fade progresses to a beard with no line to give a distinction.
Also featured by the design are flashy spikes that make the style to be more pronounced when worn a factor that enhances the final results of this fashion.
# 24 Clean Cool Office Cut
Looking good to the office is the pursuit of every man. Featuring clean cut sides and medium size top hair, the look is ideal for office guys depicting a look of a serious office worker ready and willing to serve.
Despite trending for years, it still remains a favorite style for majority of men. Irrespective of individual hair texture, the hairdo still looks awesome.
# 25 Curly Side-Part with an Undercut
This is an ideal look for those wishing to maintain part of the hair long. Unlike most of other comb over hairstyles, this does not require fade haircuts to make it visible.
However, a classic fade that disappears midway on the sides and the back can be a real enhancement for the style that gives it a more pronounced outlook.
This can be spiced up further by a well-trimmed beard and a variety of other customizing options.
# 26 Curled and Groomed Waves
This is a style that works well to balance appearance of a man with a round face. The look features top hair curled and parted on one side.
The style helps to elongate the face and hence ideal for young lads who are more conscious about their appearances during their formative years.
# 27 Cool and Bright
Considered to be among the best comb over styles of all times, the cool and bright look features well-trimmed sides and the back in a fading design.
The top hair is maintained tall and curled slightly to one side of the face. This makes the style to be among the ideal styles for those wishing to have an outstanding appearance in the office without spotting designs that attracts outcry from colleagues.
# 28 Caesar with Short Sides
Considered a style fit for all occasions, this is ideal for those with blond hair and men who're going bald. Giving a business look for those who wear this style, it features long top hair curled to cover the balding areas.
The sides are trimmed in a way that is not too explicit and hence providing an easy integration of the long and short hair.
# 29 Bold Brunette Bangs
This is a unique and outstanding look that joins the trending hairstyles of modern times. The haircut features a look that lies between a faux hawk and the side part. It is characterized by long top hair and faded sides and back.
A parting line is made on the top hair just above the fade. The hair is then combed towards the opposite of the parting line.
Spotting a beard gives the look a more pronounced appearance and an opportunity for better customization.
# 30 Ponytail On Top
This hairdo gives a more hipster look that is ideal and embraced by most sports and entertainment icons. Featured in the style is long top hair held in a ponytail facing upwards.
A parting line and a fade are also created to give the style a more pronounced look. Facial hair comes as a supplement to the style where through use of waxing products, curled ends for the hair and facial hair are easily maintained.
# 31 Gelled Comb Over
Whether having a blond, black or any other hair color, this look is ideal and easy to customize. Long top hair can be treated to a variety of designs with the sides spotting an undercut or faded finish.
Through application of styling gel on designs to fit varying occasions are created easily and this make it one of the most ideal styles for young adults who are eager to experiment with new and unique design to create an identity.
# 32 Razor Sharp Line
A look spotted by a number of great stars – one that is gaining popularity across the globe. Featuring medium side top hair and shaved sides, the haircut is customized to reflect individual tastes and face shape.
Through use of styling gel and other hair products, the top mane is curled into waves that are also maintained through use of hair products.
# 33 Comb Over With an Undercut
The look gives a rocking appearance for the curly blonde-haired person where the hair on top is brushed to one side or the back and faded sides characterize the style. A parting line is created between the top and the sides.
This is among the new and trending comb cuts that are used to define the modern man and give a taste of comb-over experience for those with curled hair.
# 34 Edgy Comb Over
Maintaining long facial hair is in some quarters considered as a style in its own. Edgy comb over features long top hair slightly curled and twisted at the top front.
The sides and the back are faded to give the hair a more appealing feature and ensure it remains outstanding in its own way.
# 35 Mid Skin Fade
After having the desired comb over cut, giving a bit of enhancement is an ideal way to ensure there is more customization.
Featuring long top hair and fading sides a unique styling pattern is applied to give it the outstanding feature. The fading hair ends midway down with the remaining part clearly shaved.
# 36 Classic
Otherwise referred to as an ideal gentleman style, this is one of the designs that has been and continues to rock between different generations of men.
Unlike most of the comb over designs, this does not feature a faded or cut out sides. However, the hair on the sides is trimmed a bit shorter than the top hair and a unique part created on one side.
# 37 Old School
The look features long hair brushed from the top and sides to the back. A parting line is created on one side with the brushed hair inclined to the opposite side.
No major trimming is applied on the sides but the edges are trimmed to give a clear finish.
# 38 Hawk Style
Curly hair is perceived as one of the styles being embraced by high numbers and as well with numerous distinct designs.
Using appropriate styling gel, the curls are created and maintained to characterize this haircut. The sides are completely shaved leaving long hair running from the top to the back and curled to both sides.
# 39 Straight Hair
Maintenance of straight hair is among the most common and easiest. Long hair comb over provides with an option to sustain and creates an impressive look with ease.
It features long top mane brushed straight towards the back. It offers a perfect chance to sweep the hair back using the hand with no fear of ruining the hairdo.
# 40 Textured Comb Over with a Double Parting
Despite the growing popularity of different hairstyles, majority of men remain conservative about their preferred cuts. Featured in this style it long curled top hair at the top with the sides and the back trimmed.
Double parting lines are created on one of the sides. This is a traditional style that has been through different generations and sill remains one of the trending haircuts for casual events.
# 41 Clean Shaved Sides
Comb over haircuts are diverse and provide with a variety of options based on different factors. However, leaving long top hair running and brushed to the back is one of the trending fashions.
This is done for the top hair that is normally taller when compared to the sides that are shaved clean. Long facial hair works as a great enhancement for the style.
# 42 Short Textured Hair
Not everyone loves long hair. This is more so with those who wish to maintain a professional appearance at all times. However, it does not remove the option to enjoy great comb over designs available.
With a short hair, application of texture makes it more appealing and noticeable when enhanced with brushing the top and sides to the back. However, reliable styling products are required to ensure success in the desired results.
# 43 Bleached Comb Over
Rated among the modern trending styles that are both stylish and elegant, textured bleached style is one that is bound to trend for longer.
The style features elongated top with the sides clean shaved from the middles. These two sections are separated by a part that gives it a distinct and unique modern feeling when worn.
# 44 Cute Curls
Having long hair provides with an opportunity to embrace and wear a number of hairstyles. With an elongated curly hair, similar options are also available hence a chance to style with comb over cute curls.
The sides can benefit from a clean shave applied midway on the sides or faded. This look can also benefit greatly from application of texture enhancements to give it a more unique and customized outcome.
# 45 Casual Short Sides Style
Temptation to maintain long hair with a comb over top is common. However there is need to maintain the class depicted by faded cut on the sides.
This haircut features well-trimmed edges that ensure the top hair is more pronounced and noticeable giving a trendy outlook.
# 46 Elegant Comb Over
A cool, stylish, and elegant are the features that define this design. It features top hair curled on the forehead and the rest brushed to the back in a fading design.
Using this haircut is a sign to depict a classy and valued style for real men. Through use of appropriate styling products alongside a high shine finish, the style requires creativity to achieve giving an added statement to one's personality.
# 47 Curled Cap
Featuring medium sized hair curled from the middle, this is a unique style for those with blond hair.
For better appearance, it is important to keep the edges short – a factor that makes the style more pronounced giving it a cap-like appearance.
# 48 Comb Over Style For Rounded Faces
Face is an important consideration while styling the hair. The top hair is left long and fades to the back, sides are trimmed short leaving a tall feature for the face.
Long top hair is combed upwards exposing more of the forehead and hence reducing the rounded outlook of the face. The style resembles more of a Mohawk design.
# 49 Rugged Haircut
There are some outstanding styles such as the rugged comb over for long hair. This look involves application of gel and brushing the top and the sides to meet at the back of the head.
The top edges are left out on both sides while brushing and curled towards the top. Application of the gel gives the hair a shiny outstanding finish.
# 50 Smart and Stylish Blond
Majority of men tend to maintain their hair short. It is with this consideration that most of the hairstyles are developed to give a variety of options in regard to individual desire and prevailing circumstances.
This style features a simple long top hair brushed to one side and medium trimmed sides transformed into an elegant and classy hairdo.
A parting line is created between the tall and trimmed hair for enhanced appearance. Short hair on the sides and longer on top defines the look.
# 51 Groomed and Simple Look
A look that fits all ages, this is one of the simplest to style and maintain comb over haircuts. Long top hair is curled slightly to the back leaving it easy to run the fingers through texture.
The sides are trimmed slightly and brushed to the back. Application of blond dye gives more highlight to the design. Short trimmed facial hair also works as an enhancement.
# 52 Comb Over for Office Guys
Though majority of men's comb over styles are fit for all occasions, this is a great fit for office guys. The haircut is characterized by long top hair and trimmed sides.
The top hair is brushed backwards and gel should be used to hold it in place. The edges are cleanly trimmed for a more fitting appearance.
# 53 Close-Cropped Fade
Haircut with close-cropped fade features the top strands being long in setting of the comb over style.
The sides are equally important and ensure the look is given the necessary highlight. A close-cropped fade with a comb over gives a display of expertise and technique in highlighting the style.
# 54 Artistic Finish
This is the most common customizable comb over hairstyle. On the faded sides and back artistic designs are creating a unique shapes. The top features long hair that is brushed in overlapping spikes to different sides.
# 55 Comb Over With Parted Sides
Giving a comb over a curved finish gives a great look which makes an ideal hairstyle. A modern and stylish outfit, it features long top hair brushed to the back and half-faded sides.
The faded area features a parting line that runs to both sides through the back.
Idea # 56
Idea # 57
Idea # 58
Idea # 59
Idea # 60
Idea # 61
Idea # 62
Idea # 63
Idea # 64
Idea # 65
Idea # 66
Idea # 67
Idea # 68
Idea # 69
Idea # 70
Idea # 71
Idea # 72
Idea # 73
Idea # 74
Idea # 75
Idea # 76
Idea # 77
Idea # 78
Idea # 79
Idea # 80
Idea # 81
Idea # 82
Idea # 83
Idea # 84
Idea # 85
Idea # 86
Idea # 87
Idea # 88
Idea # 89
Idea # 90
Idea # 91
Idea # 92
Idea # 93
Idea # 94
Idea # 95
Idea # 96
Idea # 97
Idea # 98
Idea # 99
Idea # 100
Idea # 101
Idea # 102
Idea # 103
Idea # 104
Idea # 105
Idea # 106
Idea # 107
Idea # 108
Idea # 109
Idea # 110
The comb over hairstyle is a mix of creativity and technique. With different hair textures, face shapes and other varying factors, selecting the viable look requires taking into consideration all of the possible aspects.
The ideal styles including the comb over haircut must give the reflection of the individual's personality. Preferred style variations differ and change with time.
The style trending now maybe forgotten in the next few days. It is however important to always select one that fits to individual likes and choosing a qualified barber and stylist to administer the desired style.