Undercuts for men are a look that is here to stay and the very latest fashion is the V-cut hairstyle. These looks mainly feature tapered cuts and pointed patterns at the neckline. V-shape haircuts are very easy to customize – let's show you what we mean:
# 1 Bald Fade
Men who want that edgy, rugged look would do well to opt for a bald fade that frames the V cut. A scruffy beard is a handsome contrast to the clean-cut top.
# 2 High Fade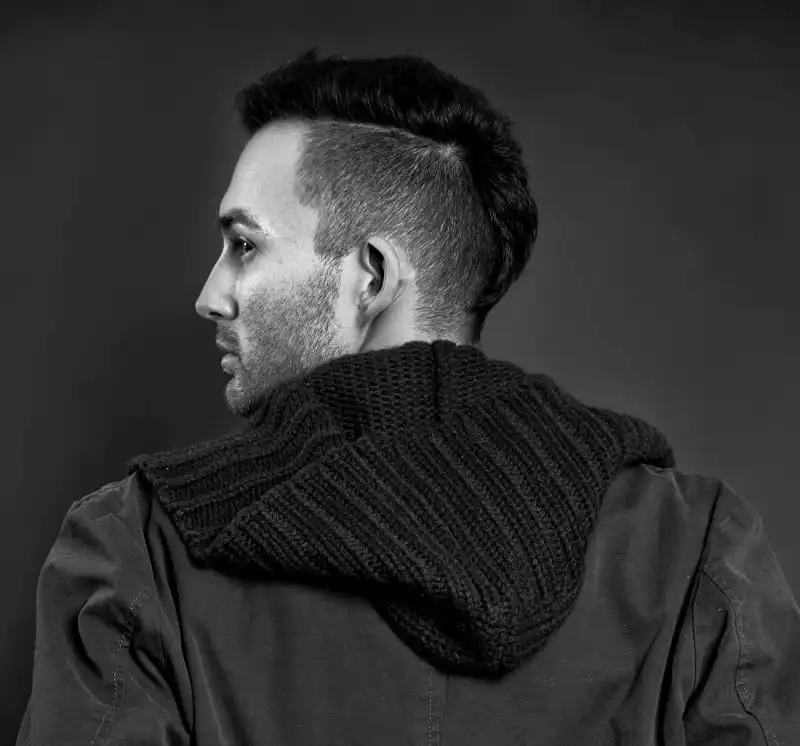 A high fade leaves a minimal amount of hair, great for men who don't want a bare skin look. A high fade pairs well with a scruffy strip of hair and will easily match your facial hair.
# 3 Smooth V Cut
Prefer a sleek, smooth style? This V cut banishes frizz by working with gel and hair product. It's the best look for your week at the office or for fancy occasions.
# 4 Shaved Details
It's all in the details for this buzzed gradual fade and V cut hairstyle. Top hair is spiked up for edgy texture and the curved lines on the sides add another rockish vibe.
# 5 The Messy V Cut
Short on time in the mornings? No need to worry about bedhead or combing your hair when you have a shapely pointed V with a fade.
# 6 Thick Hair
While you could use a fade to frame your V cut, this look shows how you can rock the style with a full head of hair. Simply comb back both sides and use a middle part to create emphasis on the point at the neck.
# 7 Wavy Layers
A gradual fade featuring both shaved hair and a strip of trimmed hair outline this layered V cut. To create body, especially for thin hair, consider adding layers for lift.
# 8 Straight and Textured
Pair your straight hair and a V cut with a gradual fade and a rugged, scruffy beard for an updated take on the Viking hairstyle. Use fingers and gel to shape locks for a piecey look.
# 9 Ponytail V Cut
Another way to wear the V cut is by shaping the undercut into one. This allows you to keep your top hair long and gather it into a ponytail. A shaved upside down V at the neck adds extra detail.
# 10 Platinum Blonde
Add platinum blonde to your thick hair for a mod take on the V cut. Although the point at the neck is small and subtle, it makes a statement moreso than a traditional hairstyle does.
# 11 Duck Tail
For this style, the hair has been carefully graded longer from the edges upwards so that the longest portion on the top flips back like a duck tail. The hair on the bottom is darker while the top layer is copper blonde.
# 12 Subtle Shape
For this look, the locks are uniform length any have been shaped into a squared off shape at the back of the neck with a triangular point right at the bottom.
# 13 Rolling Afro
Here the hair has been shaved bald in a thick layer stretching from above the ears all the way along the bottom in a neat rounded shape. The hair gradually blends longer on top where it has plenty of volume.
# 14 Fade Down
This hair is thickest in the center and has a wavy texture that adds height. At the back, the hair fades shorter and shorter until ending with a stubble layer.
# 15 Dapper Style
A V-style haircut is a dapper look for guys – that's because of the clean lines like the ones we see here. Add a little pompadour height in front, and you'll be ready to dazzle!
# 16 Side Story
Instead of the skin fade wrapping around the bottom of the head as is popular, this singular style sees grading of length just on the sides while the dip of hair at the back matches the length of the top locks.
# 17 Sharp Pattern Detail
Ready for something really different? How about this hair art? In this picture, a sharp V has been shaved at the neck and alongside patterns have been fashioned using razor cuts.
# 18 Hot Tops
From front to back, this hair is an equal length and has been colored a light amber orange. From the sides, the hair shortens until it becomes a clean-shaven layer alongside the ears.
# 19 Straight Edges
In this interesting style the hair does not end in a V shape, but rather it has been squared off at the bottom of the neck. Under this straight line, a few small lines and a triangle have been carefully shaved in.
# 20 Soft Styling
This style shows a carefully tapered off cut that allows for a triangular shape of long hair on top which shortens out towards the sides. There are no severe lines and the hair has been slicked neatly back.
# 21 Line Fashion
At the temples we can see a squared off detail and on top there is a layer of soft strawberry blonde colour on the longer hair. The undercut is darker and tapers to a point at the back with small razor cut lines at the bottom.
# 22 Tousled Taper
This hair is tapered to a point at the back, with a razor cut angular detail. The hair gradually becomes longer and has been tousled for a laid back style.
# 23 Under The Locks
This hair is quite long and has been gathered up on top to show the detail at the back of the neck. Here the hair ends in a sharp V with some line detail on either side.
# 24 Apple Art
Want something uber trendy? Picture patterns shaved into the undercut are hot! This example shows an apple shape in the undercut while the top locks are gathered into a messy blonde man bun.
# 25 The Curl Angle
A few different factors make this hairstyle eye-catching. There is the fusion of lighter colour for the top locks and a hard parting on the side. The hair has been graded to a rounded edge at the back and has lots of curly texture.
# 26 V-Shape Masterpiece
To create this unique style the hair was first given a sharp V-shaped undercut with the hair around it at stubble length. Within this V-shape geometric patterns have been shaved in.
# 27 Front Flip
This neat, flowing hairstyle has long locks on top, brushed up and back and a strong V-shaped undercut along the sides and back. Behind this V-shape, the hair is shaved super short.
# 28 Man Pony Over Undercut
Here the top locks are long and tied into a pony which rests against a rounded undercut. There is line detail on the side and the hair alongside the undercut is shaved bare.
# 29 Assorted Lengths
For this style, the locks have been left long on top and fall into a neat duck tail down the back. The undercut has various lengths, which create flowing lines across the head.
# 30 Taper Under
In this hairstyle, the undercut hair is a dark brown with bright yellow colour on top. At the nape of the neck, the hair tapers to a point and is surrounded by rounded lines and triangular shapes.
# 31 Neat And Tidy
This curly hair has been given a pristine finish by adding a squared off pattern over the temples and a subtly graded undercut along the sides which ends in a rounded point at the back.
# 32 Wrap Around
Above the ears and wrapping around the head, with a V-shape at the back, the hair has been shaved completely. This melts into a tapered cut with long locks in a small section on top.
# 33 Snip Shape
The longer locks on top have been snipped to form a rounded off shape and underneath a graded undercut has been performed. The hair on top has been separated and the two sections brushed into each other reminiscent of the jelly roll hairstyle.
# 34 Expert Blend
In this handsome hairstyle, the hair has been expertly blended from short on the sides to long on top, tapering to a point at the base of the neck. His locks have been given an off center parting that reaches to the crown.
# 35 Slicked Back
These long locks fall gently over the undercut, creating a great contrast and an eye-catching style. The hair has been slicked back and falls into a V-shape.
Idea # 36
Idea # 37
Idea # 38
Idea # 39
Idea # 40
Idea # 41
Idea # 42
Idea # 43
Idea # 44
Idea # 45
Idea # 46
Idea # 47
Idea # 48
Idea # 49
Idea # 50
Idea # 51
Idea # 52
Idea # 53
Idea # 54
Idea # 55
Idea # 56
Idea # 57
Idea # 58
Idea # 59
Idea # 60
V-cut hairstyles are generally very neat meaning they work well for almost any guy and they can be jazzed up further by adding colour or razor line art details.
You can choose tapered cuts or you can go for a bold look with sharper defined lines. As long as you have a V-shaped style you'll be right on trend!