Many men are not happy with their curly hair because it does have the tendency to become frizzy and hard to manage. Instead of battling your curls, embrace them and find a haircut to suit your unique textured hair.
We've collected 75 examples of styles that work well for men with short, curly hair:
# 1 Tousled Short Curls
With the shades of blonde blended on this short curly haircut, the tousled look stands out even more. Any stylist experienced in styling curls will know how to create this look.
# 2 Thick Messy Curls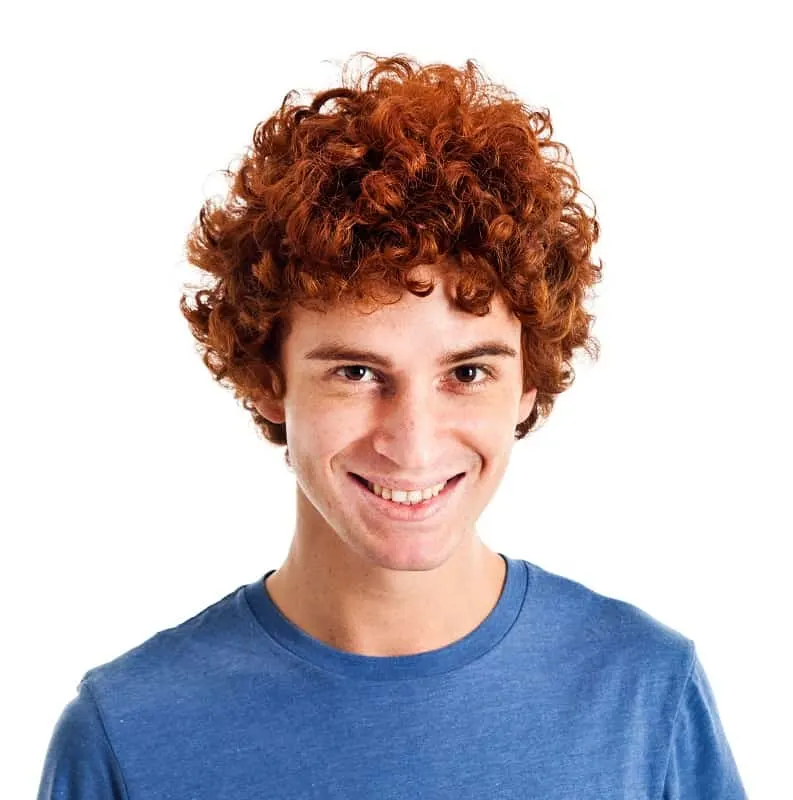 The messy look can be a great choice for curly hair, mostly because it doesn't take much work to create it. Prevent frizz but embrace the curl shape by using a small amount of hair oil.
# 3 Springy Short Curls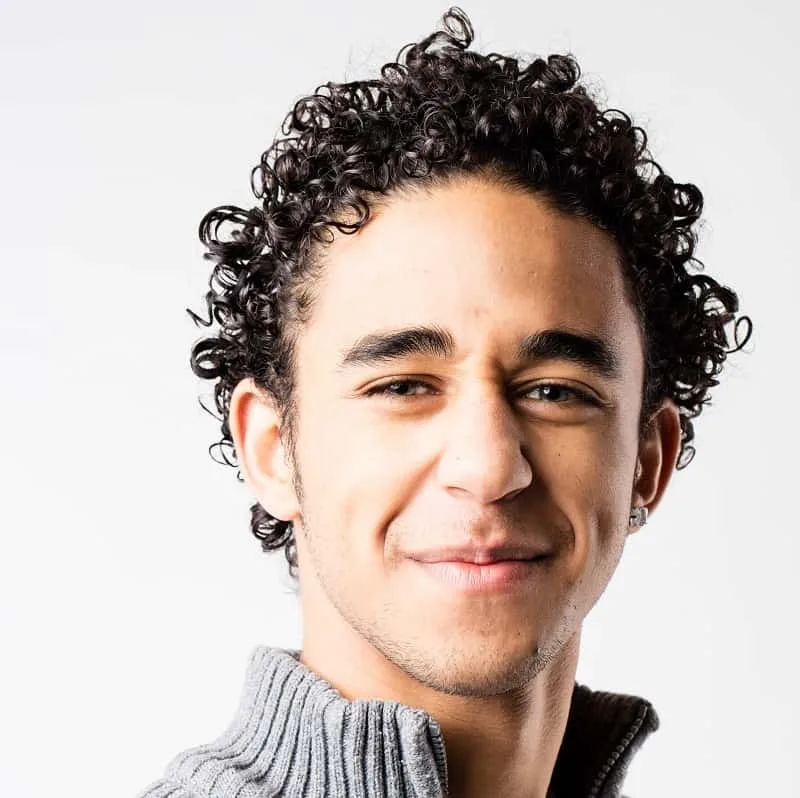 If your curls have a more springy appearance, keeping them short will help retain their shape. Cut hair to only a couple inches long to get the perfect length of short curls.
# 4 Blonde Messy Curls
If you're feeling a boho or surfer vibe, you can rock it on your blonde curls. Just a quick run through of the brush in the morning is all you need to create a messy surfer hairdo for short curly locks.
# 5 Curly Hair for Glasses
While any variation of short curly hair will flatter a man who wears glasses, this long shaggy style is particularly becoming. The long bangs work with the glasses to frame the face.
# 6 Gelled Curly Hair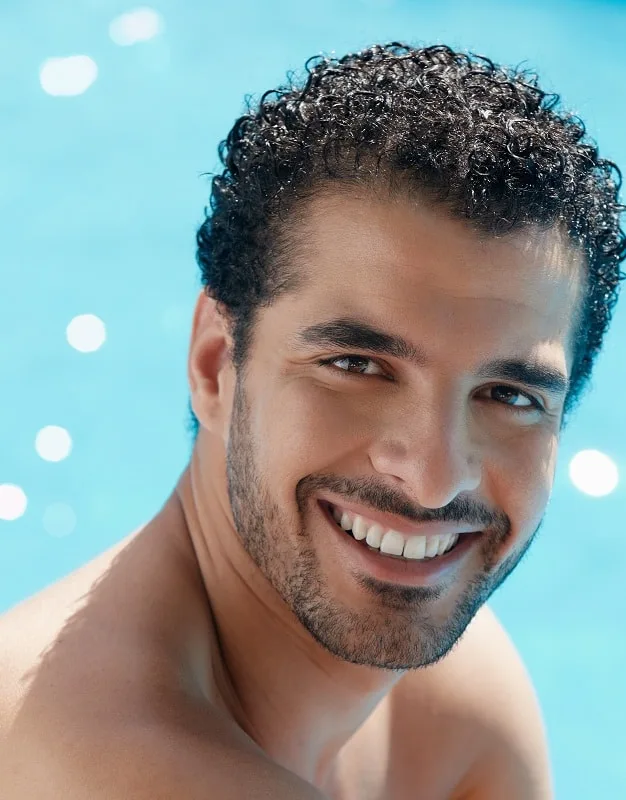 Keep your look professional and mature no matter where you are by working a bit of gel through curls. This short style is easily taken from a day at the office to an afternoon by the pool.
# 7 Faded Short Hair
Particularly on oval faced men, a short curly haircut with a fade is very flattering. Long texture up top is framed with shaved sides and is easily manageable.
# 8 Curly Bedhead Hair
While the bedhead look used to only be popular for high schoolers, it's quickly showing how great it can be when rocked into your 20s and even 30s. Use a bit of curl product to shape the messy top, but keep sides short.
# 9 Curly Crew Cut
A crew cut typically features straight hair, but this twist is perfect for men with curly hair. Hair is one length all over and the hairline is enhanced.
# 10 Natural Curly Hair
While your hair is growing out, let the curls go crazy. Wearing hair natural helps encourage healthy growth, not to mention it flatters pretty much all face shapes.
# 11 Curly Hair Don't Care
Curly hair can be unruly if it is left too long especially along the sides and back. You can remedy the problem by having your barber give you a skin fade and just keep the length (and texture) on top.
# 12 Super Short
In this picture, the hair has been shaved on the lowest clipper setting and edged with straight lines. To make the style stand out it was colored butter blonde.
# 13 Curls Ahoy
This model has left lots of bouncy curls on top which are brushed forward from the crown. There is a faded undercut along the sides and back that provides balance for this voluminous do.
# 14 So Many Choices
This look features a gentle fade just behind the ears with long curly locks on top. With this style, you could wear your locks loose for a relaxed feel or slick them back to look formal.
# 15 Natural Texture
In this take on the classic bowl cut, the sides have been trimmed short and the upper hair is slightly longer. Curly hair has loads of natural texture so to get this look he has used product to flatten it slightly.
# 16 Curly Fade
If you are looking for a style to tame your curly locks a bald fade might be just what you need. In this example, the upper locks have been left at a medium length and the lower portion of the sides is clean shaven.
# 17 Waves Of Change
In this picture, the hair on the top of the head is at a medium-short length, which allows the curls to fall over the undercut, which has been kept at one length all around.
# 18 Edgy Hair
For this look, the loose wavy hair on top has been scissor cut to produce an edgy style. These locks have been brushed forward and product was used to create spikes. Underneath, a bald fade has been performed.
# 19 Bushy Locks
Here we see that the hair on top has been grown out, allowing the natural curly texture to be displayed. Along the sides, we can see a graded undercut which feeds into his facial hair.
# 20 Carry On
In this hairstyle, the hair has been left long on top but instead of the undercut beginning at the crown, the length has been carried right down to the neck. The locks have been slicked back and there is a tapered undercut on the sides.
# 21 Quiff Curl
In this picture, we see how the model has used his curls to his advantage by using them to create a quiff in front. The hair gradually becomes shorter towards the crown and there is a razor fade on the sides.
# 22 Precision Parting
Hard partings are trending and they are the perfect way to give a style balance and structure. In this picture, the parting separates the curls on top from the shorn locks on the side.
# 23 Temple Fade
To create this look the barber has squared off the edges of the style to create a geometric shape and used a temple fade technique along the side.
# 24 Sexy Sides
In this hairstyle, the undercut radiates from the ear outwards while the longest layer runs down the middle of the head from the forehead up to the neck.
# 25 Neat And Natural
For this look, the hair gradually tapers shorter and ends with a neat outline around the neck and ears. The cut has helped to tame his locks, which he can now wear loose and natural.
# 26 Tight And Curly
The hair in this look tapers shorter ending in a razor cut along the edges. This is an excellent look if you have tight curly hair like this model.
# 27 Shaved Patterns
Shaved lines and patterns are hot right now so why not try one out? Here we see a cut with length on top and short sides that have been decorated with a low shaved line and pattern.
# 28 High And Tight
In this style, there is a high side parting which separates the longer locks on the right from the tapered undercut on the left. The curls have been combed over and up to create a pompadour-inspired look.
# 29 Pattern Perfect
In this picture, the model's hair has been snipped along the sides with the upper hair long and styled to be spiky. Above the nape of the neck, the barber has expertly added an intricate tribal style pattern.
# 30 Waves For Days
Instead of fighting your natural texture use it to your advantage to create voluminous hairstyles like this. Here the sides are slightly short and have been brushed down while the top locks are slightly longer and brushed forward.
# 31 Keep It Simple
The sides have been short at a uniform length all around while the wavy upper locks have been brushed back to cover the transition.
# 32 Rocker Locks
If you've got naturally thick and curly hair you could opt for a statement haircut like this. The sides are shaved bald and a narrow section on top has been left long.
# 33 Old School Haircut
This is a good hairstyle for men who don't want to have an undercut on the sides. In this natural look, the hair is tapered shorter at the back only while the sides were trimmed into shape.
# 34 Bald Fade And Pomade
Here the top layer of hair has been styled to emphasize its soft, wavy texture. The length gradually reduces to the sides ending in a bald fade.
# 35 Serious Partings
This look is dominated by the long hard parting which has been placed high and runs up to the crown. On one side we see longer wavy hair and on the other side, there is a razor fade.
# 36 Step Up
Here we see how the most volume has been concentrated over the midsection and how the hair gently tapers shorter on the sides and forms a step at the back.
# 37 Updated Mushroom Cut
In this take on the mushroom cut the hair is one length on top and gently fades to bald without any harsh lines.
# 38 Temple Focus
This look features sharp triangular shaved patterns just above the temple and a slight temple fade. The rest of the tight curly locks have been snipped short.
# 39 Easy To Manage
If you want a style that requires low maintenance you could try this one. The top locks of this fade are very short and they blend out to bare skin along the edges.
# 40 Front Flip
For this hairstyle, the hair has been graded shorter from front to back, allowing a thick mass of curls in front with the rest of the locks brushed back.
Idea # 41
Idea # 42
Idea # 43
Idea # 44
Idea # 45
Idea # 46
Idea # 47
Idea # 48
Idea # 49
Idea # 50
Idea # 51
Idea # 52
Idea # 53
Idea # 54
Idea # 55
Idea # 56
Idea # 57
Idea # 58
Idea # 59
Idea # 60
Idea # 61
Idea # 62
Idea # 63
Idea # 64
Idea # 65
Idea # 66
Idea # 67
Idea # 68
Idea # 69
Idea # 70
Idea # 71
Idea # 72
Idea # 73
Idea # 74
Idea # 75
Haircuts for men with short curly hair are quite varied as you have seen, but there some elements that stay the same. Using an undercut is not only trendy but also reduces the volume of wavy or curly hair and tapered looks suit most men.
You would also have noticed how the men in these pictures are wearing their curls with pride – the most important element of any style is your confidence so learn to love the texture of your hair and you're halfway there!