TOP 10 Best Hair Gel For Men – How To Choose Perfect One
Choosing the best hair gel for men makes all the difference in any hairstyle. Whether you keep long locks or a simple short haircut with a longer crown, the gel can make you stand out from the rest.
It is the most popular male hair product and so many companies produce it. This means that the options are endless and so you should never settle for anything less than the best.
However, you cannot always know what product is the best for you especially if you have never used it before and so for most men finding the right one involves a lot of trial and error.
Whereas some will only buy it according to the brand name, this is not always the best way to go about it. There are many least known brands with some very high-quality products.
To make it easier for you to get the best product here are 10 of the best hair gel for men currently on the market.
# 1 American Crew Firm Hold Styling Gel
If you have used any American Crew product in the past, then you should know that they almost never disappoint. And just like all their products the gel will perform beyond your expectations and will leave your hair looking more attractive than ever before.
The first thing that you notice when you buy this product is that it comes in a very stylish bottle and this is a good indication of the quality.
A company which spends resources to make their product look elegant is concerned about their image and so they wouldn't want to spoil it with a substandard product.
Whether you like to keep spiky hair or a more natural look, this gel will do the job for you as it has an incredible hold and it does not flake.
The application is also very simple and convenient as you only need to squeeze a little from the stylish bottle on your hands, rub and then apply thoroughly. The American Crew gel can be used on all length and still maintain the excellent properties it is known for.
What Makes It Special
Making a perfect product like this is not easy at all and it involves a lot of work and many years of research on different products. Apart from it, you have to bring together dozens of individual products to ensure maximum hold and that it can also promote good hair health.
This gel is made using more than two dozens ingredients that range from simple things such as water (aqua) to natural ingredients such as sage leaf extracts. Together all these elements combine to form a product which you will not want to stay without using.
Although all the ingredients in this gel are familiar things, what makes it more effective is the formula used to combine them in the right proportions and state.
Of all the ingredients featured in it, the most notable or the most beneficial to the hair are dual polymers, carbomer, sage leaf extracts and propylene glycol.
Why You Should Use this Gel
The right ingredients in this cut ensure that you never have to worry about flaking. Flaking is the worst thing that can happen to your hairstyle and it is very annoying especially after spending many minutes styling it. However with this American Crew gel, this will never happen even if you use a small amount.
Provides a firm hold and hence making it possible for you to wear any hairdo that you wish. Whether you want to wear spikes or a classic pompadour, this gel will give you a firm hold that will last all day.
Apart from just preventing flaking and giving you a perfect hold, it also has a moisturising effect that will prevent the scalp and hair from drying.
Another reason to use this product is that it is alcohol-free and it will also allow for easier distribution through the hair.
# 2 Axe Spiked Up Look Styling Putty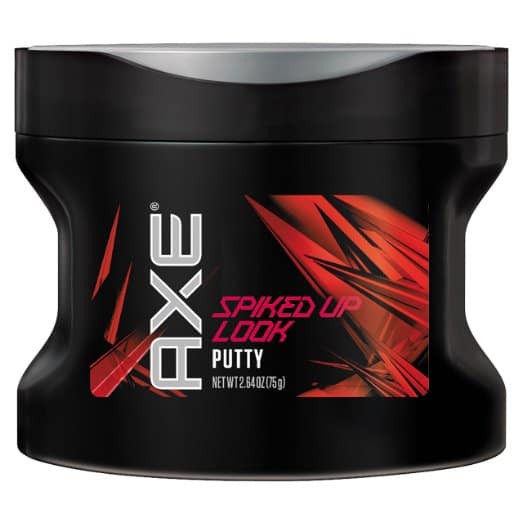 If you know what you want your hair to look like it becomes easier to find the right gel to help get the look. There are different types of hair products with some being able to be used in any style and others for individual hair looks such as spiky and messy.
Although the multipurpose gels work pretty well for hair that does not require much styling, the Axe Spiked Up Look Styling Patty has been developed mainly for men who want spikes. Although most products can help you style a sharp look, most of them will not hold for long.
In fact, if you walk around for a couple of hours and sweat the spikes will be gone but this is not the case with this gel from Axe. And the best thing is that it will be sufficient for any hair length between short and medium.
What Makes It Special
It is made specifically for men who want to keep a spiky hairdo because they have a very hard time keeping the style for long. The biggest problem when it comes to styling spiky hairs with other gels is flaking and this totally ruins their look.
Axe took the time to ensure that their asset can be able to hold the spikes firmly in place for an entire day. And this was achieved through the choice of ingredients and consistency.
When applying, it might feel like any other ordinary gel but after it dries in a couple of minutes that is when you get to see the magic that it does on your spikes. Unlike other products, it does not form a very hard layer and neither are the hairs too soft.
The hold created is just enough to ensure that the style remains in place throughout the day. And to make things even better, it has a unique shine and a sweet scent that will make everyone want to smell your hair.
Why You Should Use This Product
Unlike other gels on the market the Axe Spiked up gel does not leave you with a hard layer that is very annoying. However, it just makes the strands firm enough to maintain the style all day long.
With this asset, you also do not have to worry about the greasy wet look that is characteristics of other cheap brands. The only noticeable thing in the hair is the unique shine.
It will also not flake even after having it for many hours meaning that you can look sharp all day with this product.
# 3 Krieger + Söhne Premium Styling Hair Gel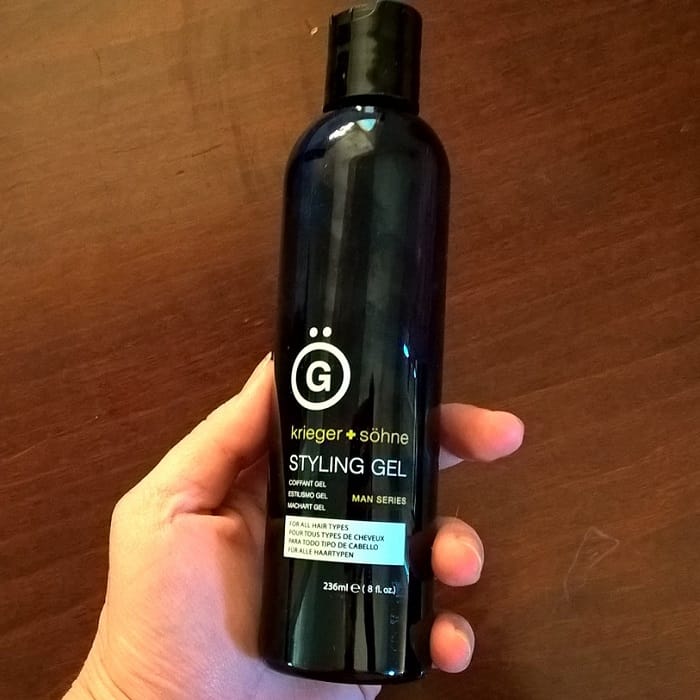 In the world of today image is everything and so men spend a lot of time everyday styling their hair for a perfect look. However, nothing is more annoying than when it flakes just a couple of minutes after leaving the house.
And this may happen despite how good you styled your mane or what design you used as it is caused by the wrong choice of product. What you use on your strands will not only determine how beautiful the hairdo will look but also how long it will hold.
And so if you want something that you can rely on to maintain your style throughout the day then the Premium Hair Styling Gel is what you need. It has been designed with you in mind knowing what you have to go through to get a perfect look, and so it will ensure that you get to keep it for the entire day.
And all this is achieved by using a small amount of it, but the best thing is that it can be used for any style with same hold results. You never have to compromise on the styles you can wear or limit yourself to a few due to hold issues because this product has all the solutions for you.
What Makes It Special
There are many other hair stylers in the market, and they all claim to be the best. Although some work as they claim most others will always disappoint you as they do not meet your expectations. The manufacturer of this gel goes to a great extend to ensure that users are happy with the results that they get.
Although there are others on the market that can also give a good hold what makes this one particularly special is its smooth non-greasy texture. Apart from the incredible style of the crown (or the head if you keep uniform length throughout) there is nothing else that will betray what you have applied it.
The characteristic greasy appearance associated with other products is nonexistent here, and it is replaced by an incredible shine which will make your strands livelier. When applying you only need to scoop a little with your fingertip and rub between the fingers to liquefy.
On application, it folds into your locks nicely. A little goes a long way, and so you do not have to apply too much which can cause the ugly greasy appearance. However, you can apply a little more if you want a super hold.
Why You Should Use This Product
With this product, you will never have to worry about your strands not staying exactly how you designed them. And in fact, if you use an extra amount you will be able to get a super hold that will look even more incredible.
No-flake and no-grease formula will make you have more confidence as you never have to worry about the hair for the entire day. The only thing that you will need is to choose a fabulous design for your hair, and the product will do the rest.
It can be used for any length and type. Whether you want to add some firmness to your long curly locks, or you want to spice up your short spiky top, it will work flawlessly for you. It is also up to the task for any style provided it needs some firmness, but some like the Slick Back look more attractive when this gel is used on them.
If for any reason you are not satisfied with the result you can return it to the manufacturer and get a full refund and so it will always be a win situation for you.
# 4 Suavecito Pomade Firm Hold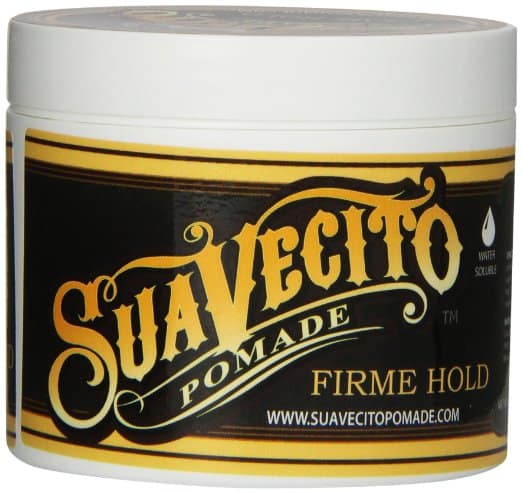 This is one of the most talked about hair product currently on the market and just like any other item some love it, and some have issues with it. However, if you value self-grooming like most men do then chances are, you have used this product at some point.
In spite of the debate which has always been there about it, the only thing people seem to agree about is that it is very efficient in styling and holding the hair.
Suavecito is a water soluble product that has all the fantastic qualities of the old fashion pomade and has been given a few extra ingredients and consistency for a firmer hold. The water-solubility also makes it easy to wash out as you only require water and a mild shampoo.
Leaving some pomade on your hair will ruin it, and so any product that you use should be completely washable before you can make a fresh application. With this pomade, you can maintain a great hairstyle for a product which has been made the old fashion way with some quality organic and natural ingredients
What Makes It Special
The fact that it has been made the old fashion way makes it special because back then people only used natural ingredients to make products. Natural ingredients not only make the product work much better, but they also make the hair and scalp healthier.
These ingredients are also beneficial in the prevention of dry scalp and dandruff and hence making a man look cleaner and more elegant. The other thing that makes this product special is that it can be used on both dry and wet hair and still give perfect results.
However if you want a shinier result, it is recommended you use it on wet hair. It is important to note that with this pomade the hold will still be perfect regardless of whether you apply it to dry or wet hair.
Why You Should Use This Product
It has a characteristic fragrance that is unique and famous. In fact, if you have ever used this product you can quickly identify it just from its incredible fragrance.
Water solubility makes it easier to get rid off in the evening after a long day at work when you do not have much time to wash thoroughly.
The pomade comes in a massive container with a lot of product in there to last you for a long time. Hence, you get to save some cash while still looking elegant.
Suavecito is easy to comb in, and so it will also make styling faster. It also has an attractive moderate shine which will leave your hair looking classy.
# 5 Ed Pinaud Clubman Styling Gel
Some men have very fantastic strands that are thick, voluminous and hard enough. And so these men can wear any style that they wish even using the worst quality products and still look great.
However, as age catches up, they will no longer have this privilege as the strands become thinner and more flyaway. And when this happens you need something reliable that can keep your design in place the whole day and the Clubman Styling Gel is the thing for you.
This product has been designed for application on any hair, and so you can get an elegant hairdo using it whether you have thick locks or fragile strands.
It works better than most that are currently on the market and just by applying a small dab you can be assured that your bangs will remain in place for the entire day or even longer if you wish.
If you do not like very stiff hair, you only need to run a brush or comb through once the hair dries for a smoother finish. Even when you run a comb through it still holds the hair in place, but the difference will be that it does not glue together.
What Makes It Special
This hair styler works correctly for all hairs, and it will maintain the style throughout the day whether it is a slick back or any of the many crown designs.
However, what makes it unique is that one bottle can last even up to one year for some men because you only need a small dab for a perfect finish. Even if you like to style the hair more than once a day the 16oz bottle will take you for several months.
In the world of today, manufacturers do not design retail products that last for long because they want you to come back and buy more, so this makes Clubman not only special but also unique.
The beautiful and non-overpowering fragrance will also make you smell like a man, and this is very different from other hair stylers.
Although others have very nice smells most of the time, they are overpowering and can be disturbing if you prefer to use a generous amount. Clubman is different because the fragrance is mild which makes it manlier and also one of the best hair gel for men.
Why You Should Use This Product
One bottle will take you through many months, and so you get to enjoy a fabulous hair without having to buy products after every couple of weeks. The quality of the merchandise will also not change even if you use for several months without getting a fresh one.
The greatest shortcoming with even the most efficient products is that they are very sticky, and you often feel like your hair is glued up together. Although they still make your style hold this can be very uncomfortable and even annoying. However, the Clubman has been carefully manufactured to ensure that you do not get annoying glued up look.
Its scent is not only fabulous but very masculine making it a perfect product for the modern man. Most others smell the same, and you cannot tell them apart from feminine ones, but the smell of this can only be associated with masculinity.
When it dries up it is not crunchy or too hard as it still maintains a soft look and feel. However, even without being too hard, it will still hold your style for longer than most others. It also has an incredible shine which will make your looks even better.
# 6 Style Sexy Hair Hard Up Gel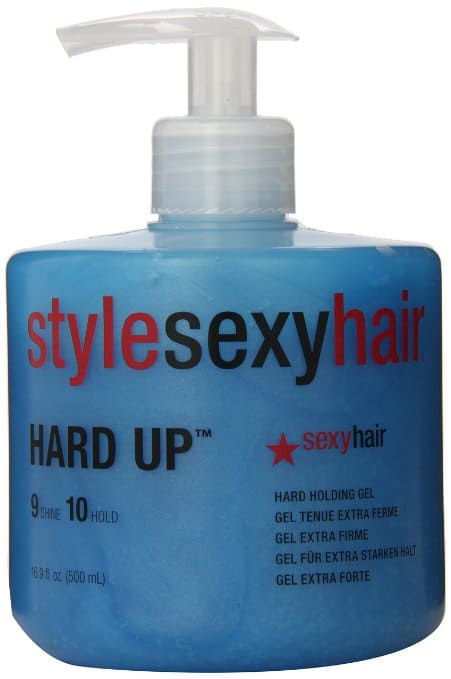 There are different types of gel, pomade, sprays, fiber and many other things from the various manufacturers which purport to give you the best hold. Some work but most are just a waste of your money.
Even those which work have one or two cons, for example, they can be too greasy or have a terrible scent. And so nothing compares to the Style Sexy Hair Hard Up Gel because it's very hard to spot any demerit. It works just as claimed and will go beyond the expectations of most men.
Whether you have a thick bushy hair or fragile strands, long or short and even messy or neat this product will help them stay in place all day long with a little effort.
It will also not only keep the design in place the whole day but even all night long if you wish and the only time that the style will change is when you wash your hair.
And all this will be done without the annoying flakes, crumb or dandruff. In fact, the only way you can make your hairs flake is by squeezing it out with our fingers which rarely happens as no man will even think of touching their amazing hairdo.
What Makes It Special
The fact that it works for any hair type, length or design is one of the things that make it distinct but not the only thing. Another thing that you will love with the Style Sexy is that it comes in a unique bottle that has been designed to make things easier for you when you are applying.
The bottle comes with a dispensing pump that makes assessing what is inside easier and less messy and it also prevents accidental spills in case the bottle was to fall. This pump dispenses a small amount in one push and so you can easily control the amount that you use on your hair.
Apart from just being able to squeeze out the hair styler conveniently, the 16.9oz bottle also has a generous quantity to see you through several months. The best thing with this big bottle is that if you get to use it for long, your strands get used to it and so even styling becomes easier for you.
Why You Should Use This Product
Hardens after a few minutes to gives your hair some great hold that will leave you looking like a stylish and classy man.
The beautiful bottle with a pump makes it easier to apply and control the amount, and it also adds a modern touch.
It is also very easy to wash out as it stays hard under water for a short moment then it dissolves. Men know just how important this is because even though some gel may give you an excellent hold they may be very challenging to wash out.
Perfect hold and shine provide flexibility and versatility, and so you can wear any hairdo that makes you feel great.
# 7 TIGI Bed Head B
What makes TIGI Bed Head B one of the best hair gel for men is that it will make the hair hold for long no matter how hard your day may be.
In fact, the only way you can ruin your perfect hairdo is riding a motorcycle due to the strong blowing wind but even if you are a biker you can still easily fix it after your ride without having to use an extra amount of the product.
This convenience and guaranteed hold are one of the things that have made it one of the best-selling and so if thousands of men trust it, then you can too and you will never be disappointed.
The manufacturer of this product did some proper work researching on the important things that the ordinary man wants in a hairstyle as they make something that will conform to the needs of all men.
No man wants something that will make their hair look overdone or unnatural and so to avoid such looks they ensure that a man will get a natural matte finish for that natural look that they desire.
And so apart from just being able to maintain the hairstyle throughout a busy day it also enhances its appearance and also adds some class.
What Makes It Special
With this almost perfect product, it is very hard to narrow down to one or two special things because everything about it is fantastic. However, despite the fact that everything will leave most men impressed there is always that one or two things that give it an edge over others in the market.
For this one, the unique thing is that it provides humidity resistance. Few others on the market can claim to have the same quality. Even the top ones that are known to have all the nice qualities and give a perfect hold have no solution for humidity, and so this can ruin your looks if you are in the wrong environment.
The humidity resistance feature is achieved through the combination of different polymers in the product. The blend of polymers also provides the much-needed separation, and they also boost the hold provided by the wax.
Apart from the humid resistance, another thing which will make it unique is the smell. It does not have the best scent, but it also does not smell terrible like most others. Its scent is very natural and mild and hence makes it perfect for any man.
Why You Should Use This Product
TIGI Bed Head B is very easy to use, and a little goes a long way. With the busy life schedules you cannot always spare a few minutes for your hair, and so you need something that you can use fast on the go. With this gel, you only need to scoop a little and apply thoroughly to your hair. The entire process will only take a few seconds.
It is one of the few in the market that can claim to have a perfect matte finish that will help your hair hold in for several hours.
Although it might not be the cheapest, it is still very affordable. It will offer you great value for your money since the gel in the tin is sufficient to last for quite some time and also the results that you get justify what you spend on it.
This gel does not create that crunchy old fashion hair that is common with others and instead gives you a soft look and firm hold.
The smell is perfect, and it will leave you feeling fresh and proud of your hairstyle.
# 8 K+S Premium Forming Cream for Men
K and S Premium Forming Cream for Men come in a stylish heavy duty, deep blue and also very glossy jar. Even before you get to use this hair styler, you will know that is high quality first because of the package and secondly due to the reputation of the manufacturer.
It is practically impossible to find any list of top quality hair products for men that do not include a couple from K and S. This particular product is more popularly known for its perfect hold which can be able to withstand even the most engaging workout session without even the slightest flake.
However, even with the strong hold, it is still gentle and soft enough to create a very attractive look. As if all this is not sufficient enough to create a great hair styler the manufacturer also ensures that it is non-greasy so that you can look smart all day and night in case you have any evening engagements.
With this hair styler on your strands, you can always be assured that everyone will notice how good looking your hair is even if you do not have a very complicated design. And this is what sets it apart from the many others from different manufacturers that are currently on the market.
What Makes It Special
The fact that it is manufactured by K and S is sufficient enough to make it unique since the brand name alone guarantees you that it will do everything that it claims and much more.
Although many less known brands produce high-quality products, your hair is always safer with a well-known brand like this one because it has been used and tested by men from different parts of the world for many years.
However, the other thing that makes it great is that it can be used on any hair and to get any hairstyle that you wish. Whether you have the thick voluminous or bushy and nicely textured strands that every man wishes for, or yours are thinning strands, this hair styler will breathe some new life into it.
This cream also allows you to wear any design that you want, and the only limitation will be your creativity as it will give you all the hold and shine that you wish.
Why You Should Use This Product
Its versatility and flexibility mean that it is suitable to use by anyone. This also means that even when you cut your hair or change the designs, you will not have to buy anything else.
The 100% satisfaction guarantee is one of the things which you will be most happy about because it means that if the cream does not work, you can return it for a full refund. However, you will most likely never need to use this option.
With this cream, you get more value for your money because it contains a third more product on the package than most others and they also offer you an extra ounce at the same price. It is also thicker than others meaning that you use less per style.
# 9 L'Oreal Paris Studio Line Melting Gel
Choosing the best hair gel for men is not always easy, and more often than not men end up making mistakes. Most gels out there leave your strands with flakes, they are too greasy or stick, and they only hold for a couple of minutes.
However, L'Oreal's melting gel ensures that you do not regret your choice as it does not have any of those common problems that men have when trying to find the right thing to use on their hair.
In fact, it works so well that men who use it have been loyal to it for many years and have never had a reason to try anything else even with the coming of new ones with modern ingredients and capabilities.
This hairstyle helps you attain one of a kind hairstyle and keep it for as long as you wish and when using it on your locks, people will always notice that there is something special no matter what hairdo you are wearing.
It also delivers a soft but firm hold and so you never have to worry about your locks forming those ugly crunchy layers which you get with other low-quality brands.
What Makes It Special
The best thing with this hairstyle is that it gives you a flexible control and without too much stiffness. When men are shopping for these types of products, the idea for most is to find something that has a great hold but still offers them some control.
Most in the market never seem to be able to create a balance between the two and so they either create too much firmness leading to a crunchy layer, or they are too soft to hold the hair in place for long. However, this hair styler manages to create a perfect balance between the two requirements.
With this melting gel, you will never have to keep on checking whether your locks are still in place as it has an excellent hold effect that is also soft enough to create an eye-catching hairdo.
Apart from this, the other thing that makes it unique are that it also makes the hair feel light, and this is due to the light-weight silicone used. The silicone also makes the hair smoother, and it is responsible for the shine which gives your hairdo a perfect finish.
Why You Should Use This Product
This is a non-hardening hair product, and this is probably what you will love most about it. The greatest disadvantage with even the best in the market is the hard layers that they create in your head but with this, it will never happen.
It makes you feel light headed thanks to the silicone ingredient that makes your locks smooth. The light headedness feeling is, even more, important for men who like to keep longer and thick locks.
Although it works well for most types of hair, it is particularly suitable for the curly and wavy mane.
# 10 Suave Professionals Men Styling Paste
The biggest problem that men have when it comes to styling their hair is not the right design to use but how to hold it for long.
Many products such as pomade, wax and gel have been created to help solve this problem. But to make sure that what you choose works you should go for something which has been tested and proven to be effective. One such product is this paste from Suave.
When using this hair styler, you only need to think of the look you want to pull, and it will give you the hold that you need. And the best thing is that it does not stick or give you that extra stiffy look that is common with other brands.
Instead, this paste will give you a pliable hold, and it is more focused on enhancing the natural dimension of your hair rather than give you an artificial look.
With Suave Professionals Men Styling Paste you will not only be assured that your hair looks great all day, but it is also perfect in maintaining a healthy hair that is immaculate and dandruff free.
What Makes It Special
Very few others pastes in the market can be able to give you better results or even anything close to what you get from this product. It comes from a company that has been in business for a very long time, and it is also one of the most recognizable brands for men hair products globally.
With a company of that stature, you do not have to take chances with any of their products as you can be guaranteed that whatever they produce is a result of in-depth research and a lot of experiments on the ingredients.
Besides from the fact that it comes from a top brand, the other things that make it unique is that it has a non-gloss matte texture, and it has been designed principally for men hair. And so if you want something that will look masculine on your hair then this is what you need to buy
Why You Should Use This Product
It will keep your strands looking healthier throughout the day, and it also does not stick. The paste's other advantages are the fact that it does not create a stiffy hair look and is also not too greasy.
Suave Professionals Men Styling Paste offers you great versatility as it can be used on both dry and wet hair depending on the look which you want to pull. It is also suitable for all types of hair regardless of how long or short they are.
You will probably also not find anything cheaper than this that can offer you the look that you get when using this paste. And this proves that you do not have to spend a fortune on a product to get the perfect masculine look.
Self-grooming is what defines a classy man, and the hair is one of the things that need to be worked on keenly. However, to ensure that you get that perfect look you need the best hair gel for men.

This should not be a problem as you have a variety to choose from the above 10. In case one does not work well for you trying a different one is still a viable option but chances are you will find one or more that will be perfect for your hair from the ten above.

[easy-social-share]