Looking for the best "back to school" hairstyles? Well, look no further since I have everything you need in one place. Like any other hairstyles, school haircuts come in many different styles to choose from.
But all of us desire a haircut that is trendy and fashionable. It is for this reason that I have decided to disclose to you the 60 coolest ideas for "back to school" haircuts.
# 1 Small Side Quiff
This small side quiff is an easy look to achieve. Short on the sides, long on top, blow and brush the hair upwards and to one side to create a simple everyday look that suits anyone.
# 2 Natural Curls
For guys with naturally curly hair, simply muss up your hair and leave it at that. The defined curls look clean and easy. If you want this look but have straight hair, grab some mousse, scrunch a little, and let it dry.
# 3 Straight Blond Bangs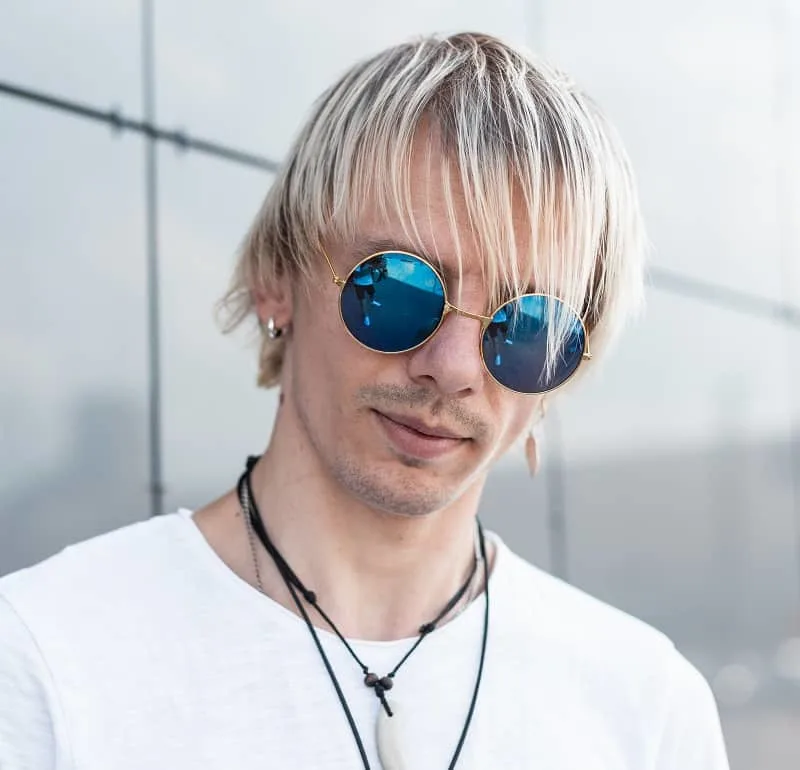 For a cool and surfer-dude look, straighten your hair and wear your hangs long. For a sun-kissed element, go bleach blond with silver undertones that match darker sparse stubble.
# 4 Stubbly Buzz Cut
If you're too busy with school to deal with hair, buzz it all to an easy number 1 to avoid the hassle.
# 5 Voluminous Waves
A little wax will get longer hair standing in easy waves that your female classmates will beg to touch. Brush back the sides to complete the soft look.
# 6 Fade Cut with Textured Top
This style looks absolutely cool. The top and crown are textured and given a slight comb lift at the front. The sides and back sport a high fade cut that creates a smooth and fresh finish.
# 7 Elevated Pomp with Fade Cut
Here, you get lots of weight on top with the elegance of a pomp that functions well to build the shape. The faded sides and back have dark spots around the natural dents and dips to create a more organic look.
# 8 Drop
This is a nice shape up hairstyle that features lots of texture and volume on top. The top hair is cut and given a spiky look. The back and sides are tapered and given a sharp fade that disconnects the beard.
# 9 Afro Bits
Here, you get the best in the worlds of afro and fade cuts. The textured afro adorns the top and is styled into curls to provide more visual volume. The faded sides take the fresh looks of this style to a whole new level.
# 10 Cropped
Massive thick hair can be quite a hassle to manage. However, you can give it a box square shaped cut that is faded from the skin high up. A cropped fringe is added to create a more detailed look.
# 11 Half Pomp
This half pompadour looks stylish and absolutely cool. It makes the face more elongated and is textured for added elegance. The sides are undercut to make the style quite easy to maintain.
# 12 Curls and Sharp Edges
Here is how you can change your curly locks a little bit to create an edgy look that is both stylish and elegant. The sides are given a skin fade to provide a clean finish. A blunt point adorns the back to give your hair a cool touch.
# 13 Natural Fall
This is how you can give your hair a more natural approach. The top is textured and styled to bring out the coolness of natural waves. It is a style that will definitely create that bold look in you.
# 14 Simple and Perfect
This style features great simplicity that makes it much easier to pull off. The hair is textured and clipped at the sides to make it slightly longer on top. It is slicked back to create a preppy and formal look.
# 15 Tapered Sides
Textured wavy hair can be quite difficult to style. But you can avoid all the hassle by giving a little taper on the edges. This gives you a sweet sharp look that is absolutely sexy.
# 16 Flat Top
Here, the top is given the elegant touch of afro hair. It is clipped at the top to create a flat profile. The sides and back are shaved down to the skin to create a perfect bald fade.
# 17 Channeled Hair
This is a perfect haircut for boys who are looking for something more intricate. It sports channeled top that ends into twisted bangs at the front. A high fade adorns the back and sides. This is a haircut that creates more drama and fun.
# 18 Disconnected Pomp
The unique styling of this haircut creates a huge visual impact. It sports a disconnected pomp that is slightly flipped to one side for a more flattery look. The top falls sharply into clean faded sides and tapered back.
# 19 Textured and Cropped Skin Fade
Is your skin fade cut starting to get boring? Well, you can make it look more current by matching it with a cropped haircut on top. This creates a blunt fringe that looks messy yet cool.
# 20 Skin Fade Hard Part
Here is how to get a sharp and classic look. A hard part creates a perfect preppy haircut that transitions into faded sides and back. This is a style that has lots of formality in it.
# 21 Wavy Top with Tapered Sides
The textured and wavy look of this haircut gives it a modern touch. It sports elegant double tap at the sides and connects well with the beard. You can add to the cool look of this haircut by wearing some trendy sunglasses.
# 22 Wavy Blonde
This is a pretty sweet haircut that provides the elegance of soft waves. They add a more delicate touch to your hair and add to its visual volume. It is a cool gentleman style that is easy to pull off.
# 23 Messy Cropped Hair
The messed up top doesn't in any way compromise the cool look of this haircut. It just makes it more dramatic while adding to the fun look of the cropped front. The sides are faded to create a perfect shape up haircut.
# 24 Low Fade
Here is a hassle-free way of styling your medium length hair. All you have to do is give it a low fade and you get a style that is simple yet elegant enough to get you some attention from admirers.
# 25 Slanted
Trimming your hair to the same level can be quite boring. Here is a chance to transform your rustic blonde hair into something unique and trendy.
The top is slanted from the front to the back. The sides are given an undercut and let to connect to the beard.
# 26 Blunt Crop
This is a nice way to perfect your shape up haircut. A bowl cut is given a blunt crop at the front with a clean touch of faded sides.
# 27 Classic Haircut
Here, the hair is given a comb part and the sides cut short. The top creates the illusion of a wavy pomp that ups the looks of this dark hair.
# 28 Fade Cut for Wavy Front
This haircut sports an edgy look that makes it absolutely stunning. The top is textured and styled into nice waves at the front. The sides feature a skin fade that lines vertically with the top to create a shape up haircut.
# 29 Preppy Haircut
This formal style will definitely create a romantic touch in your looks. It is a trendy haircut that will match well with your wardrobe. It is simply neat and amazing.
# 30 Textured Mess
This hair is given lots of texture and left wild at the top to create more volume and height. The nape is styled into a sleek textured look that creates a great contrast with the top. This is a perfect match for the dark Asian hair.
Idea # 31
Idea # 32
Idea # 33
Idea # 34
Idea # 35
Idea # 36
Idea # 37
Idea # 38
Idea # 39
Idea # 40
Idea # 41
Idea # 42
Idea # 43
Idea # 44
Idea # 45
Idea # 46
Idea # 47
Idea # 48
Idea # 49
Idea # 50
Idea # 51
Idea # 52
Idea # 53
Idea # 54
Idea # 55
Idea # 56
Idea # 57
Idea # 58
Idea # 59
Idea # 60
These are the ultimate "back to school" hairstyles that have been embraced by many across the world. They are easy to style and provide an unmatched elegance that will get you lots of admirers in school.