Guys have been experimenting with men's messy hairstyles for many years, and this has led to the development of different types of this beautiful hairdo.
Although to some people these styles can look like somebody just forgot to comb, they are very modern hairstyles that can involve actual styling.
Getting this look is easier than most others but it is still important to choose one that best suits you. Choosing the right one from the dozens available is paramount but for this to be possible you have to know some of the types available.
# 1 Messy Curls
This hairstyle features a super chic look with major volume of the curly hair focused in the middle. The hair on the sides of the head are trimmed neatly to put the focus on the curls with a prominent chunk falling on the forehead.
# 2 Tousled Stresses
This hairstyle features dark and thick hair that are set backwards to give you a clean look with messy hair falling back. The sides are trimmed, and the rest of the hair are kept long.
# 3 Shorter Sides
This messy hairstyle is for the ones who want to keep it clean. The hair are generally kept short on the sides with a bit longer hair in the front that give you a fringe up look.
# 4 Messed Up Blonde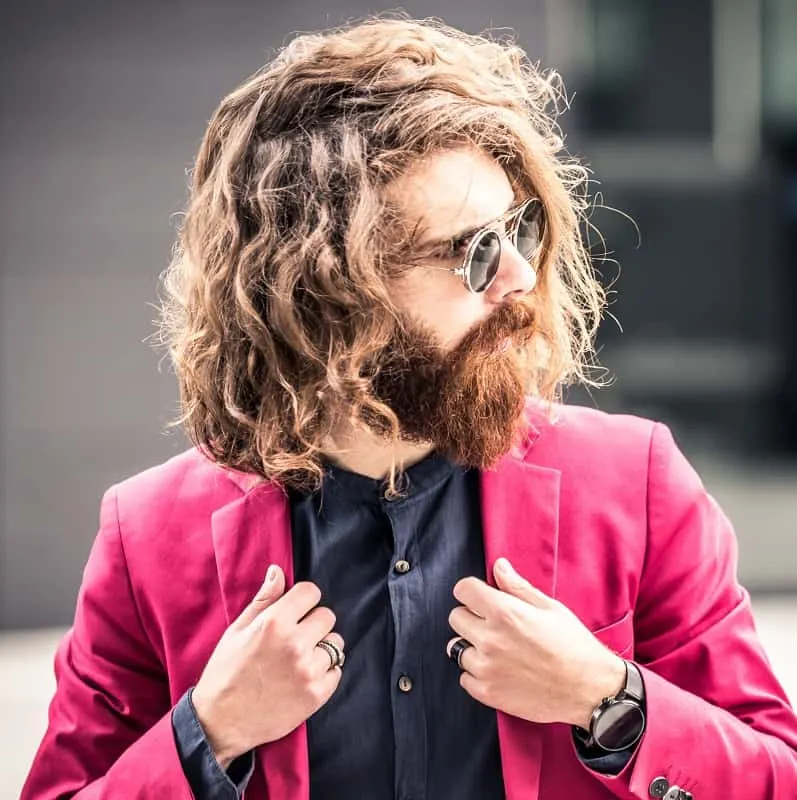 Messy long hair is another hairstyle that is trending these days. It basically features long and thick hair that reach the shoulders for a textured man bob look. It is side parted to add more style to your smart look.
# 5 Ginger Mane
This hairstyle is perfect if you are not fond of going to the barber again and again. It features longer hair on all sides with middle hair standing and side hair pushed down to give you the look of a quiff hairstyle.
# 6 Messy Spikes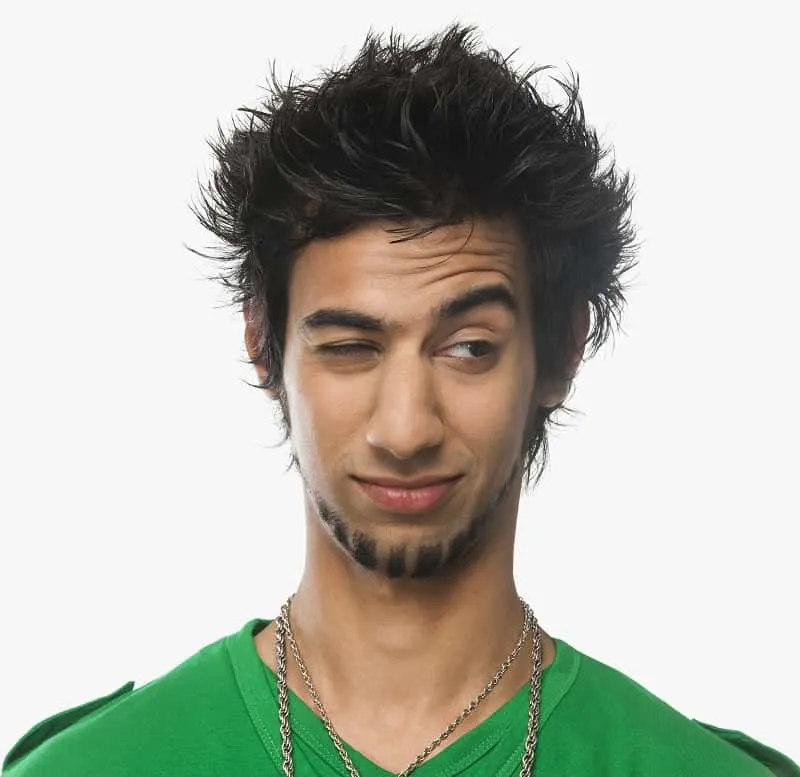 If you want to look cool but don't know how to do it with long hair then, you should opt for this hairstyle. It is a fringe up hairstyle with your hair raised in fringes on all sides. The middle hair are slightly longer than the rest of the hair to complete the look.
# 7 Long Fringe
This hairstyle is ideal for people with curly hair. It not only makes you stylish but also gives your hair a beautiful look. For this hairstyle, the hair over the ears are trimmed slightly and the rest of the hair are let loose with major chunk falling on the forehead.
# 8 Fohawk Design
If you want to achieve a cool look then you should go for this hairstyle. It features hair in the middle that are raised into fringe up style. The side hair are trimmed to achieve a fade look with custom designs cut into it.
# 9 Mid Part
If you have got curly hair and don't want to cut down those luscious curls then, this hairstyle is ideal for you. It features long hair that reach the back of your neck and are middle parted to complete the look.
# 10 Nerdy Look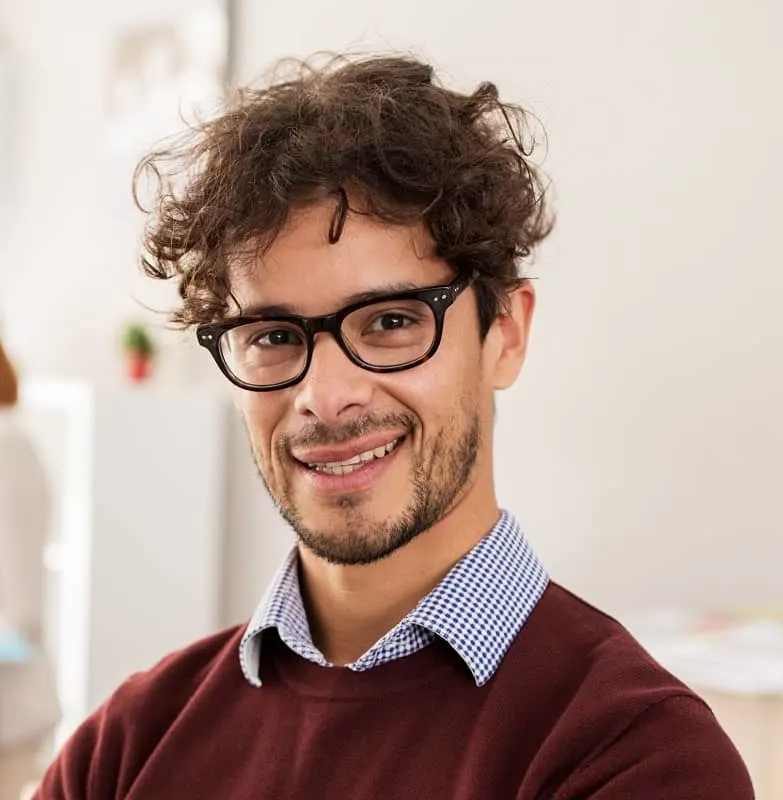 This hairstyle gives you a messy look with thick hair kept longer in the middle and slightly shorter on the sides. You can get this hairstyle if you want to achieve a nerdy but smart look.
# 11 Short Waves
Wavy hair is the best type for messy style and is also the easiest to work with for most types of these hairstyles. Here wavy hair is scissor trimmed with more length left at the top of the head.
Sides are then given a high fade and neatly shaved small facial hairs are also kept. Everything is beautiful in this cut, but the center of attraction is the mess created at the top by trimming the wavy hair.
# 12 Rockabilly Forever
This style demonstrates the rockabilly look that was very popular a few decades ago at its best. The long, voluminous hair is just perfect, and the best thing is that it is all natural, and almost no styling is required for this style.
The long wavy bangs are trimmed to give them a messy look then swept forward while the sides are skin faded.
# 13 Soft Touch
Short, simple messy bangs at the top create the amazing soft touch hair and to make it look even more appealing the cut is given some nice tapering on the sides.
Mess at the top is further enhanced by minor side sweeping to create a cute hairdo that can be worn for any occasion.
# 14 Pointy Bangs
Pointy bangs may take a lot of time and skills to get them right, and some products are also necessary but despite the effort, the results are worth it.
Here the bangs are pushed forward with fingers so as to create a messy final appearance. Sides and back are then shaved short to finish the look.
# 15 Messy Spikes
Apart from the cuts involved in creating the peaks and hair product that will be required to maintain them, there is probably nothing else that you will need to do for this hairstyle.
You should leave the spikes at the top, and they should be about three inches long, and you should then sweep them up for the messy spikes design.
# 16 Hay Like
Strands in this style look like hay, but this is perhaps one of the things that make it an attractive haircut.
It is the hay like appearance that makes them messy, and the good thing is that some men's natural hair looks like this when left uncombed.
And so if you have such strands all you need to do is to fade or close shave sides and leave the hay like bangs at the crown.
# 17 Messy Bun
Men who like to keep medium or long locks are best suited for this, and it is also one of the easiest hairstyles that they can wear.
For this, one should not comb their locks but should instead just pull it together in a man bun at the center of the head to create the messy bun look.
# 18 Lazy but Handsome
This hairdo looks like the wearer had no time to work on their hair or they were just feeling too lazy to do it but either way, it is still very attractive.
In this hairstyle, a naturally wavy and curly mane is maintained at a few inches long throughout the head and apart from the application of some products there is no sign of any styling at all.
# 19 Messy Fringe
The beauty of chaotic hairstyles is keeping things as natural as possible no matter what style you like wearing.
In this particular look, hair is styled into a fringe. However, it is still important to apply some hair product on your mane.
# 20 Long Chaotic Curls
Curls probably make some of the most elegant hairstyles and in most cases you have to do little to wear the perfect look like in this particular hairdo.
Here the curly hair is very long and has a natural chaotic appearance, and this is what makes it amazing.
# 21 Long Wavy Mess & Braid
Guys with long hair look great, and it also offers them versatility as there are many things that they can do with it.
However, in most cases just leaving it natural will create an eye-catching look like in this style. The long wavy mess is further complemented by the introduction of a single and equally messy braid.
# 22 Chaotic Top Bun
Man bun will look good on any man provided they have enough length to pull it together. And although there are many ways you can do a bun one of the most popular is the one on the top.
For this to look great, you do not have to spend many minutes trying to comb the hair as you can still pull it together as it is to create a unique and stylish messy bun.
# 23 Fingers are My Comb
Two sets of colors are used on these bangs, and a long full beard is also kept, and these two factors will probably draw most of your attention, but the look would not be possible without mess that is created with fingers.
Rather than using a comb hair is pushed in different directions with fingers to create the beautiful mess.
# 24 Barber Wind
Hairs in this style look like they are flowing with the wind. But this is the work of a skilled barber and some creativity.
For this hairdo, long bangs are maintained at the top while the sides are tapered. The long wavy bangs are then swept to one side to finish a captivating look.
# 25 Messy Top
This messy top haircut is created with a very long hair that is given some nice undercuts.
Mane is long enough and thick enough to cover the undercut areas when styled back, and so you will have a variety of options to wear it. For the messy look, the top should be left natural without any further styling.
# 26 Forgot To Comb
Sometimes even forgetting to comb can make you look stylish especially if you have a long wavy soft hair. You can push it back with your hands for a distinct look.
This style will look particularly good if you also keep a long and untrimmed full beard as it will complement the hairs on your head.
# 27 Chaotic Strands
These strands look as chaotic as it can get starting with trimming and styling. They are not trimmed to a uniform length even though they are all quite long, and this helps to create their unique look.
No styling is done, and locks are left to take their natural flow and so whereas most flow to the back, a few also go to the sides and front. Beard and hair color are also vital for this style as they add a touch of beauty.
# 28 Colored Waves
Color makes hair look incredible, and it can enhance the beauty of any hairstyle, but the trick is always in choosing the right shade.
Short and neatly trimmed waves in this cut are amazing, but the addition of the right color choice adds a whole new twist to the hairdo.
For an even better look, the sides are creatively tapered so that all the focus remains on the top colored waves.
# 29 Rich Crown
It's all about the fabulous crown in this cut, and although it might not be as messy as other styles, it still looks great.
Long bangs are maintained at the top while the sides and back are scissors trimmed to less than an inch. Crown bangs are then slightly slicked back with the hands and a big well-kept beard also complements the hairdo.
# 30 Lengthy
Some men like to keep long strands of hair to pair with their equally long beard. To achieve this look, there are no fancy cuts or styling and everything is left natural.
In fact, the biggest thing that is done on the hair apart from probably using some products on it is pushing it out of the face with your fingers.
Here the length does the magic and creates a very fantastic appearance, but some patience is necessary to grow the ideal hair length.
# 31 Textured and Brown
The texture of this hair is amazing, and the barber who did it must be very skilled or he took a lot of time on it.
Texture of the hair creates some cute bangs that are pushed forward with the sides tapered. Apart from the texture, the brown hair color also spices up things further.
# 32 Long Wavy Fringe
A fringe is an amazing hairstyle that is also very simple to wear provided you have the right length. Here the edge is different than what you would typically see most men wearing.
What makes it different and hence unique is that it is extra long and wavy and hence it covers most of the forehead and comes all the way to the eye level.
# 33 Perfect Mess
Messy perfection requires that you get everything right from the size of the hair to the styling. This cut is a good example of it, and it maintains a few inches long at the top while sides are high faded.
What makes the crown messy hair perfect is how the strands flow in an upswept and somewhat frontwards direction. The hair looks fabulous, and you would hardly find any messy haircut done better than this.
# 34 Unorganized Caesar
Famous Caesar cut is always immaculate and well organized, but this is not the only way to wear it or the only way to look good in it.
Here the crown is longer than the traditional Caesar, and there are also some undercuts but what makes it more appealing is that it is unorganized to create a messy look.
# 35 Curly Locks Everywhere
Curly locks offer you versatility, and if you take advantage of this by getting creative, you will look outstanding in your curls.
This particular style maintains long curly strands throughout the head. They are everywhere on the head and are very long that they can completely cover the face when pushed forward.
# 36 Messy Mohawk
Mohawks have been in trend for a couple of years now, and they are probably one of the most popular hairstyles for men.
They involved skin fade or carefully short shaved sides with longer hairs left in the middle. This look adds some twist to the Mohawk by making the longer middle hair messy for a more fantastic style.
# 37 Textured & Messy Push Back
A pair of scissors can work magic on your hair and can help you create a style that you could never have thought you can wear.
This amazingly textured scissor trimmed hair is a perfect example of it. As the texture does most of the work all that is needed to finish the messy look is a simple push back with your fingers.
# 38 Triangle Faux Hawk
This haircut showcases a modern variation of the popular faux hawk where instead of going all the way to the back the middle longer hair is shaped into a triangle at the center of the head.
A distinct pattern is created, and the look is further enhanced by making the longer hair messy and giving it a nice blonde color.
# 39 Dark Bangs Mess
Dark black hair looks more voluminous than other colors, and it helps to conceal any imperfections with your hair.
Apart from this, it can also help you create a fantastic chaotic look. If you have a long dark and voluminous hair, you can get a mess by pushing it back with your hands without combing it.
# 40 Slick-Back & Mullet
It's amazing how the direction that the hair flows towards can make or break a hairstyle.
In most cases and especially for men with medium or long hair all that they need to do is to choose a direction to comb their hair towards.
For this, a simple slick-back creates a beautiful look for the medium size wavy hair. It is also slightly messy and hence creating what can only be described as amazing.
Idea # 41
Idea # 42
Idea # 43
Idea # 44
Idea # 45
Idea # 46
Idea # 47
Idea # 48
Idea # 49
Idea # 50
Idea # 51
Idea # 52
Idea # 53
Idea # 54
Idea # 55
Idea # 56
Idea # 57
Idea # 58
Idea # 59
Idea # 60
Idea # 61
Idea # 62
Idea # 63
Idea # 64
Idea # 65
The above 65 men's messy hairstyles demonstrate that you do not always have to try to make your hair as neat as possible to look good.
Chaotic strands and locks make a great haircut, and you only need to find a style that will work for your hair length and type.
And the best thing with this haircuts and hairstyles is that they are simple to wear and require almost no maintenance at all.
They will also help you break away from the norm or traditional designs, and so it is a magnificent idea to try a couple of them.