There are plenty of gorgeous boys haircuts available for boys, and men, to choose from. These styles have been inspired by icons in music and film as well as sports stars, the only problem is, you can't always wear the style you want.
The occasion and profession you're involved in largely dictates your style in clothing and hair. So you have to be careful when you choose to style your hair, recognize where you will be going and choose among these boys haircuts that best suits the occasion.
# 1 Short & Simple
For the busy young man with no time for maintenance, a simple, short, uniform cut works well. With some longer hair at the front to style, it's a versatile look that works with or without effort.
# 2 Rocker Hairdo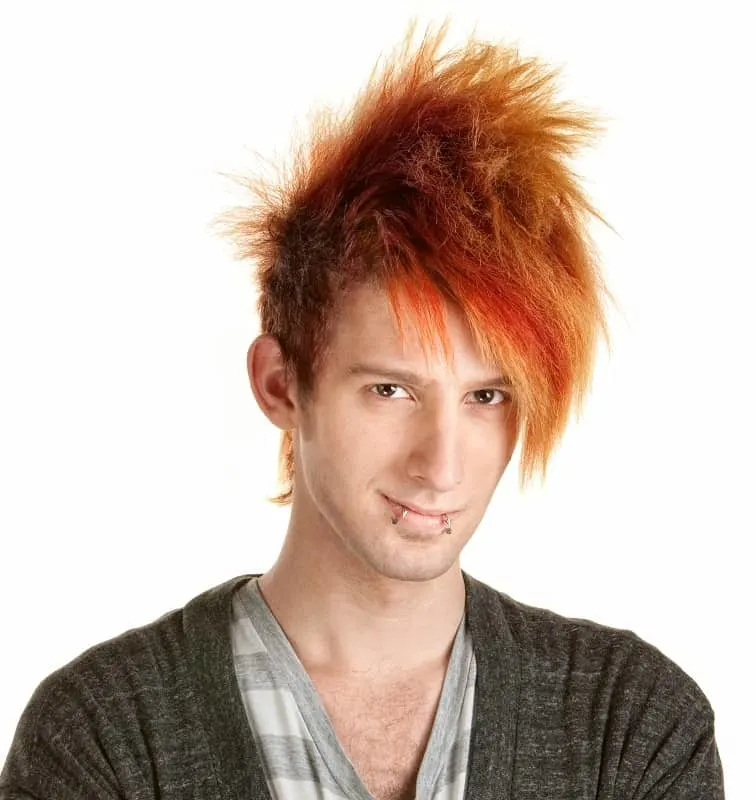 For guys who want to express themselves and look cool while doing it, this punk rock style is all the rage. With a bright dye job and an enormous teased and spiked mound of hair falling across the face, you'll stand out in any crowd.
# 3 Boy Braid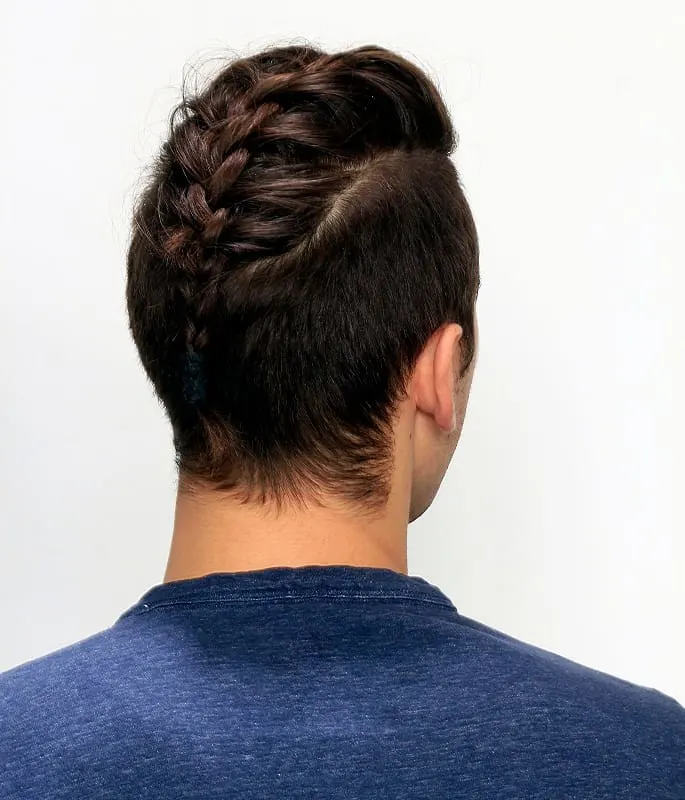 For a creative and unique look, keep most of the hair short but keep enough on top to form a voluminous French braid from the forehead going back.
# 4 Undercut & Pompadour
Undercuts are very much in style. Pair one with a lazy, loose pompadour0like style that looks neat and well put together, but not so neat it takes away your laid back edge. Make sure some hair escapes the slick look so you look natural and easy-going.
# 5 Top Curls with Undercut
Naturally curly guys will benefit from an undercut with the hair kept thick, but nowhere near as thick as the mountain of curls on top. It's low maintenance and looks cool-casual.
Clean Cut
For a professional, a clean cut haircut is best. You look good, and if you work in an office, you still maintain the professional look.
Even when not in the office, a clean cut expresses seriousness in every occasion, so if you're not sure about the hairstyle you want, always go for this, it never lets you down.
# 6 Side Parted
Just because it's clean doesn't mean it shouldn't have character. Part your hair along one side of the head and let the hair flow on either side.
This style is still clean and is often seen with Wall Street guys, just like in The Wolf of Wall Street, so plenty professional.
# 7 Simple Fade
This style leaves more hair at the top of the head while the hair on the sides and back gradually fades as you move down.
You can choose whether you want the hair at the end of the fade is clean cut or completely removed. This haircut is ideal for a professional because it's neat, plus it requires little maintenance.
# 8 Slicked Back
This is another multi-purpose haircut for men, it is clean but can still work for casual occasions. You have to be prepared to work on it, though, you will need to comb it regularly and own a good pomade or hair gel.
# 9 Bald Cut
You don't want the hassle of maintaining hair, why not do away with it. Some famous people have managed to pull off a very attractive bald look, and it's always neat.
You can either completely do away with your hair, or maybe just leave a bit of it behind.
# 10 The Caesar
This style is a bit similar to the bob cut, although it's shorter and cleaner. It involves applying a product that will keep the hair in place all day clung to the scalp although not as intrusive to the face as the bob.
# 11 Simple Cut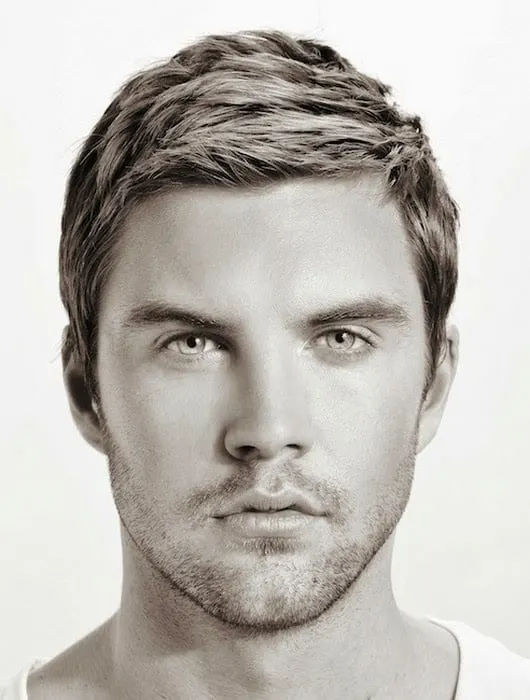 This is perhaps the dullest of all hairstyles I know of, and that's why it's favored by people who are generally very active. You don't need any product for this, and it works for all occasions and hair types, hence its popularity.
# 12 Very Short Hair
Instead of taking it all away, leaving a bit of hair can still work, especially for African Americans.
Old School
Some hairstyle just never seem to leave us, here are some haircuts we've seen over the ages:
# 13 Tapered and Slicked Back
A popular style in the past was to leave a lot of hair at the top and front part of the head and apply a fade. The hair at the front was then slicked back in a continuous flow.
# 14 Bob Haircut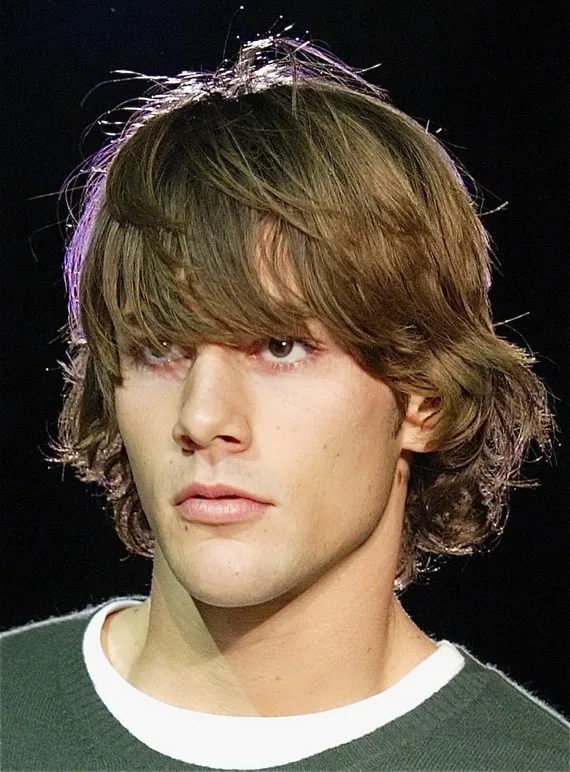 Another classic style that never seems to go away is the bob cut. You distinguish a bob cut from the amount of hair falling on the face and back, you could compare it to a helmet.
It is ideal for a young guy, though, and I've never seen a forty-something rock this style.
# 15 Flat Top
This style is very unique, and may vary depending on the height of your hair. If you have lengthy hair, then the top side of your hair will appear flat.
However, for shorter hair, the hair fades away at the centre, revealing the top part of your head. The latter is much unique though I don't see too many people with it.
# 16 The High Top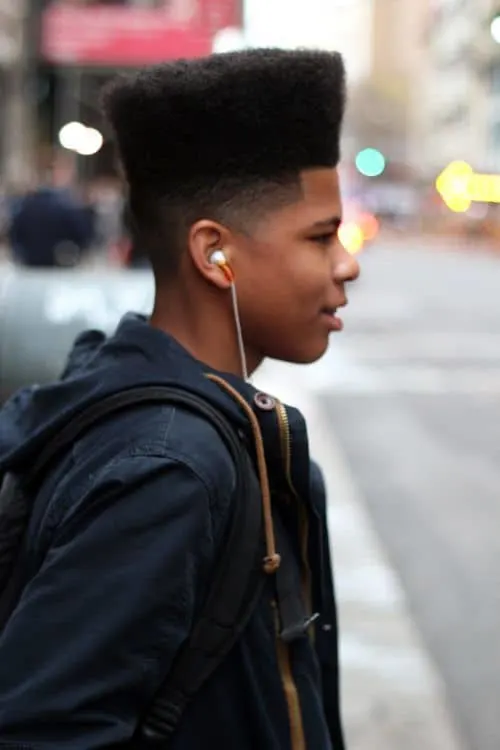 A variation of the flat top, this style requires longer hair and moderate maintenance. We saw this style in the 60s to 80s with the hip-hop legends, and every once in a while it will pop up.
You're guaranteed to turn some heads with this one, too, because it's unique, and it leaves the rest of the hair up for modifications. For example, you can add patterns to the side of the head or apply a fade.
# 17 Jheri Curl
This haircut was popular among African Americans in the past, though it's still common. It is much easier to care for than other styles, which led to its popularity. That and the fact that some popular musicians used it.
# 18 The Afro
I'm not sure whether this falls in the old school category, but it has been in existence for a very long time. It's the natural style for people with lengthy and kinky hair texture, and only requires combing away from the scalp.
The end result is the equivalent of a cloud or ball. This is distinguished from the Jheri curl only by the fact that it doesn't require product, although the final look is somewhat similar.
# 19 Pompadour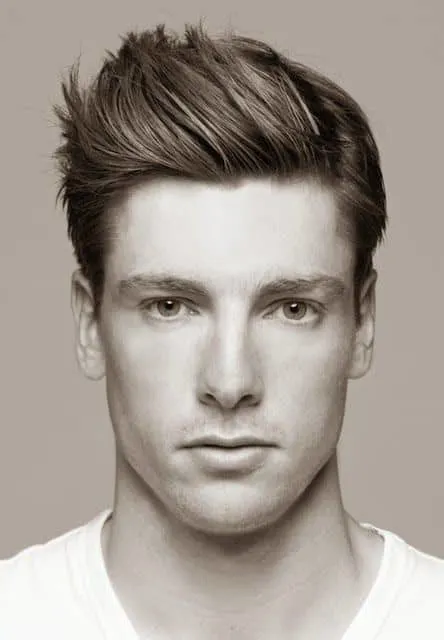 Inspired by the rock-god Elvis Presley, this haircut has become the symbol of classic rock lovers and is the ultimate in the retro department.
Basically, you've got more hair on the top than the sides, them the top is sort of slicked back, though not all the way. The final look is a larger amount of hair toward the forehead.
# 20 Edgy and Modern
You can also let go by letting your hair free, applying a bit of product and gel and creating spikes at the top of the head. It works, too, on all lengths of hair, so it's sort of universal.
Casual Hairstyles
There is no shortage of casual styles in the boys haircuts category, here are just some.
# 21 Undercut
Apparently this style won in 2023 for being the most popular haircut. It involves shaving the hair on the sides and back of the hair, though not completely, and leaving hair at the top medium length.
Afterwards, you can decide whether you want the hair at the top side-swept, by combing it to one side, or slicked back.
# 22 Waves
You're off work and would like something that shows you're laid back, then this is for you. It's easy to convert other hairstyles into a wave and change your look completely. All you'll need is just a little product and work and that's it.
# 23 Sideburned Style
Facial hair can work to your advantage when you've got it, especially sideburns. You can blend the sideburns to the fade on the sides on your head to achieve a laid-back look.
# 24 Ponytail
I especially like ponytails, though I've never had the chance to do it. It's a very clean look and works great with facial hair.
In essence, a ponytail entails pulling your hair back and away from the face then tying it together at a single point. It's great because it can also function in a professional environment.
# 25 Long Man Tail
While the ponytail is small and ties the hair together at a point, if you have truly long hair then it won't be enough.
A substitute to that is the man tail, and instead of being tied around the top of the head, it's tied at the back of the head and the hair let to continue falling over the back.
# 26 Roughed up and Shaggy
The ultimate casual look can be pulled off with a shaggy-looking style. This isn't to say there isn't any work done on it, you have to strive to create a good-looking yet shaggy look.
Crazy And Over-The-Top
These are the kinds of styles you get when you want to really stand out. They're, frankly, crazy to me, and you might just get plenty of stares around the streets.
# 27 Patterns
You can easily create a pattern from your hair, whether it be your favorite football team, a name or even a symbol, you've probably seen some during a game or among gang members.
This style is personal, and would depend on the message, still, you need a skilled barber to do it because there's no hiding or adjusting once it's done.
# 28 Shapes
Instead of just an abstract pattern, a complete image could also be made from a haircut. Just as with patterns, they're complicated and you want to get it right the first time.
# 29 Mohawk
The Mohawk came about quickly, got everyone hooked and many people applied it, then the style just faded away, I admit even I did it.
Every now and then, you still see one pop up, and you realize how truly unique of a design it is. It can range from a few inches to really crazy lengths, but either way, it remains a Mohawk.
# 30 The Rattail
I consider this a miniature ponytail. Basically, you have your head shaven, but then you leave a few strands of hair at the back.
You then let these strands fall on your back like a ponytail, although because you don't have hair on the rest of your head, it's considered a rattail.
Long Hair
# 31 Dreadlocks
When you've got very long hair, one of the styles you could apply is the dreads. It's one of the oldest styles of keeping hair, and could even be seen in mummified remains in ancient Egypt.
Despite what people think, dreadlocks are clean, requiring washing up to once a week. You can either let the dreadlocks grow out on their own or systematically combing your hair to form locks.
# 32 Perfectly Professional
You don't have to cut your hair to fit into the office environment. A clean and polished look can still be created if you keep the hair away from your face.
It will take a little more time in the morning to get it going, but that's the price you pay for keeping your hair.
# 33 Rockstar
Like the name states, it's a popular look among rock stars, if you want to look like one. Basically, you let your hair down and smooth out the hair using a flat iron. It is a very casual look and doesn't draw too much attention.
# 34 The Distinguished Man
Long hair isn't just for the casual look, either, it can also be a sign of a seasoned gentleman. To pull this off, you only need to apply a small amount of pomade to the hair and let it dry.
The end result is a slightly shaggy look but clean. It mostly works for older men, though, so you might want to keep away from it if you're still in school.
# 35 The Middle Part
The simplest design to apply on long hair is to simply create a part in the middle and let the hair fall back and sideways.
Gorgeous men have to wear gorgeous haircuts in order to look amazing and stunning. There are plenty of different hairstyles that will definitely satisfy the most capricious men.
Idea # 36
Idea # 37
Idea # 38
Idea # 39
Idea # 40
Idea # 41
Idea # 42
Idea # 43
Idea # 44
Idea # 45
Idea # 46
Idea # 47
Idea # 48
Idea # 49
Idea # 50
Idea # 51
Idea # 52
Idea # 53
Idea # 54
Idea # 55
Idea # 56
Idea # 57
Idea # 58
Idea # 59
Idea # 60
Idea # 61
Idea # 62
Idea # 63
Idea # 64
Idea # 65
Idea # 66
Idea # 67
Idea # 68
Idea # 69
Idea # 70
Idea # 71
Idea # 72
Idea # 73
Idea # 74
Idea # 75
Idea # 76
Idea # 77
Idea # 78
Idea # 79
Idea # 80
Idea # 81
Idea # 82
Idea # 83
Idea # 84
Idea # 85
Idea # 86
Idea # 87
Idea # 88
Idea # 89
Idea # 90
Idea # 91
Idea # 92
Idea # 93
Idea # 94
Idea # 95
Idea # 96
Idea # 97
Idea # 98
Idea # 99
Idea # 100