Once you've grown your hair long and you need an easy going polished look, braids and buns can help to keep your hair looking stylish while still being practical.
And do you want to combine them? Well, go ahead – braided buns for men are trending at the moment! Not sure about where to get started? Don't worry! We'll show you guys who are getting it right!
# 1 Cornrow Man Bun
With cornrows and a fade that just edges the hairline, this man bun is packed with detail. Alternate braiding part of the hair and leaving some loose to get this boho texture.
# 2 Man Bun for Black Men
Black men often wear their hair in cornrows. If you're one of those men, switch up your daily do by gathering the braids into a small tight man bun secured at the crown of the head.
# 3 Braided Bun with Bandana
Lots of tiny braids not only tame long thick hair easily and last several weeks for low maintenance style, they also look fresh and handsome when secured in a man bun with a bandana at the nape of the neck.
# 4 Undercut Man Bun
When you look at this man bun hairstyle secured low above the neck, the undercut is very subtle. But when gathered up high, it'll really pop and add a dash of edge to an otherwise traditional look.
# 5 Jumbo Man Bun for Long Hair
For hair that is past the shoulders, go for lots of braids that are twisted together for quick style. Then gather the braids up into a high jumbo man bun, leaving a couple of the braids loose to drape over shoulders.
# 6 Man Bun with Undercut Fade
For the ultimate hairstyle packed with punch, try a braided man bun with an undercut fade secured at the very top of your head. It's triple the style and will last several weeks, so you can spend less time styling.
# 7 Woven Braided Bun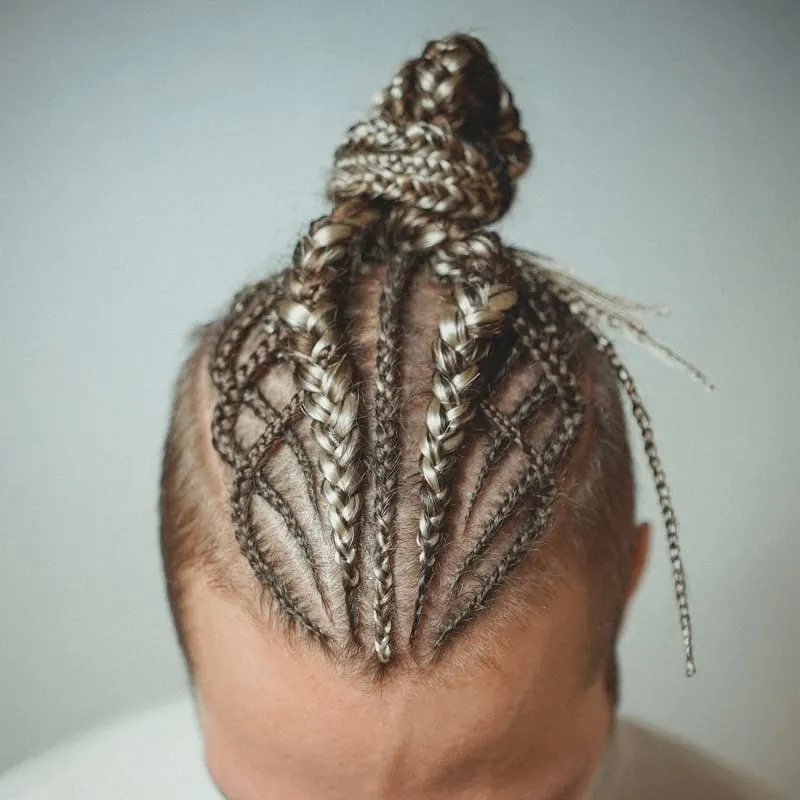 The alternating thicknesses of these braids are what set it apart from other man buns. Mix thin and thick cornrows, intertwining a few of them for detail, before gathering them up in your bun.
# 8 Thin Hair Man Bun
Is your hair on the thin side? When given loose braids extending from the hairline on back, no one will notice. Gather it all in a low messy man bun for quick style.
# 9 Man Bun with Highlights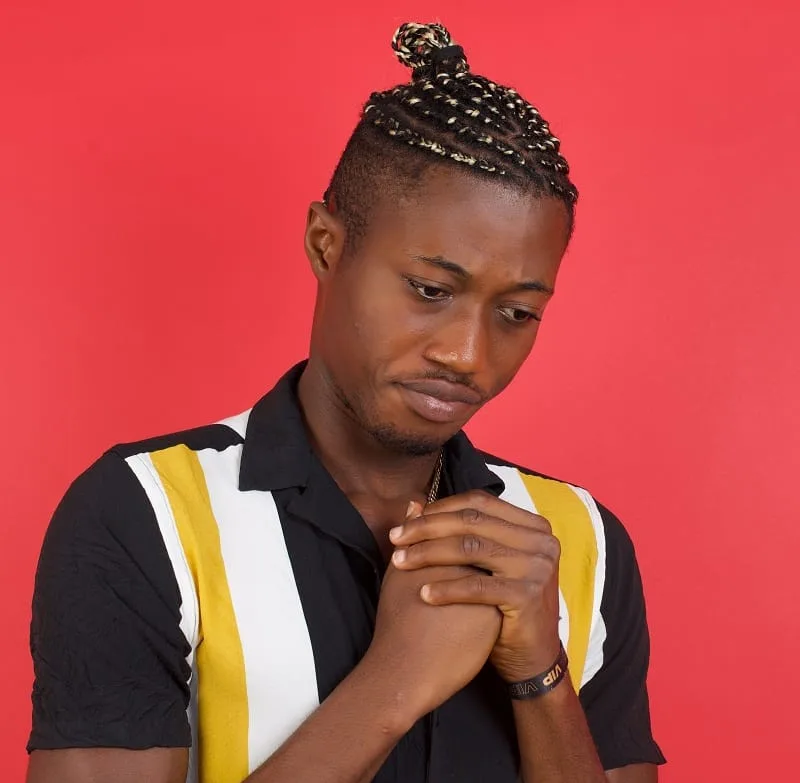 If your hair is naturally black, add in a few blonde highlights for contrast. The braided man bun combined with an undercut fade and secured at the crown ensure this is a hairstyle that will be your go-to.
# 10 Messy Man Bun
Who says your braids have to be neat before gathering them into a man bun? This style shows how trendy and edgy a messy braided man bun can be.
# 11 Front Row Style
Man braids are not only super stylish but they also keep your locks neat and tidy. Here, an undercut is teamed with two short rows of French braids and secured high on the head with a bun.
# 12 Tight Top
Why settle for one braid when you can have many? In this picture, four rows of tight braids have been created with the longer hair on top and tied in a simple fold over the bun.
# 13 Up and Over
For this unique hairstyle, the hair has been divided with a center parting and each side has been Dutch braided. The two braids meet at the back of the head where they are joined together.
# 14 Ball Of Box Braids
Long box braids sit above an undercut in this picture and they have been collected at the back of the head and twisted into a neat, round man bun.
# 15 Dutch Braid
This style is called a Dutch braid and it can be easily identified because it looks as though the braid sits on top of the hair. Here, a single braid runs down the center of the head into a high bun.
# 16 Precision Locks
A loose French braid has been fashioned using his longer top locks. The hair has been combed back precisely into the style and the ends are tucked away at the back.
# 17 A Little On The Side
Slicking back your hair into a bun keeps it looking neat and out of the way, but why not jazz it up a bit by adding some small braids alongside the parting like this guy?
# 18 Signature Style
A pompadour look (height over the forehead) has been combined with braiding to create a signature style. The hair has been brushed up and back and a small tight braid was added on the side.
# 19 Great Expectations
Dutch braids can help add height to a hairstyle as we see in this example. A large braid runs the length of the head and is tied up into a man bun at the back.
# 20 Colored Locks
A little bit of color can make a hairstyle pop and this is a great example.
The hair has been shaded in a dark to light ombre starting with black and fading into white. Then it was Dutch braided from front to back.
# 21 From The Bottom Up
While most undercuts come up to the crown this style allows for a V-shaped section of long hair at the back. This hair has been braided from the bottom up and tied into a fold over the bun.
# 22 Fashion Time
In this picture the hair has been fashioned into long, thin box braids and these have been pulled back and tied into a messy man bun – a very sexy, laid back style.
# 23 Sexy Sections
Here the hair has been separated into three sections; a wider section down the middle with two smaller ones on each side.
Each of these has been tightly French braided and pulled back, along with the rest of the hair, into a wide bun.
# 24 Braids Of All Sizes
For this hairstyle, different size braids have been used. It starts with a tight thin Dutch braid on the side, followed by a larger one and then repeated again.
# 25 Super Neat
To create this pristine hairdo the hair has been fashioned into multiple braids that run from front to back and end with a twist over man bun.
# 26 Stark Sides and Black Braids
In this look the hair is shaved bald along the sides, drawing attention to the dark coloured locks on top. These strands have been sectioned and Dutch braided, ending with a high pony.
# 27 Braids and Buns
Thick hair can be difficult to manage, but as we see here a braid takes care of that in no time. This is a thick inverted French braid tied with a round bun at the back.
# 28 Ocean Twist
Here we see hair that has been combed out finely and braided from front to back. The one-half of the hair has been coloured in bright blue shades and that makes this hair really stand out!
# 29 Full Head Of Braids
His hair is long all over and has been very neatly parted and styled into rows of thin braids. The ends of these braids are tied at the back in a relaxed bun.
# 30 Short Locks
With patience and skill, even short hair like this can be braided to provide a loose but tidy style with a small bun at the back.
# 31 Master Styling
Amazing patterns can be created using braids – turning your hair into a masterpiece. This look was designed using tight rows of interlinked Dutch braids.
# 32 The Definition
In this hairstyle, there is a high and tight undercut that begins just below the crown. The longer middle section of hair has been fashioned into a few neat braids, well separated by defined partings.
# 33 So Sauvé
Dapper meets braids and it's definitely a winner. Here we see a carefully graded undercut along the sides with two super neat French braids.
# 34 It's All About The Spacing
When it comes to braids the more equally spaced they are the better. This hairstyle looks perfectly uniform with its rows of Dutch braids and a tight bun.
# 35 Sharp Angles
Inverted French braiding has been used to create four angled rows of braids that join together to form a high man bun.
Idea # 36
Idea # 37
Idea # 38
Idea # 39
Idea # 40
Idea # 41
Idea # 42
Idea # 43
Idea # 44
Idea # 45
Idea # 46
Idea # 47
Idea # 48
Idea # 49
Idea # 50
Idea # 51
Idea # 52
Idea # 53
Idea # 54
Idea # 55
Idea # 56
Idea # 57
Idea # 58
Idea # 59
Idea # 60
The calculations are in: man bun plus man braid equals an uber fashionable hairstyle. There are plenty of tutorials online about braiding so start practising and growing out those locks.
Then get ready to slick it back, plait it, secure it in a man pony, and to be admired everywhere you go!