Ever heard of the Samurai's hair? Well, it's not just a thing for the Japanese or the few chosen brave individuals. It is a style that you can adopt both for the purpose of elegance and great recognition. It comes in many different forms that I have decided to share with you below.
# 1 Undercut Chopstick Bun
This style is classic, with the bun and chopsticks you see in movies. Underneath you have an all-around undercut, a modern and trendy look even when you remove the Samurai elements.
# 2 Mini Man Bun with Undercut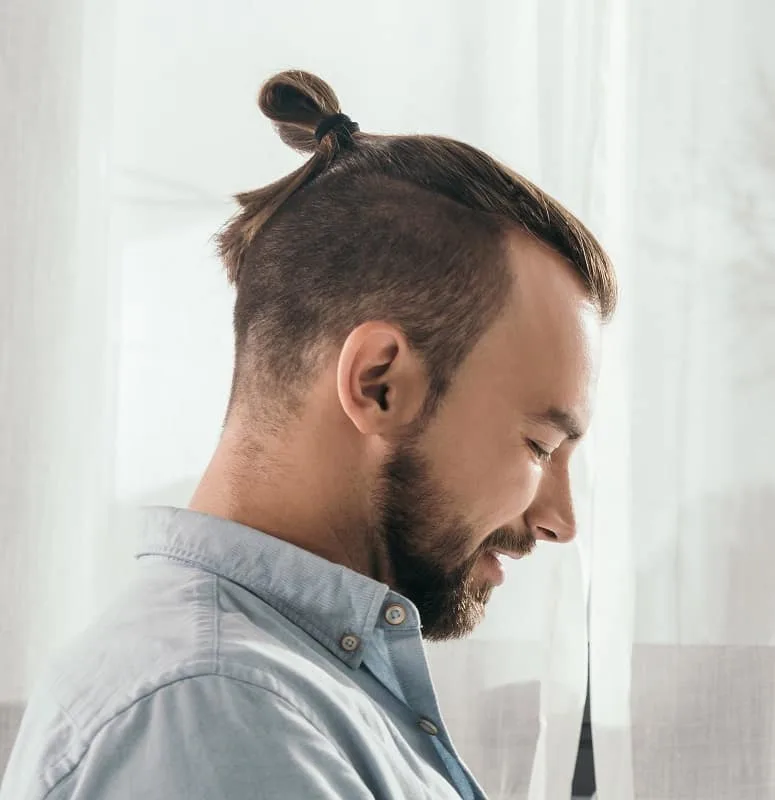 This style resembles the last, only shorter and thinner. Most of the hair is buzzed in an undercut, leaving the hair on top just long enough to form a loose, mini bun. We have a feeling this style looks better up than it does down.
# 3 Small Messy Bun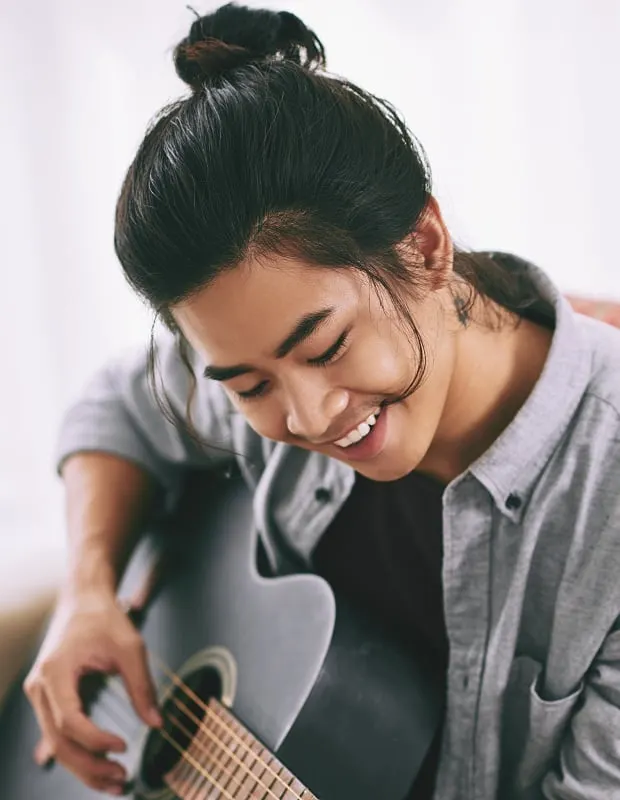 This Samurai hair has no undercut but keeps the classic bun fixed high and messy. It looks wonderful on silky raven locks.
# 4 Long Flowing Locks with Small Bun
For guys who prefer longer hair, tie up the sides in a small bun and let the back flow freely. This samurai haircut is an attention-grabber that'll make everyone envy your luscious locks.
# 5 Majestic Messy Man Bun
For guys with even longer hair, tie up as much of the back as you can in a low bun. Let the front hang in wavy curtains by your face, giving you an aura of elegance and beauty. We think the small beard tops this look off nicely.
# 6 The Cool Samurai Bun
Who said bun style is only for those with short hair? Well, here is something that will definitely change that perception. It is actually two styles in one incorporating a side parted technique that makes it both unique and elegant.
The locks are textured and the top part pulled back and tied with a ribbon. The sides feature a high fade that connects to the short beards to provide that cool look.
# 7 Undercut Sides for Short Pony
# 8 Bun for Low Fade
One look at it and you will definitely notice the huge difference in hair length. The top part is given more length and pulled back ending in a bun. The slick back technique almost creates the illusion of a pomp.
At the sides is a low fade that extends to the front edges of the forehead. The beard is totally disconnected to create a more dramatic look.
# 9 Tie Back Style
# 10 Buzz Cut for Short Ponytail
The worlds of buzz cuts and ponytails can present a huge challenge when trying to blend them together. But here is a hairstyle created out of the odds to enable you to achieve that cool look.
The pulled back top ends in a short ponytail secured with a rubber band. The sides are given the exclusive buzz cut that provides a gentleman look.
# 11 Sleek Pony with Beards
# 12 Long Locks for Bun
Length matters here – and of course lots of it. The locks are separated into sections to bring more life to this style. The top is slicked back and twisted into a bun.
The side locks are let to fall naturally and run perpendicular to the top hair. The extra length lets the locks rest on the shoulders. There is a visible colour transition from blonde top to dark brown sides.
# 13 The Legit Man Bun
# 14 Cool Touch of Braids
When someone talks about braided locks you definitely think it's just something for women. But it can add a cool and elegant touch to men as well. Compared to the chunkier conventional braids, these ones are made smaller and look much prettier.
The front half is pulled up and knotted with a hair band. The remaining half is let to fall back with the ends terminating just above the shoulders.
# 15 Under The Blade
# 16 Bun with Undercut
This is a cool style that provides that streamline look. It has the normal slick back hair at the top which is given the pretty touch of a bun. The sides are undercut to create the illusion of a disconnected haircut.
A little drama is added to this style by incorporating a face-framing piece in the form of a side fringe. This provides a more classic look.
# 17 Twist-free Bun
# 18 The Fashion Rebel
This style actually goes against the expected. It is something more of a rebellious Samurai's hair style in the world of buns. The sides and back are given a bald fade while the top locks are left to retain their length and knotted into a bun.
It makes it seem like someone wearing a cap. The style is made even stranger and more dramatic by trimming it short at the nape. Disconnected beards come in handy to wrap up that rebellious look.
# 19 Messy Bun with Top Knot
# 20 Slicked Back Loose Bun
This iconic bun gives a more impressive look, especially for the dark Asian hair. The top is pulled back ending in a loose bun that looks fragile yet elegant.
A high fade is incorporated at the sides and extends back to the nape. A pair of sunglasses matches well with this style. It calls for no beards giving you a much younger look.
# 21 Pirate Style
# 22 Samurai Hair With a Braided Detail
This hairstyle is an interpretation of a traditional one. The sides are buzz shaved clearly with a sharp line which marks the top.
It is sleek with a secured half-ponytail. The right side is neatly braided, it adds that modern and interesting oomph to the whole style.
# 23 Bald Fade Bun
# 24 The Long Hair Bun
Simplicity and unmatched elegance is what best describes this style. It provides the graceful movement of long locks cut at shoulder height.
The top and the sides are pulled back and finished with a nice bun that sits right at the back of the head. The beards are kept short to maintain that teenage look with a warrior figure to match.
# 25 Highlighted and Parted
# 26 Braided Bun with Bald Fade
This is a rugged yet stylish haircut that brings out the best in the world of braids. It provides the elegance of a Dutch braid that ends in a bun.
The locks alongside the braid are textured and twisted to add to the uniqueness of this style. The bald fade creates a sharp contrasting look that will definitely make heads turned your way.
Give the beards a clean shave and you get that bold youthful appeal that will impress those around.
# 27 Bushy Sexy Beard
# 28 Bun with Touch of Art
Here, you get to achieve that artistic appeal that makes you cool and unique. It has the simple styling of a top bun that has lots of volume to it. The back and sides are given an undercut to display a nice transition in hair length.
Some sections of the back are given a bald fade to provide a wonderful pattern. It is definitely the best for those that desire a "wow" look in a bun style.
# 29 Formal with Hair Tie
# 30 The Bun with a Twist
This bald fade version of a Samurai's hair takes simplicity to the extreme. It doesn't feature much hair. Actually, the only part that has some is the mid top which is twisted to a lovely bun.
Ear piercings are incorporated to make up for the lack of hair. The disconnected beard is textured and left bushy at the chin to create a statement.
# 31 Differentiated Height
# 32 Disconnected Short Ponytail + Undercut Sides
This style is a true testimony to the fact that length doesn't matter in a ponytail. The half slicked back top terminates into a lovely ponytail that matches well with the undercut sides.
The sides connect to a thick beard to give you that manly look. It creates the illusion of a head that is elongated on the vertical.
# 33 Creative Neck Shave
# 34 Half Bun Half Layered
There is a great distinction in both style and tone of this haircut. It provides the elegance of an exclusive bun style at the top that complements with the layered locks that line the back. Beards connect well with the locks creating a style that is simple yet trendy.
# 35 Top Knot Pompadour
# 36 Buzz Cut Sides with Top Bun
This is a trendy style often associated with the famous footballer – Zlatan. It creates some flow in the world of fashion owing to its simplicity and elegance. The blonde top is pulled back and tied in a bun.
The sides are given the "military" buzz cut that makes it easy for you when it comes to maintenance. They connect well to the dark beards that complete the whole look.
# 37 Sassy Latino Style
# 38 Stringed Bun for Pomp
This is a sassy, elegant and fabulous style that will elevate your looks to new heights in this medium length hair. The top locks are styled into a pomp to create an awesomely classic look.
It provides that super hot look with the convenience of easy recreation, thanks to the stringed bun that provides a unique touch to it.
The locks are pulled back away from the face to add to the sophistication of this style. A part style disconnects the pomp from the back locks and elevates it from an everyday wear to more formal.
# 39 Cute Blonde Top Knot
# 40 Messy Classic Samurai's Hair
Asian hair is made for this hairstyle. The messy bun is at the top and secured with a dread. The bottom hair is shorter is general and sticks out a little bit. The whole look is more on the traditional side.
# 41 Spiral Bun
# 42 Rocking with Self-made Wooden Hairpin
Are you a DIYer who is into woodworking? Well, this style gives you that rustic impression that will match well with your job. The top locks are effortlessly twisted into a beautiful and unique bun.
A sophisticated wooden pin is added in the back to create a more vintage look in this style. The locks at the sides and back are given a buzz cut to make this style super edgy and sexy. It is an excellent option to getting your locks up and out of the way.
# 43 The No-shave Life
# 44 Man-bun with Beards
This is a retro style that is made modern in messy yet soft details. The fairly untamed beards make it completely sexy. The dark locks are pulled back at the top into a messy bun.
The hair at the back is left to fall to provide nice movement and texture. It frames the back to complete this sexy style.
The top is sleek and contrasts nicely with the textured layered locks at the back. Thick beards connect to this hairstyle for an elegant touch.
# 45 Long Ponytailed Pomp
# 46 Top Knot for Long Hair
This is a sassy style that can be worn on multiple occasions. The dark locks are textured to a create a shiny and elegant look. A pulled up sleek top with an added touch of a part style come together to create a beautiful top knot.
The knotted bun provides a super cute look without being too stuffy. The locks at the back and sides are perfectly combed to run down vertically. They help add some softness and formality to this style.
# 47 Donut Bun with Disconnected Beards
# 48 Flirty Bun for Chunky Locks
Take your bun style to new heights by adding some dramatic touches to the back. The dark shiny locks are a real beauty and do much to add some shine to this hairstyle.
The top and side locks are pulled backed into a neat bun secured with a rubber band. The back locks are left to fall naturally and curled towards the ends to create a more concave look for added elegance.
# 49 Undercut Messy Hair
# 50 Down Packed
The slicked back top and disconnected undercut sides create a classy look in this style. It is a timeless and beautiful haircut that will blend well in many occasions. The top locks are pulled back into a sleek bun for a more casual and cute style.
The sides and back are undercut to create a more formal look. The style is made extra charming by incorporating a razor part that separates the top and middle hair.
Whether you need inspiration for the anniversary, parties or just want to try something different in Samurai's hair, this is the article for you.
All hair thickness and textures can enjoy these adorable styles. They will provide a classic twist with lots of masculine appeals.
Idea # 51
Idea # 52
Idea # 53
Idea # 54
Idea # 55
Idea # 56
Idea # 57
Idea # 58
Idea # 59
Idea # 60
Idea # 61
Idea # 62
Idea # 63
Idea # 64
Idea # 65
Idea # 66
Idea # 67
Idea # 68
Idea # 69
Idea # 70