The Golden State Warriors and famous NBA basketball player Chris Paul is one of the highest-paid athletes ranked by Forbes. He's also known as one of America's style icons.
Looking your best is naturally at the top of your list when attending an important event. You want to leave a good impression and look neat, so it's essential to style your hair correctly.
Chair Paul haircuts can be a good inspiration for your upcoming hairstyle. This player managed to come up with several styles that work for multiple occasions, so let's talk about his famous hairstyle in this article.
Chris Paul Haircuts
People usually look up to celebrities for style inspiration. But only some styles a celebrity wears might be suitable for you. This is why you must try and experiment until you find your best personal hairstyle.
Before picking a haircut or style, you must think about a few things. First, consider whether this haircut complements your overall style and personality.
Moreover, you should make sure that it suits your hair texture and that you can properly maintain it to look your best.
The Famous Chris Paul Haircut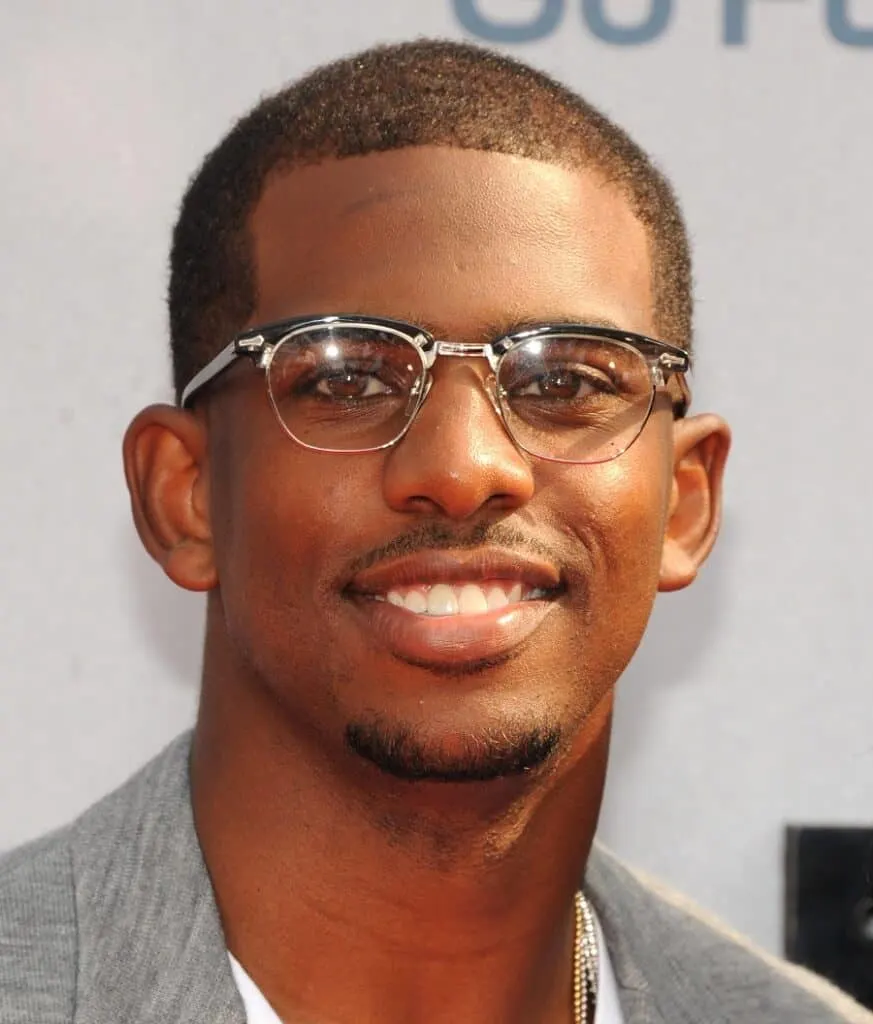 The famous haircut has become quite popular among teens and young people who want to present themselves as stylish and edgy. It's a buzz cut with the two sides shaved and some volume on the crown.
This hairstyle is quite popular because it's low-maintenance. It's an excellent choice for young and older people because it looks simple yet attractive.
In addition, because the hair is cut too low, this hairstyle will work for different hair textures, even the ones that require a lot of styling time.
You don't need any special products to style your hair this way. Just ensure you're keeping it short and clean, and it doesn't need any extra work.
This haircut works for professionals and students because it looks neat all the time. It will be an excellent choice if you like the clean guy aesthetic.
Moreover, you don't have to pay extra to have your hair styled this way. All you have to do is use a proper hair clipper, and you'll be ready.
Styling Your Chris Paul Haircut
As simple as it is, this haircut allows you to add some uniqueness to your style. The shaved sides represent a canvas you can use to add any pattern or initial, like a tattoo that makes you recognizable. Moreover, you can keep the back a little bit longer or shave it completely.
You can wear this hairstyle with a cleanly shaved beard, or you can pair it with a sexy beard. It all depends on your hair texture and how you like to look.
How to Achieve the Chris Paul Haircut
You can definitely get your hair cut by a professional barber, especially if you have long hair, to begin with.
Although this is a minimalist hairstyle, if you already have dreads or locks, you'll need a professional to remove them properly.
After that, you can maintain this cut on your own. It's not that difficult, as long as you have the right tools. Here are the proper steps to follow.
Get Your Tools Ready
Investing in a high-quality hair clipper is necessary if you want to pull off this hairstyle. Many people think that they can cut their hair using scissors, but scissors won't give you the clean and precise look you want with this haircut.
If you want to save some time, you can go with a hair trimmer that you can also use to trim your beard. Trimmers give you more options as you can set precisely set the hair length to the desired degree.
You should also get a high-quality comb that doesn't cause breakage or damage to your hair in the long run. Plastic combs are pretty affordable, but wood ones are better.
Get Your Hair Ready
Cutting your hair while it's dry can work if you want a messy or uneven cut. But for this particular cut, you want to wash your hair using a suitable shampoo, use an appropriate conditioner, and cut it while it's still wet.
If you're getting your hair cut by a barber, wash it to guarantee that it isn't styled in any pattern or style before you get this cut.
Start Cutting
Using your trimmer or clipper, you can get yourself a professionally-looking buzz cut. But remember to play it safe.
So if you want your hair to be a quarter of an inch, start by cutting it to half an inch first. You can't make your short hair grow longer, but you can always cut it shorter.
On the sides, go against the grain and work your way up and to the back. Avoid going with the grain because you might miss some longer hairs.
Remember to go slow and clean your trimmer between cuts by removing any stuck hairs. This guarantees that your trimmer will run smoothly.
You can repeat as many as needed to get the look your desire. And you can cut the hair a little shorter on the sides if this works for you.
It's a little bit challenging to fade the ends at the back of your head. So, if you can't have a professional barber do it for you, you can ask a friend for help.
Wrap Up
People usually look up to celebrities and copy their style. But some styles are more popular than others, and this applies to how Chris Paul styles his hair.
The best thing about this haircut is that it's quite easy to achieve, although you might need a professional barber's help if you're getting it for the first time. Moreover, it works for any hair texture. So if your hair is challenging to cut and style, this one will work for you.
You can pull off this hairstyle if you want a simple and easy-to-maintain haircut. Just keep a pair of high-quality trimmers nearby, and you'll able to keep it looking its best.