Selecting baby boy haircuts is no longer a simple exercise. Well, it might have been so a few years back but not now when there are so many styles, and kids have their say too.
The basic thing is to give your boy the best haircut that will not only look great on him but also complement his looks.
Of course, the final decision is yours but with a little professional help, you can settle for something better for your boy kid.
Here are top baby boy haircuts that will leave him happy and you will be proud that you are his mum or dad.
# 1 Ginger Short Hair
Keeping your baby boy's hair in a medium-cut will allow those gorgeous waves to form.
His natural ginger hair color will stand out and highlight his eyes and fair skin. He will look absolutely adorable!
# 2 Lifted Top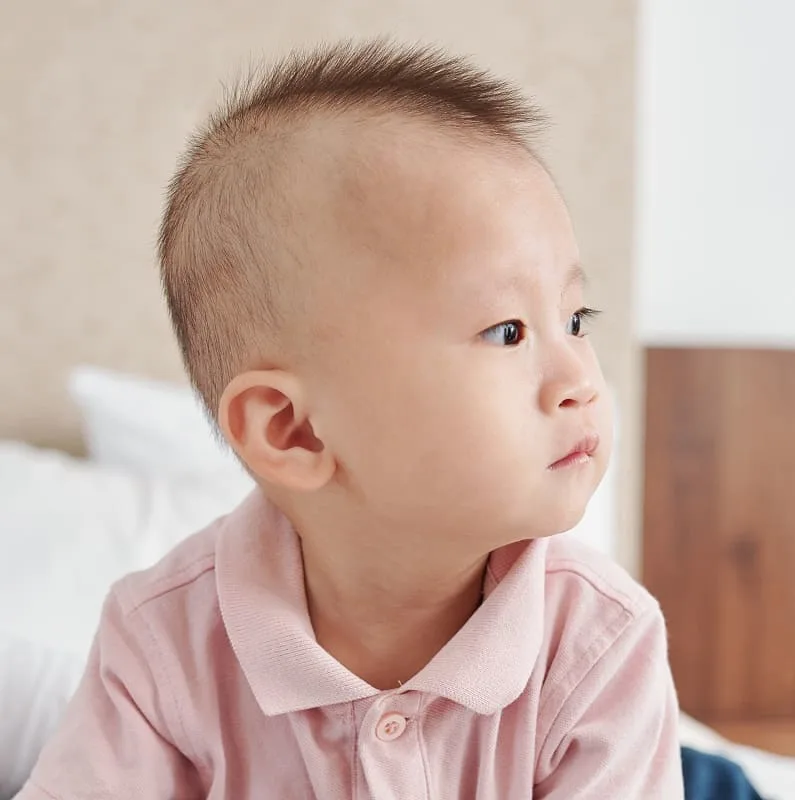 If you have a tiny baby boy that still has fluffy hair, you don't have to worry much about his hairstyle; just cut the hair short, with a higher top.
# 3 Afro Hairstyle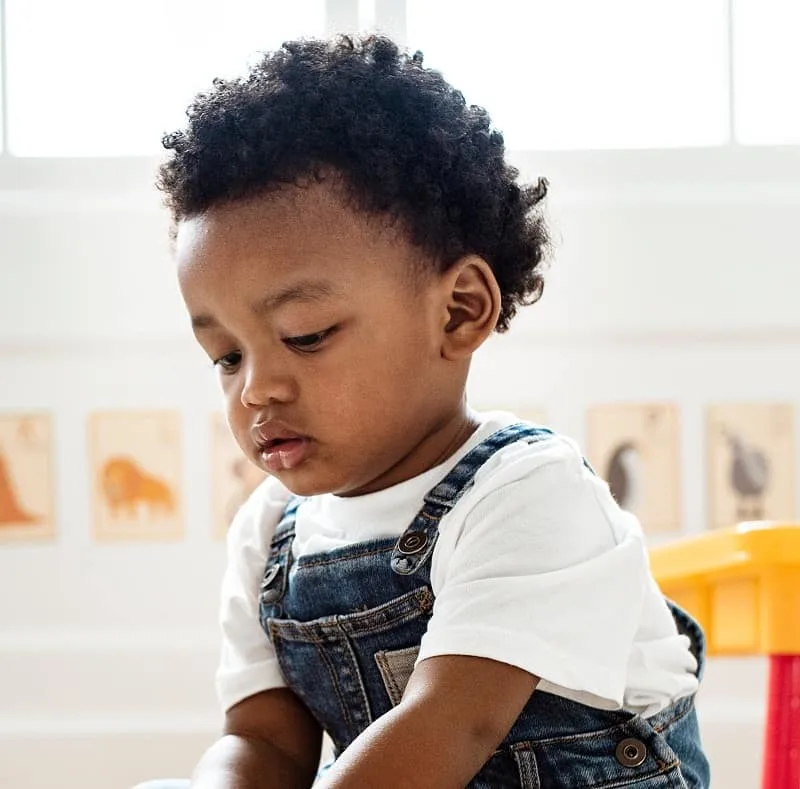 One of the best black baby boy haircuts is one that maintains the bounce of his coils.
Create an undercut for the sides and define that gorgeous hair with a hair sponge.
# 4 Messy Undercut
Two block hairstyles are perfect choices for toddlers and quite low-maintenance.
Just tousle the longer top and the little gent will look adorable!
# 5 Short Hair with Fringe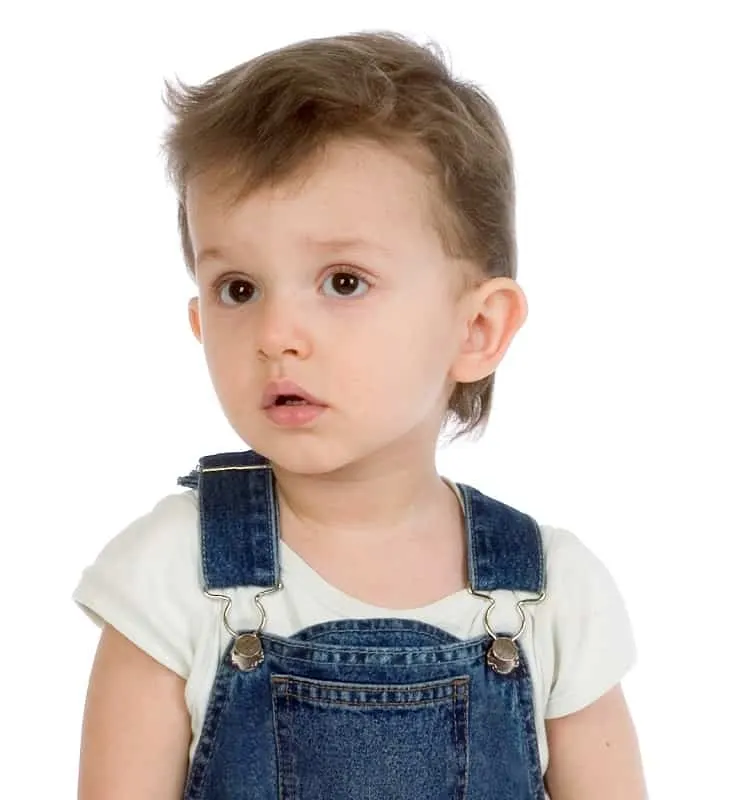 Your little guy's hair grows fast and can be styled however you like.
Make him look fashionable at this young age with a fringe that you can flip on one side.
# 6 Side Swooped Bangs
If your toddler has thick, dense hair, you can already think about the best hairstyle for his age.
Opt for a side fade with a longer top that can be swooped on one side.
# 7 Two Block Haircut
The two-block hairstyle for toddlers is popular even among little men because they look so damn cute with it.
Keep that fringe just above the eyebrows and your son will become little Prince Charming.
# 8 Bald Fade with Faux Hawk
Your baby boy finds role models in his family members and if his dad has such a haircut, he will probably want it too.
A bald fade with a faux hawk is ageless and your toddler will certainly win everybody's heart with such a cool modern hairdo.
# 9 Twisted Braids
Twisted braids are ideal for Afro American hair. Tame your son's rebellious coils by rolling them into braids, and your little one will be so proud of his new fantastic hairstyle.
# 10 Bowl Cut
The bowl cut is so easy to recreate because it has a straight, rounded shape.
You can do it just for the front and sides and maintain the nape hair longer. He will have the best hairstyle for toddlers!
# 11 Faux Mohawk
This is a style you can try with your little boy. Different from the conventional Mohawk, the side hair is not shaved but rather flattened to run downwards.
The top part is raised to the size you may want for your kid. If he wants to keep his long hair, you can try to add smooth spikes and he will be a great look at school or a playground.
# 12 Medium-Length Cut
If you are looking for something comfortable for your boy kid, then the medium length style will work its magic.
The medium hair is parted with a short line on the left, and a bigger chunk of hair goes to the right. You can leave it to run downwards but with little trims to keep it intact. This is a great style that will make him stand out from the crowd.
# 13 Pull-Up Style
It would be right to call it the little ones' style for afro, but this is way better for a small boy. The hair is left to grow upwards and sideways at equal lengths. You can give it a trim on the tips but better to grow it naturally.
The good thing is that it can be both for medium and long hair. It makes your boy distinctive from the rest with a style that is not so common.
# 14 Long Shaggy Cut
You can give your kid a stardom look right from his early years. With this style, you can let his strands grow freely downwards: the back, sides and forehead.
Do not trim the edges but let them form natural curls. This is a style that would be best for your kid who is keen to keep their long hair.
It is a bold look that will give him confidence, and he will be the star of other small boys in your neighborhood or his school.
# 15 Top-Head Locks
It is not only the grown boys and men who can have locks for their hairstyle. Your baby boy can have his own.
The hair is styled into simple zigzag-like locks starting from the hair on the top. You can shave the side locks to almost an inch from the scalp.
In other cases, you can let the strands grow all over the entire head. It is best suited for kids with naturally curling hair, but you can also use gels to induce simple curls.
# 16 Front Spiky Hairdo
This is yet another of the Mohawk styles but a mild one that will give your boy a confident and sweet look.
Reduce the side hair to almost an inch from the scalp and comb it to lie low. The top center is left to grow upwards. If he does not have a curling hair, you can use styling gels to achieve the spike effect.
# 17 Curly Style
It is never an easy task making a choice for your boy who has curly hair. The curly style is the most natural style for him, so do not try haircuts that may spoil his look.
Let his curls grow outwards and downwards. You can let it be soft or add some gel to make it look rough. Whichever of the two you choose; he will be a look to admire.
# 18 Spikeless Mohawk
A real Mohawk may not be suitable for a young one, but if he insists that he wants that style, there is one for him. A spikeless mohawk is just close to the real thing, but it is not spiked at the top.
The side hair is shaven to an inch length, and the top is left to grow but trimmed or grooved to give it a blunt edge. It achieves its effect, and your kid will love this even more.
# 19 Rockers Top
You can have his side hair flattened or shaven to an inch length. The top is left to grow spikes or groomed forwards.
It gives your kid that look of a star, and it makes him outstanding. You can have it for medium and long hair as long as the top will not fall sideways.
# 20 Vintage Style
Here is a style for the kids who want their hair short but yet fashionable. You can let their hair grow and then trim it to a short size.
Give it a part on one of the side and let each of the parts grow downwards. It is a simple look yet so fashionable that your boy will like it.
It does not require any additions so you can leave the locks to grow naturally along the parted lines.
# 21 Punk Boy
Yes, your small boy needs a punk look, and you can let him have it. The punk hairstyle is something that will give a young one a fashionable look.
The sides are shaven clean while the top is left with not-so-broader two parts: the lower one facing forward while the second slightly pointing backwards. You can add some gel to keep the two layers in their desired positions.
# 22 Single-Styled Undercut
This is a top style for your toddler. One side of the head is shaven clean (where the top hair will fall) while the other can be given a single stripe or a pattern you may find appealing.
The top hair is set to fall to the side that has been cleared. This leaves an undercut on one side while the other shows off the draw pattern.
# 23 Rock Racing Stripes
Your young kid can have good stripes for his haircut. First shave the side hair to an inch or so. Trim the top to a medium size and let it rest naturally or add some touch by letting it grow towards the front.
On the sides, make at most three stripes separated by a clean-shave thin line. Let the stripes end somewhere after the ear but not at the end of the back hairline.
# 24 The Classic Style
The classic hairstyle does not only look great on men, but it also does on toddler boys. You just let his strands grow and then trim it uniformly to leave him looking easy but fashionable.
If you want to add some funky look on it you can trim the sides to be shorter than the top. But even when left the same size it gives the kid a greater look already.
# 25 Straight and Short
If baby does not have a curled hair, he probably does not need one. The short and straight style is something that will be a natural choice for him.
Let his hair grow naturally but give it a trim. Do not let it fall on the forehead or an inch below the back hairline. This is a simple style that is easy to maintain. He can even handle it when you are not there to prepare him.
# 26 Side Sweep
The side sweep is among favorite hairstyles for the young boys. You can have a side trimmed to considerable size and then let the top hair fall to one side. It gives him a confident look.
Do not let it grow beyond the chin for this may give it a dulling effect. Medium will be appropriate to bring out kid's young handsomeness so keep it at that size with regular trims.
# 27 Long Side Sweep
If your little boy prefers long hair, the side sweep can be a good choice. Part his hair at the middle of one side and let the longer sweep fall on the opposite side.
Let strands grow downwards beyond the ears. Leave the natural tips which add some interesting touch to this style. A comb would keep each strand to its place, and he will always look fresh.
# 28 Confident Quiff
Just like its name, this kind of quiff gives your baby boy a confident look. The sides are trimmed, and a creative line pattern like Z-sign carved on one or both sides.
The top is touched just a little bit and then pulled towards the front. It can be a pointed tip or a blunt one at the front end.
# 29 Medium Wild Wavy
This is a wild style whereby side hair is trimmed and let to grow downwards. The top part is trimmed to medium size then given a slight tilt towards one direction.
It is left to grow wildly but with regular trims to keep it in the medium size. It is better for those with curled hair for it seems natural and wild that way.
# 30 Popstar Cut
This is a style that leaves your kid's natural hair dropping and looking fantastic. It is easy: just let the locks grow downwards into a hood-like cover.
It is even greater when you part it at one side to make one side longer than the other. This is a popstar look that will give your child hairstyle a distinction.
# 31 The Undercut
This is one of the most stylish hairstyles with modern kids. It will look fabulous on your baby. It requires trimming the sides to almost an inch from the scalp then sweeping the medium sized top hair to one side.
It gives him a rocking look, and he will be happy to show off his style to his colleagues. It is better that the top hair is not let to grow wild and long.
# 32 Natural Curl
You can stop the gimmicks around the curly hair of your kid and let it be. Natural curls will never be a disappointing look on his head as long as you let them take their flow.
You can trim the lower front of the sides without touching the back. They are better maintained in medium size for it gives the curls a more stout appearance than when they are long.
# 33 Medium Bowl Cut
This is a style that can be perfect for the falling hair that has to be trimmed. The bowl starts at top-center of the head into the space made between an ear and head.
On the front, it should be trimmed to a length that covers his eyebrows. This is a timeless haircut will give your toddler a deserving appearance.
# 34 Short-Layered Cut
You do not have to trim the sides to have a layered effect. A short-layered cut is simple: the top is let to grow to a medium size while sides are drawn downwards to give an impression of being shorter than the top patch.
Depending on the type of hair, you can leave it smooth or curly or even tilted to one side. A promise is that you will give a perfect look to your kid's head.
# 35 Cuddly Cute
There is never a better look on your kid's face and head than giving him a cuddly cute cut.
The sides are drawn to form a drooping effect while the top is drawn slightly to the front. You can style the top but leaving it to natural growth will be better looking for him.
Idea # 36
Idea # 37
Idea # 38
Idea # 39
Idea # 40
Idea # 41
Idea # 42
Idea # 43
Idea # 44
Idea # 45
Idea # 46
Idea # 47
Idea # 48
Idea # 49
Idea # 50
Idea # 51
Idea # 52
Idea # 53
Idea # 54
Idea # 55
Idea # 56
Idea # 57
Idea # 58
Idea # 59
Idea # 60
You see now, your toddler boy can have a defining haircut that will make him the star among his peers. A great style makes the right statement about him.
Give him a cut that is super looking and opens his way to greatness. Great things start in a small way and for him, it may be that simple hairstyle you choose from the listed types.
Now it is easier for you, so just make the pick today from the discussed baby boy haircuts.