To grow a beard takes patience, but if you persevere and look after your beard you could soon have an enviable look. Long beards are manly and handsome and also right on trend; provided they are well maintained.
How to Pick the Right Long Beard Style
Here you will find out how to pick the right long beard style based on your facial features.
The shape of your face and head will determine how different long beard styles suit you. The following is a list of measurements that you should know before considering which type of long beard you should choose:
Face length – The center of your hairline to the end of your chin. In other words, the length of the middle of your face from top to bottom.
Jawline – The center of your chin to the point where your jaw angles upwards towards your ear. Multiply by two to get the full measurement
Cheekbones – Measure below your eye, where your cheekbone points outward, to the opposite side of your face.
Forehead – The measurement from one peak of your eyebrow to the other.
Oval
People with an oval-shaped face have a rounded jawline, a face length greater than that of cheekbones, and a forehead greater than the jawline.
Oval faces are the most versatile and are suited for long beard shapes of almost every kind. You can style your beard however you'd like, and it would still fit your oval face.
Rectangular
Rectangular faces are characterized by a long face measurement, with all other dimensions being similar in length.
The long beard styles best suited for rectangular faces include:
Triangular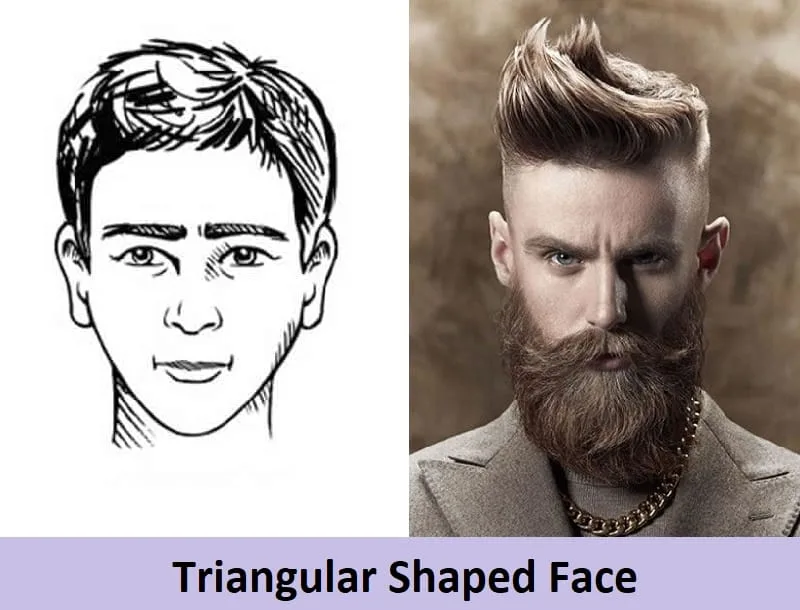 Triangular faces have a jawline measurement greater than the cheekbones, which are greater than the forehead measurement.
Those of you with triangular faces would benefit from rounded long beard styles such as:
The Garibaldi
Hipster
The Boss
Round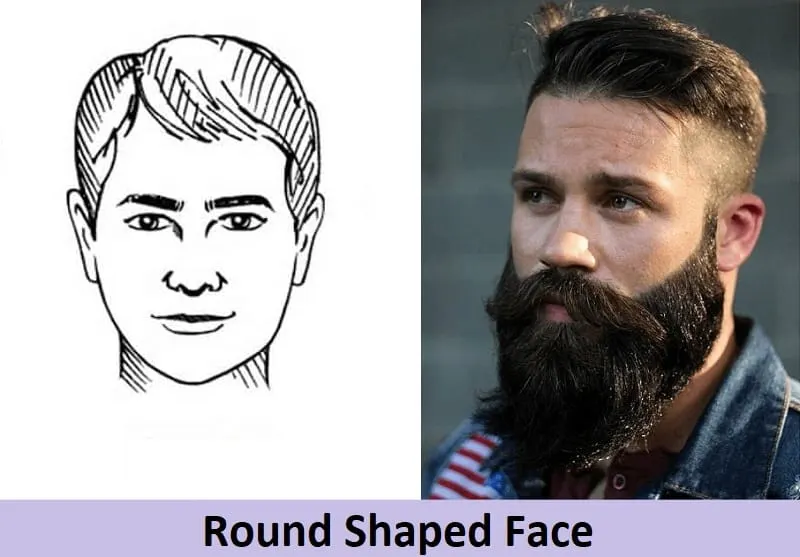 Those of you with round faces have a softer jawline than most. Also, your cheekbones and face length have the same or similar measurement, while both being larger than the forehead and jawline.
Beards for people with round faces need to be trimmed to create defined edges. This is meant to draw attention away from round features and balance them with the sharpness of the beard trim. Styles to consider include:
Polished
Picture-perfect
Razor-sharp
Heart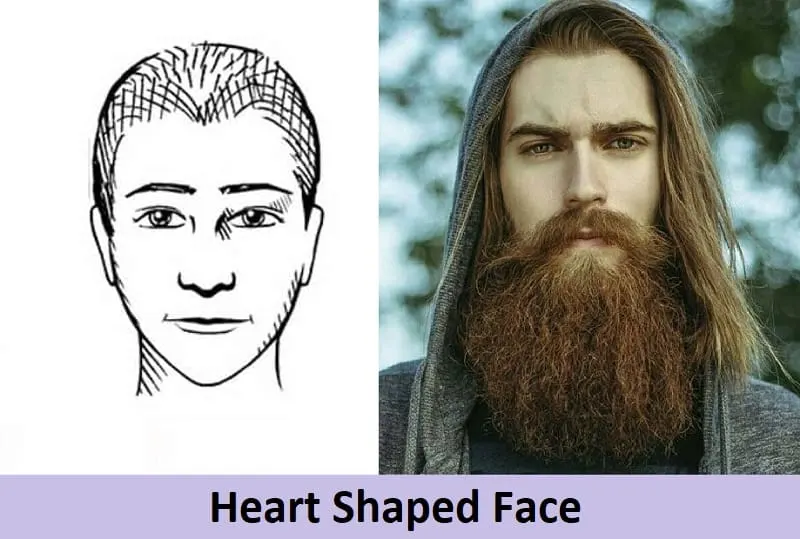 Heart-shaped faces have foreheads measuring more than the jawline or cheekbones and also have a pointed chin.
Those of you with heart-shaped faces would benefit from a very long beard with a rounded bottom but defined sideburns. Some styles include:
The Garibaldi
Classic Full Beard
Chin Length Uniform
Square
All facial dimensions are the same or similar for square faces that typically have a sharp jawline.
If you opt for a long beard, you shouldn't try to downplay your jawline. Go for a beard style with defined edges, such as:
Clear Outline
Lumberjack
Razor-sharp
Diamond
People with diamond-shaped faces have a long face length greater than the other metrics from greatest to least; cheekbones, then forehead, then jawline.
You should be going for a beard that accentuates your jawline but downplays your pointed chin, like the following styles:
The Garibaldi
Classic Full Beard
Clear Outline
Trendy Long Beard Styles
If you're ready for a beard check out some of the many funky styles that you may enjoy!
# 1 Beard Goal: Achieved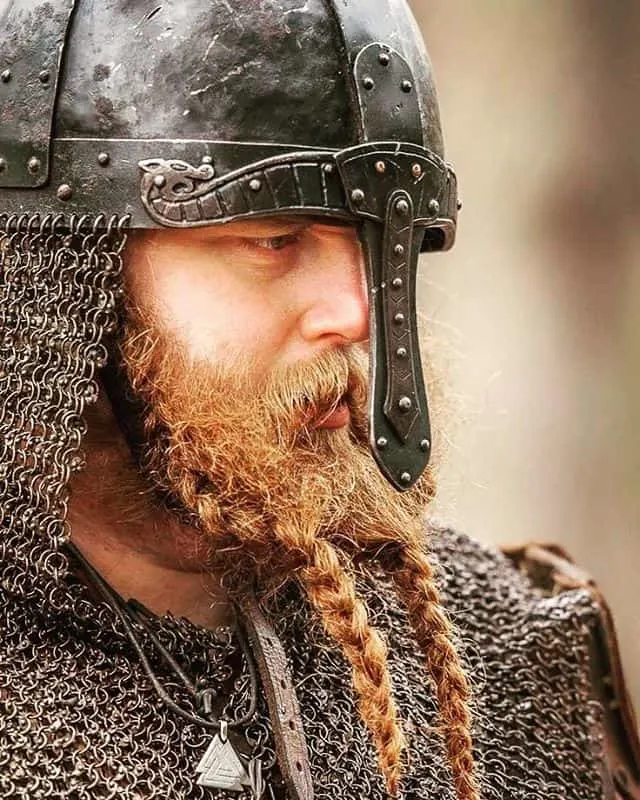 In this picture, we see a well-established beard and moustache that has been allowed to grow out. Off the chin, the ginger blonde hair has been split in half and each half has been braided.
# 2 Bold Shaped Beard
This beard begins high up on the sideburns and has been grown long. The moustache has been trimmed shorter and the beard itself has been shaped with a squared off cut. This is a manicured, neat style for a long beard.
# 3 Hipster Beard
In this hipster look beard, the facial hair once again begins in the sideburns and has been grown out. The moustache is quite long as well and has been combed out into the beard. The thick hair has been snipped into a round shape.
# 4 Sculpted Ginger Beard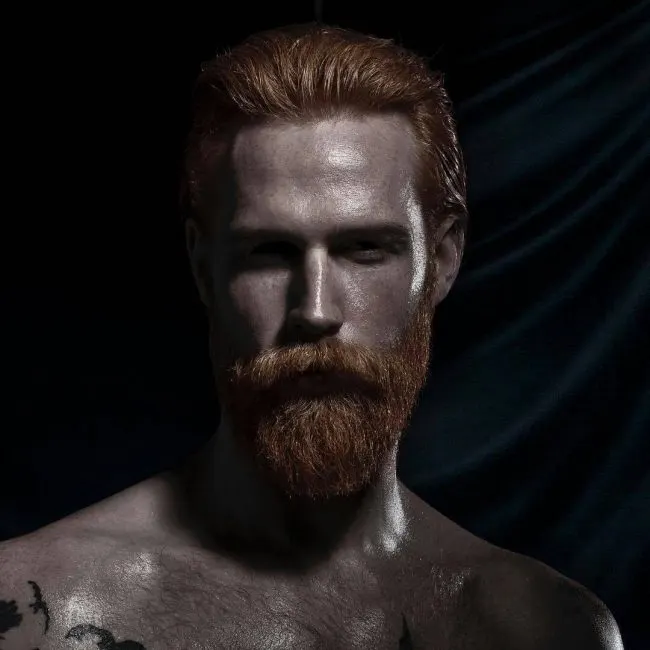 In this picture, his ginger brown facial hair covers the lower portion of the face and he has a moustache that has been snipped straight. The hair is longest over the chin and is rounded off neatly.
# 5 Hoorah For The Handlebars
Slowly sneaking back up the men's beard fashion chart is the trusty handlebar moustache. Once reserved for villains and evil business this long twisted moustache is going mainstream again.
It's a bold look to wear and looks great with a manicured beard like this one.
# 6 Manly Beard
Jason Momoa, who you'll recognise as Khal Drogo from Game of Thrones, wears a bushy beard and full moustache in this picture.
The hair is tapered towards the front creating a triangle shape and he's totally rocking the salt and pepper look!
# 7 Long and Full
No longer just for mountain men, the long, full beard is right on trend in 2023. This beard completely conceals his jawline and chin and has been clipped to have a shape while still looking natural.
He's paired it with a long handlebar moustache, which has been twisted at the ends.
# 8 Distinguished Look
In this full mustache and beard look, the hair along the mustache has been trimmed short so as to just hug the lip. The beard is thick and covers the lower jaw and chin entirely and has been clipped into an A-line shape.
# 9 Rebel With A Cause
Here the beard is more rugged after being grown out; a natural look. The mustache is also full, but unlike the beard, it has been kept clipped. As an extra detail, we can also see that a few small braids have been added.
# 10 Beard Pony
In this picture, we see Jason Momoa with a longer beard. This time, the beard has been collected and tied into a beard ponytail.
He's sporting a full beard, with growth on the sideburns, chin, cheeks and moustache, however, the moustache is trimmed to just above the lip.
# 11 Long Beard with Mustache
A long pointy beard will definitely make you look out of this world.
Get a short haircut with swooped on one side top hair and let the beard and mustache get all the attention.
# 12 Long Beard for Older Men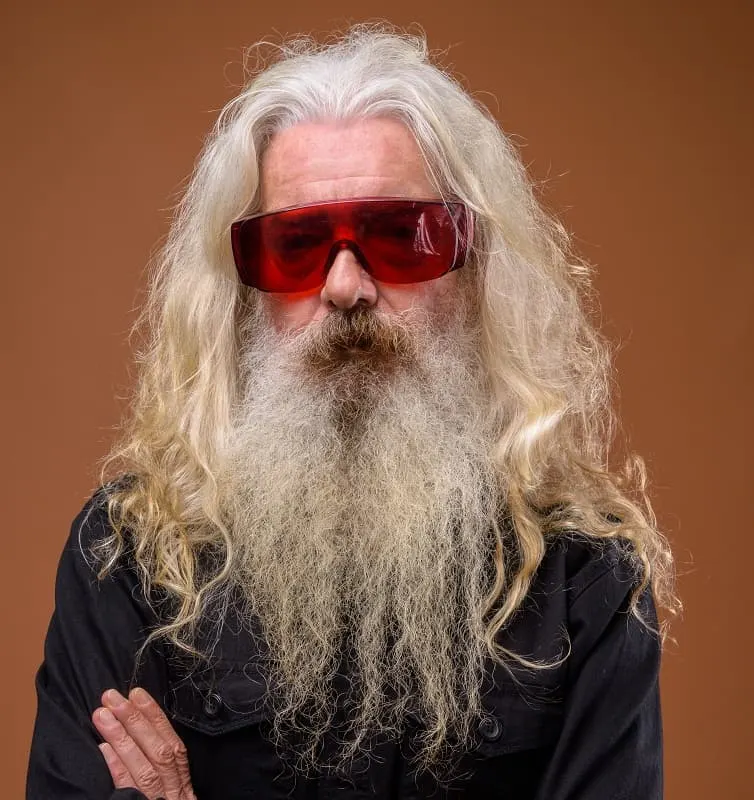 If your beard is very curly, you can keep it like that or blow dry it and straighten with a brush.
It will suit your long wavy mane, and with a modern pair of red sunglasses, you'll look so state-of-the-art.
# 13 Long Rounded Beard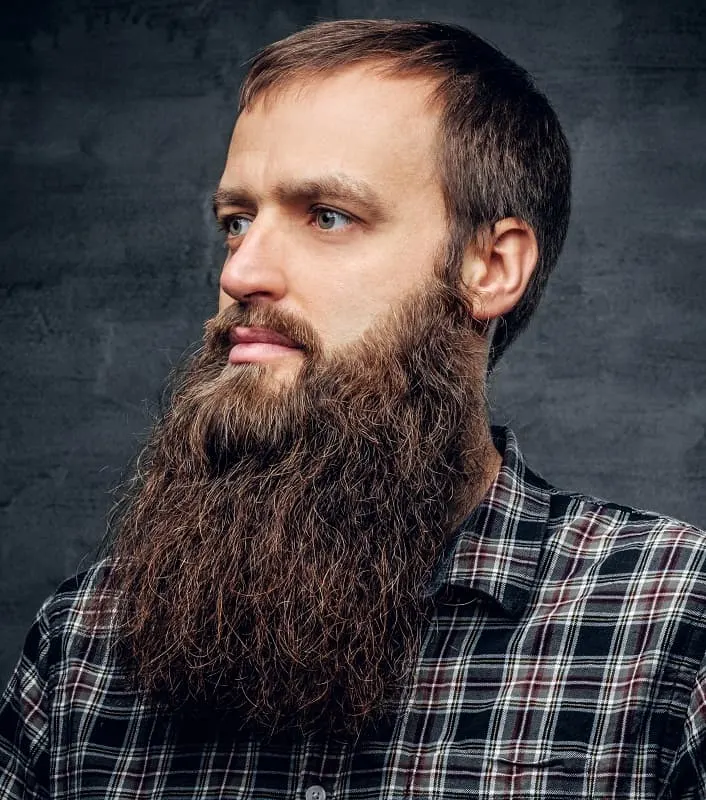 Combing and applying oils is a thing you'll have to do on a regular basis if you want your long beard to look spectacular.
Create a clear outline and trim the more extended tips blunt.
# 14 Curly Scottish Beard
Scottish men are worldwide recognized for their awesome nonconformist beard styles.
So if you are a guy who wants an original beard style, get ready to steal all the attention with this rounded lifted approach.
# 15 Long Beard with Dreads
If you adore rasta looks, you can style dreadlocks not only for your mane but also for the beard.
You need to make sure it is long enough once you start creating the dreads because the hairstyle will totally cut the length.
# 16 Long Ginger Beard
If you want to grow a long beard, you'll have to stop trimming it for at least four weeks until you'll be able to give it the desired shape. If the look you want to pull of is considerably longer, you'll probably have to wait even more before you can use the trimming machine.
Also, use oils that will provide all the nutrients your beard needs to look healthy once it's long.
# 17 White Long Beard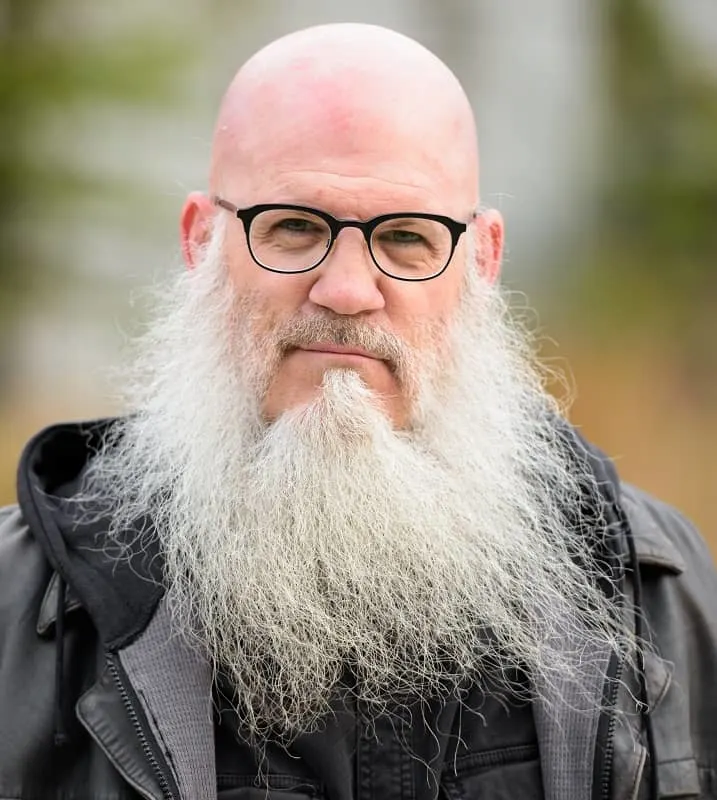 When you want to keep the beard long, grooming is part of the process and also is applying oils. Keep it as long as you wish, but trim the hair around the mouth.
# 18 Long Pointy Beard
To get this fantastic ponty look for your beard, keep its sides shorter and design a V-shape for the chin hair.
Also, if you want to master a hipster appearance, create a mustache and make the tips go roundly upwards.
# 19 Long Straight Beard
If you want a flawless look for your beard, wash it with special beard shampoo and conditioner and blow-dry it.
Use a rounded brush to gain that perfect straight look.
# 20 Long Well Defined Beard
You will discover that behind any gorgeous long beard is a man with a lot of patience that uses proper skincare products and oils.
Growing a healthy beard is essential because each thread will have a stunning glow.
# 21 Keeping It Clean
A beard can look untidy when it is allowed to grow unchecked. Here we see an example of excellent beard grooming – keeping the hair in a neat shape and creating shaved lines on the face.
In this picture the moustache is a little longer, just brushing over the top lip.
# 22 Natural Form
It's important to look after the hair in your beard by using the right products to keep it conditioned. This full beard is clearly well maintained and has been shaped to keep its natural form.
There is a handlebar moustache as well, that has been combed into the beard.
# 23 Long Plaited Detail
To enhance this epic beard this man has kept the hair on his head lighter and gelled down. A full and moustache has been grown and while the moustache has been kept short the beard has been grown quite long and is seen here secured in a plait.
# 24 Tip Tie
In this picture his long full beard has been secured right at the end with a piece of elastic, bringing the hair together in a pleasing shape. Notice how soft and shiny his beard is; obviously very well cared for.
# 25 Twisty Moustache
In this picture, the beard completely covers the lower portion of the face and has been trimmed into a squared off shape. The moustache is long and has been divided into two sections and twisted outwards to create interest.
# 26 Brushed Out
Here the beard has been kept in a natural shape and brushed out to fall straight down. The moustache is long as well and has been combed into the beard.
# 27 Fiery Facial Hair
Wow, what a red! Here we see a full beard that has been trimmed into a rounded shape at the bottom. Notice how the hair from the soul patch has grown out a lighter shade?
The moustache has been brushed to the sides but still almost covers the lips.
# 28 In Line Beards
Clean straight lines on beards are very trendy, just like the beard featured here that has been squared off to have a pushing forward feeling.
# 29 Spruce Beard
In this picture, we see that the some of the neck hair has been shaved to keep the beard in a rounded shape across the contours of the face.
# 30 Moustache Detail
Here we can see that the moustache has only been grown long from the sides of the mouth, leaving the mouth open. The rest of the beard has been shaped to have a natural feel.
# 31 Wavy Look
This beard has an unusual texture that has been created by crimping the beard to form waves. His long beard hair looks quite well conditioned, which has made this look possible.
# 32 Curly Bushy Beard
This beard has a great curly texture and manages to look wild while still being manicured – very handsome!
# 33 Refined Gentleman
Here the beard has been grown full and long and then snipped to match the shape of his face. His white beard has a refined gentleman look and he's teamed it with a darker moustache.
# 34 Long Red Hair
This beautifully hued beard has been grown to chest length and the moustache is long as well, but has been brushed into the beard to open the lips.
# 35 Flared Moustache
The well-established moustache dominates this look. It's been parted slightly and styled into tips; set against a full beard.
Idea # 36
Idea # 37
Idea # 38
Idea # 39
Idea # 40
Idea # 41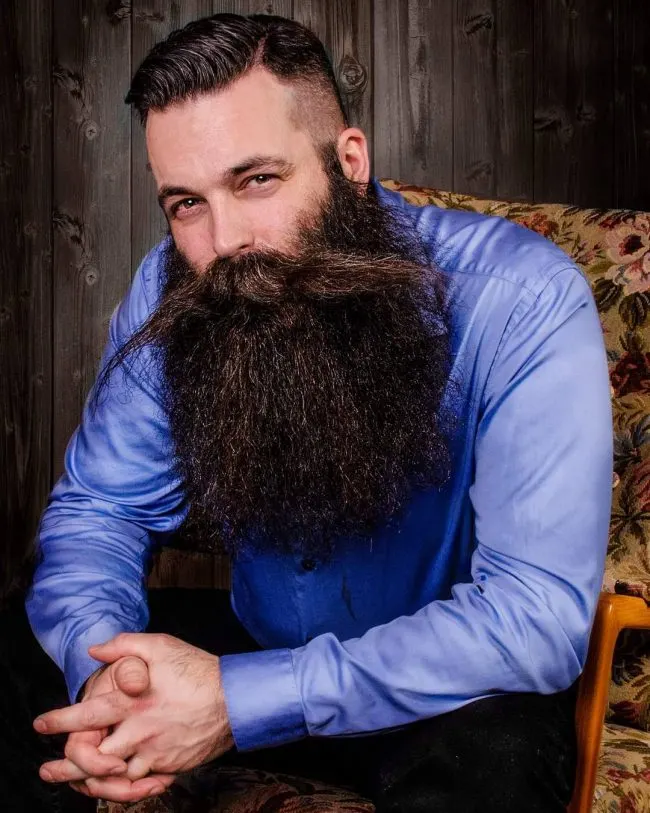 Idea # 42
Idea # 43
Idea # 44
Idea # 45
Idea # 46
Idea # 47
Idea # 48
Idea # 49
Idea # 50
Idea # 51
Idea # 52
Idea # 53
Idea # 54
Idea # 55
Long beard styles are suave and fashionable; particularly the full beard style where the hair grows long from the sideburns, chin, cheeks and upper lip.
Long moustaches are also popular and can be worn over or above the lips. Whatever your hair colour there's never been a better time to let your beard grow out long and free!