As a man, you don't just walk to the barber for good looks. There are great haircuts for round faces and getting one is not just that simple.
Not that it is a bad face by any means, but it is trickier than the rest to suit to any hairstyle out there.
What is a Round Face?
Round faces slightly resemble square faces, yet they don't have any of the angular characteristics or soft edges. Choosing a hairstyle that suits a round face will drastically help you improve your style.
With a round face, the length and width have roughly the same average measurements, and the jaw only being slightly smaller.
One common misconception is that a round face is unsightly. However, it's all about finding a hairstyle that compliments the equal dimensions. You can use your hair to bring out a youthful look, which will inevitably turn heads.
How to Pick the Right Hairstyle for Your Round Face
Several round face haircuts use textures and sharp layers to boost your face's overall appearance. A round face opens up several creative opportunities for your barber without a doubt, making it easier to find your perfect style.
Most men with round faces aim for more volume on the top. By setting most of the focus towards the top of your head, you can create the appearance of angles throughout the rest of your face. The height will make your face appear more symmetrical and complement its roundness.
In general, you want to avoid having a lot of length on the back and sides, as this will make your face appear wider. Try to put all of the height and volume towards the top of your head and avoid putting features over your forehead.
Below are some of the most popular hairstyles for men with round faces.
Clean Shaven
Now you might be scratching your head wondering why shaving your head is a good idea, but bear with us. Shaving your head comes with numerous benefits, such as:
No maintenance. When you go with the clean-shaven style, you don't have to spend time grooming yourself whenever it's time to go out. If you're already experiencing hair loss, sometimes going clean-shaven can eliminate all of the hassles of dealing with hair.
One of the biggest hassles of having a unique hairstyle is finding out how to compliment it. Clean-shaven heads go with any style or face shape.
More Youthful. Thinning hair or bald patches are closely associated with aging. The clean-shaven hairstyle helps you avoid this stigma and allows you to look more youthful.
Although there are many benefits of the clean-shaven hairstyle, it's a commitment. Therefore, make sure you're ready if you do choose to go with this style.
The Undercut
Undercuts have a long history associated with the best and worst of society. However, at the turn of the century, men sought this hairstyle to help revive the professional 1920s and 1930s look.
With an undercut, the sides and back are cut short, and all of the volumes are at the top. Therefore, it's perhaps the best haircut for men with round face characteristics.
Several celebrities have given the undercut a go, including Johnny Depp, Brad Pitt, and Zachary Quinto.
There are many ways to style an undercut. However, most men prefer to slick the top back. One fantastic thing about this style is it's suitable for both professional and casual situations.
The Faux Hawk
Like a mohawk, the faux hawk sticks all the hair on the top-up without shaving the sides. The faux hawk style is incredibly versatile as you can choose to spike up as high as you want. Several athletes and rock stars choose this because there's a lot of room to work with.
You can style a faux hawk using little to no products, but if you want that spike to go high, you're going to need some heavy-duty hair wax. Like the undercut, since the volume and textures are more focused on the top of the head, it's a fantastic choice for men with round faces.
The Man Bun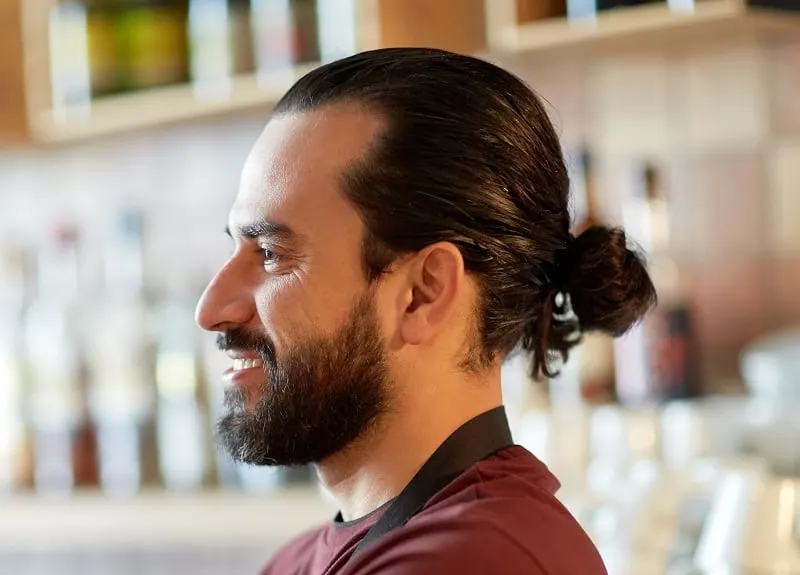 Although this style is only suitable for guys with reasonably long hair, it's an excellent match for round faces. The style was trendy during the mid-2010s, but the man bun dates back centuries. One notable benefit of a man bun is it allows you to be active without your hair waving in your face every three seconds.
You'll need to grow your hair out for at least 6 months before considering the man bun, but it's worth the wait. The hair is generally tied around the crown area, leaving enough volume towards the head's upper-front side. Since your hair is so long, you shouldn't need to worry about this style widening your face.
Depending on where you work, the man bun is appropriate for most casual and professional settings. However, If you work in an office setting, you might need to keep it well-maintained. A bonus, beards look amazing with a man bun, so feel free to let your facial hair run wild.
Suitable Hairstyles for Men with Round Face
If you are always with one kind of a cut, there is a way you can refresh it every other time you want with something different. Read here and make a few picks that will work for you.
# 1 Go Short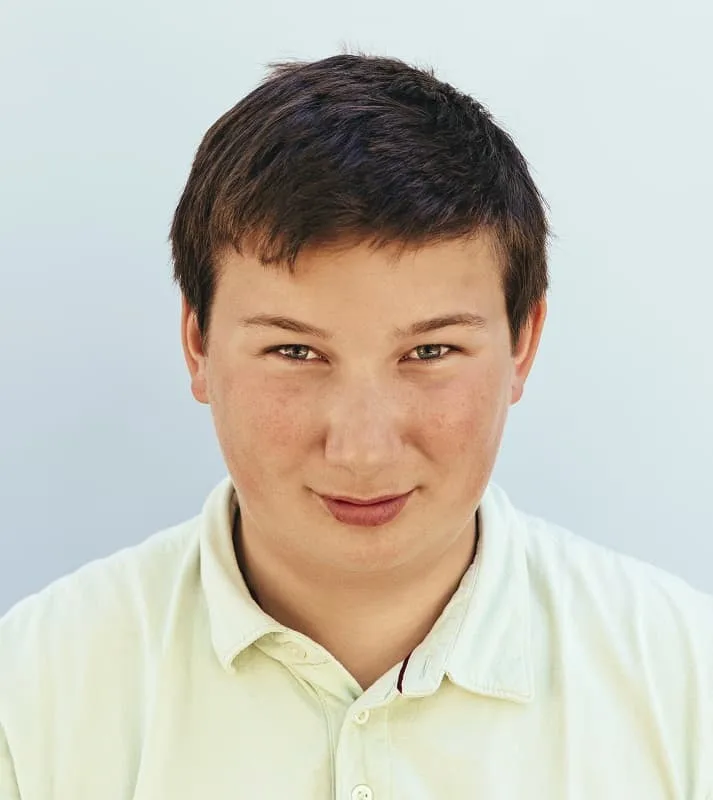 If you have round face then, this haircut is best for you. It features shot hair that are nicely trimmed. The side hair are kept shorter than the middle hair. The front fringes are thrown on the forehead to complete the look.
# 2 Classic Buzz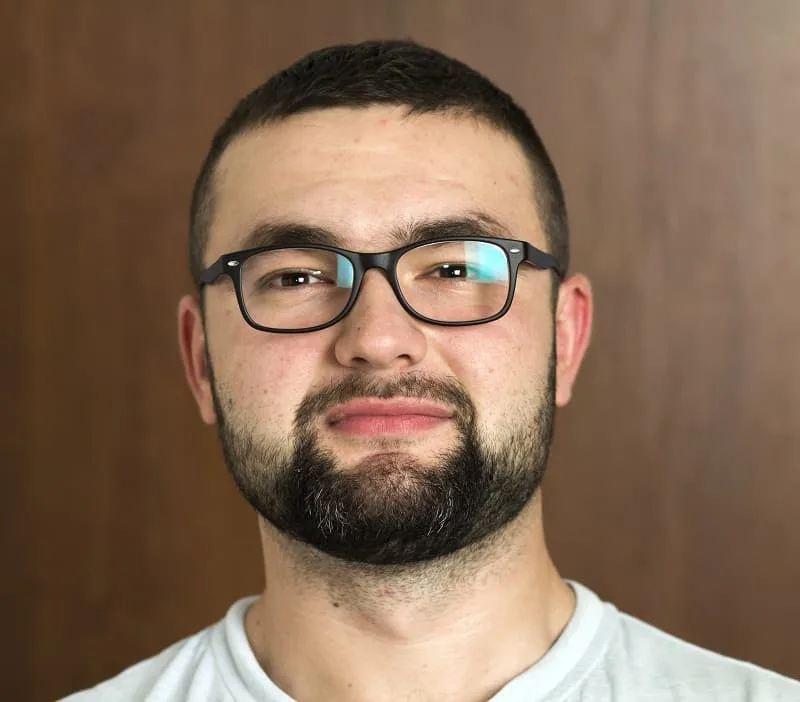 This haircut features really short hair that gives you a buzz cut. The side hair are trimmed neatly to the skin while the rest of the hair are slightly longer. You can sport this look if you don't like lots of hair.
# 3 Low-maintenance Look
If you have got thick and dark hair then, you should go for this haircut. For this haircut, the hair are kept long to achieve thick hair that are then side parted and pushed back for style.
# 4 Hairstyle for Big Forehead
This haircut is ideal for people who like neat hair. The side hair are trimmed neatly to give you the undercut look. The hair in the middle are kept long and side parted. These hair are then thrown onto one side for added style.
# 5 Messy Bangs
If you have got straight and long hair, then this look is perfect for you. This haircut features long hair that are thrown on the forehead in a messy way for a fringe down look.
# 6 Brushed Back Hair
In case you have straight and long hair then you can sport this look with ease. For this style, the hair in the middle are thrown backwards while the hair on the sides are pushed downwards to give you a messy look.
# 7 Wind Blown
If you have thin and wispy hair then, you should opt for this haircut. It features a messy and wispy look with front hair pushed upwards and the rest of the hair pushed downwards. It is a perfect style for everyone.
# 8 Quiff
For this haircut, thick and dark hair work well. The hair on the sides are trimmed neatly while the hair in the middle are slightly longer. These hair are pushed backwards for a neat look. This hairstyle really gives you a smart look.
# 9 Faded Sides
This haircut works well for short hair. The hair on the sides are given a high fade look while the hair in the middle are slicked backwards for a sleek and stylish look.
# 10 Slick Back Pony
Long, thick, and dark hair are perfect for this haircut. It features long hair that reach the shoulder length to form a man bob style. The tips are trimmed nicely so that you can get a marvelous hairdo.
# 11 Thick-Short Haircut
Some men like when their hair is short. No one can blame them since it is easy to maintain that kind of locks.
If this is your liking, the thick short haircut is your game. You just trim your hair uniformly and then comb the sides downwards.
You can groom the top to get the impression of lying flat but with a blunt tip on the front. Any men will get a super look with this kind of style for a round face.
# 12 Striped Pullback
This is one of the greatest hairstyles for men. It dims the roundness of their faces and directs attention to a good sense of the image.
The sides are shaven clean and a single stripe carved on one of the sides from the front to the back. The top hair is a part of couples of inches which is combed back to form a smooth wave towards the back of the head.
# 13 Slanting Top Cut
This is one of the looks that can take away your round face and leave people guessing what kind of shape your face is.
The sides are shaven clean or to an inch-length, the top is reduced to a medium size but with a slanting effect from the front to the back.
The final impression is that the front seems to be higher than any other part. It would trick someone that you have an oval face. It is a great cut that will turn heads once you pass by.
# 14 Simple Side Part
This is one of the most flexible haircuts for men. It complements your round features as well as giving a timeless handsomeness that would earn the first date from a lady you may have been chasing for years.
One of the lower sides is shaved clean and followed by a layer of longer strands and a long stripe where the part that falls on the other side begins. It is a fabulous look that you can have for any event you may be attending.
# 15 Half-Side Part
This is another of the part side family, and you will love it for its simplicity. Both of the lower sides are shaven clean followed by a layer longer by an inch or so.
A stripe ending mid-way of the head is carved on the side that the part will originate. The part begins from this line and falls onto the opposite side and extends to cover the second layer leaving the clear shaven area exposed.
It is a simple style, but that will give you a fresh look every time you want to go out.
# 16 Long Side-Part Fall
It does not mean that you cannot keep your long hair if you have a round face. Of course, you can keep it long and look fabulous.
The long side part is one of the best cuts that round faced men will go for. You just leave you hair to grow downwards and then part it on one of the sides to form 2 different falls: one is longer than the other.
This is a style that will allow your hair to grow freely and gives you an enviable appeal.
# 17 Bald Man Cut
Well, do not confuse the name to mean that this is a cut for the bald men. It is a clean cut which leaves less than an inch of your hair all over your head.
It is simple yet a befitting style for men who want to pull a handsome look. It is even better if you have a thick beard that you only touch a little but leave the rest.
This is the top look for men with thick mustaches, but you can still have it even without a thick beard.
# 18 Medium Plough Back
If you are looking for a style to make your otherwise long hair look like medium sized, this plough back should be a good option.
The sides are shaved to almost an inch from the scalp. The top is layered into two: a wider top with a thinner layer. Then the top is combed backwards and ends at the start of the drop towards the neck.
# 19 Simple Classical Cut
If you are the type that does not want long hair and complicated styles, the simple classical cut is the best bet for you.
The hair is reduced uniformly to almost 2 inches from the scalp. You can comb the top towards the front and the sides downwards to finish the great look. It never disappoints with this cut, and you can fit anywhere.
# 20 Long Back Haul
Are you the type that never wants to touch their long hair but you want it seeming not-so-long?
The long-back haul is a definite answer for you. You just have to comb your hair backwards to give it a smoothing effect.
You can tuck the lower side hair into the thick churns formed by the top layers. That's a look many girls fall for, and you may have her finally.
# 21 Scattered Wild Top
This is for those who prefer a rough looking top where groups of hair strands point to different directions.
The sides are trimmed and combed downwards creating the striking contrast with the wild top. It is a casual cut that will be easy to keep.
# 22 Pompadour Classic
Another classic cut that would go for anyone whether casual or formal. The sides are parted from where the top begins and combed downwards.
The top is combed upwards and then grooved to form a rounded effect. This is a top style that is favored by celebrities around the world.
# 23 Long and Untangled
This is a great looking style that complements the shape of your round faces. The mane is let to grow wild with its curls all around the head.
One side is secured at the back of the ear while the other is let to cover almost the entire cheek. The face is left with lots of space to breathe and shows off confidence.
# 24 Close Cut
The close cut will be an ideal style for you if you want something cool and simple. You shave the sides to less than an inch while the top remains 2-3 inches long.
Black and curly hair would be the best for this cut. Your top is left with waves running across only to end at the points where the hair gets shorter. It is a simple style yet one that will give you a super look.
# 25 The V-Back
If you care to give a clear cut line at the back of your neck, the V-back style will give you such an impression.
With the sides shaved clean and a medium patch left at the top, this style is concluded with a V-cut at the end of the back hairline.
It complements your round forehead by putting it in sync with a similar effect at the back. You will be outstanding both from the back and front.
# 26 Fountain Curls
Among the popular hairstyles, fountain curls would never miss in the top 10 spot. They are suited for long hair that is let to grow naturally and form curls.
It is never trimmed at the tips and is allowed to rest on the shoulders. The front face is left with a clear view guarded against the sides by strong curls.
# 27 Medium Relaxed
For the black hair, there is never any shortage of styles. The medium relaxed cut has been trending for ages, and it has never lost its appeal.
Long hair is trimmed to medium size and then combed through to relax its texture. You can add relaxers to achieve a softer tone but do not overdo it. It is simple to maintain and keeps your hair looking fresh all the times.
# 28 Celebrity Cut
This is a popular look with celebrities hence the name. The sides are trimmed or just combed downwards to achieve a shorter length than at the top.
The top is combed upwards and then rounded up on the corners to form solid walls around it. The front can be given a touch of a few spikes, but the rest is left pointing to the front. You look like a celeb in this style.
# 29 Top Mop
This is a top style that even Leo DiCaprio tries it sometimes. It is combing the hair backward, but the top and sides are done to varying fineness.
The sides are combed in such way that they are more refined and tucked below the top mop. At the top, the hair is combed with a not-so-fine comb hence leaving it bumpy and with some tangles.
It is a top style that will for sure keep you distinctive even in huge crowds.
# 30 Classic Short
Short hair is timeless and flexible, and that is why many men will make the easy choice. The classic short haircut has evolved over the time, and it is even more impressive than before.
The sides are trimmed to an inch length while the top is left an inch or 2 longer. It may be a simple style but one that will give you a gentleman's finesse.
# 31 Cave Forehead
This is yet another timeless style that will be a good complement to your round face. The sides are shaved to the point where the head drop begins.
From the back hairline, a patch begins to form and keep rising towards the front. The ascension continues to the top until it reaches the front hairline.
At the front, a tip is pulled beyond the face to form what appears as a cave. It is an outstanding style that will give you a cool appearance and score highly with the ladies.
# 32 Parted Bundles
Here the hair is divided into three patches: the top and two sides. They are all divided by clear drawn lines at both sides of the forehead.
The side bundles are combed downwards and appear to be thinning towards their ends. The top bundle is combed to form a rounded heap with a flat top.
# 33 Wild-Tangled Top
You pull a sophisticated look with a thick top that seems to have defied any recent cuts. The wild tangled top is one way to give you such sophistication.
The low sides are shaved clean and succeeded with a layer an inch long. The top is not trimmed unless it is too long to give a contained appearance.
The top patch is combed towards the front, and the tangles are allowed to make turns into the inside once they reach your fore line.
# 34 Backwards Undercut
The undercut should not always form a downward impression; you can have it run towards the back. The lower sides are shaved clean and then followed with a layer between 0.5-1 inches.
The top should never be trimmed but only combed backwards. It creates an effect that the middle layer is dissolved into the longer upper patch.
# 35 Slight Top Sweep
A sweep does not have to be from medium or long hair. You can have your desire for a sweep achieved even with short hair. The sides are trimmed to be shorter than the top.
You can then decide on the side to slightly tilt your top to create a sweeping appearance. This is a style that brings out your mustache and taming the roundness of your face.
Idea # 36
Idea # 37
Idea # 38
Idea # 39
Idea # 40
Idea # 41
Idea # 42
Idea # 43
Idea # 44
Idea # 45
Idea # 46
Idea # 47
Idea # 48
Idea # 49
Idea # 50
Idea # 51
Idea # 52
Idea # 53
Idea # 54
Idea # 55
Idea # 56
Idea # 57
Idea # 58
Idea # 59
Idea # 60
Idea # 61
Idea # 62
Idea # 63
Idea # 64
Idea # 65
Idea # 66
Idea # 67
Idea # 68
Idea # 69
Idea # 70
You can no longer sit back and curse your round features when there are countless haircuts for round faces. It is time to stop the single hairstyle from one year to another.
There are great styles for you, and this has been just a good beginning. Go out today with confidence and change your look to one of these top cuts and bring a revolution to your sense of fashion.