Chris Hemsworth has this special sense of style that makes him look awesome in any situation. Whether wearing an expensive business suit or a pair of beach shorts, he always steals the show. What is his secret? Well, that might be his haircuts.
Over the last decade, he has changed dozens of hairstyles worth our attention. Eric in the Huntsman with his loose bun hairstyle, a classy look of Kevin from the Ghostbusters, a devil lock from the Perfect Getaway, and a couple of iconic Thor's hairstyles — these are just a few among his many hairstyles.
Chris Hemsworth and his barbers can surely get to the Hairstyle Hall of Fame. If you ever wanted to know more about his grooming habits, we present you 40 haircuts of this great actor and how to get them.
# 1 Messy Semi-Formal Side Sweep
This red-carpet ready look is a touch too casual but it works on Chris. The hair is swept to one side with generous amounts of gel, the sides messy around the parting.
# 2 Sleek Side Swept Do
This is a cleaner version of the first look. Again, the hair is swept and gelled to one side, but the sides are neat. They're too short to style much, but they're secured backwards with the same gel that's touching the top.
# 3 Wet Mop with Undercut
Here Chris wears his hair messy and full of texture, covering the entire top of his head. The sides and back are buzzed as short as his beard in an undercut shape – though some may also consider this a fade on the sides.
# 4 Upswept Easy Do
Rather than to the side, here Chris sweeps his hair up and back in a mini-quiff. The sides are short and the top back a little messy, but it's a great everyday look.
# 5 Short & Slick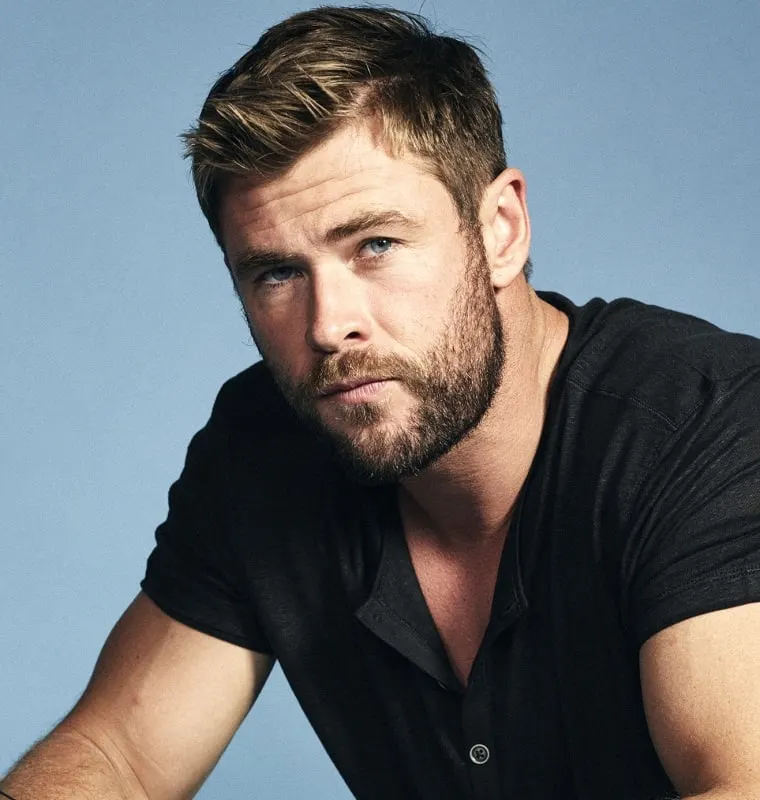 In this style, Chris wears his hair shorter than usual which helps it look neat. It's loosely slicked to the side with some strands loose in front. The sides feature a subtle fade, made less obvious by the hair's thickness.
# 6 Damp Falling Locks
This one is an undercut style again – evenly buzzed sides and back. The hair on top is long and styled with some wax to ruffle it and make it stand. The front falls over the forehead.
# 7 Fallen Quiff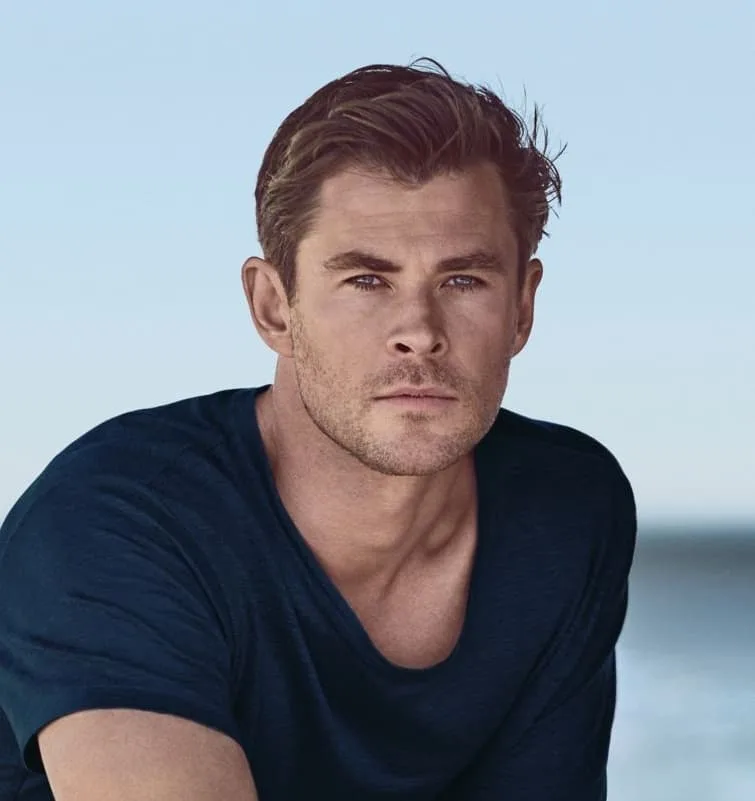 This is one of the rare times Chris has longer sides. The hair is thick and lush, sides brushed back and hair in a quiff-style but without the full volume. The hair swoops up, then to one side.
# 8 Textured Messy Spikes
This hairstyle is pure texture, fluffy long hair on the top and sides. The sides are still shorter but they're thick and lush, styled neater than the top which sticks out in all directions.
# 9 Short Gentle Spikes
This is a shorter style again without much length difference between the sides and top. The sides are unstyled where the top is in gentle spikes, leaning to one side.
# 10 Forward-Brushed Crop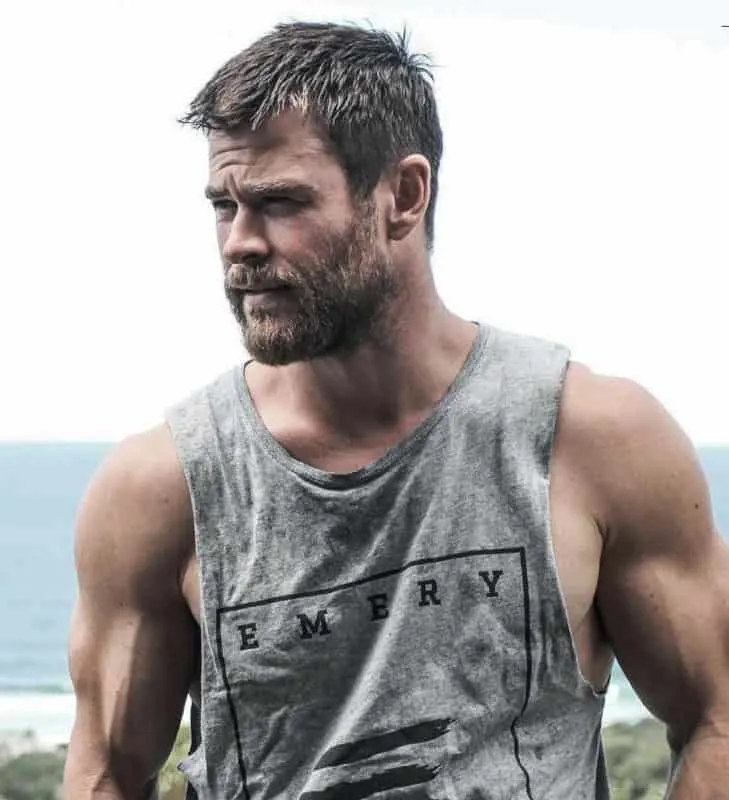 This is one of the rare times we see Chris with his hair brushed forward. His hair clearly has products in it as it falls over his forehead, and the rest of the hair is loaded with texture, excluding the short sides.
# 11 Messy Fringe + Undercut with Full Beard
One of Chris Hemsworth's iconic looks is his messy fringe haircut paired with a short length beard. To achieve a textured, messy fringe, wash and condition your hair as usual, and let it air dry.
A go-to pre-styling product for this look is Pete&Pedro Salt that gives you a crazy amount of texture and volume.
Put it in your hair, apply most of the product on your fringe, run a blow-dryer through it, and then run your fingers evenly down to the roots to distribute the product evenly. If you want more texture, you can add KIEHL'S texturizing clay.
# 12 Thor Hairstyle – The Avengers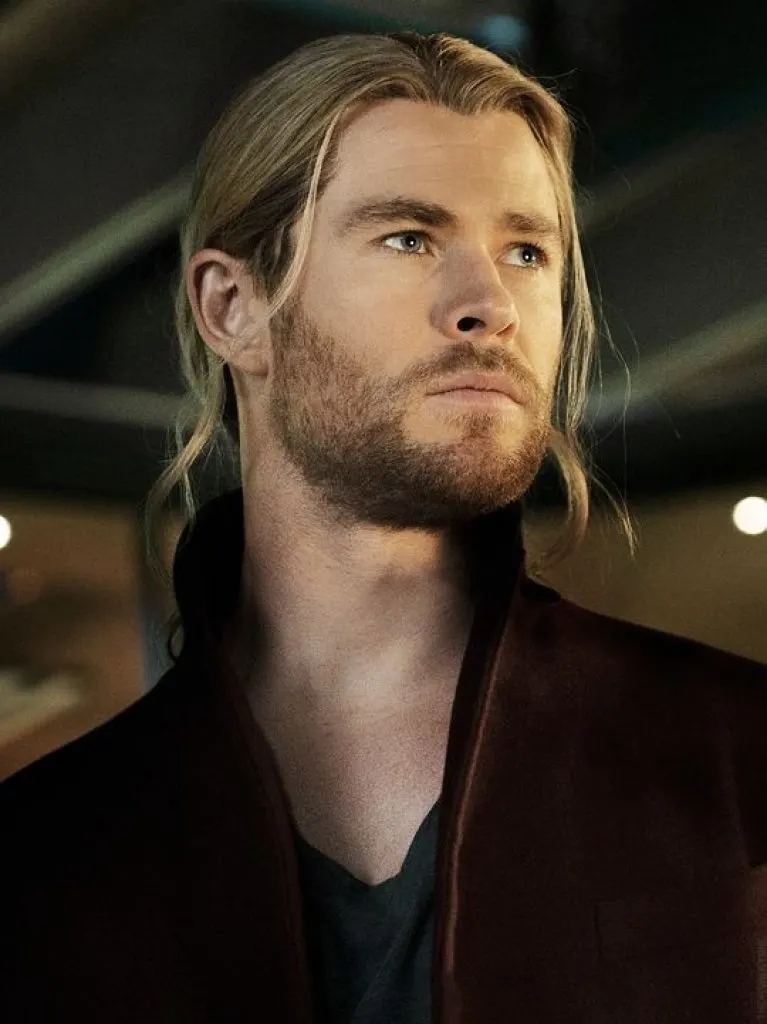 If you love Chris Hemsworth's look in the Avengers and want to recreate Thor's hairstyle, you do need some patience as it is impossible to achieve this length overnight.
If your hair is shoulder-length, you are in luck. Wash your hair and add some conditioner. Long hair would need more of your attention for it to look and actually be healthy.
Then, with the comb's tip, create a part slightly to the left side of your head. Comb your hair to the sides to create an even part. Now pull it back into a low ponytail.
# 13 Long Blonde Thor Hair with Beard – The Avengers
If you want to achieve one of the best Thor's looks in the Avengers, you'd need long hair.
Ask your barber to add a little of blond hair dye to your regular grooming routine or do it yourself. That shouldn't change your natural color much.
Separate a portion of your hair on the top and pull it back into a low and loose ponytail. Secure it with a hair tie and then pull some small portions of your hair out at the front to get this cool and natural look. Styled with a trimmed beard, it will make you look fantastic.
# 14 Thor Short Haircut with Stripes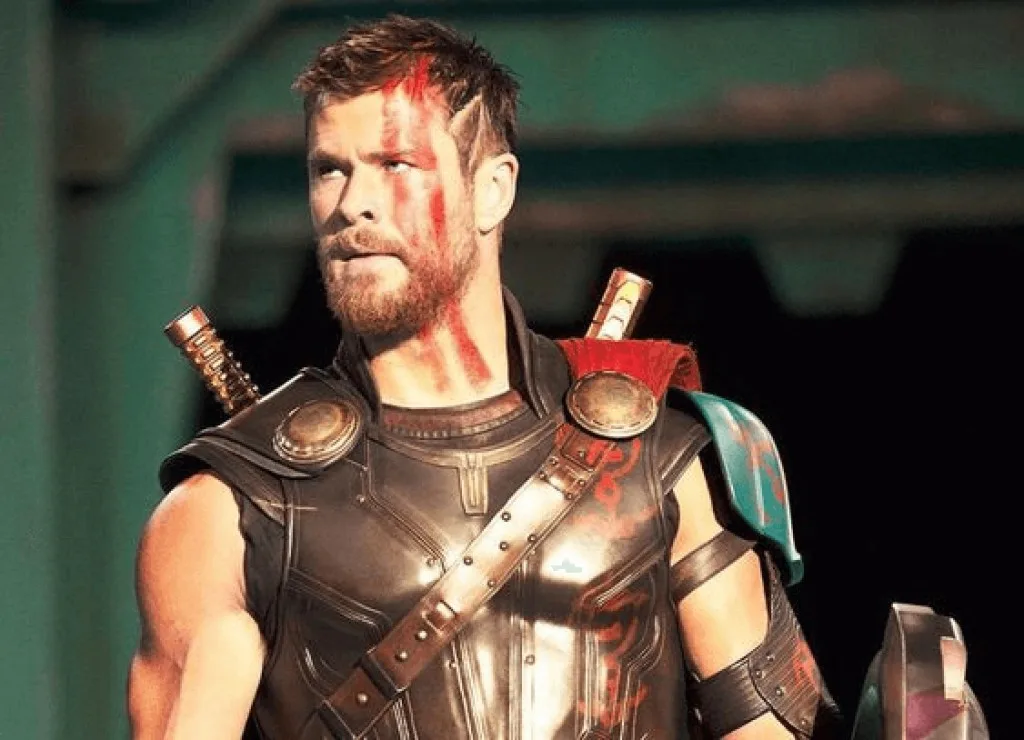 Short haircut with stripes is one of the best Chris Hemsworth Thor's looks. It is quite easy to achieve if you know what steps to follow.
First, ask your barber to shave the sides and back of your head, leaving your hair on top untouched. Then, have it manually cut, so that 1,5-2 inches are left.
Have your barber shave two lines above each of your ears with a razor. The angle between the lines is approximately 30 degrees. Now one more line must be made under the crown of your head.
To make the look more impressive, add some Tigi Bed Head For Men Power Play Gel Gel for the right non-greasy texture.
# 15 Short Spiky Haircut – Thor: Ragnarok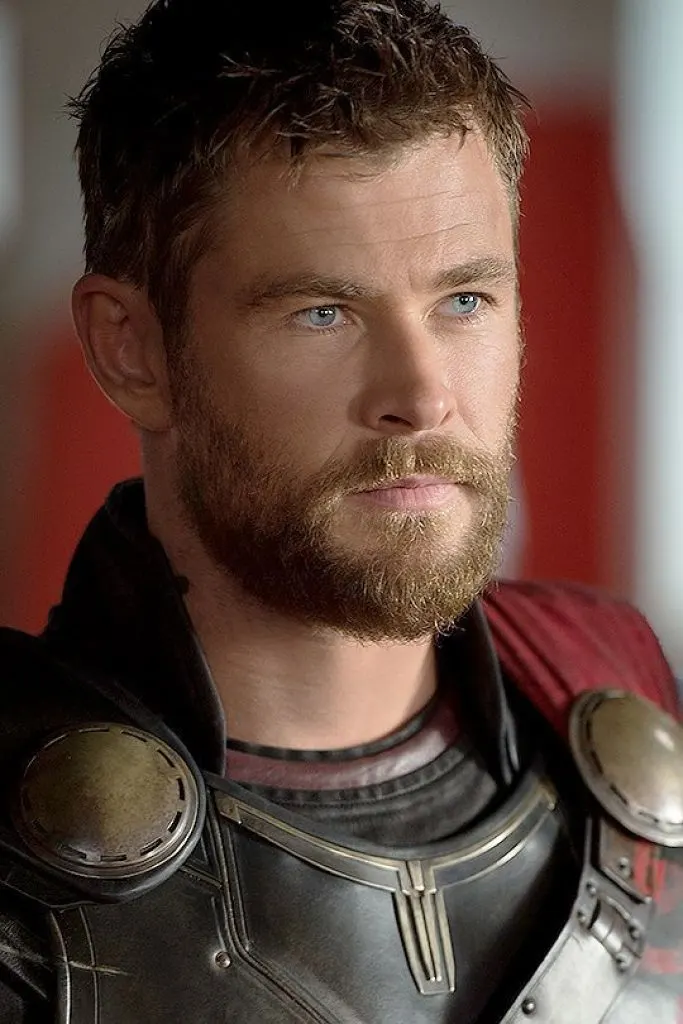 To get the Thor short spiky haircut as in Ragnarok, ask your barber to cut the hair on the sides straight up, keeping the hair on the top longer. That will add more texture.
To style, your hair like Chris Hemsworth in this movie, use a strong wax or cream. For a natural, textured look, try applying a matte hair product.
To finish the look, pull some textured spikes on top. You can also keep your hair spiked in the front to get a full spiky hairstyle. Or just leave it messy.
# 16 Quiff – Agent H Hairstyle from Men in Black International
In Men in Black International, Chris Hemsworth got a fresh, polished look. The quiff is one of the most iconic men haircuts that has been quite popular since the 1950s.
To get this cut, tell your barber to leave slightly more hair at the fringe. Your sides can be short, but not disconnected. When the haircut is ready, you can easily style it by yourself.
Add some pre-styling product, but not too much. Using your fingers or a comb and a blow drier, create your quiff. To finish the look, add definition and shine with a pomade, which is a must in styling a quiff haircut.
# 17 Loose Bun – Huntsman Hairstyle from Snow White & the Huntsman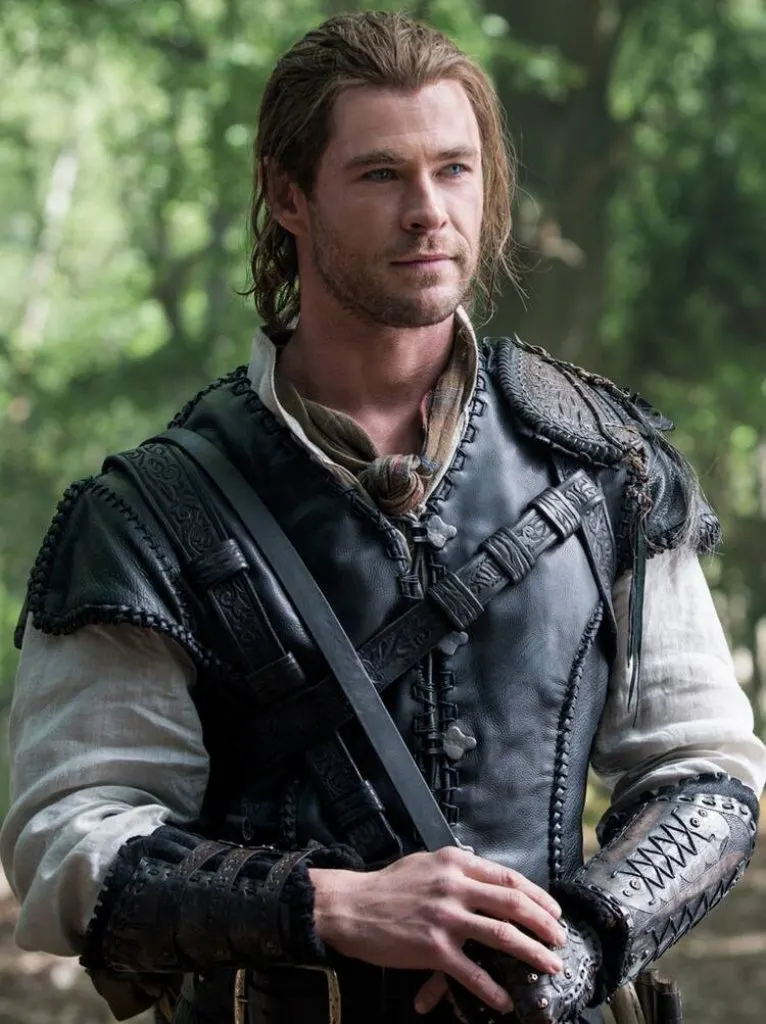 First, you need to be prepared to grow and maintain your hair if you want to get Chris Hemsworth's Huntsman hairstyle (if it's not long enough).
To grow your hair sufficiently long to make a bun, you need to keep the right level of moisture. Buy good shampoos and conditioners, and don't forget to apply them every time you wash your hair.
When your hair is long enough, brush it back to the point you want your bun to be. Then, tie a hairband to make a loose ponytail. Now twist your ponytail around the base of your hairband. Secure the loose ends underneath the band.
To make the haircut look more natural, pull some portions of your hair at the front as if the wind played with it.
# 18 Crew Cut – Curt Vaughan Haircut from The Cabin in the Woods
The crew cut is one of the best hairstyle choices for a hot summer. And Chris Hemsworth shows it can make you look really cool. Plus, it is a low-maintenance hairstyle. After your barber cuts your hair on the sides to be shorter than the top – you're ready.
Crew cut does not need any styling. But if it looks a bit messy, let's say, in the morning, you can apply some gel or pomade to add texture and height. But to keep the shape of your short crew cut neat, you'll need to visit your barber at least twice a week.
# 19 Medium Length Hair with Texture – Owen Chase Hairstyle from In the Heart of the Sea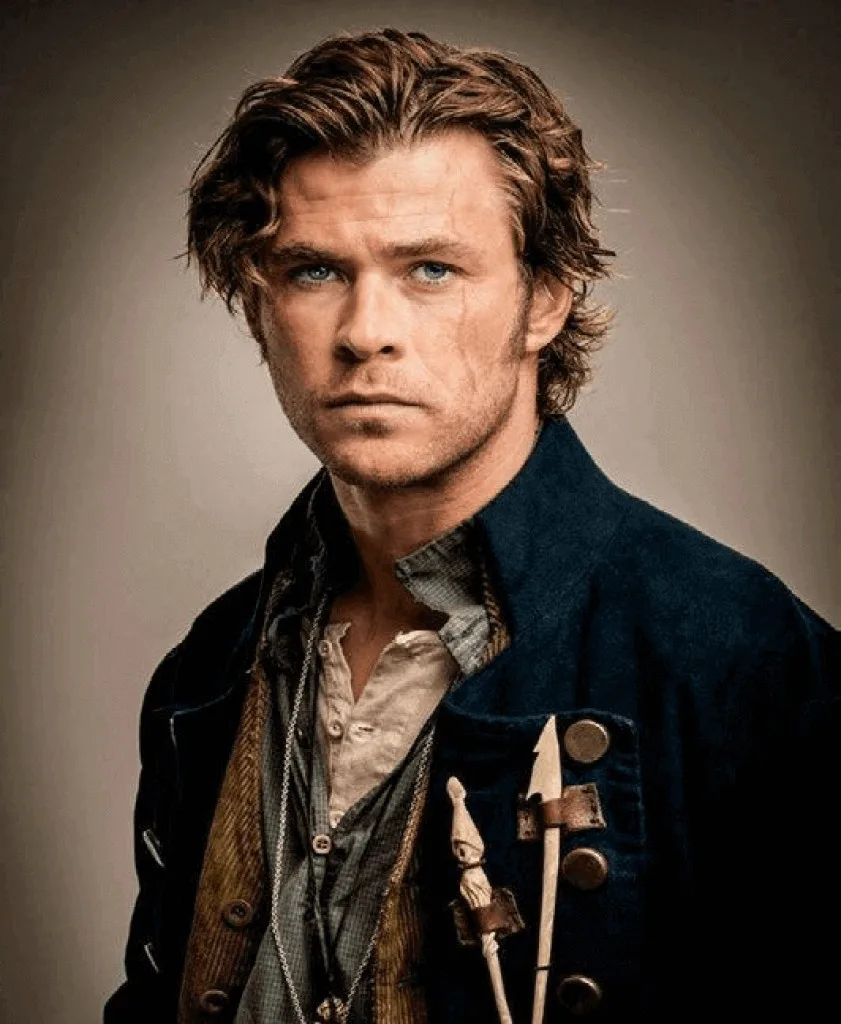 Medium length hairstyle gives lots of styling options. To get the look of Owen Chase from In The Heart of The Sea, wash and towel-dry your hair.
Put your head down and blow-dry your hair upwards. With a comb or a brush, take any unwanted volume down on the sides. Work in a good portion of pomade or wax to get the texture. You can combine these products with a higher-shine wax, to get a more wet look.
# 20 Crew Cut – Captain Mitch Nelson Haircut from 12 Strong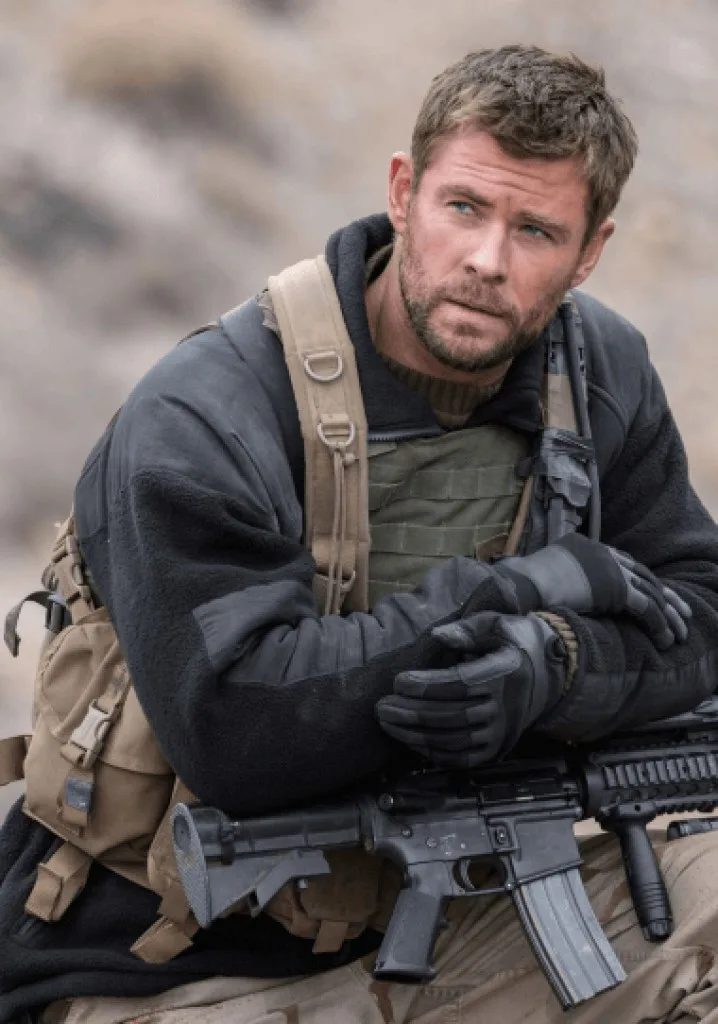 In 12 Strong Chris Hemsworth's crew cut is a bit longer than it was in The Cabin in the Woods. Longer hair styled this way looks more casual, but it also needs more maintenance.
If you want to get this look, brush your hair on the top forward; your bangs can go forward or up, depending on how you like it. You can gel or wax the front of your hair to stick up.
# 21 Long Bangs and Mustache – Billy Lee Hairstyle from Bad Times at the El Royale
Long Bangs and Mustache is a combination that will make you stand out. If you want to achieve this look, give some time to your hair and mustache to grow. It can take you a month or two to get Chris Hemsworth's Billy Lee look.
When your mustache starts reaching the corners of your lips, trim it and apply some wax. After washing your hair, comb some wax or clay, adding more in the front section of your hair. Run your fingers through your hair to get a messy look.
# 22 Short Sides, Long Top Haircut – Tyler Rake Haircut from Extraction
If you want to look like Chris Hemsworth in his film Extraction, tell your barber to trim your hair really short on the sides, leaving the length of your hair on the top roughly 2,5-3 inches long.
Blow-dry your hair to add some volume at the top, then apply your go-to clay or styling wax to texture the fringe. Use your fingers to make the hairstyle more casual.
# 23 Long Blonde Side Part – James Hunt Hairstyle from Rush
When your hair is at least shoulder length, you can try to recreate Chris Hemsworth's look in the Rush. First, wash it and condition to keep the hair moisturized.
While your hair is still wet, separate it with a comb to get a side part. Try and check which side part looks better and feels more comfortable. Don't make it too even, as the total look is quite casual.
Add some hairspray or wax to fix the hair. To get a blond color, you can ask your barber to choose the proper hair dye for you.
# 24 Side Swept Medium Length Hair with Bangs
Side-swept medium hair with bangs always looks classy. Want to know how to achieve this iconic look?
First, wash and towel-dry your hair. Apply some pre-styling mousse and blow-dry your hair to get the needed volume. Using a brush or your fingers, sweep your hair to the side you prefer.
Add some water-based pomade at the front and hairspray to finish the look.
# 25 Crew Cut – Jed Eckert Haircut from Red Dawn
Chris Hemsworth's crew cut in Red Dawn is a cool and low-maintenance hairstyle. This classic and sharp style suits almost every man.
Your barber surely knows how to recreate this look, but to keep it tidy and neat, you'll need to trim it regularly. A small portion of gel or wax applied on the hair while it is still wet will help you keep the contour as perfect as Jack Eckert's in Red Dawn.
# 26 Bandana Style – A Perfect Getaway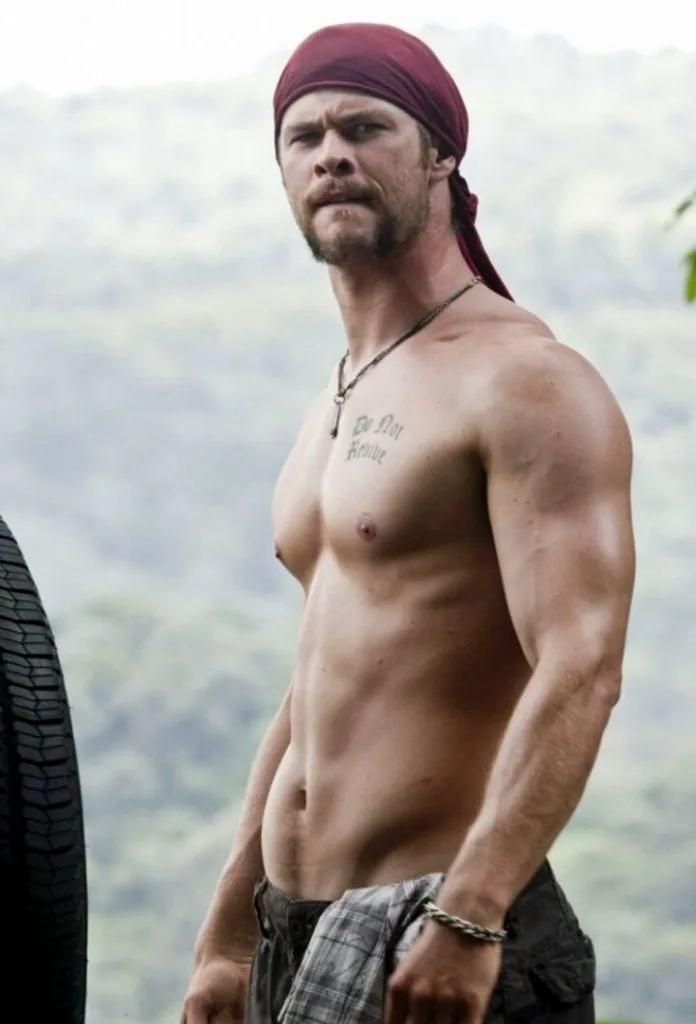 Have you ever wondered why Chris Hemsworth looks so cool in A Perfect Getaway? His bandana style may be the answer.
Fold your bandana to form a triangle. Then, wrap it around the middle of your forehead and tie a knot at the back. Make sure to get all the hair under your bandana, if you want this exact look.
Remember, bandanas don't just make you look cool, they also protect you from sun and wind. Experiment with the colors to find the one that suits you best.
# 27 Devil-Lock Hairstyle – Kale from A Perfect Getaway
Source
This punkish hairstyle can make you look badass. A long and pointed fringe is the highlight of this look.
Ask your barber for a taper fade haircut. Then, pull forward some hair strands in the front and form a pointed fringe to achieve this devil-lock look from A Perfect Getaway.
This haircut is easy to style, and you can change your fringe back whenever you want a different look.
# 28 Short Haircut – Sam Phelan Haircut from Ca$h
Short Haircuts look great, regardless of your hair type. If you want to get a cool and casual look like Chris Hemsworth's in Ca$h, get yourself good electric clippers.
Choose a shorter setting to do the sides and the lower part of your head. With clippers' control, you do not have to worry about cutting too much of your hair.
To give your hair more texture, use styling scissors to cut the top of your hair. Remove the strays, wash with a good shampoo, and you're ready to rock!
# 29 Bro Flow – Stone Crandall Hairstyle from Vacation
Stone Crandall's hairstyle from Vacation is not that easy to recreate. But knowing the right steps to take, you can do the job. You can start when the length of your hair reaches your ears.
First, wash and towel-dry your hair, leaving it slightly damp. Comb your hair with a boar bristle brush. Make sure to choose brushes made of high-quality materials.
Part your hair slightly to the side or in the middle, depending on your preference. Use a light hold fixing cream or clay to shape the wings.
# 30 Long Fringe Layered Haircut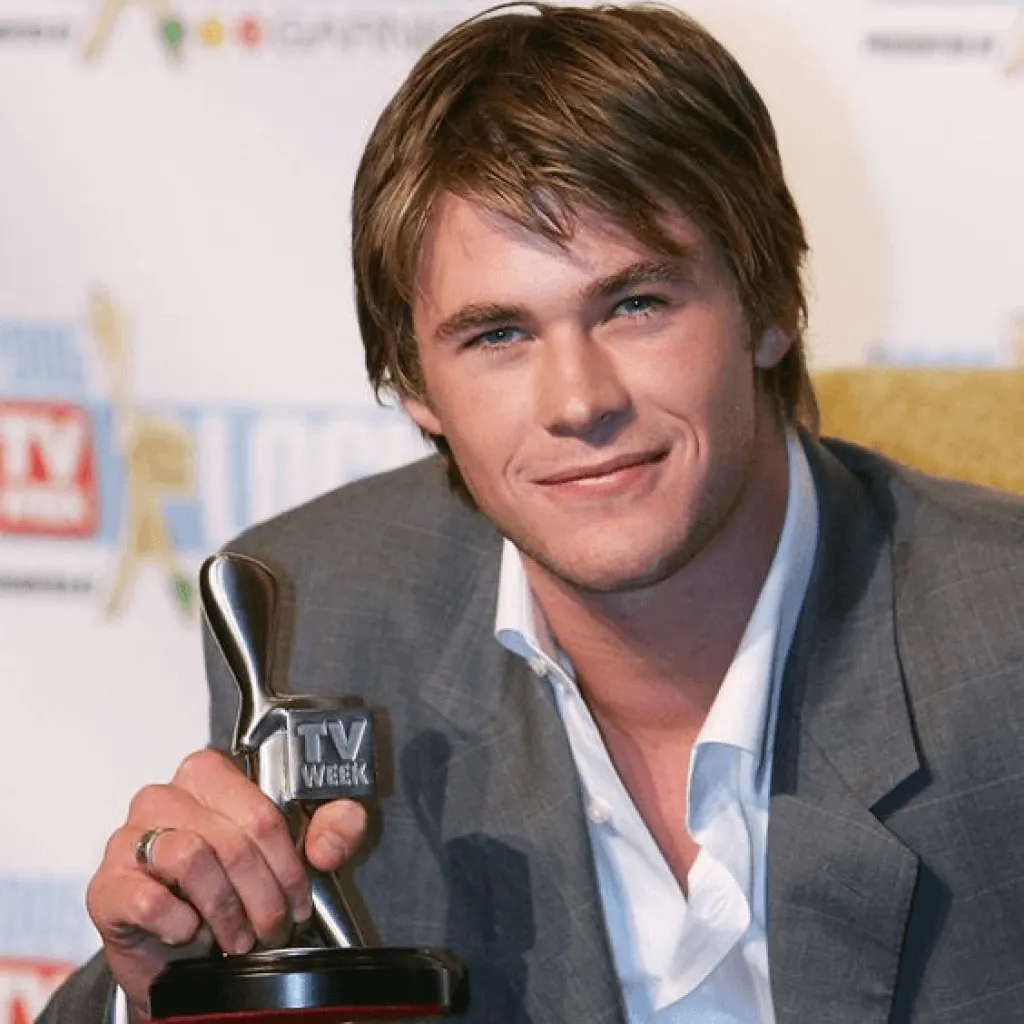 Source
When your fringe falls over your forehead, you look stylish and fresh. This hairstyle gets more and more popular among men. But remember that layered cut requires thick hair because it keeps the shape better.
Your barber should leave some layers longer to create the length. Shorter segments will provide the volume. Apply some wax or pomade to comb your fringe forward and keep it shiny and textured.
# 31 Short Quiff + Designer Stubble
Short quiff and designer stubble is a stylish combination. If you want to get this Chris Hemsworth's look, don't shave your face for some time. Let your stubble grow naturally to at least one inch. Create a clean line under your chin using a trimmer. Keep it neat and tidy.
To get the short quiff, ask your barber for a high skin fade on the sides cut with clippers. Leave the top of your hair a little bit messy by adding some wax or pomade for texture.
# 32 Haircut with Ponytail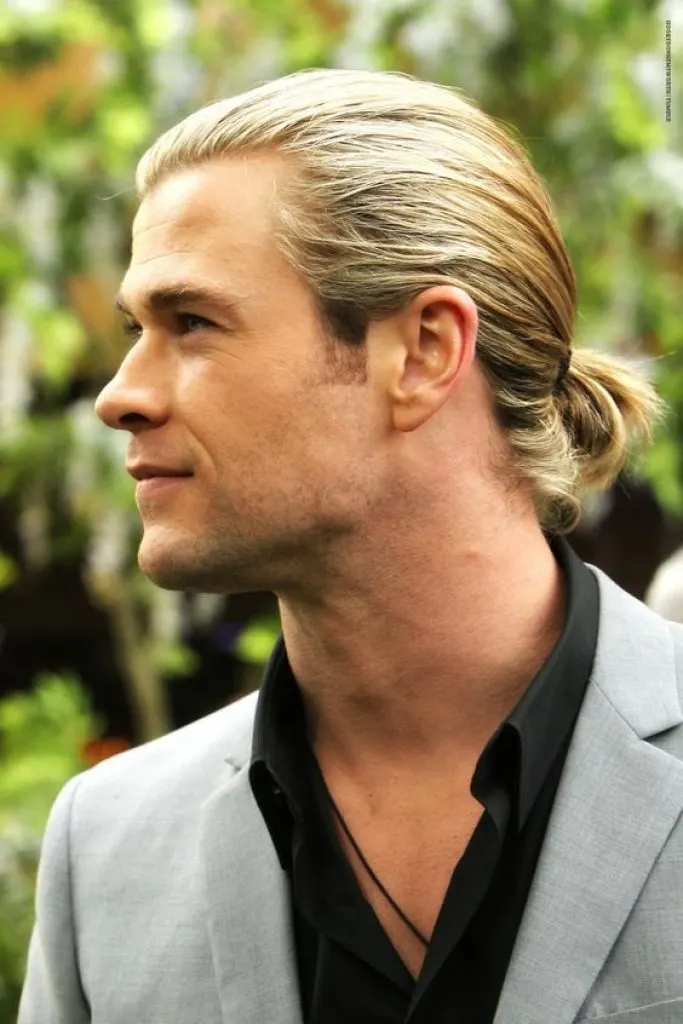 This Hemsworth's hairstyle looks incredible, and it is easy to "steal" if you have medium-length or long hair. Sideburns will add more charm to the look and frame your face shape perfectly.
Trim your sideburns regularly to keep them neat. Pull your hair back, gather it in a ponytail, and secure it with a headband. Put some styling gel on your fingers and run through the front part of your hair to fix it.
# 33 Wavy Swept Back Haircut
Wavy Swept Back Haircut always makes you look classy. Chris Hemsworth knows how to style it best.
To recreate the look, comb your hair thoroughly, gently pat your go-to pre-styling product like a shaping mousse into your hair, distribute it evenly, and comb it back. Finally, add hairspray and avoid touching your hair until its completely dry and fixed.
# 34 Short Curtain Hairstyle
Short Curtain Hairstyle is a signature haircut of the nineties. To get this look, grow an even fringe. Then part it precisely in the middle. Rub some styling mousse to get the volume and blow-dry to fix the hair. Run through it with your fingers to define the fringe. For a more casual look, add some salt spray.
# 35 Ivy League Haircut – Kevin Haircut from Ghostbusters
Kevin from 2016' Ghostbusters, played by Chris Hemsworth, looks almost like another iconic character – Clarke Kent. His glasses and handsomeness make many want to copy the look.
To get it, towel-dry your hair and add a wet hairstyling product. Distribute it evenly, and start blow-drying your hair at the maximum heat, while combing your hair to the side and back. Keep your forehead exposed. To fix the look, use the most effective hairspray.
# 36 Slick Back with Highlights Haircut
The slick back is a classy hairstyle. Some highlight in your hair, just like Chris Hemsworth's, can make it more modern.
To achieve this look, first, visit your barber and ask him to highlight some of your hair strands. It's better to choose a highlight hue that will look natural on your hair tone. Color-treated hair needs more of your attention, so add some color-care products to your daily routine.
After you wash and towel-dry your hair, apply some gel or wax, and brush your hair back. Blow-dry it with cool air and use hairspray for a neat look.
# 37 Chris Hemsworth Hairline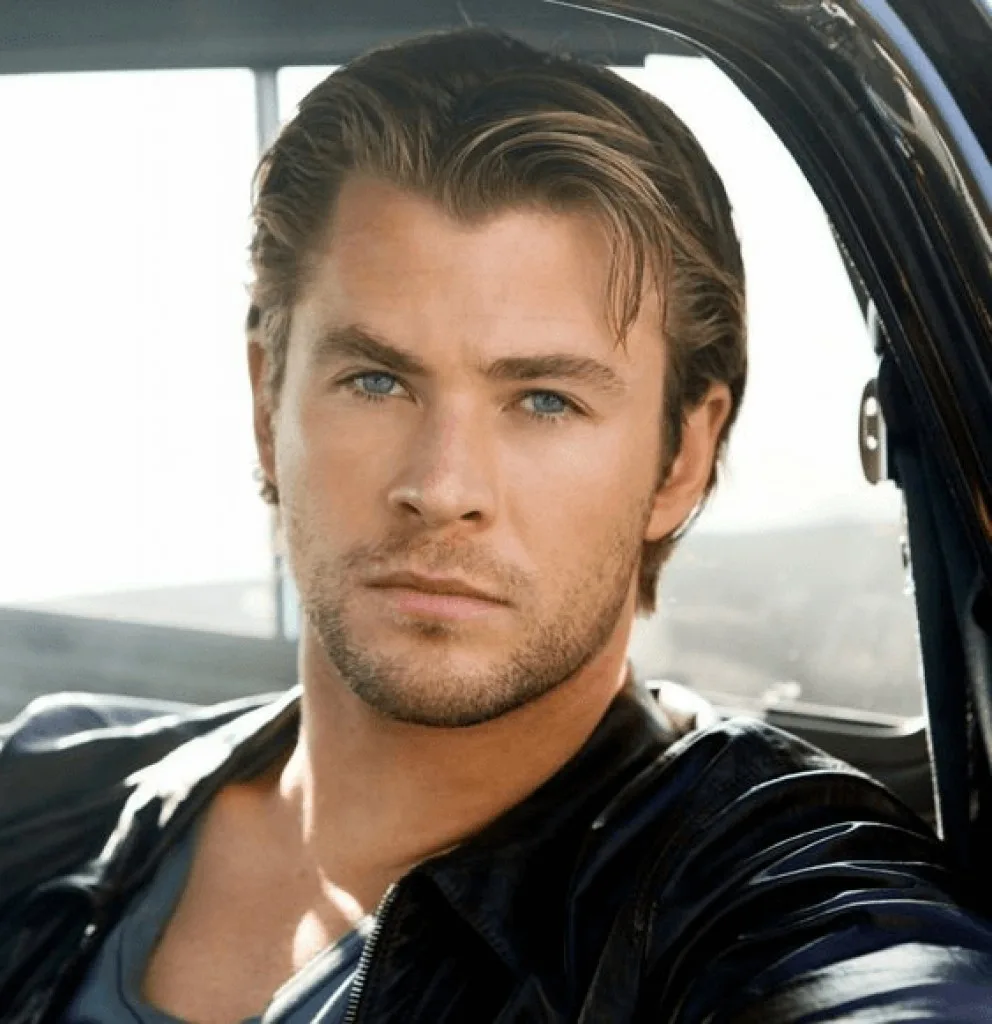 Chris Hemsworth always looks cool, so does his hair. Many of his iconic haircuts leave his forehead exposed. If you like your hairline, don't hesitate to show it.
All you need is to add some styling products to your daily hair routine. For example, use just a drop of a fixing gel to put your hair up at the front. Keep it simple and natural, as Chris Hemsworth does.
# 38 Crew Cut with Spiky Hair
Crew cut looks even better if you add some spikes in your hair. You can use whatever you like: gel, wax, or pomade.
Start with a small dose of your styling product, and it is better to add more as you continue shaping your spikes.
Coat your hair entirely, paying particular attention to the ends. Run your fingers through in an upwards direction, and you're ready!
# 39 Taper Fade Haircut
To get Chris Hemsworth's taper fade haircut, ask your barber to start with long hair on the top of your head and taper the hair shorter down the sides.
To achieve the fading effect, ask them to blend the longer hair on top to create a neat tapered hairstyle. Use a strong-hold fixing wax to add some texture.
# 40 Messy Hard Part Haircut
Messy Hard Part Haircut is one of Chris Hemsworth's favorite haircuts. To steal the look, keep the top of your hair at a moderate length, while the sides can be cut short.
Pre-style your hair with a volume mousse and blow-dry, running your fingers through it from time to time. To define the fringe, apply a wax or a pomade, styling your hair slightly up and to the side.