Bradley Cooper hairstyles are always changing, and it usually takes a long time before you see him with one of his previous haircuts.
However, he knows how to cut his hair and so everything that Brad wears will always attract attention whether it is long or a simple short razor cut.
As a trendsetter, most fans look up to him for inspiration on how to cut and style their mane. The picture gallery below shows 45 of his most famous hairstyles than any enthusiastic fan can use to replicate his adorable look.
# 1 Wind Swept Short Waves
Bradley is no stranger to longer locks, but here the length is all on top of his head. With short sides, the attention remains on the waves as they stand tall and lightly mussed. It's a low maintenance style, excellent for thick hair.
# 2 Neat Side Parted Professional Look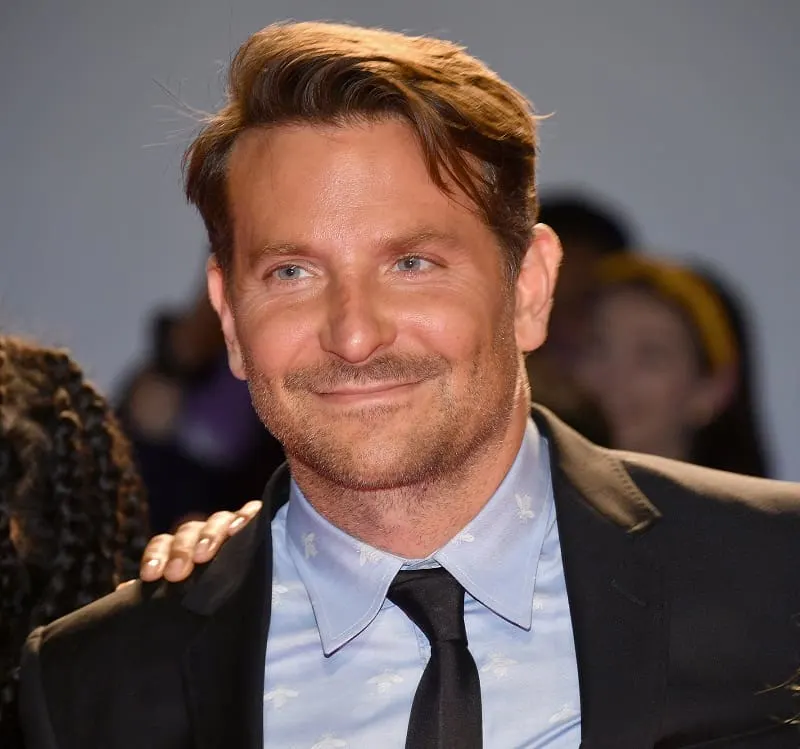 If you're after a clean-cut look, part your hair in the center and let it fall naturally with a lock falling across the forehead. Keep the sides short, but allow some length on top to add volume.
# 3 Mullet Inspired Short Style
With length in the back but short hair on the top and sides, there are endless possibilities. This style is a swept-back look with a slight center part, the ends of the hair curled upwards for some playfullness.
# 4 Slick and Fancy
With the same mullet-inspired cut as above, slick the hair back for a sophisticated look worthy of black-tie events.
# 5 Short & Spikey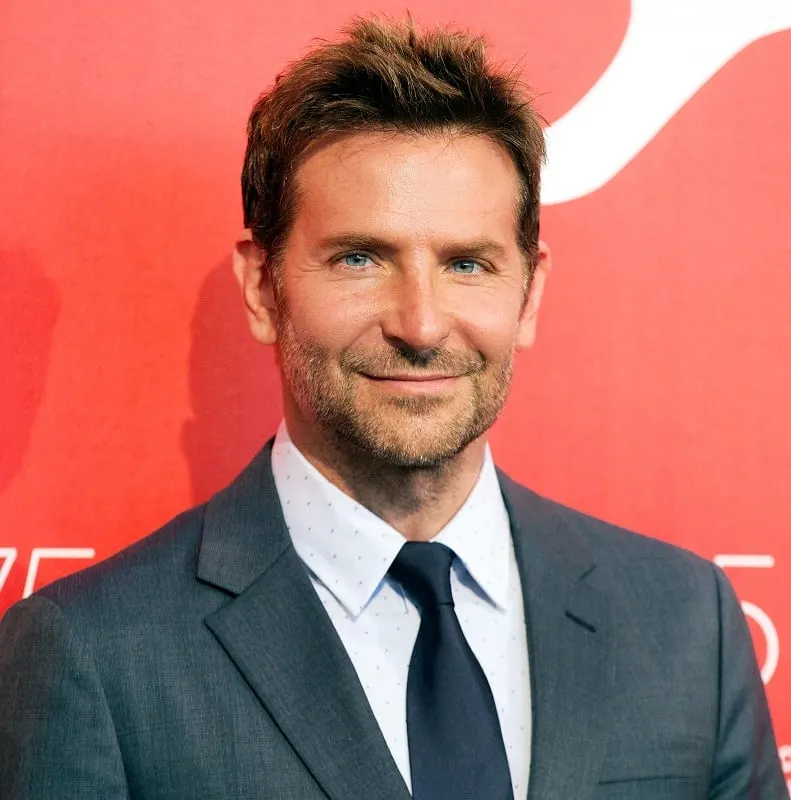 If you prefer something short, crop your hair on the sides, but leave enough length on top for some textured spikes to create a fun look. It's great for naturally spikey hair, but anyone can achieve it with a minimal amount of product.
# 6 Sleek Side Swept Bangs
Although this style looks quite sophisticated, it is quite simple, and Bradley creates it in a few simple steps.
It involves cutting his strands with scissors to a couple of inches, gelling, and styling them with a side part and by sweeping them to the sides.
# 7 Sexy Spikes
Some people refer to Brad as the sexiest man alive and a hairstyle like this one shows why. Here he has some short spikes with tapering on the sides and back that make him look extra charming.
# 8 Messy Voluminous Bangs
This haircut demonstrates one of the few occasions that this superstar does not go with short hair. He has some beautiful voluminous bangs that are equal in length throughout the head, and he styles by making them slightly messy.
# 9 Layered Nape Length Locks
Here Bradley has some natural neck length locks, and he does little to style them. He has a beautiful natural hair with a pleasing colour and texture, and so all that he does in this style is to give them a soft center part and finger comb them to the sides in slight layers.
# 10 Extra Short Ivy League
This style is an Ivy League but just like with most of his other haircuts Bradley tries to make it look different.
He achieves this by making the strands extra short at the top and fading the sides and also by brushing the strands on the crown frontwards.
# 11 The Slick Back
There is nothing fancy about this hairstyle, and so any man with a short or medium hair can replicate it effortlessly.
All that he will need to do is to apply a generous amount of gel to give the strands a perfect hold and then simply brush them back.
# 12 Stunning Shaggy Layers
Bradley can look good even with a bald head and in most cases he has to do little to create a polished look. In this style, for example, he has some medium size strands and all that he does is to brush them back in some shaggy layers.
# 13 Textured Messy Bangs
The shine on these strands and their texture is incredible, and they create an adorable headdress. With such a perfect hair you do not need any fancy styling because making them messy is enough.
# 14 Perfectly Tapered
The beauty of this hairstyle comes from the classic taper cut. Although the strands are very short one can still see their fantastic pattern and it makes Bradley look very sexy. And for styling, he only needs to give them a slight mess.
# 15 Gelled Side Sweep
Hair gel is an essential part of grooming, and you can also use it to create a stunning headdress like this one. In this style, it makes all the different as Bradley uses it to create a shiny and perfectly side-swept hairdo.
# 16 Long Crew Cut
Crew cuts are very widespread, but Cooper gives his a distinct look by making it extra-long and also tapering the sides to make it look trendy. He also layers the bangs and makes them slightly messy.
# 17 Sweet Natural Curls
This hairdo is one of his rarest and very few people can remember seeing him looking this way.
However, it is still an elegant design that he creates by chopping his curly locks short and giving them an equal length throughout the head. It gives him an adorable gentleman look, and a good gel is all that it needs for maintenance.
# 18 Soft Bangs with a Sexy Texture
Cooper makes everything look easy because most of his hairstyles are not only effortless but also very charming.
In this style, he has some soft bangs on the crown and tapered sides, and he styles by finger combing to make them look slightly shaggy.
# 19 Glamorous Short Mane
This short mane is as adorable as a hairdo can get, but it is also very easy to create. It only requires moderate trims to give the strands some texture and a simple center part before finishing by layering them.
# 20 Dark and Smooth
With hair like this one you will always draw attention everywhere you go. It is very smooth, but its amazing dark tone and shine are what makes it stand out.
The length is also perfect, and a simple, slick back with the fingers is enough to give the locks a flawless look.
# 21 Classic Tapering
Short haircuts are not only low maintenance but also very easy to create. In this style, Bradley only has to cut everything short and finish by tapering the sides and back to make a fashionable headdress befitting a celebrity.
# 22 The Rugged Gentleman
A rugged look like this one is heartwarming and it shows why Cooper has an almost cultic following across the globe.
His hair has a magnificent rugged look that he creates by chopping the locks short for some texture and then giving them a messy finish.
# 23 Face Hugging Bangs
Brad never seems to get enough of messy hairdos, but the good thing about him is that he is always coming up with new ways to wear his shaggy look.
In this style, he keeps some longer bangs and leaves a few of them hugging his beautiful face to create an elegant look.
# 24 Brad's Rough and Ready Look
This A-list celebrity has not limitations when it comes to hairdos, and he wears anything that he likes.
Clean shaven looks are not his thing, and he seems to prefer a rough and ready design like this one with a soft side part to spice up his appearance.
# 25 Cute Spiky Look
A cute spiky look like this one is perfect for the outdoors and it makes Brad look fantastic. It is also short enough to ensure minimal maintenance and to replicate it you only need a couple of inches of hair on the crown and tapered sides and back.
Idea # 26
Idea # 27
Idea # 28
Idea # 29
Idea # 30
Idea # 31
Idea # 32
Idea # 33
Idea # 34
Idea # 35
Idea # 36
Idea # 37
Idea # 38
Idea # 39
Idea # 40
Idea # 41
Idea # 42
Idea # 43
Idea # 44
Idea # 45
Bradley Cooper's hairstyles are always changing, but the good thing is that they are always getting better than what he had in the past.
He knows how to style his locks whether they are long or short, and so if you are looking for a hairdo that will give you a look of an A-list celebrity, then you can try one of the 45 above.