Think short styles are boring? Think again! Celebrities choose short hairstyles this season.
Short hair can be just as versatile as long hair if you choose the right cut and color. It can be styled for laid back activities and polished into immaculate looks if needed for evening events.
Details like highlights, special cut details, and surprising colors can also be used to add interest and variety to the hair.
So if you need something that is smart and low maintenance then check out some of these celebrities with short hair styles. Pay attention to the small details to get inspiration!
# 1 Chris Hemsworth's Messy Crop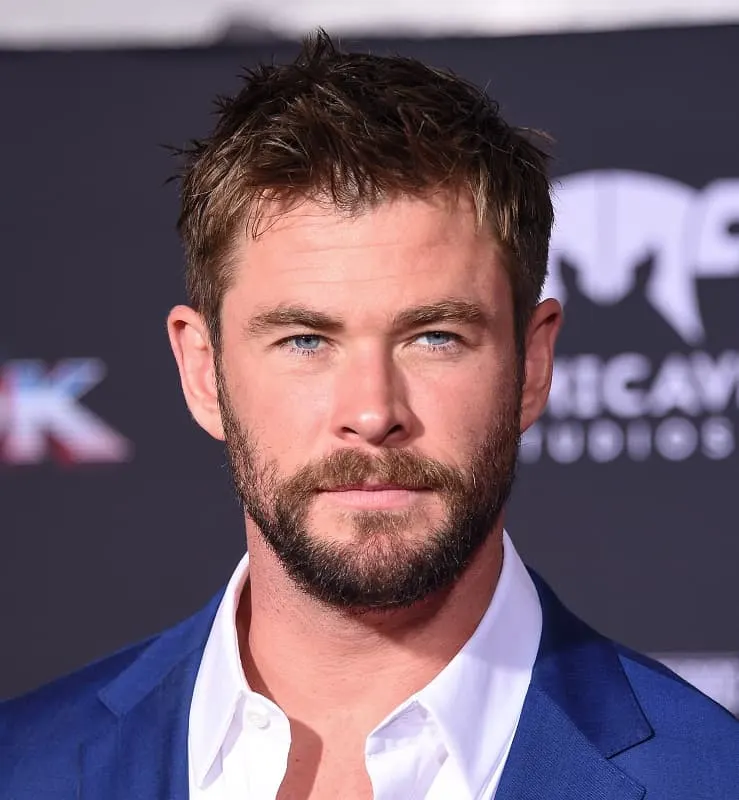 Chris Hemsworth's hair is cropped short here, but the top is a finger-styled mess of spikes and side-swept hair. Great for guys wanting a sporty but chic look that girls can run their fingers through without disturbing too much.
# 2 Lionel Messi's Neat Flop
Messi may be in his name, but even mid-game Lionel's hair is neat, slicked to the side, for a hairstyle that won't get in his way when he's dominating the field.
# 3 Freddie Highmore's Casual Mop
Freddie Highmore wears a casual mop of gentle waves brushed to the side. The hair in the front frames his forehead well, and stays out of his face for an easy to maintain style.
# 4 Sam Clafin's Short Curls
For guys with curly hair, cut it short like Sam's and let the curls fall naturally. It's a soft style that works for any occasion with very little upkeep.
# 5 Ruffalo's Ruffled Grey
Mark Ruffalo is one of those men that makes grey look classy, not scruffy. He gives his curls a gentle spike, but the focal point is clearly his standout salt and pepper beard.
# 6 Chadwick Boseman's Gentle Fade
Chadwick's style is cool and casual. He lets his natural afro-textured hair dominate on top, but has a skin fade on the sides to add a unique element to his look. His beard matches his hair seamlessly, thick turning thin for a put-together look.
# 7 Ed Sheeran's Messy Mop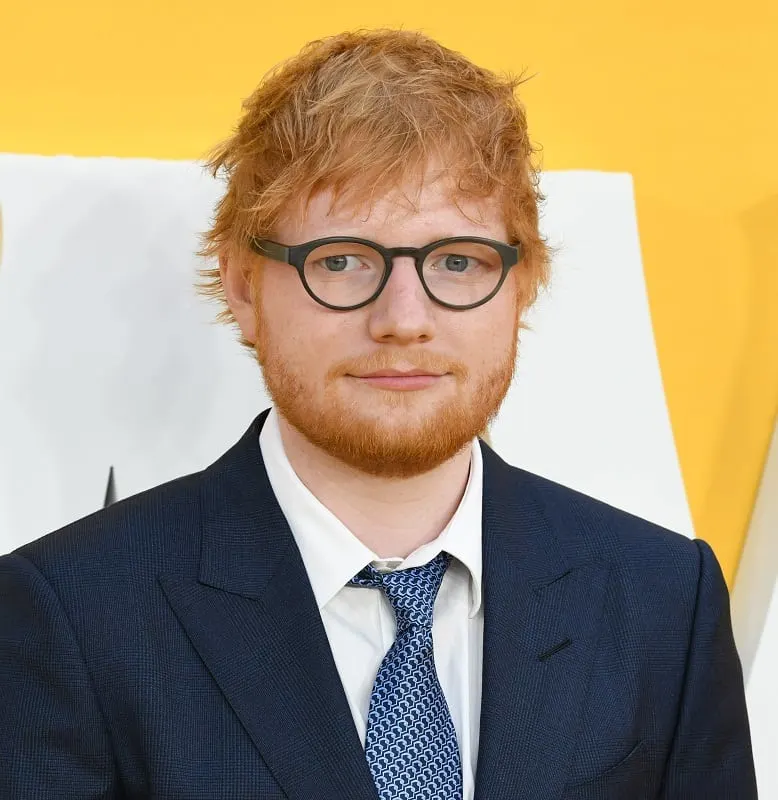 Ed has never been known for his neat or stylish looks. He lets his natural ginger hair fall freely across his forehead, sticking out a little on the sides. It's an effortless style for the everyday guy.
# 8 Luke Guldan's Sexy Sweep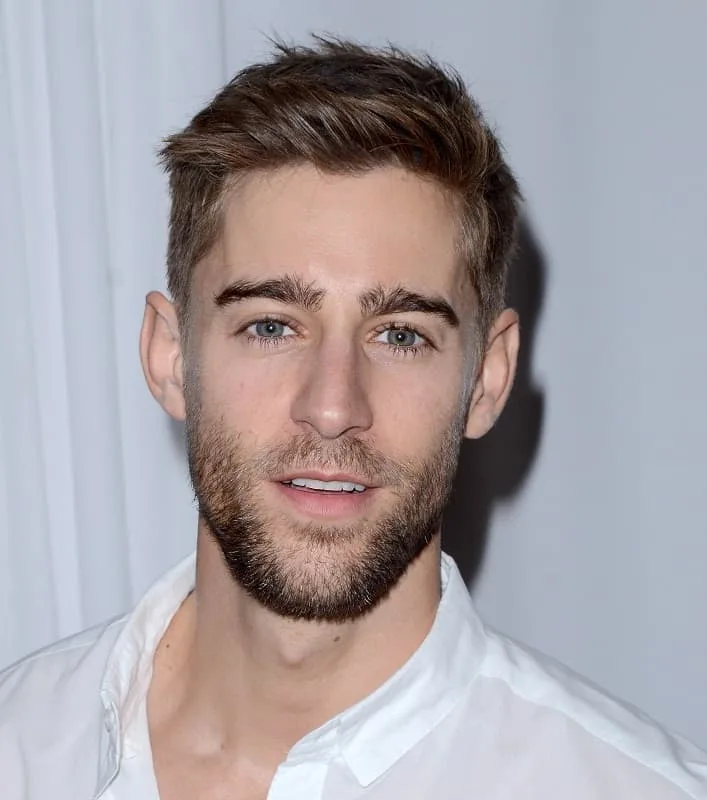 Luke Guldan's hair is well-maintained but still easy. Ultra-short cropped sides with a fluffy sidewards sweep on top, he cuts a casual style that also works well for formal occasions.
# 9 Rami Malek's Shaved Sides
Rami Malek's sides, shaved down to a number 1, put emphasis on the rolled curls he sports on top. Swept back neatly, it's a look for guys who want to look put-together without much hassle.
# 10 Louis Tomlinson's Side Bangs
Louis's style is slightly outdated, but he rocks it. He sports long side bangs, the standout of his otherwise tame and short hair, a classier version of the "emo bangs" that were popular in the late 2000s.
# 11 Ryan Gosling In Sleek Sorrel
Here Ryan Gosling sports a look that has short sides that have been neatly graded into the top locks.
The color is lovely in a rich sorrel brown and the light copper hues along the temple compliment his beard shade so well.
# 12 Gyllenhaal's Tousled Look is Effortlessly Sexy
This palette of nut and amber browns really helps to accentuate Jake Gyllenhaal's deep blue eyes.
His hair has been lifted straight up from the forehead while the shorter hair on the sides has been combed neatly down.
# 13 Hot Highlights for Hunky Hugh
The addition of dark ashy highlights helps to give Hugh Jackman's deep brown hair extra texture and catch the light beautifully. This style is a messy "bed head" look, with an unstructured side parting that is just visible.
# 14 Ryan Knows How to Pull Off Gray
Gray hair can look unsightly or it can be distinguished – and Ryan shows us exactly how it should be done. Here a high undercut has been graded up to the hair on top.
The style is short with just a small wave in the front. His fawn colored hair is sprinkled with dove gray and it's subtle and mature.
# 15 Short and Vibrant Amber Hair
Chris Pratt sports a short hairstyle in this picture, which has been styled into waves. The cut is just slightly longer on top and the base color is amber that has been overlaid with hazel microlights.
# 16 Understated 40's Revival
This style was a favorite among the men of the 1940's and Chris Evans pulls it off perfectly. His thick hair is parted at the side and combed back. This is a really polished do, ready for a dinner engagement.
# 17 Robert Downey Jr. in Hip Chestnut Hue
Robert's hair has a high comb cut along the sides which has brushed roughly back. The top hair is styled up and texture has been added by ironing and twisting small sections of hair.
# 18 Short and Sweet
Here, James McAvoy's hair has been trimmed to a uniform length all around and dappled in biscuit browns and honey blondes, with just a hint of creamy gray. Interest is added by the small wave over the forehead.
# 19 American Horror Hottie
Here Matt Bomer's silky looking locks have been brushed up and back to give this do height. The added golden brown streaks over a base color of deep sable are the perfect colors for this style.
# 20 A Choppy, Textured Cut for Benedict
Short hairstyles never need to be flat – Benedict Cumberbatch shows off a classic burnt sienna shade in a textured and ruffled looking short style.
# 21 Soft Style with Ash Gray Sides
Matt Damon's hair has been snipped quite short and has been styled to fall naturally. On the sides we can see hints of ash gray, adding a refining touch to this look.
# 22 Sophisticated Urban Style for Jude
Jude Law wears this messy urban look with such panache! His deep chocolate brown hair has been has been combed back and ruffled to create a trendy style that looks well put together.
# 23 Clipped Cut in Walnut Brown
Tom Hardy looks stylish in this close-clipped do. The sides are gently parted and the hair has been brushed back and to the side. A light walnut brown hue is just right for his olive skin tone.
# 24 Channing Tatum with Prep School Look
A soft palette of bronze and earthy browns has been used to add texture and shine to this smart do. Channing Tatum wears his hair in a flattering short cut that has been brushed to one side.
# 25 Dark Bush Cut for Daniel Craig
In this picture, Daniel's sleek, auburn colored hair has been given a uniform brush cut with just a small section of the top hair left slightly longer and brushed back.
It's a no-nonsense do that works well to open up his face and highlight his sharp features.
# 26 Short and Defined Bowl Cut
Here, Will Smith is sporting an ultra-short bowl cut style. The sides have been shaved into a tight undercut while hair is longer on top and trimmed into a precise shape.
# 27 Colin's Spiky Look Has Loads of Attitude
Colin Farrel's hair has been grown out and scissor cut to give it texture. The coffee colored locks have then been styled into a hip, spiky look.
# 28 Teased Then Tamed
In this picture, Bradley Copper's hair has been styled to have a tight tousled feel that still looks structured. A palette of deep creamy browns has been used to color his hairstyle.
# 29 Star Quality Hairstyle
John Boyega's shadow black locks have been cut into an equal length all around, which opens his face and highlights his smooth mocha colored skin. It's a short style that is professional and refined.
# 30 Razor Detail Adds Interest to Drake's Short Do
Drake has opted for a super short do which looks great on him. He's added some interest with a razor line, curved off to the side.
# 31 Rosewood Color Over Spiky Styling
This lovely shade of dark brown is just right for Taylor Lautner's tanned skin. The sides are slightly shorter and lightly textured, while the top hair has been roughly styled and spiked.
# 32 Marshall Mathers Style is Enviable
This is an attractive look for Marshall. The darker sorrel color gives him a mature feel, while the neat lines of his clipped do are still edgy.
# 33 Elijah Sports a Professional Do
Elijah's sable-hued hair has been cut to a uniform length, and a messy side parting has been added. The fringe has been combed slightly forward to fall on the brow.
# 34 Shiny and Short Auburn Hairstyle
Brad's hair is wonderfully soft looking and the palette of colors is so flattering. The base is a deep auburn with well-placed amber and chestnut highlights.
The hair has been brushed up into a wave, with the sides combed down and back.
# 35 Brushed Up Look with High Undercut
Justin Timberlake has a high undercut which has been combed down and top hair has been brushed straight up. The color is a lovely chocolate brown with just a sprinkling of gray.
# 36 Honey Highlights
What makes this hairstyle work so well is the combed back locks with just a small wave to add height and the blended range of golden brown colors.
Zac shows us a style that is versatile enough for work and play.
# 37 Nick Makes Super Short Look Super-Hot
Nick Jonas has chosen a low maintenance super short razor cut all around. The style is great for busy bodies like him and the deep color looks smooth against his creamy skin.
# 38 Sleek Sun-Kissed Locks
David Beckham shines in this immaculate hairstyle that sees the brush cut sides gently graded into the longer biscuit colored hair above.
These locks have been brushed back so that some strands rest higher than others – hot!
# 39 Tom's Hair is Textured and Tousled
Tom's textured cut with forward combed fringe is right on trend.
His copper colored hair has been combed neatly on the sides while the top hair has been blown out and combed forward to give the style lift. The color is youthful and carried off well by Tom.
# 40 Short, Layered Hairstyle
Justin Bieber's blonde hair has been cut into a high, layered undercut and then given an off center parting.
On the other side, his shiny honey colored locks have been styled with the following wave texture. It's a boyish style that is shiny and eye-catching.
Idea # 41
Idea # 42
Idea # 43
Idea # 44
Idea # 45
Idea # 46
Idea # 47
Idea # 48
Idea # 49
Idea # 50
Idea # 51
Idea # 52
Idea # 53
Idea # 54
Idea # 55
Idea # 56
Idea # 57
Idea # 58
Idea # 59
Idea # 60
Idea # 61
Idea # 62
Idea # 63
Idea # 64
Idea # 65
So what trends are these celebrities with short hair setting? Well, the hottest cut for men in 2023 is definitely shorter sides with a longer layer of hair on top; which is either sleeked back or blow dried and textured into a messy style.
There are loads of variations for the undercuts with some being graded or stepped while others are sharp and defined.
The colors that are the most popular are clearly brunette shades ranging from golden browns to deep wood shades. Gray hair is also acceptable and can be so distinguished if the style is right.
Highlights are also trendy especially honey and golden blondes. Short hair is fantastic for the man on the go and with styles like these celebs you just can't go wrong! Just give it a try.