Men's medium hairstyles are among the latest trends that are gaining popularity across the globe.
Irrespective of individual's race, hair type, color, and religious affiliation, medium hairstyles are becoming more acceptable in all spheres.
Ability to customize the hairstyle makes it more popular with a variety of applicable styles giving an opportunity for each to create own identity. It helps boost self-esteem alongside other individual traits.
# 1 Shaggy Beatles Cut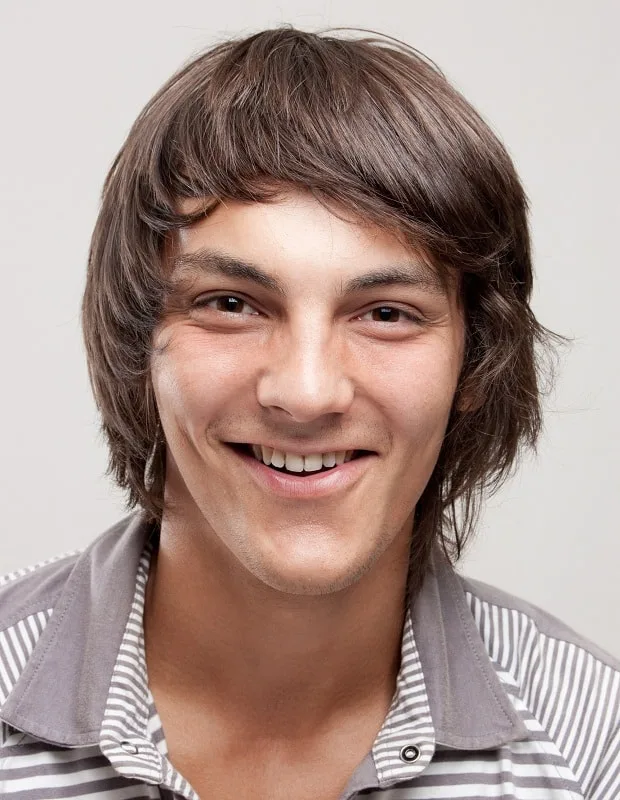 This casual, shaggy cut is reminiscent of the classic hairstyles worn by The Beatles. It's an effortless look, just brush the bangs to one side and let the rest of the hair fall shaggy, framing your face.
# 2 Side Swept Locks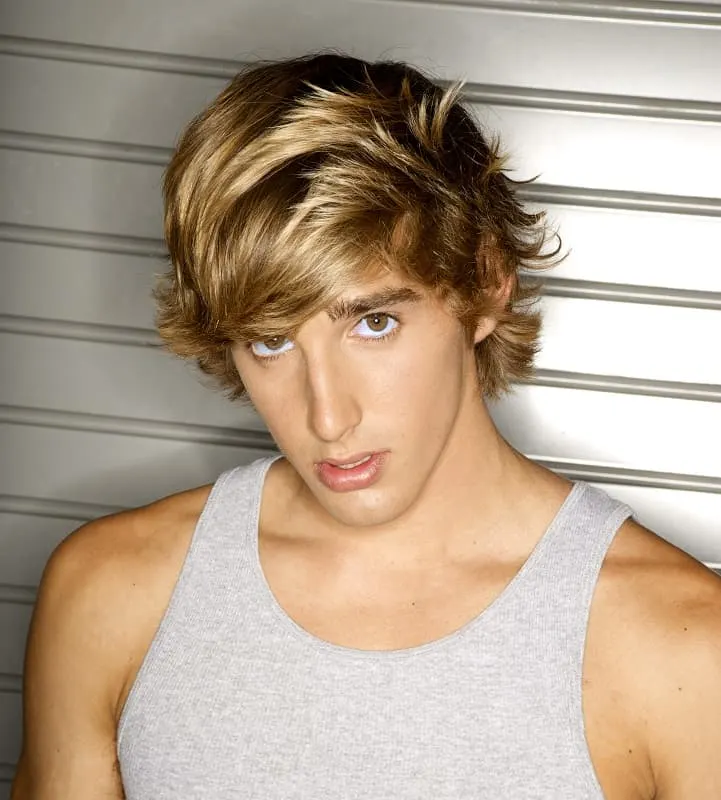 This shaggy style is achieved by roughly sweeping your hair to one side with some wax. It provides a layered look and works well to hide a large forehead so your other features stand out.
# 3 Messy Chin Length Hair
If you want an easy look, grow your hair to the same length, but shorter around your face. Style it roughly, perhaps with some wax, and let it fall naturally for an easy, sexy 'do.
# 4 Loosely Tied Up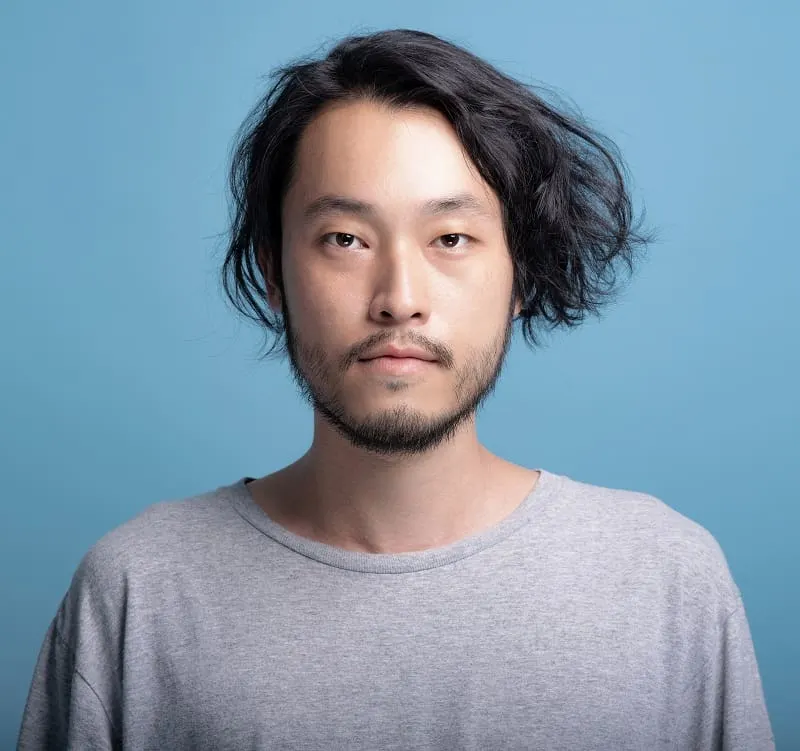 Medium hair isn't often long enough to tie up in more than a minuscule man bun at the back. Do this and let the rest fall freely around your face for a messy but chic, low-maintenance style.
# 5 Bedhead Bliss
For a haircut with lots of motion, keep the top long enough to stand on end. Using some wax, ruffle up the top and sides so you get a bed-headed look that girls will love to run their fingers through.
# 6 Side-Shaved Haircut with a Comb Over
Ideal for those wishing to exhibit their masculinity, the style involves balancing the hair length. It involves shaving the sides leaving long hair of the desired length that can be easily combed to either side of the head.
Leaving long beard compliments the masculine look of the style. It is an ideal style for persons involved in sports and need to give a better display of individuals masculinity.
# 7 Curly Thick Locks
Giving the hair a natural outlook, curly thick locks brings out a sexy outlook on the man.
To ensure a more natural feeling, it is important not to weigh the curls with loads of hair products and this helps maintain the hair as it is evident that every woman loves to run her hands over such hair while scruffy beards are a compliment to the style. It's an ideal style that also works well with varying hair colors.
# 8 Backcombed Hair
Soft hair is in certain instances difficult to manage. While even wind can distort light hair designs, this comes as an ideal choice that helps maintain the chosen style.
Adding soft blonde highlights is a compliment that still looks great after the hair turns into golden tips. Waxing the hair is important to hold the hair in place and avoid distortions.
# 9 Layered Cut
Considered a style fit for bad boys, layered cut offers both thin and thick hair with a perfect outlook. Depending on individual's hair type, a hair stylist will always advise on the best approach to have this style.
It is an acceptable style in both casual and official settings hence an ideal choice that is easy to customize.
# 10 Short Ponytail with a Beard
Considered a male hipster uniform, this style when enhanced with a beard is more appealing. It is an ideal choice for sportsmen that depict a cool personality behind the aggressive sporty body.
Despite the schoolgirl outlook exhibited by a ponytail, it is a reliable style that can be embraced beyond borders. It is an easy and cheap way to maintain medium length hair.
# 11 Clean Cut Classic Outlook
While it is common to show off the hairstyles, most forget that the facial and head appearances are equally important.
The clean cut classic styles ensures the hair covering the forehead, the hair over the eyes and other important parts of the face is removed leaving a pretty face to show off.
# 12 Straight Haircut
An ideal design for a classic man, it involves cutting the hair in layered patterns. The longer layers are left at the front with the shorter ones following in a descending order.
This is a design ideal for those with straight hair and it not only appears great but it highlights the face.
# 13 Soft Hairstyle
Looking good and unapologetic defines the modern man. Soft hairstyle offers an opportunity to get rid of hard and crispy hair giving a more casual and groomed appearance for the man.
The style not only helps improve on individuals esteem and confidence but calls for unequaled attention from peers.
# 14 Creative and Crazy Coils
People with curly hair find it hard to maintain a desired style and spend lots of time trying to tame it.
Though it may look messy, letting the curly hair go wild lets one exhibit a natural outlook that not only looks good but comes in with low cost of maintenance.
# 15 Choppy Gray Bangs
Young people are ever looking for the trending styles. That aside grey hair at such tender age may look mysterious but equally outstanding.
Given a deep grey smoky hue and a layered cut makes the style more outstanding. It is not only a sign of elegance but reflects wisdom.
# 16 Mid Hairstyle with Undercuts
Adding length to a round face not only makes one's outlook more exposed but as well ensures a welcoming face.
Mid hairstyle with undercuts enables one to run the fingers casually through the hair, and this move looks seductive. The style easily integrates with different highlights that give the hair a more relaxed vibe.
# 17 Long Layers of Long Hair
A style considered to be conservative; it offers a variety of options to set the hair. From parting to running the hair straight the options are endless. Leaving the hair as natural as possible is a major factor in this style.
# 18 Seriously Spiked Bangs
A form of modern day reverse mullet, this is an ideal style that fits well for the partying guy.
The style features a fun looking front and a business conservative look from the tampered cut at the back. It is a great option that always portray fun.
# 19 Slightly Spiked Quiff for Thick Hair
A voluminous quiff is achieved by a few. Nevertheless, it is a great style especially for those men with full beards.
Fitting with different hair colors, the style looks fit when used on coffee colored strands. A style that looks most fit for the countryside give the outlook of a composed and masculine man.
# 20 Jet Black Punk Rock Shaggy Cut
For decades, rock music has electrified the world. Rock stars depict confidence and intrigue a virtue passed on by spotting a shaggy haircut.
By simply creating layers of shaggy locks even without highlights gives a more natural rock outlook. This will not only allow room to be accorded the much respect that comes with rock stars fame but also always keep one outstanding.
# 21 Tapered Sides Haircut
Though the style sounds much familiar, it is outstanding in its own way. The high heights of the spike are styled with enhanced texture giving the top an outstanding feature.
# 22 Curls with Layered Bang
There are many ways to treat curled hair. A tapered curled hair dropped over one eye is a great manly style.
Attributed by majority to old soul, it gives an outlook of a caring man who listens deeply to the feelings and composed.
# 23 Fatal Curls
Some highlights applied to the hair give it an outstanding and lovely touch that is just difficult to trim or tamper with. To keep the hair as it grows, it is important to wear fatal curls.
Giving the curls a semi-matte finish dark in color gives the best results. The results are hair well moisture and textured and one not greasy.
# 24 Brushed Over Style
A form of straight layered style, it offers an opportunity to look pretty while still maintaining a status of reserve.
The medium length hair is brushed and polished giving a great and well-deserved cuteness but leaving a sense of the wild side.
# 25 Sexy Natural Waves
Seeking a seductive appearance can be hectic. But with medium length hair, a little of artistic transformation gives the hair a new and seductive look that is bound to rock waves.
Creating what is commonly referred to as a 5 o'clock shadow, it is considered as the most dangerous and seductive appearance.
# 26 Cool Disheveled Look
A style that is considered to flatter the whole of man's nature, disheveled style is all any man would desire. It is perceived to be energetic, with a fine texture, movement, and a well-defined edge.
The style is known to carry along an extra aura of a man and in such way considered to be a within reach of celebrities and other men of valor.
# 27 Charming and Classic Medium Cut
A style that is easily identified with Leonardo DiCaprio, it always carries a meaning to those who understand and connect to the set of growing pains. With layers being swept back and an addition of natural highlights.
It offers a perfect look for young lads who are committed to be looked up to as mentors and helpers in the communities they live.
# 28 Elongated Angled Quiff
A style that exhibits art and creativity, it looks great on men. The styles involve use of enhancements such as wax to shape and add texture to the elongated top hair.
It is usually styled forwards allowing for addition of a semi-matt finish that allows the hair to be styled to the desired angle and set.
# 29 Medium-Layered Haircut for Curly Hair
Offering added volumes for those with long faces, this haircut style is ideal for those with curly hair.
Using it with added styling products and features gives the hair more styled texture and in such way ensure the desired appearance is achieved with ease. Keeping curly hair as medium long is hence made much easier and comfortable.
# 30 Fine Hair Variant
Ability to change to various styles is important. While a single style may be used as individual's signature, ability to change leaves better options when there are different roles to be attended such as when acting.
Through a hair product one gets an opportunity to try out varying styles without incurring any extra costs.
# 31 Formal Comb-Over
Among the most classical styles is the formal comb-over. The style features sides and back that are tapered and a nice length of the hair on the forehead.
Ideal for formal occasions, a number of styles can be used to enhance this style to make it fit better to the occasion. Among them is the shiny finish that is required for men with brown hair.
# 32 Magnetic Curly Hairstyle
Type 2 curly hair that has slight curls is a bid difficult to style. When intending to choose from the variety of available curly styles, it is important to choose the right products for hair treatment.
These include application of a curl enhancer on the slightly curled hair after it has been washed. Resulting in a soft curled hair, it provides with an opportunity run the fingers through the hair while guiding it backwards.
# 33 Pompadour
Any contrast added to the hairstyle makes it look new. It makes one to look outstanding and easily noticeable.
Through use of enhancements such as undercuts, a sharper appearance is achieved. The same case with application of back sweeps that are done even without the use of styling products.
# 34 Medium Size Hair and Beard
Embracing medium size facial hair is considered to be more sexy in today's society. While this opinion may vary between individuals, facial hair and beard requires to be groomed to make to look more stylish and presentable.
Hair color and texture matter less in this regard when compare to the care accorded to the style. Of importance is to ensure that the colors applied to the hair and the beards do not contrast.
# 35 Light Wispy Waves
Natural wavy hair provides with an easy to acquire hairstyle. This is not only effortless but also requires a simple haircut to achieve the good-looking outcome.
To give the style a wispy texture, application of creams may be required. This is considered to be a major attraction for women and hence a commendable feature for those seeking partners.
# 36 Side Part and Sweep
A style that has been used for decades, it is ideal with wearing a suit and a tie. Side part and sweep is a design that has been used as a natural men's official style.
To keep the style intact, hair softness is required: a factor that can be achieved by application of different hair enhancements.
# 37 Men's Ponytail
One of the most common and easy to set styles, the ponytail is among the easiest applications for medium hair. It is ideal for guys with straight hair where hair texture is of little concern to ensure the style works.
# 38 Side Parted With Elongated Quiff
It is considered to be one of the most fabulous hairstyles in modern society. The style works perfectly for those with straight and thick hair among other hair types. The style features a tapered haircut with an elongated quiff.
Styling includes using wax to enhance the texture of the hair and as well give it the required degree to fix the quiff. Wax is also important to ensure the style remains intact.
# 39 Gaspard Ulliel's Gelled Look
A famous French actor, Gaspard is known for spotting a unique hairstyle. His style features a wet, sleek, and flat appearance that gives him a formal appearance.
Guys seeking to spot the style of the actor should take caution and avoid making the hair look completely sleek wet and flat.
# 40 Style With Extra Volume
Tapering the sides and the nape section provides those who prefer long hair with a commendable choice.
To achieve this, application of wax, a product to boost production of volume and creaming style provides with nice edges that define the desired outcome.
# 41 Bead Head Curly Hairstyle
This spontaneous and natural style is easy to create. With a simple application of a curl enhancer to wet hair, scrunched waves are easily attained.
For better results, it is important to avoid combing the hair after application of the curl enhancer. It should be simply left to dry naturally.
# 42 Bald Fade Medium, Hair Pomp
For those who are growing a bald head, long hair exposes the baldness further. With bald fade medium hair pomp, a solution for those who wish long hair is available.
The style involves layering the hair to ensure the bald part appears as natural as possible.
# 43 Blond Medium Spiked Haircut
Majority of people loves blond hair. However not all are blessed and hence treating the hair in blond styles is common.
Though the results of blond medium spiked haircut styling process depict a rebellious appearance, it is a common feature that is applicable for all occasions.
# 44 Surfer Man's Medium Hairstyle
Life in the waters is not always smooth. Having the hair respond to the winds as one surfs gives a great experience.
Surfer man's medium hairstyle allows for the hair to be soft enough and in such way ensure it is easily blown by the wind during a surfing experience.
# 45 Edgy Hairstyle
Created to depict a bright personality, the style features cool men's medium hairstyle. To some however, the style is considered to be too messy or shiny for their taste. With this style it's pretty easy to pull off the look.
# 46 Edgy Medium Locks
Featuring angled layers, the locks provide an awesome texture that can be enhanced by applying highlights to the style.
Consisting of an upgrade of hair color, the highlights used normally provide an effect of sun-bleached hair and hence an opportunity to upgrade to a new life.
# 47 Classic Men's Haircut
This is a classic style that flatters both the young and the old. With a tapered cut, the style offers an elegant and outstanding style though not ideal for persons with long faces. In case of a long face, consideration for a quiff style is better.
# 48 Seductive Wavy Hair
A style that featured back in the 90s, seductive wavy hair was enjoyed by a few prominent personalities at the time. Its classic and contemporary look makes it to be among the trending designs of the modern times.
The style is available in a variety of customizable designs giving room for people from different walks of life and with varying hair types to enjoy its benefits.
# 49 Big Pomp With Movement
While it looks great to have hairstyle fixed, loose hair looks more sexy and appealing especially in outdoor settings.
Big pomp with movement involves application of enhancers that loosen the hair making it soft and with a fine texture. This is then left free to obey the strengths of nature.
#50 Emo Style with Highlights
This is one great style for outdoor activities. With the hair styled round the head forming a cap that offers adequate protection against direct sun rays.
Its easy design also makes it possible to run the fingers through the hair while straightening the braids and having them back in shape.
It is also among the sexiest styles that allow men to run the fingers through the hair in a seductive manner.
#51 Side Part Fine Hairstyle
One of the easily customizable styles is the side part fine hairstyle. This involves curling up the hair at the top forming a higher top.
Though it's the top that is more noticeable the sides are not shaved and this means there is an opportunity to change the style when need it without worrying about destroying your existing hair.
# 52 Fauxhawk Hairstyle
Among the trending styles for men is the Fauxhawk. This is a style common with sports personalities the style includes waxing and treating the hair with chemicals to make the styling much easier.
Styling involves holding the hair in the desired shape and letting the wax dry leaving a fixed style in place.
# 53 Straight Medium Hairstyle For Boys
Boys are mostly school going. This means they require to look neat to the satisfaction of the school administration.
Though with medium length, the hair is not given outrageous treatments and shavings but simple treatments and recommended styles. The straight medium hairstyle ensures the boys have an easy time to clean the hair and maintain.
# 54 Short Sides Long Natural Looking Hair On Top
Trimming side hair has been embraced by a number of modern styles today. These styles provide with adequate room to customize individual's looks and tastes ensuring the desired hair and outlook is achieved.
The styles vary from different tailors and stylists and therefore it requires that adequate shopping be done before selection. However, it is among the best for customization.
# 55 Cool Faded Mohawk
A trending style between sportsman and artists, Mohawk continues to gain popularity with different variations. It involves complete shaving of the sides leaving the top running to the back of the head.
The part left with hair is then shaped to achieve a sharp edge that is then waxed for a lasting effect. Adding blond highlights to the style gives better and personalized touch to the style.
Idea # 56
Idea # 57
Idea # 58
Idea # 59
Idea # 60
Idea # 61
Idea # 62
Idea # 63
Idea # 64
Idea # 65
Idea # 66
Idea # 67
Idea # 68
Idea # 69
Idea # 70
Idea # 71
Idea # 72
Idea # 73
Idea # 74
Idea # 75
Idea # 76
Idea # 77
Idea # 78
Idea # 79
Idea # 80
Idea # 81
Idea # 82
Idea # 83
Idea # 84
Idea # 85
Idea # 86
Idea # 87
Idea # 88
Idea # 89
Idea # 90
Idea # 91
Idea # 92
Idea # 93
Idea # 94
Idea # 95
Idea # 96
Idea # 97
Idea # 98
Idea # 99
Idea # 100
Factors to consider when choosing the appropriate hairstyle may vary between individuals. From personal engagements, hair type, and individual taste, there is a wide variety to choose from at all times.
Understanding individual likes and available options is the best way to choose from the available men's medium hairstyles. Choosing the right and fitting hairstyle is a compliment to one's ego and general outlook.