Looking for the best in bleached hair? Well, there are many different possibilities that can only be limited to your imagination.
But we would like to give you the very best that will make you look elegant, stylish and unique. Well, brace yourself and let's introduce you to the top ideas worth incorporating into your bleaching technique.
How to Bleach Tips of Guy's Hair- Things to Consider
Getting Ready
Preparation is the key to safely bleaching your hair. Bleach is a powerful chemical that should not be underestimated. The first thing you're going to want to do is to prepare your hair. It is best to apply bleach to clean hair.
However, it would be best if you refrained from applying bleach to recently washed hair. Try to wash it the day before to protect your scalp.
Wearing gloves is not only recommended; it is required. Plastic or latex gloves will do. Keeping your hands safe from the chemicals is essential.
Bleach will stain clothes and potentially burn uncovered skin. If you don't plan on wearing a protective cape or apron, you may want to wear old clothes.
Preparing the Mixture
The next thing you're going to want to do is part your hair so that it can easily receive the bleach mixture. Depending on hair length, there are several bleached hairstyles for men to aim for.
For bleached tips, we won't be covering the entirety of your hair. This is a much less intrusive men's bleached hairstyle. It is a great way to find out if your hair is receptive to bleach. Staring with tips is a fantastic idea.
The mixing of bleach powder with the developer, also known as peroxide, uses a plastic bowl. Most bleach powders will come with directions to achieve the perfect blend. However, a 2:1 ratio of bleach to the developer will likely be recommended. Mix until there are no evident lumps.
Application
After the mixture is prepared, it is time to apply it to hair to achieve bleached hair. There are many men's bleached hairstyles. This time, we're aiming for bleached tips. You're going to need a coloring brush or comb. Place the mixture evenly on the ends of the comb.
If you want a blended look, you can begin lightly at the roots and brush upward, applying more pressure once you hit the tips. If you're not aiming for a gradual color change, strictly apply the mixture to tips.
Remember that bleached tips, although one of the most popular bleached hairstyles for men, can look shocking if your hair is extremely dark. Thus bleached tips are recommended for men with lighter hair.
Waiting
This step is going to depend on your desired color. There is no specific time to wait. Instead, you must factor in your hair color, your desired color, and the strength of your mixture.
On average, you should wait between 30 and 45 minutes. If this is your first time dealing with bleached hair, it is perfectly normal to experiment to achieve your desired color.
However, keep in mind not to leave the mixture in for excess of this recommended time frame. This may result in a color that looks far from the ideal in terms of men's bleached hairstyles.
Check your hair after 20 minutes to identify if the color is lifting. Those with dark hair beware that it may take the entirety of the recommended time to notice a change.
Wash and Rinse
It is finally time to wash your hair. Use warm water and shampoo to wash your hair. You should see a significant change in color in regards to your tips. Let your hair dry. Once your bleached hair is dry, apply toner.
Toner will improve the color of your bleached hair. It will minimize the yellow tones and bring the desired white tones to the forefront.
Leave the toner in for 20 minutes. Rinse hair once more and use conditioner this time. Conditioner will repair any slightly damaged hair incurred from the bleaching process. The process may be time-consuming, but the reward is one of the best bleached hairstyles for men.
Best Bleached Hair Color for Men
Some of the cool ideas of bleached hair for men are given below:
# 1 White Pompadour
Start by getting a taper fade for sides and a high top.
It would be best if you also got your hair bleached otherwise, you won't be able to pull off that perfect white color.
# 2 Yellow Bleached Hair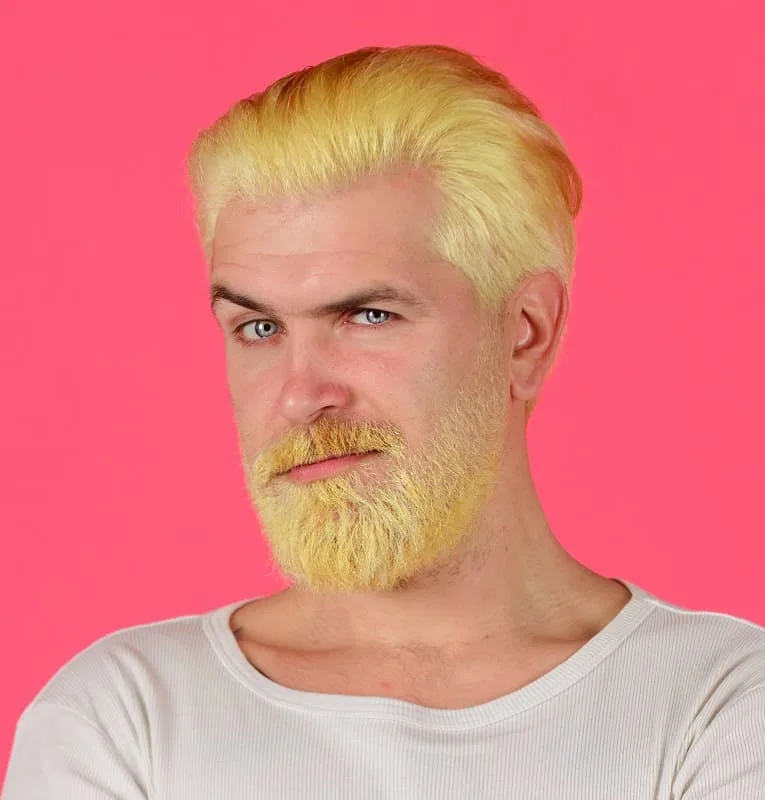 Some girls would call this color a fiasco, but for men, this bleached hairstyle is one of a kind and quite appealing.
Get a medium cut with a comb-over and a short beard with clear outlines. Bleach both to create a unitary look.
# 3 Long Blunt Cut + Middle Part
If you have thin hair, blunt cuts are ideal for men who want a fuller look.
Also, because you don't want to damage your hair irremediably, make sure you get that gorgeous blonde color in a hair salon.
The bleaching process is quite deteriorating for your tresses, so take all the precautions you need to preclude that.
# 4 Curly Two Block Cut
When you have fair skin and blue eyes, a gorgeous ashy gray blonde will suit you like a glove.
However, we advise you to pull off that color with some help from your colorist because the bleaching process might change your hair's texture and destroy your stunning curls.
# 5 Ashy Caramel High Top
A fade for the sides will get all the attention on that creamy caramel top. Lift it up to obtain height and make it look messy. You will end up with probably one of the best-bleached hairstyles for men.
# 6 Yellow Highlights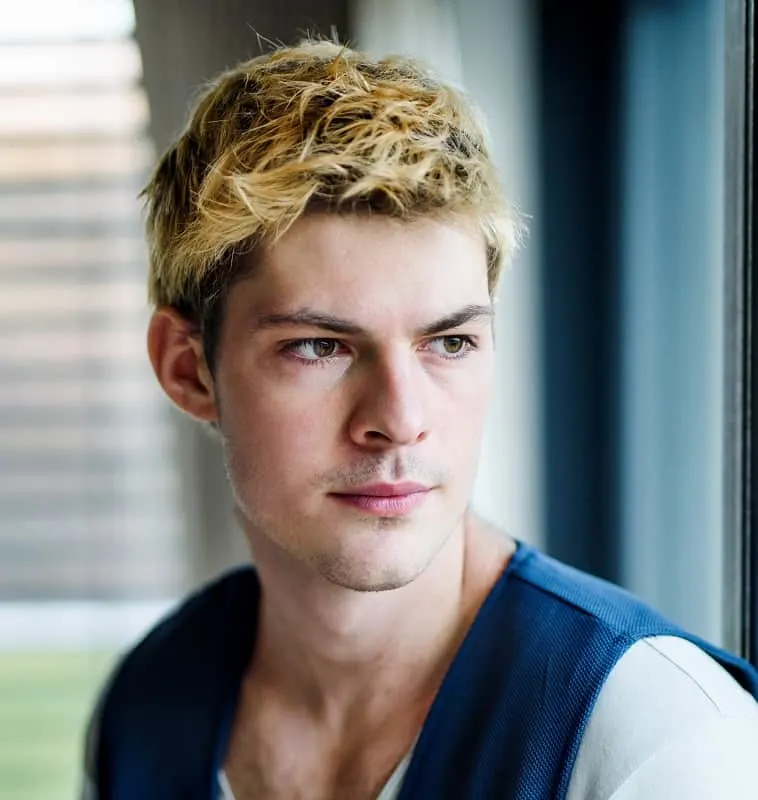 Sport a short haircut and bleach your hair to het those gorgeous yellow highlights.
You can use the cap highlighting technique to make sure you obtain that mesmerizing texture.
# 7 Spiky Silver Hair
Wanna get a gorgeous punk rock hairdo? Sport a short cut and get your hair bleached if you want to obtain that fantastic silver color.
Use hair gel to create those badass spikes and remember that attitude plays an important part when getting such a makeover.
# 8 Low Fade + Pompadour
Bleached hair and dyed in a light caramel blonde will make your rich top look textured and modern.
Sport a low taper fade for the sides and use matte pomade to built the perfect Pompadour.
# 9 Temple Fade + Messy Silver Hair
Pre bleaching your hair will help you get that stunning silver shade that will gorgeously contrast your dark eyebrows and a short beard.
A temple fade is exactly what you need if you want to highlight that gray color even more.
# 10 Gray Faux Hawk
Faux hawks are relatively low maintenance hairstyles that can be coiffed in so many ways.
They can be suitable for an office day and even parties. In terms of color, you will certainly need to get bleached hair for that remarkable silver shade.
It will create a fantastic texture and dimension!
# 11 White Medium Hair with Quiff
This hair is bleached white. The neutral white color provides a perfect match for a light skin tone. The hair is of medium height and has a quiff that adds to its style.
# 12 Frizzy Blonde
This is a long, frizzy curly hair that has a blonde tone. The hair is bleached to create small white streaks for that cool look.
# 13 Faded Blonde for Cap Style
This cap style has faded blonde top hair and mustache. The sides and the beards have a dark shade of brown that gives them a rusty look.
# 14 Blonde with Dark Roots and Beards
Brad Pitt bleaches his hair blonde while maintaining a dark shade of black roots. The mustache is given that same blonde look while the beards have a dark shade to create a distinction.
# 15 Short Blonde Hair and Dark Beards
Chris brown tries to bring both worlds into one look. He gives his short hair a blonde tone while leaving his beard to maintain its natural black color.
# 16 Blonde Half Pompadour with Grey Undercut Sides
Adam shows a slight difference in color between the top hair and the sides.
The top hair has a blonde look while the undercut sides are bleached to create a grey look. The beard is left dark with blonde highlights.
# 17 Long Grey Hair on Top and Black Hair on Sides
The top hair is long and loose and bleached to give it a grey look. The undercut sides maintain their natural dark shade.
# 18 Shiny Silver Pompadour
This is a high pomp style that is bleached to give it that shiny silver look. It has undercut sides for added style and elegance.
# 19 White Quiff Top on Dark Base
The top hair is long, quiffed and bleached white. The base and the beards have their natural black appeal. The sides have a shade of grey color.
# 20 Totally Short Blonde
This hair is bleached to provide lots of shine. The base has a silver tone that matches well with the blonde highlights.
# 21 Frizzy Grey Top on Black Base with High Fade
This is black African hair that is bleached grey on top and styled to create a frizzy look. The base holds on to its natural black color.
# 22 Separated Blonde
This hair is bleached to give it a natural blonde tone. It has slicked back separated hair that does much to add to its style and elegance.
# 23 Quiffed Grey Top with High Fade
This is a natural dark brown hair that is bleached grey on top and given a quiff. The sides feature a high fade undercut and maintain their dark brown color.
# 24 Quiffed Messy White Top
This blonde hair has lots of length on the bleached top. It has a white top color that is given a quiff style to match with the short blonde sides.
# 25 Textured Blonde with Faded Purple Undertone
The hair has a textured top and is bleached grey. However, it stills maintains a thin layer of blonde hair underneath the base.
# 26 Bleached White with Quiff
This hair keeps on to its natural blonde tone that forms the base. However, the top part is given plenty of height and bleached white.
# 27 Blonde High Fade Pomp Quiff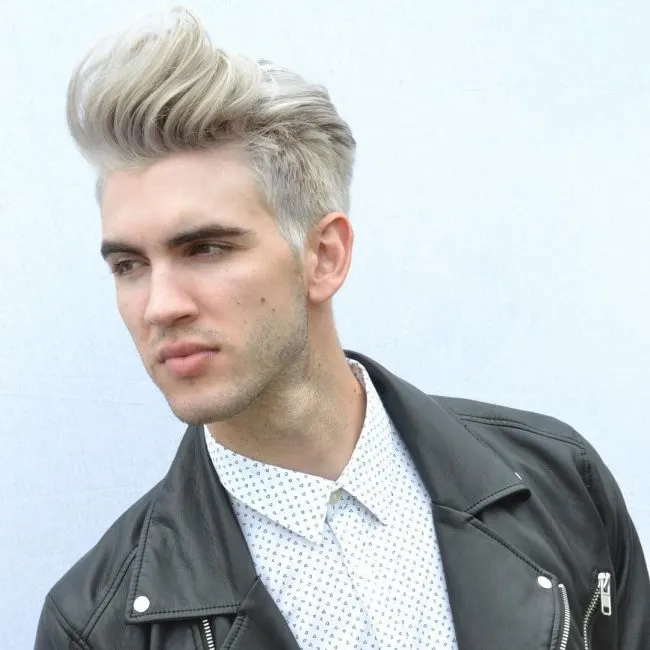 Fashion Blogger Dylan Hatch brings out the best in his looks by giving his hair a high fade pomp quiff haircut. He goes further to bleach it blonde with white patches along the edges of the forehead.
# 28 Platinum Blonde Undercut with Top Braid
This hair is given some life and shine by bleaching it to create an elegant platinum blonde tone. The hair has a top braid style to match.
# 29 Faded Black and White Combined
This hair provides a combination of colors. It is bleached to create black and white color patterns. It has undercut sides with long top hair.
# 30 Dark Brown with Blonde Ponytail
The dark brown hue is given blonde highlights at the top with a ponytail hairstyle to match. The front part and the sides maintain their natural dark brown color.
# 31 Dark to Wavy Platinum Top
Want to transform your dark hair into a shiny and livelier platinum color? Well, this brilliant idea is worth trying. The beards are left with their dark shade.
# 32 Pure White for Cap Style
If you love to go white then consider this bleaching technique. The hair is given that pure white color that makes it much easier to spot.
# 33 White Haired Asian
What do you prefer between white hair and the natural Asian hair? Well, with this bleaching style you don't have to choose. It provides the texture of the Asian hair that is bleached white.
# 34 Blonde Asian
It's rare to see a blonde Asian. However, this bleaching technique gives you a chance to see one. This is dark Asian hair that is bleached blonde.
# 35 Dark to Blonde
This bleaching technique gives Niall Horan a nice transformation from dark to blonde hair. The base is dark and is made scarcely visible by the long blonde hair.
# 36 White for Dark Base Combined with Dark Beards
Zayn Malik's dark hair is bleached white and allowed to keep its dark base. The beards are also kept dark to give them their natural appeal.
# 37 Dark Coarse Base with Blonde Top
There is a visible transition of color from dark to blonde. The base is dark and has longer coarse hair on top that is bleached to a blonde tone.
# 38 Platinum Blonde for Loose Slicked Back Hair
The platinum blonde provides a cool touch to this haircut. It makes it radiate with life and vigor and helps you achieve the shiny part of the blonde world.
# 39 Blonde to Silver Quiff
Lucas Anthony brings a silver shine into the blonde world. He bleaches his top blonde hair silver with a quiff haircut to match.
# 40 White Top for Dark Asian Base
This style lets you experiment with your Asian hair and achieve the odds. On top of the dark Asian hair is a long top hair that is bleached white to create a contrasting look.
# 41 White Hair for Pompadour Haircut
This is a unique and elegant transformation from dark to pure white hair. A pomp haircut adds style to this bleached white hair.
# 42 Slicked Back Honey Blonde and Beards
The hair and the beards are bleached to the same blonde color. The top has a high slicked back haircut that matches with undercut sides.
# 43 Blonde to Platinum Blonde
This blonde hair is made even lighter by bleaching to a platinum blonde tone at the top.
The undercut sides have their natural blonde look while some blonde streaks are left at the top to create a wonderful color combination.
# 44 Matt White for Asian Hair
This is dark Asian hair that has been given that elegant appeal of grey. The hair is done the choppy style to create the best in this bleaching technique.
# 45 Platinum Blonde Top for Light Base and Sides
This hair color gives you both aspects of the blonde world. It has that natural blonde base that matches the top platinum blonde hair for a much lighter appeal.
# 46 Platinum Blonde for Dark Hair
This is long, dark hair that is bleached to platinum blonde while still maintaining its dark base on one side.
# 47 Blonde Pompadour for Asian Hair
This textured dark Asian hair is styled with a blonde pompadour to enable you to get the best of the two worlds.
# 48 Pure Platinum Blonde
If you desire that sparkle and shine in your hair then bleaching it platinum blonde will do the trick. A high fade haircut adds to the elegance of this hair color.
# 49 Silver with Dark Streaks and Undercut Sides
One look tells you that this was once a dark hair. It has been transformed by bleaching it to silver color but with some black streaks to blend in.
# 50 Platinum Blonde Combined with Contrasting Beard
The world of blonde hair is never short of options. This hair is bleached sparingly to platinum blonde giving the benefit of both colors in one look, as the beard is dark.
# 51 Platinum Blonde for Dark Base and Cropped Haircut
Look your best in a cropped haircut by bleaching it platinum blonde to overshadow the dark base underneath.
# 52 Silver Asian High Pompadour
Scrap off the dark Asian hair by bleaching it to a silver color. It gives you the best look in a high fade pompadour.
# 53 Silver Quiff Pompadour with Dark High Fade
Transition your hair from dark to white with this bleaching technique. The quiff pomp is bleached silver to match with a high fade that has its natural dark shade.
# 54 The Grey Haired Asian Choppy Style
Tired of the dark Asian hair? Well, why not bleach it to create that grey man's hair with a choppy style to match? It would look amazing on you!
# 55 Cropped Platinum Blonde Top with Dark Undercut Sides
This is actually dark hair that has been given lots of length on top and bleached to a platinum blonde color. The sides and back have that dark shade of hair.
# 56 Spiky Blond with Darkened Roots
The hair is bleached with some naturally dark roots left. The sides are cut short and the top is quiffed with spikes. The whole undertone is a bit purple.
# 57 Wild Top Blonde Hair for Dark Brown Base
Get that blonde appeal in a dark brown hair. The top hair is left wild and bleached to a blonde tone that highlights the dark brown base.
# 58 Silver Blonde Pompadour
Benefit from the shine and the smoothness of a blonde hair that is bleached to the silver color. The hair is given a pomp haircut to make you look your best.
# 59 Ash Blonde Asian Cap Style with Side Quiff
Wear your cap style the blonde way by bleaching your dark Asian hair to ash blonde. The top bleached part is left long with a front slick style. The sides are short and have their dark natural color.
# 60 Long White Hair for Dark Base
This hair is bleached white to enable you cover the dark shade beneath. The top part is left longer with undercut sides to match.
# 61 White Slicked Back High Fade Pompadour
Achieve that old look in a young face by getting your hair bleached white. Dark beards tell anyone that this is just but a masked look for a younger dude.
# 62 Loose Silver Gray Pompadour
This bleaching technique provides a mix of silver and grey in a loose pompadour haircut. This provides the dark shades of grey and the sparkle and shine of silver tone.
# 63 Blonde Asian with Slicked Back Haircut
This is a perfect display of the Asian blonde. The hair is bleached blonde from root to the ends to eliminate any signs of color transition.
# 64 Blonde Pompadour for Short Dark Base
The pomp in this haircut is bleached blonde to create a nice transition from the short dark base.
# 65 White Wavy Hair for Black Base
This is a dark hair that is bleached to white with plenty of height and wavy design. However, the roots still have that natural black color that is quite visible thanks to the separated bleached hair.
Idea # 66
Idea # 67
Idea # 68
Idea # 69
Idea # 70
Idea # 71
Idea # 72
Idea # 73
Idea # 74
Idea # 75
Idea # 76
Idea # 77
Idea # 78
Idea # 79
Idea # 80
Idea # 81
Idea # 82
Idea # 83
Idea # 84
Idea # 85
Idea # 86
Idea # 87
Idea # 88
Idea # 89
Idea # 90
If you are short of ideas regarding bleached hair for men, then the above techniques might come in handy to enable you to achieve the best looks.
These are simple ideas that require just basic knowledge to put them to practice. Select the one that suits you best and change your hair color for the better.