Fashion is always changing, and the trendy punk hairstyles prove this beyond any doubt. These fancy hairstyles allow men to combine traditional designs such as Mohawks and spikes with vibrant colors to create a charming look.
Punk haircuts are very versatile, and you can even come up with a unique design if you are creative enough. However, if you are looking for some ideas on how you can wear one, below is a gallery of 35 elegant styles that you can use for inspiration.
# 1 Star Headed Spikes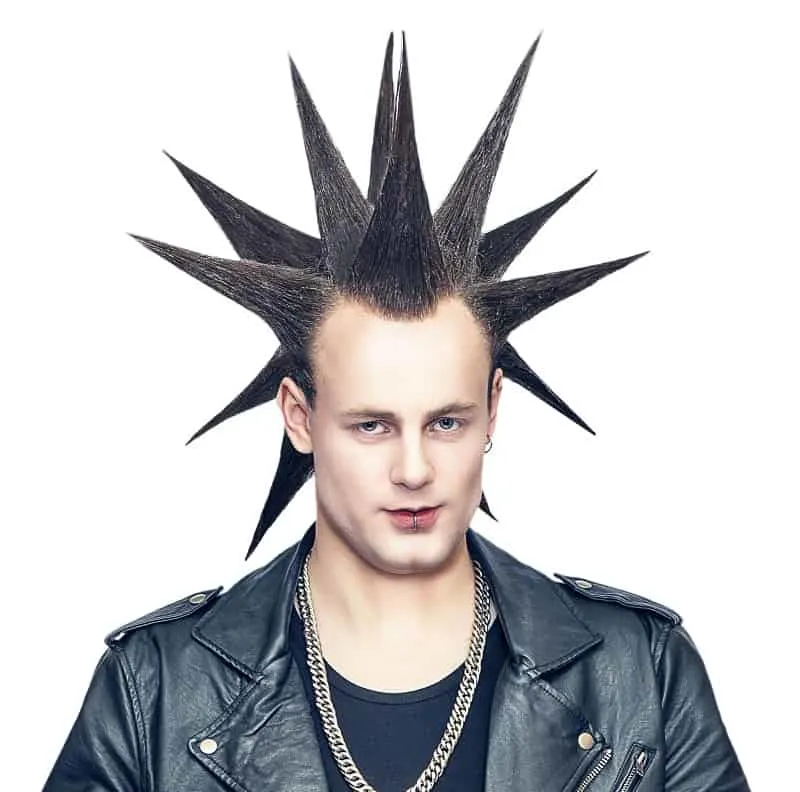 Do you want your hair as sharp as the rest of your look? Grow it long and fashion it into long, violent spikes. Stock up on the hairspray and dedicate the time to this edgy look.
# 2 Fluffy Fohawk
Fohawks are too trendy these days. Make it punk by applying a bright hair dye, teasing your hair and letting it stand tall with enough left to cascade down your face.
# 3 Staggered Spikes
If you want a softer but still hardcore spiked look, stagger them like a mohawk. Except here, it's far longer than the typical mohawk and you have thick hair on the sides of the head too.
# 4 Greased Fade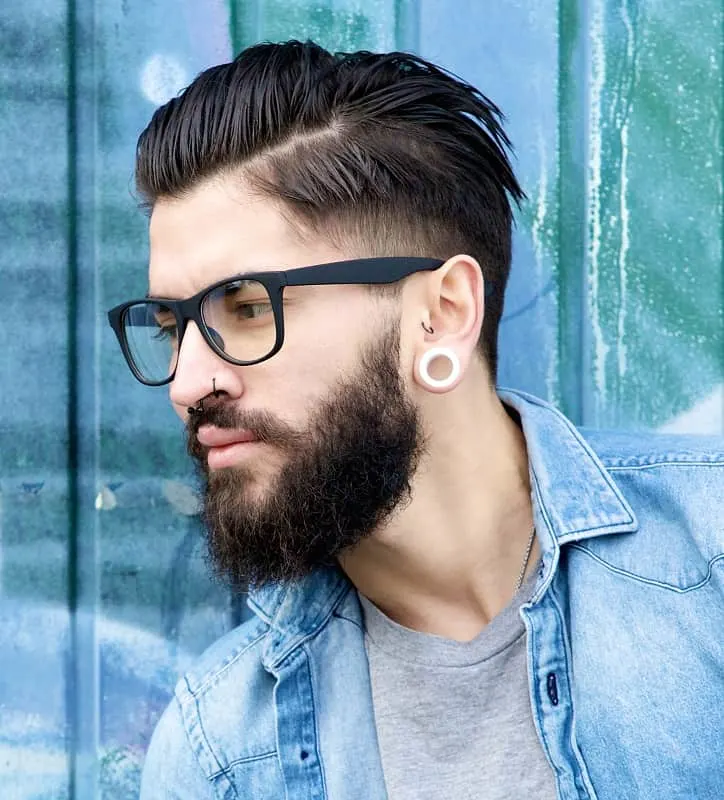 A more modern punk look, a long, greasy, pushed bag look shows a flash of your rebellious side. On the sides, go for a sharp contrasting fade that adds interest and texture to the look.
# 5 Harsh Fohawk
While technically a fohawk, this is more of a mohawk style. Most of the hair is buzzed to a uniform number 2 leaving a lengthy top to stand in spikes with bleached tips. It's edgy, classic, and totally punk.
# 6 Spider Dreads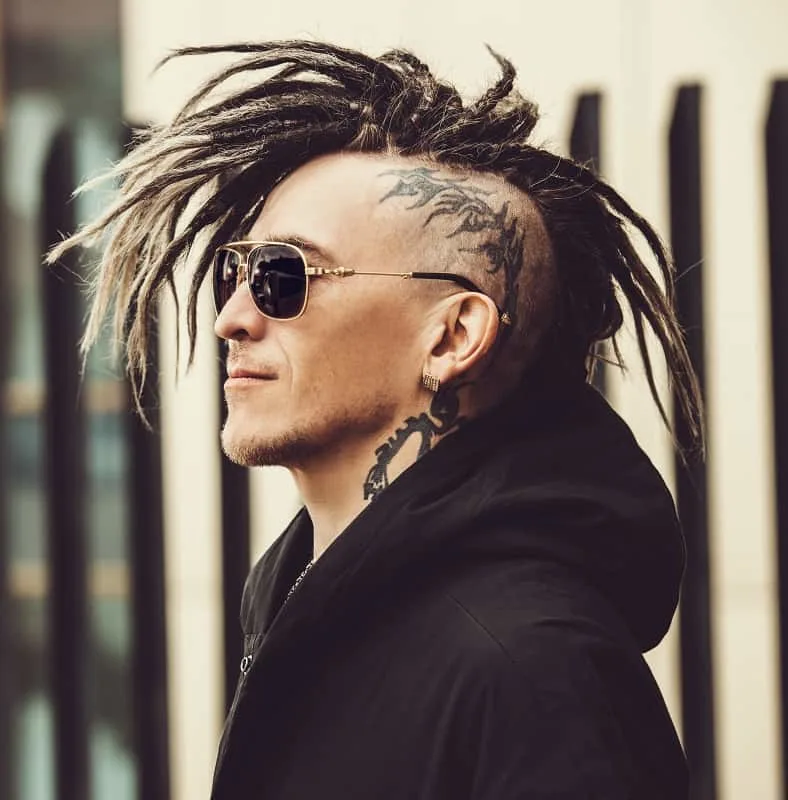 If you have dreads and don't know how to style them, try shaving the sides of your head and letting the dreads flop forward and back, like spider legs. If you really want to rebel, try tattooing the sides of your head, extending to your neck.
# 7 V-Shaped Back Sweep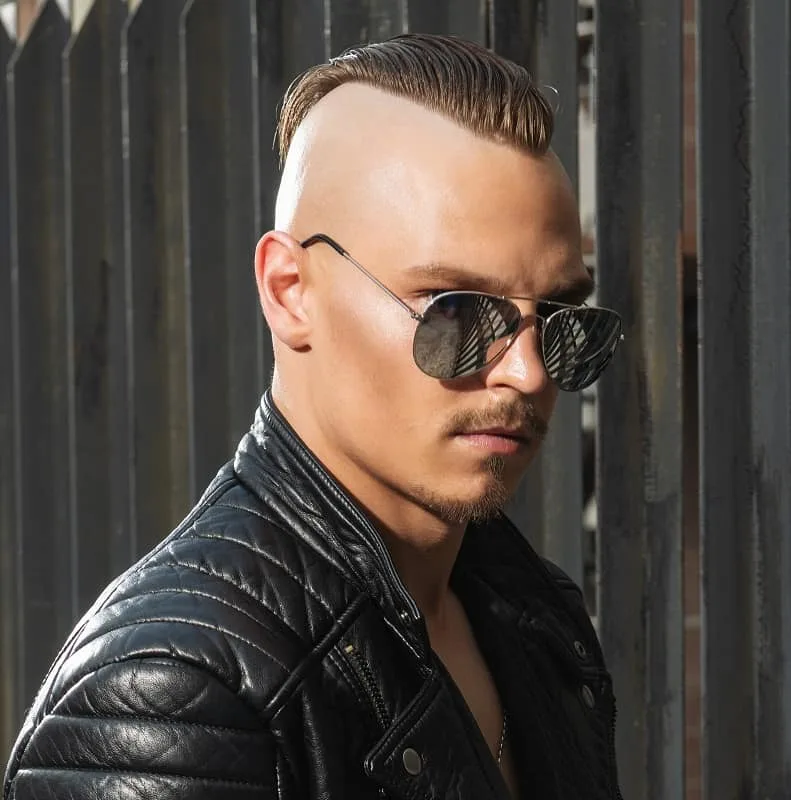 Shaving all but the top of your head and pushing the long hair back isn't uncommon. Why not make it punk by cutting the sides in a V shape instead?
# 8 Tower of Frizz with Long Back
If you have an uncontrollable mane of frizz and curls, make it wilder. Backcomb the front and sides of your hair and stand it straight, Leave the back equally messy, and let it flow in a mane.
# 9 Bleached Spikes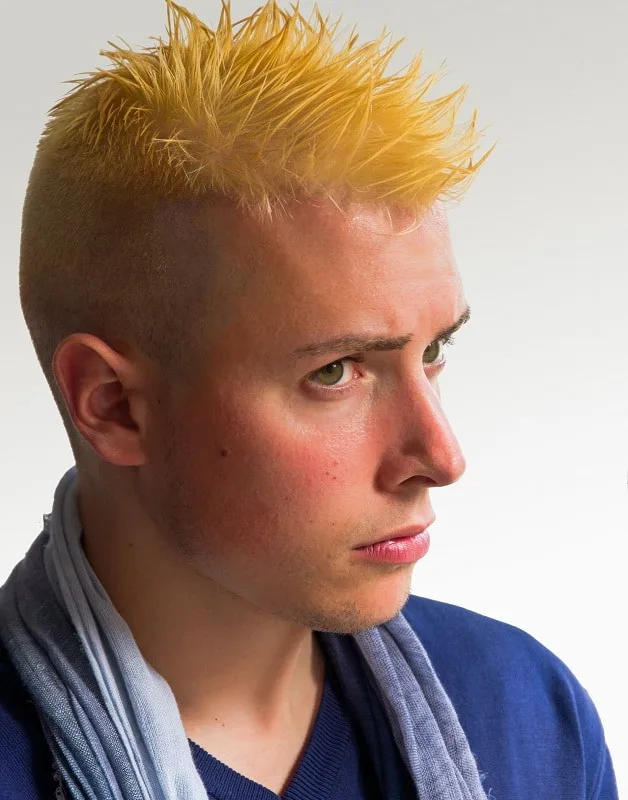 Here's a punk look that's easy to maintain. Bleach your hair and spike the top messily with your fingers. The high fade ensures all eyes stay on the spiked portion of hair.
# 10 Blue Bliss Mohawk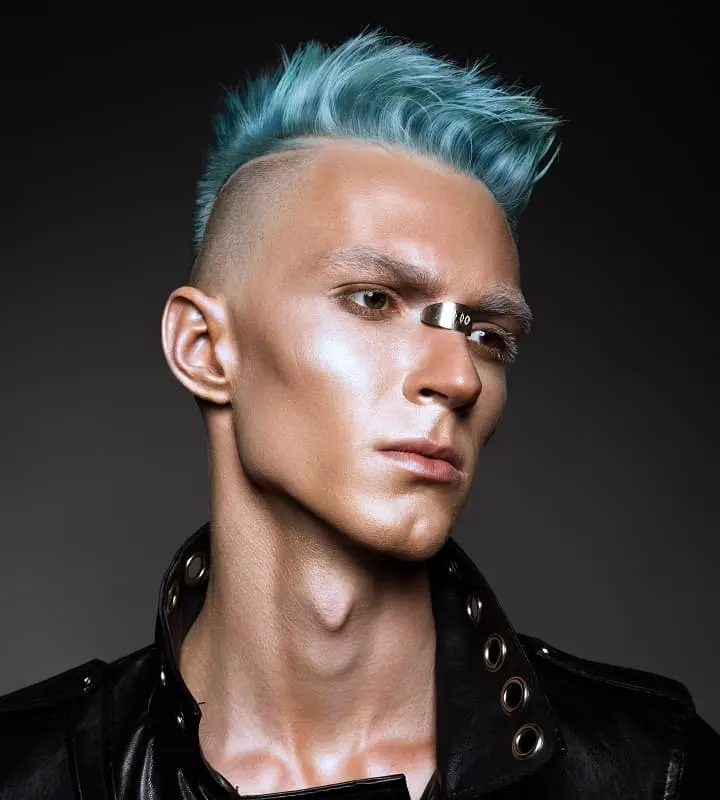 Here's a softer spiked look. The hair looks gentle and lush, dyed and icy blue and standing on end with a slight tilt. The sides are shaved, but there's a harsh line between the hair and the rest of the fade that adds interest and makes the top stand out.
# 11 Spiky and Vibrant Green
Punk is about bright colors, and so this green hue is perfect. And if you combine it with the lovely messy spikes on the crown and tapered sides then you can be sure of a headdress that will make you stand out.
# 12 Messy Faux Hawk
A faux hawk could not look better than this, and this is not only because of the dazzling golden green shade but also because of the texture of the short and messy spikes. Apart from this the design also has an amazing fade on the sides that helps to spice it up.
# 13 Dark Toned Emo Bangs
The beauty of this design is in its dark tone and the amazing Emo inspired bangs. And with such a perfect haircut you only need to finger comb the locks slightly to give them a messy finish.
# 14 Punk Metal Wavy Locks
Several things make this a top notch headdress, but the adorable waves on the crown and the color choice are the main ones.
The upswept waves look fantastic, but the blue and pink shades take their appearance a notch higher. You should also taper or fade the sides to ensure all attention remains on your adorable wavy locks.
# 15 Pink Punk Mohawk
If you want a style that will draw attention everywhere you go, then you should try this extra-high pink Mohawk. It is a fabulous haircut that will require some skills to get right and a lot of maintenance.
# 16 Easy and Messy Top with High Taper
The brown color of theses strands is natural and so the only thing that you need to achieve this look is a haircut. And it involves leaving a few inches of hair on the top and then giving the sides a high tapered design.
You should then finish by making the top slightly messy and sweeping the everything sideways.
# 17 Neat Flat Top
Flat top haircuts are very trendy, but the neatness and level of precision on this one sets it apart from the others. Apart from this, the sides also have a smooth shave that ensures that the flat top remains the center of attraction.
# 18 Artistic Lizard Mohawk
The artistic lizard on this headdress will turn heads everywhere you go. Apart from this the design also has a multicolored extra high Mohawk that adds to the beauty.
The only shortcoming is that not every barber can achieve this style, and so you have to use the services of one that is very talented.
# 19 Gothic Spikes and Undercuts
This style is ideal for men with a straight and long black hair. It involves chopping it to create some extra-long spikes and spicing it up with a lovely undercut on the sides.
And for styling you only need a side part and to push the strands to the back and sides.
# 20 The Messy Mullet
A mullet may be a controversial hairdo, but it can still give you a punk look. The one on this design is shorter than the traditional ones but the styling that involves making the strands on the crown wavy is what gives it a trendy look.
# 21 Cute and Light Punk Mohawk
The length if this Mohawk is incredible and it is what makes this a top notch headdress. Although the strands are very long, they also have an amazing texture that makes them feel very light.
This design also has bald sides that create a disconnection with the beautiful chin curtain beard.
# 22 Classy and Wavy Green Bangs
Light green is an attractive color, and this is because it not only brightens your hair but also gives it some class.
This style also has some lovely bangs that you should design by up sweeping the top ones and making them slightly messy and finish by brushing the sides and back to make them look short.
# 23 Creative Red Mohawk
The blunt red and blue spikes in the middle of the head are the highlight of this style. However, the sides are not just bald because they also have a patch of hair near the ears that adds some style to the look.
# 24 The Gentleman Hawk
You can create a gentleman hawk like this one by shaving the sides clean and leaving a neat wavy hair in the middle. And if you pair this with medium or long stubble you will have a perfect gentleman look.
# 25 Viking Metal Head
Vikings did not wear Mohawks, but if they were to have one, then this is how it would look. It is a fashionable haircut that involves leaving some extra-long and straight textured locks in the middle of the head.
The sides should be bald, and you can pair it with your full facial hairs to create the Viking look.
# 26 Red and Black Comb-Over Hawk
The choice of color in this style is fantastic because red and black make a perfect combination. However, the haircut is also fabulous, and it involves shaving the sides to create a Mohawk design and then styling the strand by combing the over the undercut.
# 27 Feathered Gold Toned Hair with Tapered Sides
Feathered hair is very soft, and this is one the things that make this haircut look stunning. It also has a lovely gold tone that gives it an incredible shine and tapered sides to enhance the overall appearance.
# 28 Spiky and Tapered Gray Faux Hawk
Gray is a beautiful shade that will brighten your strands and also make you look fashionable. Apart from the amazing tone these strands also have some nice spikes and fabulous tapering on the sides that helps to create the beautiful faux hawk.
# 29 Shaggy Blondie Bangs
Blonde is a trendy color, and every man wants to try it out. However, if you want it to look good on you, it is vital to have the right haircut and shaggy bangs like these with fading on the sides will be perfect.
# 30 Sleek and Short
You do not have to keep long locks to create a beautiful hairdo because you can still have an elegant look with your short strands.
The smoothness and shine on these short faux hawk strands are incredible, and if you pair them with the amazing fade on the sides, you can be sure of a top notch look.
# 31 Dramatic Killer Mohawk
It is impossible not to get the urge to have a second glance of this Mohawk as it looks stunning. The precision in making the cut and styling it are amazing.
Its color is also beautiful, and you should also pair it with full facial hairs to create an elegant hairdo.
# 32 Street Punk Look
This punk look may appear very complicated, but you can still achieve it, but the stressful part will be in the maintenance. It involves leaving a thin and long strip of hair in the middle, giving it a hold and then up sweeping to create a Mohawk.
# 33 Thrilling Red Mohawk
Although there are many types of Mohawks that you can wear few if at all any would look better than this one.
Everything about it is just amazing, but the perfect hold of the strands and their amazing red color with black roots are what makes the style look outstanding.
# 34 Short and Red Punk Shag
This haircut is one of the easiest punk looks that you can wear. All that you need to do is to give your strands a red dye job, chop them short and then finish by making them slightly shaggy.
# 35 Tapered Shaggy Bangs
Shaggy hairstyles are very trendy, and this is another example of an easy one you can wear if you have medium length voluminous locks.
To create this style you should give your strands a lovely golden shade and then chop them to create some textured bangs before finishing by making them shaggy. You should also taper the sides slightly as this also enhances the look.
Punk hairstyles are fabulous, and they will look good on any man provided he can pull the style right. However, this should not be a problem because the 35 styles above will give you more than enough ideas on how you can create one.