Sponge curls are little dread like locks that any man who wants to keep up with the trend should try out. However, they work best for African Americans due to the natural texture and thickness of their hair.
They are a very easy hairstyle to create, and you can either do it with bare hands or use a modern dread sponge if you want them to look uniform.
And if you combine them with a fade or undercut on the sides you will look stunning. Below are 80 different variations of this funky style.
# 1 Loose Uniform Twists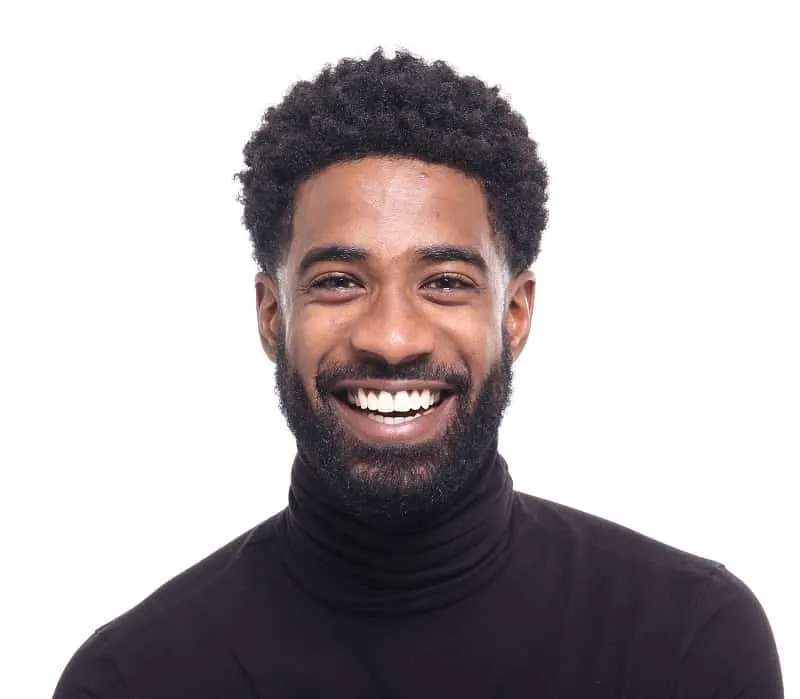 This is an easy look, a little textured, created with a curl sponge with small holes for a tight look. The curls aren't too distinct, but some have been spread more evenly towards the back.
# 2 Long Prominent Sponge Curls
This style is for guys who like more defined looks. The hair is combed out a little to show its length and is styled with a curl sponge with large holes for prominent twists.
# 3 Twight Twists with Fade
For short and easy to maintain, here the hair has been curled tightly on top and set with product. The sides feature a light fade, adding further texture.
# 4 Fluffy Twists & Dreads
Dreads are an easy to maintain style but they don't leave much room for styling. So, here we see a combination of dreads on the side and where the top hair forms loose, fluffy sponge curls.
# 5 Standing Twists & Fade
With faded sides, all attention is on the prominent, shiny hair on top. The hair has clearly been conditioned before styling with a curl sponge into small but distinct twists.
# 6 Close Curls with Undercut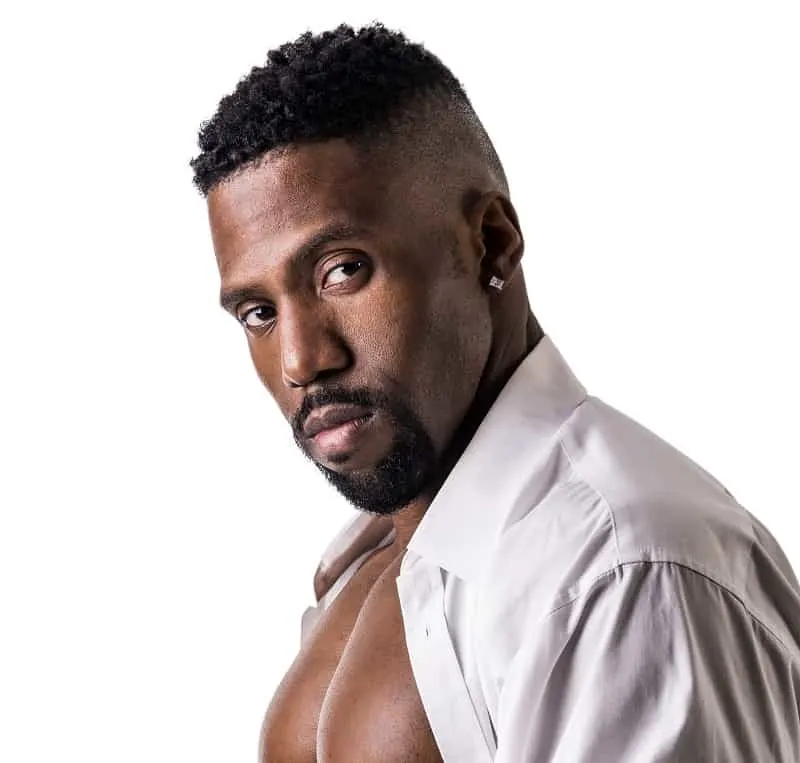 This undercut style features bald sides and back so you can focus on the short, distinct top curls. It's an easy everyday look for someone who wants their hair tight but textured.
# 7 Close, Loose Curls & Low Fade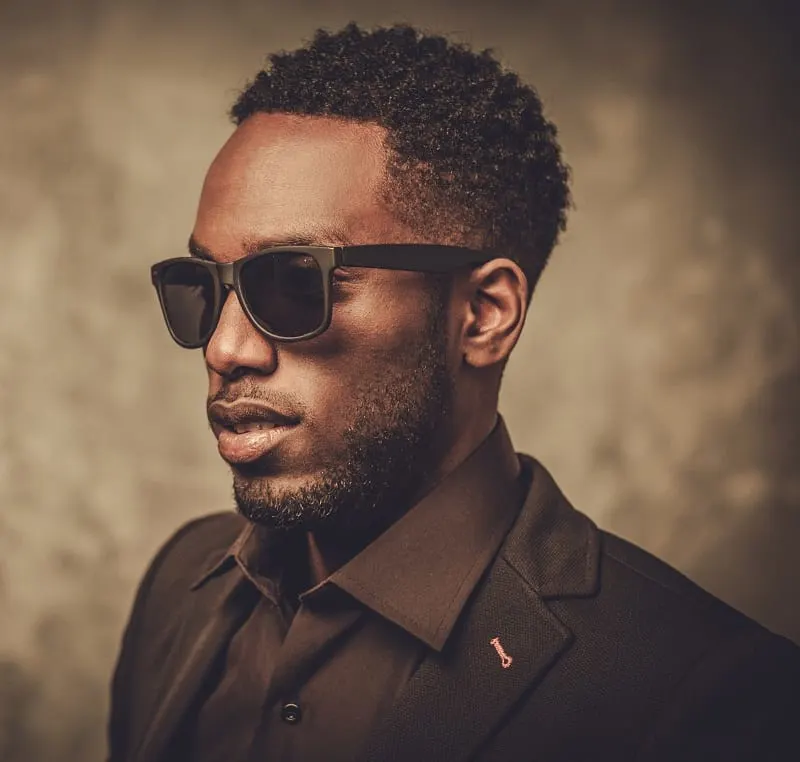 In this style, a low fade blends in seamlessly with a stubbly beard. Up top, the sponge curls were styled with a large-holed curl sponge but only a little, so the curls are distinct but not too separated.
# 8 Tall & Small Curls
For hair with lots of volume, use a curl sponge with small holes, and tease the hair tall. Finger style the outer curls so they're more distinct. A skin fade on the sides draws the eye to the tall hair.
# 9 Shiny, Soft Small Curls
For men who like their curls soft, shiny and small, use a small-holed curl sponge to form tiny yet defined curls. Deep condition your hair beforehand to achieve the shine.
# 10 Tall Tight Twists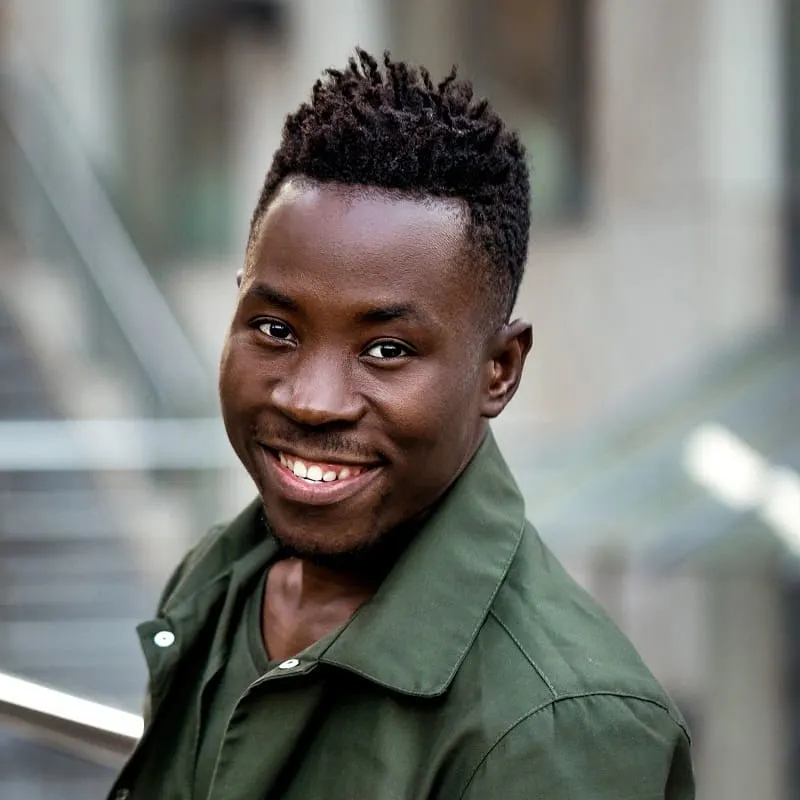 These tall, tight twists are eye-catching. While the front was likely styled with a curl sponge, the back's twists are more prominent and possibly done by hand. It's a medium-effort everyday look for guys who love their textured hair.
# 11 Thick Afro Curls with Zero Fade
This is exactly how it actually works. In this style, the sponge swirls come from a neat afro that is also very thick. The design is also slightly messy, and you should accentuate it with a zero fade on the sides.
# 12 Short and Naturally Kinky
Sponges can also work for short hair, and this particular style proves this. To create if you should leave about an inch of hair, curl it with your hand and then finish with a fade on the sides to create a disconnection with the massive facial whiskers.
# 13 Natural Messy Curls
You need not do much with this hair because it is naturally curly and so a moderate trim and a line-up on the sides is enough to create a refined look.
# 14 High and Thick Kinky Afro
Here is another take of the afro and it entails leaving a high and thick hair that is also slightly messy and fading a small section on the sides just above the ears.
# 15 Sexy with High Fade
A fade will always help to spice up your haircut, and the high one on this design contributes to enhancing the appearance of the sexy and neat curls on the crown.
# 16 Funky Twists with Razor Patterns
These twists do not require you to use any tool because you can make them with free hands. However, the fade on the sides and the fancy razor patterns will need some skills and creativity to get right.
# 17 Texture Shaggy Curls with Perfect Line-Up
The texture of these afro curls is breathtaking, and the beauty of it all is the fact that they are natural. And making them messy and finishing with a line up on the sides is all you need to create a refined headdress.
# 18 Highlighted with Geometric Shape Up
Color makes a huge difference to your haircut, and this fancy design proves this. Here the natural sponges have a brown dye job that creates an amazing contrast with the natural dark hair.
And if you combine this with the geometric shape you will have a very appealing hairdo.
# 19 Afro Curls and Bald Fade
Everything about this haircut is just amazing, and it entails leaving some long and messy afro curls on the crown. You should then give them a bald fade on the sides and finish the look by shaping up your facial hairs.
# 20 Short and Neat Sponge Hawk
If you want a unique Mohawk design, you should try making one with sponge curls. You should make them short and neat and maintain them in the middle of the head before fading the sides to form the Mohawk.
# 21 Fresh Impeccable Gentleman Look
A design like this one will make you stand out everywhere you go, and it is a perfect example of how a gentleman should look.
It entails leaving some thick natural curls on the crown and then giving them a smooth fade and a straight line-up at the front.
# 22 The V-back Twists
This style is super cute but also very easy to form. It entails leaving some natural afro twist in the crown and lining them up to create a V-shape at the back.
You should then introduce some color on one side and finish with a fade below the twists.
# 23 Easy Faded Curls
African American hair is perfect in many ways, but the texture and volume are what makes it easy to work with to create chic hairdos.
In this style, you only need to leave hair on top and then style by curling and giving it a geometric fade on the sides.
# 24 All Around Curls
Unlike most other haircuts this one maintains the sponges throughout the head, and you only need a small faded section on the sides and a line-up to finish the design.
# 25 Stylish Gray Spirals
The natural gray strands in this hairdo help to give it a lovely tone. However, the long spirals with a fade on the sides are still the highlight of this stylish headdress.
# 26 Extra Cute Sponge Faux Hawk
The faux hawk might be an everyday haircut but few variations if at all any would look better than this one. It entails giving the sides a zero fade and leaving some curly locks in the middle and styling by making them slightly messy.
# 27 High, Tight, and Curly
Some extra height at the front of your hairstyle will give you a very bold appearance. This design also makes the strands tight and curly before finishing with a taper on the sides to create a classy appearance.
# 28 Sweet Curls with Shaved Sides
The side tapering on this design is breathtaking and although it only occupies a small section it still makes these curls look magnificent. And to finish the design you need a line-up around the curls.
# 29 Shaggy with Neat Shape Ups
This look is what you get when you leave your afro for a few days without combing. To complement the shaggy look, you should give your hair a nice line-up with distinct lines and a fade on the sides.
# 30 Long Afro Spirals
To wear this hairdo you have to be patient enough to grow out your hair. And once you have these long strands you should make them into some cute spirals and give them a simple taper on the short sides.
# 31 Perfect Curls with Side Razor Line
Making perfect curls is not just about using the dread sponge because if want yours to look as charming as these you also need to use the right cream or gel. And to add some flavor to the look, you should also create a small razor line on the side.
# 32 Fancy Side Razor Lines and High Top
The gorgeous pattern that the lines on this haircut create is one of the things that make this a trendy haircut. However, the high and tight sponge and the fade are also vital in making this a top notch design.
# 33 Inventive Swirly Quiff
This design entails forming a small curly quiff at the top, having a side part below it and then finishing the style by tapering the rest of the hair.
# 34 Artistic Two-Toned Curls
The two-toned shade of these curls makes them look very sophisticated, but they also have a very inventive haircut. It is a V-shape cut with taper and some excellent razor lines at the back that form some wings.
# 35 Elegant Wavy Shape Up
These strands are very short, and so most people will not even notice that they have a sponged design. The style also has a lovely taper on the sides and neat shape up that makes it ideal for a man who wants a gentleman look.
# 36 Straightforward Curly Locks
Keeping things straightforward is the way to go if you want a hairdo that will set you apart from the crowd. For this style, some simple curls on the crown and a smooth fade on the sides are enough to make any man look majestic.
# 37 Dark Toned Kinky Twists
The thickness of these twists is what makes them look distinct. However, they also have an excellent texture and a perfect fade on the sides and back.
# 38 Cool Natural Sponge Twists
You will not even need to do any curling or twisting to create these sponges if you have a naturally textured hair. All that you need is a simple taper on the sides and a geometric shape up.
# 39 Wild and High Top Fade
Your thick textured strands can give you this fantastic look, and all that you need to do is to leave them on the crown, upsweep and make them messy before finishing with a high fade on the sides.
# 40 Top Fade Curls
The beauty of this hairdo depends on your natural hair because you have to do little to create it. In this style, a top fading on a small section on the sides and curling the thick natural hair is all that you need to create an elegant hairdo.
Idea # 41
Idea # 42
Idea # 43
Idea # 44
Idea # 45
Idea # 46
Idea # 47
Idea # 48
Idea # 49
Idea # 50
Idea # 51
Idea # 52
Idea # 53
Idea # 54
Idea # 55
Idea # 56
Idea # 57
Idea # 58
Idea # 59
Idea # 60
Idea # 61
Idea # 62
Idea # 63
Idea # 64
Idea # 65
Idea # 66
Idea # 67
Idea # 68
Idea # 69
Idea # 70
Idea # 71
Idea # 72
Idea # 73
Idea # 74
Idea # 75
Idea # 76
Idea # 77
Idea # 78
Idea # 79
Idea # 80
The options are endless when it comes to sponge curls, and so you only need to choose something that works for your hair type.
Whether you have a long, voluminous hair or a short one, there are still many options available for you. And the 80 styles above will help you figure out what you can try.