The short haircuts for men will always be in style, despite the coming of many other hairstyles. The short haircut is the most preferred hairstyle for men globally due to many reasons.
Top on the list is the fact that this hairstyle is very easy to maintain and clean. Other reasons are because it is considered sexy and also the fact that there are many types of short haircuts to choose from.
There are many types of short haircuts around the world. In fact, it would be impossible to give an accurate number to the types of short haircuts for men since new ones are always being invented and old ones are given new twists.
However, the following are some of the most popular short haircuts for men.
# 1 Fringed Up
This haircut features long hair in the middle that have been raised into a fringe up look. The hair on the sides are trimmed neatly to contrast with the longer hair on the top. It is perfect if you want to achieve a sleek look.
# 2 Colored Top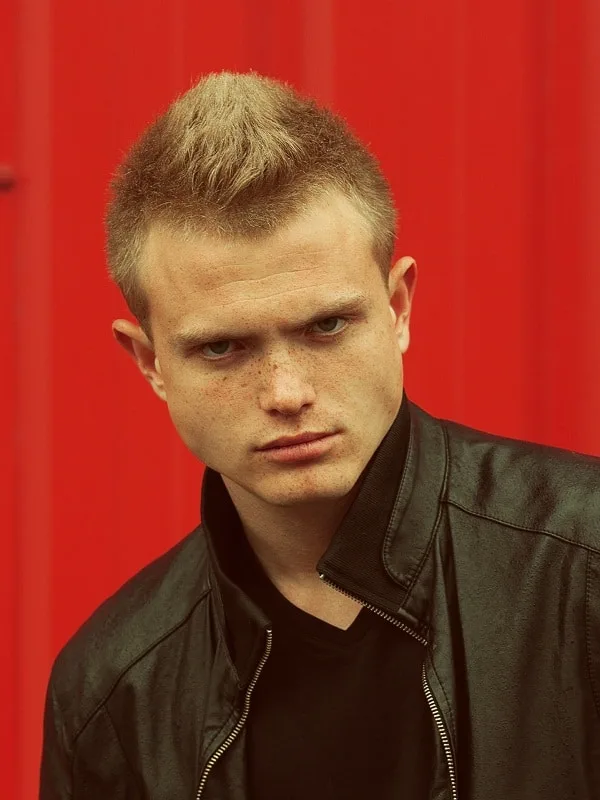 This haircut is for the ones who like short hair that also include some style. For this haircut, the hair are generally kept short with slightly longer hair in the middle. The hair in the middle are kept dark at the roots with lighter hair for the tips.
# 3 Very Short hair
This hairstyle features a buzz cut look with hair neatly trimmed down for a clean look. It is an ideal haircut to sport in hot weather and to save yourself from all the sweat and heat.
# 4 Hispanic Curls
If you have got corkscrew curls then, this haircut is perfect for you. It features a temple fade for the hair on the sides and slightly longer hair in the middle. You can let some of those luscious curls loose on your forehead for style.
# 5 Flat Top
This hairstyle features the undercut look with neatly shaved hair on the sides and longer hair in the middle. The middle hair are then pushed towards one side for added style. You can get this haircut if you want a smart look.
# 6 Short Pompadour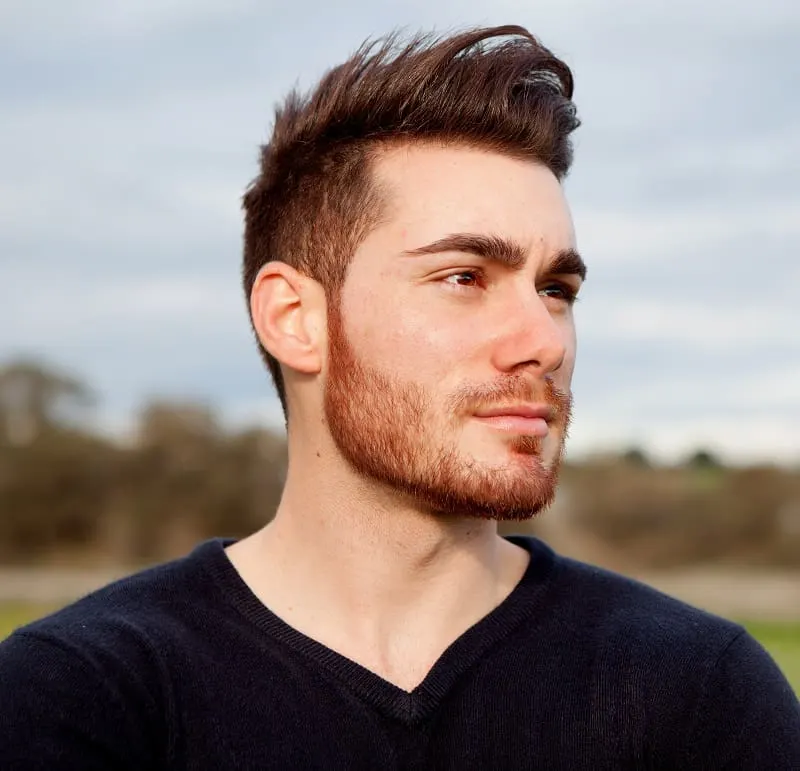 For this haircut, the hair on the sides have been trimmed for a temple fade look. The hair in the middle are kept long and pushed back to give a quiff look. No hair strands are let loose on the forehead so that the overall look can remain clean.
# 7 Short Waves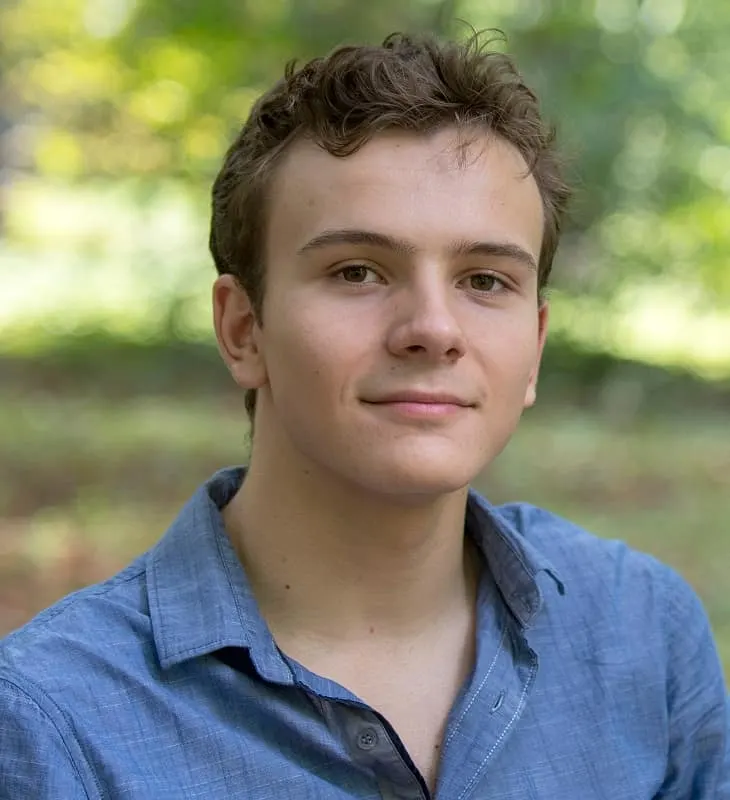 This haircut is ideal if you have got short hair. The hair on the sides are kept shorter are pushed backwards while the middle hair are kept slightly longer are given a messy look.
# 8 Try Mohawk
This haircut features neatly trimmed hair on the sides that give you a temple fade look. The hair in the middle are kept slightly longer and pushed back for a mohawk look. There are also light golden strands of hair in the middle for added style.
# 9 Trim The Sides
This haircut features a neat look with side hair trimmed to the skin for high fade look. The middle hair are kept quite long and pushed upwards and on the side. The side part of this haircut gives you a graceful look.
# 10 Spiky Quiff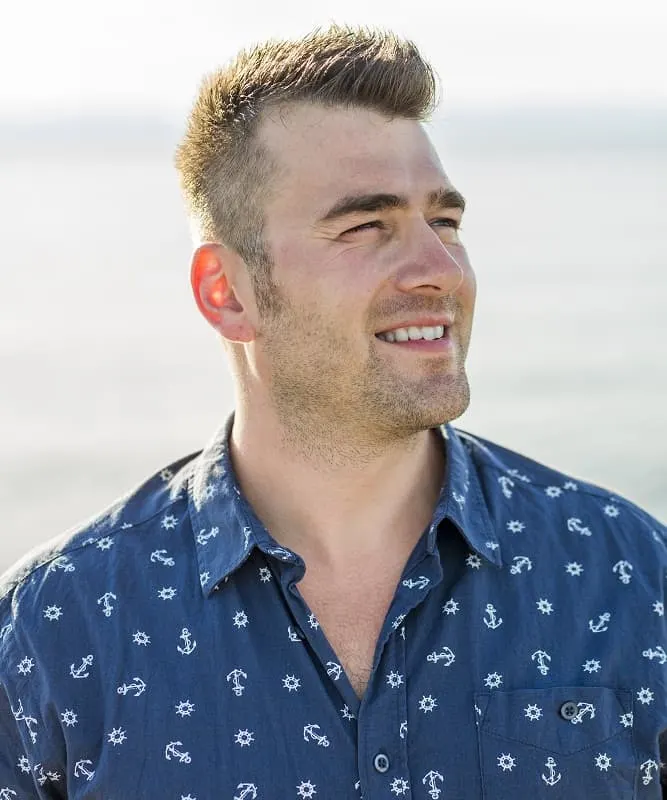 This haircut features a fringe up look with middle hair pushed upwards. The hair on the side are trimmed neatly for a temple fade style. It is a perfect hair style for all those who like a chic and smart look.
# 11 Caesar Haircut
The Caesar Haircut is suitable or ideal for men or boys who have broad foreheads or long faces.
It is also a great hairstyle for people who have premature balding as it brings the hair forward and hence detracting attention from the bald or sparse patches.
Overall the Caesar haircut involves leaving longer bangs on the top that are swept frontwards to cover the forehead.
# 12 Angular Fringe
The angular fringe is achieved with tapered sides, and the top hair left long and cut in a stylish angle. This short men haircut has been popularized by models in the last few years, and it can be worn by men of all face shapes.
However, it is best suits round face men. The most important element of this style is the angle cut, and so you should make sure that your barber gets it right.
# 13 The Disconnected Pompadour
Men Pompadour has been around for a while now, and it is currently one of the trendy hairstyles. In the disconnected pompadour hair is faded on the sides or clipped close and faded on the sides.
The top is kept long and voluminous to complete this look. This style looks good on Latino, Asian and Caucasian men.
# 14 Crew Cut
There are many ways to trim the crew cut, and this is perhaps one of the main reasons why men adore it.
The most common cut is where the hair remains long at the top and fades in the sides and back into the same level of the connected facial hairs.
Men with rounder faces should go for the crew cut. These men should also have the barber leave a long hair at the top to frame their face because this makes it look slimmer.
# 15 Brushed Up
Although this style still qualifies to be called a short haircut, the hairs are longer than in most other types of cuts. However, the hair at the back and sides is shorter than what is at the top of your head.
But this hairstyle can still be adopted for shorter hair with a little creativity. This haircut is easy to style and is suitable for people with any hair type and face shape.
# 16 Simple Casual
The simple Casual look is a classic haircut, and this is for good reason. This style is often compared to the slicked back look, and you can get it using a styling cream or a little gel and a simple brush through.
When getting the cut get you should keep the hair short on the sides and longer top hairs for easy maintenance.
# 17 Undercut Variations
Undercuts have been in trend for many years now, and all indication points to their continued liking by many men.
The undercuts work well for almost all face shapes and hair densities another reason men like them is that they come in many variations, and you can even come up with your unique undercut variation.
# 18 The Side Part
This is a sexy style that can work well for any man, but he should have hair that is long enough to sweep on the sides.
Side Part is an ideal cut for the man who is always in a hurry and does not have time to make his hair look nice. For the side part, you can choose either a left part or a right part depending on what works best for you.
# 19 Short Back and Sides
Short and back sides are normally part of other men's haircuts and more focus is given to the top hairs that are usually longer. However, in this cut, the center of attraction is the sides and back, and so this is where the barber focuses more of his attention.
What sets up this cut from the rest is that it sweeps over your head and tapers gradually to a tip from the front of the top hair.
# 20 Slicked Back
Slicked back keeps the hairs at the top long and the sides and back short, and it is perfect for the man who does not want a lot of fuss with his hair.
It works well with all hair types and face shape, but men with round faces seem to look better in this cut. Another advantage with slicked back is that you can play around with your look when you feel like it.
# 21 Induction Cut
Induction cut is a military cut and one of the shortest half cuts currently available. Although most people prefer this cut when they are enlisting it can still be a fashionable cut if done correctly.
It is very easy to maintain, but most men seem to prefer it because of its no-nonsense look and it is suitable for all face shapes and hair types.
# 22 Taper Cut
This cut is for people with thick hair as it involves thick hair at the top that decreases in length at the back and on the sides.
Although this is one of the most requested styles due to its versatility, it is also one of the most demanding because it can easily go wild if not properly maintained.
# 23 Buzz Cut
Young men prefer cuts that make them look cool and fresh and so this is the reason why Buzz Cut is popular with younger men.
This style is cut with electric clippers, and it gives the wearer a short easy to maintain hair without going too close to the scalp.
# 24 Fade Haircut
In this cut, only the lower half of the head is shaped while the top part is slightly trimmed and shaped but the hair is kept longer than the sides and back.
There are many types of fade to choose from, and all but a few look great for all hair types and face shapes. The most common types are regular, high and mid-tier fade.
# 25 The Ivy League Haircut
With the top side-parted and the sides slicked down this style is a classic polished look that almost every man tries at some point.
In this style, the barber uses scissors to cut the hair and includes a simple taper on the sides to give the hair a formal look without too much fuss. This cut is more suited for men with medium thick hair and any face shape.
# 26 The Buzz Cut
The buzz cut is a longer variation of the induction cut, and it is clipped with blade number one. Although it can be worn on any ethnicity and still look good, it is more popular with Latinos and African Americans.
A well-cut burr should be discrete enough so as not to draw attention away from your facial features. This cut is suitable for a more formal look, but one can still wear it for a casual look.
# 27 Mohawk
Mohawks were very popular in the 1980s, and this popularity seems to have come back in the last few years. However, the Mohawks today come in a more modern look and different variations.
This haircut is known for the signature hair strip in the middle that can be as thick or thin as you wish. Due to the versatility of this cut, it can be worn by people of all face shapes and hair types.
# 28 High and Tight
The high and tight cut is one of the favorite military cuts and it involves shaving the back and sides very closely and then leaving some shortly trimmed hairs at the top of your head.
In spite of this cut being very short, it can still work for most types of hairs including curly hair.
# 29 Cowlick Hair
Hair cowlicks can be frustrating, but if you work them correctly, you can get an outstanding look that ladies will love.
Coarse hair is the best for cowlick but in most cases, you have to combine this style with an undercut to trim excess thickness from your hair.
Cowlicks may be problematic to tame, but a skilled and experienced stylist will be able to advise you on how to maintain it and the right products to use.
# 30 Modern Punk
This cut takes a cue from the hairstyles of the '90s and some from 80'. However, this cut adds a modern touch to this gone by styles and hence making sure you get an outstanding cut.
It features a spiked top with the sides very closely shaved. Holding gel is also required to keep the hair height throughout the day.
# 31 Long Layers
This look involves getting the underneath layer of hair cut very close and the upper layer left to be long. The next step is to brush long top hair backward so that it can cover the shorter hair.
This gives you an international vibe as a result of incorporating short haircut with some length. Long layers cut are best for people with thick hairs.
# 32 Shaved Art
People are afraid to experiment with haircuts for men and in most cases, they try not to be too modern but trying out different things is how you get a perfect short haircut.
Shaved art is one way to try something different on the sides of your head. Leave the top with longer hairs and then have the barber come up with a creative pattern for you. You can finish this look with nicely sculpted facial hair.
# 33 Straight and Wavy Shag Haircuts
Shag haircuts are perfect for men who want to draw attention away from certain physical features.
You can pull this look with any hair type provided you get a skilled barber who understands shag haircuts to make the cut. The good idea is to go with a messy layered hair as this will look way better and trendier.
# 34 Butch Cut
The Butch Cut is often thought to be the same thing as a very short buzz cut, but most professional barbers will tell you that the two are quite different haircuts.
The butch cut is designed or shaved with the clipper guards on 3 to 5 then given a touch of scissors. And it is one of the standard military haircuts due to its low maintenance.
# 35 Short Afro
Short Afro hair or dreads are popular with black men because most of them can look great in this style with little effort.
For this cut, you can choose to make the afro shorter at the top and fade the sides and back, or you can give it a uniform size throughout.
Although many African Americans wear this look, it looks more outstanding for those of them with rounded faces and those who have an enviable natural curl.
# 36 Cropped and Curly
Men with curly hair prefer to go with long hairstyles because they think that short haircuts will not look nice with their curly hair.
This may be true to some extent since most short haircuts restrict the curls and hence causing them to grow unevenly. However, this cut accentuates your curls instead of stifling your hair texture.
Besides giving you a beautiful cropped and curly look, this cut will also not interfere with the natural growth pattern of your curls at the more visible top part of your head.
# 37 The Front Focus Cut
If you're self-conscious with your forehead or for any reason, you do not like to show it then the front focus is an ideal cut for you. This cut is fun while still keeping things professional and it still manages to hide your forehead.
In this cut, the sides and back of your head are closely shaved and longer hair left at the top. The hairs at the top are then styled and brushed forward to cover your forehead.
# 38 The Creative Haircuts
This is a simple haircut when looking at it, but it takes a lot of work to pull it perfectly. It involves the use of graduated thicknesses.
The heaviest or thickest hair is up top that is followed by a shorter cut in the middle section and then finished with a very close cut bottom.
To get this cut right, you have to make sure that the three different levels are easily identifiable from the closeness of their cut.
# 39 Sharp Angles
Trying something out of the ordinary with your hair always leads to an interesting haircut. Instead of using the conventional square or rounded nape you can try something like a triangle that will give your cut sharp edges.
Sharp angled cuts add some interest to a man's haircut and better still anyone can try this cut regardless of their face shape and hair type.
# 40 Short Fauxhawk
Growing older does not mean you give up on short haircuts since there are still nice ones for you to try out like the Fauxhawk.
This style is especially more suitable for older men with thinning hair as it adds volume to your hair and draws attention from any hair style weakness you may have.
# 41 Shaved Sideburns
Shaved sideburns make a statement and so combining them with an exquisite short haircut will give you the elegance you desire. In this style, the sideburns are introduced in the cut to give you an easy but unique look.
Although this cut looks great on men of all ages, it is more commonly worn by young men in their early 20's as they are not afraid to experiment with different styles.
# 42 Very Short Sides
Using varying hair length in any haircut adds some dimension and texture to your hair, but it is important to know the right size for each hair segment especially for this type of style.
The sides of this cut are very short but they are also not very close to the scalp, and so there is still some substantial amount of hair left on the sides.
This style is perfect for men with thick and straight hair, and you can add some scruff in this cut with some neat facial hair.
# 43 Ponytail With Class
This may sound rather odd, but you can still get a short haircut style with a ponytail. To wear this look you have to keep the top hairs thick and long and the sides clean shaven or faded.
You can pull the long hair in the upper part into a ponytail when the weather is hot or when you want your hair took a bit more put together.
The facial hairs should also be cleanly and slightly trimmed to bring that maturity look associated with a ponytail.
# 44 Scruffy and Slick
There have been many popular haircuts in the last two years, but very few of them can match the popularity of this cut.
This cut features short sides and a longer top, and you can wear it in so many ways while still maintaining a tough everyday look. The slick and scruffy cut is suitable for people of all face shapes and thick hair densities.
# 45 Boastful Bouffant
Using a round brush to create hair volume is an effective trick for balding men to conceal their thinning hair strands.
Hold the hair up with a spray to get a heightened look that will go a long way in boosting your confidence despite your thinning strands. The sides and back should also be shaved closely because they can also betray you're balding.
# 46 Simple Black Fade
More often than not the hairstyles and haircuts that are not overdone are the best, and there is no better way to explain this than using the simple black fade.
This is a low fade cut that is complemented by a crisp facial hairstyle. Some people find it strong, but it is a neat look for business men. This haircut is best for African Americans with any face shape.
# 47 Comb Back Curly
A simple hair trim and a comb can also give you an amazing haircut if you know how to go about it or with the help of a good barber. However, this style is a preserve of people with short curly hair.
For this look, you need to do is slightly trim the top hair and shave the sides then comb the top hairs backward to finish the look.
# 48 Soft and Smoky
Besides from just getting a good haircut, you can spice things up more with the use of hair dye. In this style, the nicely cut hair is enhanced further with a smoky gray color.
To add depth and thickness to your medium hair, you should keep things dark at the roots and lighter at the ends. It is important to note that the air will only look nice if you get a god cut.
# 49 Side-Swept Undercut
The side-swept undercut is arguably the most amazing variation of the popular undercut. This cut has been popularized by actors in various movies, and you can almost be assured of spotting it in most red carpets.
To embrace this look, trim your top hair into medium length on the top and have the undercuts on the sides.
# 50 Smart Style
Smart Style is a tailored haircut that looks and feels fresh. The reason for this is because the hair will have longer lengths on top and a blend of shorter cuts on the sides and back.
This cut is very versatile as it can be left wild or styled with smoothing lotion. This style is good for men with triangular, square or oval face shapes.
# 51 Hipster Haircut
Hipster haircuts are popular among adult men and teenagers. Defining this style is not easy at all since it can take many forms and in most cases it is a combination of different classic cuts.
However, if you want a perfect hipster cut, the trick is to try and make it weirder by combining many types of cuts.
# 52 Disconnected Curved Step
People with medium textured hair are the ideal candidate for this haircut that takes creativity t a whole new level.
The sides are cleanly shaved to provide a disconnection between the hair and beard but, what is more, interesting about this cut is that it is curved into a V at the back.
# 53 All Even Cut
This is a simple cut where all the hair in your head is cut to the same length to give you a more formal or professional look.
The height of the hair is determined by your personal preferences but in most cases, it is cut to the level of the sideburns. It is an ideal style for round-faced men who prefer simple haircuts.
# 54 Modern Boys Haircut
A perfectly sculptured hairstyle always looks amazing on boys and men of different ages. However, the trick in this haircut is to bring an equal focus to the facial hair and the top of your head.
You should also get more creative by adding some styling gel or pomade to spike the front of the top hair.
This style can be worn by people with any hair type, but round-faced people look way much better in this haircut than those with an angular shape face.
# 55 Side Designs
You do not always have to flow with the traditional and monotonous barber looks no matter how attractive it may be as you can come up with a unique style. In this haircut, longer hairs are left at the top, and the sides are faded or gradually decreased.
What makes it interesting however is the endless design carved on the sides. Here you can curve in any design that brings out your personality as there are no restrictions.
Idea # 56
Idea # 57
Idea # 58
Idea # 59
Idea # 60
Idea # 61
Idea # 62
Idea # 63
Idea # 64
Idea # 65
Idea # 66
Idea # 67
Idea # 68
Idea # 69
Idea # 70
Idea # 71
Idea # 72
Idea # 73
Idea # 74
Idea # 75
Idea # 76
Idea # 77
Idea # 78
Idea # 79
Idea # 80
Idea # 81
Idea # 82
Idea # 83
Idea # 84
Idea # 85
Idea # 86
Idea # 87
Idea # 88
Idea # 89
Idea # 90
Idea # 91
Idea # 92
Idea # 93
Idea # 94
Idea # 95
From the 95 short haircuts for men, there is something for you and in case you do not know which one it is you can try out a few haircuts.
Short haircuts will continue being popular and trendy in the foreseeable feature and so finding one that works well for your hair type and face shape is important to ensure that you maintain a perfect look.
Remember that your haircut portrays your personality and so with the many short haircuts available you should choose one keenly.