Some of these haircuts may be short and others long, but what is clear is that black curly hairstyles for men have never looked this good!
If you're looking for a new style you'll definitely want to browse through these pictures to see what looks are trendy and find out how they were created!
#1 Two Ponytails
When your curly hair is only a couple inches long, draw attention to your precise hairline by creating two short ponytails centered up top. Your hair's texture will really pop.
#2 Short Natural Curls
Is your curly hair super short? The low maintenance of it will probably only require a smidge of product, like hair oil, to enhance your natural hair's look.
#3 Super Short Afro
Even if you're tempted to rock cornrows, leave your short curly afro natural. It's a mature and professional way of wearing your hair that doesn't require any styling.
#4 Curly Mohawk Fade
Whether you're young or old, you can rock a faded mohawk for your curly hair easily. Go for a high fade to emphasize the skinny shape and keep the hair shorter in back.
#5 Long Curly Twists
Long twists are a super handsome (and protective) way to sport curly hair. Your stylist will only need a few minutes to create them and they last between two and six weeks so you won't have to mess with it often!
#6 Long Top Short Sides
A long top and short sides is a classic hairstyle for men with all different kinds of hair textures. For curly hair, the shortness will encourage healthy new growth in addition to looking amazing.
#7 Barely There Curls
If you prefer a hairstyle that is super low maintenance, this short look is as low as it gets. While the hair is barely there, there's still a lot of detail in the lineup which can easily match up with any facial hair for a fresh style.
#8 Curly Ponytail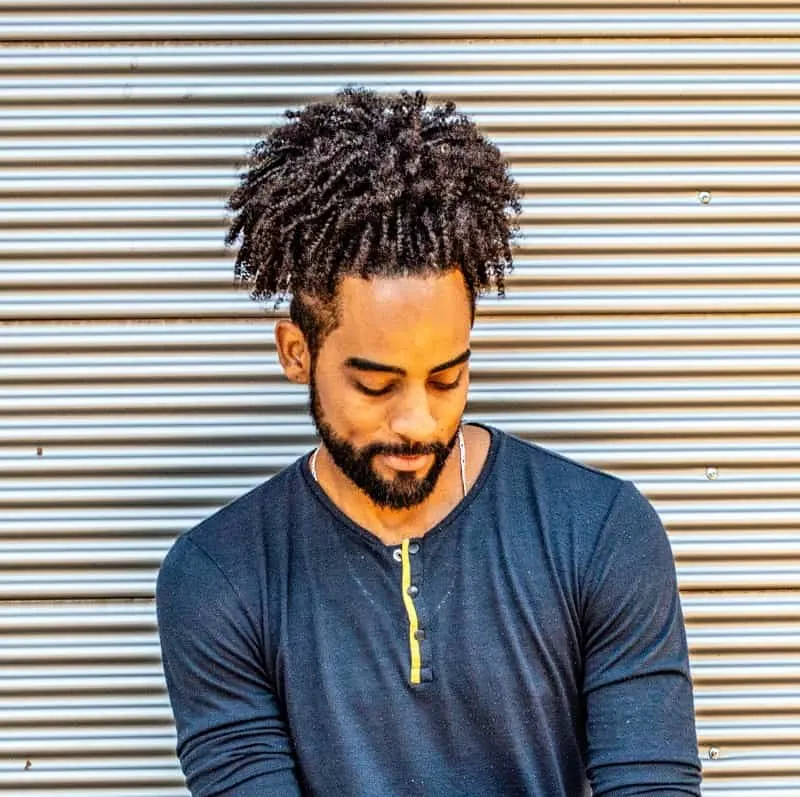 For hair that is medium to long, try a ponytail to keep it out of the way when running errands or hitting up the gym. Those spirals will really stand out if you tighten your ponytail up high.
#9 Curly Spiked Hair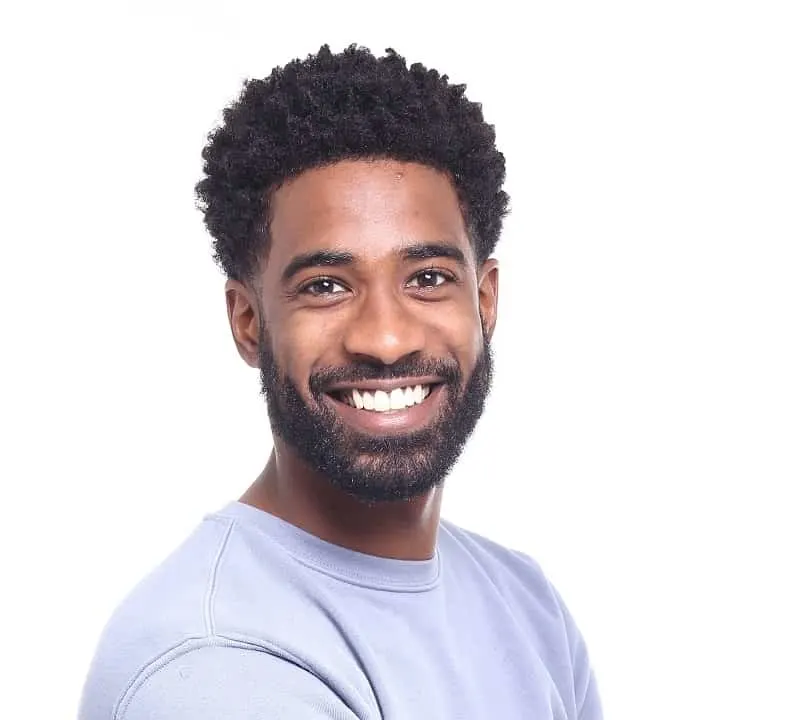 This short do for curly hair may look simple at first glance, but there's a sort of ridged and spiky texture to it that adds an interesting and flattering shape for all face shapes.
#10 Long Kinky Curls
Long kinky curls look best on younger men but is still a great choice for any men. Wear them loose or gather them up in a high ponytail. Be prepared to be the envy of everyone as you show off your thick curls.
# 11 Afro Spray
This wild looking style has been created by teasing strands of this jet black Afro straight out to the top and sides. This is trendy look, great for the evenings.
# 12 Short Sides and Amber Streaks
Here the tightly spiraled hair has been cut short on the sides while the top is longer. This hair has been finger combed backward and some small amber streaks of color have been added.
# 13 Soft Locks for Lenny
In this picture Lenny Kravitz, sports a super soft looking style. The hair has been trimmed to a uniform length with a teased texture.
The deep hair color teamed with his salt and pepper beard creates an interesting dynamic.
# 14 Super Short Sides and Dreads
Here the sides and back have been razor cut and dreadlocks have been twisted into the long top hair.
These locks have been gathered at the back and folded over to fall to the front of the face. Baby blonde highlights have been added and they complete this unique style.
# 15 Pillow Soft Locks in Midnight Black
The top section of hair is soft and falls in small curls with some lift towards the back. An undercut is also visible and has been neatly graded into the top locks.
# 16 Bleach Blonde Mushroom Style
In this style a high undercut has been performed with an interesting twist; the undercut extends over the front portion of hair. The hair on top is styled in tight corkscrews and dyed bleach blonde.
# 17 Neat Short Style with Volume
In this smart cut, the hair has been snipped in a rounded shape over the face and has short sides. These sides have been graded into the top hair to form a volume.
# 18 On Style Afro
Afro's never go out of fashion and the trendiest ones right now are those with the perfect shape like the one we see here that tapers up into a rounded shape.
# 19 Dreadlocks over Undercut
In this picture, we can see a short razor cut along the sides and the top hair has been twisted into dreadlocks and styled to fall naturally.
# 20 Short and Twisty
In this urban style, the back and sides have been blended up to the crown hair. This hair is longer and has been styled into a mass of neat twists.
# 21 Springy Do
These longer locks have been curled in long bouncy springs and styled to stand up and cascade over the head. This is a great party or beach hairstyle and it looks handsome teamed with a neat beard.
# 22 Big Style with Braid Detail
To create this interesting look the hair on the right-hand side has been braided in a few short rows that run into the top hair. This hair has been relaxed and coiffed into voluminous mass.
# 23 Suave Look in Black
In this simple style the hair has been cropped short all around with a small undercut that helps give the look a round shape.
# 24 Classic Afro
In this style, the sides start short and have then been carefully blended into a relaxed Afro on top, that has a rounded off finish and height.
# 25 Smart Bowl Cut
This stylish version of the bowl cut is smart and easy to maintain – great for busy gents! The cut is simple, short sides with longer hair on top that has been finger-combed back.
# 26 Strong Texture
These locks have been snipped to create a lovely round shape that frames the face. The texture is tight and springy and compliments his full beard. This is handsome and put together look.
# 27 Chunky Blonde
For this unusual do the naturally textured hair has been trimmed to have a chunky texture. The hair has been dyed a bright beach blonde with some natural color visible on the edges.
# 28 Classic Cut with Line Detail
This picture shows hair that has been cut with straight, precise lines all along the edges and then graded up to the longer top hair.
Two geometric lines have been shaved into the undercut to create interest.
# 29 Squared Off Afro
This style has been created starting with a close cut on the neck that has been carefully blended longer and longer. The tight curly hair has been snipped into a squared off shape with neat lines.
# 30 Short Hairstyle with Height
Again, the hairstyle starts with a razor cut on the back that grades into longer and longer hair toward the front. The most volume is in the fringe area, which creates height.
# 31 Tight Twisted Out Texture
In this picture, tight twists have styled into the long hair on top, with a simple undercut on the sides. The texture and volume on top ties in well with his established beard.
# 32 Lean and Relaxed Locks
For this relaxed looking hairstyle the hair has been relaxed and then straightened to fall on the ears but still retain volume. A scarf has been added to keep the hair out of the face and add interest.
# 33 Hip Top
Longer locks sit on top of a tight undercut in this clean-cut look. The long hair has been teased into a soft mass of twists with some pointing up.
# 34 Square Cuts
The squared off edges along the temples and the brows help to tie his facial hair into this look. The hair is snipped short and graded from the back.
# 35 Afro Fusion
This relaxed short Afro has been cut with short sides and more volume on the front. The texture is soft and wavy and has a smart-casual feel.
Idea # 36
Idea # 37
Idea # 38
Idea # 39
Idea # 40
Idea # 41
Idea # 42
Idea # 43
Idea # 44
Idea # 45
Idea # 46
Idea # 47
Idea # 48
Idea # 49
Idea # 50
Idea # 51
Idea # 52
Idea # 53
Idea # 54
Idea # 55
Idea # 56
Idea # 57
Idea # 58
Idea # 59
Idea # 60
From what we have seen, it's plain that texture is important in these black curly hairstyles for men. These may range from natural to twists to bold Afro and everything in-between.
Volume is also a key element and has been infused here mostly with teasing. Straight cut lines make some of these hairstyles look professional and perfect for the workplace while others are more relaxed.
These styles have hopefully given you some great ideas and with creativity you can have endless looks!