The blowout haircut was very popular in the 1990's, but it disappeared at the onset of the new millennium as new styles came up.
However, many celebrities and sports personalities have been wearing it in recent years, and this has made the haircut come back in trend.
Although some men still wear the old school look, there are now many modern variations of the cut and most of them get inspiration from other popular hairdos.
If you get things right and are a little creative with your styling the blowout can be one of the best hairdos, you will ever wear. The following 55 haircuts are an example of the stunning blowout down correctly.
# 1 Loose Spikey Blowout
For a style that somehow looks both effortless and precise, style your hair into loose spikes, blown back with lots of texture. It's voluminous, and works wonderfully with an equally textured beard.
# 2 Sleek Sweep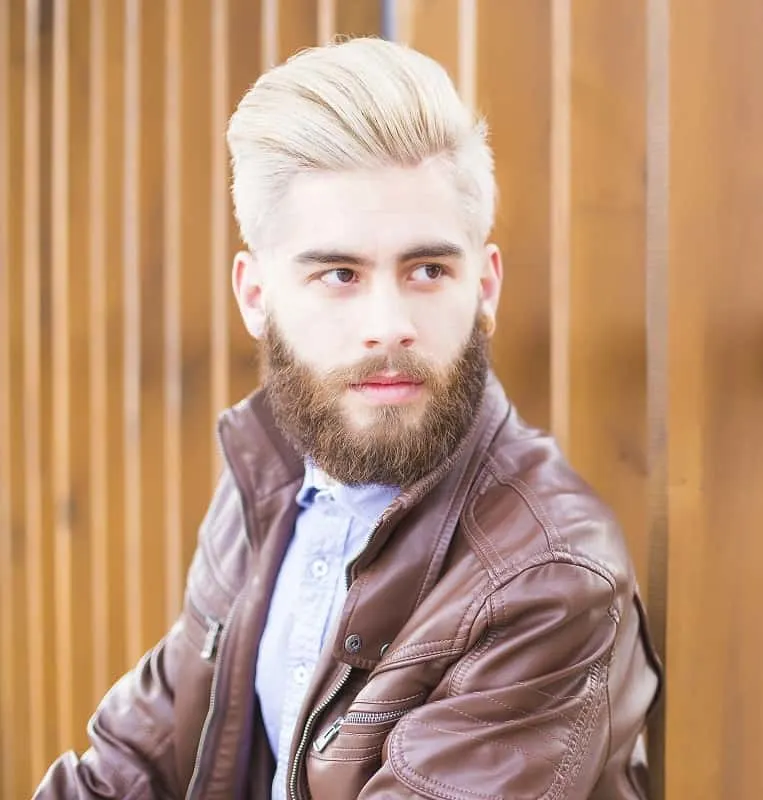 A tall and broad swept look is simple to achieve and gives you a clean look. Paired with a darker ad scruffy beard, it adds contrast and interest to your appearance.
# 3 Brushed Back Waves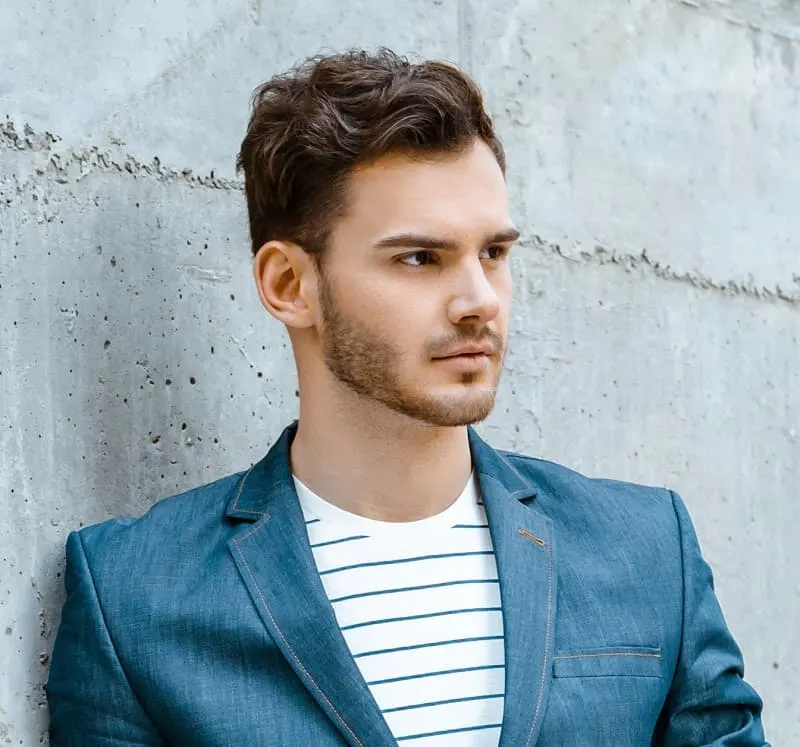 This look is for men seeking a different kind of texture. The naturally wavy hair is brushed back over shorter sides, giving you a sexy but soft look with just the right amount of messy.
# 4 Nest of Curls
Instead of waves, for uncontrollable curly hair, blow it up and a little back. There are very few defined curls, giving you hair with tons of motion, texture and interest. Great for a soft, easy look.
# 5 Solid Side Swept
Cut the sides short, putting all the attention on the top's massive length. Sweep the top back and slightly to the side for a controlled and sleek look, made a little hipster-esque with a rough beard and oversized glasses.
# 6 Classy Waves
Nowadays it is always about getting the crown right and finishing the style off with a fade on the sides.
Unlike the traditional blowout, on this cut, the longer top is wavy and slightly swept to the side and the back and sides given a high fade. It's a fantastic hairdo, especially for young men.
# 7 Curly Blowdry
This is a perfect example of the old blowout look with a modern touch. The hair is about three inches at the crown and is blow-dried to give it some height and then rolled to one side.
To finish the sides and back are scissor trimmed to less than half an inch.
# 8 Just Messy
Nowadays shaggy hairs are a distinct style, and they come in many ways. Apart from this, they are also an easy hairdo to have as demonstrated here.
The long messy crowns are a result of a creative trimming, but the sides and back are short and neat finish.
# 9 Shears Perfection
A pair of shears in the hands of a skilled barber can leave you with a hairdo that every person that sees you will want to take a second glimpse.
Here the shears create a short spiky hairdo at the top while the sides are neatly tapered to finish a bold look.
# 10 Textured Rollover
The top section of this style is scissor trimmed to create a pleasant texture and some height. The strands are then blow-dried and rolled over to the side. The look is then finished with a smooth taper on the sides.
# 11 Hard Part Blow-Dry
A hard part line is one of the most common things used to enhance hairdos and in this particular cut it is perfect.
Apart from the hard part line on the side the blow-dried top and the medium fade on the sides also help to make this an amazing hairstyle for the modern man.
# 12 Short and Gelled
Choice of hair product also plays an integral part in how you look and so even if you get the cut right and fail on the product choice you will not get the looks that you want.
In this haircut, the strands are shaved short and uniform throughout the head and gelled to give them an almost curly appearance.
# 13 Crown Slick Back
Some men know how to look elegant by getting everything on their hairdo correct. In this haircut, the size of the top hair and the undercut design is incredible, but the slick back makes everything much better.
# 14 Pushback Waves
If you have naturally wavy or curly strands, then it will be easier for you to pull this look but men with other types can also have it.
The wavy locks at the crown should be about three inches or longer. They are also gelled and then pushed back with a comb. Sides and back should also be bald faded to create a disconnection with the full beard.
# 15 Overgrown Buzz
The buzz was initially a conservative military haircut, but nowadays it has been given different variations to make it a modern one. In this particular variation, the buzz is overgrown at the top while the sides have a zero fade.
# 16 Neat Mullet
A mullet is very versatile, and you can wear it in many ways but keeping it neat will always make it look fabulous.
Here the strands are given a part in the center of the head then divided into two sections. The upper part is pushed forward then slightly styled up then the other half is combed-back and styled into a mullet.
# 17 Grown Out Crown
Growing out your crown will open up many hairstyles for you and your only limitation will be your boldness.
You can go with a shallow side part to separate the long top bangs from the faded sides and then blow-dry the bangs before slicking them back.
# 18 Half Disconnect
If you are patient enough and have the services of an experienced barber, you can always get an eye-catching hairdo.
This style brings together a pompadour, a low undercut, and a side part to create what you can only describe as hair perfection.
# 19 Curly with Part
Curly hair is already a style, and so you have to do little to create a great look. For example like in this haircut all that the wearer does is makes a deep side part between the crown and temple faded sides and back.
# 20 Rolled Up Faux
The volume and texture of the hair in this blowout haircut will get the attention of everyone including the skeptics.
What makes it even better is that the cute bangs are only maintained in the middle where they are rolled up, and the sides give a classic mid fade to ensure that all the attention remains on the longer middle strands.
# 21 Simple & Smart
With the blowout hairdos, you do not have to overdo or exaggerate things to look outstanding.
This cut demonstrates this as all that is done is to scissor trim the hair while leaving some longer bangs at the top with the sides given a fade. The shallow side part also adds a nice twist to the hairstyle.
# 22 Messy Curls with a Fade
Almost no styling at all is done on the longer top of this hairstyle, but it looks incredible thanks to the slight mess created when they are pushed forward. To finish the fabulous look sides are razor faded to perfection.
# 23 Fresh Fancy
This cut maintains a longer top, but it is not uniform as it is tapered as you move towards the temple so that it can blend in with the shorter sides and back. The longer strands are then styled up to give them a perfect blowout height.
# 24 Long Bangs
Long bangs are one of the most stylish cuts for men who prefer to keep longer hairstyles.
In this cut the long bangs are created with the shears and the strands are also tapered and pushed back to make the style, even more, attractive. It is finished by trimming the sides and back short but to a uniform length.
# 25 Natural Highlights
You do not always have to color your hair to get amazing highlights because this comes naturally for men as their years advance.
The white and gray hairs blend in with the natural hair color to create a fantastic look that can enhance any hairdo. Here the natural highlights complement the longer crown that has been moderately slicked back.
# 26 Extended Fringe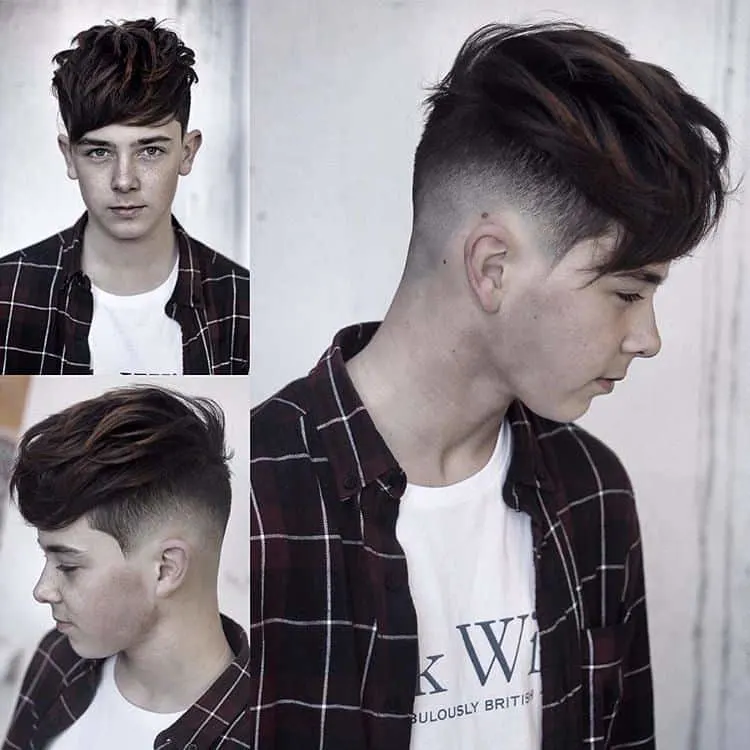 The Fringe makes a fabulous haircut, and it can also be classified as a blowout depending on how it is styled.
Here it is moderately trimmed to create some texture and then extended forward to cover an inch or two of the forehead. Sides should be razor shaved short or tapered.
# 27 Golden Boy
The Golden highlights are rare in men but are very popular with ladies. However, the golden highlights in this messy top prove that even men and boys can look great in them.
To make things, even more, interesting, a side part is added to separate the highlights from the short sides.
# 28 All White
Instead of going with the regular or typical dark colors you can try an all white style if you are bold enough.
The white color does all the magic in the hairdo as it is unique but there is also a shallow part at the top and some tapering done on the sides and back.
# 29 Short Flattop
This is another example that you can still look great with a blowout by keeping things simple and neat.
The flattop looks fantastic, and it will take the barber a shorter time to create this style than many others as long as you have the right length.
# 30 Incredibly Textured Top
An excellent texture always makes a great haircut, and it is also easy to create provided you have an experienced barber.
In this cut, the longer top should be trimmed with shears to create the short textured bangs that should be left messy and the sides, and back skin faded.
Idea # 31
Idea # 32
Idea # 33
Idea # 34
Idea # 35
Idea # 36
Idea # 37
Idea # 38
Idea # 39
Idea # 40
Idea # 41
Idea # 42
Idea # 43
Idea # 44
Idea # 45
Idea # 46
Idea # 47
Idea # 48
Idea # 49
Idea # 50
Idea # 51
Idea # 52
Idea # 53
Idea # 54
Idea # 55
The blowout haircut is slowly coming back in trend and as more and more variations continue to appear the options are endless if you want to wear this hairdo.
However, before choosing any of them, you should consider your face shape and hair type, and a good idea would be to modify one of your favorite cuts into a blowout.
However, the above cuts will give you some inspiration on what you can try out.