Brad Pitt has been in the limelight for a couple of decades now, and he is arguably one of the greatest male actors of all time having won several awards and bagged himself numerous nominations.
Beside from his acting prowess Brad Pitt is also known for his good hair aesthetics. He has a healthy hair that can look good on every haircut or hairstyles you can think of and over the years, he has tried many styles.
Of all the styles he has worn over the years, the following are some of the most famous Brad Pitt hairstyles.
# 1 Medium Length + Comb Over
For his latest movie, "Once upon a time in Hollywood," Brad Pitt appeared with a medium length hairstyle with a comb-over.
He kept his facial hair shortly trimmed, not minding those gray hairs that pop here and there.
# 2 Sleek Comb Over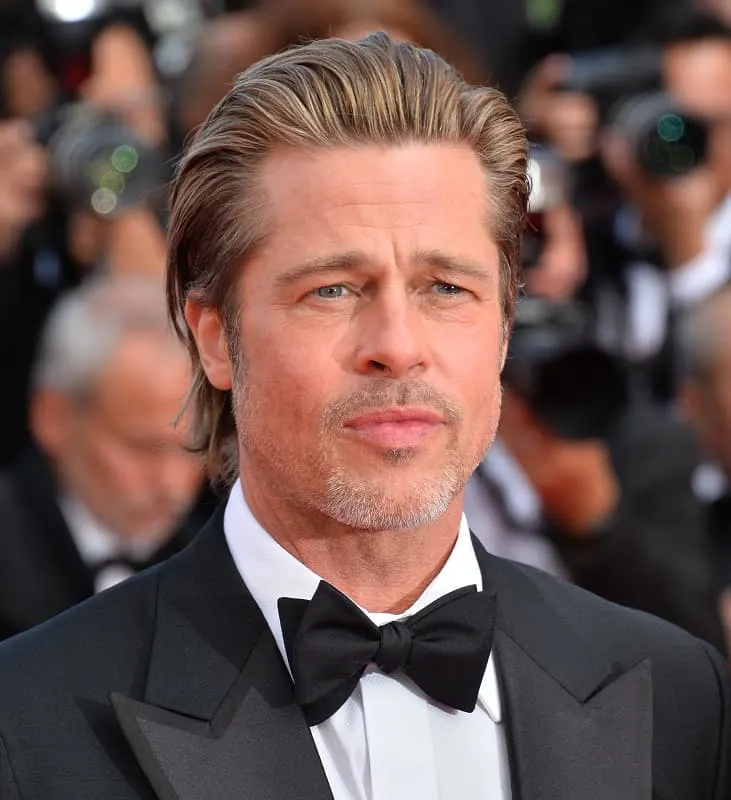 Brad Pitt's hairstyles vary from one role to another, and this medium sleek hair with a comb-over certainly looks astonishing on him.
# 3 Surfer Hairstyle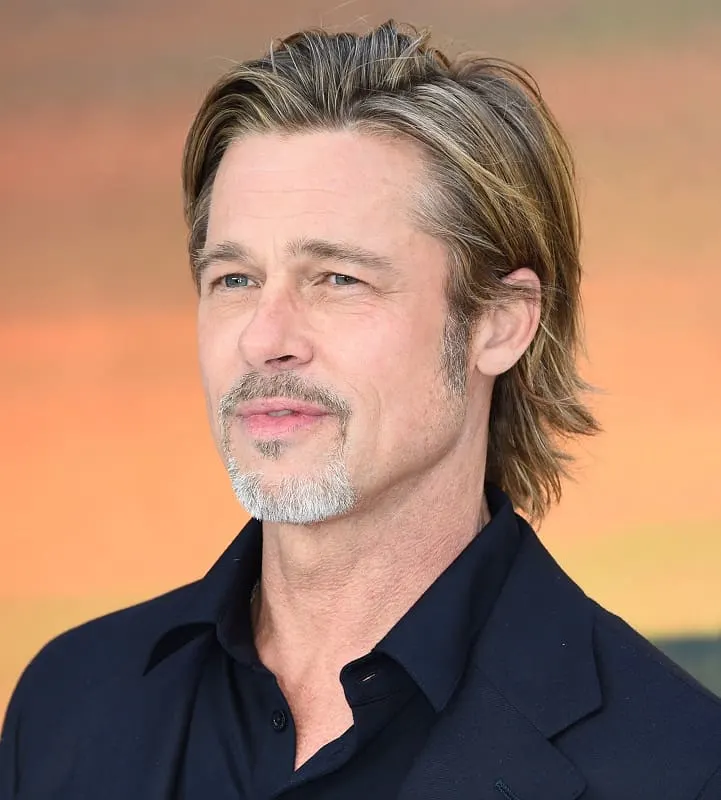 Even with this medium messy hair, Brad Pitt managed to get a hairstyle that makes him look both elegant and irresistible.
After all, he is Brad Pitt, and it seems that every haircut he goes for will suit him like a glove.
# 4 Short Hair with Side Part
Brad Pitt made us all laugh when he became Dr. Anthony Fauci for SNL and appeared with a classic short haircut with a side part.
The look is quite classic and ideal for older men who don't want something out of the ordinary.
# 5 Side Part + Goatee
Which would you say is the best Brad Pitt hairstyle?
We definitely adore the way his long top is being tossed on one side, and the way a goatee beard completes his look.
# 6 Retro Hairstyle will Thick Sideburns
Apparently Brad Pitt loved his hairstyle when filming "Once upon a time in Hollywood" because he later adapted the hairdo for 2023.
In the movie, the character has thick, rich sideburns, and Brad sports a retro 60's hairdo.
# 7 Layered Middle Part
There is no way you can forget Brad Pitt's hairstyle with a middle part and layered strands falling carelessly on both sides.
He went for a short beard and he looks absolutely remarkable.
# 8 Short Comb Over + Goatee
Brad Pitt was often seen wearing a mustache and a short pointy goatee.
He also went for long sideburns and a sleek comb-over that provides height and a gorgeous wet look.
Also, his hairstyle is a perfect option for the roles where he plays sexy imposing men.
# 9 Messy Hairstyle + Long Beard
From short to long hairstyles, Brad Pitt looks stunning whatever he chooses, even when he sports a messy medium layered hairdo and a long beard with mustache.
# 10 Taper Fade + High Top
Quiffs and taper fades tailor most situations and events you need to attend. For brad Pitt, a short Van Dyke beard is exactly what he needs to complete his sexy appearance.
Maybe you can't have his charisma, but you can easily pull off Brad Pitt's hairstyle.
# 11 Straight Long Hairstyle
Brad Pitt only wears the straight long hairstyle occasionally, but when he does, he looks gorgeous in it.
The aim of this type of style is to give the wearer a relaxed, casual look, and it involves long layers of hair that are jagged cut and left to fall to the shoulders to give the hairstyle a nice finish. It is ideal for medium and fine hair but will need trimming every month or so.
# 12 Short Wavy-Casual Look
This style aims at giving man a casual but cool look. It is best suited for men with heart, triangular, oval and round face shapes.
It has cut clipper sides and back with the top being jagged cut. It is also very easy to maintain. All you need to do is get regular trims and use some good product to hold and make the hair shinier.
# 13 The Classic Undercut
The classic undercut is an early 1900's hairstyle, but it is very popular among the youths nowadays. It also happens to be one of the best styles Brad Pitt has ever rocked.
However, in his version of the undercut the sides and back are not left as short as in other undercuts but one could still see it is an undercut.
Brad also combines his classic undercut style with a side part for an elegant look. Few other male celebrities can pull this look as good as he does.
# 14 Short Messy Style
Short messy hair is a great style especially when you want to wear a casual look and Brad likes to wear it from time to time. He wore this cut in Oceans 11, and he looked pretty good in it.
The messy short style involves trimming the hairs in a uniform size with the front hairs being made slightly longer than the back and sides. The hair is then made messy with the fingers, and a styling product is used to hold the style for longer.
# 15 Short Straight – Casual
The short casual straight style that Brad wears often proves that he is the undisputed king of versatility when it comes to hair styling.
The sides and back in this style are cut short then blended in with the jagged cut top part. For this style, all you need is a little molding cream or gel to control and hold the style in place.
# 16 Short Straight – Formal Look
This style is perfect for any occasion. The idea behind it is to look nice and neat. In this style, Brad has the sides smoothed back up.
The area around the ears is also made smooth to give the hair edges a clean finish. The top should also be left long to make it easy to comb back for a formal look.
# 17 Short Spikes
Brad Pitt has worn the spiky short hair on many occasions, but the most famous one is when he wore it in the movie Fight Club.
Although this cut was more famous in the 90's if you consider how good he looked in the short spikes, then he would still stand out today with the same style.
In this style, the short spikes are left in the top section of the hair while the sides and back were trimmed and swept to the sides.
# 18 The Buzz Cut
Buzz cuts are easy styles to wear as all one needs to do it is to cut the hair very close to the scalp. However, not every man can look great in the buzz cut but as usual, Brad manages to pull this look when he wore it on Oceans 11.
What makes him look great in a buzz cut is his face shape and hair texture. This cut needs almost no maintenance at all, and so it would be suitable for men who do not like spending many minutes each morning on the mirror working on their hair.
# 19 Feathered Look Long Hairstyle
In this style, the long hair is jagged cut to give a man a light and feathered look. It is a style that is best suited for men with fine and medium hair that like casual hairstyles.
This style should also be worn by men with round faces as it looks best on them. Regular trims are necessary to prevent split ends, and some products will be needed to hold and give the hair some shine.
# 20 Brad Pitt's Pompadour
Brad's closely shaved pompadour is a hairstyle that you are likely to see more on the streets because he is a trendsetter and his fans are always waiting for him to come up with a style they can copy.
The cut in this style leaves, at least, two inches of hair in the crown. This makes it possible for the hair to be brushed back. Sides are blade shaved while the back has a much softer fade.
Styling gel is applied to wet the hair, and then it is brushed back with a comb then it is air dried to finish the look.
# 21 Medium Length Slicked Back
Even if you were to lawnmower Brad Pitt's hair, he would still look good. The medium hair length slicked back that he wore in the movie Troy proves this.
In this film all, he had to do with his hair is to comb it backward without doing anything else. The only other notable thing in this style is the blonde hair color but even without this, he would probably still look great in the hairstyle.
# 22 Short with Tapered Sides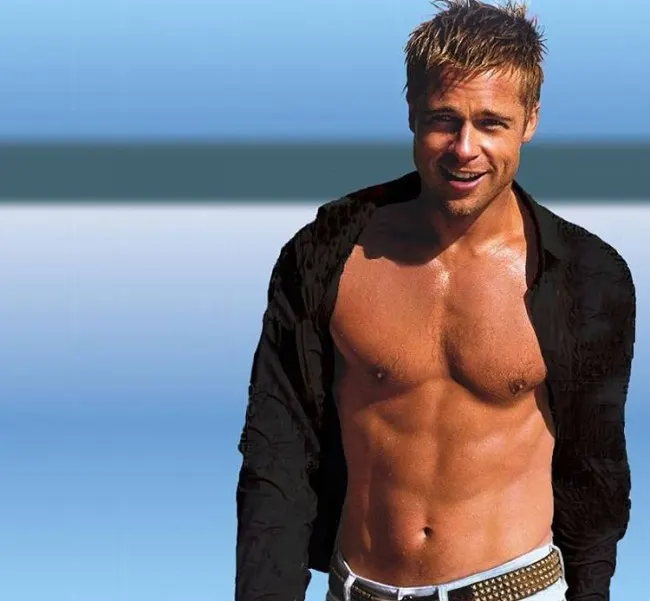 This is a very basic haircut that Brad wore to the opening night screening of "Oceans 13" in Vegas. In this style, the hair is tapered into a longer top part while the sides are chipped in for a textured finish.
It is an incredible style for guys with thinning hair as it can add some volume to their hair and it suits most face shapes including oblong and square.
# 23 The Fury Hairstyle
The style that Brad Pitt wore in "The Fury" is one of the most sought after celebrity hairstyles. This cut is so popular that it has even been nicknamed the "Fury Hairstyle".
Fury hairstyle is a variation of the World War 2 undercut. What makes it different from other undercuts is that it is less conservative than other undercuts and hair stylists and experts have described it as an extreme undercut.
To get the cut all, you need to do is to go extreme with your undercut and maintain a proper length at the top.
# 24 The Blonde Pitt
A few years ago Brad Pitt decided to go all blonde with his hair. It was during a time when he had a wavy long hair and so to spice things up he dyed it blonde.
Blonde is a naturally occurring hair color, but it looks best on men with thick, voluminous hair such as Brad Pitt's and so you can tell that he knew he would look good even before trying this style. He then paired it with a well-kept beard for an eye-catching look.
# 25 Borderline Mullet
The borderline mullet is one of the most requested hairstyles of all time, and so it was only fair for Brad Pitt to try it because he likes to experiment with hair.
However, unlike other styles he has worn in the past, this one does not go well with his hair type and facial features. The borderline mullet gives him a look that he should only wear for a role in a movie.
# 26 Waved Out
Brad Pitt was all waved out when he received his Golden Globe award in 1996. He paired this hairstyle with a nice suit to finish an elegant look that left people talking for weeks.
The short but very nice waves on his head made his hair look more textured and voluminous, and he had a slight and almost invisible part at the center of the head.
This slight parting gave some direction to the front waves while the back hair was also slightly slicked back.
# 27 The Man Bun
It is rare to see Brad in a man bun nowadays. He seems to have preferred having it in his younger years, but we will probably see him wear it again at some point in the near feature.
His simple man bun pulls the hair together just like any other bun, but he likes to tie his hairs into a bun at a lower position that the traditional man's buns.
# 28 Red Tone Brad
Hair colors are a good way to add some style and class to your hair, but the secret behind a good look is choosing the right color. Brad Pitt proved that this was true when he decided to go all red with a red hair tone.
This style looked fantastic on him especially given the fact that he had a short nicely trimmed hair that had a longer length on top. And his choice of red was also right because it was not too light and neither was it too dark.
# 29 Shampoo Commercial Coif
The shampoo coif that Brad had in 2012 shows that his hair styles just get better with age. The coif is very straightforward, and there is nothing very fancy about it, but it still makes him look good.
Its simplicity makes it an easy style to replicate, and all that you will need to wear this style is a long hair (at least shoulder length) and some quality shampoo.
# 30 Piecey Platinum
Piecey hair styles may be a little bit hard to wear compared to other styles, but if you get the style right, you will look outstanding. Brad's stylist seems to have got things right with his piecey hairstyles as it was nothing short of perfect.
To make the already good style even better, it is given a platinum color and a slight side part with the front hairs swept in opposite directions to finish a perfect piecey platinum look.
# 31 Brad's Side Part
What makes Brad Pitt one of the best-looking celebrities is the fact that he is not afraid to experiment with different things whether it is in his clothes or hairstyle.
In this style, he goes simply with a side part on a medium sized hair. The hair is then swept on one side to finish the side-part look.
# 32 The Slicked Back
Brad likes to slick back his hair even when wearing different styles but in this style, the slick back is the main style. The hair is trimmed to a medium length then some smoothing product is applied to it.
To finish the look, the hair slicked back with a brush. This style is suitable for all types of face shapes and medium to thick hair, but men with extended foreheads may not want to wear it as it will expose it more.
# 33 Relaxed Bob
Bobs do not only look good on women and Brad proved this when he wore a relaxed Bob in September 2011. The relaxed bob blended in well with his facial features.
The center hair parting and slick back in the style make his face look more symmetrical. And so this style will be suitable for men with oval, triangular and square face shape.
# 34 The Smooth Operator
Pitt pulled the smooth operator look back in 2004 and ever since then he has tried dozens of different hairstyles, but it remains to be one of his all-time best a decade later.
This style involves a side parted hair that is swept smoothly to the side. A good hair product has to be used to make the hair smooth. This is because smooth hair is the center of attraction in this style.
If you are thinking of wearing this style, then you should also maintain a proper length at the top.
# 35 Brad's Curly Hair
It's hard to tell what Brad natural hair looks like because every style that he wears looks natural on him, and so the curly hair is no exception.
Brad has worn the curly hair in two distinct ways. In the first style, he wore a long textured curly hair that had what looked like a side parting.
In the second style, the hair is shorter, and the sides and back are closely trimmed and a longer curly hair left at the top section of the head. In both styles, the superstar looked fantastic and, for this reason, many people have tried to copy the two styles.
# 36 Brush–Back Hairstyle
This is one of the simplest styles that Brad has worn over years. It involves a medium length hair that is brushed back with a comb.
What made this style more appealing on Brad's head is the appearances of some patches of the gray hairs on his head.
This style is suitable for men in their early fifties whose hair color has started to change due to age. To wear these style just keep medium hair length and comb it back.
# 37 The Clean Shave
The clean shave hair moment is about the beard and not the hair on Brad Pitt's head. What makes it an attractive hairstyle is the fact that it is rare to see Brad with a clean shaved beard and with not a single trace of hair on his face.
Lack of hair on his face helps to draw more attention to his hairstyles that in most cases are a neatly cut short hair.
# 38 Feathered Fringe
The feathered fringe is a fabulous hairstyle that makes the hair look and feel lighter. This medium length haircut involves a lot of scissors trimming especially at the back with the top hair being left long enough to cover the forehead all the way to the eyebrows.
A feathered fringe look is a more casual or outdoor look that Brad wore in 2010. It goes well with any hair type, but thick hairs will look better as they are easier to work with.
# 39 Brad's Manly Moustache Look
A mustache is a must have to complete a gentleman look at least according to men who like wearing one.
In late 2014 Brad Pitt pulled an impressive look with a manly mustache. His hair was nicely shaped into what looked like an incomplete pompadour while his face was cleanly shaved except for the manly mustache.
Although this look made Brad look older, he still looked good, and many fans probably copied the style.
# 40 The Flowing Locks
It's hard to picture Brad with any locks on his hair because even when he wears long hair, he likes to keep it flat and pull it into a man bun. However, a couple of years back he had some nice flowing locks.
Back in 1993 Brad had some luscious flowing locks and he looked nice in them especially given the fact that he also had a short well-trimmed beard to go with the locks.
# 41 Sophisticated Soul Patch
Few men can pull this look as good as Brad pulled it in May 2014. In this style, the hair is trimmed to a length that is just enough for the hair to slick back smoothly.
Some smoothing and styling product has to be used in the hair to make it hold for longer and to bring out the shine associated with this style.
# 42 Blond Tips
It is amazing how something small done correctly can totally change a hairstyle and hence changing your appearance.
Brad tried this idea with his short brush back hair in 2007. His brush back hair was just okay but not outstanding. What made the style stand out was the blond tips but they could hardly be noticed if one was not keen enough.
Looking at this style, you will know there is something special about it, but you will only notice the blonde tips if you look close enough.
# 43 The Massive Beard Look
In his quest to try different hairstyles Brad once tried the massive beard look for some time before getting rid of it.
His hair was a medium length slicked back that looked quite nice, but the massive and somewhat shaggy beard drew all the attention from his neat hair.
However, this style did not last as he was back to his traditional mullet within no time. Although some men look good with the massive beard, Brad Pitt is not one of them.
# 44 Sun-in/Mullet Combo
The current hair styles that Pitt likes to wear are long removed from what he used to rock in the 80's. In his younger years, he seems to have been a little conservative trying to go with the trend without overdoing his styles.
One of the most notable hairstyles that he used to wear was the Sun-in/mullet combo that would still look good if worn today. It is a medium length hairstyle that involves some skillful hair trimming and styling.
# 45 Brad's Fauxhawk
You would probably not expect Brad Pitt to wear this hairstyle these days, but he tried it at some point in the past in his younger years.
The faux hawk is a good haircut, and it suits most faces and hair types, but Brad always seems to add a spark to an already good style hence taking it to a whole new level.
His faux hawk looked incredible with his younger face and hair texture, but if he wore it today, he would probably also look quite good.
# 46 Highlighted Hairs
In early 2007 Brad had a spiky short hair with highlights. The highlights made a rather dull spiky haircut look extraordinary.
Brad must have known that his short spiky hair will not look that great, and so he decided to turn things around with some nicely done highlights.
His stylist got the highlights right starting from the choice of color to the pattern that the highlights adapted. Highlights can make any hair look great and so they can be a good idea for men who want to add some spice to their short hair.
# 47 The Angelic look
Brad Pitt pulled the angelic look in 2003 at the Golden Globes, and most people consider it as one of his best looks ever. He wore a medium length hair and had a cleanly shaved face.
What makes this look unique is that he went all natural with his hair. The hair was parted in the center then each of the two sections swept to the sides. The back was brushed back to complete what is described as the angelic look.
# 48 Semi-Bleached
Pitt still bleaches his hair occasionally, but he seems to prefer to semi-bleach it rather than bleach the full hair.
Semi-bleaching brings about a unique color contrast, and it looks good on medium lengths and short hairs. Side-parting the semi-bleached hair also adds some style and hence giving the wearer a simple but stylish hair.
# 49 The Daddy Look
Fatherhood comes with many changes, and Brad seems to have revolutionalized his hairstyles when he first became a daddy.
He started with side swept front hair but when he adapted to the role he became bolder and began experimenting with slightly different styles. He even wore a short spiky front style at some point in his early days as a father.
# 50 The Billy Idol
This is one of the more recent Brad Pitt hairstyles. It is a short blonde hairstyle with the sides tapered. This look is ideal for men who want to experiment with hair colors and are not willing to go all the way and try bright colors.
Since blonde is a naturally occurring color, it will not make you stand out but will get you looking good. Try this look if you have a thick hair texture and an oval or round face shape.
Idea # 51
Idea # 52
Idea # 53
Idea # 54
Idea # 55
Idea # 56
Idea # 57
Idea # 58
Idea # 59
Idea # 60
Idea # 61
Idea # 62
Idea # 63
Idea # 64
Idea # 65
Idea # 66
Idea # 67
Idea # 68
Idea # 69
Idea # 70
Brad Pitt hairstyles tell a story of the different phases of a man's life and just by looking at him you can tell a lot about his personality and the stage he is at in life.
However, you cannot take away the fact that he always seems to get it right no matter what style he chooses. And as long as he will be in the limelight you should expect him to come up with even more interesting hairstyles.