Most men experience thinning hair as they age and it's nothing to be ashamed of. After all, everyone gets older and our bodies change. Even young men may suffer from thin hair so we have collected 85 transforming hairstyles for men of every age to try. Wave goodbye to thin locks!
# 1 Basic Medium Brush with Beard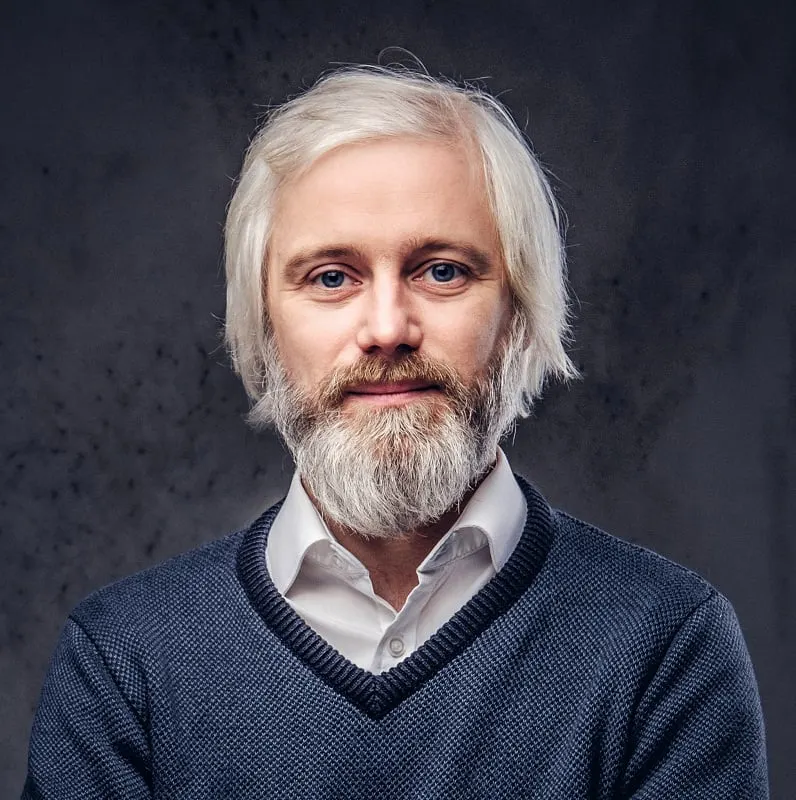 Hide the fact that your hair is thinning by ensuring your head is fully covered. Grow your hair long, past your ears, and leave it unstyled so it looks natural. Fill out the look with a thick beard to show your hair isn't thinning all over.
# 2 Forward Brushed Curls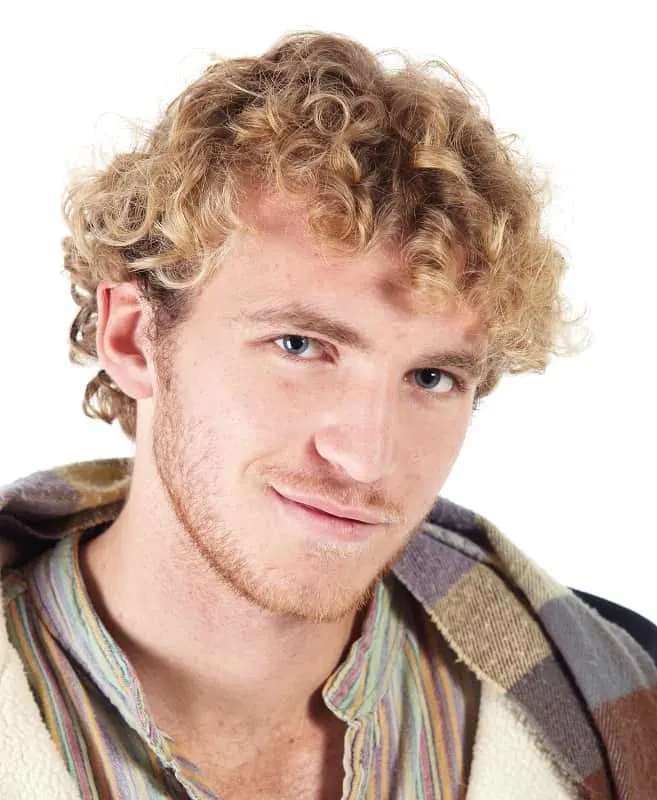 Curls add volume to all hair types. Consider getting a loose perm that you can brush over any areas where your hairline is receding – honestly, nobody will notice your thinning hair with this look.
# 3 Subtle Comb-Over
A comb-over is often obvious, but it's done right here. Have it so your hair combs over farther back, and leave a small amount to fall over your forehead to draw the eye away from the thinner hair.
# 4 Short Cropped with High Fade
There's no better way to hide thinning hair than to have less of it. Go ultra-short on top but textured enough to add interest. The high fade on the sides gets rid of thinning there entirely.
# 5 Side Sweep with Hard Part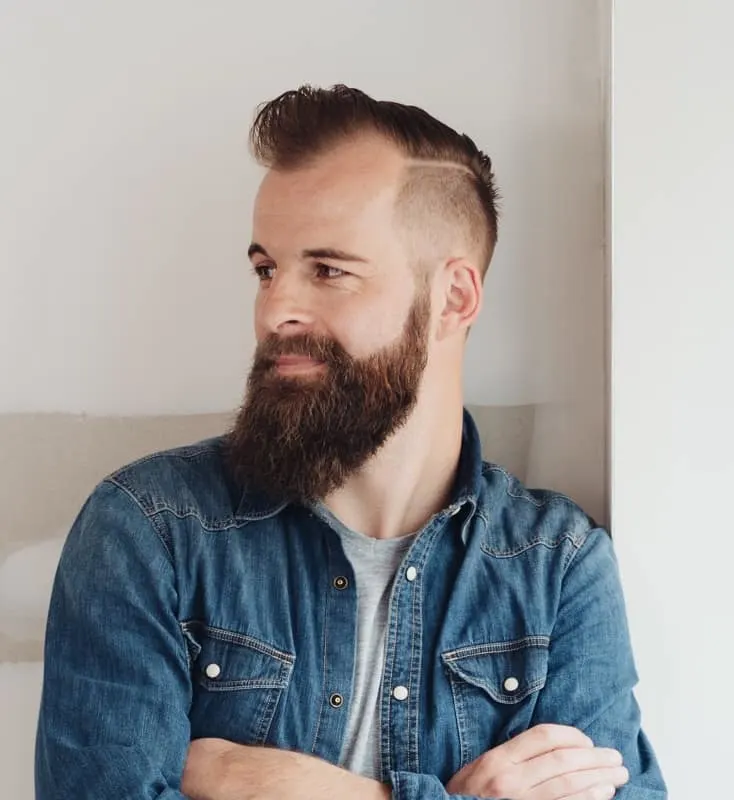 A hard parting makes it look like flashes of skin are a stylistic choice. Give the front of your hair some volume as you sweep it to one side, buzz a line into your parting and shave the sides to ease your worries.
# 6 Gently Spiked Forward Bangs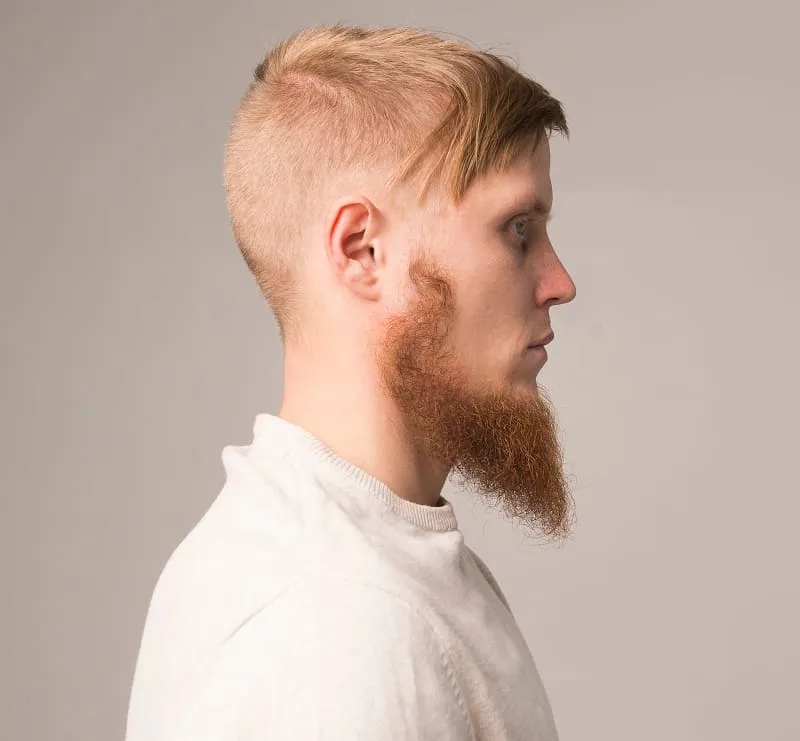 Go short with your hair growing longer from back to front, so you can gently spike it. Long bangs over the forehead keep the eyes off thinner areas.
# 7 Volume-Touched Small Quiff
Add some volume to thin hair by having a semi side-swept quiff with lots of gentle volume. Keep it textured enough and nobody will notice it's thinning.
# 8 Greased Backsweep
Greased hair looks thin no matter how thick it is. If you add grease and sweep all your hair back, keeping it relatively long, people will think the thin appearance is a style choice.
# 9 Messy Side Quiff
This quiff adds tons of volume so the hair appears thicker than it is. Adding more texture to make it look full, a slightly messy look towards the back keeps the hair dynamic.
# 10 Slick Pompadour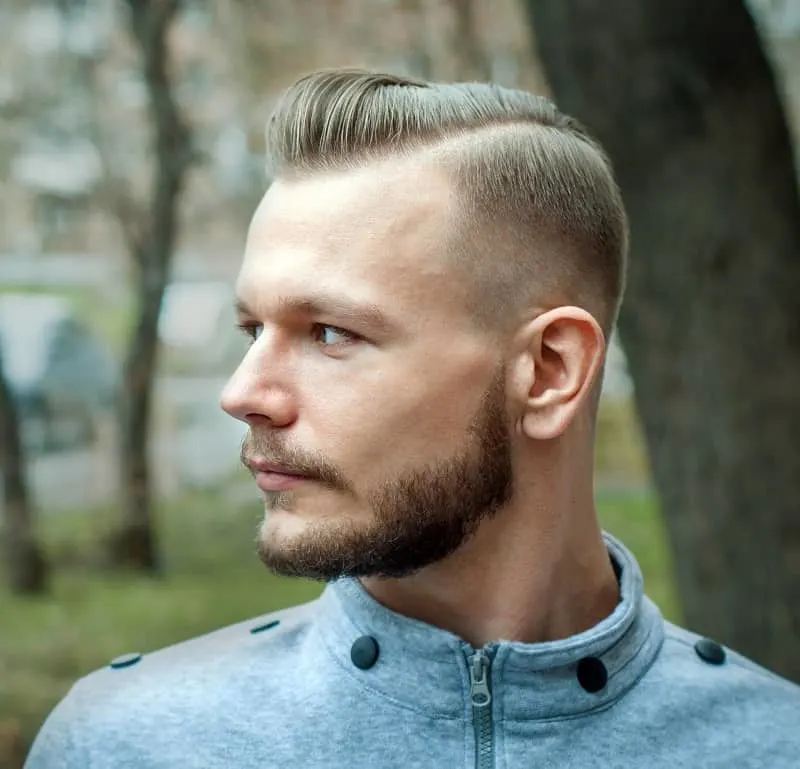 A pompadour adds tons of volume, so give yourself a side-rolled pompadour with a fade on the sides. Fades are naturally light so people can't tell your hair is really thinning.
# 11 Faded Sides And Spiked Pompadour
It sounds elementary, but if your hair is thinning on the sides why not choose a razor fade to draw attention away from it? In this picture, the fade out draws attention to upper locks which have been styled in smart pompadour-inspired brush up with spiky tips.
# 12 Temple Fade
Temple fades like this can work well to cover up receding or faded hairlines. This medium length side comb over has been given a modern twist with a razor fade alongside a high parting.
# 13 Tapered Back Comb
Some men start to experience hair thinning as early as their late twenties and they need a hairstyle that covers the problem while still looking youthful.
In this hairstyle volume has been created with a tapered back-comb that curves up, drawing attention away from the problem areas.
# 14 Leo's Brush Over
Even Academy award winners can't stop the aging process but they have found styles to cheat it. In this picture Leonardo DiCaprio has a high side parting, with a rounded shape; this allows for more length to compensate for thinning.
# 15 Eye Magic
This look has all the elements needed to create a flattering hairstyle for an older gentleman. Height is created on the upper locks and eyes are drawn into the thickest section of hair by a ruler straight, high side parting.
The beard helps balance this look and the graded undercut gives it a trendy edge.
# 16 Curl Champ
If you have naturally curly hair then you already have a step up on thinning hair. The bounce and volume created by well-positioned curls helps smooth out thinner sections. Give it structure by adding a brushed up front portion.
# 17 Smooth Brush Back
If you have problem areas around the sides of your head why not opt for a slick brush back like this with tapered sides? It draws the eye back and covers imperfections like a charm.
# 18 Silver Fox
Gray locks are everywhere and people are clamoring to achieve them so don't be afraid to wear your natural salt and pepper hair. Give it a modern twist by choosing an on trend hairstyle like this with high sides and lift in the front.
# 19 Two-Step Undercut
Dapper hairstyles are a top choice for stylish guys and if you have thinning hair it's no problem. Here a two-step undercut tidies up patchy sides and the front flip draws attention upward.
# 20 Blonde Brush Back
In this picture, the hair has been cut into a step style at the back with longer locks on top. These have been swept back, but not slicked down so they create volume to combat thinness.
Adding in ash blonde streaks (or any light color) also helps add dimension and body.
# 21 Flattering Choppy Sides
Getting older doesn't need to mean losing your looks – you just need to find flattering styles. We love the distinguished look of these choppy brushed back sides and pompadour-inspired lift in front.
A thicker cut on the sides showcases the hairs condition – perfect for smoothing out areas with thinner hair.
# 22 Counter Effect
When your hair starts to thin you need a cut with texture to counter the effect. In this example, chunky snips throughout the upper hair add plenty of volume and are offset by the neatly tapered sides.
# 23 Flow Back
Men's hair generally starts to thin along the sides first and that's why this type of skin fade is perfect if you are feeling a little self-conscious. Draw attention upwards by adding a flowing coif over the top.
# 24 Turn Up The Volume
Finger combing and tousling your upper locks will help disguise problem areas, but be sure to finish it off with a holding product so you can maintain it all day.
Team your look with short sides that connect into your facial hair to balance the style.
# 25 Beckham Knows Best
Thin hair? What thin hair? David's beard helps balance his pompadour-inspired rise on the upper locks. A short off center parting has been used to add structure and a neatly graded fade extends down into the neck.
# 26 Vintage Duck Tails
The ducktails of the 90's are back, but this time, they are slightly different. In this example, the razor undercut has shaped the hair into a V-shape at the back and the front hair has been slicked down and swept back.
# 27 Making Waves
Curly quiffs are cool and sexy, perfect for relaxed weekend looks. Get awesome curled up front locks like these by blow drying and keeping the sides slightly shorter. You can also finish it off by joining the sideburns to the beard in a neat line.
# 28 Comb Over Precision
Perfect for thinning hair around the temples this haircut cleverly uses angular lines as a base. The hard parting draws attention to the finely combed brush up on one side and a precise razor fade on the other.
# 29 Going Up
Just because your sides are thinning that doesn't mean you need to lose your long locks completely. In this picture, the upper hair is medium length and has been combed up to create height with a lock gently curled over.
# 30 Daring Disconnection
Young men can also suffer from thinning hair and that's no reason to have an out of date hairstyle. Funky modern styles like the one you see here add plenty of volume by providing height and lift with disconnected waves.
# 31 Retro Mohawk
Age is just a number! Even older gentlemen can be trendy with the right hairstyle. If you feel bold why not try this take on a Mohawk? Here the uppermost hair has been grown out and brushed up and to the side rather than straight up.
# 32 Just Concentrate
Mushroom cuts create a thicker concentration of hair on top which is just what thinner hair needs. Team these locks with sparse sides to provide contrast.
# 33 Blonde Streaks
If your hair is starting to thin above the temples you need a hairstyle that will draw the eye up. In this example, the blonde streaks that stretch back from the front move the eye quickly towards the back, glossing over imperfections.
# 34 On The Side
In this style, a messy side parting gently divides the hair and shows off the soft slope of the undercut and the bouncing locks on the uppermost hair. Destructured partings and finger combing quickly bring any hairstyle up to date.
# 35 Currently Trending
Side-swept locks and high sides are the bases for this type of modern dapper style. There is more movement in the front in a pompadour fashion and the high undercut keeps it current.
# 36 Fade Is Your Friend
This is another example of how a good haircut can banish all signs of thinning hair; especially along the temple line.
This cut takes advantage of the sparse sides by cutting them into a razor fade allowing the hair to appear to thicker toward the back. He's teamed it with a chunky flip over fringe for maximum effect.
# 37 Lining Up
Sharp sloping partings like this one work well for men with long faces. Here we see it worn with a skillfully tapered undercut that starts high on the head. The front section has been styled in a slicked back coif with volume in front.
# 38 Density Illusion
Severely scraped back hair can highlight thinning areas, but there are ways to wear slicked back hair even if this is your problem. By giving this hairstyle lift in front by finely combing up and back you create the illusion of fullness.
# 39 Light Pompadour
Pompadour looks like the one he is wearing are a good choice for evening wear and light colors are more forgiving than dark ones. This blonde coif has been swept up and back and the sides are gently faded out.
# 40 Classy Coif
In this picture, the hair has been trimmed into a fade that runs from front to back, with the bulk of the volume over the front. The short sides and neat back make this a classy choice for any guy.
# 41 It's All In The Layers
When the hair is flipped over and back like this it creates an extra layer to bulk up thinner hair. The sides are also ultra-flattering – faded back with a disconnected parting. Add even more lift by adding layers on the upper locks.
# 42 Classically Cool
Classic cuts, like the one he is sporting, lift the eye up and through the hair. The bulk of the volume is concentrated over the front and shortens gradually to the back. This tapering off is smooth and ends with a step at the back.
# 43 The Side Fade
In this hairstyle, the hair on top has been left with plenty of length and given a stiff brush back. The sides provide tight contrast and tie the style into the beard.
# 44 Smooth It Over
Don't let thinning hair around your temples get you down. Let the front hair slick back and ask the stylist for some precision shading on the side. This smooths over empty patches like a dream.
# 45 Vintage Sleek
Retro 40's looks like you see here are fantastic for thin hair as they don't need thick locks to look make them suave. This haircut sports a razor-sharp parting worn high and slick combed over locks with a shiny finish. Wear it a pointed mustache to complete the look.
# 46 Tapered Mohawk
Thinning sides disappear in this trendy Mohawk themed hairstyle. Simply shave the thin hair away and leave a long section on the top. Instead of styling that hair straight over let it gently flip back like he has.
# 47 Walk The Line
What makes this haircut so appealing is the precision cut, angular lines all along the forehead and the beard. This detracts from the thin sections around the temples and draws the eyes back to the top locks.
# 48 All Business
For a really distinct, no-nonsense hairstyle try something like this. Angular lines on the side hide away thin sections and a smooth fade highlights the upper hair making it appear denser.
# 49 Texture Perfect
Here the uppermost hair has been texturized and styled up while from the crown down the hair gradually tapers off.
The sides also have a spiky finish over the disconnected parting. This style disguises thinning sides fantastically as the eye travels right over them and into the thicker sections.
# 50 Forward Brush and Flattering Edges
In this picture, the longer locks on top have been brushed forward from the crown and gently texturized to lift over the forehead. The sides are faded out which helps cover thinner layers and because there are no hard lines it's a smooth flattering hairstyle.
# 51 Wave Fade
The shortest part of this fade is between the temple and the ear, a common place for men to notice thinning hair. The fade blends longer toward the back and the top locks are brushed forward to fall on the face in a soft wave.
# 52 Use What You've Got
Wavy hair already has all the texture you need so copy this style and bulk the hair up on top with a skin fade running down to cover thin patches. Simply comb up and back and you'll be good to go.
# 53 Wide Partings
In this picture a wide hard parting capers at an angle. This is precisely cut and an excellent choice for balding temples. To the one side the hair has a neat undercut and on the other side, the locks have been finely combed to the side.
# 54 On The Line
Shaved in lines like these create a focal point and draw the eye back. Above and below the line the hair has been cut in a two-step undercut and the top locks have been brushed forward from the crown with finger combing providing texture.
# 55 Modern Twist
This hair has been combed forward from the back and the front has been lifted in a pompadour style. He's wearing it with a modern disconnected parting and a smooth razor fade.
Thin hair can zap your confidence so take a lesson from these guys and find a style that helps you look your best. Once you identify your problem areas see what hairstyles there are to flatter it and you'll soon be feeling assured and outgoing again!
Idea # 56
Idea # 57
Idea # 58
Idea # 59
Idea # 60
Idea # 61
Idea # 62
Idea # 63
Idea # 64
Idea # 65
Idea # 66
Idea # 67
Idea # 68
Idea # 69
Idea # 70
Idea # 71
Idea # 72
Idea # 73
Idea # 74
Idea # 75
Idea # 76
Idea # 77
Idea # 78
Idea # 79
Idea # 80
Idea # 81
Idea # 82
Idea # 83
Idea # 84
Idea # 85