Justin is a style icon to millions; whether he is on stage, walking the red carpet or just spending time with this wife, Jessica Biel, he always looks great. That's because he takes time to attend to his appearance and ensures that his hair is always neatly styled.
Your hair is one of the first things people notice about you and Justin knows this. That's why whenever and wherever he's snapped by a camera, he's looking every bit the Hollywood star.
Here we have a look at some of Justin Timberlake's haircuts to draw inspiration and help us understand how he manages to pull off a sexy suave look with short hair all the time!
# 1 Classic Short Sweep
In this look, Justin keeps his hair short but with the longer top swept to the side. It's neat but not too sleek, creating a natural but well-groomed appearance.
# 2 Buzz with Beard
There's no denying Justin brings sexy back with a scruffy beard. To make this feature stand out, he keeps it thicker than his hair, which is buzzed down to an easy number 1 cut.
# 3 Finger Spikes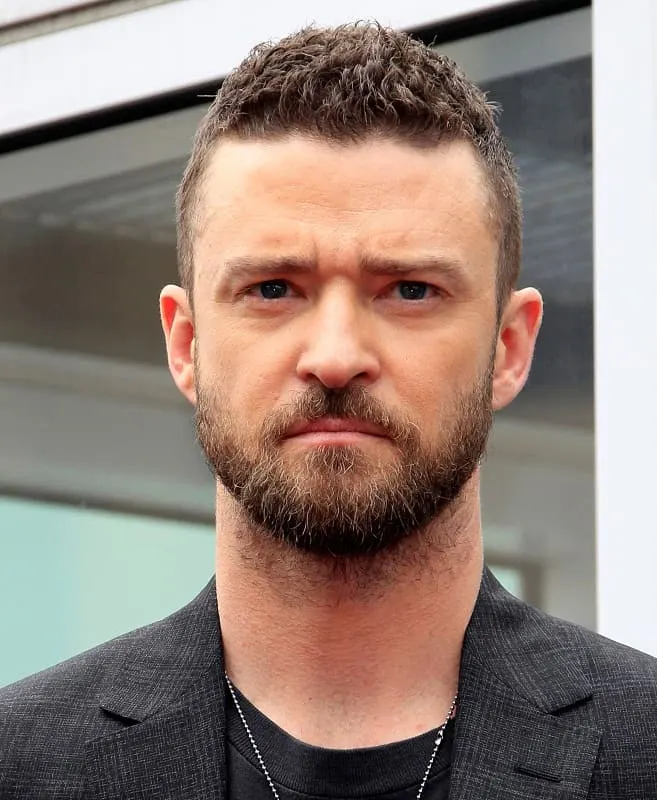 This is one of his more casual looks, great for the everyday guy. The short hair is neatly spiked but clearly done with fingers so it's textured and a little clumpy, providing a rugged and simplistic look.
# 4 Side Swept Fade
Justin goes for his classic side-swept look here, but with a fade that adds some interest. It's a sudden contrast from thick to a stubbly thin that matches his facial hair.
# 5 Long & Easy Side Sweep
For guys with a little more hair on top, once again Justin sweeps his hair to one side, clearly done with his fingers which adds a textured look. It's a steep sweep, so the long hair falls sideways rather than stands straight.
# 6 Informal Crew Cut
In this picture, Justin has chosen a closely clipped crew-cut which he wears with his natural hair color, a light fawn brown. The cut ties in with his beard and mustache and give him a warm relaxed look.
# 7 Paparazzi Pleaser
Here his hair has been trimmed on the sides and the shiny top hair has been left slightly longer. The side hair has been combed down while the top hair is styled up, giving his style lift. The texture is also slightly tousled as if finger combed.
# 8 Bringing Sexy Back in Warm Wood Tones
Here Justin's hair has been colored in a warm oak brown hue and given a sharp undercut. The longer hair on top is neatly slicked back but doesn't lie flat against the head.
# 9 Red Carpet Glamour
In this picture, Justin's hair has a darker base tone and what seems like a few well-placed sorrel colored highlights. A deep side parting has been added and the hair on either side has been brushed back.
# 10 Looking Suave with Brushed Back Locks
Here we can just see an off-center parting on the left-hand side. His dark brown hair has been blown out to give it a slight wave and height in the front. There is beautiful shine and the tone matches his neatly clipped beard.
# 11 Clean Cut Copper Hairstyle
In this picture we see, that Justin has dyed his hair an eye-catching copper color. There is a razor cut around the sides that have been neatly graded into the top hair, which is all neatly combed back.
# 12 Suit and Tie
Here his hair has been trimmed to an equal length all around and then teased to create some texture. The result is a hip style that is smart enough for an evening look.
# 13 Justin Loves Tousled Tops
In this picture, Justin sports a high mushroom cut in a hazel color. The top hair has been ruffled to create a pleasing lift and add interest to this look. The straight lines above his forehead work well to open his face.
# 14 Gold Waves
Golden waves of highlights over the front portion of the hair make this style look beach ready! The hairstyle sports a neatly blended undercut and wave texture in the longer top hair.
# 15 Touchable Curls
Here we see Justin with a head full of tight, teased curls – definitely, a fun laid back look. The base color is a dark walnut brown with beach blonde highlights that help add dimension.
# 16 Laid Back Locks
This is more natural look for him but still uber fashionable. Sorrel colored locks have been given a messy side parting, teased and combed up to form a small wave over the forehead.
# 17 Sleek and Sexy
In this enviable asymmetrical haircut, an undercut has been performed on the right-hand side while the left is clipped slightly shorter than the top hair. The dark top hair has then been slicked back and to the side with a wet look.
# 18 The Tamed Bedhead
Justin's hair is naturally curly and for this style, it has been cut short and finely tousled to fall slightly onto his forehead. The slight lift towards the back completes this tamed wavy do.
# 19 Spiky Pop
Here his hair is on the darker side and has been given a crew cut with light colored tips. The product has been used to give the hair a spiky texture and add height to his look.
# 20 Neat Sweep
In this picture, Justin's short back and sides have been perfectly blended into the longer hair on top. The hair has been lifted over the brow and swept back. The sleek, sharp shape created matches his clipped beard.
# 21 Smoking Short Cut
At first glance, this appears to be a simple brush cut, but if we look closer we can see that the style actually has sides that are slightly shorter. This buzz cut highlights his fantastic bone structure and bright eyes.
# 22 High Volume Top
Here Justin wears tapered short sides and long slicked back top hair, that has been brushed up to give it volume. It's a handsome look that ties in well with this short facial hair.
# 23 Luxurious Brown Bowl Cut
This deep brown color helps to accentuate Justin's blue eyes and smooth skin tone. The hair has neatly graded sides and is slightly longer on top but has been brushed to lie flat with a side parting.
# 24 Glorious Gold
Justin's hair is styled with a side parting and the top hair brushed back in a slightly wet look, with a few strands falling to the sides. The color is great – an amber hued base with glowing golden highlights.
# 25 Effortlessly Impressive
Here his hair is a deep earthy brown and has been given a short crew cut. Because of Justin's natural curls, this style has great texture and body. The result is a style that is effortless and low maintenance.
Idea # 26
Idea # 27
Idea # 28
Idea # 29
Idea # 30
Idea # 31
Idea # 32
Idea # 33
Idea # 34
Idea # 35
Idea # 36
Idea # 37
Idea # 38
Idea # 39
Idea # 40
Idea # 41
Idea # 42
Idea # 43
Idea # 44
Idea # 45
Idea # 46
Idea # 47
Idea # 48
Idea # 49
Idea # 50
What we've seen is that Justin favors the popular short back and sides look, but he varies it in different ways; such as adding texture, height and product.
While his hair is naturally light brown and curly, we often see him with straight, darker hair, which helps to make his blue eyes pop.
Although we sometimes see him in tousled styles he seems to prefer a sleeker look. Justin Timberlake's hairstyles can offer a lot of inspiration for the man looking for short styles that are still sexy.