Lionel Messi, also known as Leo, is a much-loved soccer star who plays for FC Barcelona. He is well known not only for his incredible athletic skills but also for his continuous work for charity.
Whether he is on or off the field Leo pays attention to his appearance and his hairstyles are always neat and on-trend. He favors short styles, especially ones with short sides and is often seen wearing comb-overs as well as bearded looks. Here are 50 of the best Messi haircuts:
# 1 Lightly Styled Spikes
Leo sports relatively long hair on top but needs it out of his face when in the game. Here he styles it in tall, textured spikes. They're imperfect but it creates a simple look with an easy-going vibe.
# 2 Elegant Swooping Quiff
Another style to keep his hair out of his face, this is more elegant and fit for a formal event. The quiff is tall, soft and uniform but with a few hairs falling across the forehead.
# 3 Side Swept Gelled Look
Here we see Leo off the field sporting an everyday look that also works for special occasions. The top hair is gelled to one side with a little volume left in. The sides stay short.
# 4 Textured Spikes
Leo certainly likes his spikes. If you do too, keep the sides short and the top long enough to style into some highly-textured, slightly ruffled spikes. It's a simple everyday style any guy can rock.
# 5 Fluffy Quiff
This is a soft-low effort style. The front is styled, sticking up in a gentle swoop, styled with gel. The sides are slightly longer here but still much shorter than the top.
# 6 Smart Casual
In this picture, Leo is wearing a smart casual hairstyle together with his suit. His hair has been brushed over on the side, but not slicked down so it still has a little volume. There is a low parting on the side with the hair combed down.
# 7 Trendy In Motion
Even when he is on the field he's always looking stylish! Here we see Lionel wearing a trendy cut with short hair on the back and the sides while the upper locks are slightly longer and have been brushed up and tousled.
# 8 Hair Revival
This is a throwback 60's style and Leo has the face to pull it off. The hair has been parted naturally around the crown and scissor cut around the edges and the ears to give the look texture. The hair was also left slightly longer at the back, just touching the collar.
# 9 Lionel's A Winner
He's used to winning games and here he also sports a winning hairdo! His locks have been brushed up and back creating a little lift over the forehead with the side hair brushed down.
# 10 Relaxed Look
Here we see Lionel relaxing on his yacht with a casual hairstyle – the hair has been separated by a high disconnected parting and the longer hair brushed over to the side. He's wearing a long stubble beard and moustache as well.
# 11 Razor Fade Sides
In this picture, he is wearing short graded sides that have been clipped high, together with a razor fade at the edges. The locks in front are slightly longer and have been combed up and back.
# 12 Everyday Dapper
Here Lionel is channeling a classic dapper look with his hair brushed back on the sides and on top. The style is sleek but with a little lift. This is a good look for a sportsman as it is suitable for everyday wear as well.
# 13 Texture Goals
In this look, Leo is wearing a razor fade on the sides with longer upper locks. This hair has been given a choppy, texturized cut and we can just see a disconnected parting on the left with a few strands falling on the brow.
# 14 Messing Partings
Here Lionel is wearing a style that is right on trend at the moment. His sides have been trimmed short and the top locks are longer with a slightly edgy cut. The sides are separated from the upper locks on both sides by disconnected, messy partings.
# 15 Razor Fade With Tousled Top Locks
In this picture, his hair has been cut with a distinct razor fade above the ears with longer hair in the upper section. The hair is tousled and falls over the razor trimmed sides.
# 16 Picture Perfect
Messi has to make sure that he always looks good for the camera – in this snap he's wearing his hair combed down on the sides with a high disconnected parting and a comb over with volume on top.
# 17 Brush Over
Here we see Leo wearing a bold brush over that has plenty of lift over the brow together with shortly trimmed sides and a messy parting on the left. A style like this is perfect for adding length to the face.
# 18 Rugged Messi
In this, more rugged look his hair has been given a texturized cut and neatly graded shorter along the sides. All the locks have been slicked back and he's also sporting a full medium short beard and moustache.
# 19 The Romantic
Leo smolders in this romantic feel hairstyle – his locks have a wavy, tousled finish and have been smoothed with a product. The sides have been trimmed slightly shorter than the top locks and neatly brushed back.
# 20 Style Icon
To match his super stylish jacket Lionel is wearing an equally stylish haircut. He has kept the sides short and gone for volume on top – with longer hair that has been given a choppy cut and then swept to the side.
# 21 Messi Messy
Here Leo is wearing a relaxed feel haircut, which is easy to maintain as well. The stylist has trimmed the sides short and used the longer top locks in a deep comb over from the messy side parting. This combed over hair has volume with the front strands brushing on his forehead.
# 22 Wet Look
In this picture, Lionel has a few strands which hang over his forehead with the rest of the locks on top have a choppy cut and are brushed roughly to the side. This wet look is easy to achieve by using the right product.
# 23 Short Score
Short sides keep hairstyles looking neat and for a busy person like Leo Messi, this is important. In this look, the sides and the back (up to the crown) have been snipped short, leaving a longer portion of hair in the area above the brow. This hair has a little volume and has been combed to the side.
# 24 Forward Brush
Here Leo is wearing his longer top locks brushed forward from the crown and brushed up in front while the sides and back have been clipped short.
# 25 Smart Crop
In this photo, Lionel is wearing a smart haircut with slightly texturized locks over the upper portion that has been neatly combed to the side.
# 26 2023 Latest Hairstyle – Long Top Short Sides
Idea # 27
Idea # 28
Idea # 29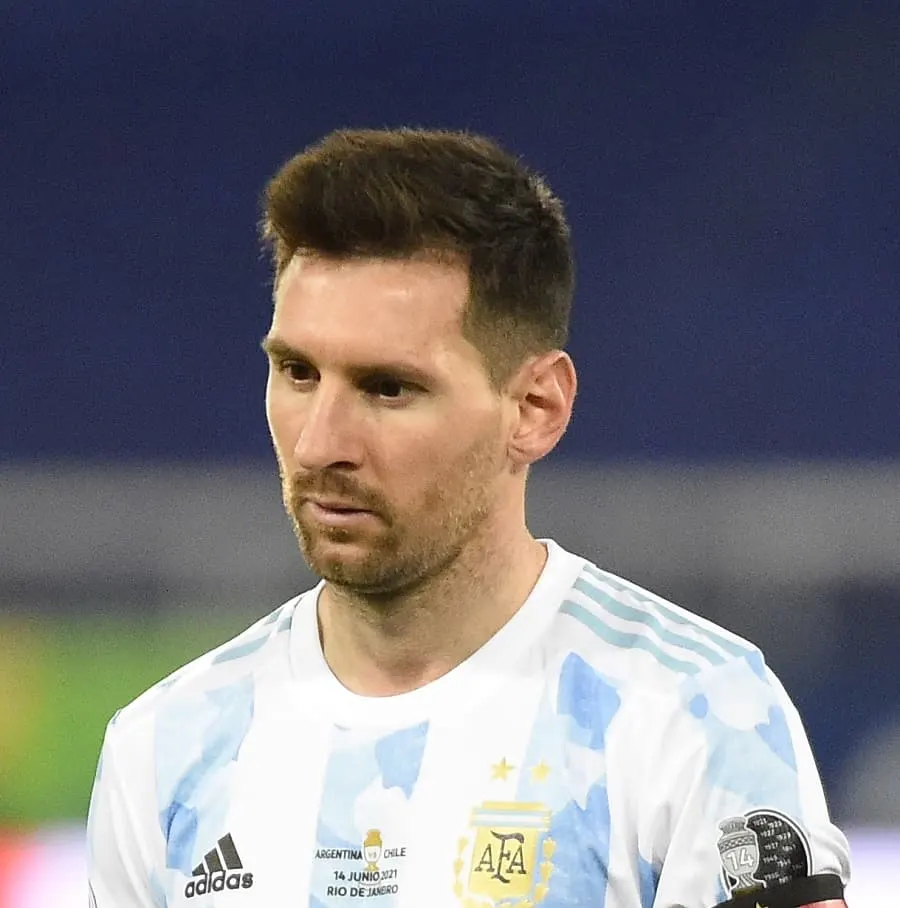 Idea # 30
Idea # 31
Idea # 32
Idea # 33
Idea # 34
Idea # 35
Idea # 36
Idea # 37
Idea # 38
Idea # 39
Idea # 40
Idea # 41
Idea # 42
Idea # 43
Idea # 44
Idea # 45
Idea # 46
Idea # 47
Idea # 48
Idea # 49
Idea # 50
Messi knows what works for him and apart from small variations he tends to stick with short sides and longer hair on top.
These Messi haircuts are perfect not only for a sportsman but for any guy who is looking for styles that are on trend as well as being easy to maintain. So if you are looking for manageable styles why not try a Messi haircut next?