Stubble beards started to trend in 2023 and have only grown in popularity since then. For many men growing and shaping short, medium or long stubble is a good way to try out bearded looks before they take the time to grow their facial hair fully.
Other men prefer to keep their facial hair at stubble length as it suits their lifestyle better. We've collected 60 pictures of men with fantastic stubble beards:
# 1 Full Coverage with Hairless Mouth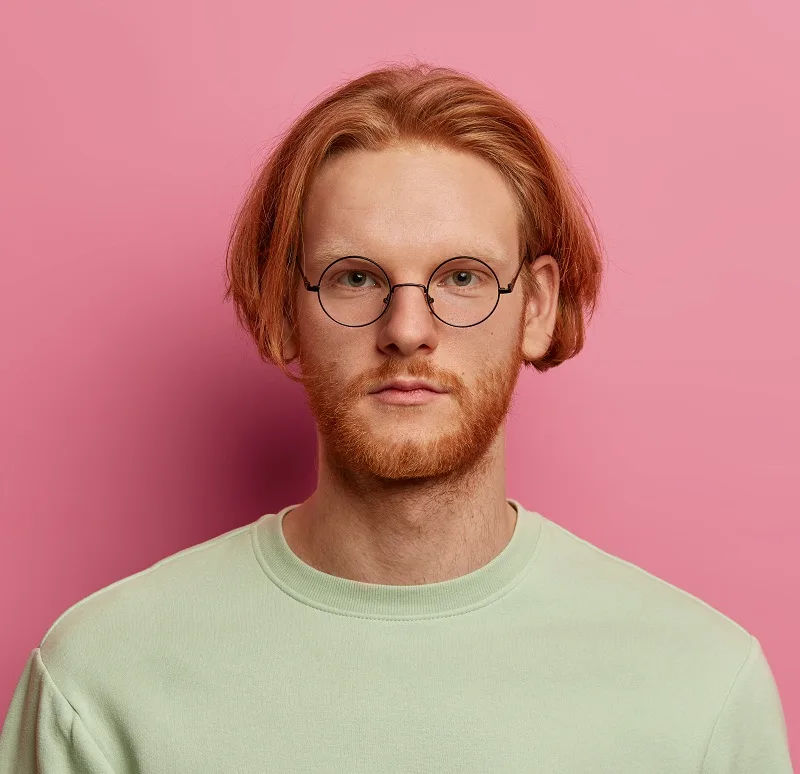 You use your mouth for tons of messy things, so you may not want hair there. This stubble beard keeps the area below the lips bald and lets the stubble grow out everywhere else.
# 2 Salt & Pepper Scruff
For older guys taking pride in their salt and pepper coloring, grow out your beard into stubbly scruff but keep your neck clean to avoid a haggard appearance.
# 3 Dark & Smooth
Another longer stubble beard, this one keeps things neat and trim where the stubble is clearly treated with beard conditioner to achieve a soft look. Keep the neck hairless to keep things neat.
# 4 Sparse Scratchy Stubble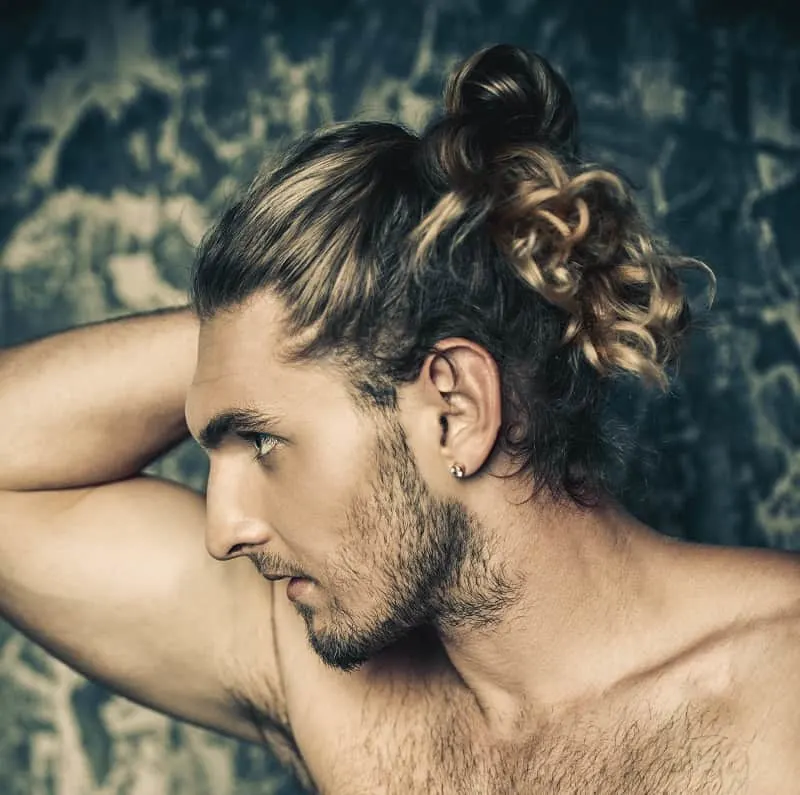 Here's a look for guys with thinner facial hair. A few days of growth and you've got yourself a stubbly beard from sideburns to neck, thicker around the jaw than on the cheeks. It makes for an edgy and desirable look.
# 5 Stubble & Stache
With this look, the mustache is kept thick and trimmed while the rest of the face and neck is covered in a light layer of stubble. It's an excellent way to de-age a 'stache typically seen on older guys.
# 6 Soften Hard Lines
A little bit of facial hair can go a long way to help soften long and angular faces. This model is wearing a medium length stubble beard and moustache as well as a small soul patch.
# 7 Short Sides With Medium Length In Front
Feel free to mix up different lengths in your beard to add depth and contrast. This guy is keeping the sides of beard short to feed into his undercut on top.
Over the chin, the hair is longer and has been trimmed into a pleasing round shape.
# 8 Character Beard
This model has teamed four-day growth with an established bushy moustache. If you want to replicate this style make sure you keep the neck clean and the moustache clipped just above the lip.
# 9 Clean Lines
A stubble beard may look easy, but it does require upkeep. Make sure you keep the sides and neck clean and neatly shaped like this guy and use good beard oil.
# 10 Narrow Beard
In this picture, the short beard is being maintained in a thin passage from sideburn to sideburn. He's added a handlebar moustache to balance this look.
# 11 Long Beard
Bristle beards are the last stage of stubble, and they provide a strong, masculine look. Chris Evans is wearing his long stubble thick and full together with a moustache.
# 12 Chin Whiskers
Here Chris Evans has clean shaven sides and is maintaining a stubble beard only on the chin. He is wearing a short moustache as well, which reaches over the lips to join the beard below.
# 13 Rugged Look
If you want a more rugged looking beard, allow it to grow out all around and keep it bristle short. This model has a day's growth around the neck as well, which adds to the rough feel.
# 14 Try It Out
Stubble looks like this are great for men who usually shave and want to try out a bearded style. Just let your hair grow out for a few days and trim it into a neat shape.
He has shaped his beard by shaving the sides of the chin and creating pleasing lines on the side.
# 15 Vary The Length
This gentleman is keeping his stubble facial hair looking stylish using two different lengths. He has allowed the facial hair to grow slightly longer around the contours of his face.
This is a suitable look for a guy needing to disguise a patchy beard.
# 16 Jake's Medium Length Facial Hair
In this picture we see Jake Gyllenhaal sporting medium length stubble. He's wearing a thinner layer of hair on the neck and has added a short moustache as well.
# 17 Balance Beard
Here we see a long stubble beard being combined with an almost bald hairstyle. This facial hair works well to balance his look, and he has kept the neck and the area below the lips clean.
# 18 Work Of Art
Turn your facial hair into art! This guy has trimmed his stubble into precise lines along the cheeks and he is wearing a short, narrow moustache while a tuft under the chin is slightly lengthier.
# 19 Scruffy But Sexy
In this picture, the hair along the cheeks and above the lip is at the short stubble stage while there is a longer patch of hair just under the chin and jaw.
# 20 Long Live Beards
From this angle is it easy to see the neat lines and shaping that this long stubble beard has received. Notice the curved line along the cheek and below the chin.
# 21 Bushy Chin With Short Sides
In this picture, the model is sporting stubble along his cheek line while the hair over the chin is longer and bushier. He's added a soul patch and a thin, short moustache.
# 22 Pro Beard
If you are not yet ready for a full beard this is a fantastic style for you to try. By keeping the sides of his medium length stubble beard clean he has created a smart, professional look.
# 23 Stubble Layers
Here you can see that he initially grew a beard that stretched from one side to the other along the jawline and he has now added a stubble layer to the cheeks, neck, and moustache area.
# 24 Jamie's Long Growth
In this picture, Fifty Shades of Grey star, Jamie Dornan, is wearing a long stubble beard that has just been trimmed under the lip but allowed to grow out a little in the neck.
# 25 First Class Facial Hair
In this picture, the model has the start of stubble all along the sides while his moustache and chin are covered in a slightly longer layer of facial hair.
# 26 Line Up
This model has smartly matched the straight lines of his hairstyle with his facial hair. He is wearing a layer of precisely shaped facial hair along the sides of this face and above the lip, and there is a small patch of longer hair on the tip of the chin.
# 27 New Beard
This guy is just embarking on a new growth beard or maybe he's just trying it out. Either way, this light layer of new growth is definitely looking good!
# 28 Golden Beard
In this photo, Benedict Cumberbatch is wearing a medium length stubble beard around the chin and moustache while keeping the sides clear apart from a thin layer of facial hair.
# 29 New Beard Style
This model is sporting a short stubble beard just around the chin and moustache. He is keeping his neck and sides clear for a polished, put-together look.
Notice how the length of this facial hair ties in with this skin fade hairstyle as well.
# 30 Natural Look
In this more rugged look there is a thin layer of new growth on the neck while the beard is almost at a medium stubble length. The sides are shaped, but not severely and he has shaved alongside his soul patch to emphasise it.
Idea # 31
Idea # 32
Idea # 33
Idea # 34
Idea # 35
Idea # 36
Idea # 37
Idea # 38
Idea # 39
Idea # 40
Idea # 41
Idea # 42
Idea # 43
Idea # 44
Idea # 45
Idea # 46
Idea # 47
Idea # 48
Idea # 49
Idea # 50
Idea # 51
Idea # 52
Idea # 53
Idea # 54
Idea # 55
Idea # 56
Idea # 57
Idea # 58
Idea # 59
Idea # 60
Stubble beards are a look that almost any man can try and they work well to provide character and depth to any look.
Men who prefer neat lines could try severely shaped stubble and men wanting a rougher look can let the bristles grow free. As long as you are sporting a stubble beard you'll be right on trend!