60 Modern Variations of the Mohawk Fade – Be Creative and Have Fun
Few men if at all any can say no to a Mohawk fade as it gives them an easy way to look handsome. The Mohawk has been around for many decades but it never seems to go out of trend, and this is because of the regular updates with the introduction of a fade design being one of the most recent ones.
Whether you prefer something funky or a conservative gentleman look, you can still achieve it with this fantastic hairdo. And by looking through the gallery below you will get some ideas on how to create this elegant hairstyle.
# 1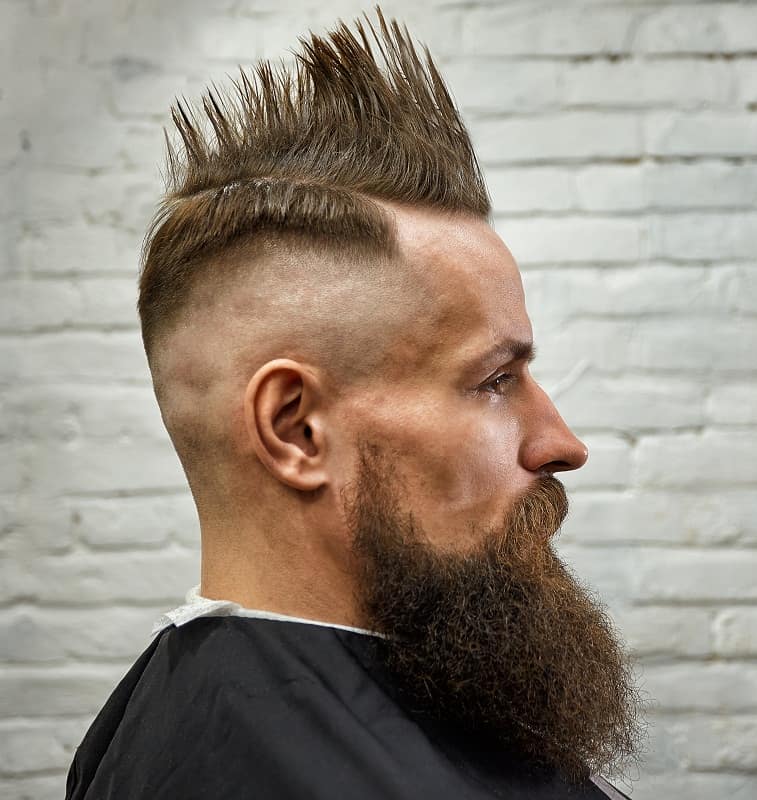 # 2
# 3
# 4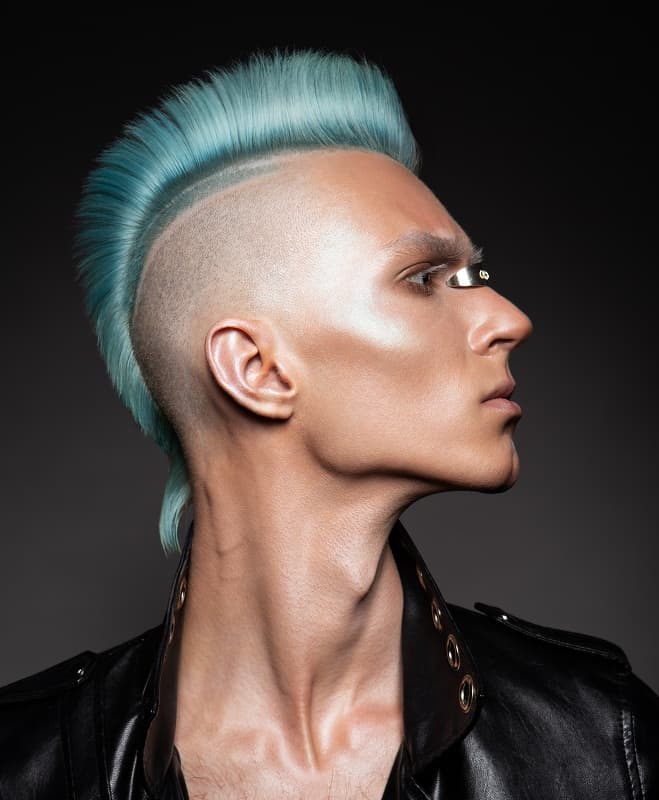 # 5
# 6
# 7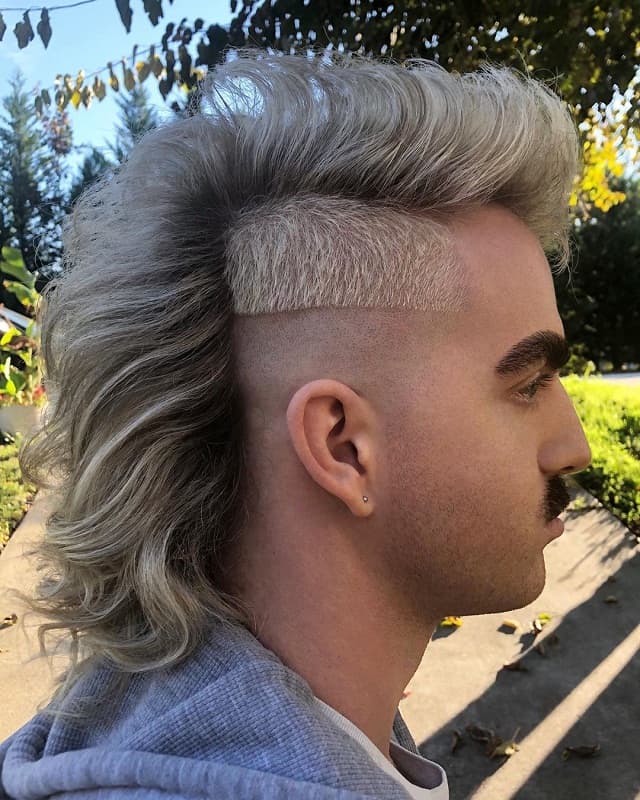 # 8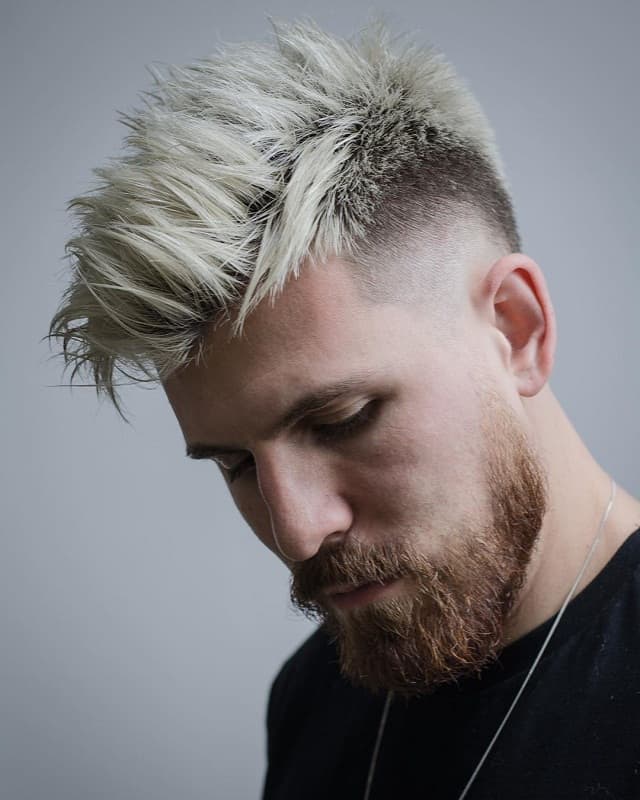 # 9
# 10
# 11 The Green Hawk
This hairdo has a beautiful spiky and messy design on the long chunky locks on the crown. These strands also have a beautiful green pastel but the fade on the sides is what makes this a unique haircut.
# 12 Smooth and Stacked Top with Buzzed Sides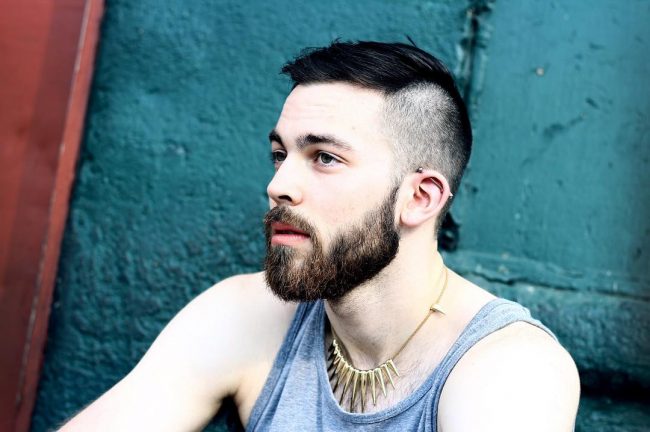 There are several ways of fading hair, and if you want to maintain an almost uniform size, then you should go with a buzzed design like the one on the sides of this headdress.
And if you combine this with smooth and slightly stacked locks on the crown you will look fantastic.
# 13 Voluminous Pompadour Bangs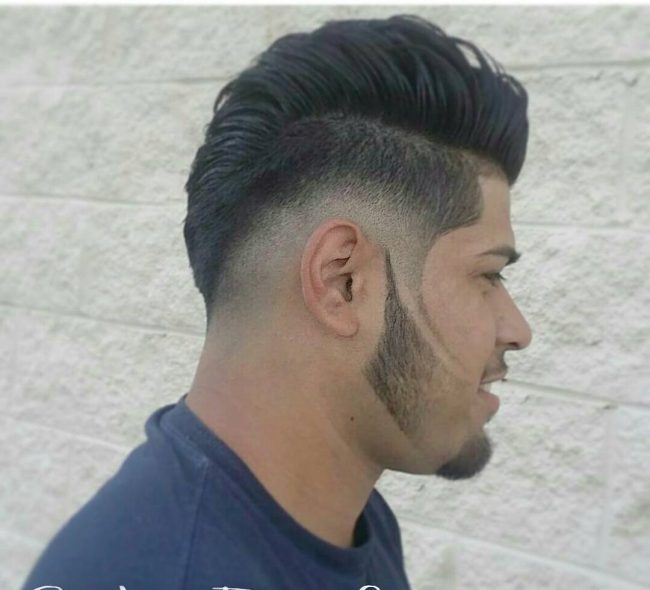 A pompadour may be a traditional headdress but if you give it a modern touch by texturizing the top locks and making them appear voluminous you will look very stunning.
And for styling you only need to layer the bangs slightly by pushing them to the back and finish it with a high fade on the sides.
# 14 Two Toned Mohawk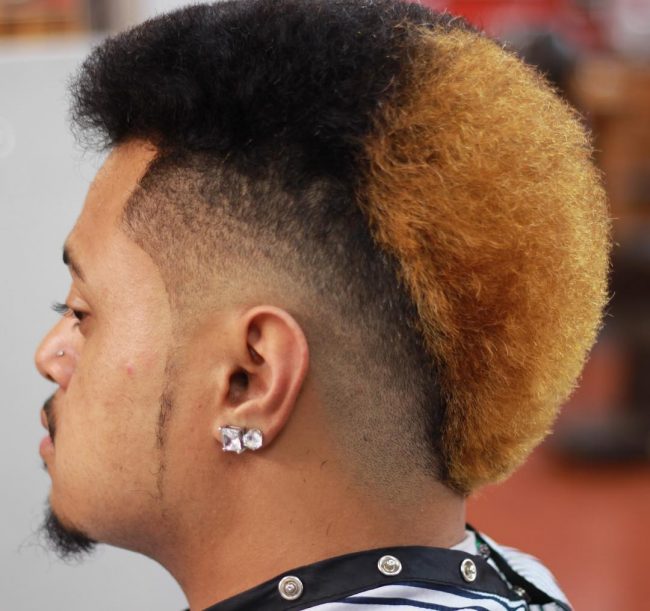 Some color can also help you create a refined look like this one. Here you only need a skin fade on the sides and afro textured middle to create a lovely Mohawk.
And to finish the style you should introduce a brown shade on the lower section of the hawk.
# 15 Spiky and Fun
Creating this headdress is fun and easy, and any man with a medium length can have it. It only entails leaving some spiky strands in the middle and a zero fade on the sides.
# 16 Faded and Lined Up Curls
If you have a naturally curly hair and would like to wear a beautiful Mohawk, then you should try this popular one.
And to create it you only need to have the curls in the middle of the head, fading on the sides and then finish with a regular line-up.
# 17 Textured Hawk with Zero Fade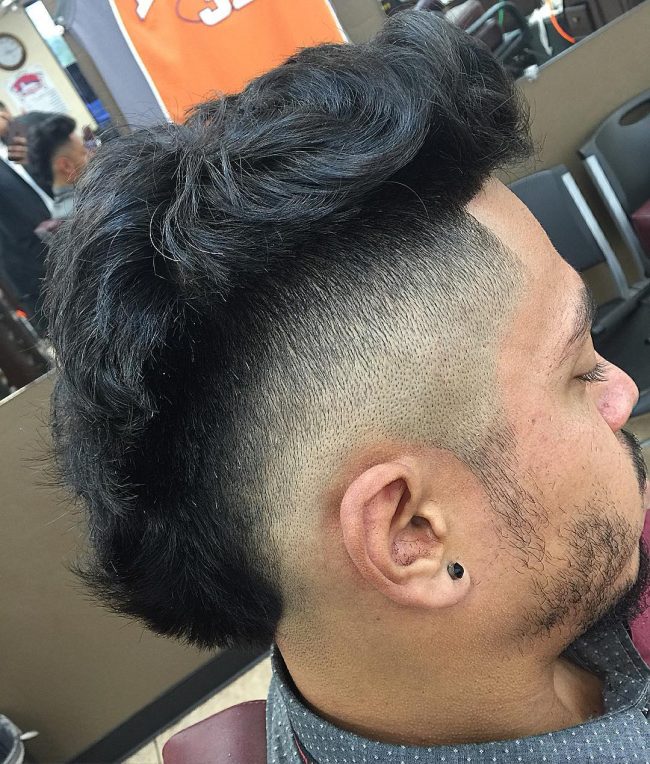 The volume and texture of the long locks on the crown are the first things that will catch your attention. However, the style would not be complete without the zero fade undercuts on the sides and the messy styling of the strands on top.
# 18 Mohawk with Sponge Curls
Sponge curls are perfect for African American hair due to its texture. Although they are charming, you still need a good cut to look trendy and in this style, this comes from fading the sides to create a polished Mohawk.
# 19 Edgy and Tapered Cut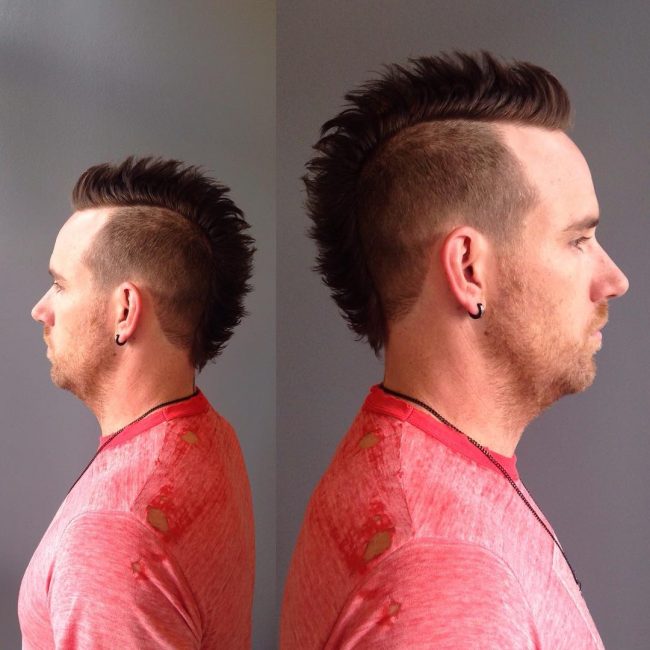 The short and upswept bangs in the middle of the head have an amazing texture that makes them look lovely, and if you pair them with some tapered sides, then you will look stunning.
# 20 Mid Fade Elegance
Although this design has some beautiful natural textured curly strands in the middle, the mid fade on the sides is what makes it look adorable because it helps create a very fashionable Mohawk.
# 21 High and Neat
This hairdo is a modern variation the traditional high and tight haircut. It entails making the sides short and leaving a tall and neat hair in the middle. And to spice up things further, you should also have a zero fade on the sides.
# 22 Fantastic Front Sweep and Tapering
A head-turning hairdo like this one will make a man stand out everywhere he goes. The style entails leaving some long textured and spiky strands on the crown and tapering the sides.
You should then style by sweeping the long strands frontwards.
# 23 Classic Tapered Fade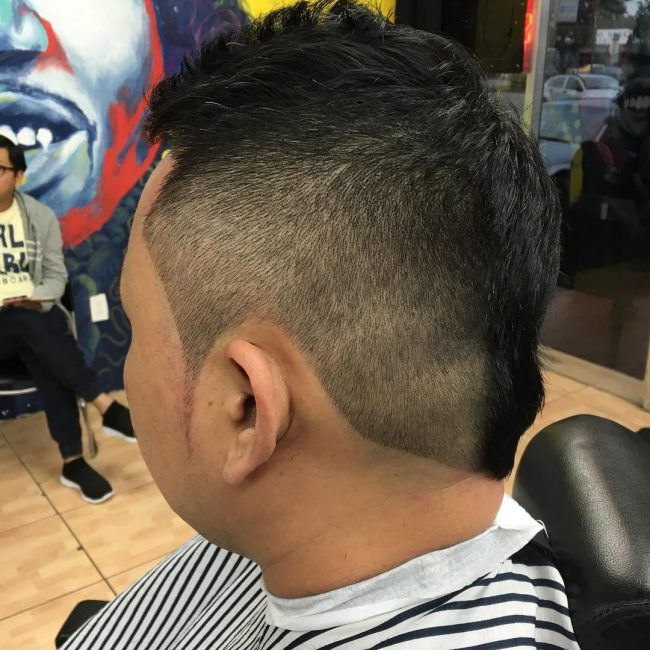 The elegance of this beautiful haircut is in the amazing taper fade on the sides that finishes with an excellent line-up.
However, the silky strands in the middle are also gorgeous thanks to their front-sweep styling and dazzling dark tone.
# 24 Punk Spikes and Tapering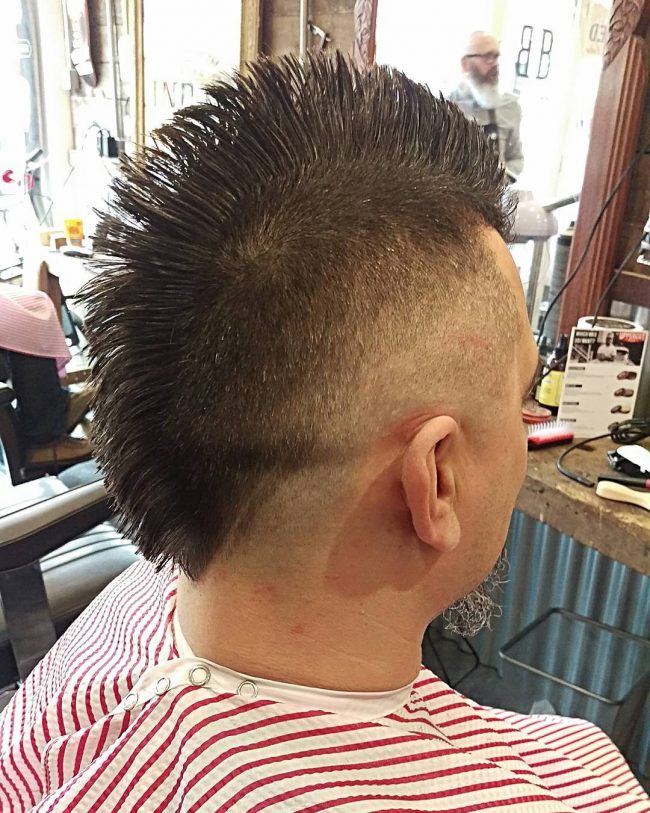 If you are looking for a unique and punk look, then you should try these spikes, but you will need a skilled barber to get them right. And if you finish them with tapering on the sides you will look magnificent.
# 25 Modern Pompadour Fade Cut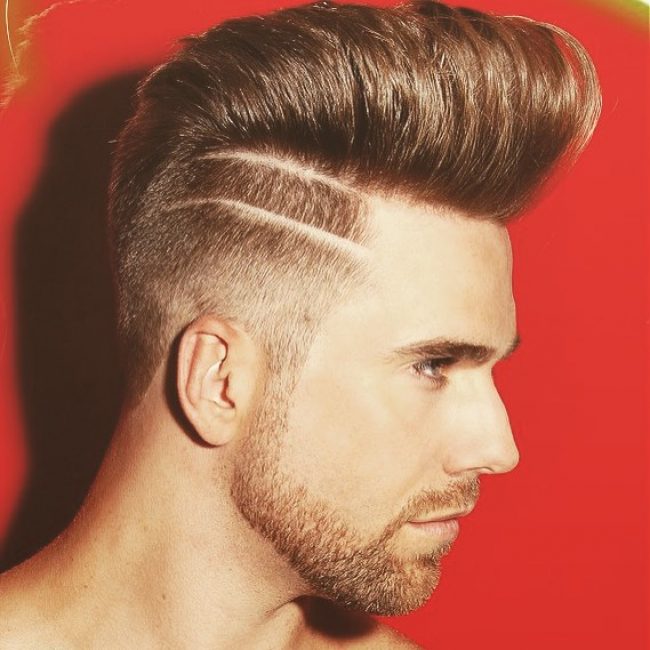 A pompadour can also give you a polished Mohawk fade, and it is perfect when you want to maintain a gentleman look. This one also has two part lines on the sides, but the highlight of the design is still the fade.
# 26 Silky Copper Brown Hairs with Undercut
Silky hair like this one will make a man feel great, and you can be sure that you will be the center of attraction everywhere you go.
Apart from the stylish copper brown strands the design also has a beautiful and smooth fade on the sides that makes it a gorgeous Mohawk.
# 27 Exotic Frohawk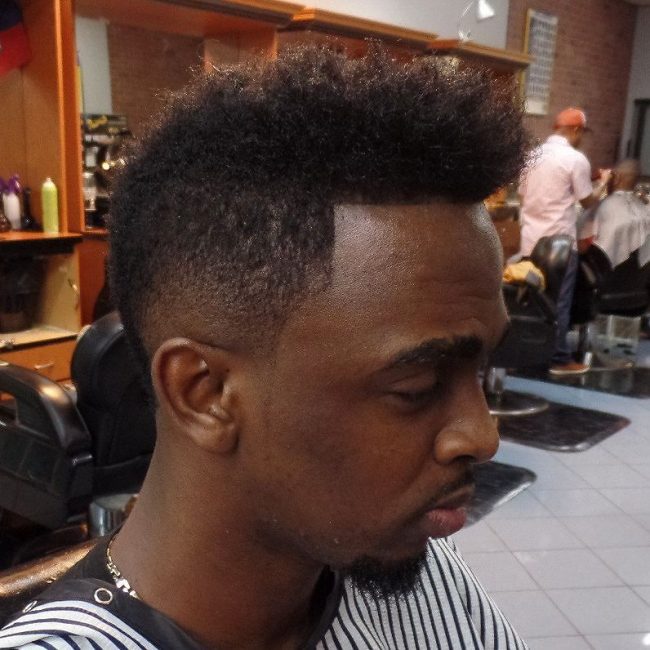 This style starts with an afro textured hair and to create this look you should give the strands a classic tapering on the sides and finish by making the long top messy.
# 28 Short Fancy Mohawk with a Sharp Fade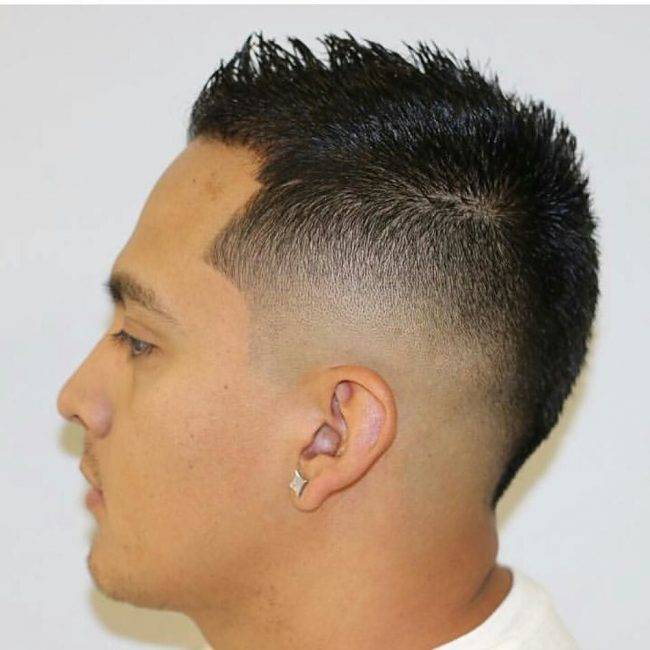 The shine on this hairdo is amazing, and you can have it by using the right hair products. Apart from this the design also has some elaborate short spikes and a sharp fade on the sides that helps to create a beautiful Mohawk.
# 29 Blonde Hawk with Side Designs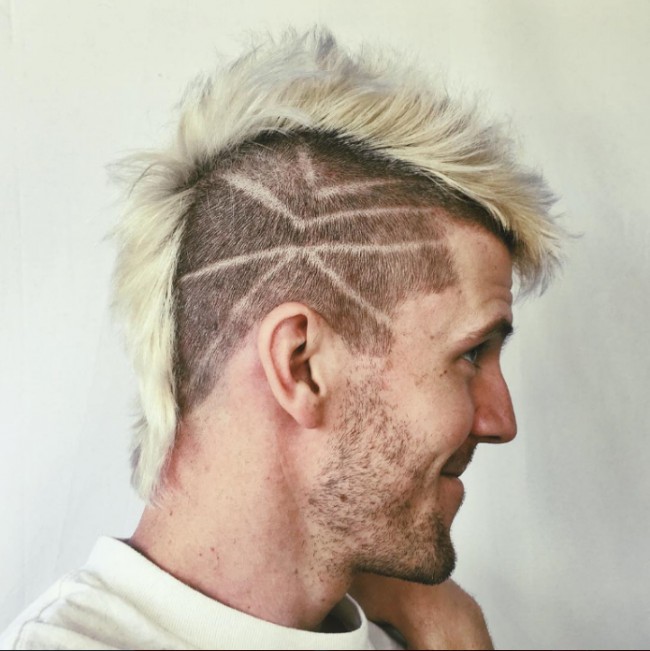 This design entails leaving some long feathered blonde locks in the middle of the head. You should then buzz the sides and finish the style by introducing some fancy razor lines.
# 30 Crispy and Curly Two Toned Mohawk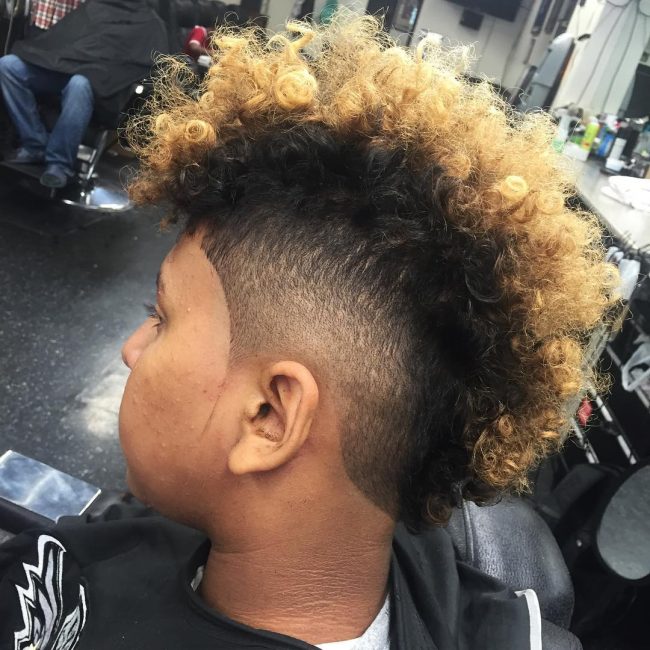 Nothing beats natural hair as you can never go wrong with any haircut provided you keep things simple. This style entails introducing a smooth fade on the sides of some full two-toned curly strands to create a startling punk appearance.
# 31 Textured V-Line with Zero Fade
Cutting your strands right is the only way you can create a fancy hairdo like this one. This style entails creating a v-line shape at the back and then giving the sides a beautiful zero fading.
# 32 Viking Look with Intricate Razor Lines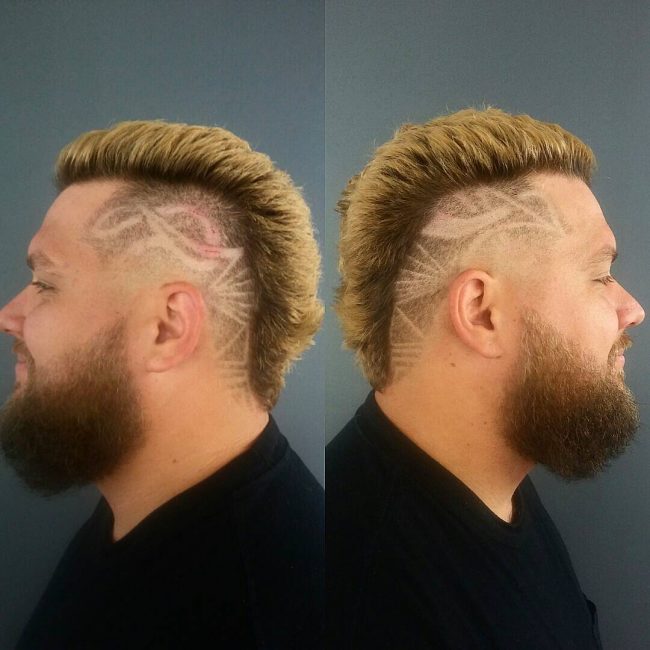 Viking looks are not just about having a massive beard because you can still make an adorable one with a beautiful Mohawk like this one.
And to make your hairdo trendy you only need to introduce some intricate razor line patterns on the sides.
# 33 Side Swept Band and Undercut
How you style the long strands in the middle will also determine how refined you will look. This design has some long textured bangs that you should style by side sweeping them over the smoothly faded undercut.
# 34 Wavy and Tapered Hawk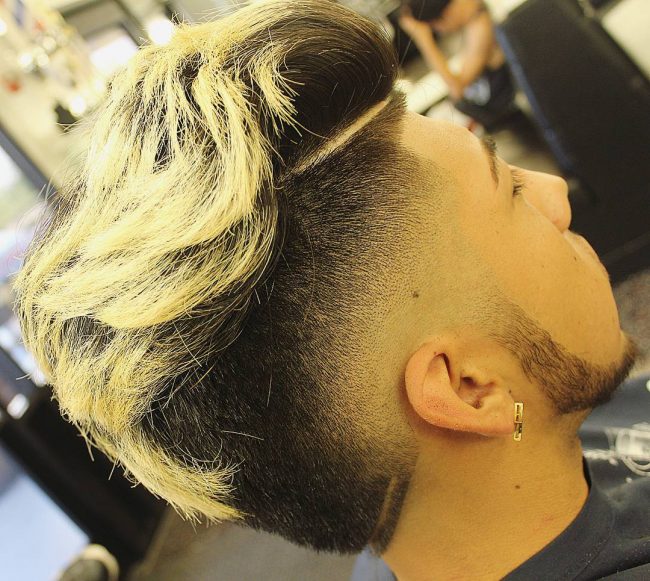 The feather light locks on the top section of this hairdo have an amazing texture and a blonde shade that creates a beautiful contrast with the natural black shade.
Apart from this the style also has an undercut on the side and a beautifully tapered cut that makes it look fabulous.
# 35 Short Natural Curls with Fade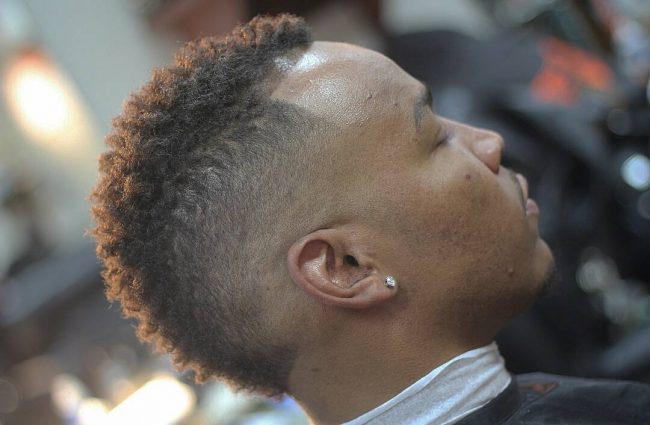 The central section of this beautiful haircut maintains natural curls that are less than an inch long. These curls are all the way from the nape of the neck to the hairline and to create the lovely Mohawk you only need a skin fade on the sides.
A Mohawk fade is the perfect haircut to turn to when you want something that will make you look trendy and elegant.
There are limitless styles that you can have, and they work for all hair types and if you are not sure of what to try out you should look through the above gallery of 25 hairdos for some inspiration.
Idea # 36
Idea # 37
Idea # 38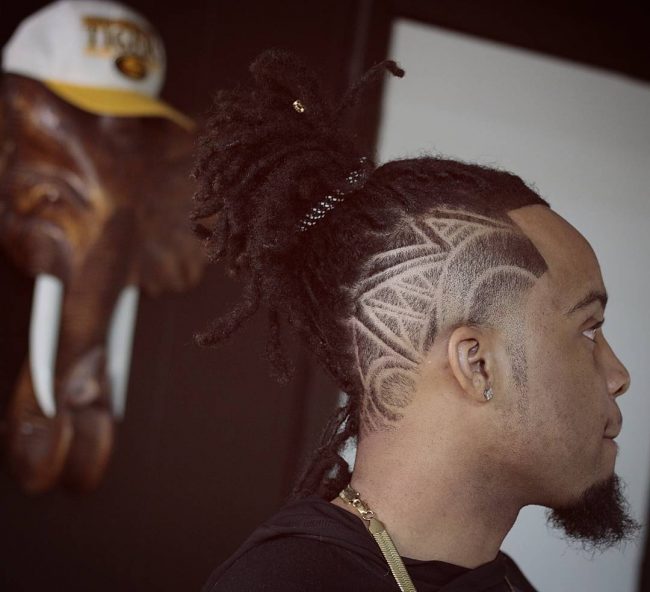 Idea # 39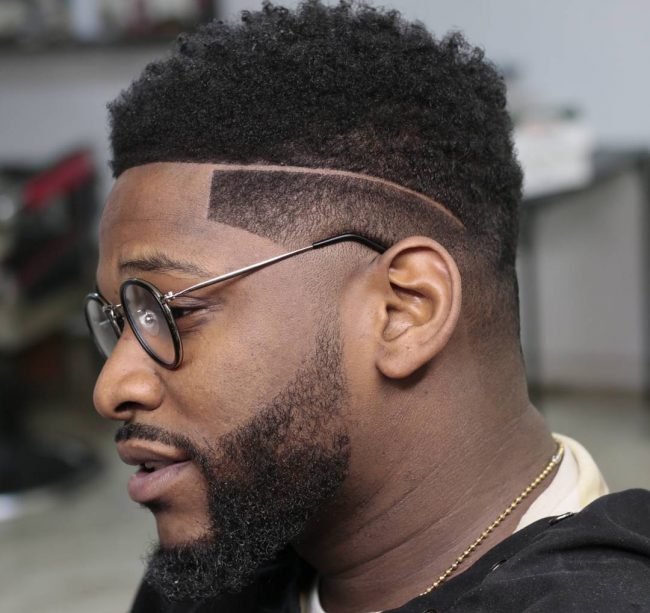 Idea # 40
Idea # 41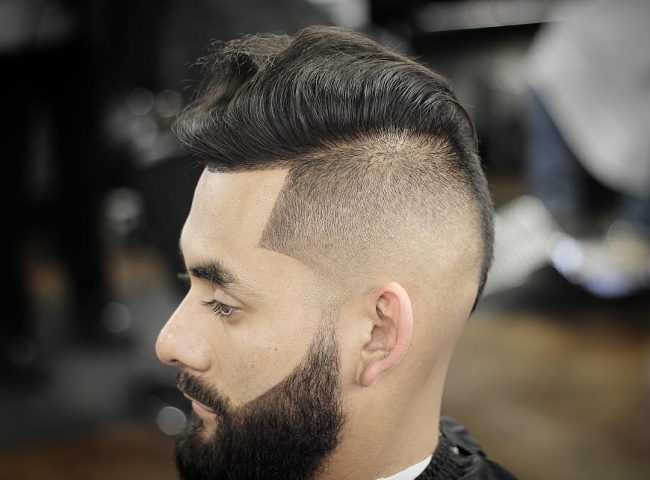 Idea # 42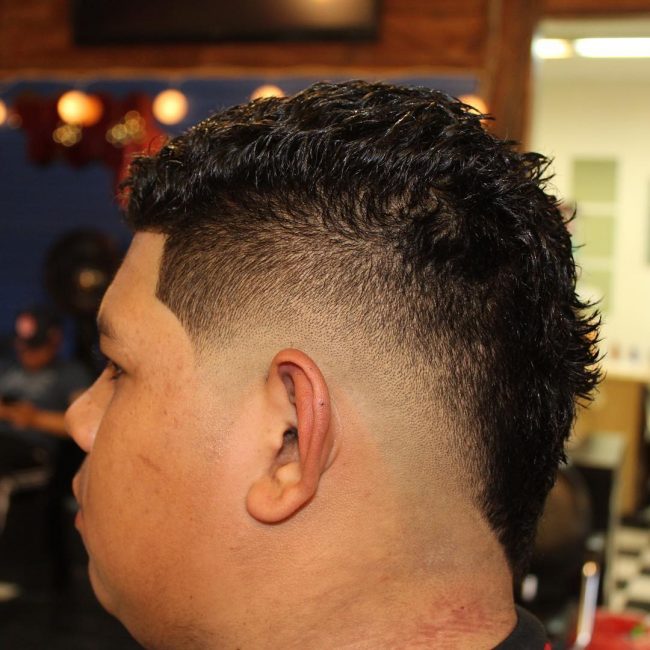 Idea # 43
Idea # 44
Idea # 45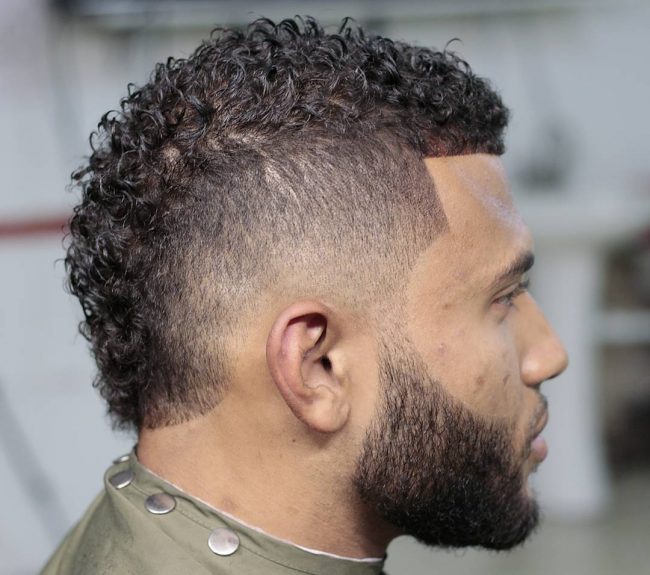 Idea # 46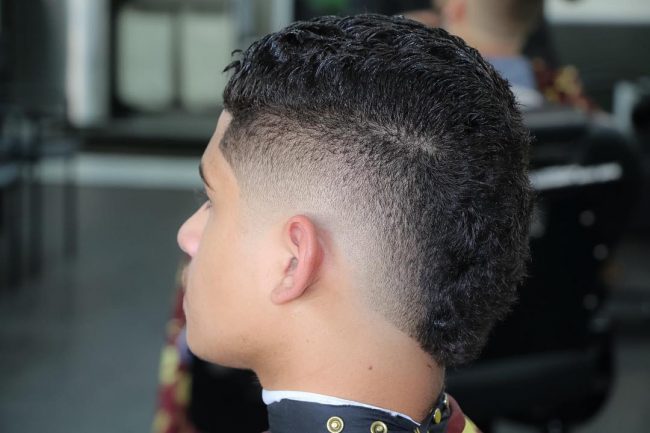 Idea # 47
Idea # 48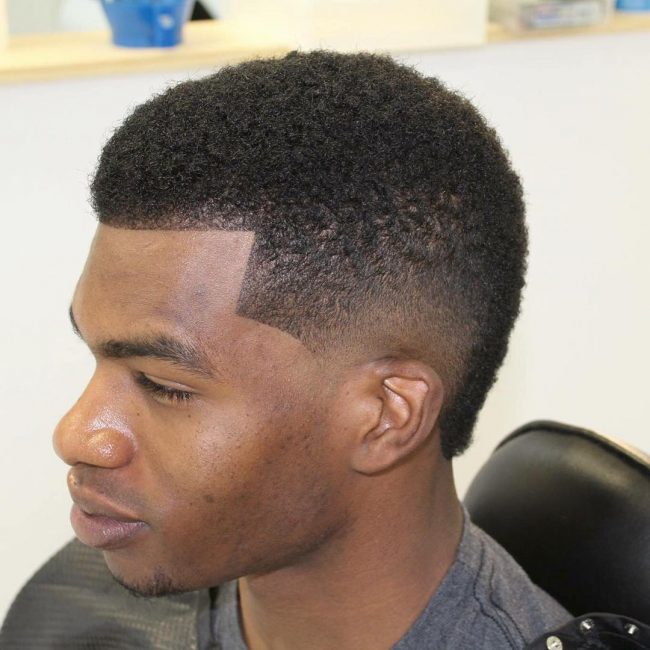 Idea # 49
Idea # 50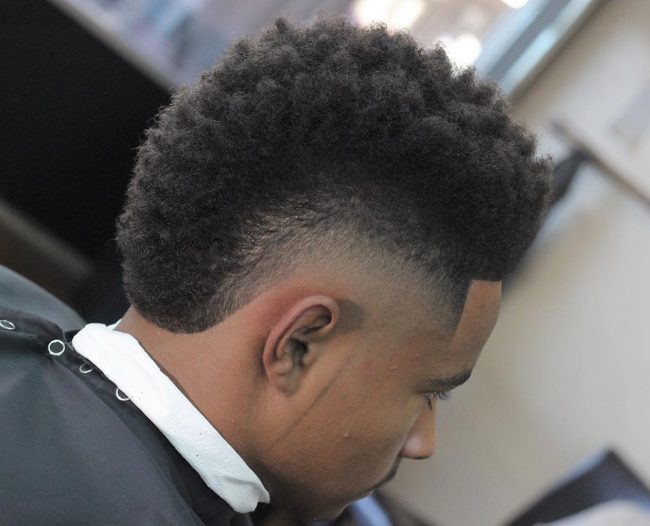 Idea # 51
Idea # 52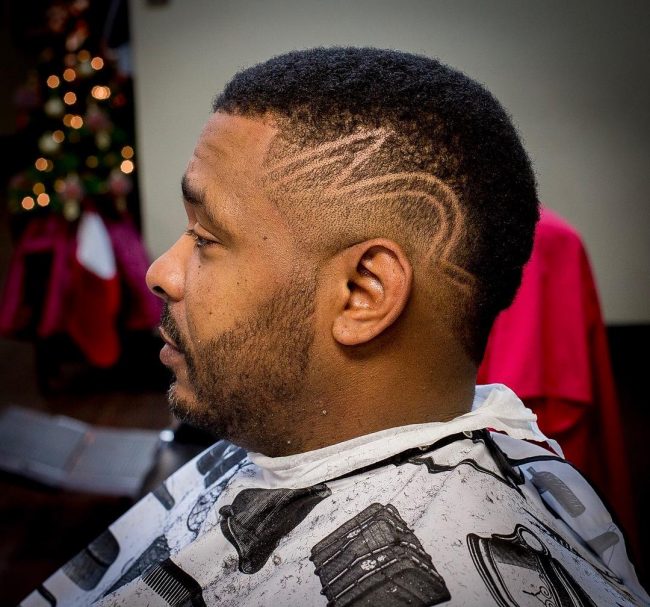 Idea # 53
Idea # 54
Idea # 55
Idea # 56
Idea # 57
Idea # 58
Idea # 59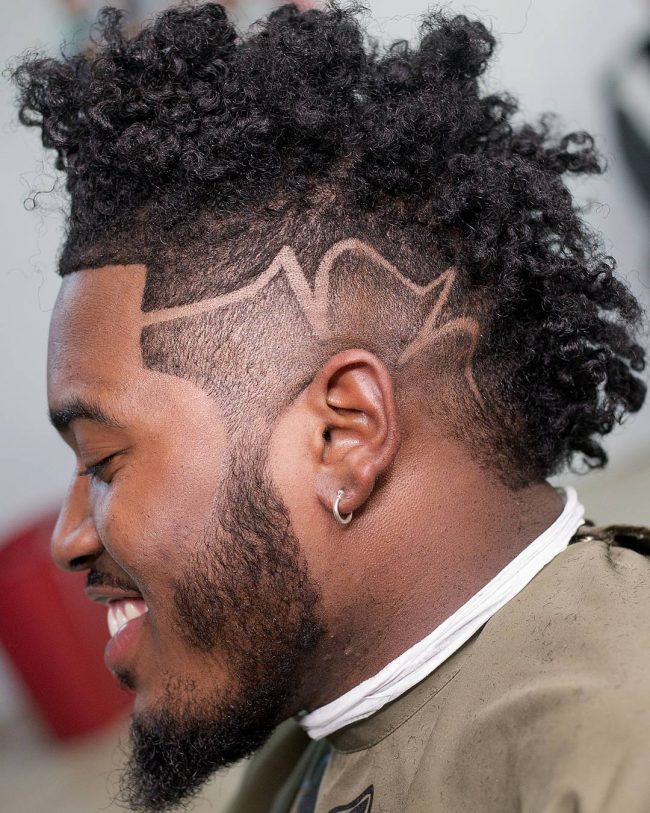 Idea # 60