Want some examples regarding the best shape up haircut? Well, this style comes in many different forms and has other names used to refer to it. Most of us know it by the name "edge up" or " line up" haircut.
It is a style that has been around for many years and appealed to millions of men across the globe. In this article, we'll give you 55 examples of this hairstyle to enable you to make a more informed decision regarding the style that will suit you best.
# 1 Short Slanted
This shape up hairstyle works well for square shaped faces. The short black hair is combed to one side with a slight slant that helps in creating the textured, piecey look.
# 2 Braided Man Bun
Medium sized braids in blonde and dark brown contain thick hair on this shape up hairstyle. Sideburns feature a square shape and the braids are gathered up high in a man bun.
# 3 Very Short Black Hair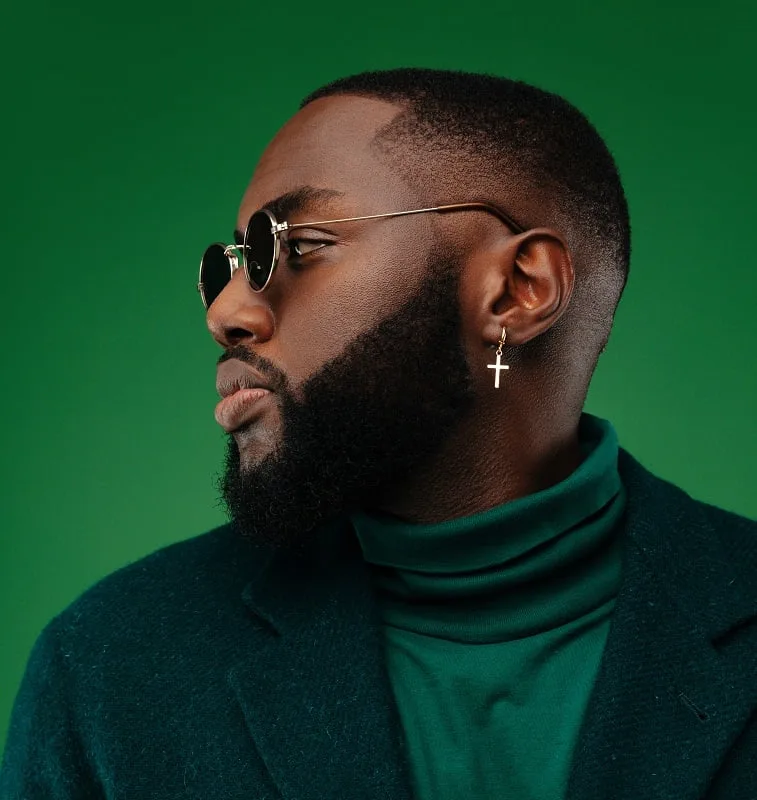 The top hair on this Black man's hairstyle is less than an inch short but there is still detail in the shape up which continues throughout the trim beard's curved and straight outline.
# 4 Thick Hair and Fade
Another way to show off your thick locks or at least make them appear thicker is by shaping the top into a pompadour. With faded sides and shaved line detail, it's a modern update to a traditional shape up style.
# 5 Layered Spikes
A shaved shape up lines a spiked haircut for men with medium length hair. The shape up borders the forehead and continues around the head where it fades into an undercut.
# 6 Voluptuous Highlighted Top
This is an imperfect version of the shape up hairstyle only given to the sides. The sides have a nice skin fade that creates a great contrast with the highlighted blonde top.
The top hair is longer and grows outward to create more flavor in this style.
# 7 Mild Bald Fade
The bald fade on the temple gives this haircut an irresistible look. It sports an elegant pomade at the top that is styled using pomade wax to give it a silky smooth appeal. It is an amazing style that will definitely make your day.
# 8 Shape Up for Textured Crop
Creating the perfect look in junk cuts can be quite a challenge. This crop haircut is given some texture with a clean razor cut at the temple making it turn out pretty okay.
# 9 Razor Part Shape Up
A surgical razor part creates a unique and elegant look in this pomp-style haircut. A bald fade from the temple to the occipital bone disconnects the beard to give you more swag.
# 10 Shape Up for Wavy Top
You can actually spice up your looks by styling the top hair into nice waves with a pretty sweet skin fade on the sides. The fade extends some inches down the beard lineup.
# 11 Sharp Fade with Pomp
This is an excellent option for men who want something unique and elegant in a shape up style. The temple is given a sharp fade. The haircut sports a razor part that borders a sleek pomp that adorns the top.
# 12 Different
You don't have to achieve a streamlined look in a shape up hairstyle. You can incorporate different styles in different sections to achieve a trendy master haircut.
A high fade on the sides transitions into a bald fade at the temple. A pomp style sits on the top to make a bold statement.
# 13 Bold Street Trim
This is a haircut for the bold. It sports a skin fade on the sides and back. The top and crown are left longer and given some texture to create a more classic appeal.
The hair is cropped at the mid-section of the forehead to give you a cool look.
# 14 Blow Dried
This is a very cool style that brings the elegance and sleek look of blow dried hair into play. The sides and back are faded to completely isolate the beard.
# 15 Front Flip
Adding the sleek top to this haircut seems a good idea. However, more elegance and drama is created by flipping up the front hair to blend well with the faded sides.
A tapered cut sits perfectly on the nape making this style even hotter.
# 16 Recess
Men with recessed hairline might find this style a complete match. The top is textured and given a classic touch.
The sides sport a fade cut stretching from the temple to the occipital bone. A pair of glasses come in handy to give a formal look.
# 17 Curly and Wavy Top
Curls and waves are the best ways of adding more style to your hair. Elegance gel is used to style this straight pompadour into lovely curls and waves. A sharp fade for the sides and back adds more edge to this style.
# 18 Shape Up for Thinned Hair
Volume should not be a hindrance to achieving the perfect shape up style. Here is how you can incorporate it into short thinned hair. The faded sides connect well to the beard lineup to add to the classic look of this style.
# 19 Blunt Crop
This blunt crop haircut sports a textured shiny top slicked to the front and sides to create the illusion of a capped top. The sides and nape are cut down to the skin. This style is a perfect match for young boys.
# 20 Faded Nape
This style gives you an edgy vintage look that is both elegant and inspiring. The temple and the nape are given a faded cut that creates more of a military look.
# 21 Fresh Taper & Beard
The textured spiky top and the tapered sides do much to create more flavor in this style. The temple sports a bald fade that disconnects the hair from the tapered beard.
# 22 Shape Up for Pressed Pomp
Here, the hair is blow-dried and styled into a pomp that is pressed down to give it more edge. A skin fade for the sides cements the whole look. This haircut creates the illusion of an elongated face.
# 23 Shape Up for Crew Cut
Here, you get a style that is clean and provides the convenience of hassle-free maintenance. The hair is textured and given a short buzz cut on top.
Faded sides with neat outlines create a formal style that is a perfect match for students.
# 24 Creative Shape Up
You can try to expand your skills a mile further and come up with something that will intrigue many. This haircut sports long side flipped locks on top.
The sides are given a skin fade that matches well with a nice artistic interpretation at the nape.
# 25 Neat and Classic
This is a perfect way of achieving that "wow" look that will earn you lots of compliments. The hair is given tons of texture with neat well-defined outlines.
A surgical razor part separates the cool textured pomp from the skin fade sides. The beard is trimmed to perfection to create a nice match for the hair.
# 26 African-American Style
Here is how you can incorporate a shape up hairstyle in black African hair. A fade cut is given on the sides and back extending way down to the beard. A mustache and small beard around the chin add some creativity in this style.
# 27 Perfect Shape Up
This style provides a refined look that is absolutely stunning. The top hair is textured and styled into a classic pomp that is given a little lift at the front.
The back and sides are given a skin fade cut that transitions into a bald fade on the temple to the occipital bone.
# 28 Spiky Shape Up
The spiky textured top transitions into tapered sides with a surgical half razor part that adds more swag to the haircut. A bald fade is given some few inches from the temple to allow a perfect connection to the beard lineup.
# 29 Party at the Back
This is a classic shape up that sports some creativity in the nape of the neck. A surgical V-shape line sits well at the nape to create a statement. The faded sides are disconnected from the beard. The hair is textured to provide a shiny look.
# 30 Parted with Sleek Pomp
This is definitely a "wow" look in the world of shape up hairstyles. The hair has lots of texture with a part style that separates the top from the sides to create the perfect preppy haircut. The sides are tapered and allowed to extend a few inches into the beard lineup.
Idea # 31
Idea # 32
Idea # 33
Idea # 34
Idea # 35
Idea # 36
Idea # 37
Idea # 38
Idea # 39
Idea # 40
Idea # 41
Idea # 42
Idea # 43
Idea # 44
Idea # 45
Idea # 46
Idea # 47
Idea # 48
Idea # 49
Idea # 50
Idea # 51
Idea # 52
Idea # 53
Idea # 54
Idea # 55
Now that you have known the best ideas for the shape up haircut, it is high time that you consult your stylist and see what he can do to give you that perfect, elegant haircut. You surely won't be disappointed!