Short beard styles are not just smart, but they can also give a man a very elegant look if he knows how to design them.
The beauty of short facial strands is also in the fact that they do not require a lot of maintenance, and a man will also not have to grow out the whiskers for a long time.
How To Pick The Right Short Beard Style For Me?
Assess Your Features
If you're thinking about rocking a short beard, the first thing you need to do is assess your facial features. Do you have a bald head or a long head of hair? Is your jawline sharp and pronounced, or is it a little shallow and sloping?
You'll also want to consider your body type. An athletic build will go better with some types than others, for example. The same goes for our very thin and the thicker gentleman readers. Body and hair type is everything when it comes to short beard styles.
For the Long-Haired Gents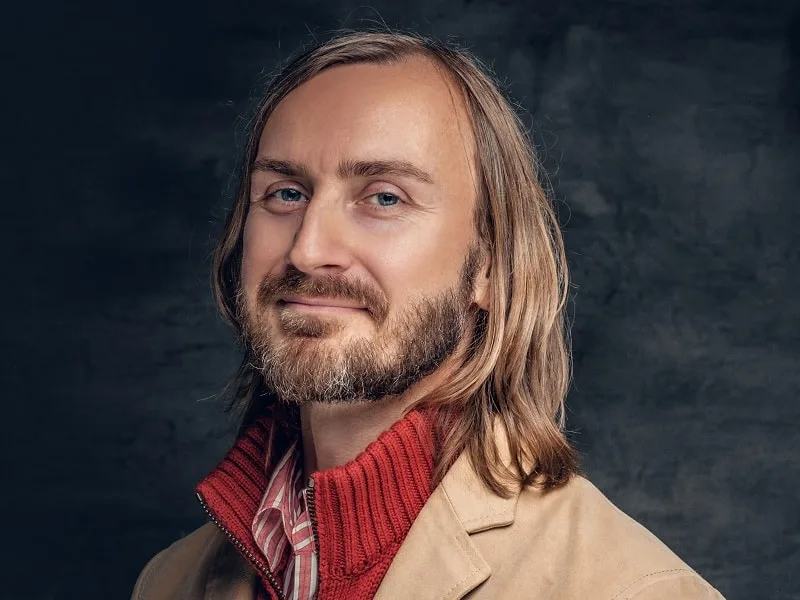 Luckily for you, there are great-looking short beards for the long-haired among us.
The Beardstache
The beard stache is an excellent look for long hair. The beard stache is exactly how it sounds: a short beard and a free-floating, independent-minded stache.
This look is prime for those with long hair, but you need to have a thick stache to make it work. This isn't a very forgiving look if you have patchier growing, but the beard stache is a beautiful thing for those who can pull it off.
The Patchy Beard
Now hear us out. If you have long, voluminous hair, a patchy beard can look really good with it! The hair gives you grace and masculine tenderness, while the short beard shows the fight in you. Men of all beard-growth types can pull this off, so long as they have the big voluminous hair to back it up.
Short Beard With a Bald Look
There are plenty of short beard styles that can look great with a bald cut. This one is our favorite.
Short Boxed Beard
This is the full beard, but short — less than an inch long all around. This short beard style looks great with bald cuts, but it also looks good with all sorts of cuts.
How to Pick a Short Beard Based on Body Type?
Certain short beard styles look excellent with bigger gentlemen, while some look great with the lanky and wan-looking.
Athletic
If your body type is athletic, a lot of beard styles work for you. The short boxed beard is an excellent choice (detailed above), as is the chin strap beard, the chevron, the classic stache, and the goatee.
Lean
For the lean men, look no further than the Van Dyke. This one, named after those 17th-century paintings by Dutch masters, looks great with a lanky build. Furthermore, those younger men that aren't yet able to grow a full beard can still have a short beard look with the Van Dyke.
If you don't like your jaw line, you can try the short shaggy beard — this looks great on skinny men as well.
Stockier Build
If your build is stockier, there are still plenty of beard styles that can work for you. The 5 o'clock shadow beard — all stubble everywhere — looks excellent with this body type. If you want to accentuate your jawline, try the short boxed beard. If you want to draw attention away from the jaw line, try the short shaggy beard.
There's a beard for every type. Assess your features and go forth with this research into the world of short bearding.
Best Short Beard Styles
Whether you prefer full facial hairs or something simple like a soul patch or goatee, there are still many styling options available and the 85 designs below should give you some valuable ideas on what you can create.
# 1 Balbo Beard
A Balbo beard can add some class to your look and will wonderfully work with elegant outfits. It's also one of the most excellent choices for office days. It is also very similar to the goatee and Van Dyke beards, the difference being that you'll have a small unequal hair portion on the jaw.
# 2 Short Ducktail Beard
Ducktail beards are quite pointy and ideal for men who want to elongate their faces. The beard is shorter on sides and longer in the chin area. Make it look pitch-perfect with a comb and some special taming products.
# 3 Short Goatee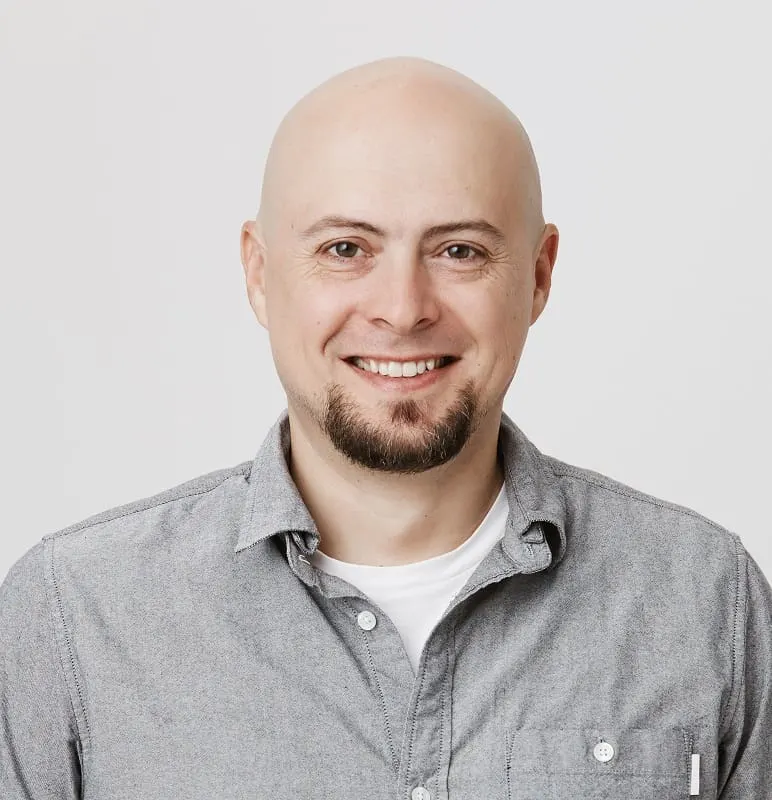 A short goatee is quite old school, but it suits both short and long hair. To make it look perfect for your face, you need to talk to your barber and decide together about the width. If you are creating this at home, we advise you to do it wide and gradually make it thinner till it suits you.
# 4 Short Box Beard
When you choose a short boxed braid beard, you need to expect a lot of compliments because it will probably suit any hairstyle and outfit. It is more low maintenance than its younger sister, the full beard. You will undoubtedly win some hearts with that look.
# 5 Beard with Mustache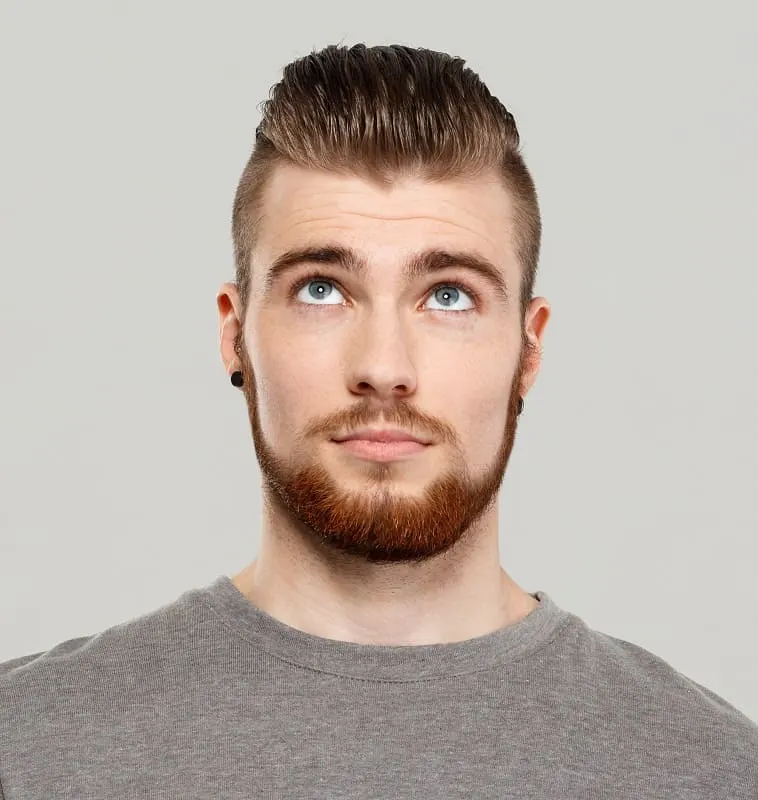 This beard is masculine and will beautifully highlight your features. Use special oils to keep your face hydrated and regularly trim it. Shave the sides where the hair pops, maintaining the beard line. Also, keep the mustache and beard connected.
# 6 Short Hair Connected Beard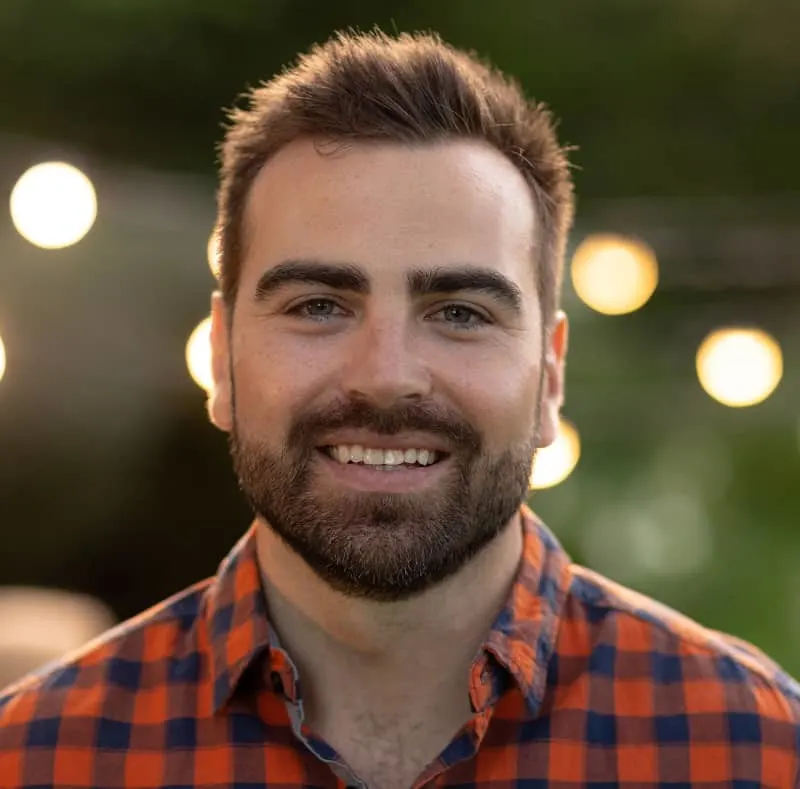 This is probably the most low maintenance beard. Even if it's easy to style, it looks dazzling and all you have to do is get your preferred clipper and use the trimming machine every few days. Because it's short, you don't need to blow dry it every day or set a long-lasting routine to get out of the house.
# 7 Short Beard for Black Guys
If you have a thick dense facial har, it will be such a shame not to go for a beard. Keep the mustache short, framing your mouth and the beard with long length and regularly trim it.
# 8 Ponty Beard with Mustache
Even if your beard is short, you can make it look slightly pointy. It will make any face look slimmer, will be easy to style and adapt for your face shape.
# 9 Defined Short Beard
Clean the outlines close to the face, and if you want it to look pitch-perfect, you can buy a beard shaping tool that will provide a better definition.
# 10 Sharp Thin Beard
This sharp thin beard will only be styled on your jawline and chin, keeping the rest of your face perfectly shaved. You will provide excellent contouring, and it will also suit your glasses.
# 11 Full and Voluminous
This style is for men who have thick facial hairs and to create the look they only have to grow it out and give it a moderate trim for some uniformity.
It also helps if you have dark toned whiskers but this should not be a problem because you can always have a dye job.
# 12 Simple and Sexy Strip of Beard
# 13 Unkempt Natural Whiskers
There are no cuts or any styling done on these facial hairs, but this is what makes the design look unique. Any man can have this look as you only need to let your strands grow out.
But, to look this adorable, you should have more hair on the chin area and also a mustache.
# 14 The Short Stubble
# 15 Soft Chin Strands
Apart from the short, blunt mustache, there are no other hairs on the face, and so all the attention will remain on the perfect strands on the chin.
There is only a small patch of strands on the chin, but this is enough to make any man look stunning. The softness of the strands also helps to add to the beauty, but you can always make your beard smooth by using beard products.
# 16 Classic Medium Stubble
# 17 Untamed Elegance
Some men are lucky to have facial hairs that grow in an amazing natural pattern and so they do not need to do much to create a fabulous style.
This style is a perfect example of this, and the short beard only requires moderate trimming just to line it up to create a very stylish look.
# 18 Growing out Full Beard
# 19 Sleek and Smooth Medium Stubble
Although the growth pattern of your facial strands matters a lot, how you trim and style them is what determines how fashionable you look.
And if you are the type that likes to keep things simple but sleek then you should try this zero maintenance short stubble and also chop the mustache to be on the same level.
# 20 A Few Day Old Stubble
# 21 The Rugged Gentleman Look
The rugged look of these whiskers is fantastic, and it has a unique unkempt look that portrays masculinity.
It is another perfect idea for men with full facial hairs and to create this look you only need to trim the whiskers short. You should also use your fingers to make them shaggy.
# 22 Fine Textured Short Beard
# 23 Charming No Shave Ben
This design is the look that you get when you go for a couple of days without shaving. It is a very sexy look, and this is more so if your hairs grow uniformly and throughout the face.
However, you can still achieve the same look with an original trim of your long whiskers.
# 24 Inspiring Facial Strands
# 25 Trendy Wavy Whiskers
The heart shape of this face is amazing, and it gives the facial strands an incredible pattern that will make any man look refined and sexy. However, the whiskers also have a lovely cut that entails keeping them short and wavy to create a very trendy look.
# 26 Cool French Look
# 27 Effortless and Fuzzy
If your facial strands grow in a beautiful pattern then in most cases you do not have to do much to create a fantastic look.
The ones in this style have an effortless and carefree look, and since they grow in a very distinct design, you only need to trim them moderately to create a stylish look.
# 28 Lined Up and Faded
# 29 The Gorgeous Bush
Here is another beard style that requires little intervention but it still look exquisite. However, for this bush to look as charming as it is you need to have some thick strands with an amazing natural color, and you should leave them to grow throughout the face.
# 30 Skillful Fading
# 31 Perfectly Outlined
A little inventiveness and some skilled trimming are all that you need to get a perfect short beard like this one. Here the facial strands have an impressive line-up and a slight fade that enhances the disconnection with the strands on the head.
The style also has a neat goatee, and you should also ensure you disconnect it with the mustache to create a distinct look.
# 32 Natural Classic Definition
# 33 Van Dyke with Faded Sideburns
A Van Dyke is one of those unique types of beard that any man with a full facial hair should try at some point.
However, this one takes things a little farther because apart from the traditional Van Dyke whiskers around the chin and mustache it also includes stylishly faded sideburns.
# 34 Spiky Ginger Strands
# 35 The Extended Goatee
Goatees are beautiful but also common because most men like them. You can still make yours look distinct, and one way to do this is by leaving it to grow out so that it appears longer than the traditional ones and also make it look natural and unkempt like this one.
# 36 Shaggy and Full
# 37 Soul Patch and Detailed Goatee
Something small such as a soul patch can make a huge difference in short beard styles like this one. It makes the design look trendy, and if you pair it with a small but detailed goatee on your full facial hairs, then you can be sure of a perfect gentleman appearance.
# 38 Dark Toned and Masculine
# 39 Extra Short and Neat
The whiskers on this style look like they are just growing out. However, they also have a fantastic outline and a lovely pattern that entails connecting the mustache with the chin beard to create short and neat facial strands.
# 40 The Modern Gentleman
# 41 The Geometric Fade
Few beard styles could look better than this, and this is simply because the design has a lot of attention to detail.
To replicate this look, you will first need to give your short whiskers an excellent fade and then finish with a geometric line-up that should also create a disconnection with the strands on the head.
# 42 Elegant Natural Beard
# 43 Chin Curtain Goatee
There are no restrictions when it comes to facial hairs, and so you can make yours look how you like.
And if you want to look unique you can try combining two styles like this fantastic design that combines an extended goatee with a chin curtain to create a fabulous look.
# 44 Pretty Line Up and Fade
# 45 Moustache, Soul Patch, and Chin Beard
Three things combine to make this style amazing, and they are the neat mustache, a soul patch, and the short chin beard.
The rest of the face has a clean shave, and this makes this a perfect style for men who are not lucky enough to have full facial hairs but would still wish to look fashionable.
# 46 Artistic Beard Fade
# 47 Sharply Faded and Extended Goatee
An extended goatee may be one of the most stylish beard styles but is you want to look unique it is a good idea to spice it up.
And one of the most effective ways to do this is by having a sharp fade on the sideburns and also creating a smooth line up.
# 48 Easy and Natural
# 49 Short and Bold Whiskers
If you have some tattoos on the face or neck, then a good idea would be to maintain a short beard so that they can be visible.
A style like this one is perfect for this as it only has a small mustache that pairs with a short patch of hair on the chin and some neat sideburns.
# 50 Gorgeous Faded Full Beard
# 51 Full Fledged Look
This style is perfect for any man looking to have a carefree look. Here the facial strands grow in their natural pattern, but you should shape the goatee slightly so as to give the chin an outline and to add some detail to the look.
# 52 Short and Fancy Goatee
# 53 The Three Part Beard Style
This design also combines a mustache, the soul patch and a small patch of beard on the chin to create a fantastic look. And to ensure that all the attention remains on the three the sides have a smooth and clean shave.
# 54 Medium Goatee and Sideburns
# 55 Textured Short Facial Hairs
This look will depend on how your beard grows and if it is coarse you will look magnificent in this style. You do not even have to do anything else just let your facial whiskers grow as they do and give them a slight trim just for some uniformity.
# 56 Natural Outlined Beard
# 57 Full Goatee Perfection
This style demonstrates how a perfect goatee should look like because it not only has a fantastic outline but its size is also incredible. And if you pair it with a lovely fade on the sideburns then you will have a very adorable look.
# 58 Flawless Short Stubble
# 59 Suave Full Facial Hairs
Some men are lucky to have hairs in all the right places on their faces, and if you are one of them, then you should use them to create this style. It entails giving the strands a simple outline and trimming them slightly to create a flawless full facial hair look.
# 60 French Mustache and Stylish Medium Stubble
# 61 The Patchy Goatee
If you have facial strands that grow in a patchy design, this will be a perfect idea for you. The facial hairs on the cheek are full while a large section of the chin is shaved to leave a simple soul patch that should extend to a short chin beard.
# 62 Sharp and Angular Fade
# 63 Taper Fade and Extended Goatee
A reverse taper fade with a precise and sharp line up can also work for your beard. And if you combine this with a beautiful and extended goatee like this one then you will look fantastic.
# 64 Pure and Neat Geometric Fades
# 65 Stylish Bald Fade
Bald fade designs can also work for your beard. If you also have a straight line up and some neat facial strands, then you can be sure of an adorable look.
Idea # 66
Idea # 67
Idea # 68
Idea # 69
Idea # 70
Idea # 71
Idea # 72
Idea # 73
Idea # 74
Idea # 75
Idea # 76
Idea # 77
Idea # 78
Idea # 79
Idea # 80
Idea # 81
Idea # 82
Idea # 83
Idea # 84
Idea # 85
Short beard styles are as versatile as it can get, and the good thing about them is that they are very easy to get, and they require low maintenance.
And so if you are looking for a distinct idea to try on your facial whiskers then you can have one of the 85 elegant styles above.