60 Cool Spiked Hair Designs – Styles That Will Make a Man Stand Out
Spiked hair was very trendy in the nineties, but it is back again with a modern touch to make it look even more adorable. Every man who wants to keep up with the trend should wear this fabulous haircut, and this is regardless of his type of hair because it works for any hair type and length. And if you combine it with a fade or taper on the sides you will look exquisite. The gallery below demonstrates 30 ways of cutting and styling this modern hairdo.
# 1 Upswept Brunette Spikes
The golden hint in these brunette strands gives them an incredible shine, but the cut is still what makes this a top notch design. It entails leaving some thick strands on the crown, making them spiky and then finishing by up sweeping them.
# 2 Textured Front Sweep
These strands have an almost uniform length throughout and a dazzling chocolate brown shade. Their styling entails sweeping the top strands to the front and the rest backward in subtle layers.
# 3 Messy Cropped Spikes
This fantastic look is what you get when you crop your strands inventively. And for styling you only need to run your fingers through to make them messy.
# 4 Thick Textured Top Bangs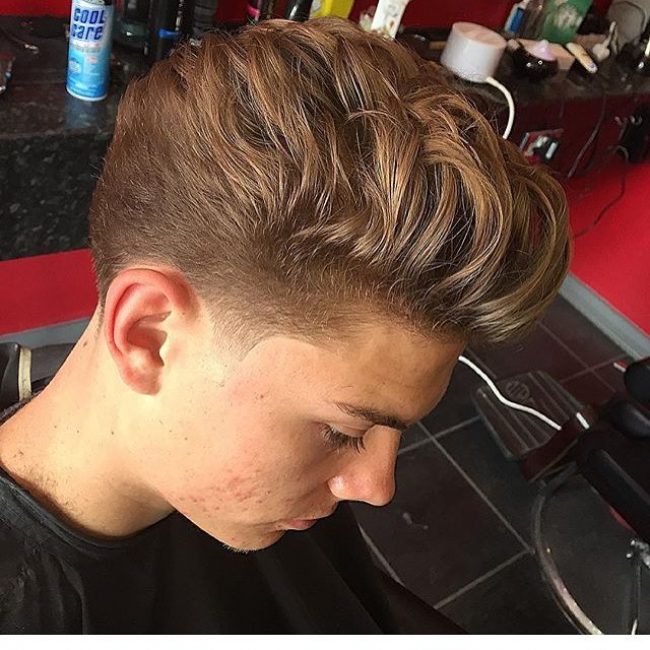 A little originality is all that you need to create a fantastic hairdo. This hairstyle demonstrates this, and it entails leaving some thick textured bangs on the crown that you should style with a slight lift and back sweep and finish by tapering the sides.
# 5 Fine Tapered Blue Locks
These strands might be thin, but they are still perfect for spikes. To create the spikes you will need to trim your strands with a taper on the sides and back and then give them some blue highlights. To finish the look you only need to use some gel or any other hold product to spike the strands.