60 Cool Spiked Hair Designs – Styles That Will Make a Man Stand Out
Spiked hair was very trendy in the nineties, but it is back again with a modern touch to make it look even more adorable. Every man who wants to keep up with the trend should wear this fabulous haircut, and this is regardless of his type of hair because it works for any hair type and length. And if you combine it with a fade or taper on the sides you will look exquisite. The gallery below demonstrates 30 ways of cutting and styling this modern hairdo.
# 1 Upswept Brunette Spikes
The golden hint in these brunette strands gives them an incredible shine, but the cut is still what makes this a top notch design. It entails leaving some thick strands on the crown, making them spiky and then finishing by up sweeping them.
# 2 Textured Front Sweep
These strands have an almost uniform length throughout and a dazzling chocolate brown shade. Their styling entails sweeping the top strands to the front and the rest backward in subtle layers.
# 3 Messy Cropped Spikes
This fantastic look is what you get when you crop your strands inventively. And for styling you only need to run your fingers through to make them messy.
# 4 Thick Textured Top Bangs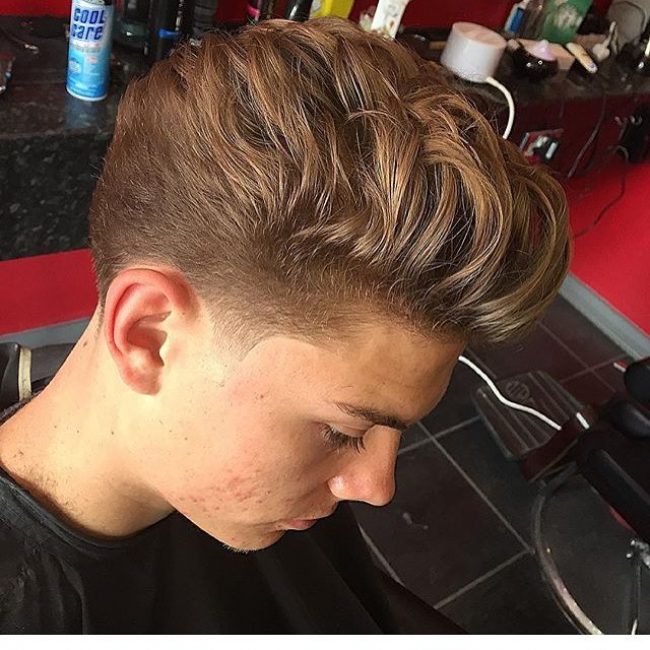 A little originality is all that you need to create a fantastic hairdo. This hairstyle demonstrates this, and it entails leaving some thick textured bangs on the crown that you should style with a slight lift and back sweep and finish by tapering the sides.
# 5 Fine Tapered Blue Locks
These strands might be thin, but they are still perfect for spikes. To create the spikes you will need to trim your strands with a taper on the sides and back and then give them some blue highlights. To finish the look you only need to use some gel or any other hold product to spike the strands.
# 6 Heavy Texture and Bald Fade
If you have thick hair, then you should not have trouble creating some top locks like these with a dense texture. Once you have them, you only need a messy front sweep and finishes with a bald fade on the sides.
# 7 Feathered Messy Hairdo
Feathered strands like the ones on this style will look and feel light on your head. And if you give them a zero fade on the sides and a messy look you can be sure of a chic haircut.
# 8 Front Swept Taper Fade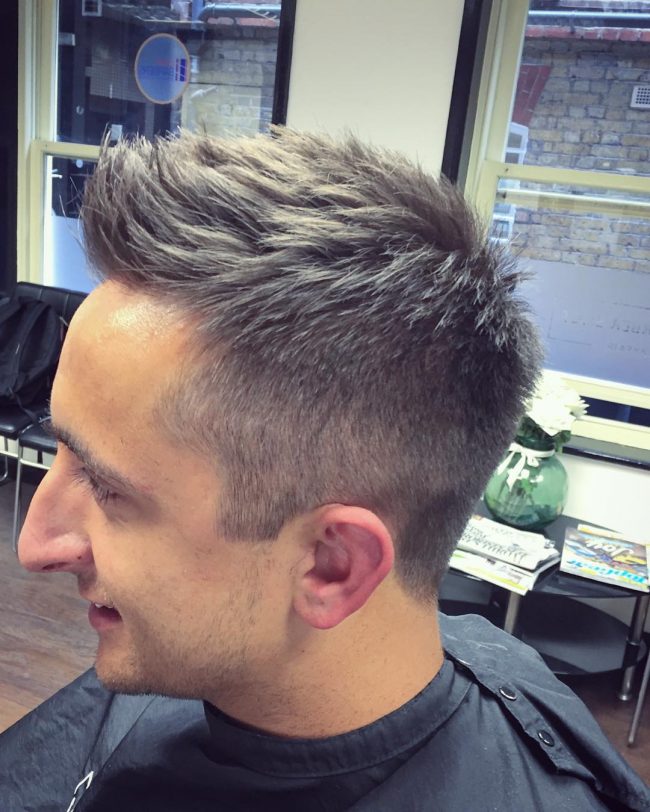 A clipper on the hands of an experienced barber can create a breathtaking look, and this design is a perfect example of this. It entails chopping the strands to form some short spikes at the top that you should style with a front sweep and give the sides a nice taper fade.
# 9 Beautiful Blue Pixie
Pixie cuts can also work for men, and this haircut proves this. The short pixie has a glossy blue shade and some short textured spikes that you should style by sweeping them sideways over the forehead.
# 10 Metallic Violet Bangs
Metallic violet is a unique shade and is enough to convince you to try out this haircut. However, the cut is also perfect and entails maintaining some thick and heavy textured bangs on the crown and giving the sides and back a smooth taper. 
# 11 Sexy Short Spikes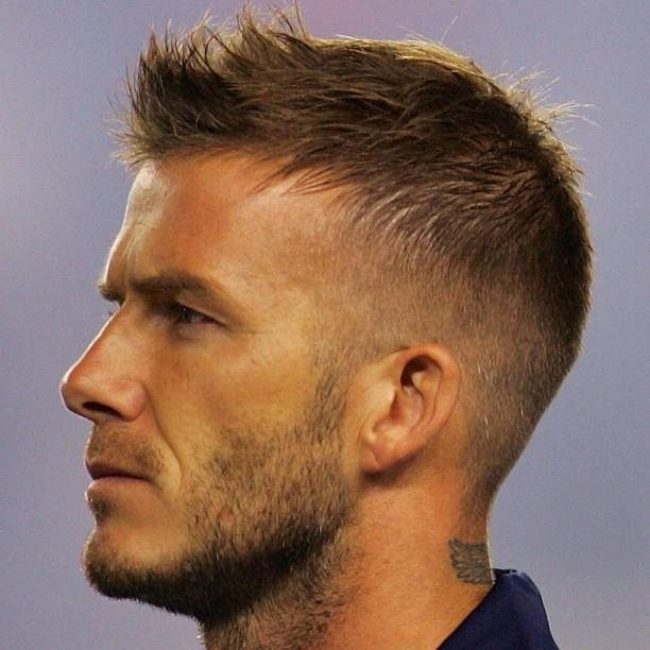 A simple haircut like this one will still make a man stand out as it is very elegant. It entails chopping the strands short to form some small spikes at the top and a quiff. You should then spice it up with a simple fade on the sides and back.
# 12 Up Swept Comb Over with a Side Part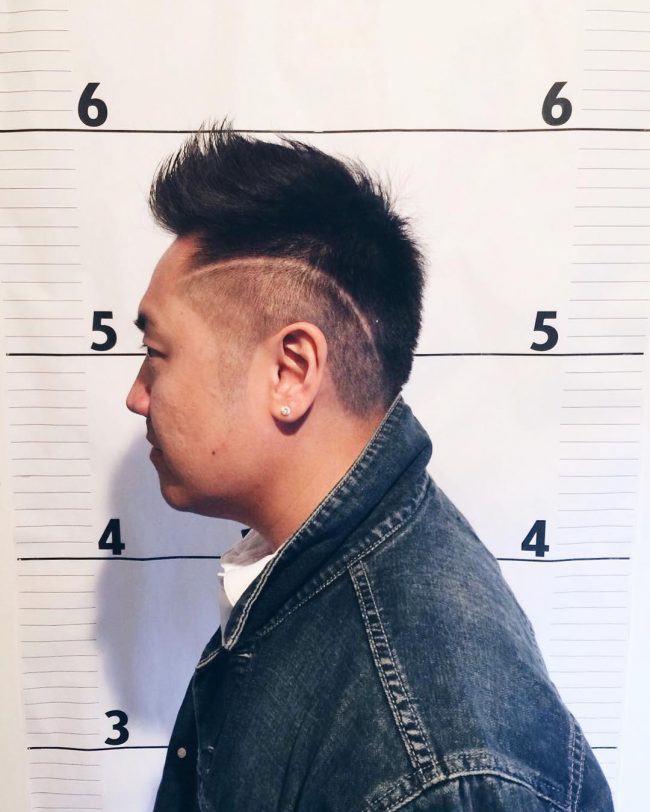 This style is perfect for men with a thick dark toned hair, and it entails leaving some long tapered strands on the crown and fading the sides. You should then comb over and up sweep the front of the long locks and finish with a curvy razor line on the side.
# 13 Faded Blonde Spikes
Short spiked hair is breathtaking, but you can still enhance yours with a beautiful shade like this golden blonde and a nice fade on the sides.
# 14 Undercut Quiff with a Taper Fade
The thick spikes in this design form a simple but very elegant quiff hairstyle. This fancy hairstyle also has a hard side part and an undercut with a lovely taper fade that adds to the beauty of the design.
# 15 Easy Natural Spikes
You do not have to use any product to form these spiky locks because a good cut is enough. To style them you should give the sides a fade and then sweep them in different directions but towards the top of the head.
# 16 Neat Tapered V-Back Cut
This neat haircut is perfect for a gentleman who prefers to maintain a clean look. It entails forming your strands into some medium size up sweep spikes with a taper on the sides and a V-shape at the back.
# 17 Wavy Up Sweep
Forming some spikes is not enough because you still need to style them well. This style has some thick spikes with some subtle waves, and you should style them with an upsweep and fading in the sides.
# 18 Funky Spiked Hair and Side Razor Line
This haircut is a variation of the high and tight design, and it has some thick spiky locks that give it a funky look, a hard razor line on the side and a bald fade.
# 19 Gorgeous Textured Crop Cut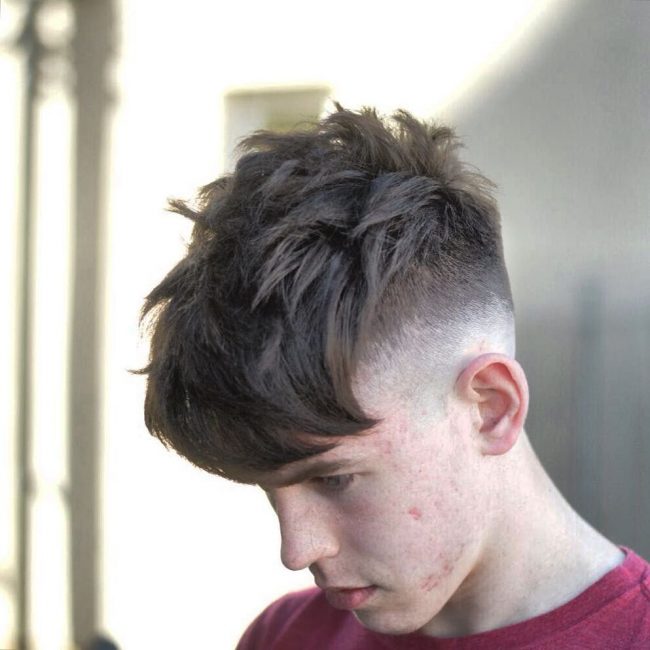 The front sweep of the chunky locks on the crown with slight layering is perfect, but the texture of this cropped cut is what makes it look this charming. This hairdo also has a smooth taper on the sides that enhances the overall appearance.
# 20 Cool Spiky Golden Blonde Bangs
Perfect spiked hair is all about getting the texture right. The locks on the top section of this headdress have an excellent texture and a beautiful golden blonde shade that creates a lovely contrast with the dark tapered sides.
# 21 Texturized Top with a Skillful Side Taper
Here is another design that shows the importance of texture when creating spikes. The textured locks also have a lovely upsweep at the front and a very skillful taper on the sides that gives the design some elegance.
# 22 Cute Brush Back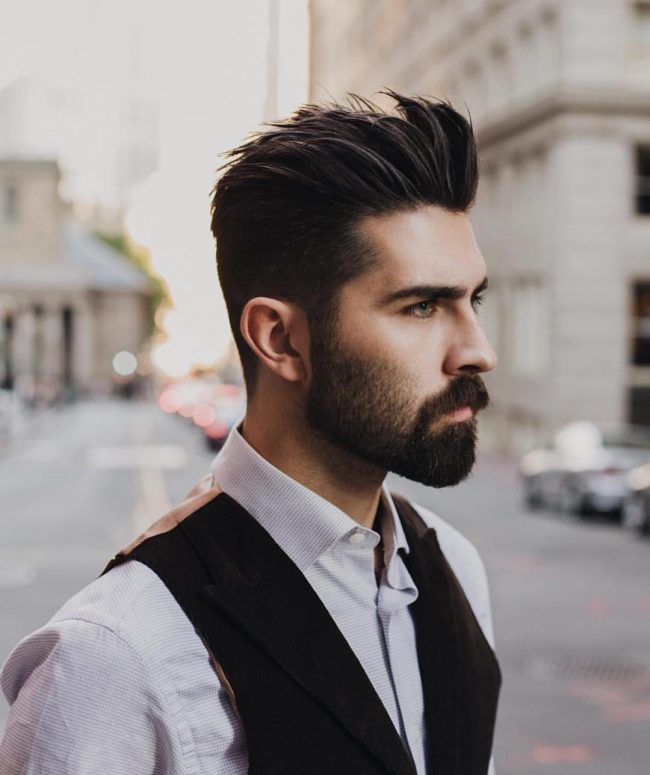 The taper on the sides and back of this haircut is fantastic, and it combines with the thick brushed back spiky hair on top to create a very cute hairdo.
# 23 Disheveled Top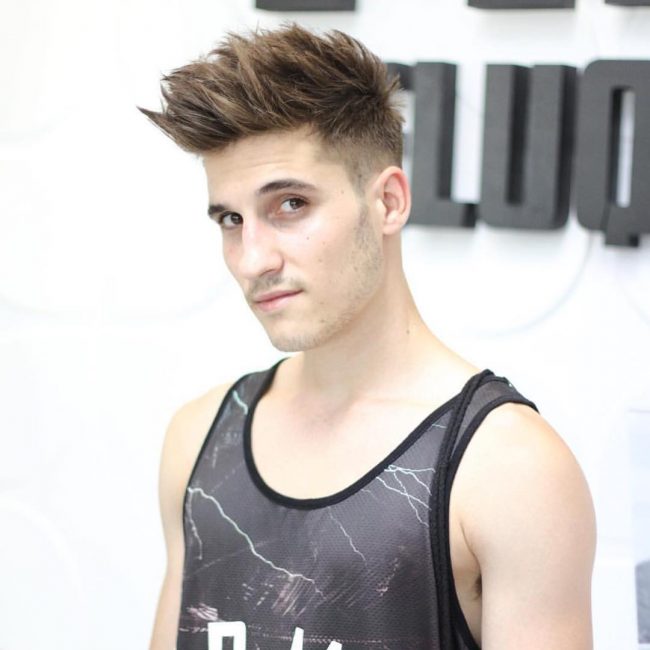 The effortless look of spiky hair is one of the things that make it unique because it means you do not have to do much to create it. In this design, the strands will only need a beautiful trim and a slight lift at the top before finishing with tapering on the sides.
# 24 Skin Fade and Chunky Spikes
Men with thick strands will look best in this gorgeous haircut. And it entails forming some thick pointy bangs on the crown, giving them a hard side part and finishing with a skin fade on the sides.
# 25 Edgy Look with Highlights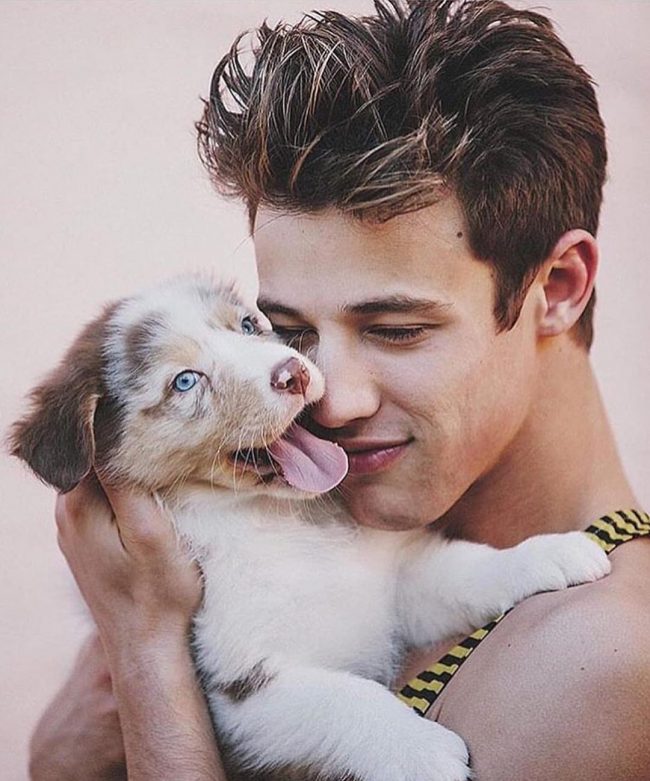 Giving your locks some blonde highlights like in this design can make a huge difference. The locks also have some mild spikes at the top with a slight lift and a smooth taper on the sides that maintains an excellent length throughout.
# 26 Feathered Bangs for Asian Men
The feathered locks at the top of this haircut look amazing, and this is because of their lovely texture, dark tone, and the front sweep over the forehead. And if you spice them with a taper and a line up you will look majestic.
# 27 High and Spiky
It is always a good idea to up sweep your strands because the extra height helps to accentuate your facial features. Apart from the lift, these spiky locks also have a lovely taper fade on the sides that gives them an extra elegance.
# 28 Grass-Line Neat Spikes
These grass-like spikes are perfect as a conventional cut, and their neatness will make any man look stylish. All you need to style them is a slight up sweep and also give them a neat, simple fade on the sides.
# 29 Classic with a Matte Finish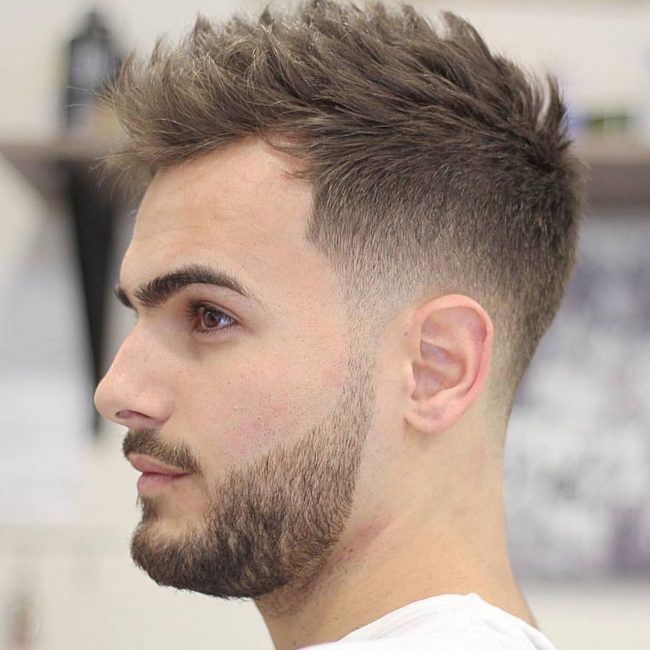 You can create this lovely design with any hair type as you only need to use a blow dryer to give your strands the extra volume. Also use something like pomade for a great hold and give the short locks a matte finish. The cut is vital, and apart from leaving some short textured locks on the top, you will also need a high taper on the sides.
# 30 Refined Thick Spiky Locks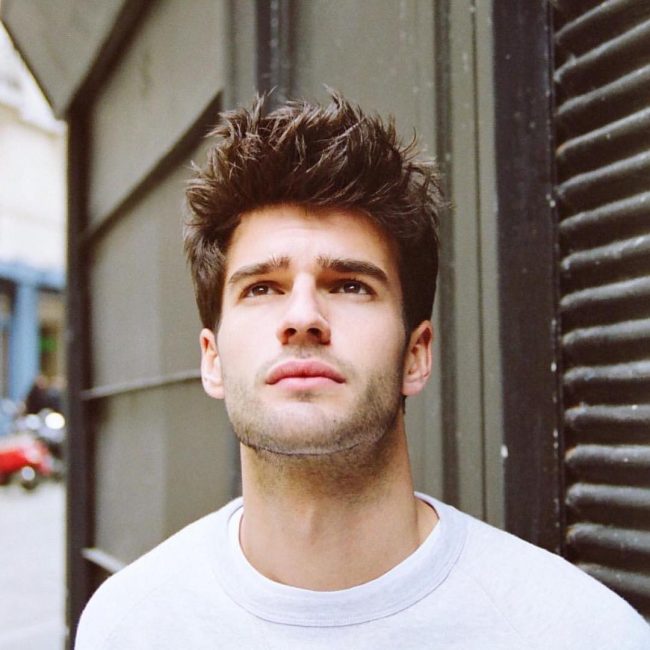 A refined look like this one is perfect for a gentleman who wants to stand out from the crowd. It entails blow drying your strands to create some thick spikes on the crown and tapering the sides. You should then give the thick spikes a lift and run your fingers through to create a slight mess.
Idea # 31
Idea # 32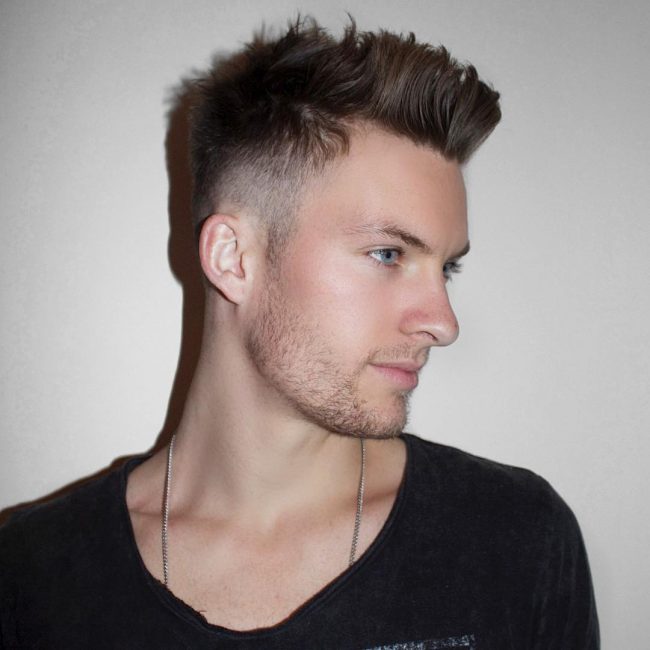 Idea # 33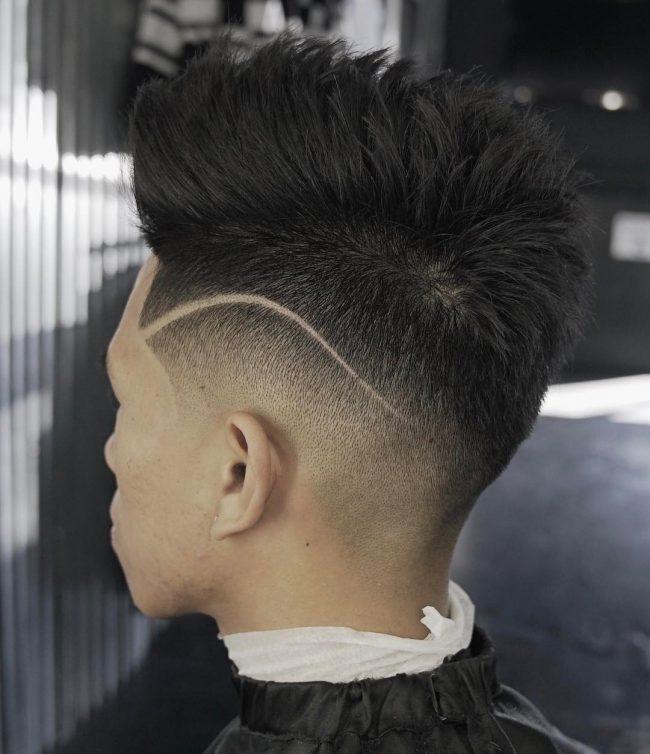 Idea # 34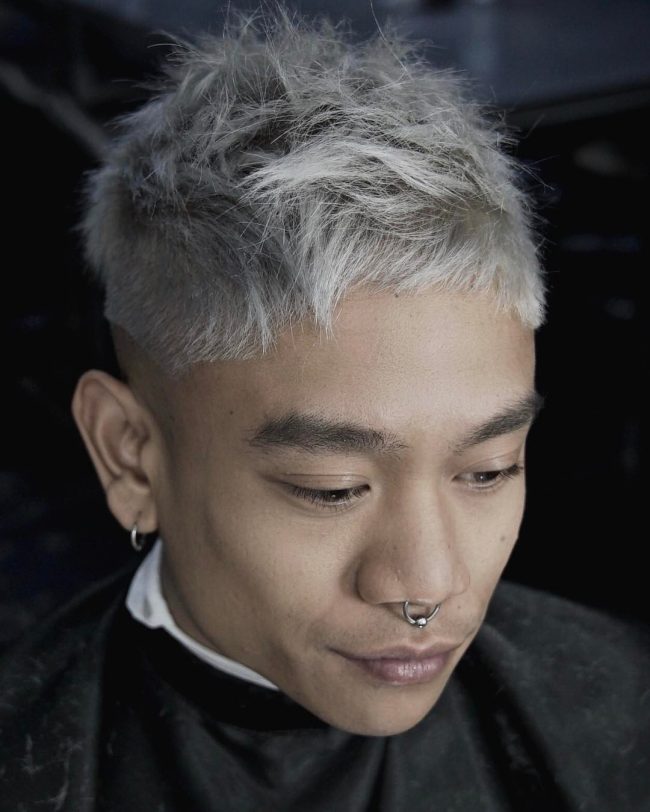 Idea # 35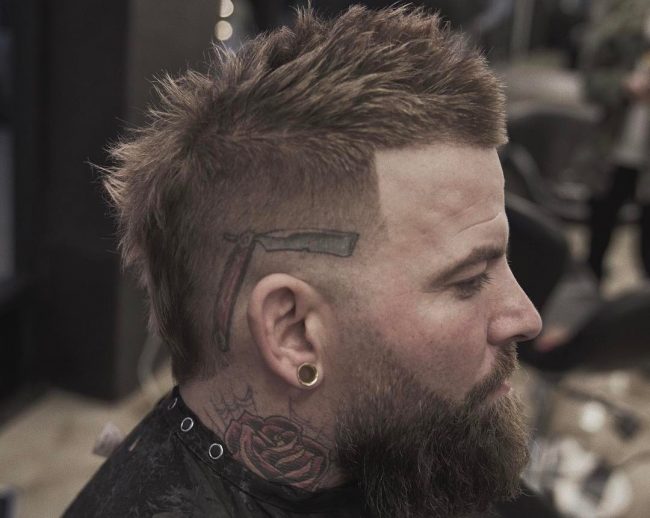 Idea # 36
Idea # 37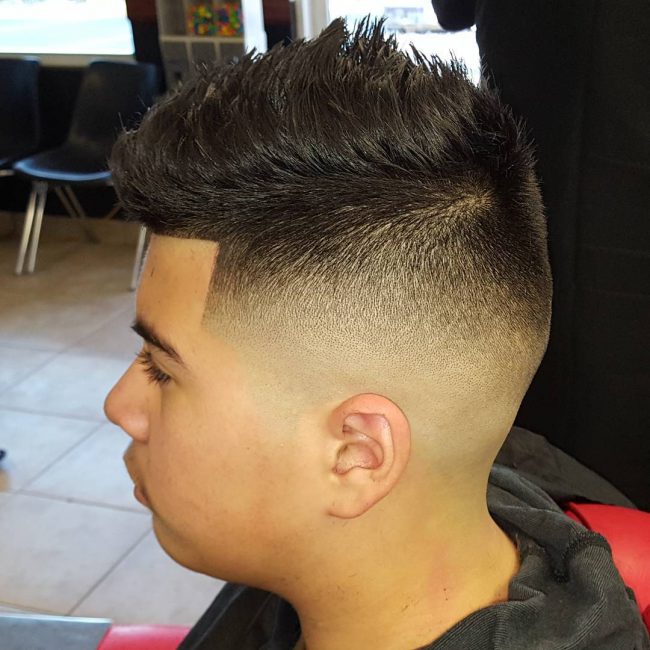 Idea # 38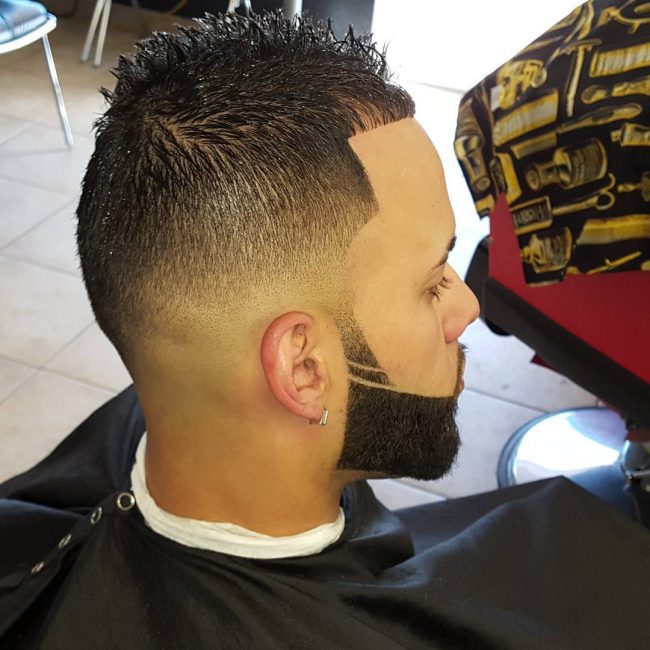 Idea # 39
Idea # 40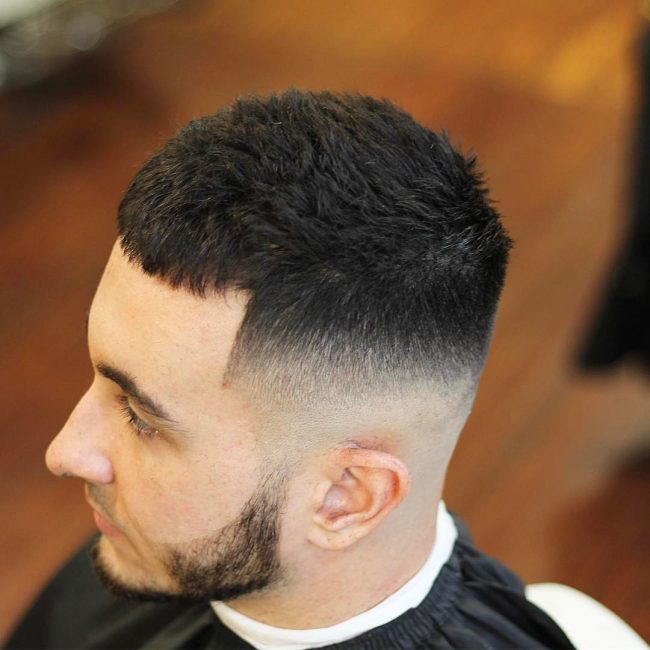 Idea # 41
Idea # 42
Idea # 43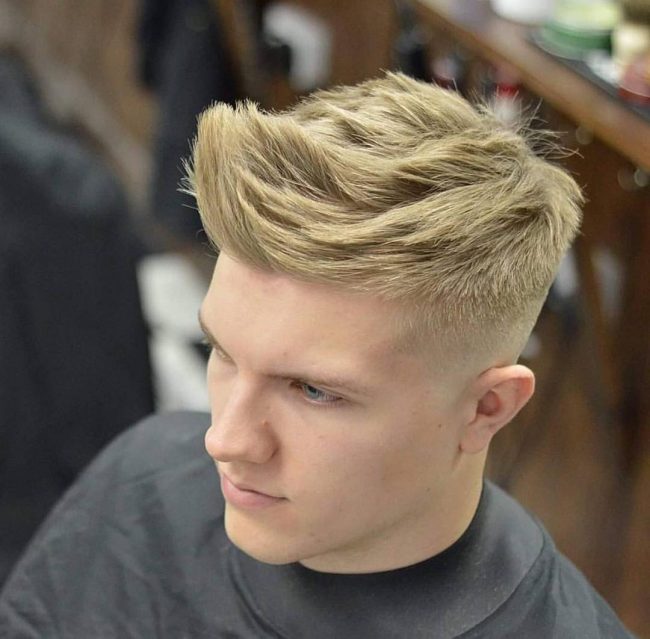 Idea # 44
Idea # 45
Idea # 46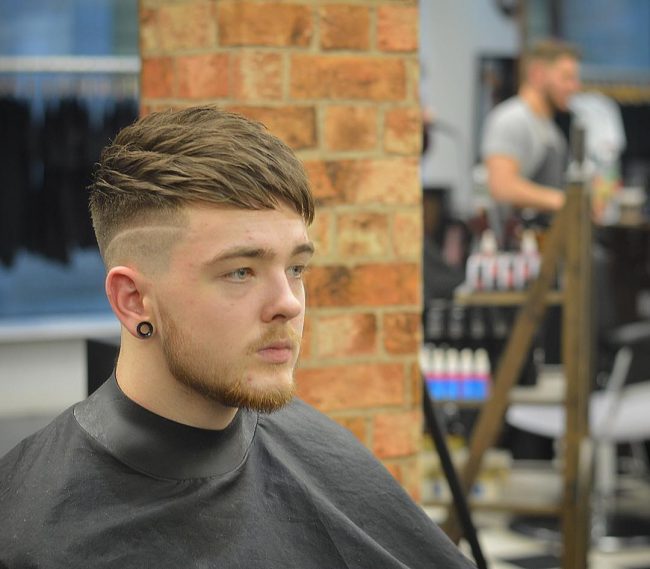 Idea # 47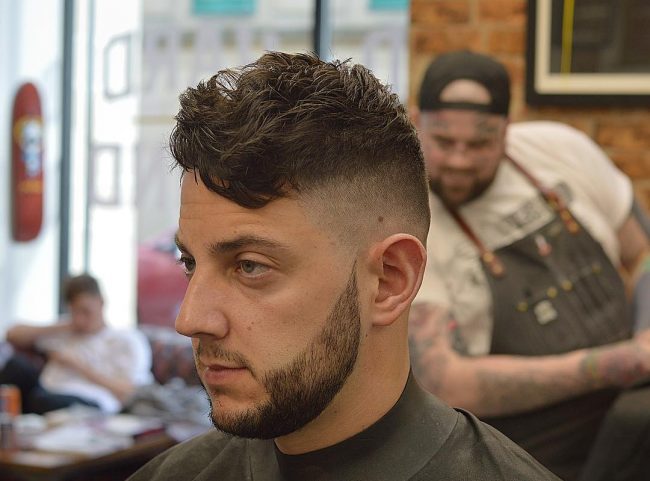 Idea # 48
Idea # 49
Idea # 50
Idea # 51
Idea # 52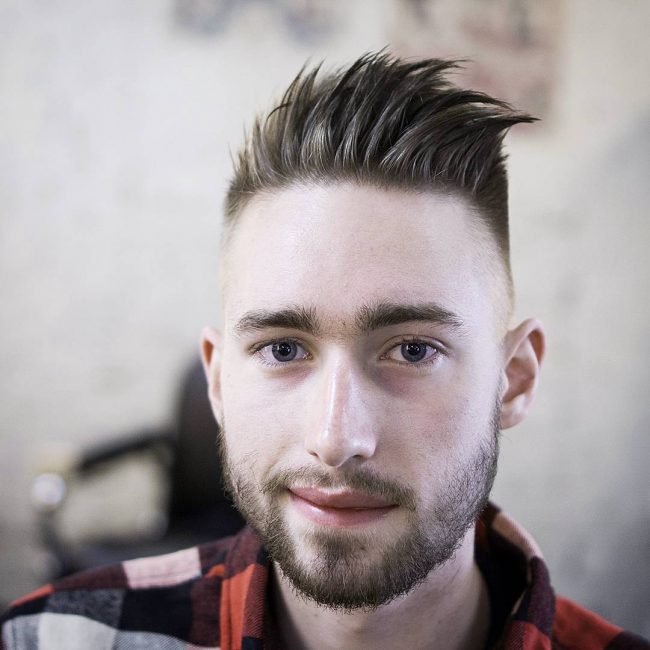 Idea # 53
Idea # 54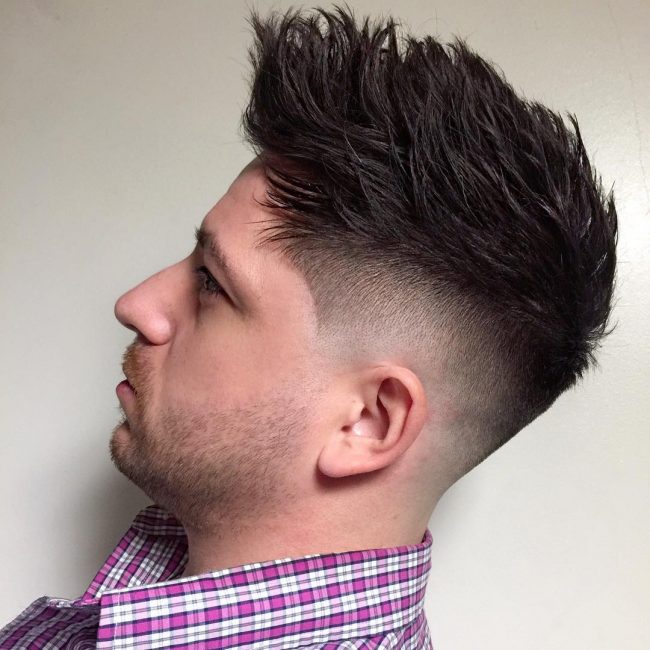 Idea # 55
Idea # 56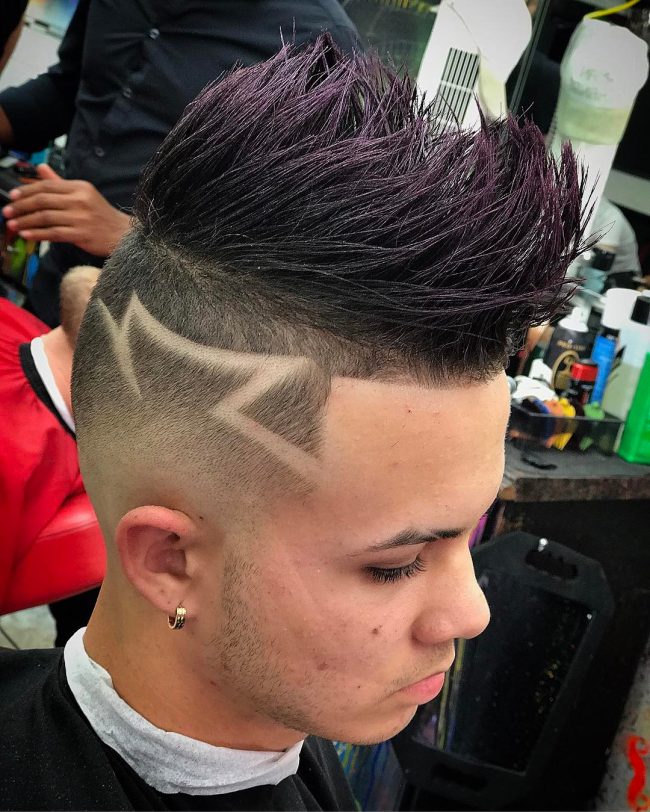 Idea # 57
Idea # 58
Idea # 59
Idea # 60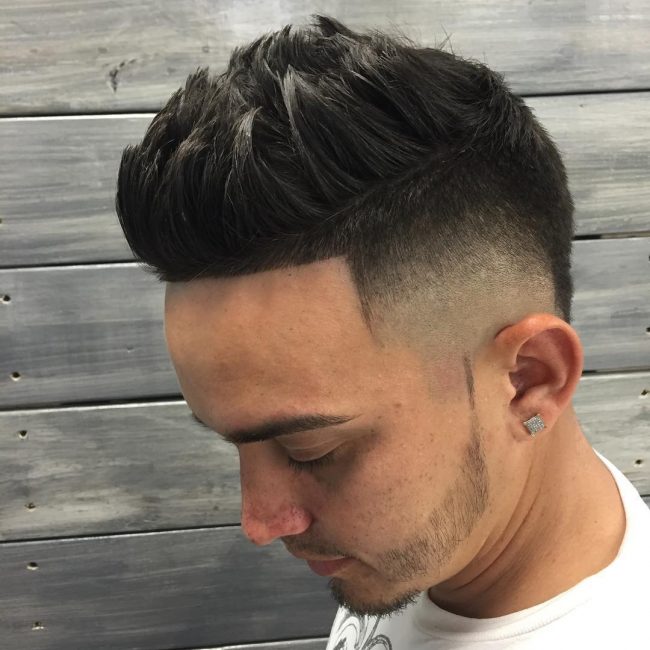 You can never go wrong with spiked hair, and this is regardless of your length and hair type. It is also very easy to create these top notch hairstyles and with the limitless styling options available you only have to choose a style that conforms to your preferences. Use the 30 chic designs in the gallery above for some inspiration.