A fade cut is any male hairstyle that gradually transitions from short to longer hair. Although there are many variations of this type of haircut, the idea behind all the variations is the same.
These styles are ideal for both formal and casual look and offer a barber an opportunity to experiment with different ideas.
Taper fade men's haircuts have been around for a long time but in recent years, their popularity has increased tremendously. In fact, these haircuts are now among the most popular styles, if not the most popular haircuts for the modern man.
And as the popularity of these haircuts continues to grow people are always experimenting with new styles and so there are now more types of fade taper haircuts than at any other time.
The following are 80 common types of popular and stylish taper fade haircuts.
#1 Short Spikes to Bald Sides
This hairstyle combines short, messy spikes with a gradual fade that ends in baldness mid-way down the head. It sets a wonderful contrast between hair and beard and keeps your hair basic but stylish.
#2 Long on Top with Sudden Fade
This style is suitable for thicker-haired guys who want to keep it long on top. Casually spike the long hair on top with gel as it fades on the sides into a more sudden transition to baldness.
#3 Unique Undercut
The undercut is classic, and here's a unique take on it. You have long hair on top styled in a sleek, combed back look. Meanwhile, the sides are more of a classic undercut, fading into a back with a number 2 to 3 cut.
#4 Solid Side Part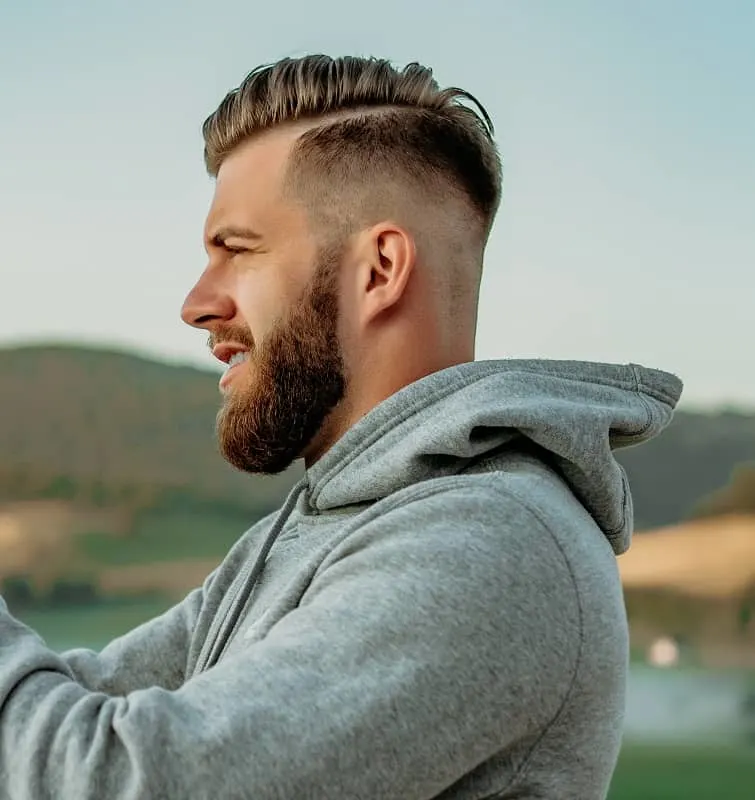 Here's a style for guys wanting a defined part. The hair is brushed to one side with a wide parting, drawing attention to the sudden thick-to-thin fade around the sides and back.
#5 Side Swept Voluminous Hair
If you like volume in your hair, sweep it to one side in a hefty, high swoop and fade from a 2 to a 0 from the parting down. It adds great height, and looks neat.
#6 Spiked Hair Faded to Nothing
For a hairstyle with a lot of motion, keep the top long and spike it as high as you can. At the part, keep the hair pretty long at a number 5 then suddenly switch to a 0 as you approach the ears.
# 7 Hair On Top with Blad Sides
This is a simple, low maintenance fade. Shave the sides and keep medium-length hair on top that you can brush gently over the forehead. Go a little shorter in the back, getting longer as you approach the crown.
#8 Drastic Spikes and Harsh Fade
If you're into an extreme look, spike your hair into sharp points on top and make your fade a harsh line from a 4 or 5 to a 0. It's quite an edgy look.
#9 Rugged Easy Spikes
Another spikey 'do, the hair is quite long on top, matching a scruffy beard well. The sides have a triangular fade that goes behind the ear to the nape of the neck.
#10 Curly Contrast to Baldness
For guys with a mop of curls, let them rule your head freely on top of a buzzed number 2 fading to a 0 to emphasize the curly mass.
#11 Taper Fade Mohawk
In this type of hairstyle, the hairs on the back of your head increase in length from top to bottom.
The hairs at the top of your head are left to be longer than those at the back of your head so that they can be lifted in a Faux Hawk style. The lifting of the hair is what gives this style its Mohawk look.
In case you want to wear this style on your own without visiting your hairstylist, you should use a small amount of deluxe pomade. You should apply the pomade gently on the hair and then lift it to form the Faux Hawk style.
#12 The High Taper Fade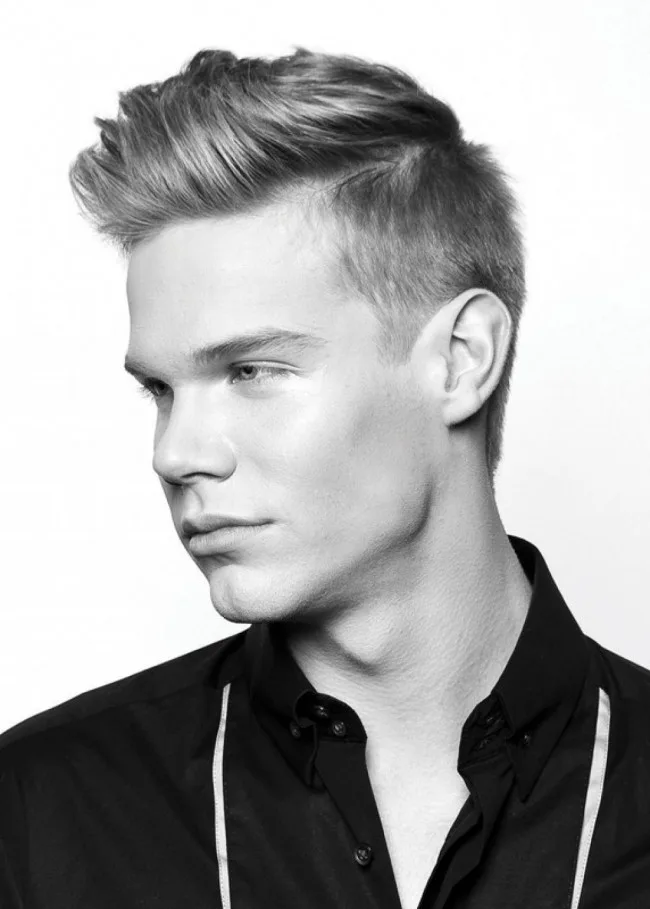 In this style, the hairs get faded with the skin at 2 inches or less from the top of the hair. Although anybody can get this taper fade, it looks good on people with black hair.
What makes it look good for people with dark hair is the fact that their hair matches their skin tone. Just like most other fade styles, the secret of getting a perfect high taper fade is using a small amount of good pomade.
Pomade will hold your hair tight after the barber has done his magic on you and will also give your hair some nice extra shine.
#13 Low Taper Fade
If the faded length from the top of the hair is more than 2 inches, then this type of fade is known as the low taper fade.
In this style, the hairs disappear an inch or so above your natural hairline. After getting the cut, you should clean your hair with a good shampoo to get the best results when you style it.
Dry the hair with a towel and then style it how you like. Use hair gel to keep your hair in place when styling. This fade will also look good on people with dark hair, but it can also look good on a person with a slightly curly hair.
#14 The Afro Taper Fade
This type of fade is usually adopted by black men or persons with a dark complexion. The high taper fade can also fall under the Afro Taper Fade as it has most of the characteristics that define this type of fade.
This style is specifically for black men who have kinky or curly hair. The curls in this fade are styled from the top, and the hair length is decreased from top to bottom till it gets vanished.
#15 Temple Fade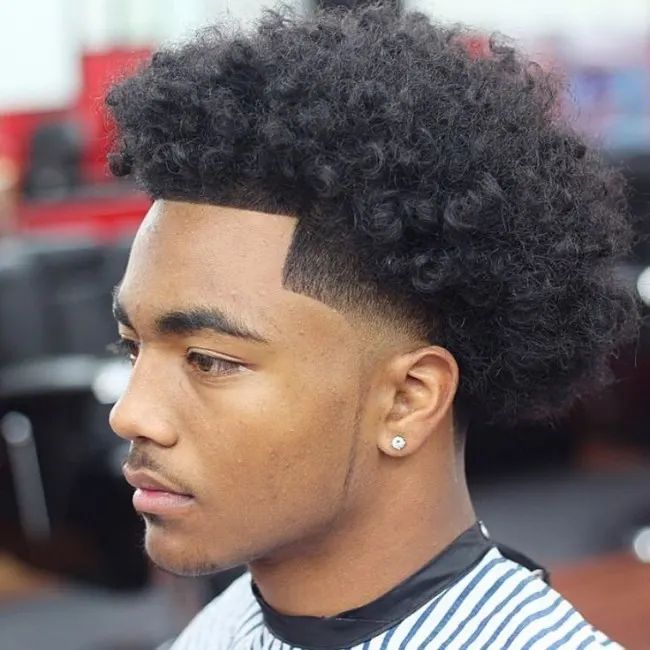 In the Temple fade style, the hair disappears low like the Low Fade but what makes it different is that the transition between hair lengths is more abrupt and hence more evident and clearly visible.
This fade is also known as Afro Blow Out, Brooklyn Fade or simply as Blowout. Due to the appearance of this fade, it is suitable for any hair color and skin tone provided it is done correctly by a skilled barber or hairdresser.
#16 Comb Over Fade
In this style, the top hairs are grown to an increased length and the bottom hairs regularly trimmed so that they can always below the level of the top hairs.
The top hair is then either combed in a slicked-back manner or a part side style. Although most people prefer to grow their hair in this style from scratch, a skilled barber can still give you a comb over fade from your fully grown hair.
This hairstyle is most suitable for people with baldness issues as they can use it to hide the prominence of their baldness.
#17 Bald Fade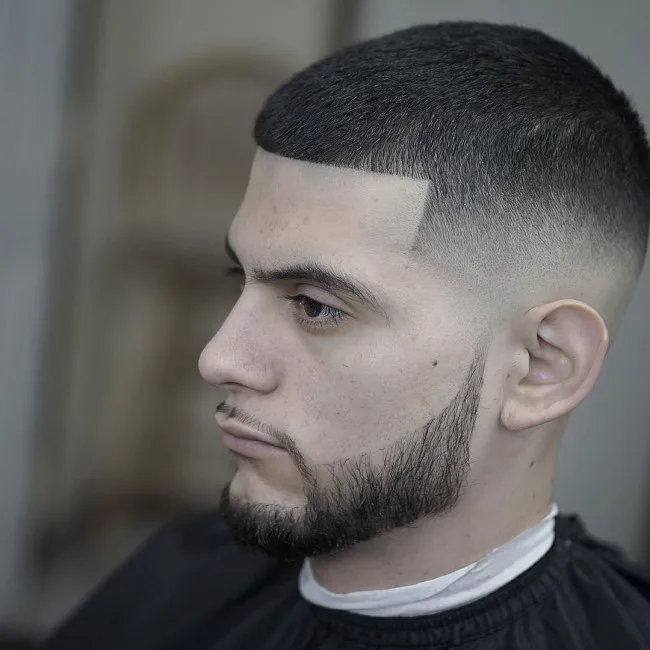 This fade is for those who are almost bald or are already bald as it can bring back their confidence by giving them a stylish look.
This fade can be compared to the military buzz cut as they are very similar in appearance. In fact, an untrained eye cannot tell the two apart.
However, the bald fade is better than the military buzz cut as it fades from nothing in the sides to the top of your head where the fade is the largest. The appearance of this fade helps to make baldness less visible.
#18 High and Tight
This type of fade is more often seen in military men, and it is often referred to as bald fade, but it is important to know that the two fades are quite different.
To get the high and tight fade you have to shave most of the hairs on the sides of your head and the back. Apart from this, you have to leave some buzzed hairs on top to give it a high and tight look.
#19 Caesar Fade
The Caesar fade is one of the best if not the best hair fade for African Americans due to their dark hair color and skin complexion. Caesar fade is brought about by short haircuts on-sides and longer haircuts on top.
In this style, the hairs on top are not only cut in larger lengths but are also swept to the front side rather than the side like in other fades. However, bangs or short borders can still be combed to the side.
#20 Curly Taper Fade
Just as the name suggests, this fade is more suitable for men with curly hair. This haircut works perfectly well with different styles from pop to modern groovy. This fade makes the curls in the hair more prominent.
In most cases, the size of the hair is uniform from the back, to the sides and top but some people prefer to have a longer curly hair at the top of their head.
#21 Retro Fading
This fade style was the in thing in the 80's and part of the 90's, and it is slowly coming back because it is attracting more and more fans among the younger generation.
This taper fade is best suited for African Americans due to their thick dark hair. Although this look is sufficiently attractive it can still be upgraded by getting a light facial hair sculpting.
To wear this look you first need to have a long and thick hair and the rest will be up to your hairdresser but some regular retouching and maintenance will be important if you want to keep the look.
#22 Lumberjack Fade
The Lumberjack fade is an excellent option for anyone who does not wish to look trendy but still want to have the comfort of a good fade.
Lumberjack fade goes well with different types and colors of hair, but black hair does not look very nice on this fade, and so it is most suitable for a person who has any other hair color besides from black.
To wear this fade, you should go with a thick beard and the sides of your head buzzed. Since this fade concentrates more on your thick beard, you can do anything with the hair on top.
#23 Brushed Back Handsome Fade
The brushed back is popular with people from various ethnicities as it works well with any hair color and type. This fade is made from medium length hairs and carefully edged sides.
The most outstanding thing about this fade is its unique angle and all round thickness. Although anyone can wear this fade, it looks the best on thick, coarse hair.
#24 Long and Straight Sleekness
If you like high tape fades, then this is a unique and very attractive style that you should try. This fade involves keeping the hair long on top.
To get this fade you have to cut the hair close to the top of your head. The remaining locks on top of the head are then let to flow free. To supplement or finish this look, you should add a thick and coiffed beard.
The beard part is not necessary to wear this fade, and so if you do not have a thick beard, you will still look great in this fade. You can also get creative and add some color to your beard for a more interesting look.
#25 The Traditional Tapering
Traditional tapering is reminiscent those childhood photo sessions or class picture day. It is simple and neat, and it can incorporate any hair type into a style that will always make you look outstanding, and most ladies will love it.
Of the entire taper fade men's haircuts, this is one of the easiest to wear. Provided you have some hair in your head wearing this fade should not be a problem as it is not only very easy but also fast.
The other thing that makes is an amazing fade is that it gives you a certain formal look, and hence you can wear it on special occasions or when going to an interview.
#26 Sculpted and Angled Fade
Whereas it is not quite a top notch taper, fade it can still bring some style and dimension to the overall appearance of a man.
This fade is characterized by defined and super straight edges and due to this, some people often refer to it as the geometrical fade.
The only shortcoming with this fade is that it only looks good on certain head shapes. People with more symmetrical heads would look the best with this fade as the angles will be more prominent and uniform.
#27 Sweet Spikes Low Cut Fade
The sweet spikes fade is a low-cut style that is more popular with people of Asian ethnicity. The reason for this is their soft textured hairs.
However, it can still look great with people from other ethnicities provided the cut is done correctly, and they know how to maintain it.
The trick here is to use a styling product that works well for you or for your type of hair do that you can maintain the fade all day long.
#28 The Creative and Seasonal Fade
If you are looking for the right taper fade, then it is important to know that your imagination is your only restriction you can get almost anything that you think of.
The creative and seasonal fade incorporates these two things to give you a unique fade. With this type of fade, you only need to think of any fade that you might wish to have to go with the particular season.
A simple leaf can be added on the fade to indicate the particular season, or you can add a wave to give it more style.
#29 The Disconnected Fade
The disconnected fade is one of the most interesting types of taper fade that you will ever come across. Contrary to what most people are used to where your head and beard have a matching fade or have fades that complement one another here there is a total disconnect.
In this type of fade, there is no link between the head and beard and each of the two has a completely different fade.
#30 The Classic fade
Classic fade can be defined as the regular or normal fade that you get when you go for a simple haircut.
Although there is nothing fancy with the classic fade, you can never go wrong with it. Provided your barber does a good job cutting your hair then the classic fade will look amazing on you.
#31 Razor Faded Pompadour
The Pompadour is one of the latest men haircuts to come into the scene, and you can now spot students, celebrities, and businesspersons rocking this style.
A pompadour is worn with the hair swept backward and upwards and with short sides. There are two types of the Pompadour fade which are the classic and the modern pompadour.
The Modern Pompadour Fade is what is more popularly known as razor faded pompadour and what sets it apart from the classic is that the side and back hair is shaved extremely short.
#32 Mid Tier Fade
This fade is quite similar to the razor faded pompadour with the only notable difference being the less emphasis on the fading appearance.
Instead of this, the hairstyle focuses more on bringing out a contrast between the hair levels. This style is more suitable for men with longer or mid-level hair.
#33 Beckham
As the name suggests this type of fade has been popularized by David Beckham, and it is simply a scissor fade given a unique touch.
In this fade, the hairs at the top are 1 to 2 inches long, and the hair size is progressively reduced towards the sides and back.
#34 High Contrast Fade
If you like wearing long hair, then the High Contrast Fade is a good idea for you.
The hair at the top in this fade is usually 2 inches or more long depending on the preferences of the wearer. Back and side hairs are then mad as short as possible.
#35 Debonair Fade
The debonair fade is ideal when you want to have a gentleman look, and if you pair it with a lovely suit, you will look outstanding. It is a simple and somewhat traditional fade with the top hairs being cut to slightly less than 2 inches.
#36 Modern Fade
Modern fade is as a result of good utilization of the scissors by a skilled barber.
In this fade, the top hairs are finished with high-quality pomade then combed sideways and hence living a neat straight line on the other side that separates the top hairs and the gradually receding side hairs.
#37 Rough Fade
In this fade, the top hair is left to look rough or natural and is most suitable for any man who wants to pull a bad boy or rebel look.
The size of the top hairs in this fade may vary from one person to the other, but longer hair brings out the rough look better.
#38 Blended Fade
Volume and contrast are the two main things that set the blended fade apart from the rest. Whereas the volume of the top hair makes it stand out the contrast is still brought out thanks to the small volume of the side and back hairs.
#39 Messy Fade
This style combines a messy hair with a fade haircut and, therefore, helping you look great in that hair that you think it's messy. The messy segment of this style is at the top, and it can be bumpy or curly hair type.
#40 Mid-High Fade
If you are unable to choose either a mid-tier fade or a high fade style, then the min high fade can be a good option for you.
This type of fade has the characteristics of both mid tier and high fades, but the only difference is that the top hairs length is somewhere in between what you see in the two types of fade.
Idea # 41
Idea # 42
Idea # 43
Idea # 44
Idea # 45
Idea # 46
Idea # 47
Idea # 48
Idea # 49
Idea # 50
Idea # 51
Idea # 52
Idea # 53
Idea # 54
Idea # 55
Idea # 56
Idea # 57
Idea # 58
Idea # 59
Idea # 60
Idea # 61
Idea # 62
Idea # 63
Idea # 64
Idea # 65
Idea # 66
Idea # 67
Idea # 68
Idea # 69
Idea # 70
Idea # 71
Idea # 72
Idea # 73
Idea # 74
Idea # 75
Idea # 76
Idea # 77
Idea # 78
Idea # 79
Idea # 80
The above 80 are some of the most popular and widespread taper fade men's haircuts but besides, from these there are several other types and each region has a couple of its unique styles.
With the many options available choosing a good fade should not be a problem provided you know what works well for your hair type and color.
However, the most important thing that you should consider when getting the best fade is your personal preferences and tastes.
If you like the fade you are wearing then you will feel good about yourself and hence becoming a more confident person. Lastly, it is also crucial to know how to maintain the fade properly no matter what style you choose.