Have you ever paid attention to the way your hair grows on your forehead? You have a widow's peak if you see clearly a triangle starting in the center.
Are you on the prowl for the best widow's peak hairstyles? Well, search no more because we have prepared something unique that you will definitely get to love.
Below, we're going to discuss some of the top inspirational ideas worth putting into consideration in order to get the best in these hairstyles.
# 1 Forward Comb Over
This style neither hides nor accentuates your widow's peak. It's a greased comb-over style with fluffier hair in the front that hides one side of the forehead. If someone looks hard, they'll notice the widow's peak, but this style subtly draws the eye away.
# 2 Forward Brushed Soft Spikes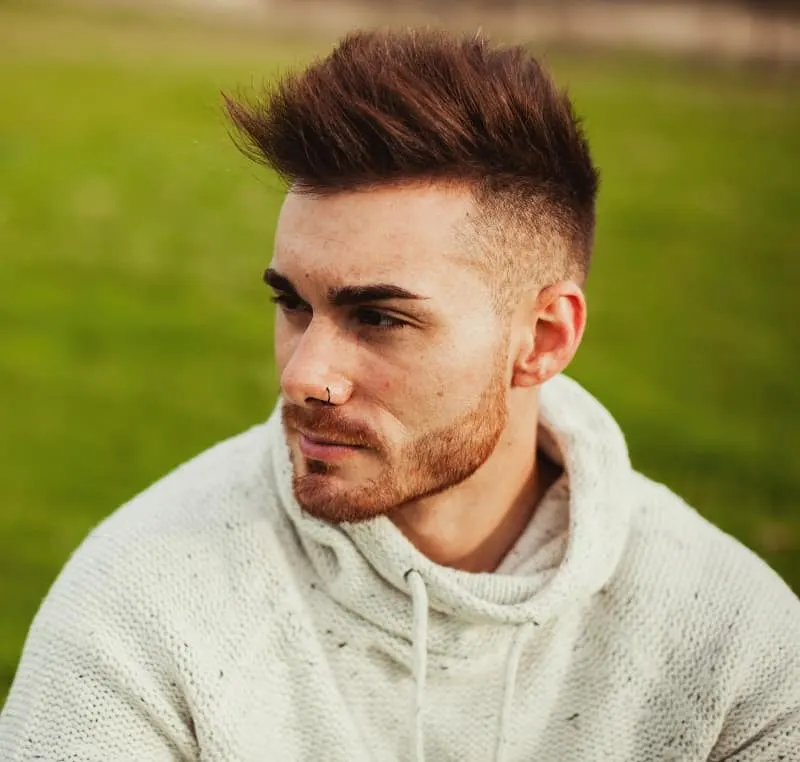 Another style that hides it a little, this perfectly straight, fluffy spiked hair leans forward to cover the peak. The high fade on the sides adds further texture.
# 3 Short & Simple
This is a pretty uniform cut, about a number 5, brushed softly forward without product use. The widow's peak is clearly visible, despite some hair peeking over the hairline.
# 4 Natural, Slightly Styled Curls
If you have naturally curly hair and a widow's peak you want to hide, arrange some of your curls onto your forehead to hide your hairline. Use some mousse to keep the styles into condition with a distinct shape.
# 5 Easy Long Locks
Do you prefer long hair? Blowdried straight, the hair frames the face with an almost-center part. Some hair along the hairline is side-swept, softening the look of the widow's peak.
# 6 Soft Wind-Swept Quiff
This V-shaped quiff brings out the widow's peak and is a great everyday look. The hair has been gently brushed up into a quiff, using gel products for a soft look. The quiff has distinct separate points and some ruffling on the sides to look wind-swept.
# 7 High Side Part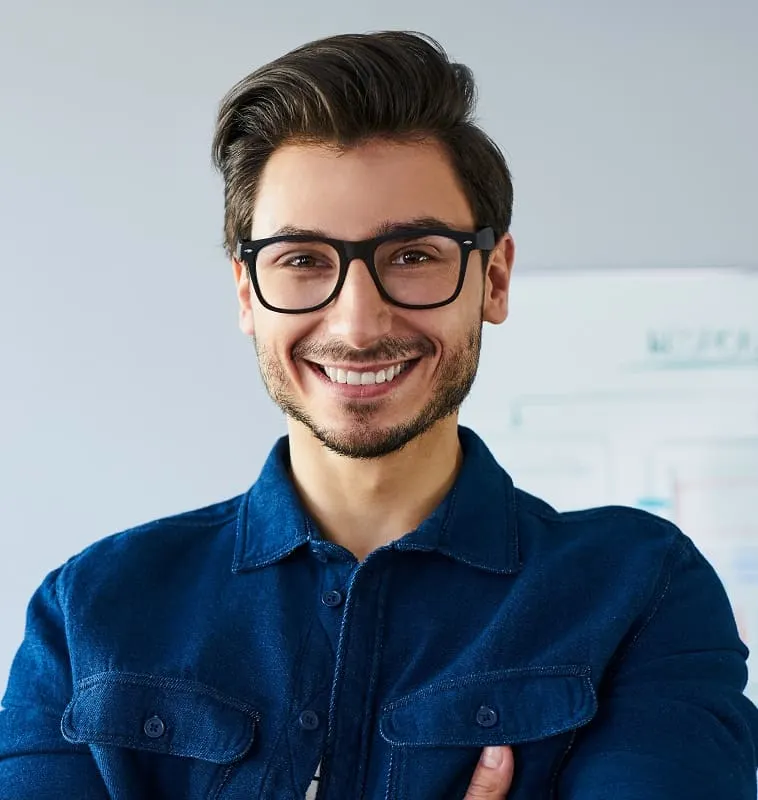 For lots of volume, part your hair on the side and brush the long top in one direction, curling slightly. It looks neat and smart. It utilizes the widow's peak to add volume to the front of the hair.
# 8 Brushed Back with Undercut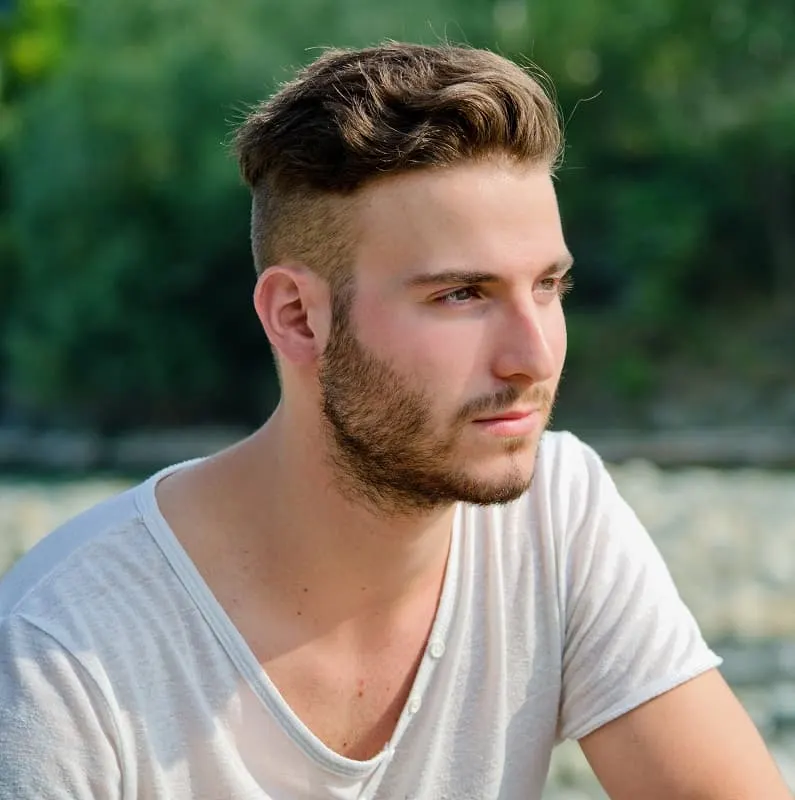 This is an easy undercut style where the side hair perfectly matches the beard. The hair on top is brushed back with minimal styling, showing off the natural waves and subtle widow's peak.
# 9 Forward Falling Curl
To hide an unwanted widow's peak, brush most of the hair back with a slight curl but let a larger curl fall across the forehead. It hides the hairline well and works for any occasion.
# 10 Easy Quiff
For a casual everyday style, a classic quiff will do. With one side fallen, it's slightly textured, and the sides are simple without drawing the eye. This works well to show off a small widow's peak.
# 11 Textured with Sharp Fade
David Beckham has never ceased to surprise us with his iconic haircuts. Here, he textures his hair leaving more length on the top.
A part style comes in handy to give the celebrity a cool look. The top front is separated into small sections that are styled into waves.
The other half is slicked back to create a distinction. The sides are given a sharp fade that makes the footballer even sexier.
# 12 Pomade with High Fade
This style has become a favorite for most men across the world. It provides the cool touch of a slicked back pompadour that fully displays the face.
A high fade connects to the medium cut beards to wrap up the whole look.
# 13 Textured Slicked Back Top with Medium Fade
In this haircut, the hair is highly textured to give it that curly look. The top is slicked back and the ends allowed to retain that curly appeal. The sides are given a medium fade to heighten the whole look.
# 14 Side Slicked Top with High Fade
We are used to the popular slicked back haircut. But here you get to see a unique side slick that adds sophistication to this style. A high fade lines the sides to provide a classy look.
# 15 Textured Wavy Mohawk
Unlike the standard mohawk styles, the top hair is highly textured and styled into waves that are pulled back. A low fade connects to the thick well-tamed beards for a much hotter look.
# 16 Messy Top with High Fade
This style brings out that serious look for a blondie. The top is textured and given that messy yet perfect look. The high fade makes the haircut even more impressive.
# 17 Slicked Back with Pomp
This style creates the best in a slicked-back haircut. The whole hair is pulled back to make the face fuller. A pompadour comes in handy to provide a cool touch.
# 18 The Curly Mohawk
Here, you get the cool touch of a mohawk style and the volume and elegance of curly hair. It is an amazing haircut that no one will see coming.
# 19 Slicked Back Pomp with High Fade
This style creates the illusion of a mohawk haircut in a pomp. The textured hair is slicked back to provide a streamlined look.
A high fade merges with the short trimmed beards to provide a more trendy look.
# 20 Wild Parted Bob Cut
Bob cuts are not only a thing for women. It can be made wild and messier to provide that muscular appeal. A comb part comes in handy to eliminate the monochromatic look in this haircut.
# 21 The Buzz Cut
Buzz cuts are usually considered a haircut for military personnel. But Jude Law changes this perception. This buzz cut gives him that gentleman look in a clean cut.
# 22 Coarse and Curly
Here, Jude Law brings that coarse look in a curly hair that comes in medium length. The top hair is slightly pulled up to give it more height. Trimmed beards create a cleaner look in this beard.
# 23 Slicked Back Side Part
Leonardo Dicaprio takes great pride in this haircut. It is an iconic slick back style in a medium hair. The hair is side parted giving the actor that sexy look that has heightened his career even further.
# 24 Detangled and Finger Combed
Here the here is light and well combed to create a flawless voluminous top and the sides are faded. The hair on the top has natural highlights.
# 25 Mid Part with Fringe
This is medium length hair that has pulled back sides that display the outline of the face to its fullest.
The top hair is parted and slicked to the sides. A section of the hair is flipped to create a small fringe at the front for a more dramatic look.
# 26 Mohawk with Undercut Sides
Mohawk with a bald fade is a style that has taken the fashion industry by storm. However, the style can be improvised to make it more appealing with undercut sides.
# 27 High Bald Fade in Mohawk
This iconic haircut is made even cooler by pulling back the top hair. Lots of texture is given to it to create more shine and an added touch of elegance.
The high fade connects to a medium cut beard to provide a contrasting look.
# 28 Flipped Up Pomp with Undercut Sides
This pomp style has the hair flipped up. It has a wavy front that curls backwards for a fuller face. The sides are undercut to create the best in this platinum blonde hair.
# 29 Curly Pompadour with Disconnected Undercut Sides
Lots of texture has been given to this hair making it much easier to style into curly waves. The sides are cut short creating the illusion of disconnected hair.
# 30 Messy Pomp with Disconnected Undercut
This messy pomp provides that perfect look for this blonde hair. It has lots of loose hairs and side framing pieces that adds a little drama to this style. The sides transition sharply into a disconnected undercut.
# 31 Pomp With Double Tap
This is a hot and cute style that brings out that boyish look. This pomp is made even more unique with a double tap that makes the style intricate and elegant.
# 32 Slicked Back Disconnected Pomp
Get that sleek look in this disconnected pomp. It is a pulled back pomp that makes the face more revealing. The hair is cut to a short length allowing the hair to gracefully rest over it.
# 33 Knotted Pomp for Long Locks
This style calls for plenty of lengths. The top is styled to a pomp that ends in a knot. The back locks are left to retain their length resting over the shoulders.
The short sides connect to a thick beard that matches well with the long locks.
# 34 Slicked Back with Undercut Sides for Grey Hair
Want to get that Santa look in a whole new different haircut? Well, this style provides the elegance and radiance of gray hair at its best.
The top is slicked back to complement with undercut sides that connect to a well-trimmed beard.
# 35 Short Buzz Cut
Simplicity and ease-of-maintenance are what you get in this short buzz cut. It provides a cool gentleman look perfectly suited for Nick Jonas.
Idea # 36
Idea # 37
Idea # 38
Idea # 39
Idea # 40
Idea # 41
Idea # 42
Idea # 43
Idea # 44
Idea # 45
Idea # 46
Idea # 47
Idea # 48
Idea # 49
Idea # 50
Idea # 51
Idea # 52
Idea # 53
Idea # 54
Idea # 55
These are certainly the top cream in the world of widow's peak hairstyles. They are elegant, cool and will earn you many compliments from those around.
Try one and transform your looks into something more appealing and sexy.