85 Modern Hard Part Haircut Ideas – Choose Yours
Men have almost unlimited choices when it comes to hard part haircut especially if they are getting their hair done by a professional. And as more and more designs continue to come into the market there are also some popular ways to enhance these hairstyles that are emerging, and top on the list is this hairdo. It is shaved using the razor. Although most people think that the solid line is a minor part of a haircut it is very crucial to the look and without it, the cut would seem very dull. And as more men discover the beauty of this hairstyle on their mane there are now more ways to cut it than any other time. The following 85 are perfect examples of how you can have it for yourself.
# 1 Disconnected Pomp
The disconnected pompadour is one of those styles that if you get it right will always make you stand out and will never go out of trend. In this particular hairstyle, it is enhanced by being given some hard lines on the close shaved sides. Unlike in many other styles, it is not a simple line that stretches from the forehead to the crown but it is instead an intrinsic pattern of many deep razor shaved contours.
# 2 Hipster Trim Pomp
This is a fantastic hairstyle that any man would love to wear, but it couldn't have looked good without the parting line on the side. The hard line makes it possible to shape the hipster pompadour and also helps to create a distinction between the two levels of strands. Sweeping the hair in two different directions is also made possible by the contour.
# 3 Waves Part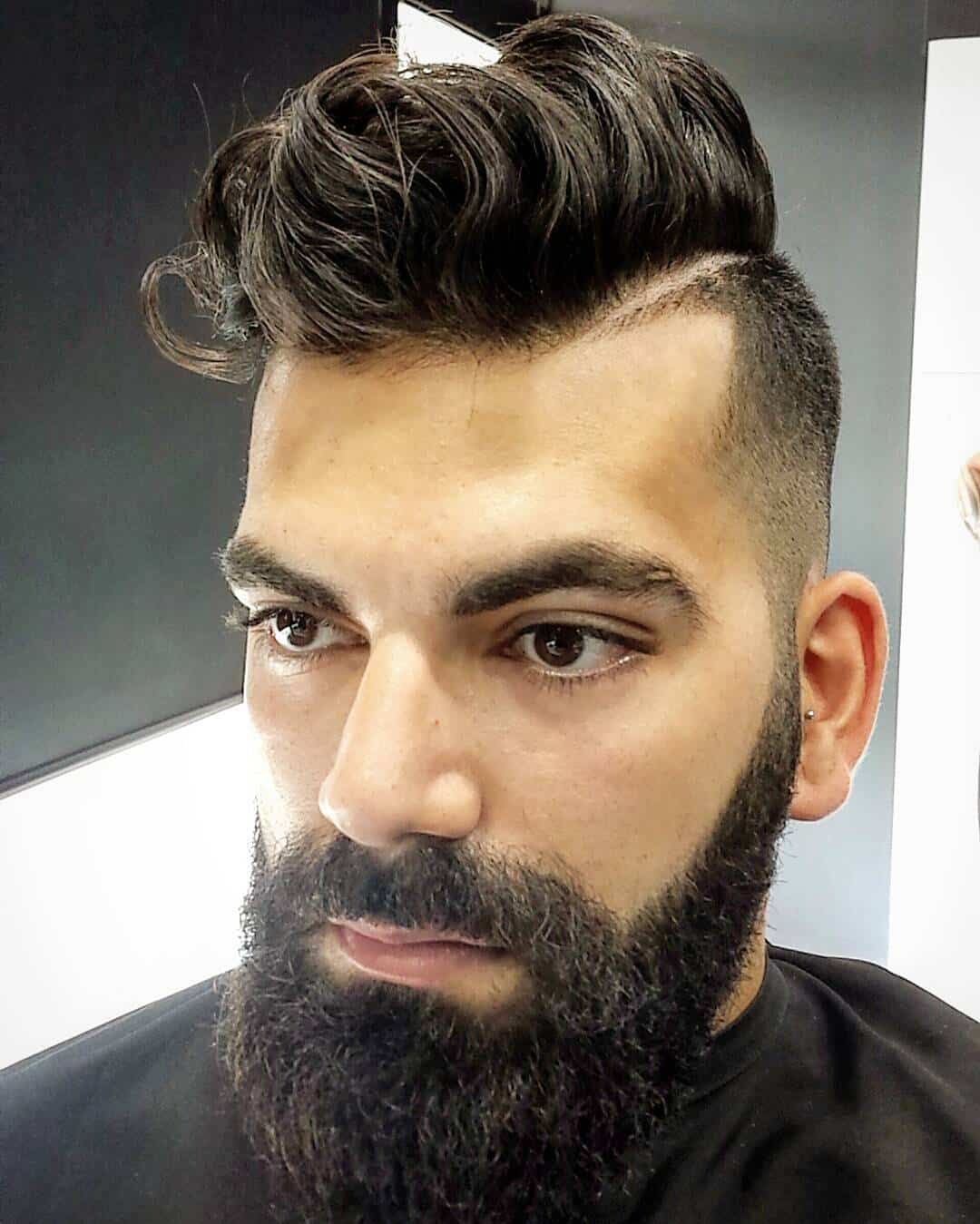 The wavy mane is easy to style since it already looks gorgeous in its natural state but the part done on this style helps to make the waves look more stunning. The deep stripe on the side also helps to separate the waves from the faded sides and back.
# 4 Deep Part Crown Bun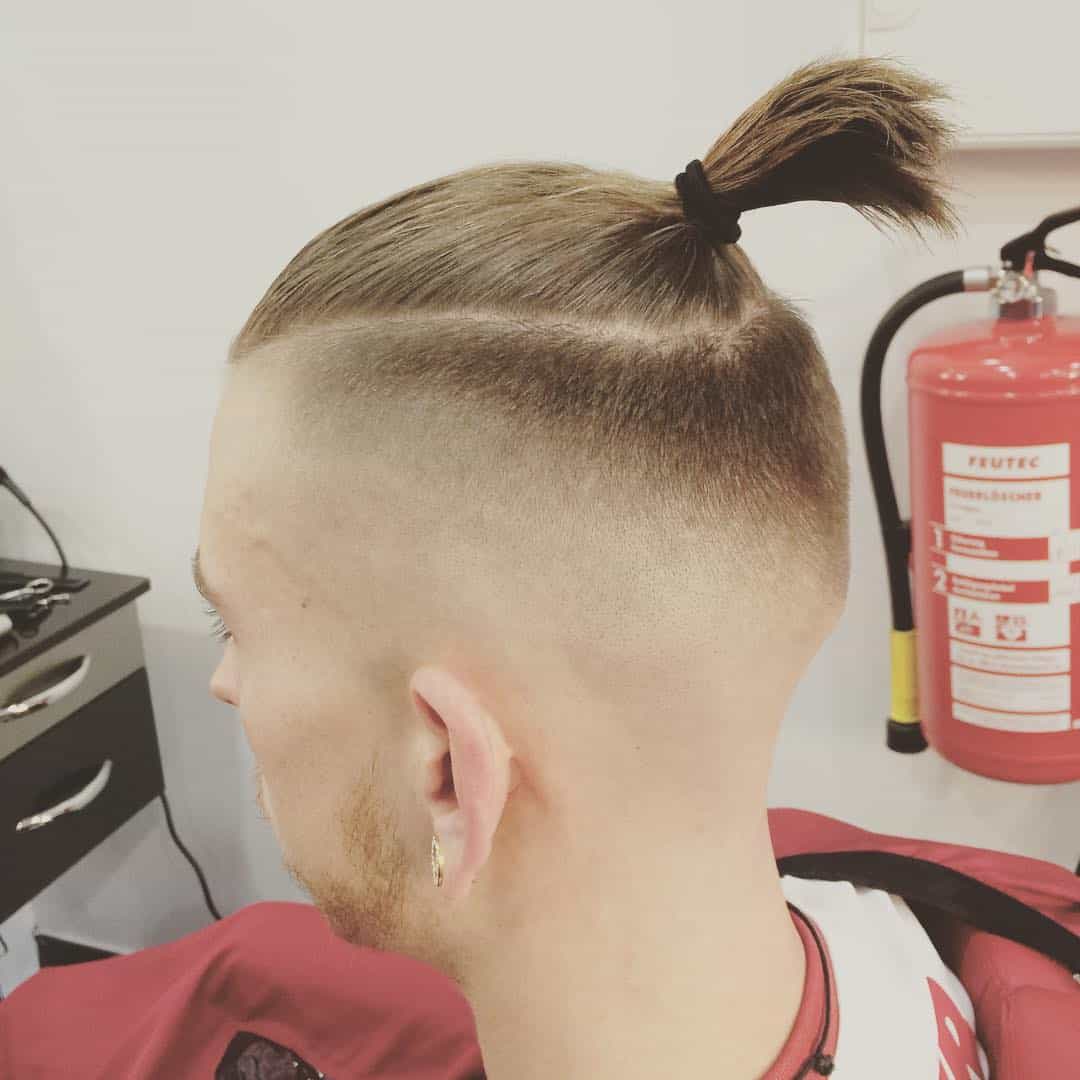 The crown man bun is a unique idea that men who like keeping buns should try. However, instead of just pulling longer top hairs into a bun you can make the style more attractive with a line that goes around the crown hairs to separate them from the shorter hair below.
# 5 Part & Fade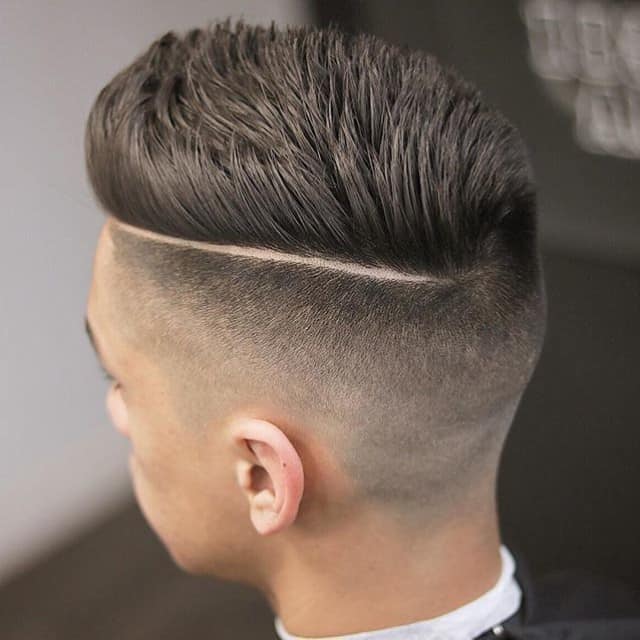 There are so many things in this haircut that look amazing but what will probably catch most people's eye is the shaved line. The side part stretches from the forehead to the crown and it separates the high wavy top from faded sides. The contour is very detailed and this shows that it was done by a professional.
# 6 Curvy Incomplete Line
The best hairstyles are those that do not stick to a norm or conventional way of doing things. In this haircut, a hard line is not only incomplete but also curvy, unlike the traditional straight line. The incompleteness adds some freshness and uniqueness to the haircut.
# 7 Sleek Spiky
Spiky haircuts are always beautiful even without doing anything fancy to them, but the gorgeousness of this particular haircut proves that you can take this popular look to a whole new level with a little creativity. Long shaved line that stretches all the way to the back makes all the difference and it also makes the fade look more charming.
# 8 Crisp Pomp Line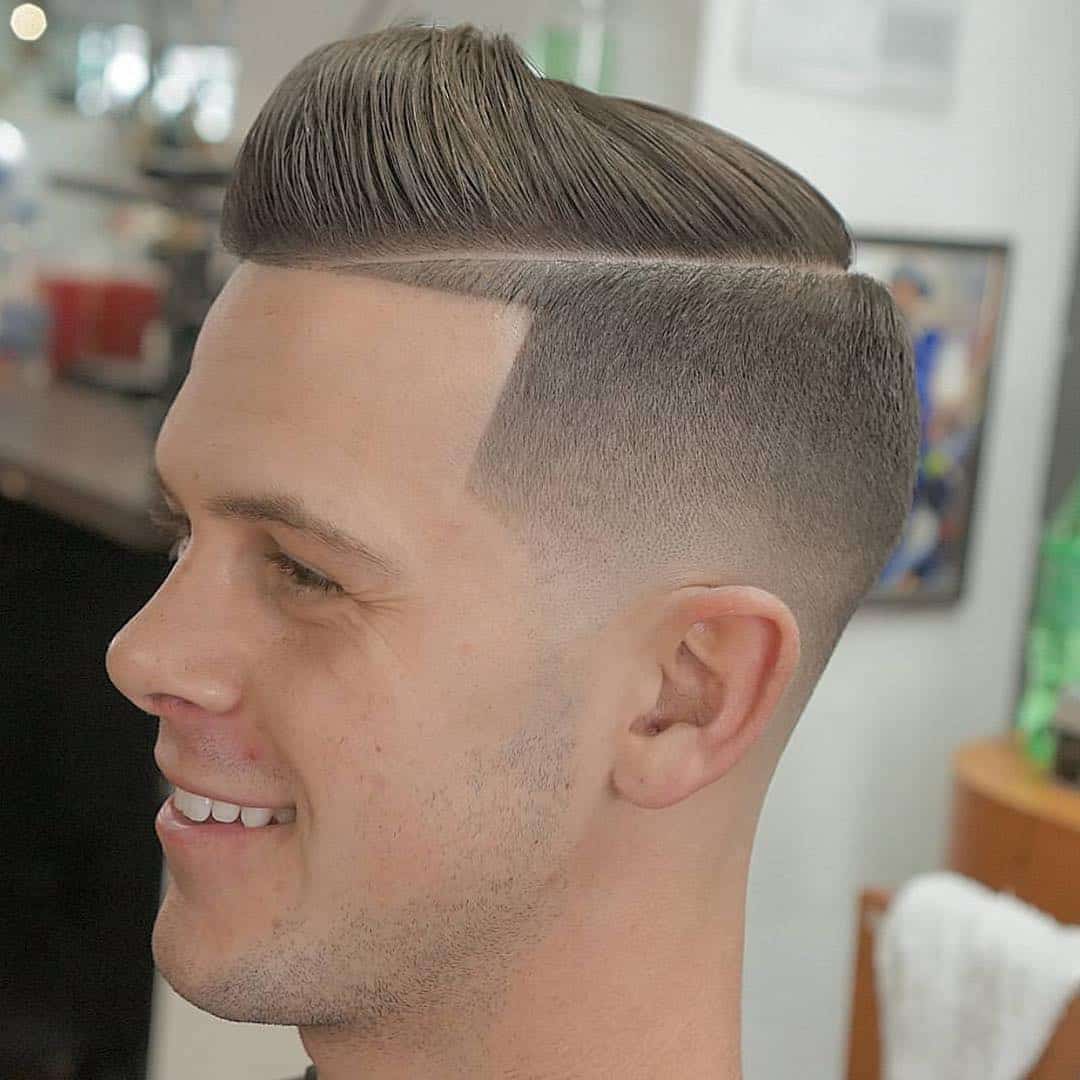 Pompadours are classic haircuts that have been around for many decades, but most of them always look the same. You can make yours unique by introducing a crisp contour around the pomp. The side line helps to ensure that the pompadour is the main focus of a style by separating it from the shorter side and back hairs.
# 9 Shaved Perfection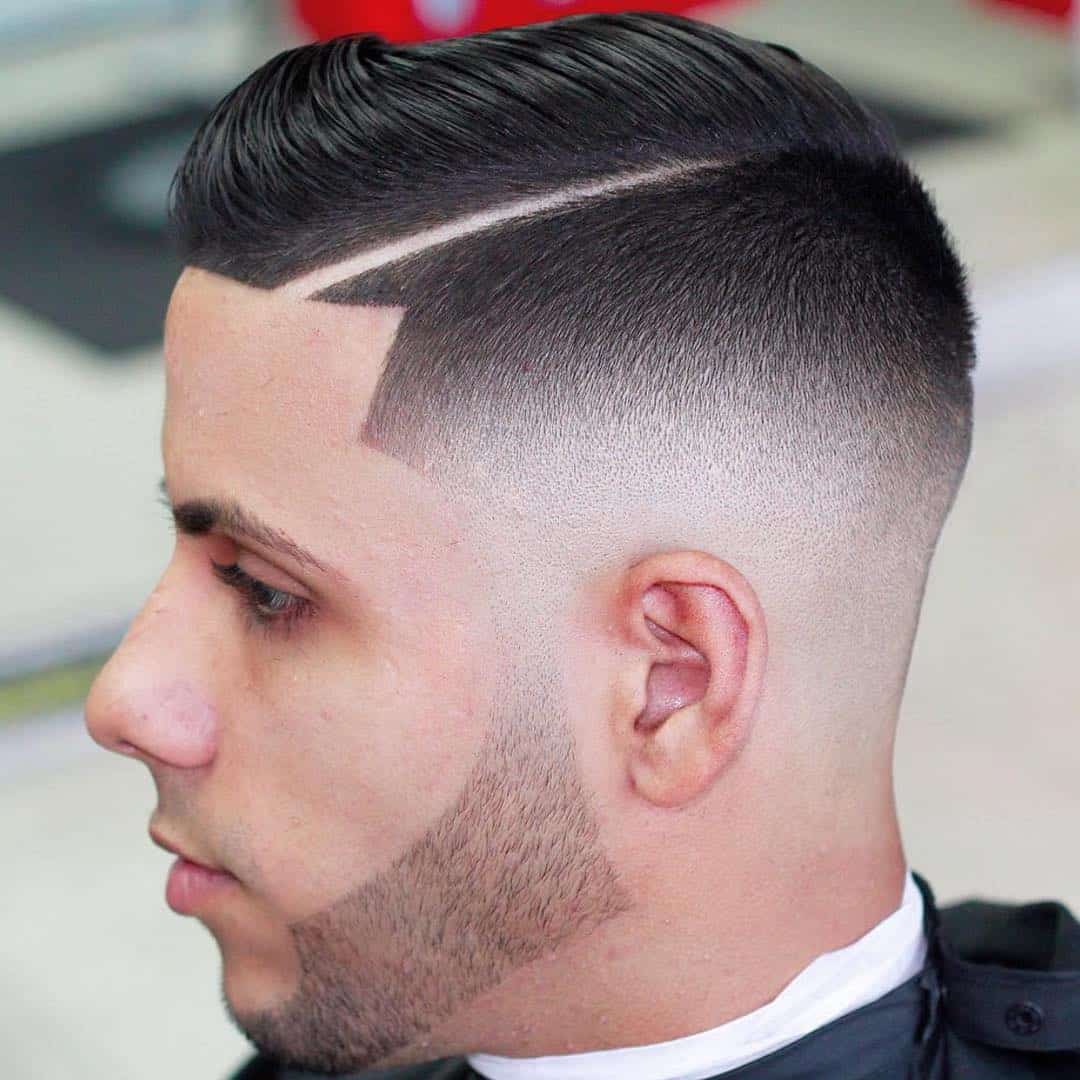 Everything in this hairstyle is perfect and the neatly trimmed facial hairs also seem to add to the perfection. A neatly done comb over is also given a hard side to separate it from the nicely done fade.
# 10 Classic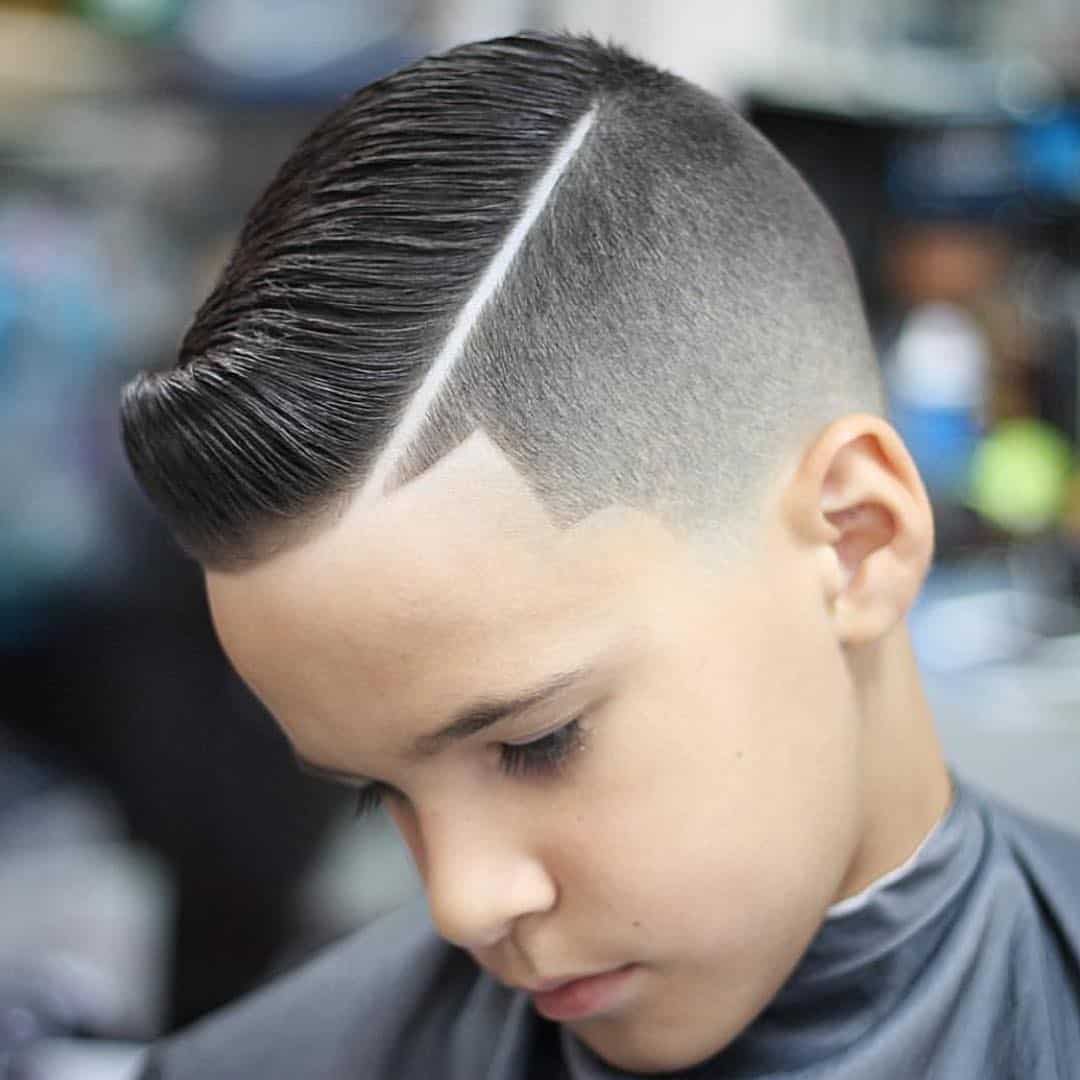 Classic haircuts are amazing especially when done by a skilled and experienced barber and this one with hard sideline demonstrates this clearly. Although the length, styling, and the hair product are important in this cut, a hard part is probably the single most important thing in getting this design right.
# 11 Doubled Modern Contour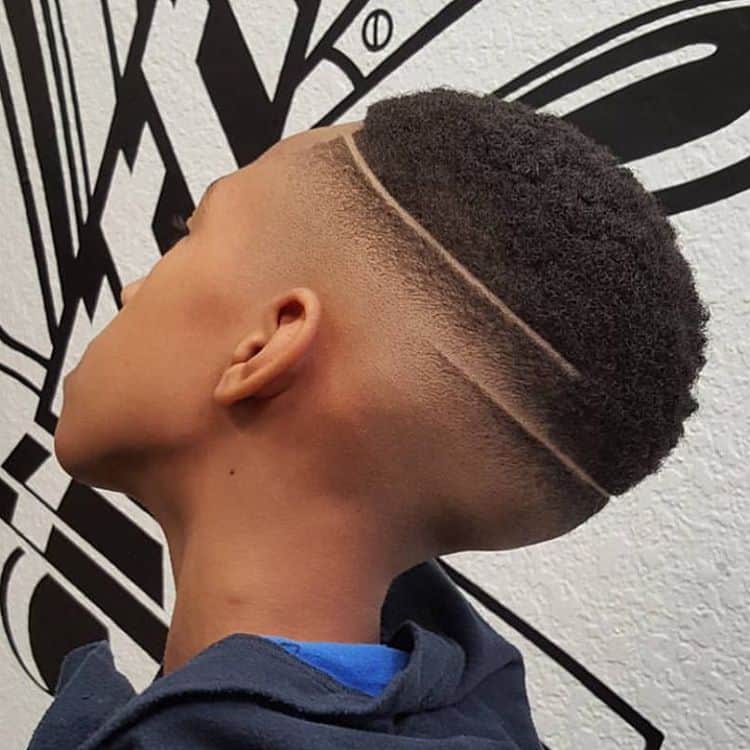 Modern haircuts always try to do things differently and they are also quite experimental. In this cut, two lines are razor shaved in a unique way since unlike in other cuts they are not uniform as they do not start or end at the same position. They create a unique pattern that can add some life into a very dull haircut.
# 12 Thin Parting
A sideline in this haircut is still detailed and visible enough, even though it is thinner than what you would find in other hairstyles. It is suitable for people who would like to have the hard part but do not wish to have a very broad line on their hairstyle.
# 13 Textured & Messy
Perfect texture of this style and its messy appearance are two things that make it stand out, but a style would not look as good without contour below the top hairs. Although it is not very broad a stripe still manages to bring out the contrast between the two levels of hair.
# 14 Low Fade Excellence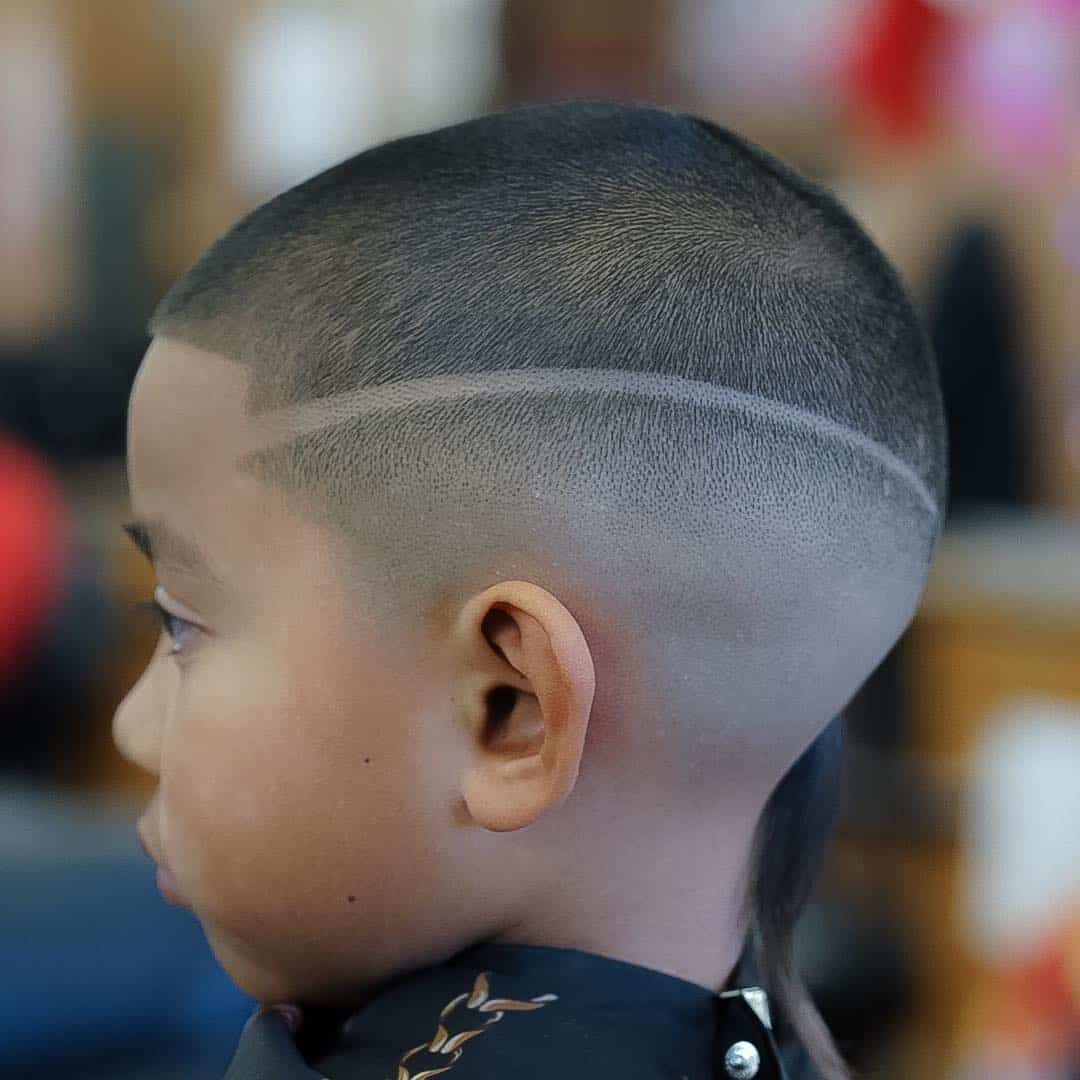 Low fade is one of the most common short haircuts for men and although they all look the same you can make yours unique with the addition of a shaved stripe on one side. Since the hair is very short the line has to be very deep for it to be visible and it will be necessary to redo it regularly to maintain the look.
# 15 Bangs & Line
Giving bangs a part is an excellent idea to make them more fantastic. In this look, the bangs are maintained in the top section while the rest of the head is tapered. A hard stripe is then introduced between the bangs and the tapered sides and back.
# 16 High Parted Faux Hawk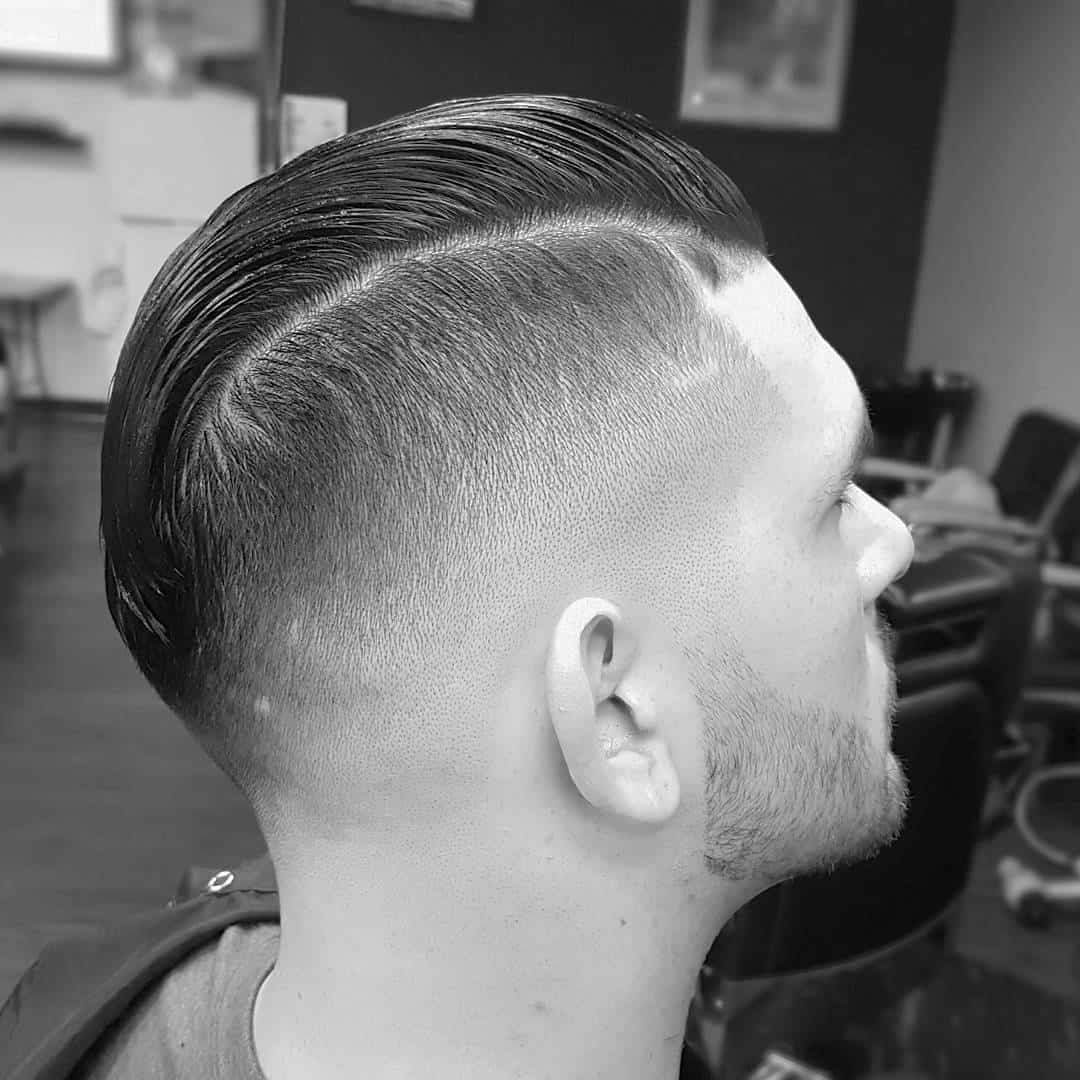 There are so many styles that come into play to create this hairstyle. The idea behind it is to make a slick back faux hawk that is unique and this is achieved through the use of a high sideline that stretches from the forehead to the crown. This haircut is a good example of just how versatile sidelines can be on haircuts.
# 17 Braid Section
You do not always have to use the razor to create a magnificent side as this style shows that it is possible to achieve the same look with a braid. In this style, long hairs are left on the top and they are then braided into one big Viking braid. The braiding creates a line around the top hairs and makes the haircut look more fabulous.
# 18 Curly Top & Beard
Men with curly locks have an advantage when it comes to shaving and styling the mane as this type of hair is easy to work with. In this style, curls are maintained at the top and the mane is given a deep contour on the side. Below it, strands are faded and a long beard is also kept to complete an incredible look.
# 19 Sleek Doubled
This hairstyle includes two amazing double lines with one of the them being deep while the other is shallow or soft. The first one is maintained at the top just after the crown hairs while the other line is shaved on the sides about two inches from the ear.
# 20 Extra High Pomp
The pompadour in this style may not be as high as other high-top cuts, but it has an extra height when compared to other pompadours. Apart from nice styling the other thing that makes a hairstyle fantastic is a creatively shaved curvy sideline.
# 21 Messy High Top with Short Beard
You will hardly find any other hairstyle that is as eye-catching as this professionally done cut. A long messy and voluminous hair is maintained in the top section while the rest of the head is faded to the same level as nicely cut facial hairs. A small in length but deep contour is also shaved on one side to add a modern touch to an already stunning haircut.
# 22 Midnight Silver with Side Braids
Dying the hair is a simple way to make it look amazing but most people often fail when it comes to color choice. This haircut shows just how charming a man can look with a right color choice since the midnight silver looks perfect on the longer top hair. The long mane is then pulled into a man bun and then parted with two side braids.
# 23 Slicked Short Haircut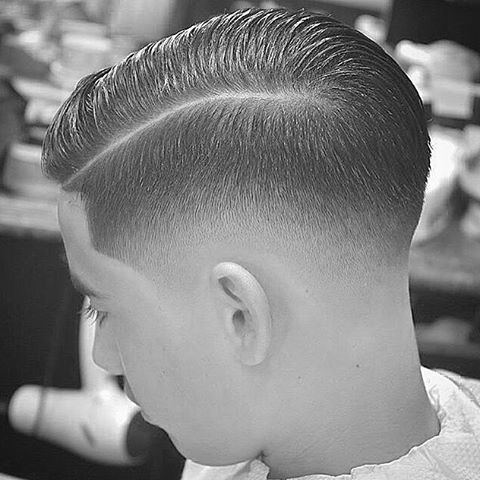 A generous amount of a quality hair product must have been used on these locks to make them possible to slick as perfectly as they are done. Apart from the well-done slick, the deep side stripe also adds an important dimension to the style and it is crucial to finish the look.
# 24 Curved Contour
The deep sideline does not always have to be straight to look good on a haircut. You can also look great and unique by having a curved line that stretches from the center of the hairline and curves towards the crown. This parting style looks great, especially on short haircuts.
# 25 Voluminous Top
Skin fades are used to complement other hairstyles but in this deep contour haircut, they steal the show as they are perfectly done. Even though the high and voluminous crown hairs look great most people's attention will be focused on the skin fades below the line.
# 26 Diagonal Stripe
It's always a good thing to try out something new with your hair so as to get a hairstyle that works best for you. The diagonal parting and the symmetrically shaved facial hairs combine very well in this cut and they make the messy top look more attractive. Note that in this style the diagonal part is shaved far below the top hair but there is also another shallow part line above it.
# 27 Wavy High Bangs
Texture and volume are the two things that make bangs in this haircut stand out. They are very long and so when styled bangs form a high wavy top while the sides are trimmed but not very closely. A parting line that is about three inches long from the forehead is then introduced on one side to separate two hair levels.
# 28 Solid Line Pattern
The pompadour in this haircut is nicely done and enhanced by the hi-low fade. However, it is the solid line patterns on the sides that make this look stand out. Two solid stripes are shaved on both sides and they go all the way to the back where they are joined to create a beautiful pattern.
# 29 Mohawk & Freestyle Part
Mohawks always make a great haircut and they can be worn on almost any type of hair, but greatest shortcoming is that they almost look the same. However, the particular haircut tries to make this popular style unique by introducing two freestyle curvy part lines on the side.
# 30 Clean Line
Pompadour in this haircut has some undercuts, but a clean and long contour is equally as good. Unlike in the conventional parting, the line stretches all the way to the back of the head and hence apart from separating the pomp from the rest of the head it also makes a beautiful deign.
# 31 Blurry Fade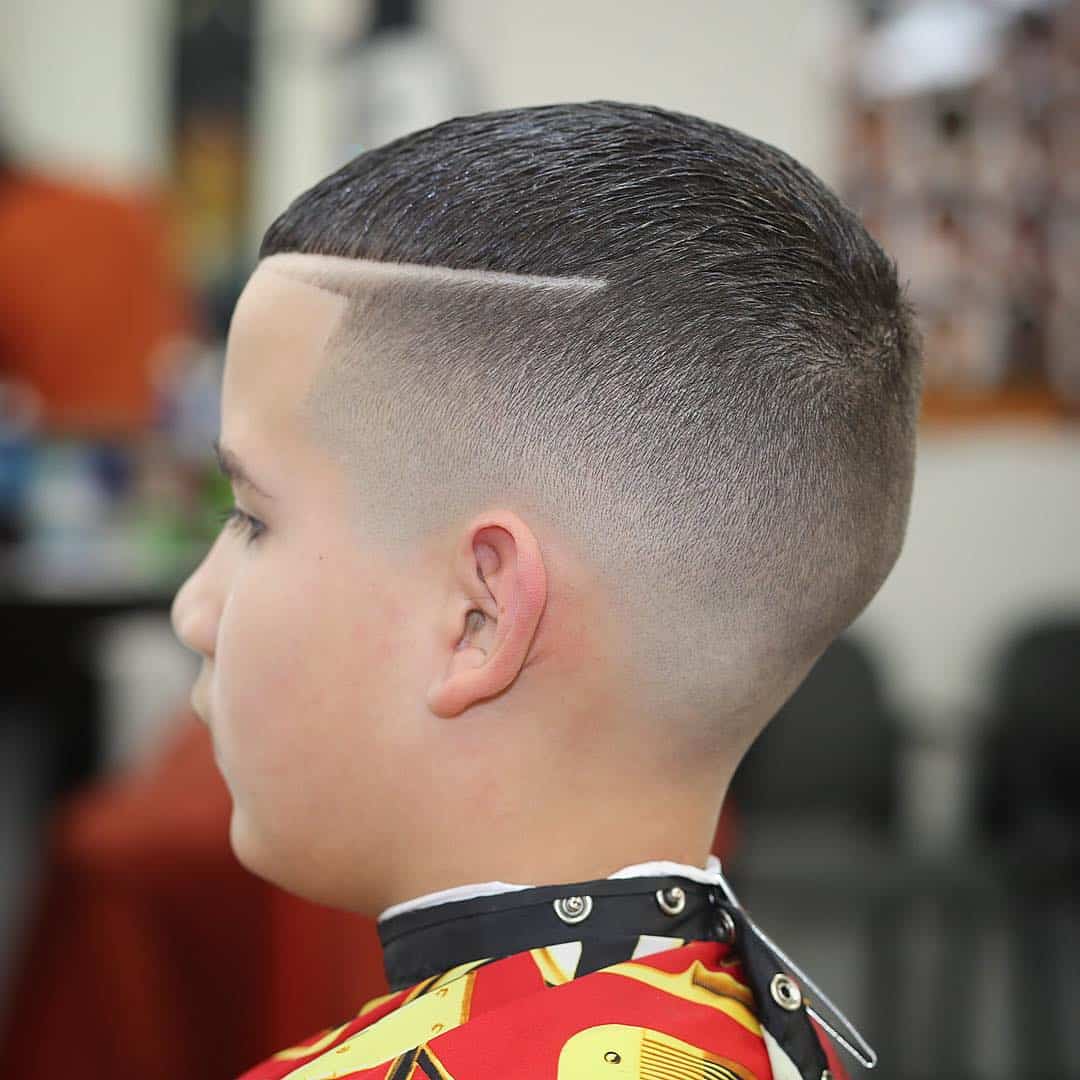 Blurry fade haircuts look good on African American kids due to the texture of their hair and skin tone, but adults with similar tone and hair can also wear it. Although it looks gorgeous as it is, the introduction of a solid stripe on the sides makes it a classy hairstyle.
# 32 Sharp Like an Arrow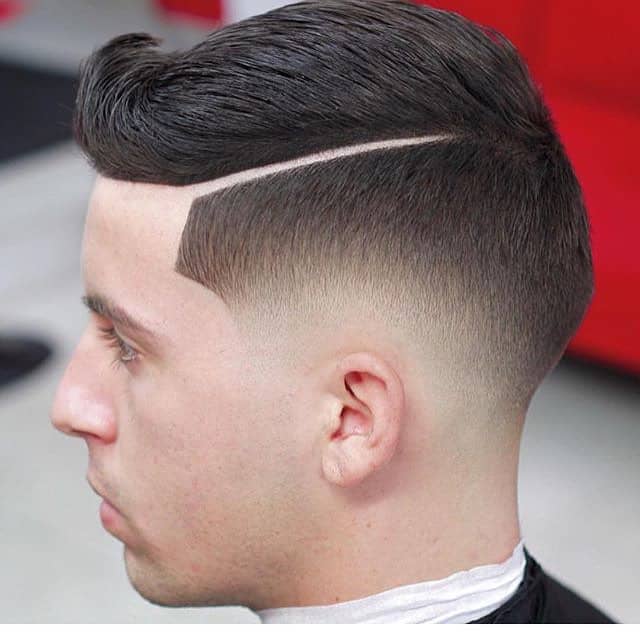 This haircut is very simple but still manages to stand out and it can be attributed to the cleanly shaved solid line. In the look the long top is styled into an almost pompadour like hairstyle and the rest of the hair after the part is tapered.
# 33 Crew Cut
Hair in this crew cut is longer than in traditional cut, but this is not the only thing that makes it a unique haircut. There is a deep sideline almost at the middle and apart from making the cut unique it also makes it easier to style after the shave.
# 34 Short Double Designs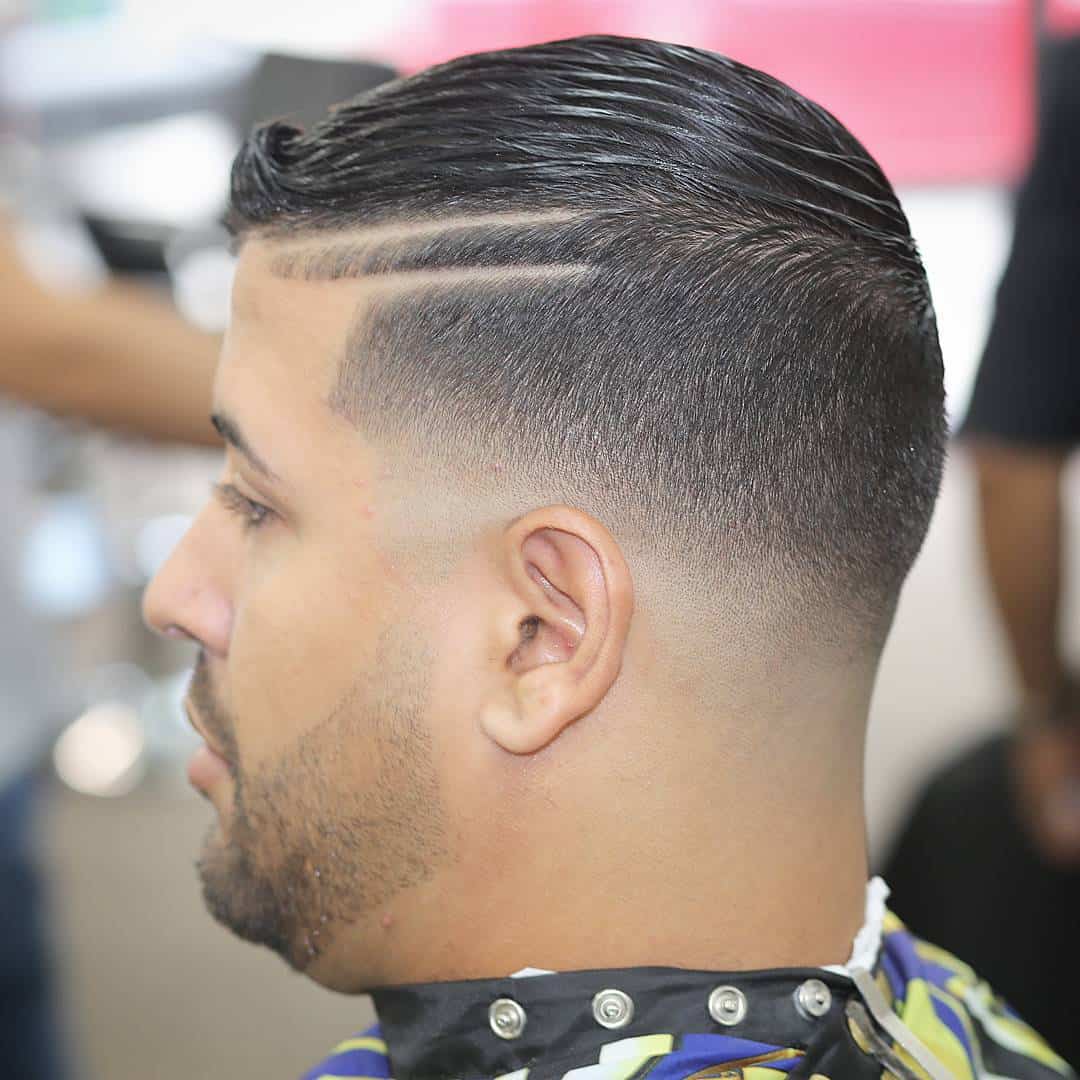 There is pretty nothing much fancy about the comb over hairstyle since its plain and simple but what makes it an interesting hairstyle is the two lines shaved on the side. They are solid but very short and they create a nice pattern on the low fade section of the haircut.
# 35 Elegant Gel Styling
Gel is probably the most important and useful hair product for men. Although the long top in this hairstyle is important the final look wouldn't be possible without using some gel. Once styled the haircut is then given a clean contour on the sides to finish the look.
A hard part haircut can transform even the dullest haircut and make it look trendy and classy. The best thing is that it is just a plain and simple line. However, it may look easy to shave a deep side stripe but it is way much more complex than this and so it should be left to professionals. The fact that the hair will take longer to grow back also means that you cannot afford to go wrong with the line. Although there are many ways to shave this haircut whatever you choose should always go well with your hair type.
Idea # 36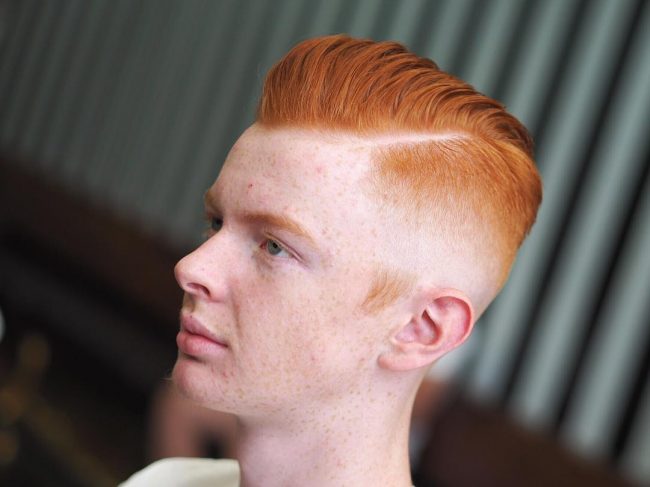 Idea # 37
Idea # 38
Idea # 39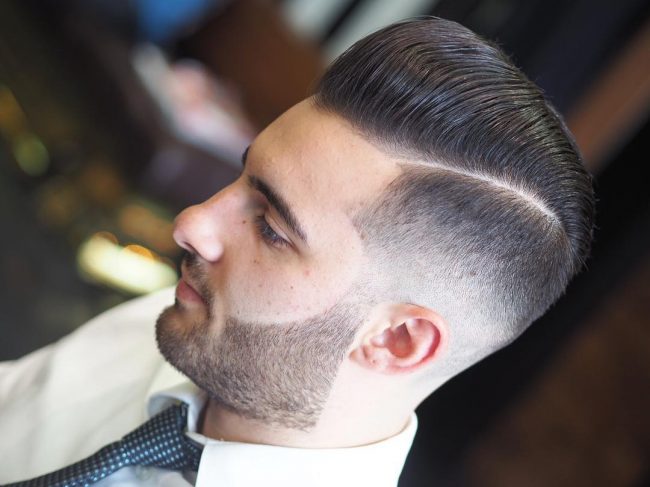 Idea # 40
Idea # 41
Idea # 42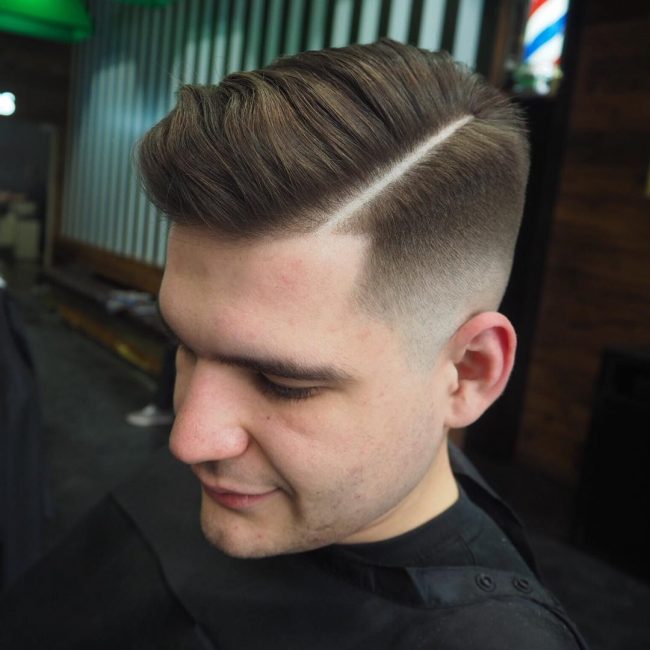 Idea # 43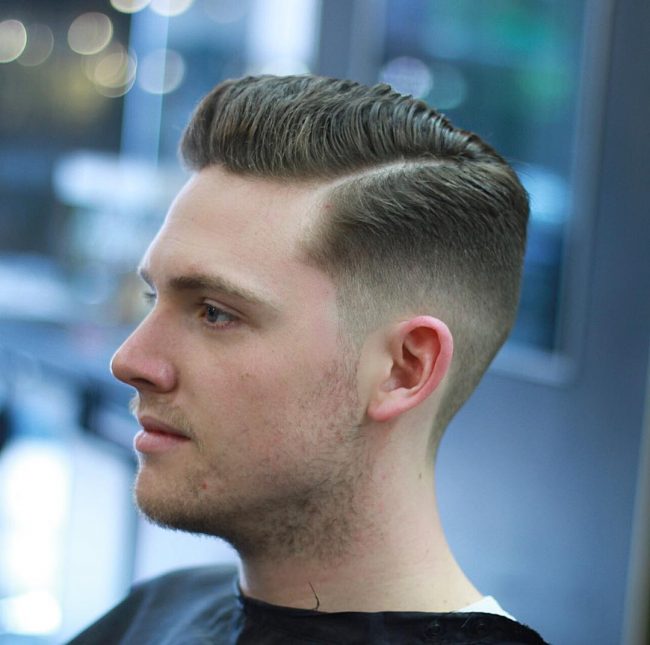 Idea # 44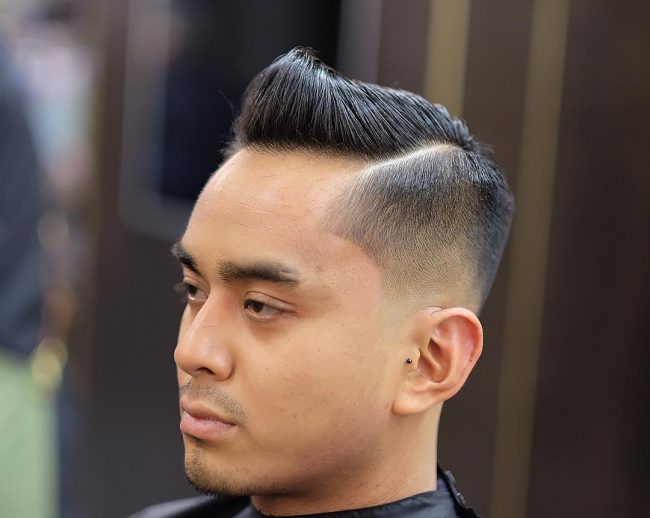 Idea # 45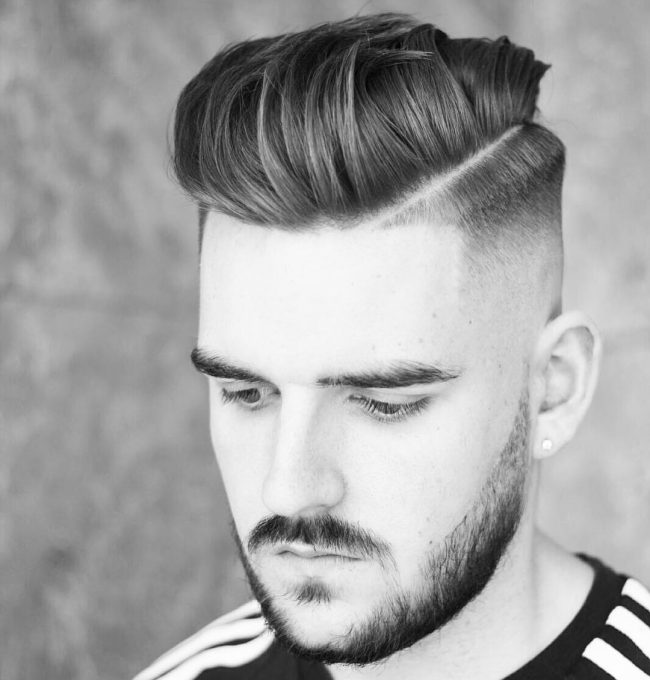 Idea # 46
Idea # 47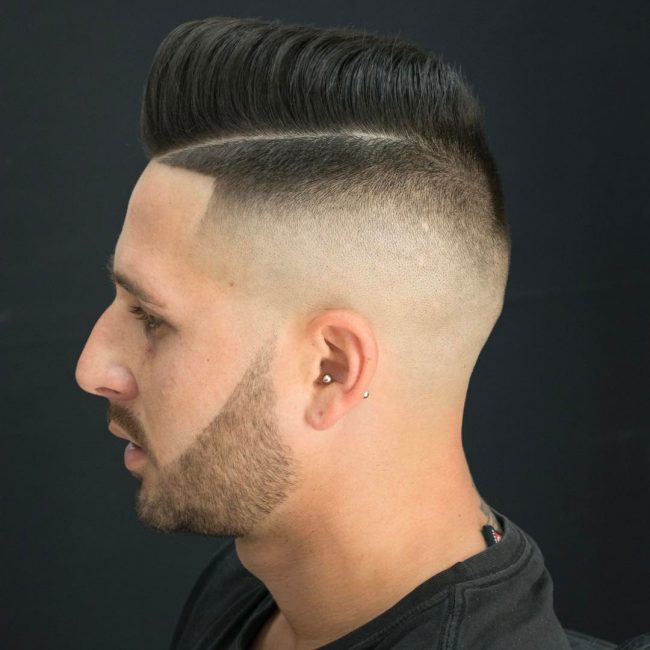 Idea # 48
Idea # 49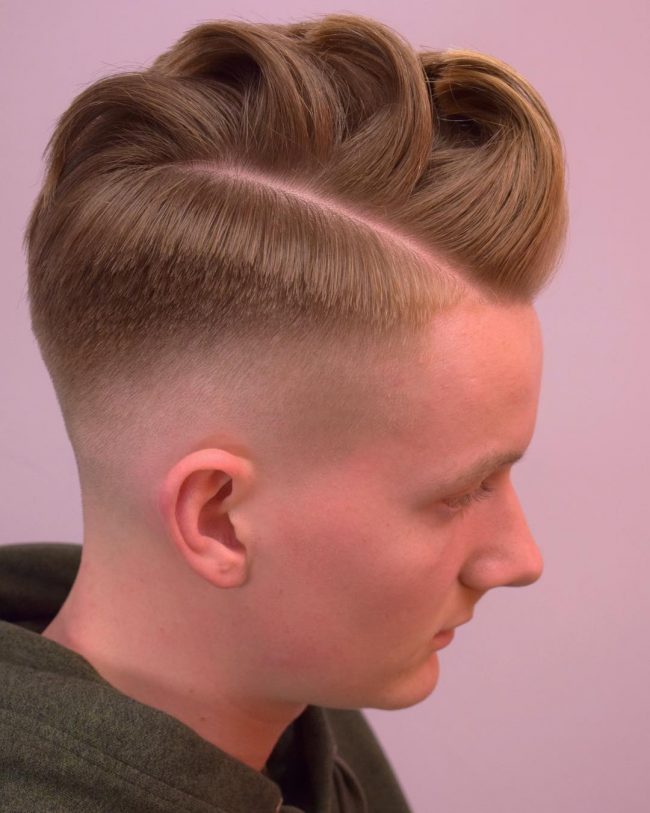 Idea # 50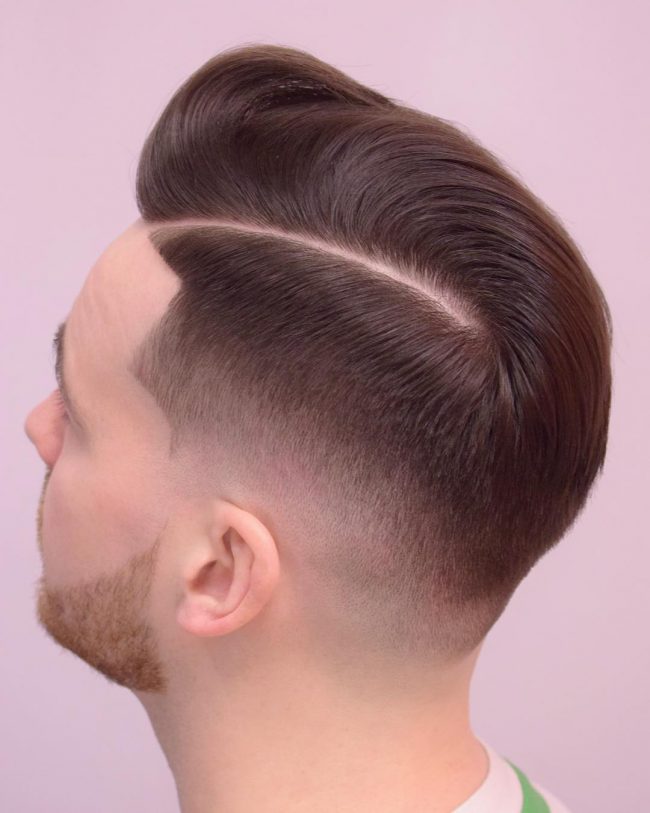 Idea # 51
Idea # 52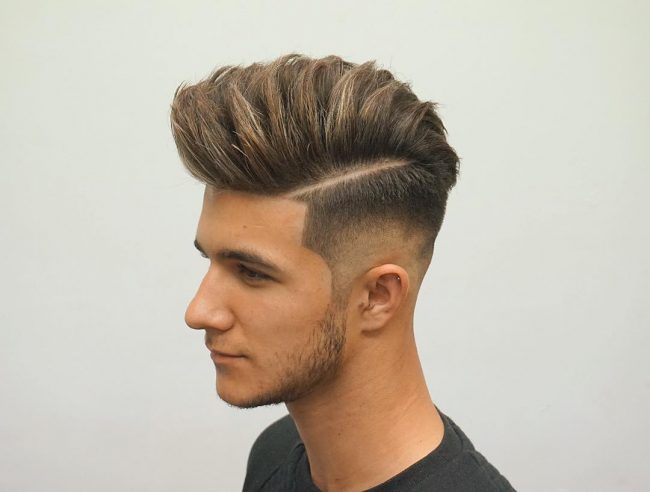 Idea # 53
Idea # 54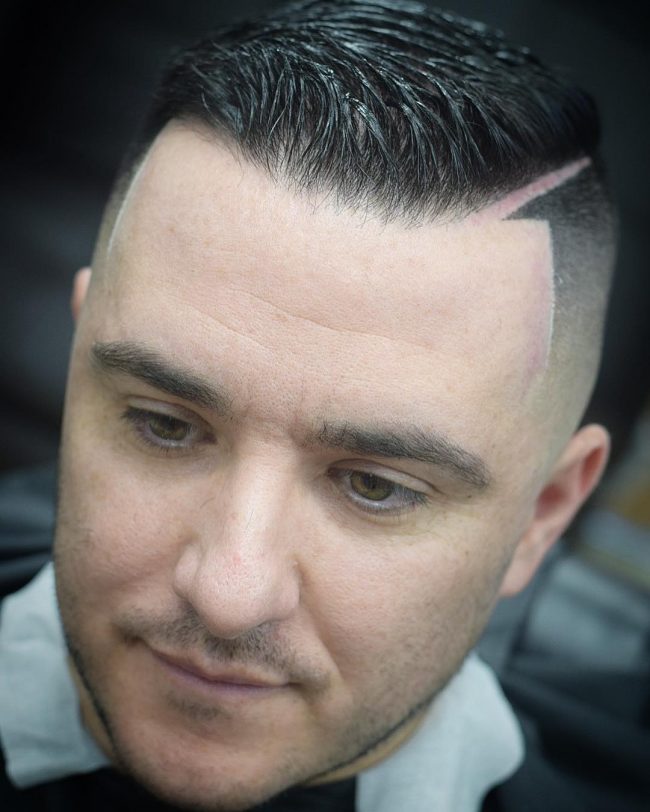 Idea # 55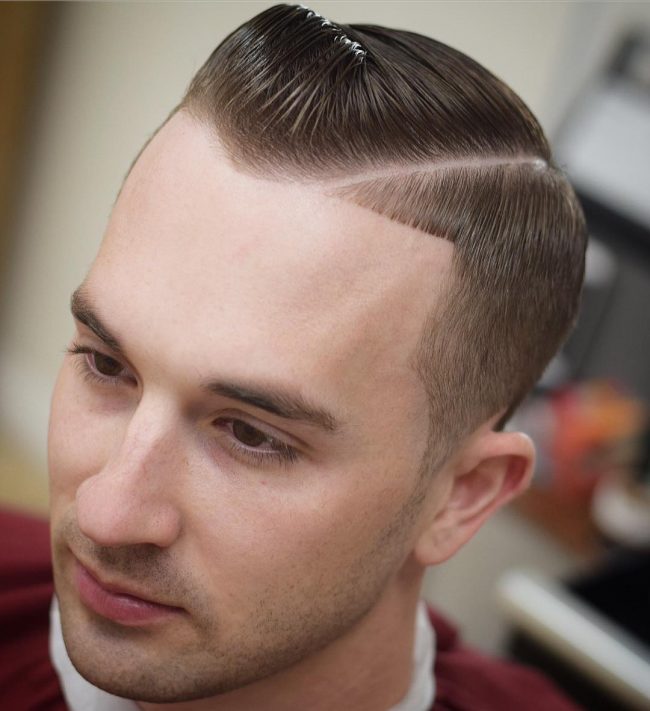 Idea # 56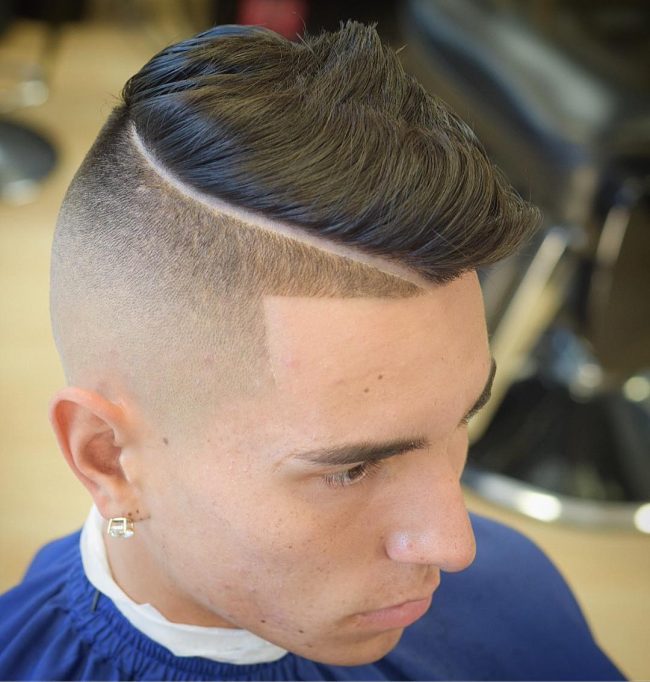 Idea # 57
Idea # 58
Idea # 59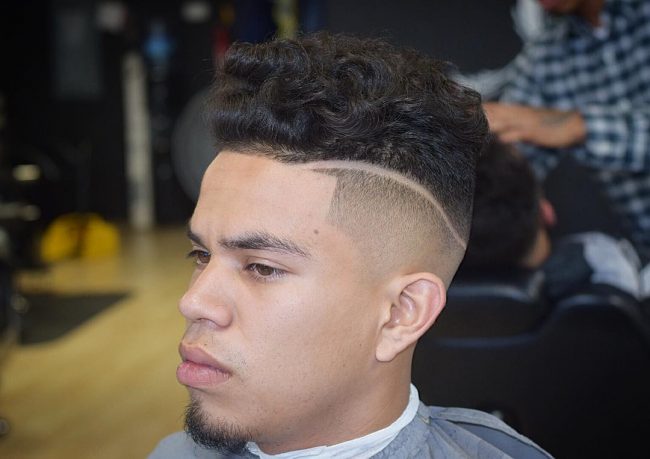 Idea # 60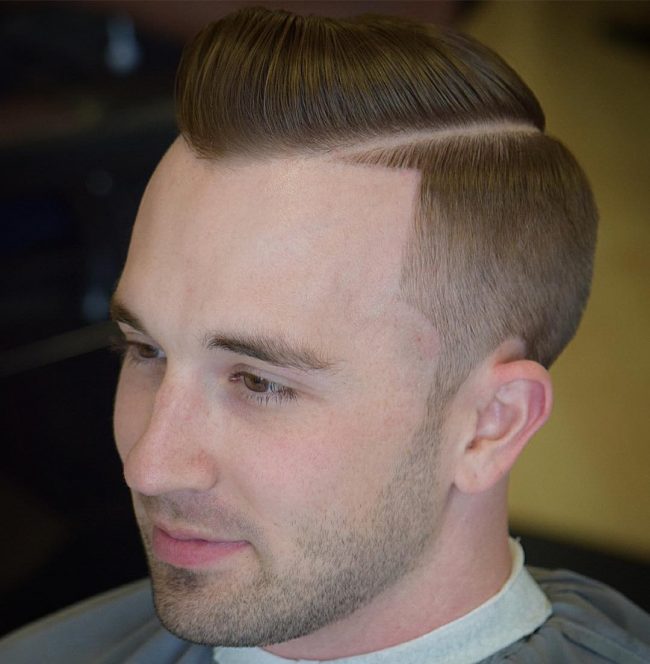 Idea # 61
Idea # 62
Idea # 63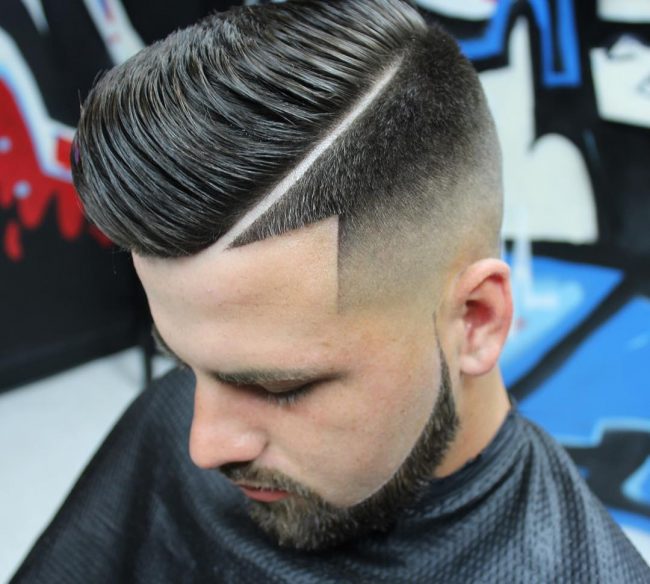 Idea # 64
Idea # 65
Idea # 66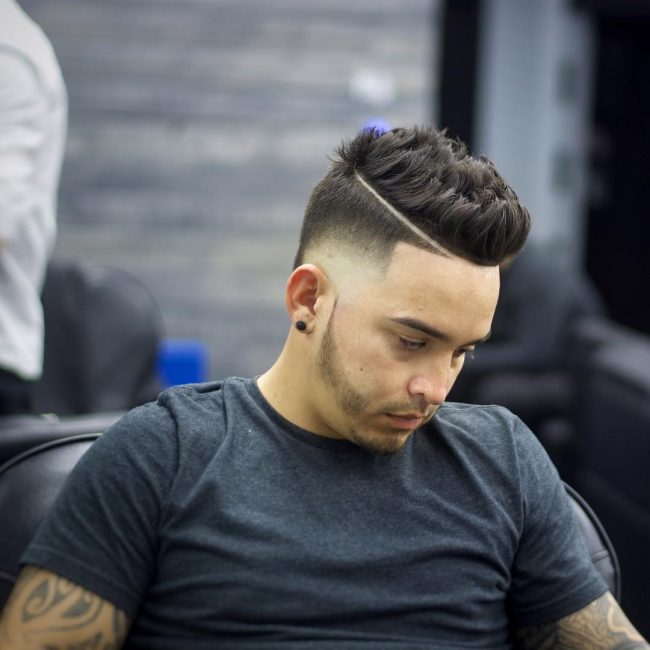 Idea # 67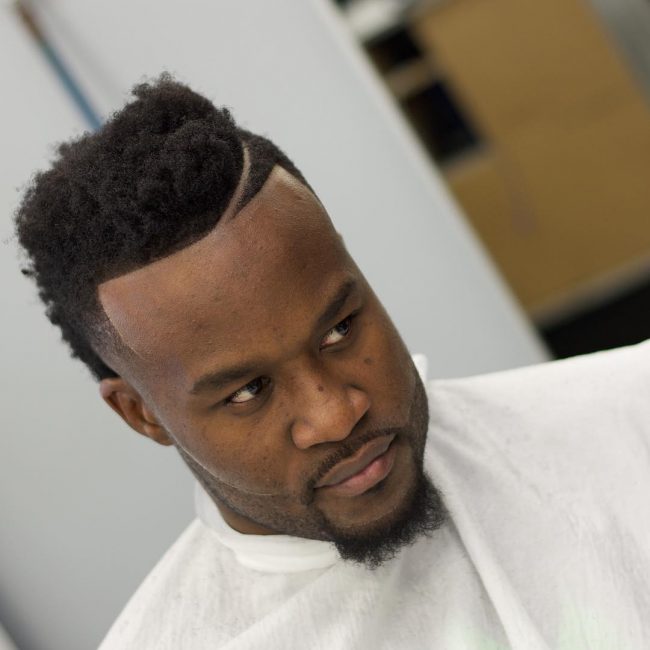 Idea # 68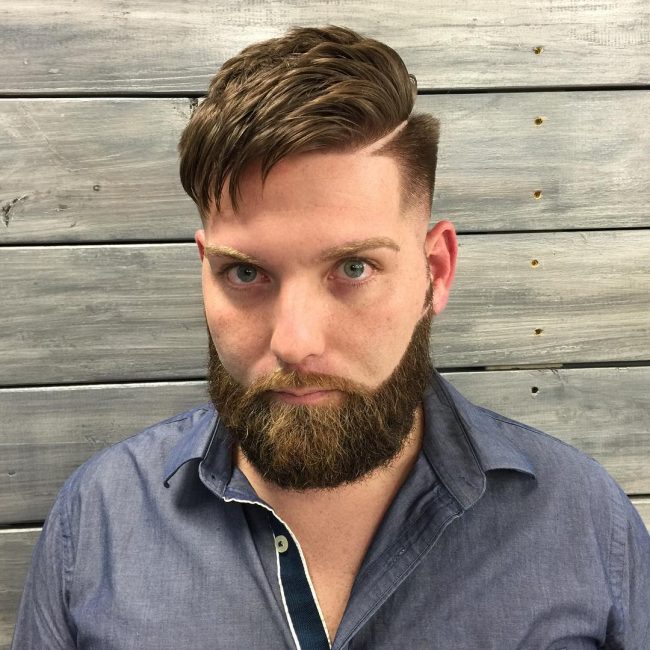 Idea # 69
Idea # 70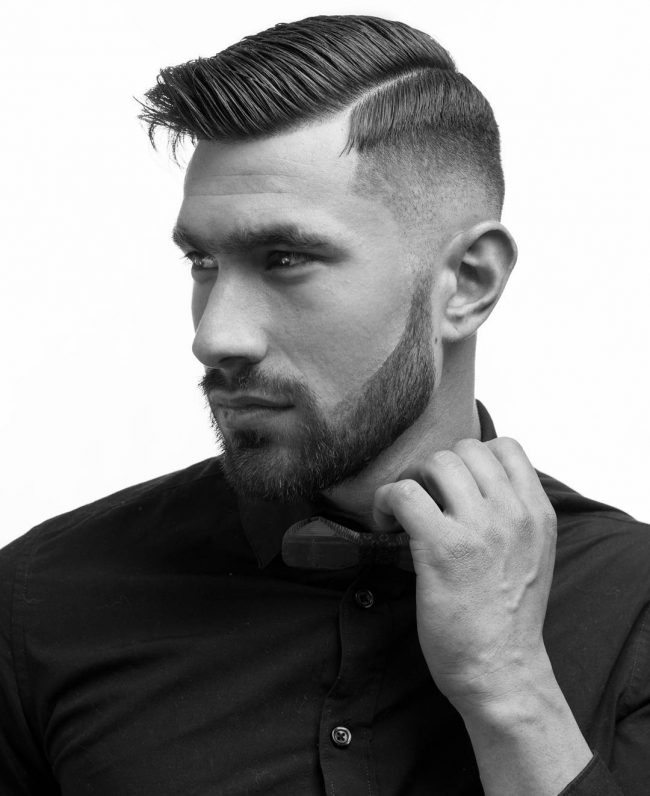 Idea # 71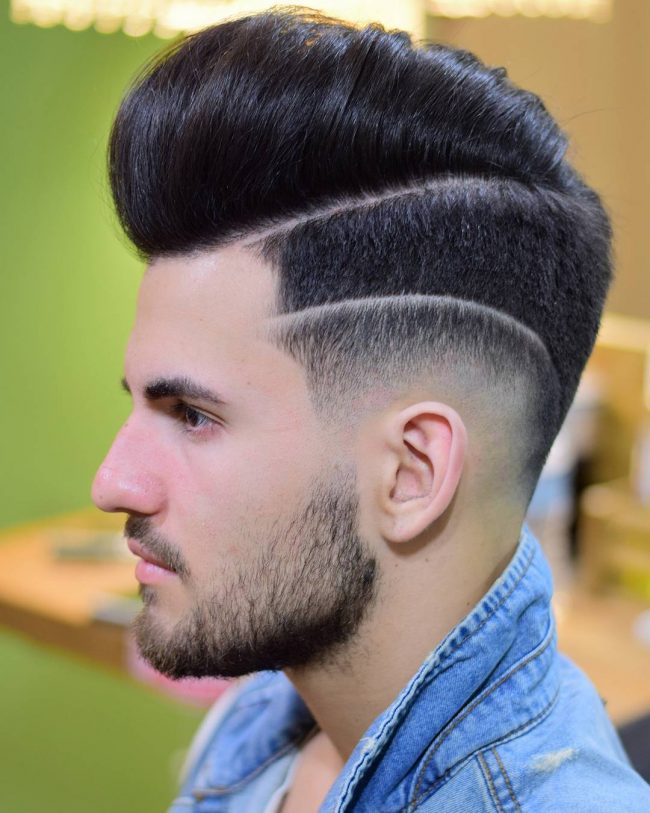 Idea # 72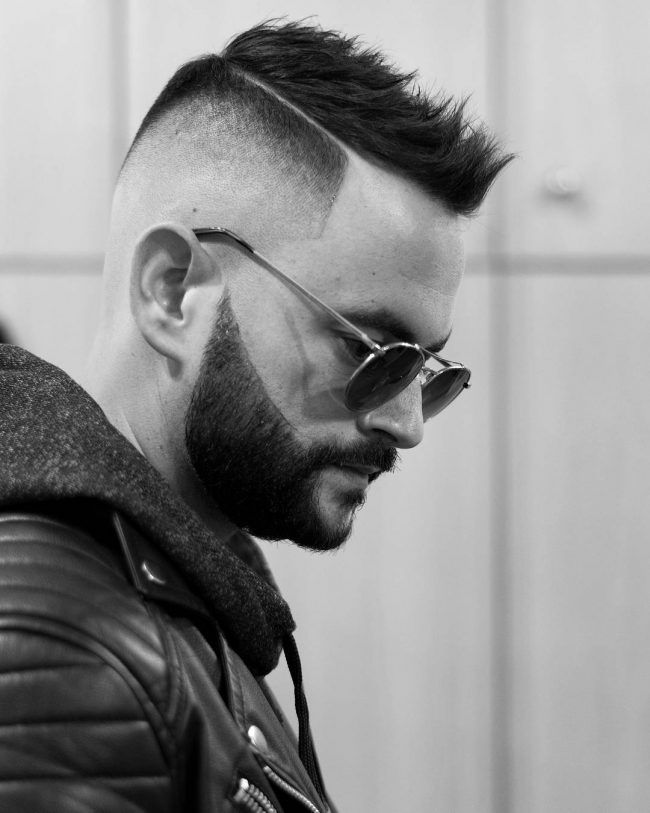 Idea # 73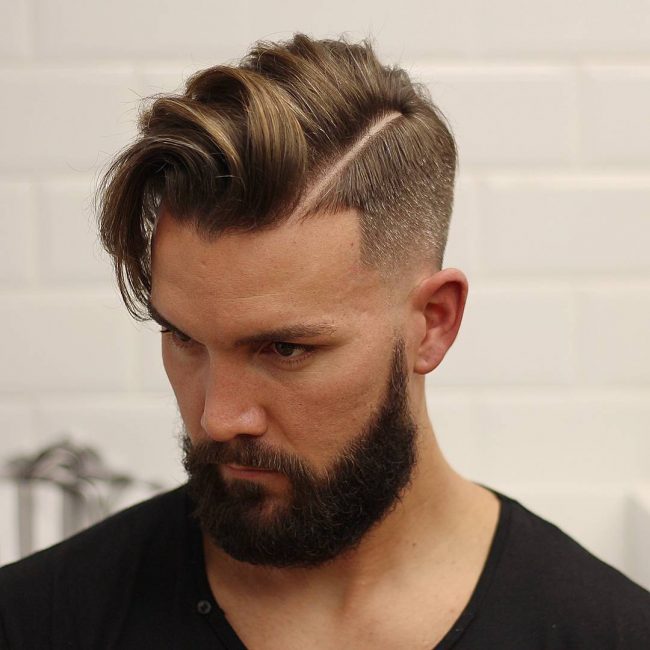 Idea # 74
Idea # 75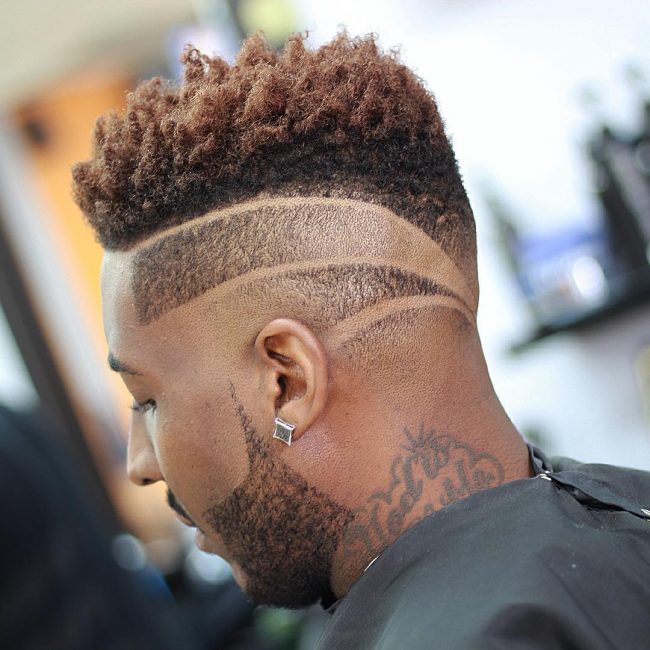 Idea # 76
Idea # 77
Idea # 78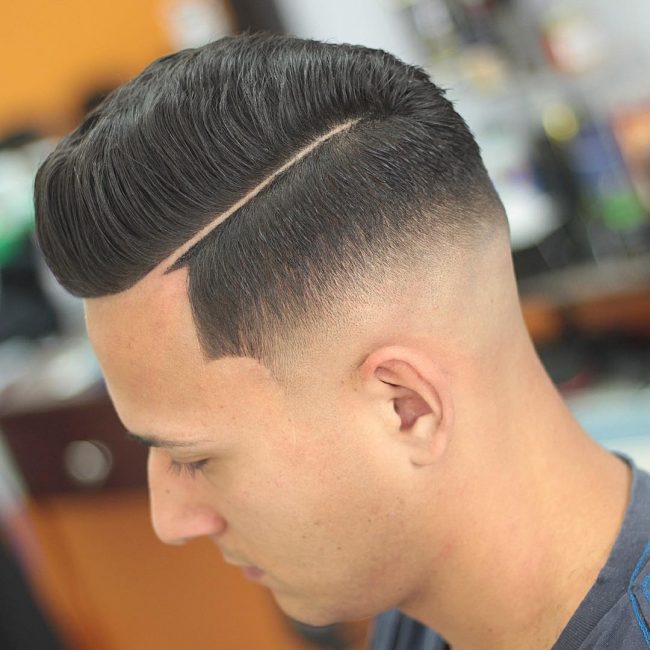 Idea # 79
Idea # 80
Idea # 81
Idea # 82
Idea # 83
Idea # 84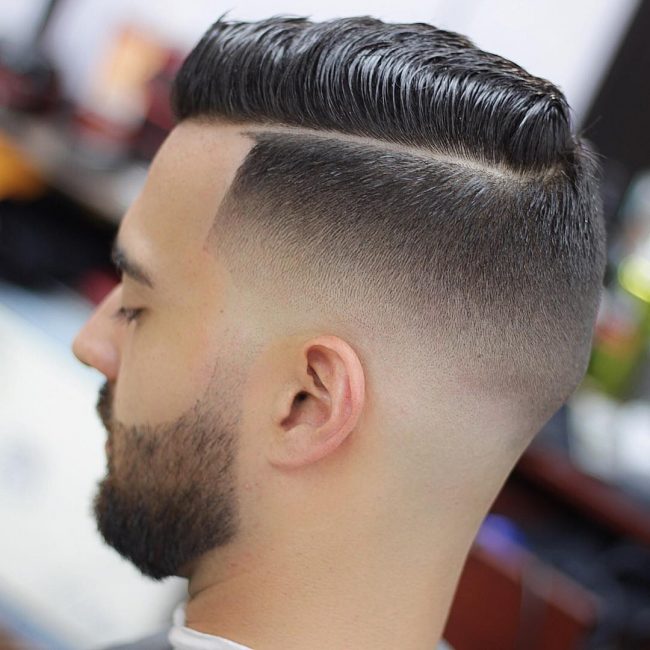 Idea # 85